This vegan butternut squash quinoa risotto is creamy, flavorful and the perfect comfort food. Whether you're looking for a simple meatless meal or want something healthy to serve as a vegan side, this quinoa risotto is just the thing.
When it comes to using quinoa, one of the things I love most is its versatility. And I feel like we've pretty much run the gamut for ways to make classic foods healthier. Like our quinoa pizza crust, our quinoa fried rice, and even recipes like chili. There's really no end to its possibilities!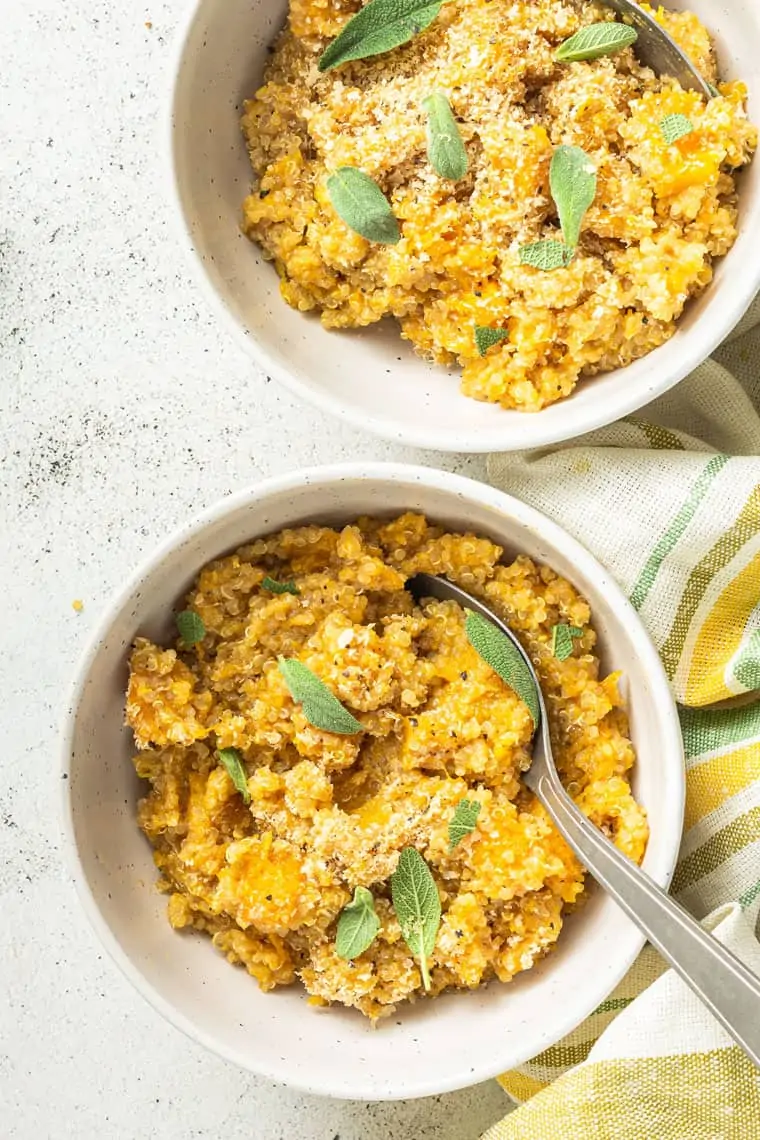 And now we've got this. A creamy, dreamy, cozy, "risotto"-style quinoa recipe that is going to knock your socks off. It's rich, with earthy flavors from roasted butternut squash, it has a delicate, soft texture and couldn't be easier to make.
A Better-For-You Butternut Rissotto
Traditionally, risotto is a not so healthy, dairy-filled, leaves-you-feeling-not-so-great type dish that takes forever to make. Yes, it's sinfully delicious, but the fact that you have to pay so close attention to it, and it could make you cause you some major pain, gives me more than enough reasons to steer clear. Or at least find an easier, healthier way to prepare it.
Which is exactly why quinoa is a great choice for risotto.
For starters, when you're doing it risotto-style, you can cut the cooking time down by at least 75%. So a dish that might take an hour to cook will take you 15 minutes with quinoa.
The second thing I like about quinoa is that by itself it has a fairly boring flavor (well, let's say "plain" to be a bit nicer). Not bad, just not exciting.
But when you add in just a few ingredients, in this case, butternut squash and vegan parmesan cheese, the quinoa transforms into this luxurious dish, full of deep flavors that awaken your palate and make your taste buds smile.
And who doesn't want smiling taste buds?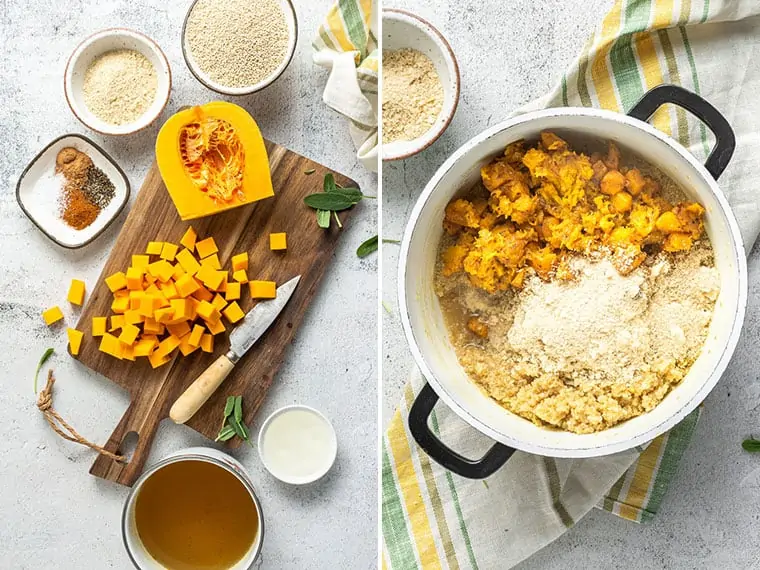 How to Make Butternut Squash Quinoa Risotto
I like to keep my recipes pretty straightforward, so this one is just a few simple steps! We start by roasting our butternut squash, then we mash it up so it's almost smooth add it to the quinoa along with some nutritional yeast and vegan parmesan cheese. Once everything is nice and creamy, you can just sprinkle it with sage and you're ready to go!
Inside this vegan risotto you'll find:
Butternut squash: if by chance you're not a squash fan, you can use sweet potato or pumpkin in its place
Veggie broth: which we'll be using as our liquid – it adds a nice flavor!
Quinoa: I personally like to use white quinoa since I find it has the softest texture
Nutritional yeast + vegan parmesan: in order to get our "creamy" risotto flavor, we're using these two ingredients!
Spices: we'll be roasting our butternut squash in a touch of cinnamon and smoked paprika which is subtle, but delicious in the risotto
And if you want your risotto to be extra creamy, I'd recommend stirring in some cashew cream at the end!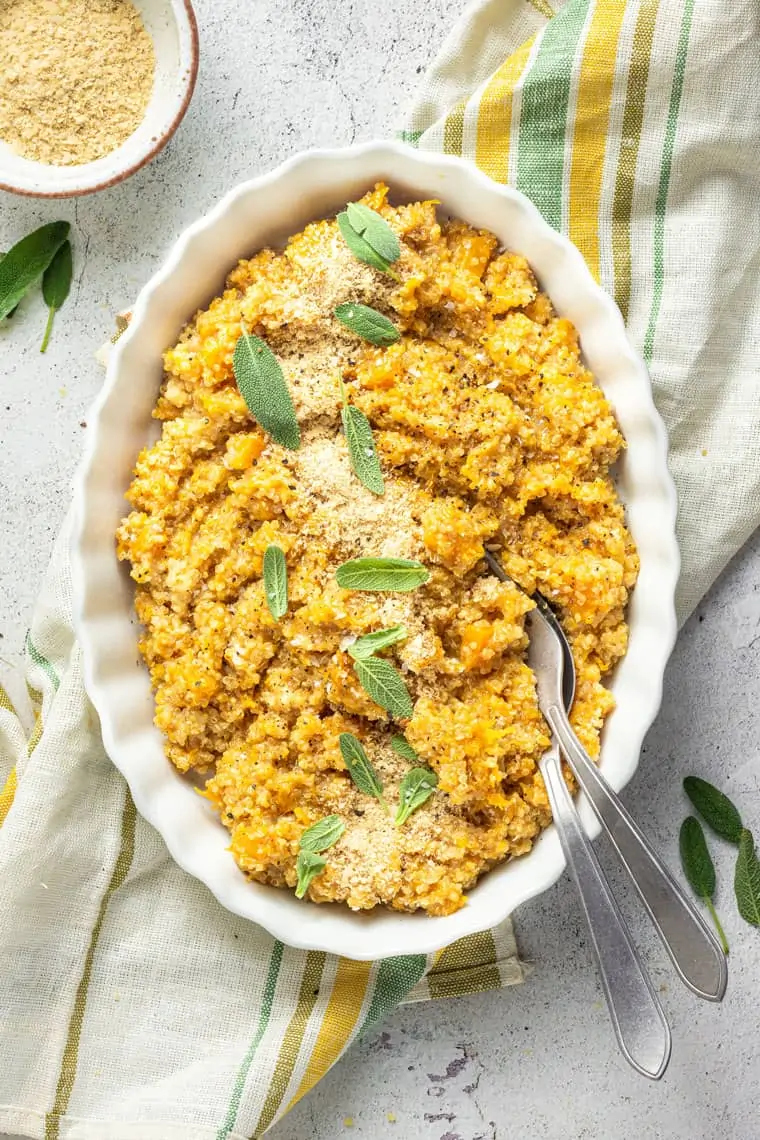 What to Serve with Butternut Squash Risotto
As I said at the beginning of the post, this butternut squash and quinoa recipe is definitely on the lighter side. But it can be enjoyed as a vegan main (quinoa for protein!) or a simple side dish if you want something a little fancy. Either way, it's sure to please!
I like to serve mine with some chopped sage, a sprinkle of nutritional yeast, and extra pepper. I put it in a dish like this and let people scoop their portions out! It's a crowd-pleaser and also makes amazing leftovers (sometimes I even make a double portion!).
If you do want to have is as a side dish, I think it would pair perfectly with:
Fish: either baked or grilled. My cinnamon and pecan crusted salmon would be INCREDIBLE!
Meat: since butternut squash is on the lighter side, I would say this would be best with a grilled or baked chicken dish rather than red meat
Vegetarian: and if you want to keep it totally vegetarian, tofu would be perfect – I'd say my herb crusted baked tofu would be the best!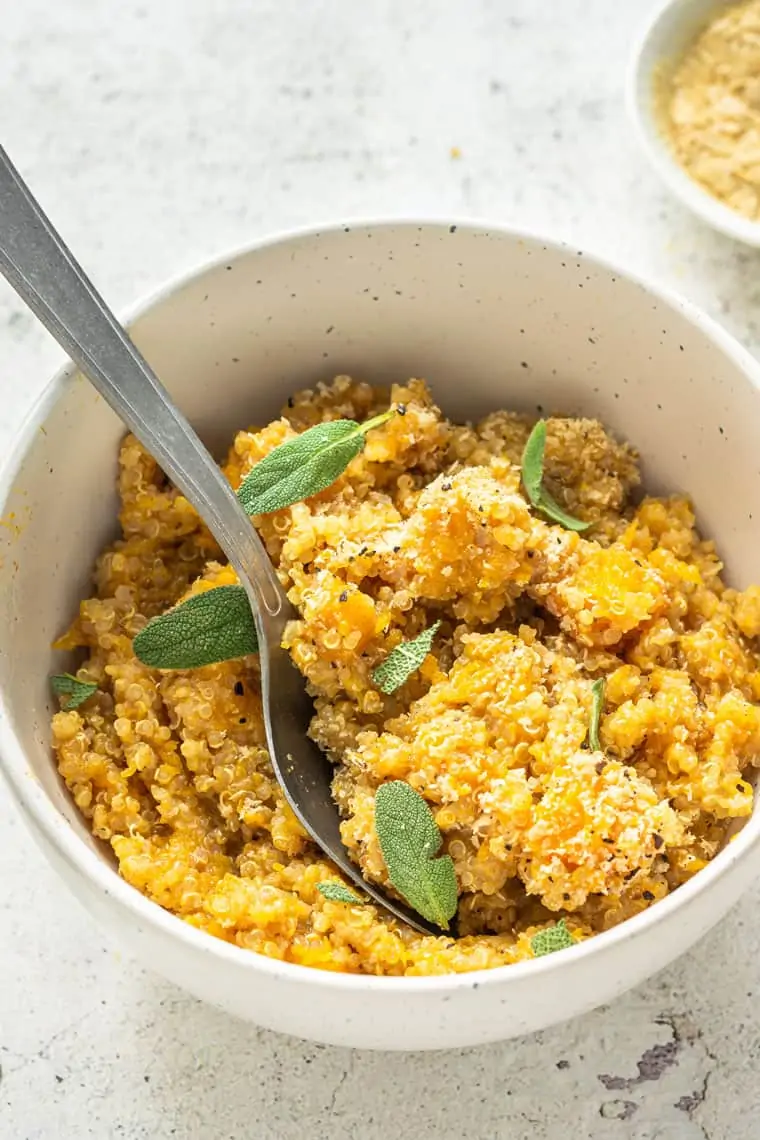 Can you Freeze Butternut Squash Risotto?
Ah, leftovers. One of my simple pleasures in life!
This butternut risotto makes amazing leftovers! It can either be stored in the fridge and reheated, or you can freeze it for a later date.
To freeze your risotto: place it in a freezer-proof container (LOVE this set!) and allow it to cool completely. Once it's cooled, pop on the lid and freeze it.
To reheat your risotto:
if it's refrigerated, simply pop it in the microwave or add it to a small saucepan and add a splash of water, broth, or almond milk
if it's frozen, allow the risotto to mostly thaw at room temperature and follow the same reheating instructions!
And that's all you need to know about making this ultra-fabulous, ultra-delicious, ultra-amazing butternut squash quinoa risotto. I can't wait to hear what you think!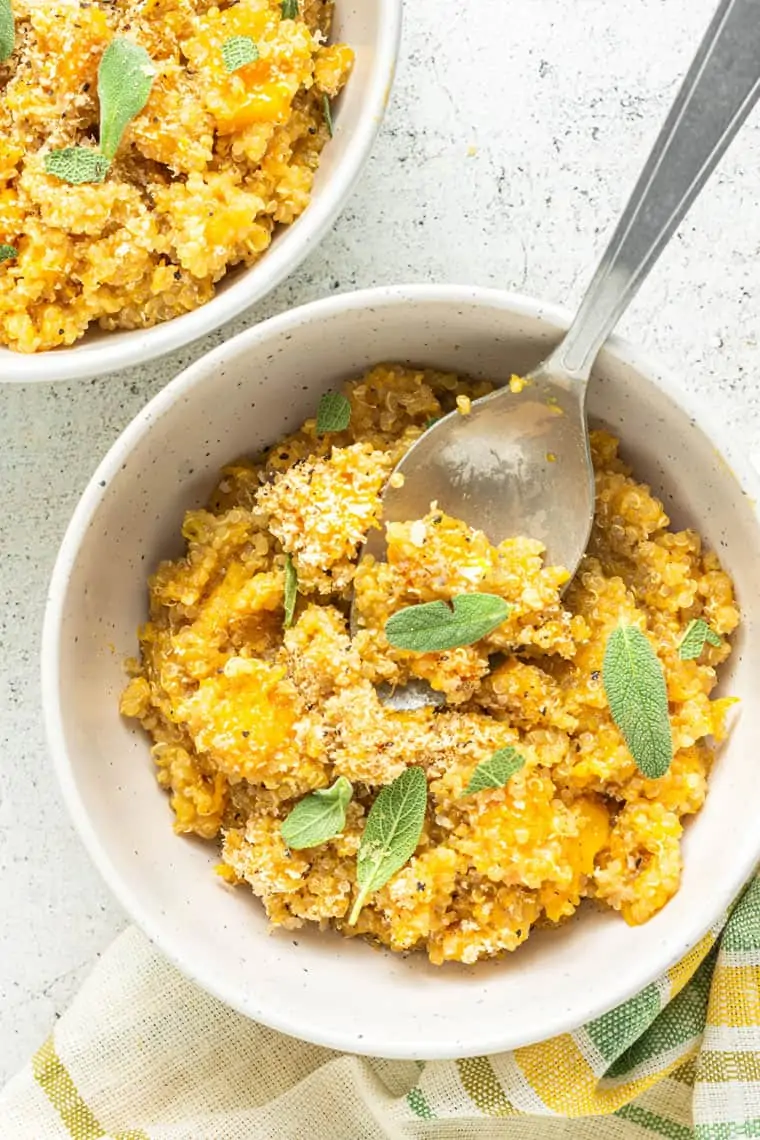 More Butternut Squash Recipes
Butternut Squash Quinoa Risotto
Butternut squash quinoa risotto with roasted squash, creamy grains and a cheesy, dairy-free flavor is a must-try easy vegan side dish.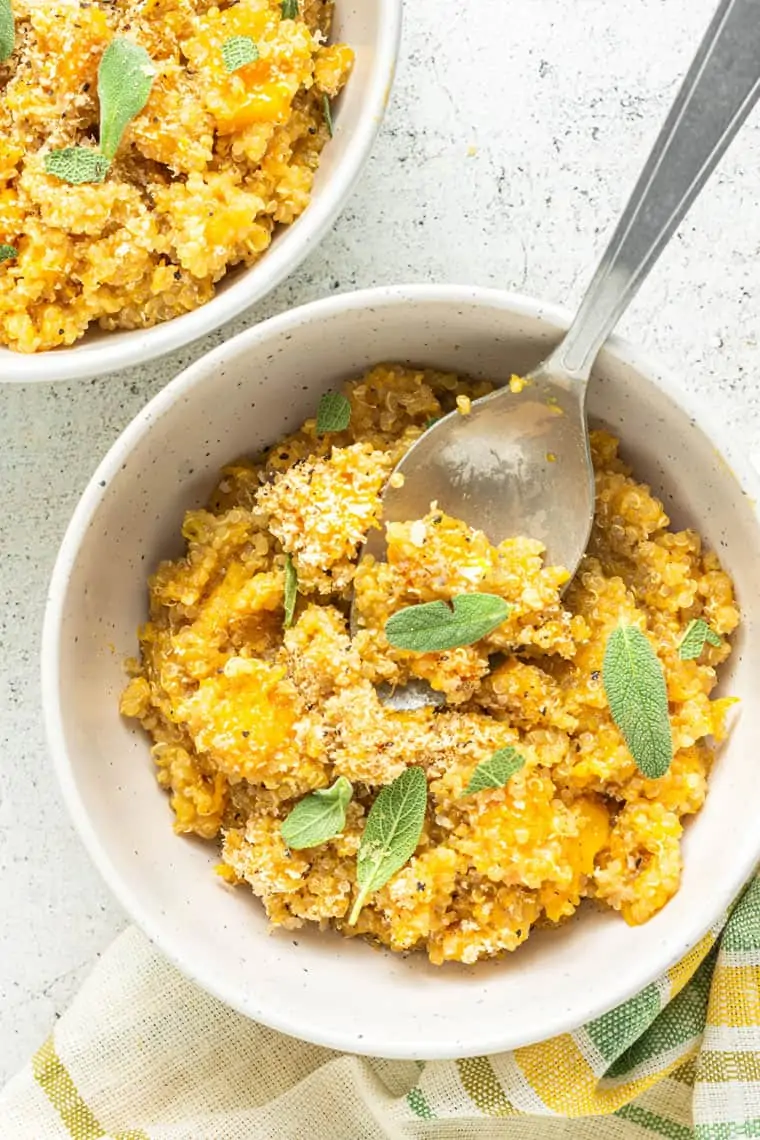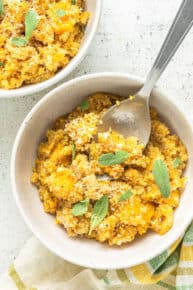 Instructions
Preheat the oven to 400 degrees F.

Toss the butternut squash with coconut oil, cinnamon, paprika and season with salt and pepper. Transfer to a baking sheet and roast for 20 minutes. Stir the squash around a few times so it cooks evenly.

While squash is cooking, add quinoa and vegetable broth to a sauce pan. Bring to a boil, cover and turn down to simmer for 10 - 15 minutes. The quinoa should be soft, but there should still be some liquid in the pot.

Remove squash from the oven, transfer to a bowl and mash it with a fork until almost smooth. Add squash to the quinoa, stirring to combine.

Sprinkle in nutritional yeast (and cheese if using) and cook for another 1 - 2 minutes.

Serve immediately and garnish with additional nutritional yeast (or cheese) and a drizzle of honey.
Nutrition
Calories:
282
kcal
|
Carbohydrates:
42
g
|
Protein:
8
g
|
Fat:
9
g
|
Saturated Fat:
6
g
|
Sodium:
594
mg
|
Potassium:
663
mg
|
Fiber:
5
g
|
Sugar:
3
g
|
Vitamin A:
11595
IU
|
Vitamin C:
22
mg
|
Calcium:
70
mg
|
Iron:
2.9
mg
Filed Under: