These amazing vegan black bean enchiladas also have butternut squash and a homemade enchilada sauce. They're easy, flavorful, healthy and gluten-free!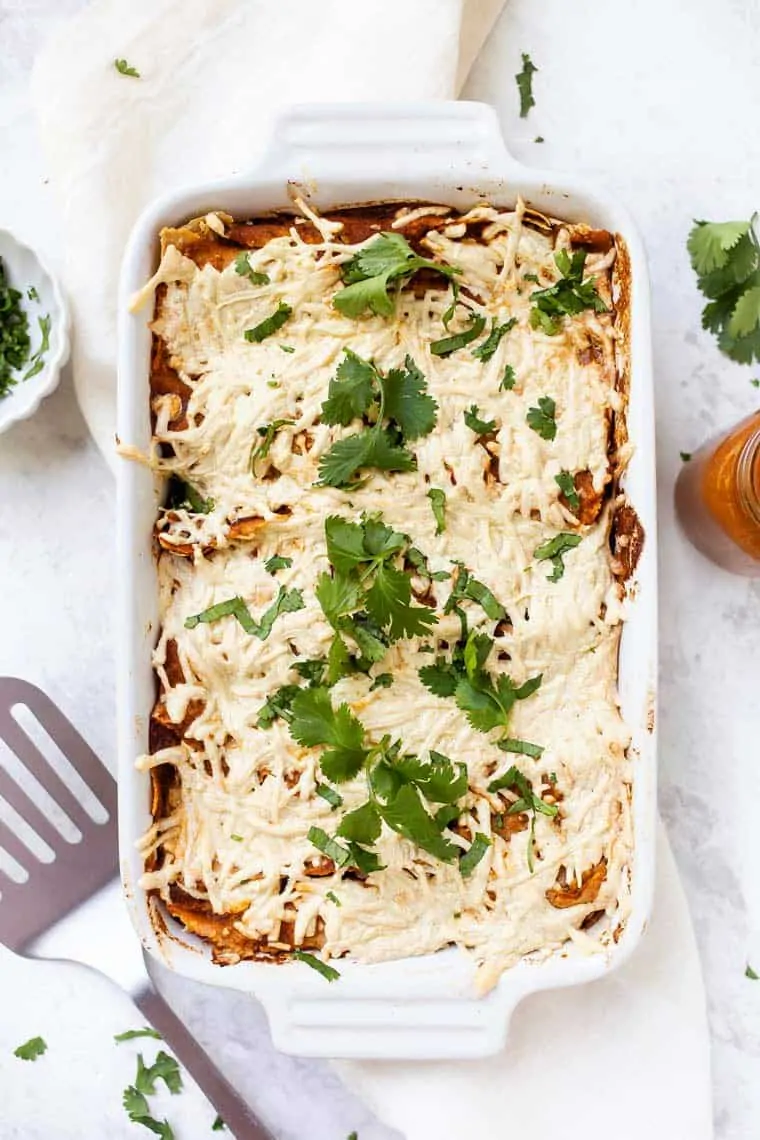 Coming at you with one of my comfort foods: enchiladas! But we're not making the classic enchiladas of my youth, we're making vegan black bean enchiladas filled with butternut squash and beans, and topped with a homemade enchilada sauce.
It might sound a little complicated, but I pinky promise they're a cinch to whip up.
We start by making our enchilada sauce, which takes about 5 minutes. Then we move onto the filling, which takes another 5 – 10 minutes. Then we stuff, roll, top, and bake! Best of all these vegan enchiladas are also great for meal prep and totally freezer-friendly!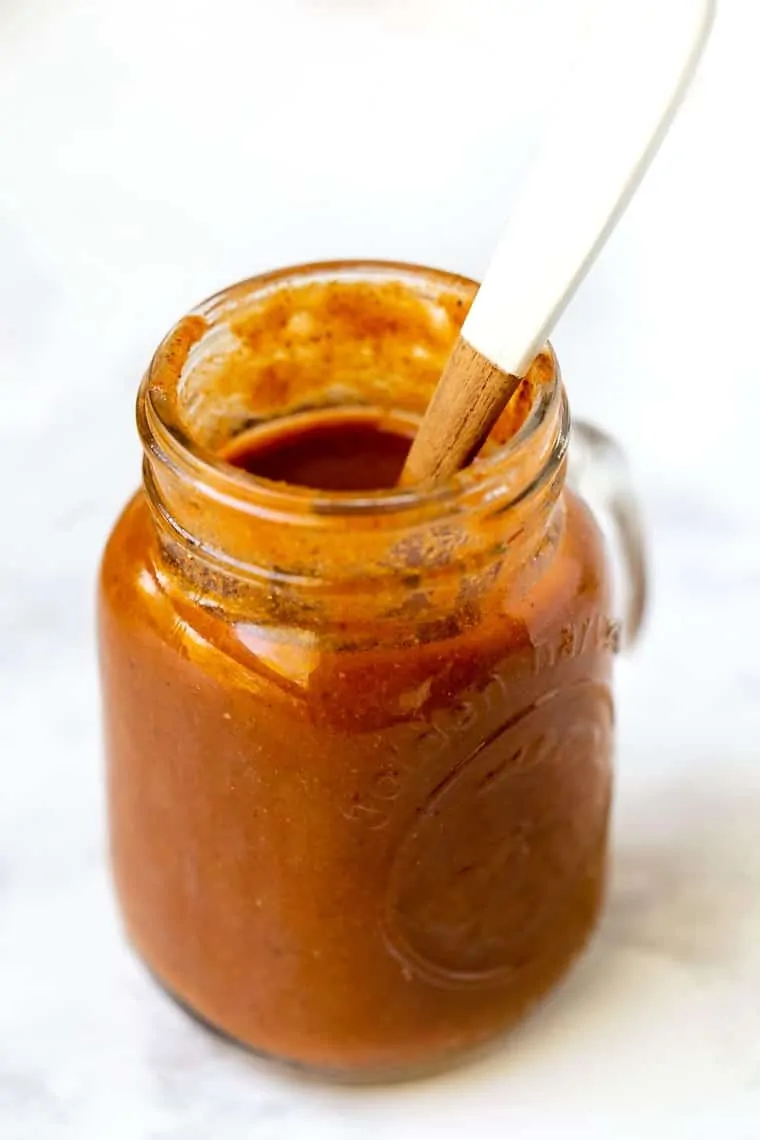 How to make Homemade Enchilada Sauce
First up is our sauce. Enchilada sauce can be made a few different ways, but it really comes down to spice and tomatoes. We're using a blend of my favorite Latin American spices, then using tomato paste to give it that slight sweetness and gorgeous red color. If you're not a red enchilada fan, you can try my homemade green enchilada sauce too!
We start by making a roux using olive oil and quinoa flour. Once that's thickened, you can add in your spice blend.
Here's what spices we'll be using:
chili powder
cumin
smoked paprika
onion powder
garlic powder
From there, add your tomatoes and slowly streaming your vegetable broth. Just whisk it all together, simmer for a bit and bam you have enchilada sauce. See how easy?!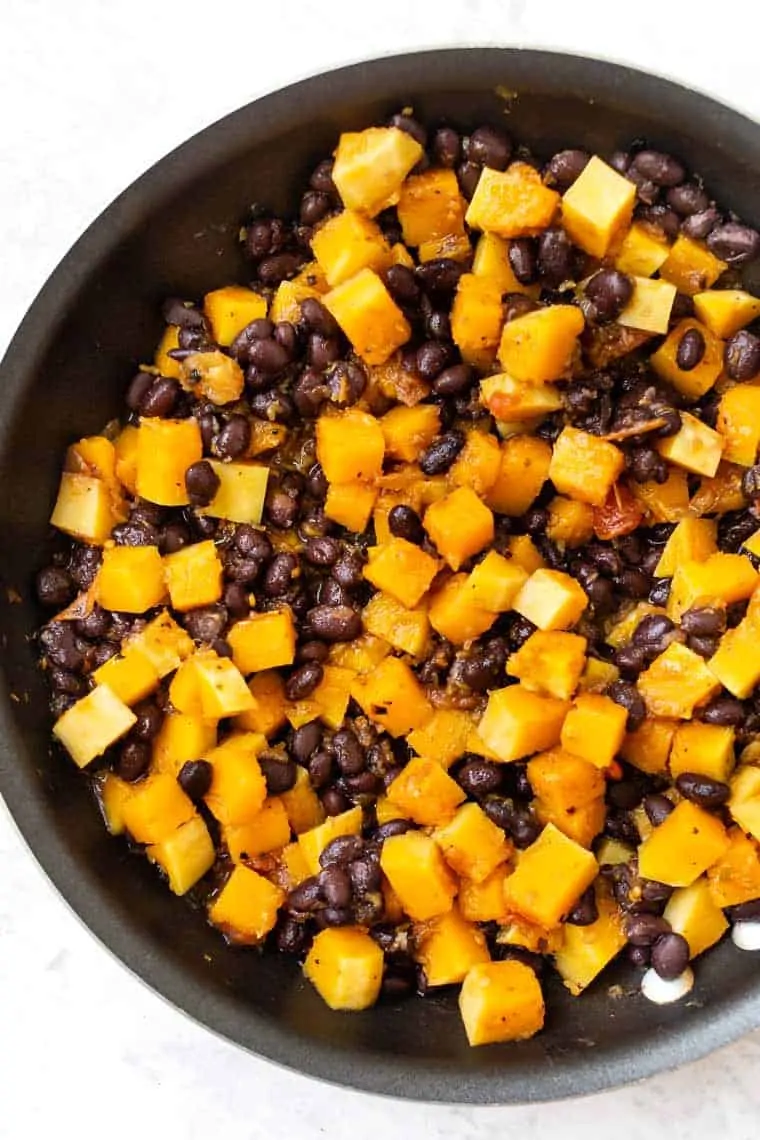 Filling for Butternut Squash Black Bean Enchiladas
The next piece of the puzzle is our filling. We're keeping things super-duper simple and just using three ingredients:
butternut squash
black beans
salsa
We start by steaming our squash until it's fork-tender. Then we add in our beans and salsa, letting it just warm up in the pan. Since both those ingredients are ready-to-eat, we just need everything to get combined.
Once we have our butternut squash black bean filling, it's time to ROLL!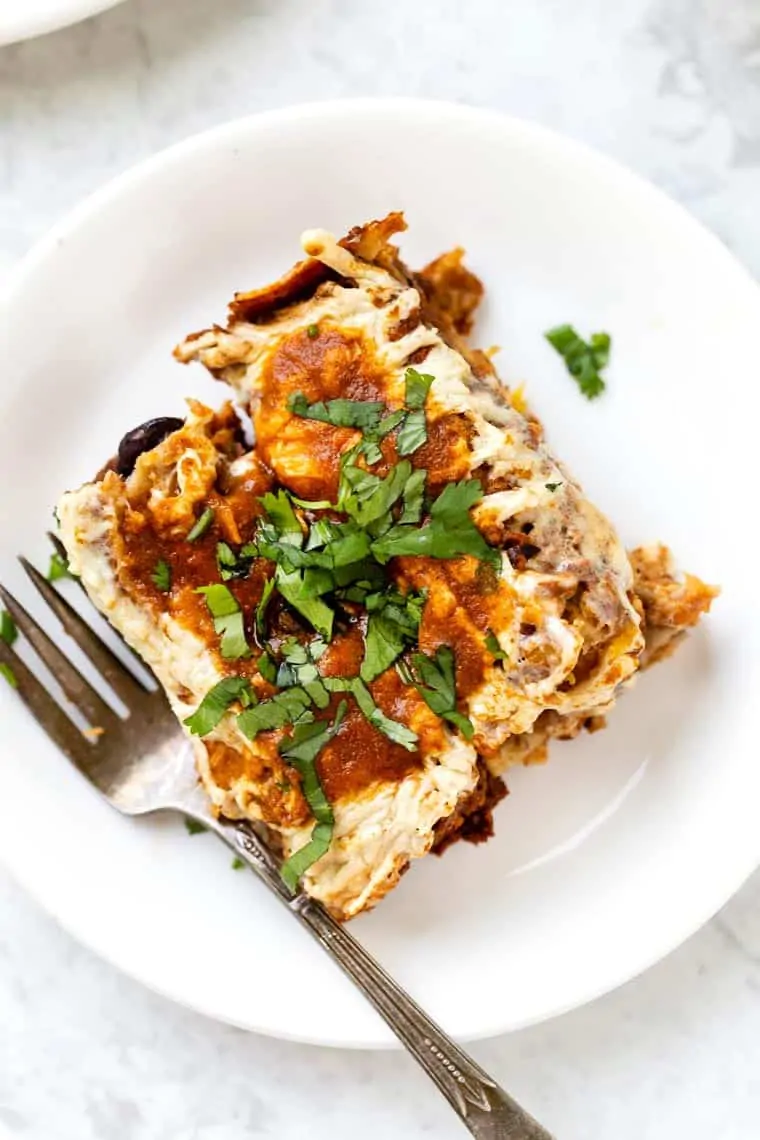 Tips for Assembling Enchiladas
The best tortillas to use for enchiladas are flour tortillas as they're the most pliable and least likely to break. BUT I personally think corn tortilla enchiladas are tastier and healthier. And if you're making enchiladas gluten-free, then you'll definitely need to use corn tortillas (or you could also try my gluten-free flour tortillas).
Here's the thing with corn tortillas: they're prone to breakage!
So…my best tips for making enchiladas are: 
Warm your tortillas: The best way to get your tortillas not to break is to gently warm them microwave wrapped in a damp kitchen towel. This almost steams them and makes them much easier to roll!
Don't overfill: use just 2 – 3 tablespoons of filling per tortilla! Overfilling will cause them to burst once you roll them.
Keep the pan covered: in between adding your tortillas into the pan, cover the pan with a dishcloth to keep things as warm as possible.
Don't skimp on the sauce: the sauce is not necessarily going to prevent breakage, but it helps them not dry out (plus adds lots of flavor)
How to Store Enchiladas
If you're looking to make these vegan black bean enchiladas as a meal prep recipe, awesome. They're totally meal prep-friendly and also freezer-friendly too! To store your enchiladas, either:
Freeze them. Either freeze the entire pan of enchiladas (you could bake them in something like this) or cut them into individual portions and freeze those. To thaw, simply cook in the oven covered at 300ºF or use the freezer setting on your microwave/countertop oven.
Refrigerate them. Since these enchiladas are plant-based, they'll last in the fridge for at least 5 days. Simply keep them in a sealed container and reheat in the microwave or oven.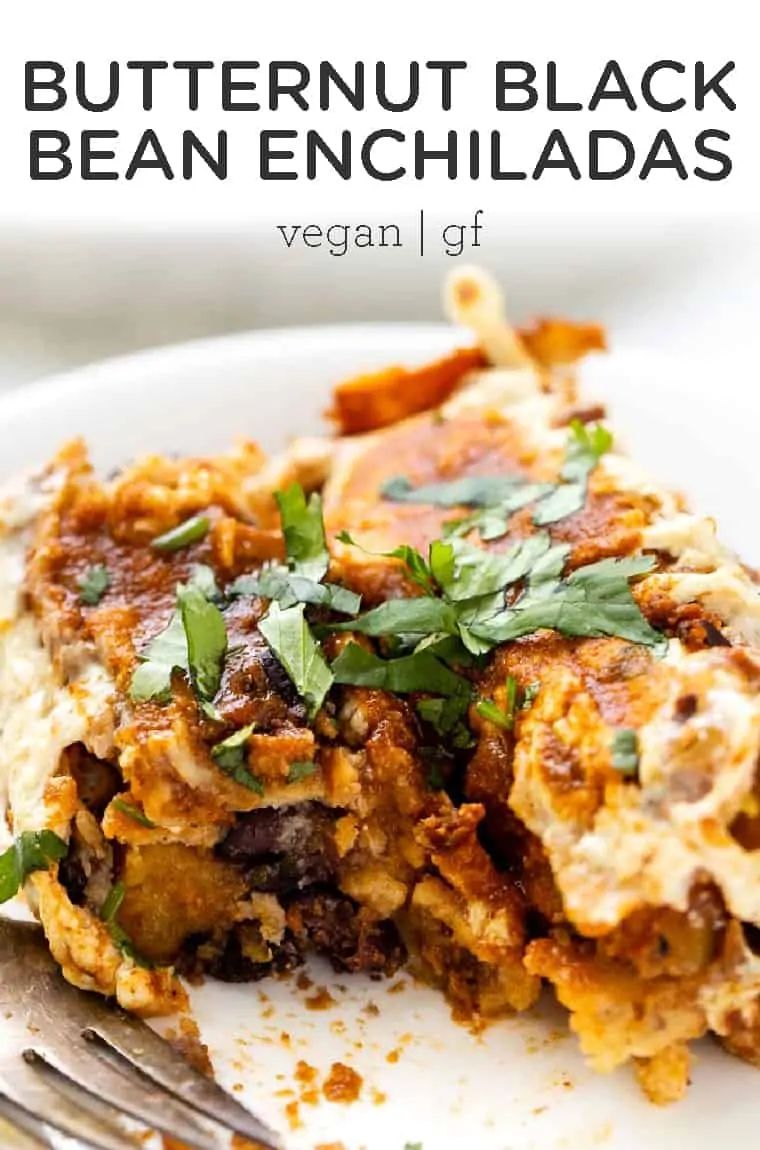 More Freezer Friendly Vegan Dinners
Vegan Black Bean Enchiladas with Butternut Squash
These amazing vegan black bean enchiladas also have butternut squash and a homemade enchilada sauce. They're so easy, so flavorful, totally healthy and gluten-free!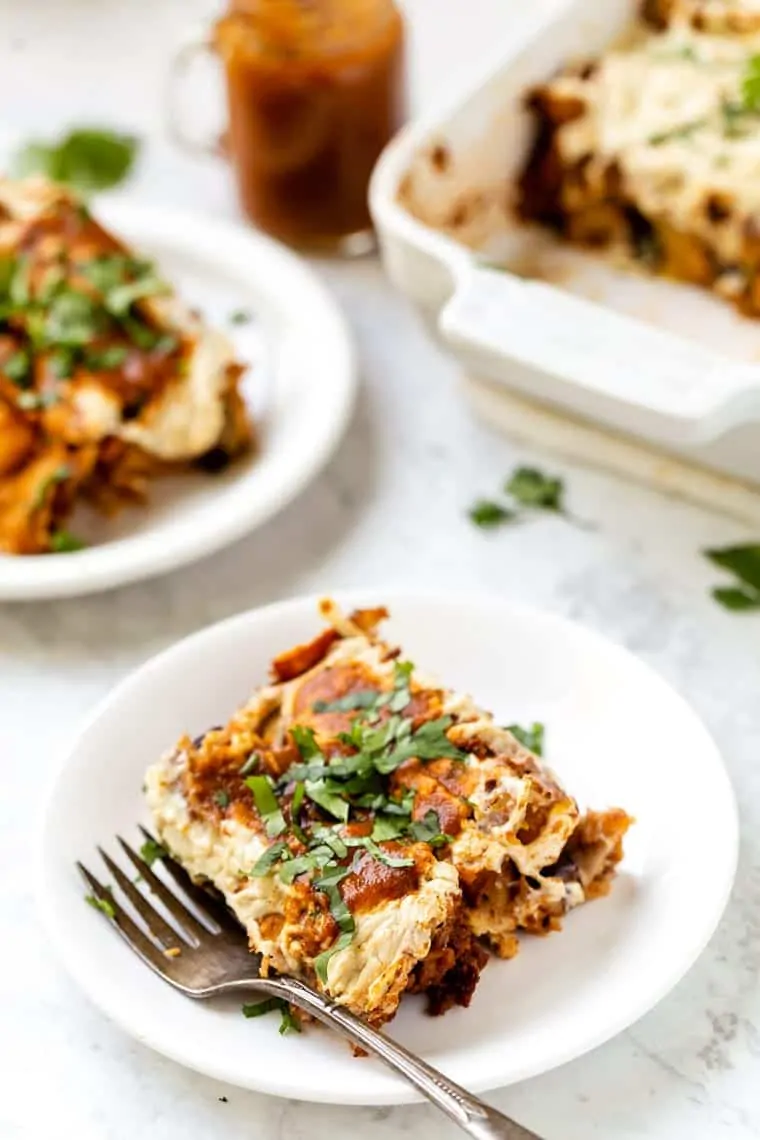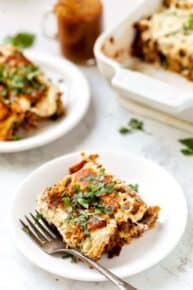 Ingredients
For the enchiladas:
2

cups

cubed butternut squash

¼

cup

jarred salsa

(any variety)

8

corn tortillas

(or taco-sized tortillas of choice)

1

cup

vegan cheese

1 - 1 1/2

cups

enchilada sauce
Instructions
Preheat the oven to 375ºF.

Start with the sauce. In a small saucepan heat the oil over medium-low. Once warm, whisk in the flour, spices and tomato paste until thick. Slowly stream in half the vegetable broth, whisking constantly until smooth. Allow to simmer for 2 - 3 minutes, before slowly whisking in the remaining broth. Allow to simmer again for 2 - 3 minutes until slightly thickened, then remove from the heat and set aside.

Move onto the filling. Place the butternut squash into a large pan and add a splash or two of water. Bring the water to a simmer, then cover the pan and allow the squash to steam for 5 - 7 minutes until mostly tender. Once tender, add the beans and salsa and cook until warmed through.

When ready to assemble the enchiladas, add 1/4 cup of sauce into the bottom of a baking dish. Spoon about 2 - 3 tablespoons of filling into the center of a tortilla and roll it up. Place the tortilla seam side down in the baking dish. Repeat until you've filled the dish.

Once the dish is filled, pour on the rest of the sauce and spread evenly across the tortillas. Sprinkle with the cheese.

Bake on the center rack for 25 - 30 minutes until the cheese is melted and the filling sounds bubbly. Remove from the oven and allow to sit for 5 minutes. Serve immediately and garnish with your fave toppings – I like avocado, cilantro, and a dash more sauce!
Nutrition
Serving:
1
enchilada
|
Calories:
222
kcal
|
Carbohydrates:
33
g
|
Protein:
7
g
|
Fat:
8
g
|
Saturated Fat:
2
g
|
Sodium:
743
mg
|
Potassium:
480
mg
|
Fiber:
8
g
|
Sugar:
3
g
|
Vitamin A:
4522
IU
|
Vitamin C:
11
mg
|
Calcium:
81
mg
|
Iron:
3
mg
Filed Under: