This cinnamon and pecan crusted salmon recipe is bursting with winter flavors. The pecan crust is crispy, while the fish is moist and tender. Plus, it's incredibly healthy!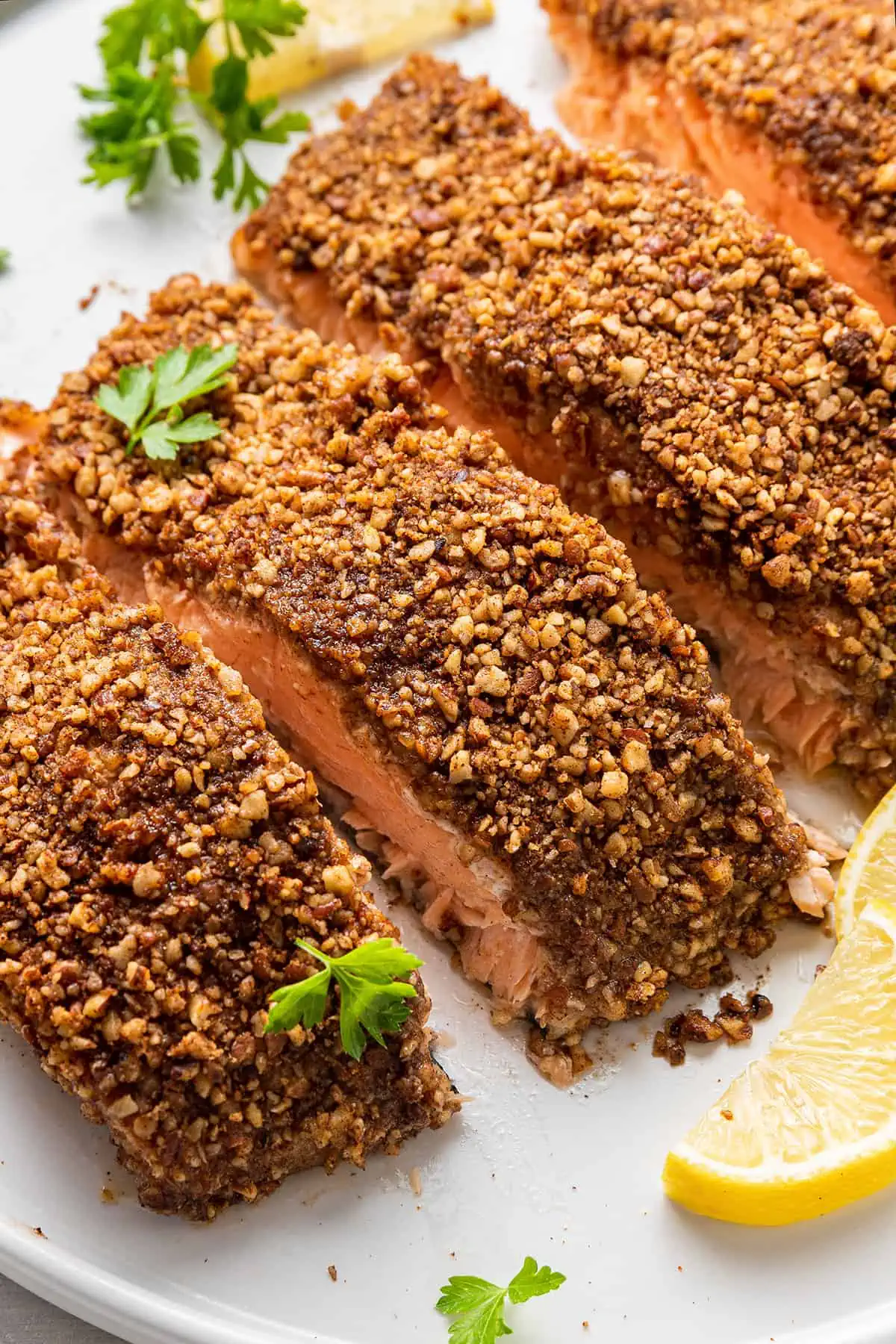 I'm a big fan of salmon. When cooked well it's so juicy and tender, and it's one of the healthiest things that you can put on your plate. And this cinnamon and pecan crusted salmon recipe is one of my favorite and most unique ways to eat this fish.
Cinnamon and pecans may sound more suited for a winter dessert than an entree, but the combination works so well with salmon, which has a little bit of natural sweetness. Dijon mustard and paprika balance out the flavors, and make the fish a little bit smoky and acidic. Best of all, this dish is super healthy, has no added fat, and takes less than half an hour to make. You've got to try it!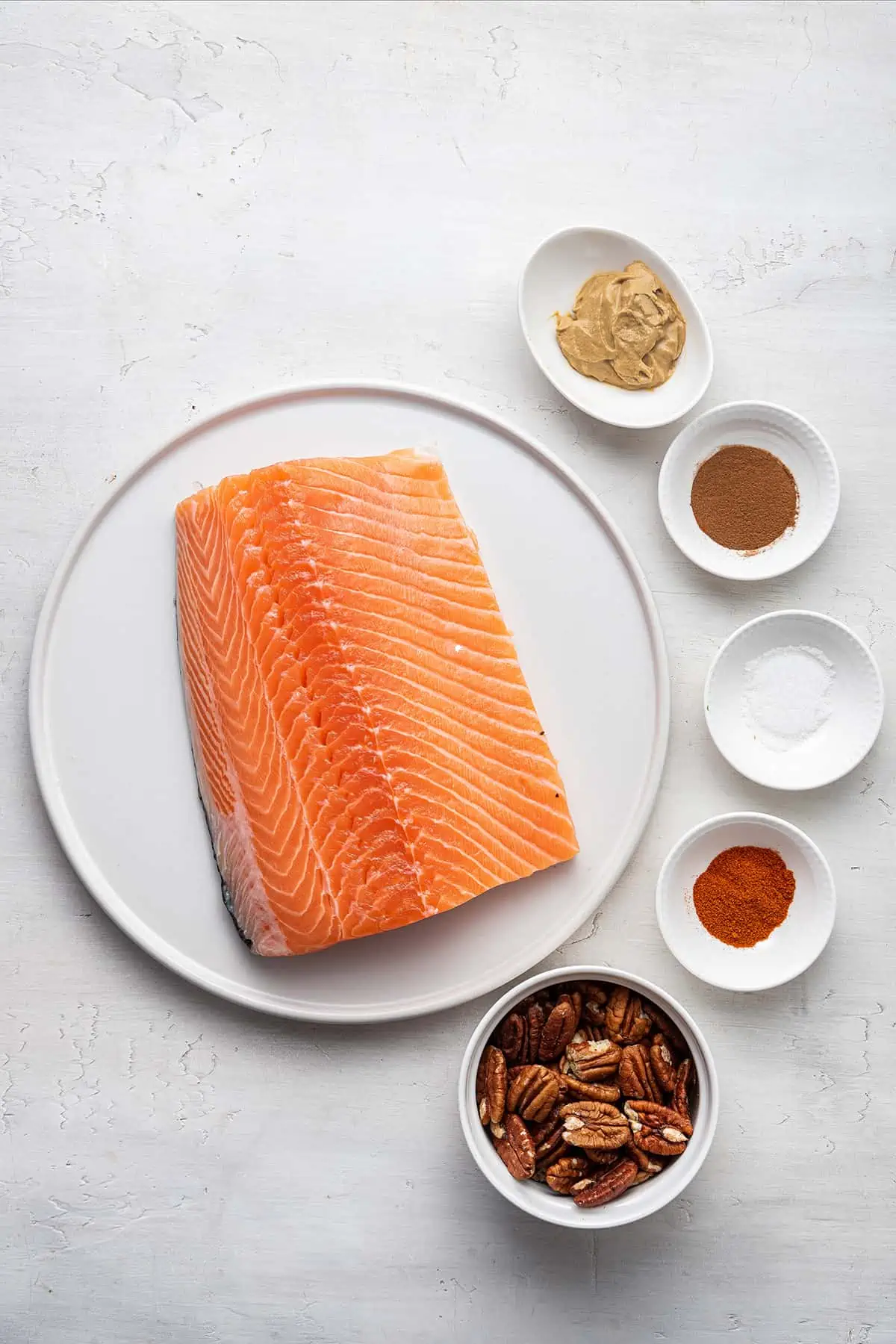 What You'll Need
Here are all the ingredients you need to make this moist and healthy pecan crusted salmon dish. Check out the recipe card at the bottom of the page for the exact amounts of each ingredient.
Salmon – You can use any type of salmon but I prefer skin-on Atlantic salmon for this dish.
Pecans – Make sure your pecans are raw and unsalted.
Cinnamon
Paprika
Sea salt
Dijon mustard
How to Make Pecan Crusted Salmon
Here's how to make this crispy, juicy fish. It's super easy, and only takes about 25 minutes.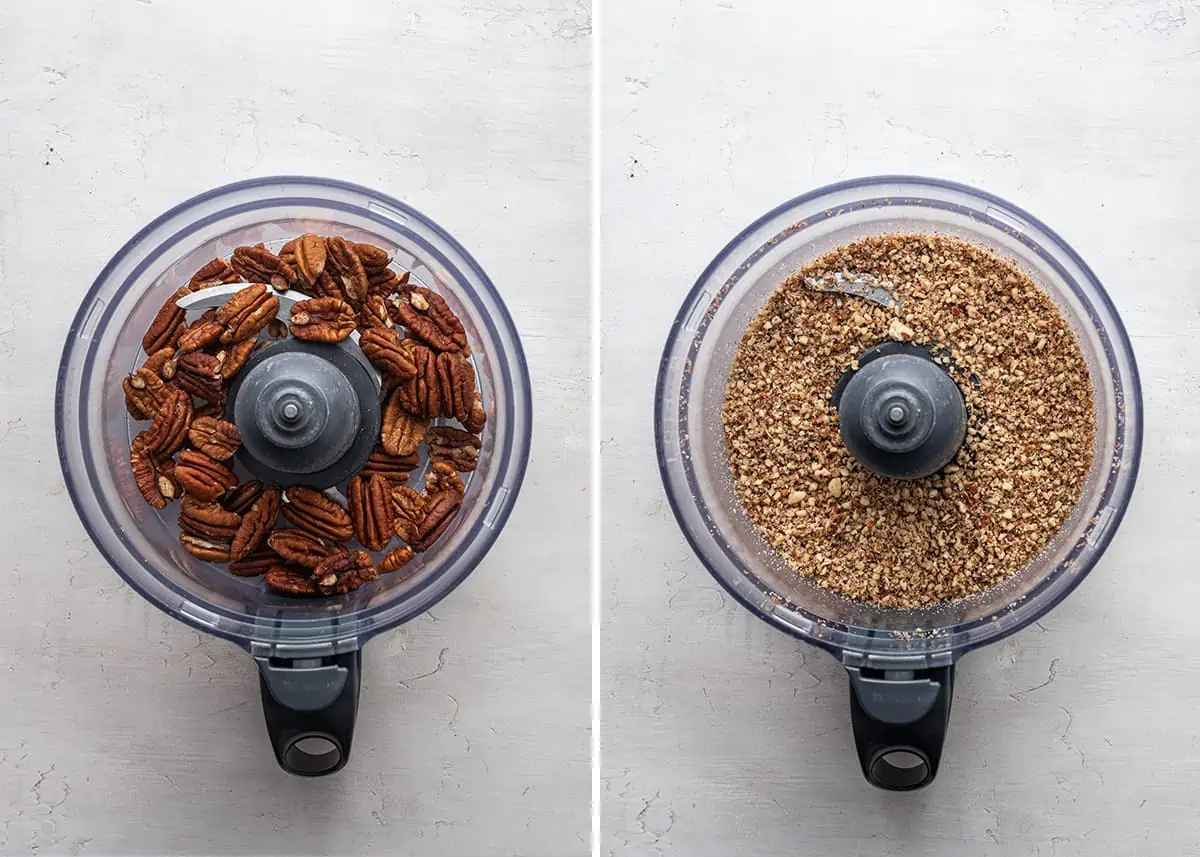 Prep. Preheat the oven to 400F, and line a baking sheet with parchment paper.
Make the crust. Put the pecans in a food processor and pulse until they're crumbly. Remove them from the food processor, place them on a plate, and add the cinnamon, paprika, and salt. Stir to combine.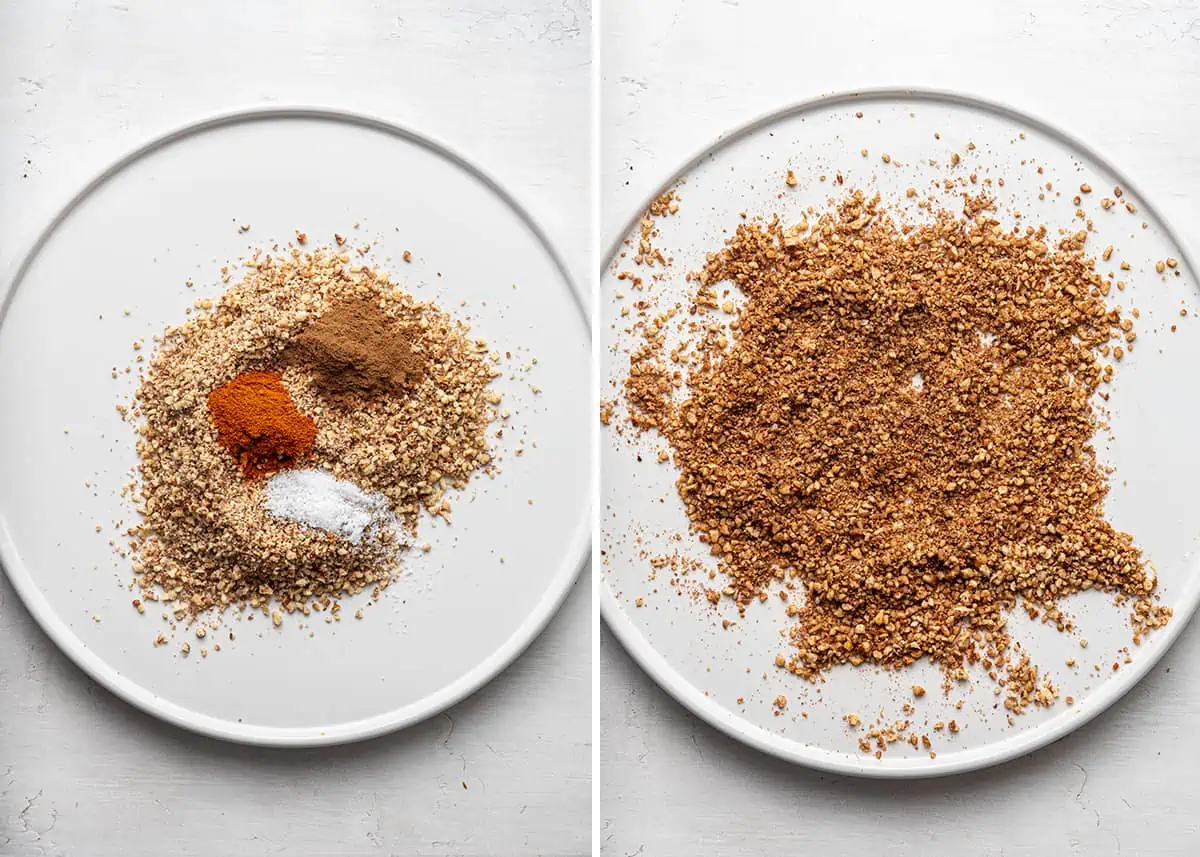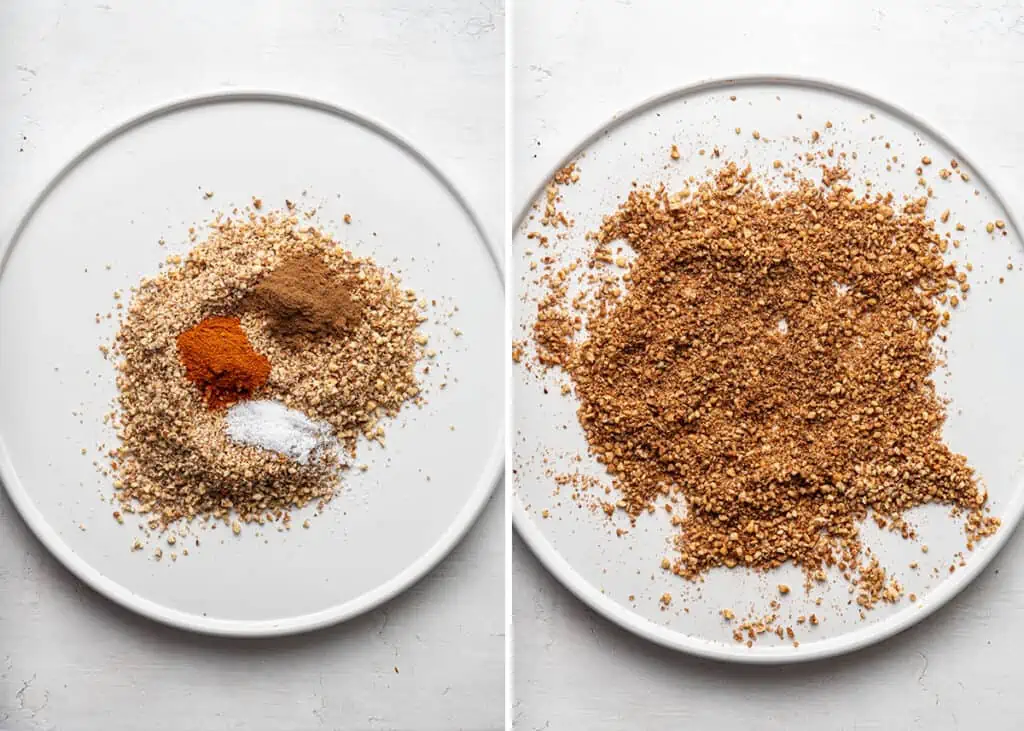 Add the mustard. Use a brush, or the back of a spoon to spread the mustard over the fish. Cover all of the fish except the skin.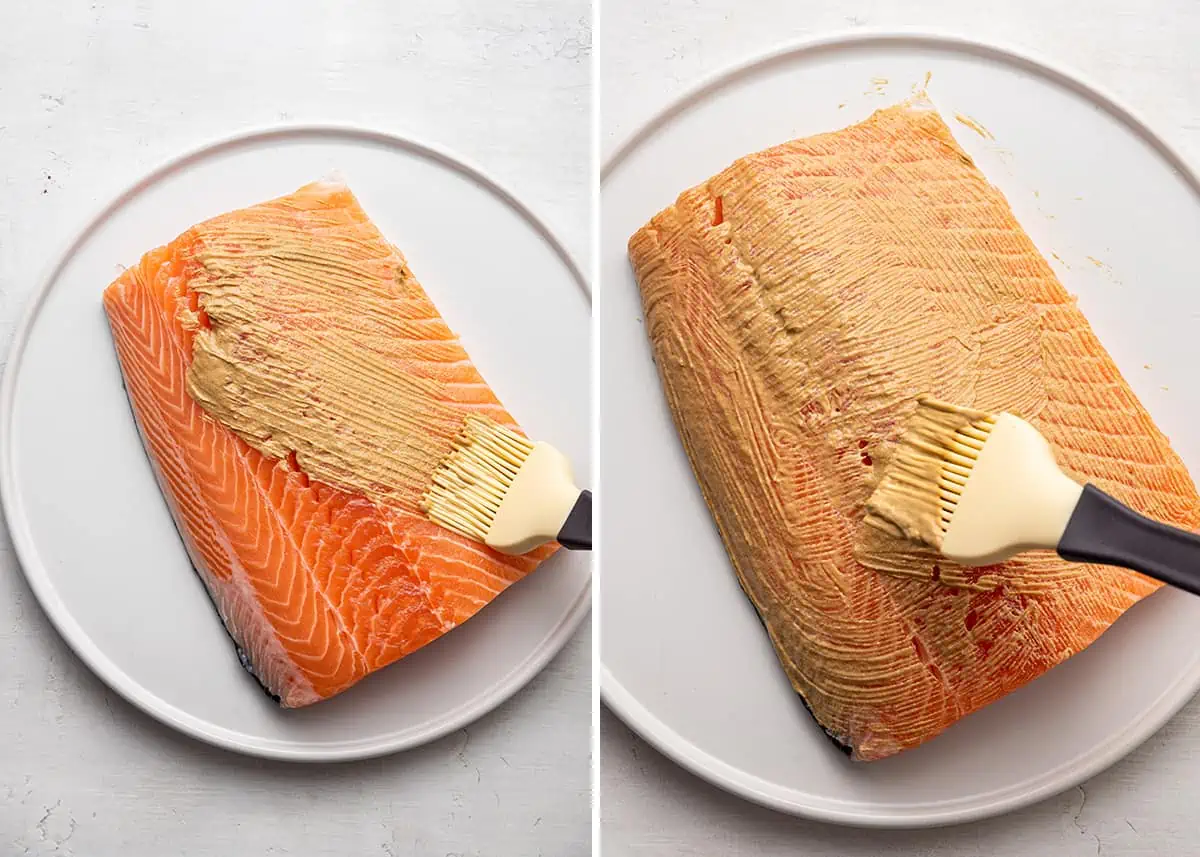 Add the crust. Place the salmon on the plate of pecan crumbs. Cover every side except the skin with the nut mixture.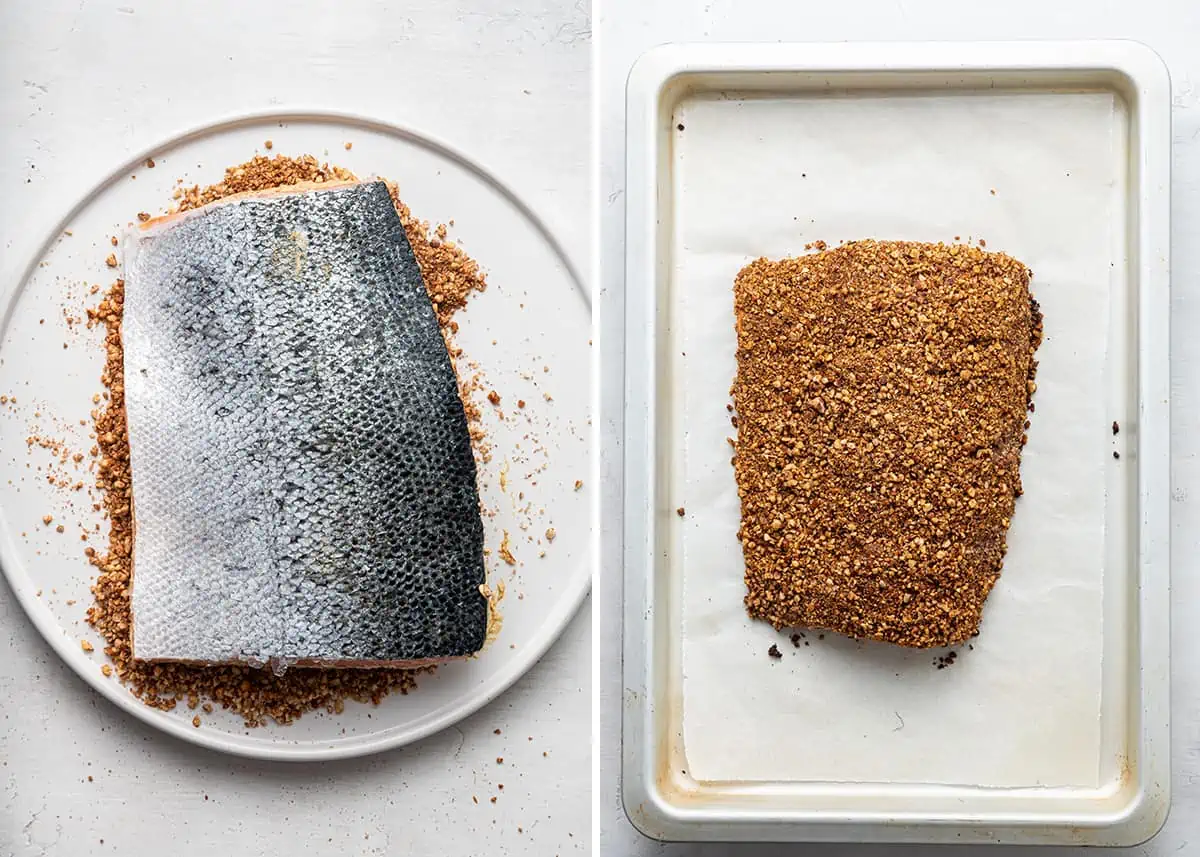 Bake. Put the salmon skin side down on the baking sheet and put it in the center of the oven. Bake until the fish is cooked through and flakes easily, about 15-20 minutes. Then serve!
Tips for Success
Here are a few tricks and tips to make the best possible cinnamon and pecan crusted salmon.
Don't overbake. Unlike some types of fish, salmon can be cooked medium or medium rare, so there's no need to cook this dish until it's well done. Even if you like it more on the cooked side, remember that it will keep cooking for a few minutes after you remove it from the oven, so pull it out of the oven just before it's done.
Use a nice mustard. The dijon flavor in this dish really shines through, so try to use a high-quality mustard. It can really make a difference.
Serve warm. Give the salmon 3-5 minutes after taking it out of the oven before cutting into it, so it can reabsorb all of its juices and firm up. Then serve it immediately, while it's still warm. The dish will melt in your mouth when it's still warm, and it's much better if you don't have to reheat it.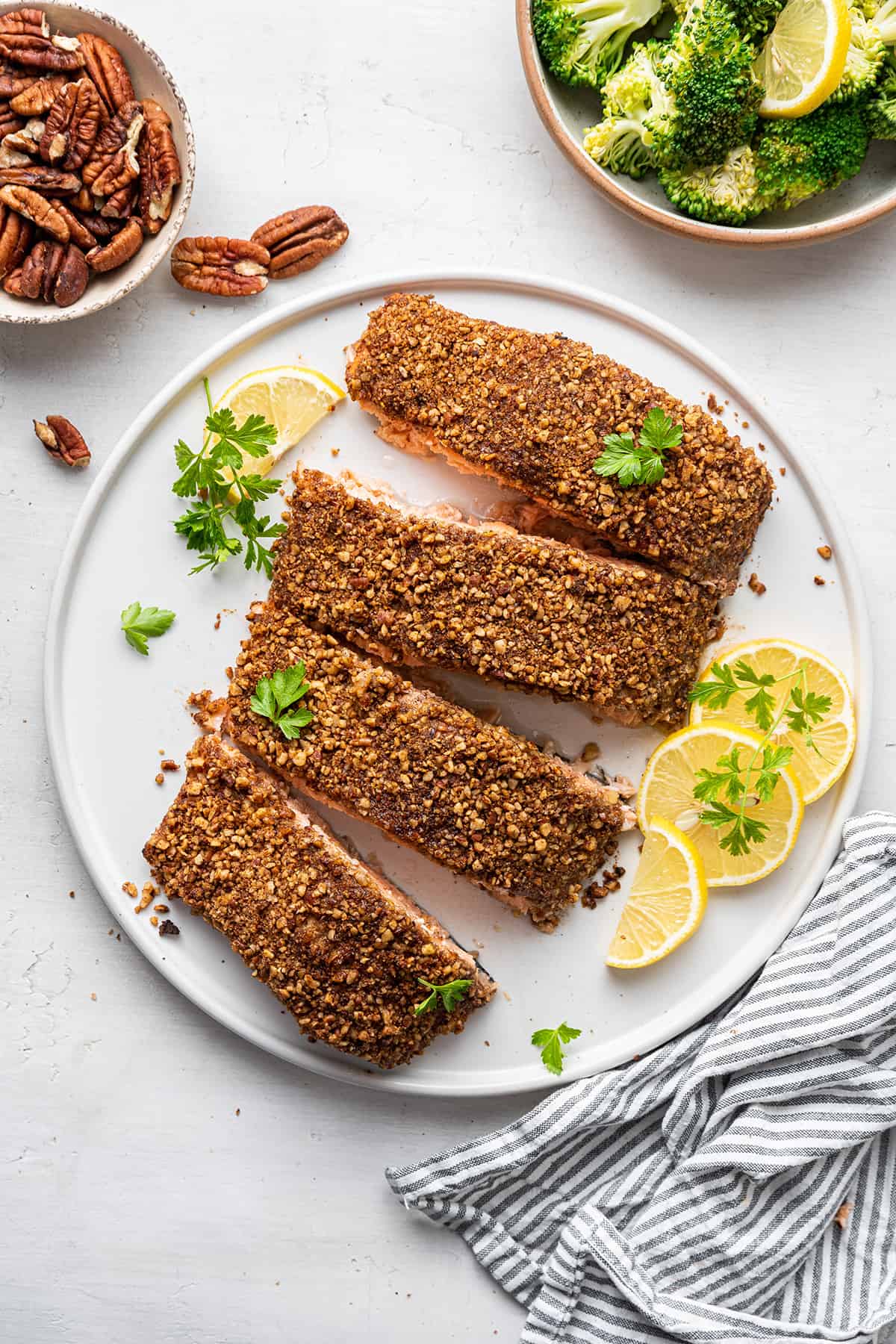 Serving Suggestions
To round out a healthy meal, I like to serve the salmon with veggies, either fresh or cooked. It's also fantastic when flaked over a salad, added to fish tacos, or used to make salmon cakes. Here are a few dishes I like to serve with this pecan crusted fish.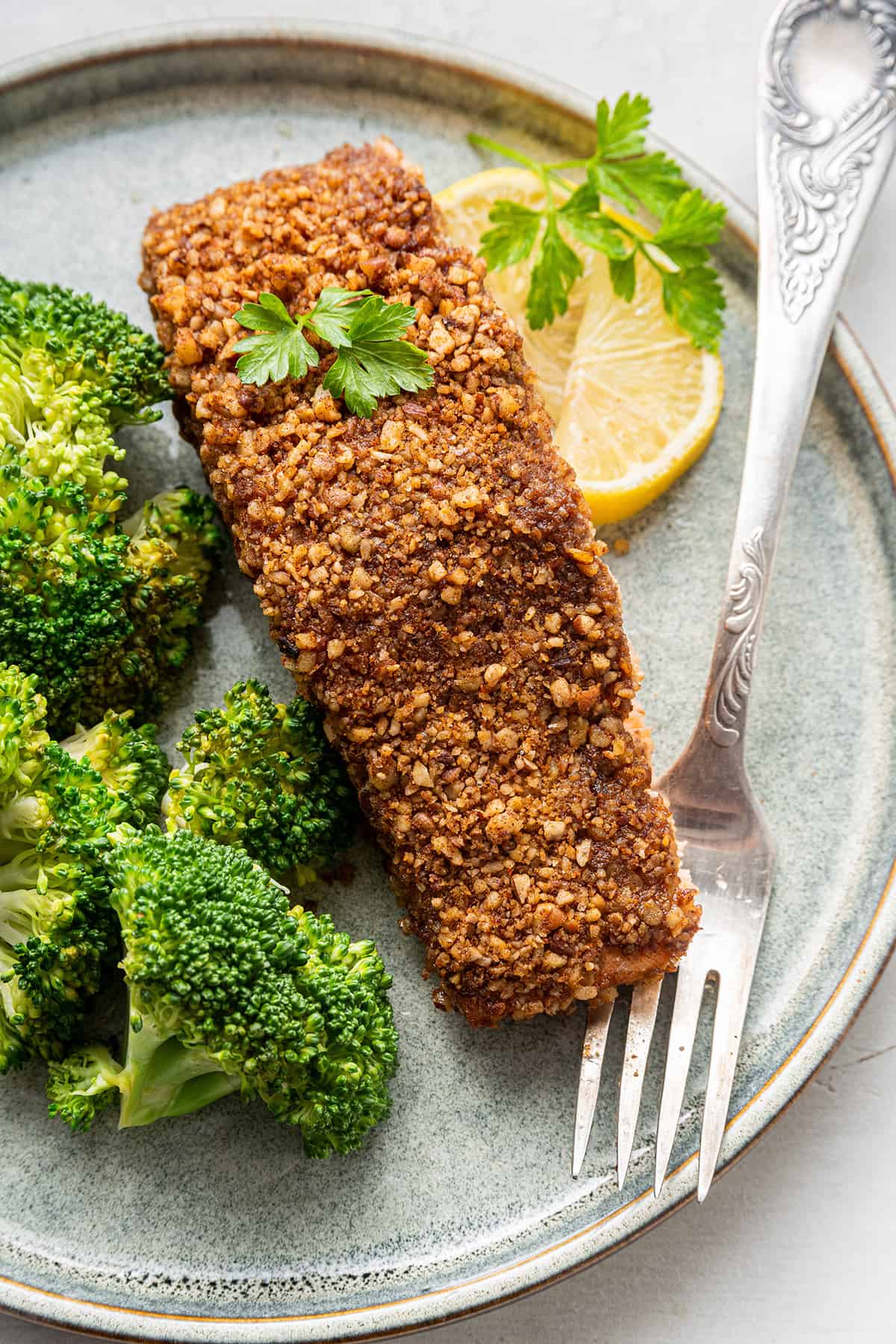 How to Store and Reheat Cinnamon and Pecan Crusted Salmon
You can store any leftovers in an airtight container. The leftover salmon will last for 3 days in the fridge. To keep the fish moist when reheating, place it in a baking tray, cover it with aluminum foil, and reheat in a 275F oven until warm throughout, about 12-15 minutes.
Can This Recipe Be Frozen?
You can definitely freeze this salmon dish. Store it in an airtight container, and it will last for up to 3 months. For best results, thaw overnight in the fridge before reheating.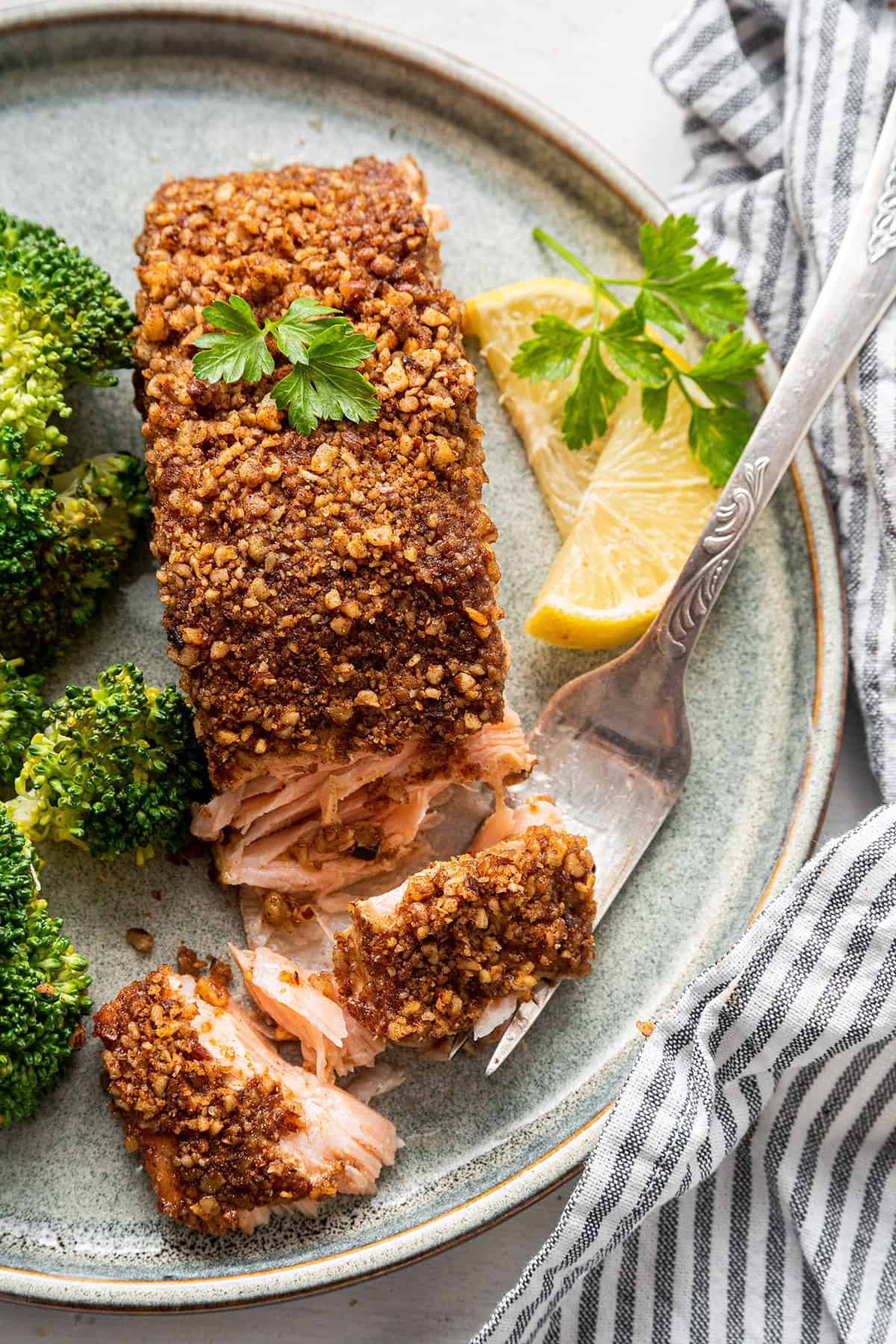 More Healthy Salmon Dishes to Try
Here are a few of my other favorite salmon dishes for you to make.
Cinnamon & Pecan Crusted Salmon
This healthy pecan crusted salmon recipe has a crispy crust, but is moist and tender on the inside. It's a healthy and flavorful dish that takes less than half an hour to make.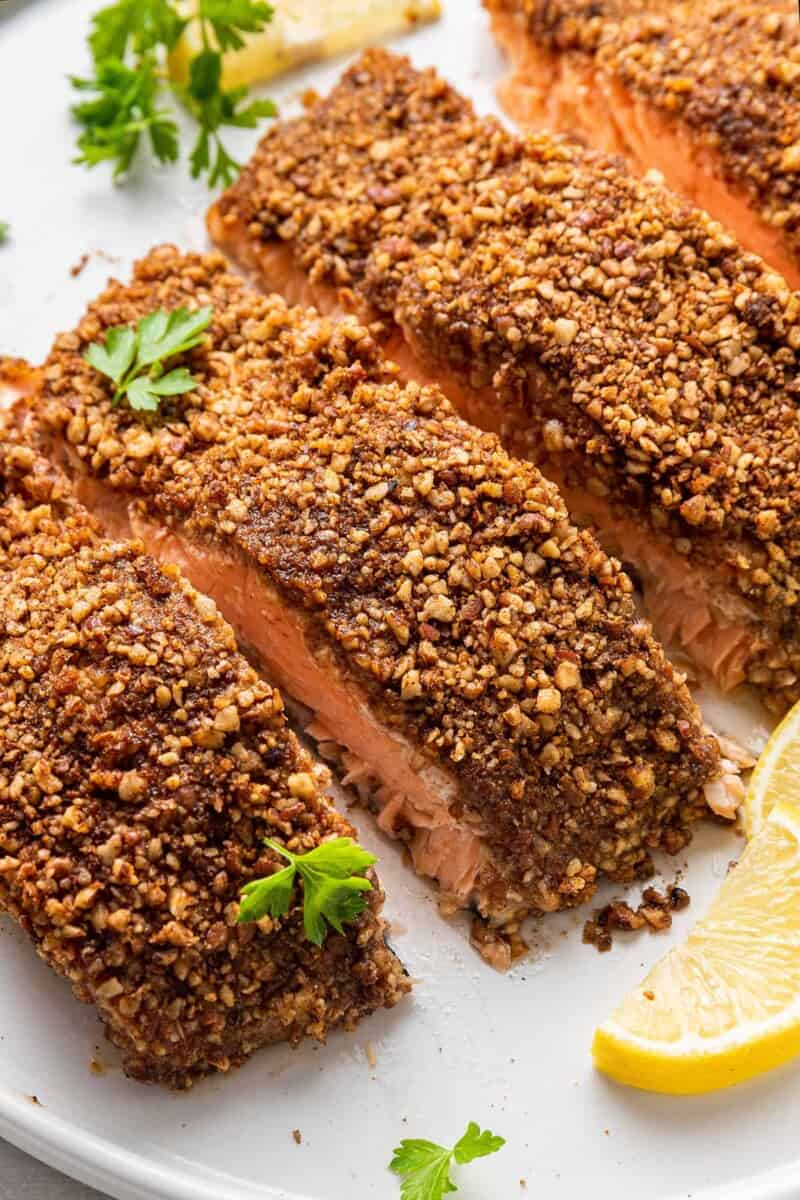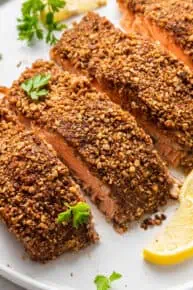 Instructions
Preheat the oven to 400ºF.

In a food processor, pulse the pecans until they are finely chopped and crumbly. Pour them onto a plate and add the cinnamon, paprika, and salt. Mix the spices into the pecans with a fork.

Spread the mustard evenly over the flesh of the salmon. This will give you a nice "sticky" layer to bind with the pecans. Coat the top of the salmon with the crust by placing the filet skin side up in the pecan crumbs. Make sure to crust all sides of the fish (except the skin) to get the full flavor of the crust.

Place the filet, skin side down on a parchment-lined baking sheet. Bake it in the center of the warm oven for 15 – 20 minutes depending on the thickness, until the fish flakes easily.

Serve immediately with a side of your favorite veggies – we went with roasted potatoes and a simple salad.
Notes
Store in an airtight container in the fridge for up to 3 days, or in the freezer for up to 3 months. Reheat in a baking dish covered in aluminum foil for 12-15 minutes at 275F. 
Nutrition
Serving:
0.25
pounds
|
Calories:
251
kcal
|
Carbohydrates:
3
g
|
Protein:
24
g
|
Fat:
16
g
|
Saturated Fat:
2
g
|
Polyunsaturated Fat:
6
g
|
Monounsaturated Fat:
8
g
|
Cholesterol:
62
mg
|
Sodium:
382
mg
|
Potassium:
626
mg
|
Fiber:
2
g
|
Sugar:
1
g
|
Vitamin A:
303
IU
|
Vitamin C:
0.2
mg
|
Calcium:
31
mg
|
Iron:
1
mg