Cinnamon & Pecan Crusted Salmon
This amazing cinnamon and pecan crusted salmon is a simple and healthy dinner recipe that takes less than 30 minutes to make. Flavorful, only 6 ingredients and seriously delicious!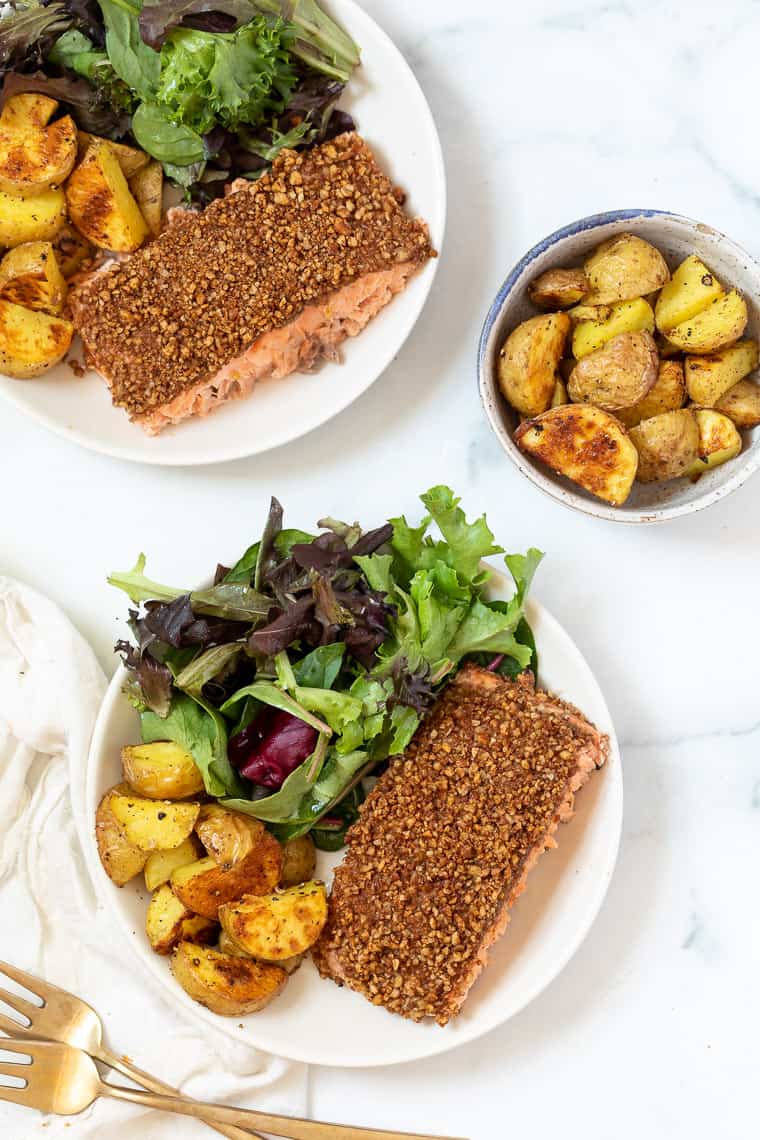 If you've been on the hunt for a quick, easy and delicious weeknight dinner idea, today's recipe is for you! We're making a perfect baked salmon that is ready in less than 30 minutes, uses just 6 ingredients and seriously tastes incredible. One of my team members made it the other day and tested me saying, "I just made this recipe for lunch and it is SO GOOD! My boyfriend kept repeating "this is so delicious". Gonna be our new go salmon recipe. It took us no time!"
So here's the deal: we're making this simple pecan crusted salmon with a hint of cinnamon and smoked paprika. It's baked until flakey perfection and can also be kept as a great meal prep option.
Sounds like something you need in your kitchen arsenal, don't you think?!
Best Type of Salmon To Buy
First, let's talk salmon. When it comes to buying salmon at the grocery store, there are a few things you need to (or should) keep in mind:
wild caught or responsibly farmed
caught in the Atlantic (not Pacific)
preferable ASC certified (highest rating in the salmon industry)
ideally fresh, not previously frozen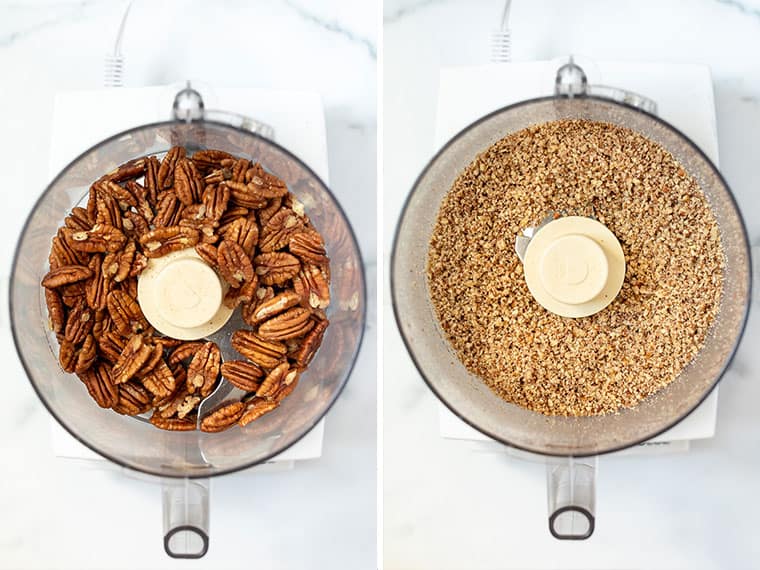 Ingredients for This Recipe
Now, let's talk about this pecan crusted salmon. Not only does it have this crunchy, flavorful crust on top, but that crust also helps keep the fish moist and flakey. The layer of mustard? Helps make sure the crust stays in place AND it adds another level of flavor. Yum!
Here's what we're using to make this recipe:
Salmon: make sure to follow my criteria above and scale the crust ingredients according to how big your piece is
Mustard: this gets put on top of the fish and then the crust goes on top of that
Pecans: which we'll grind up into a coarse texture and mix with the spices
Cinnamon: adds warmth!
Smoked paprika: adds smokiness
Salt: rounds it all out and makes it taste delicious!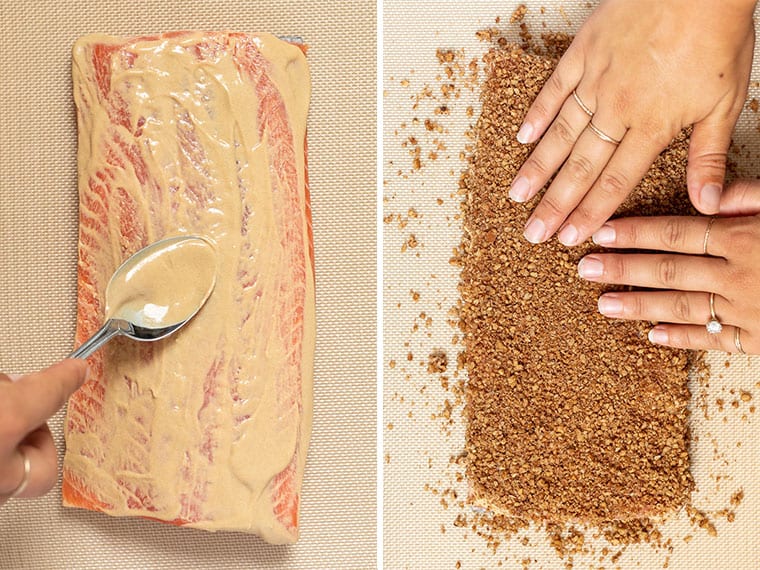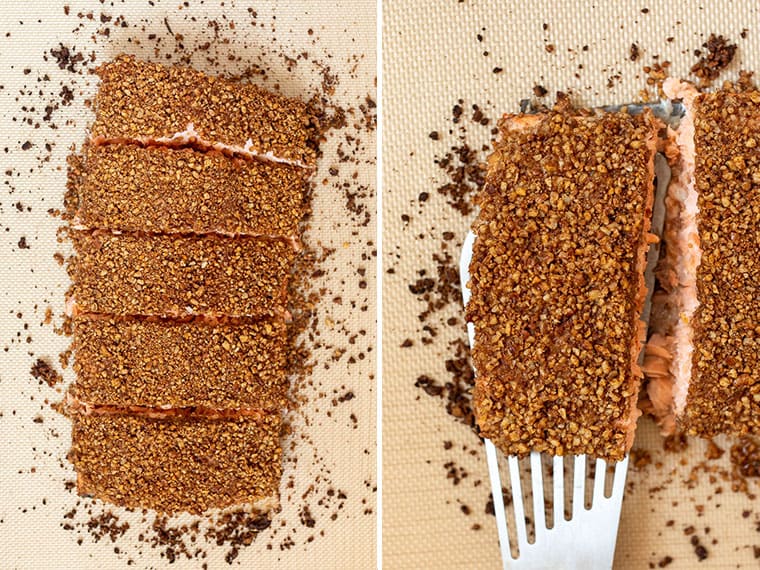 How to make our Pecan Crusted Salmon
Just as simple as the ingredient list is, making this recipe is also a cinch. Here are the steps you'll follow:
STEP ONE: Crust
First, we need to make the crust. We'll blitz our pecans in a food processor, then dump them in a shallow dish or plate and stir in the spices.
STEP TWO: Assemble
Next, we'll assemble the salmon. Spread the mustard directly on top of the salmon. Then dunk the salmon, flesh side down, into the crust. Push the crust around to make sure it's evenly coated. Then place it on a lined baking sheet.
STEP THREE: Bake
Finally, we'll bake it! This cooks for about 15 – 20 minutes, depending on the size of your filet, and you'll know it's done when the fish easily flakes. Let it rest of a few minutes before serving, but otherwise, just go ahead and dig in!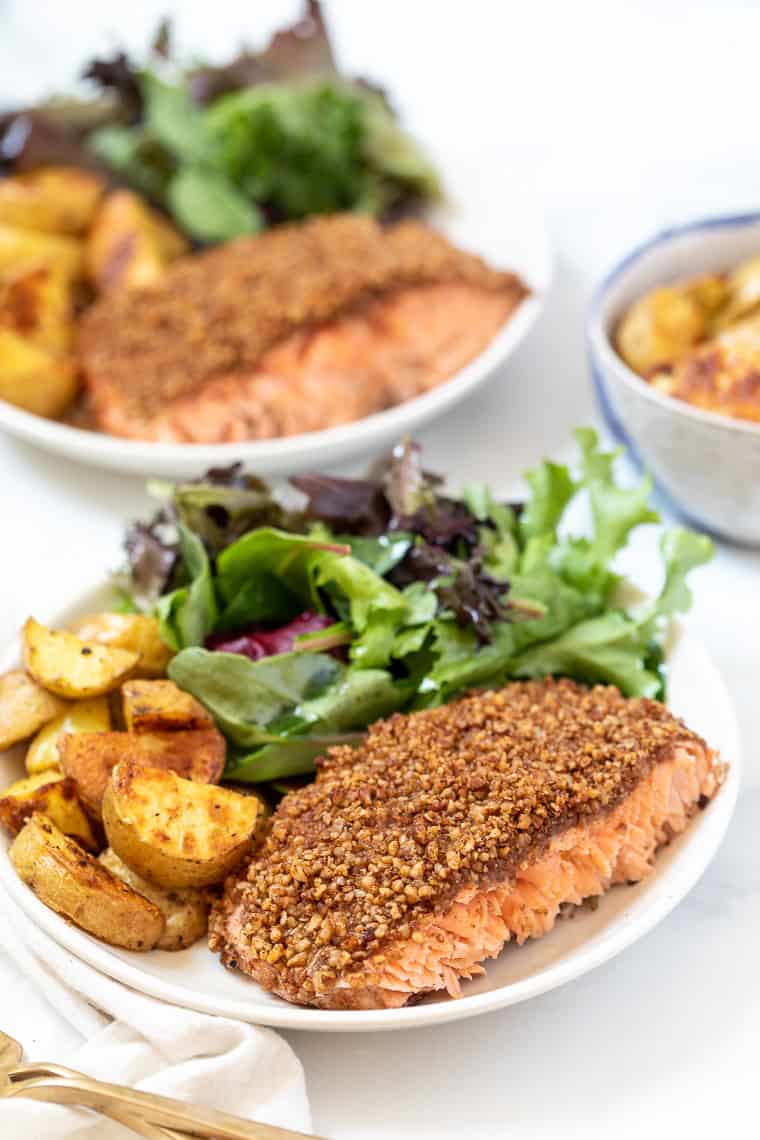 What To Serve with Our Baked Salmon
One of the things I love about this recipe is how easy it is to pair things with. Whether you want to make a few different sides or pop it on top of a salad, it will still be totally scrumptious.
Here are some ideas for sides that I think would pair really well:
Or really just any roasted vegetable would be perfect!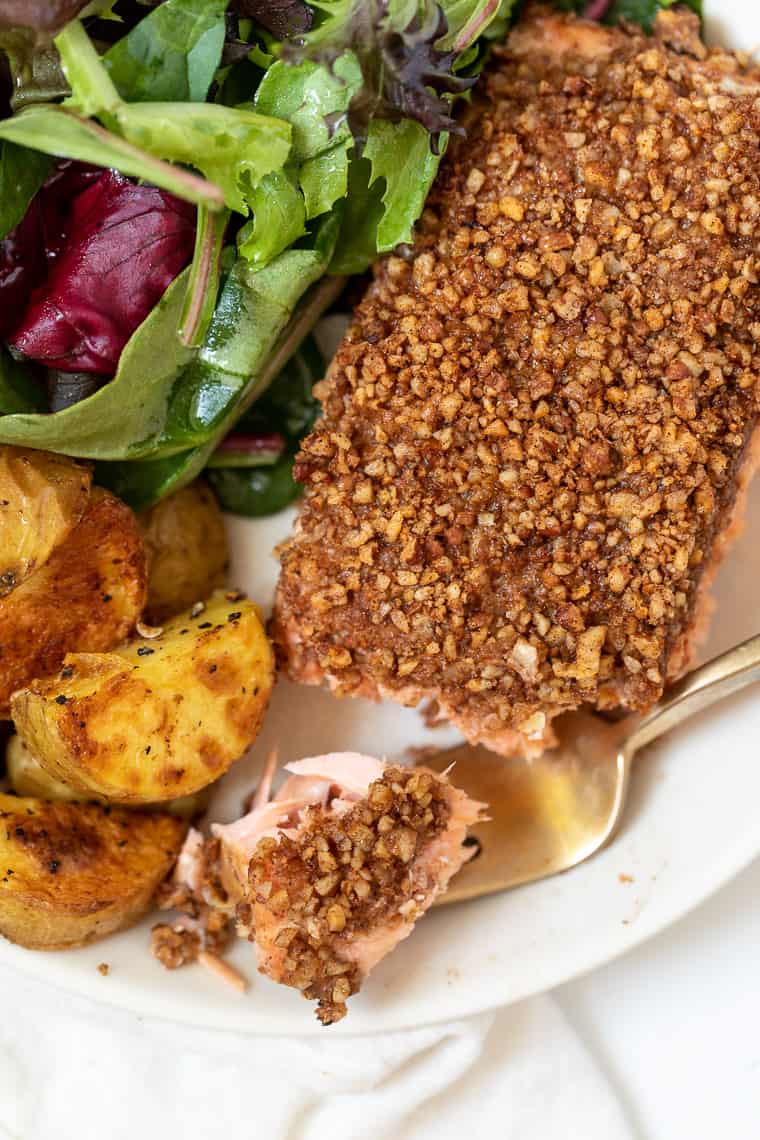 Crusted Salmon for Meal Prep
I don't often have leftover salmon, but this go around, I wanted to so I could test to see if salmon keeps well. The answer is YES!
I had three extra filets after testing this recipe and used them in a few different ways:
So…does salmon work for meal prep? Heck yes, it does!
Can You Reheat Salmon?
And yes, if you do want to reheat your leftovers, you can do that also.
I recommend putting it in a baking dish, cover the dish with tinfoil, and let it heat up slowly. The foil should trap the moisture inside and help prevent the fish from drying out.
If you're making tacos, I think just throwing it into a saute pan and heating it up quickly is the way to go!
But even if you don't have leftovers, you're going to LOVE this recipe. It's super simple, but also super flavorful. It's been a go-to for us these past few weeks and I can't wait to hear what you think!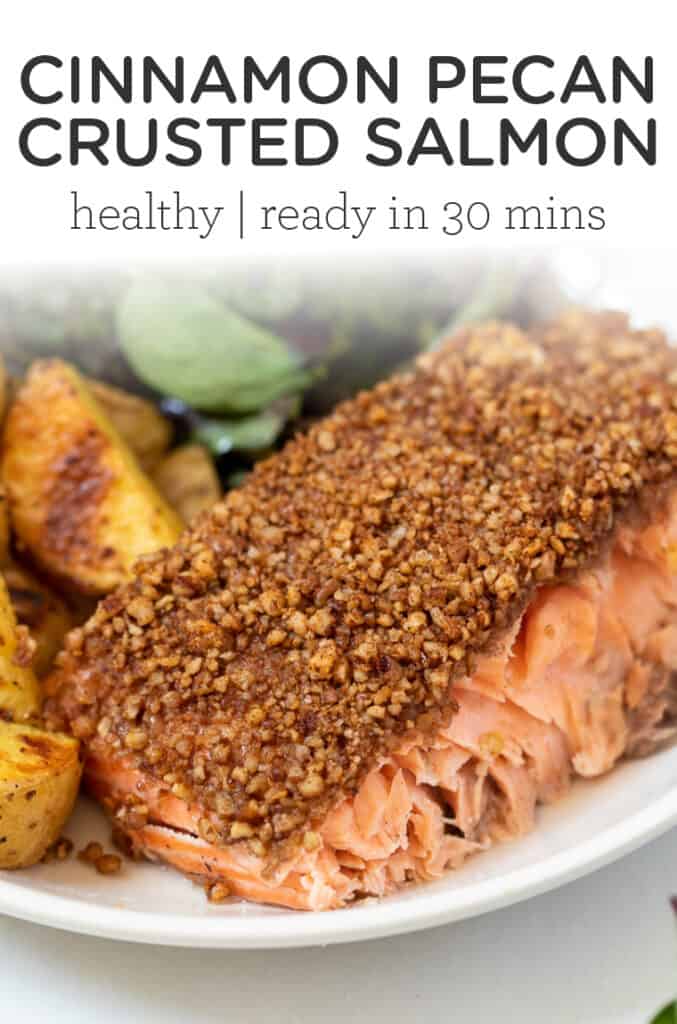 Other Healthy Salmon Recipes to try:
Cinnamon & Pecan Crusted Salmon
This healthy pecan crusted salmon recipe has a crispy crust, but is moist and tender on the inside. It's a healthy and flavorful dish that takes less than half an hour to make.
Servings 4 servings
Calories 251kcal
Instructions
Preheat the oven to 400ºF.

In a food processor, pulse the pecans until they are finely chopped and crumbly. Pour them onto a plate and add the cinnamon, paprika, and salt. Mix the spices into the pecans with a fork.

Spread the mustard evenly over the flesh of the salmon. This will give you a nice "sticky" layer to bind with the pecans. Coat the top of the salmon with the crust by placing the filet skin side up in the pecan crumbs. Make sure to crust all sides of the fish (except the skin) to get the full flavor of the crust.

Place the filet, skin side down on a parchment-lined baking sheet. Bake it in the center of the warm oven for 15 - 20 minutes depending on the thickness, until the fish flakes easily.

Serve immediately with a side of your favorite veggies – we went with roasted potatoes and a simple salad.
Notes
Store in an airtight container in the fridge for up to 3 days, or in the freezer for up to 3 months. Reheat in a baking dish covered in aluminum foil for 12-15 minutes at 275F. 
Nutrition
Serving: 0.25pounds | Calories: 251kcal | Carbohydrates: 3g | Protein: 24g | Fat: 16g | Saturated Fat: 2g | Polyunsaturated Fat: 6g | Monounsaturated Fat: 8g | Cholesterol: 62mg | Sodium: 382mg | Potassium: 626mg | Fiber: 2g | Sugar: 1g | Vitamin A: 303IU | Vitamin C: 0.2mg | Calcium: 31mg | Iron: 1mg
share what you make
Tag #simplyquinoa on Instagram with your creations! We love sharing what you make with the community. We can't wait to see!

follow on instagram