If you love tuna melts but want something plant-based, we've got the solution. These chickpea tuna melts are simple to make, great for vegan meal prep, and they taste delicious. They've even got a few ingredients in there that make them taste like actual tuna. It's wild and SO good!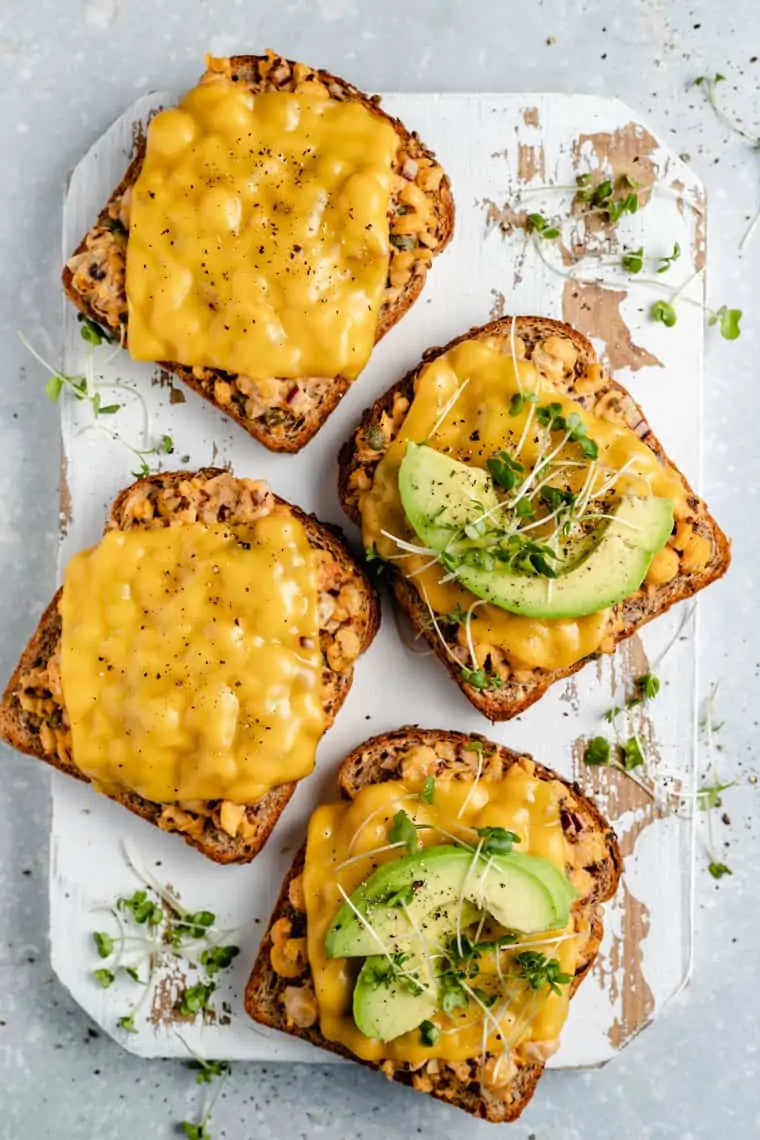 I grew up loving tuna melts. It was something my mom would throw together for us after school or for a quick dinner, and they're still a very nostalgic food for me.
Crust piece of toast, topped with tuna salad and melty cheese. Cut into squares. Sometimes dipped in ketchup. Makes me happy just thinking about it.
But as you know, I've personally been trying to focus my diet on mostly plants these past few years and I wanted to come up with a perfect vegan tuna melt that would give me those same nostalgic feelings, but with only vegan ingredients.
Enter today's recipe. The perfect chickpea tuna melt made with…chickpeas instead of tuna!! Vegan, gluten-free, and super simple to make. Also incredibly tasty!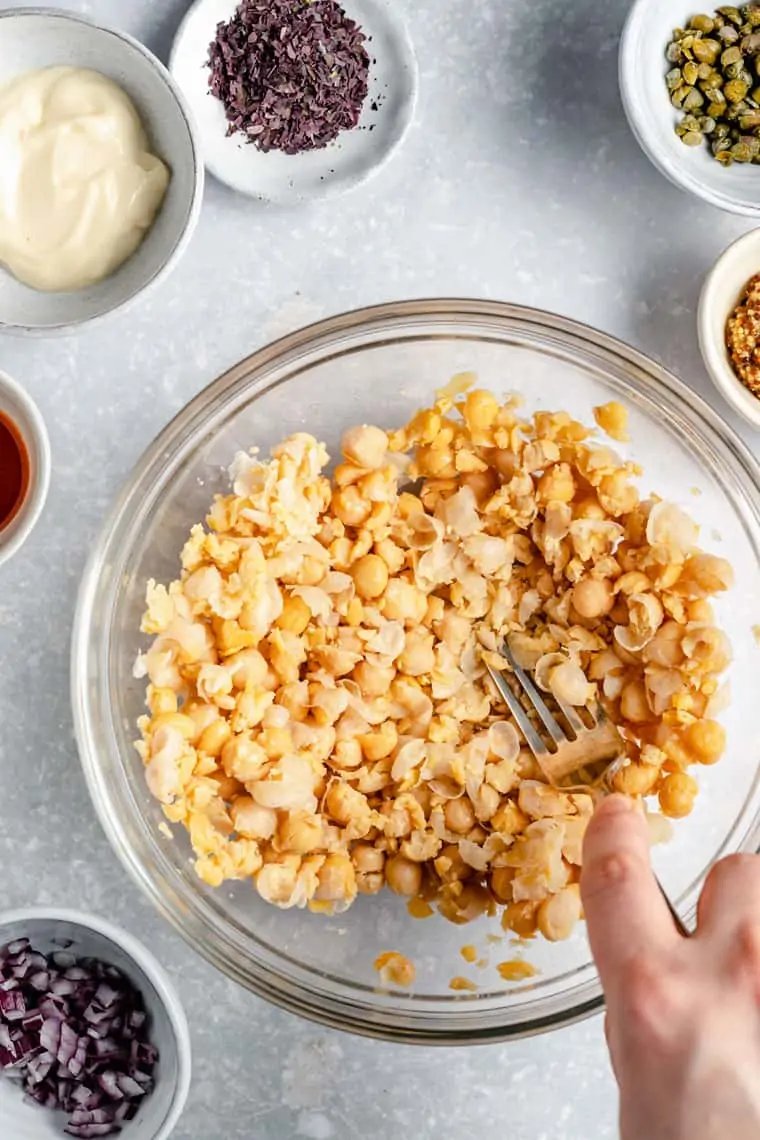 How To Make Vegan Chickpea Tuna Melts
Just like traditional tuna melts, our chickpea melt recipe is crazy simple. We start by making a chickpea tuna salad – and I say "tuna" because there's no fish – place it on top of a piece of toast and melt on some vegan cheese. It's that simple!
Here's what you'll need for the chickpea tuna:
Canned chickpeas: we'll smash these in our bowl to give them a more "tuna"-like consistency. Also, make sure to drain and rinse them before adding them to your bowl!
Vegan mayo: I like the vegan mayo from chosen foods because it's made with avocado oil instead of canola oil.
Mustard: I'm a big fan of adding whole grain mustard to the mix because it's kind of tangy, but also really helps elevate the flavor. This is hands down the BEST whole grain mustard out there.
Capers: a must if you ask me – they're briny, salty and SO good!
Onion: also a must because of the zing with flavor and pop of color
Dulse Flakes: this is optional but gives the chickpea tuna that "seafood" flavor – if this is a recipe you plan on making a lot (which you should!!), keeping a bag of this on hand is perfect.
And then if you want it a little spicy,  you can add in some hot sauce!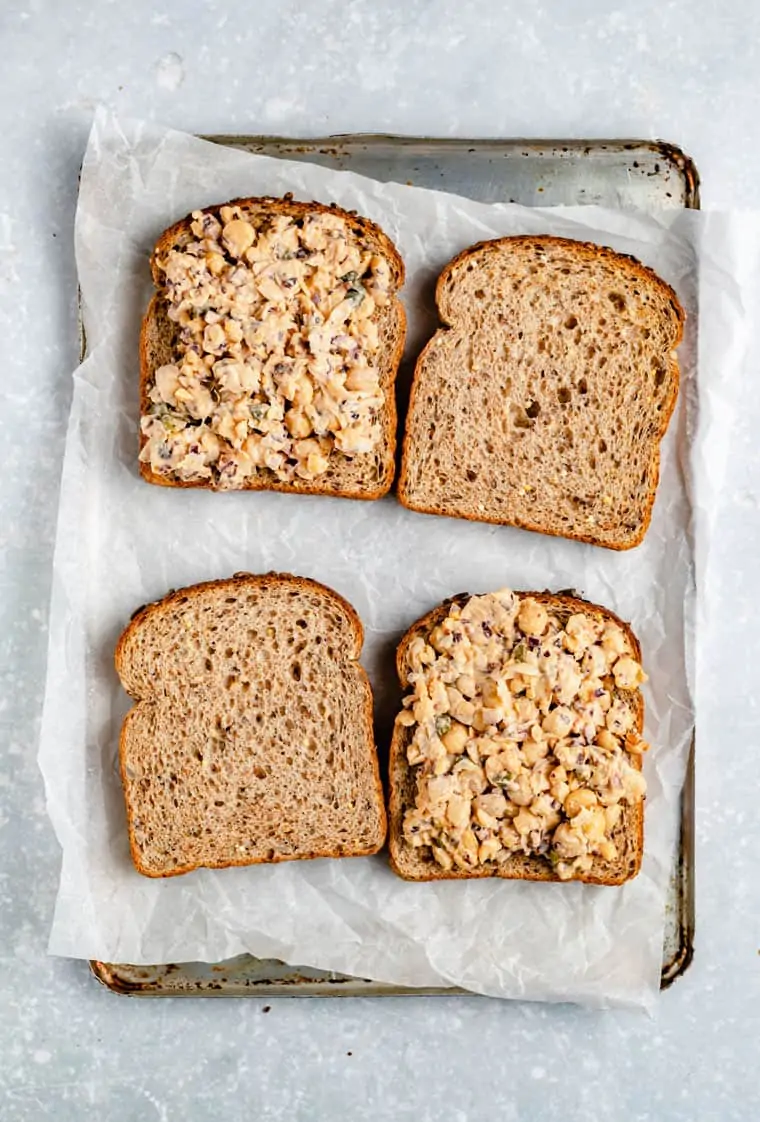 What is Dulse?
If you've never heard of dulse before, let me clarify. Dulse is seaweed and can often refer to multiple species. It's a red alga that grows in the northern coastal waters of the Atlantic and Pacific oceans. Like other sea vegetables, dulse has a sea flavor to it (which is why it works so well in these chickpea tuna melts), but it's also really healthy.
Some health benefits of dulse include:
high in fiber
high levels of iodine, calcium, potassium + iron
Dulse can be used in a variety of things as a flavoring. It will add a salty/briny/sea flavor!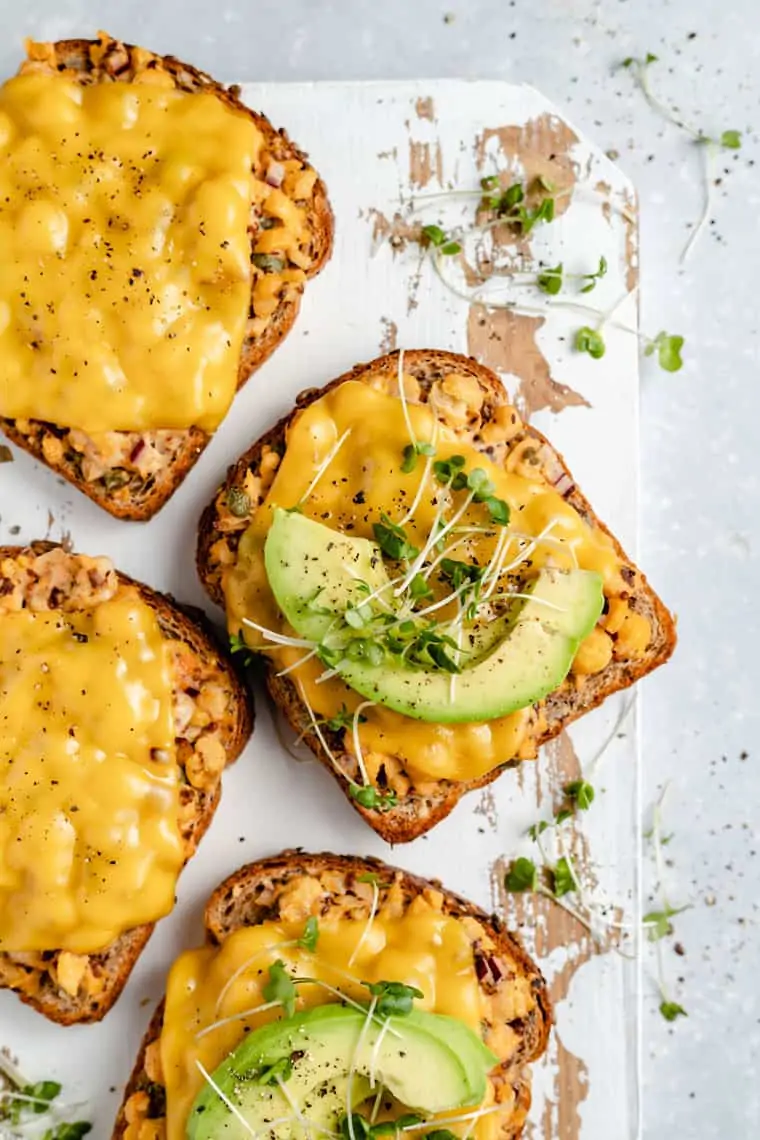 Serving Suggestions
What's great about this chickpea tuna salad is that in addition to using it to make these vegan tuna melts, you can also use it a bunch of other ways as well!
on greens: it's high in protein and makes a really tasty salad topper. Kind of similar to my vegan chicken salad bowls, but use the chickpea salad instead!
with grains: it also could be an awesome part of a grain bowl. Maybe some quinoa/rice, some roasted veggies, and this salad? YUM!
on bread: and lastly, it can also be used as a sandwich filling if you're not feeling the melt. Just use some gluten-free bread (or whatever bread you like), some lettuce/sprouts, and maybe some avocado!
And of course, in a melt!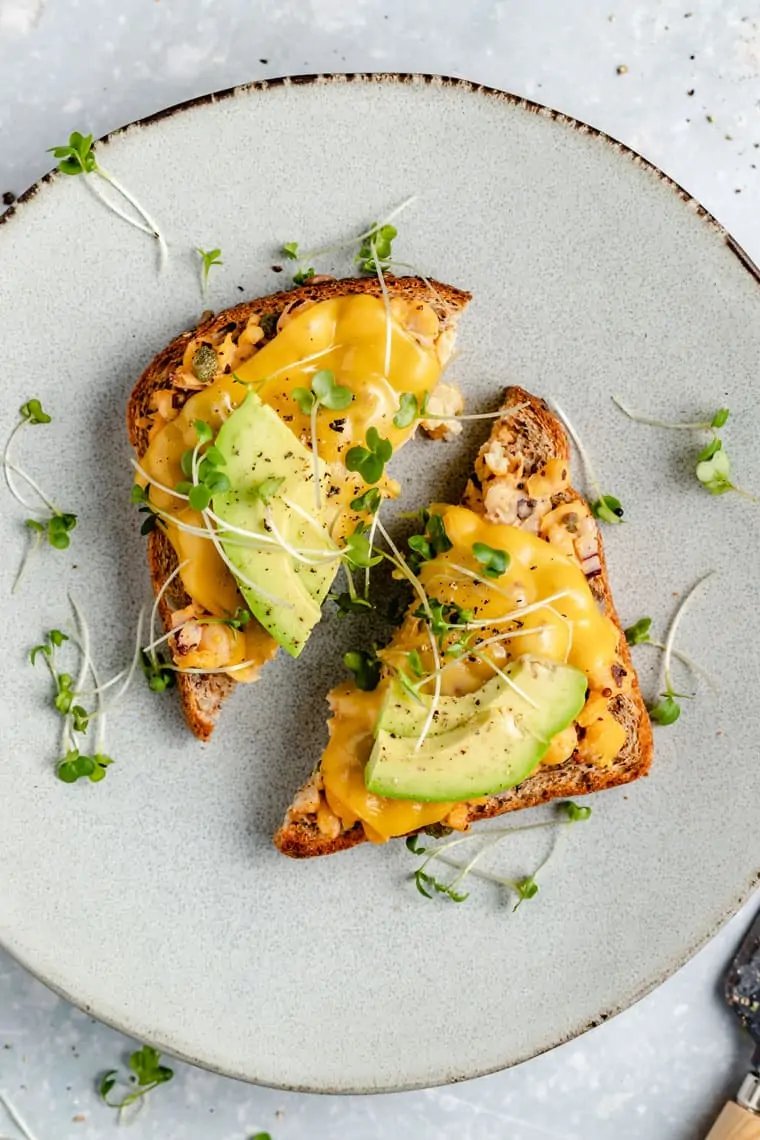 Storage Tips + How to Make Ahead
We mentioned this was an awesome vegan meal prep option, so if you do want to make it ahead, here's what you'll want to do:
prep the salad: first you'll want to make your chickpea salad. You can do that and store it in the fridge for 4 – 5 days.
make your melt: next, you can make your chickpea tuna melt. Don't do this more than one day ahead of time because I think the bread will get soggy. Let it cool completely and store it in the fridge overnight.
reheat your melt: once you're ready to reheat, just pop it back in the toaster oven and let it get warm and bubbly again.
I legit can't wait for you to make this recipe. It's so easy and seriously so good. I know I say that about all my recipes, but this one is *chef's kiss* delicious!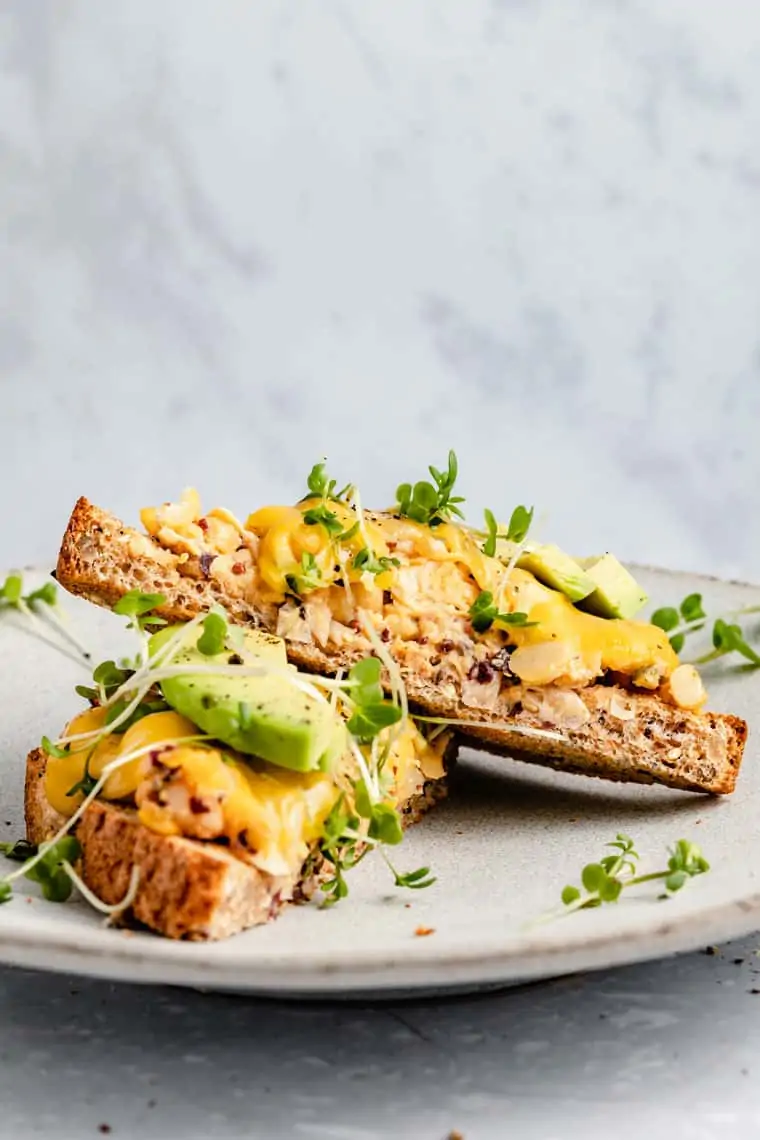 More Healthy Vegan Meal Prep Recipes
Best Chickpea Tuna Melt
Make the best chickpea tuna melts for a healthy vegan meal prep with capers, mustard, red onion, dairy-free cheese and mayonnaise.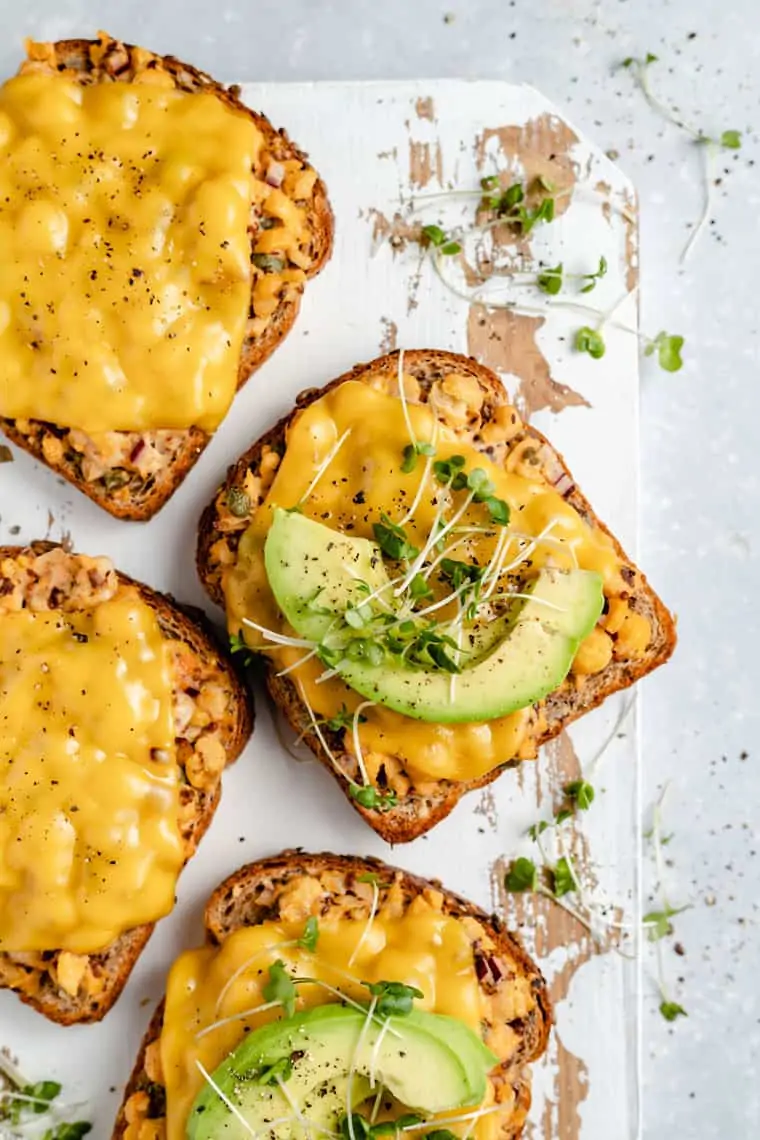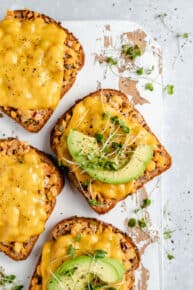 Ingredients
1

can chickpeas

, drained + rinsed

2

tablespoons

mayo

(vegan if wanting to make this 100% vegan)

1

teaspoon

whole grain mustard

1

teaspoon

hot sauce of choice

2

teaspoons

chopped capers

1

tablespoon

chopped red onion

2

teaspoons

dusle flakes

(optional for a seafood flavor)

Generous pinch of salt + pepper

4

slices

dairy-free cheese

4

slices

whole grain bread
Instructions
Mash the chickpeas in a large bowl. Add the mayo, mustard, hot sauce, capers, onions, dulse (if using), salt and pepper. Mix together.

Divide the chickpea salad evenly across all four slices of bread. Top each slice of bread with a piece of cheese.

Place on a baking sheet, into the toaster oven and cook for 5 - 6 minutes until the cheese is melted.

Cut in half and enjoy!
Nutrition
Serving:
1
piece of bread
|
Calories:
307
kcal
|
Carbohydrates:
36
g
|
Protein:
8
g
|
Fat:
14
g
|
Saturated Fat:
2
g
|
Trans Fat:
1
g
|
Cholesterol:
9
mg
|
Sodium:
737
mg
|
Potassium:
160
mg
|
Fiber:
7
g
|
Sugar:
3
g
|
Vitamin A:
98
IU
|
Vitamin C:
1
mg
|
Calcium:
97
mg
|
Iron:
2
mg