Chocolate Chip Zucchini Quinoa Muffins
These healthy chocolate chip zucchini quinoa muffins are made without using any eggs, gluten, refined sugar or oil…but they are flavorful and delicious!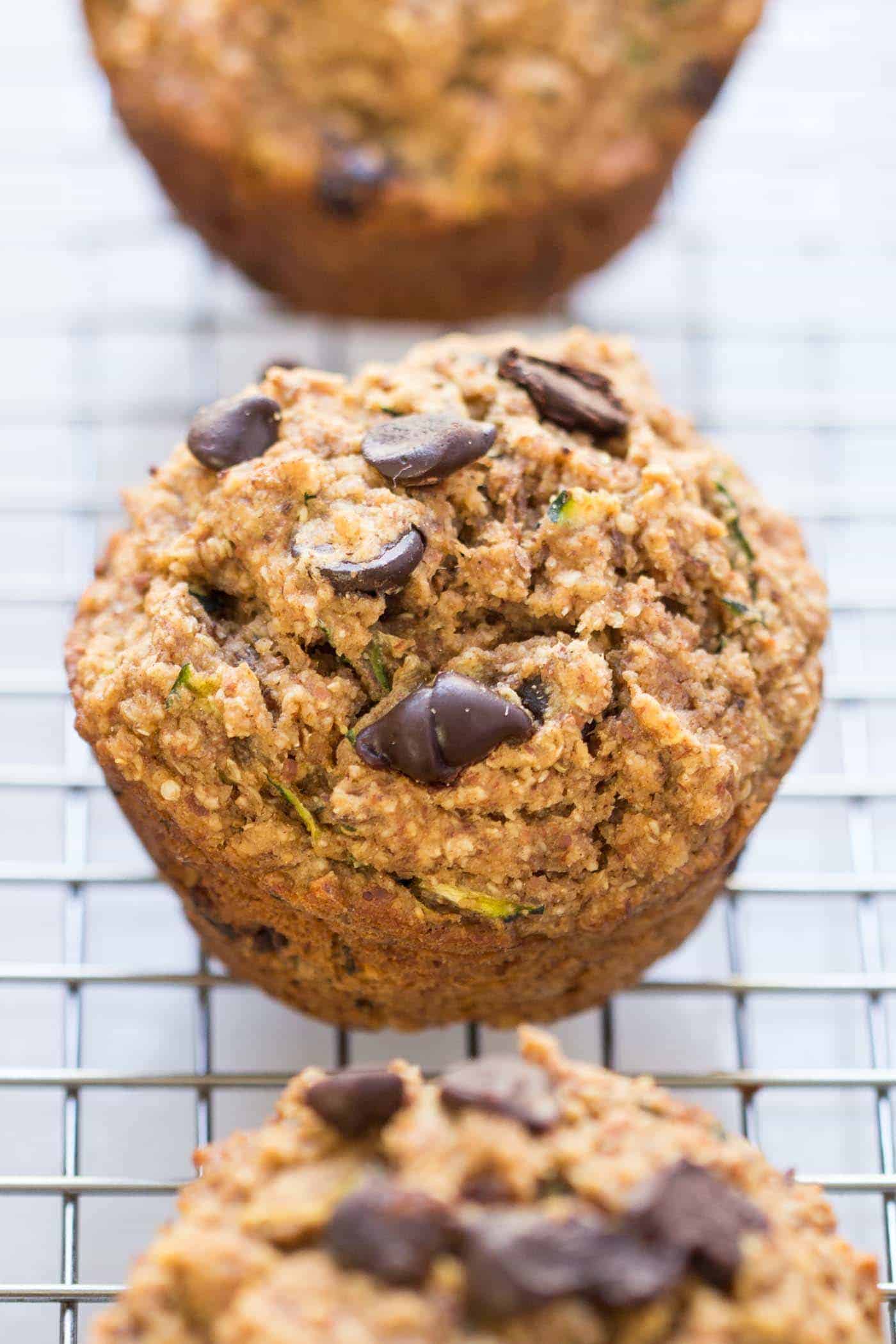 I got home yesterday after a long walk in Central Park with Trevi and a girlfriend, and all I could think about was muffins. Well, first I watched an episode (or two) of Nashville and THEN it was muffin-brain.
I'm not sure why, but I had this compulsion bake. I had picked up some zucchini at the market, planning to use if for a spiralized dinner, but for some reason, I just had to have zucchini muffins.
So I turned to my trusty quinoa muffin recipe, gave it a few tweaks and here we have it…chocolate chip zucchini quinoa muffins!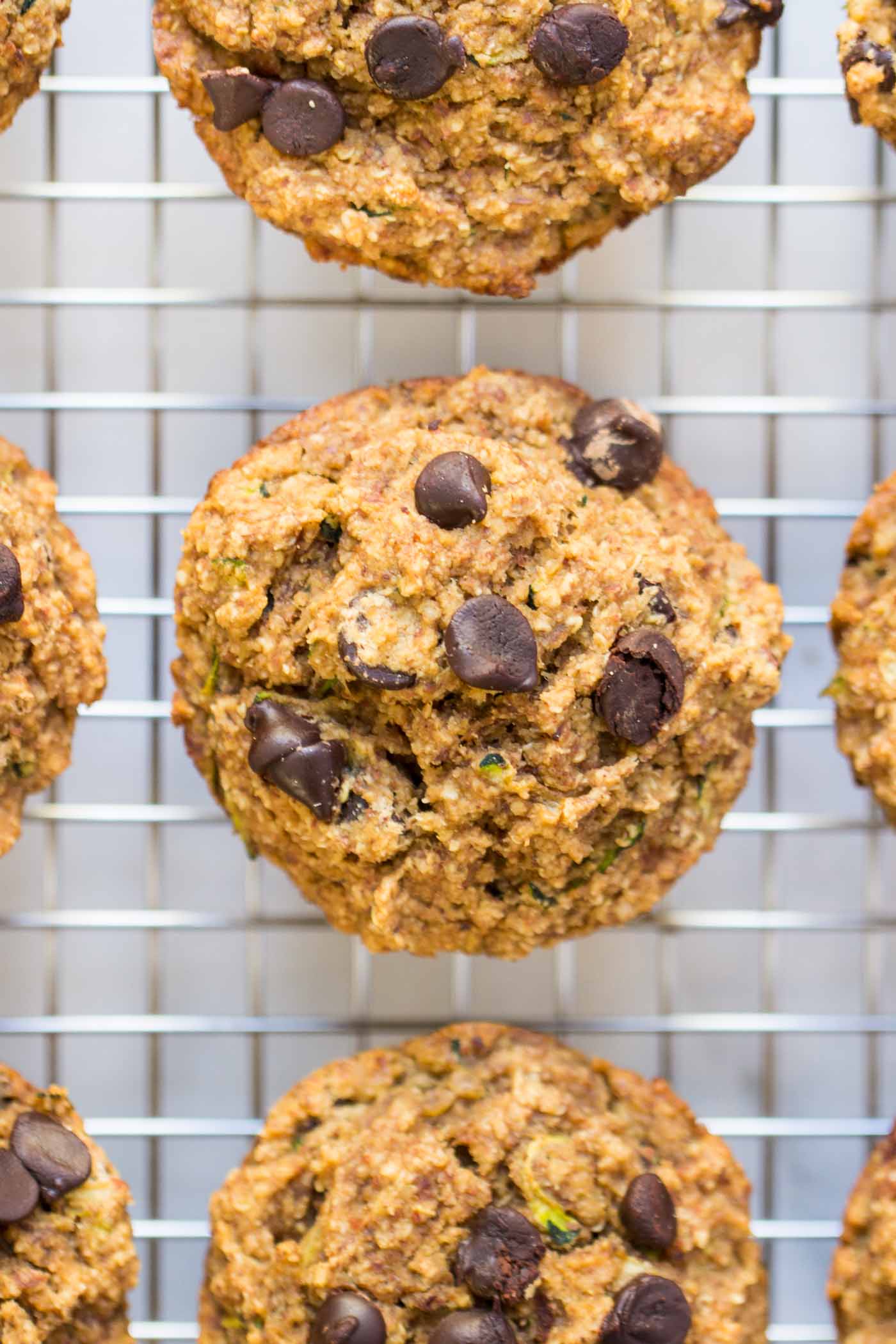 What I love about this muffin recipe is that it uses really basic ingredients (except for maybe quinoa flakes…but you know how much I love baking with them!), and it's really healthy. It's basically just like oatmeal, with a little fruit and natural sweeteners, turned into muffins.
There's no eggs, oil, dairy or gluten in sight!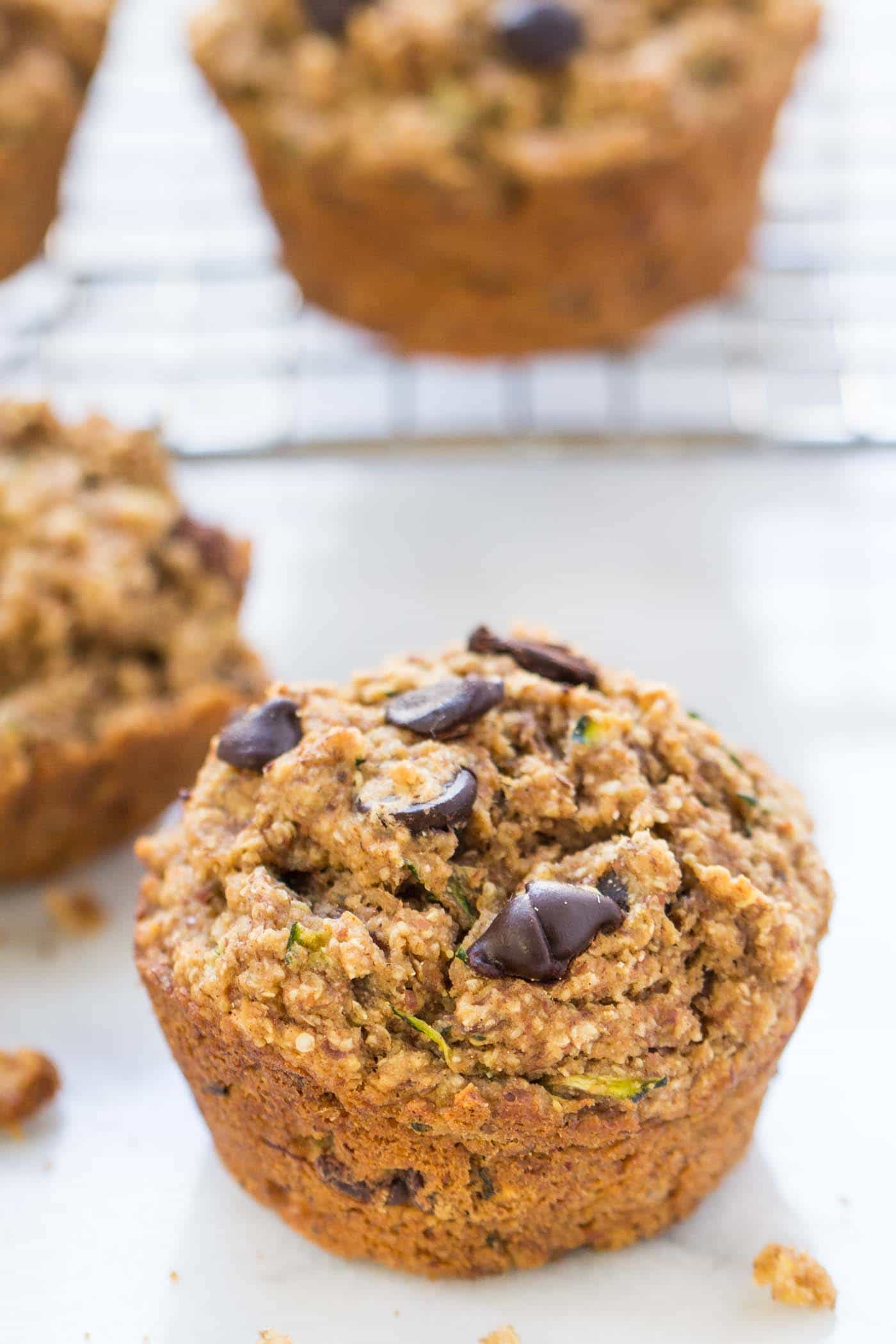 One of my favorite flours to bake with, besides quinoa flour, is oat flour. For starters, I love that you can make oat flour at home in a blender. Second, it's super affordable, especially if you buy oats in bulk (just remember, if you're celiac or have a severe gluten intolerance, you should purchase gluten-free certified oats!). Also, oat flour helps keep baked goods super moist AND it's nutritious!
Why are oats great?
Not only do I adore how versatile oats are — like honestly, you can use them in baking, for cereals, granolas, and so much more — but oats they're actually quite good for you too. Oats are really high in dietary fiber, which makes them a great breakfast food because they'll fill you up and also help to stabilize blood sugar. Oats also contain some protein (definitely not as much as quinoa, but that's okay!) as well as trace minerals like iron, magnesium, and phosphorus.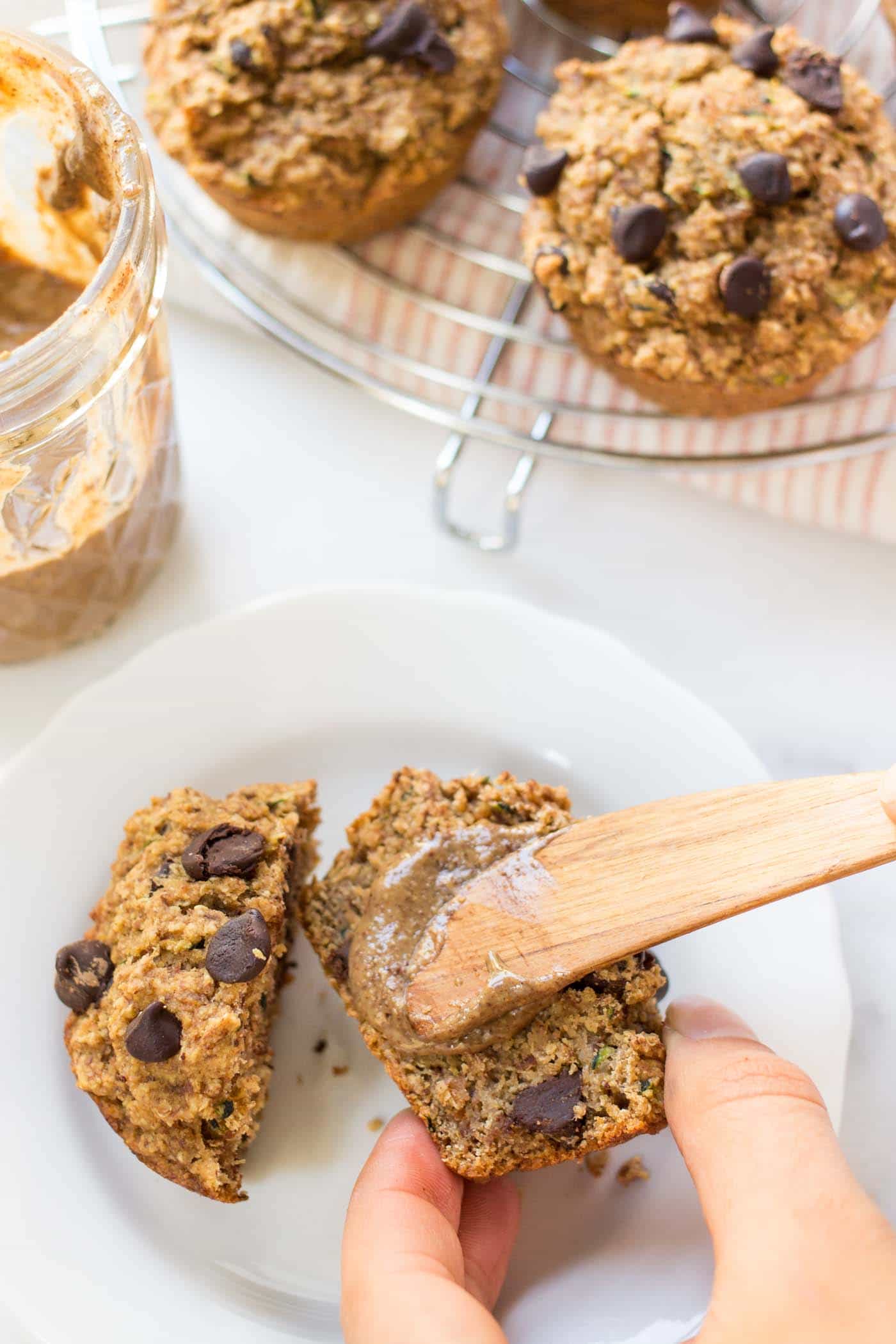 In addition to oats, we've also managed to pack in some other pretty stellar ingredients. Let's take a look:
Quinoa Flakes: high in protein, fiber and trace minerals
Almond Flour: high in healthy fats and protein, also helps to give a soft, tender texture to baked goods
Flaxseed Meal: high in healthy, omega-3 fats, high in fiber, helps improve digestion and acts as the egg in this recipe
Banana: great source of potassium, also very naturally sweet so it helps you reduce the other sugars you're using
Applesauce: packed with fiber and loads of vitamins like A, Bs, and C, and it acts as an oil replacer in this recipe
Maple Syrup: has is lower on the glycemic index than cane sugar which means it won't spike your blood sugar as much, it's sweeter so you need to use less of it, plus it also has some minerals (it's highest in manganese) as well as antioxidants
Coconut Sugar: is very low on the glycemic index (lower than maple syrup), but also contains trace minerals and antioxidants like you would see in other coconut products
Zucchini: is packed with vitamins and minerals, and it's very high in water content making it low in calories
Basically…these muffins are rockstars. They're healthy, filling, a perfect breakfast treat AND they taste freaking awesome.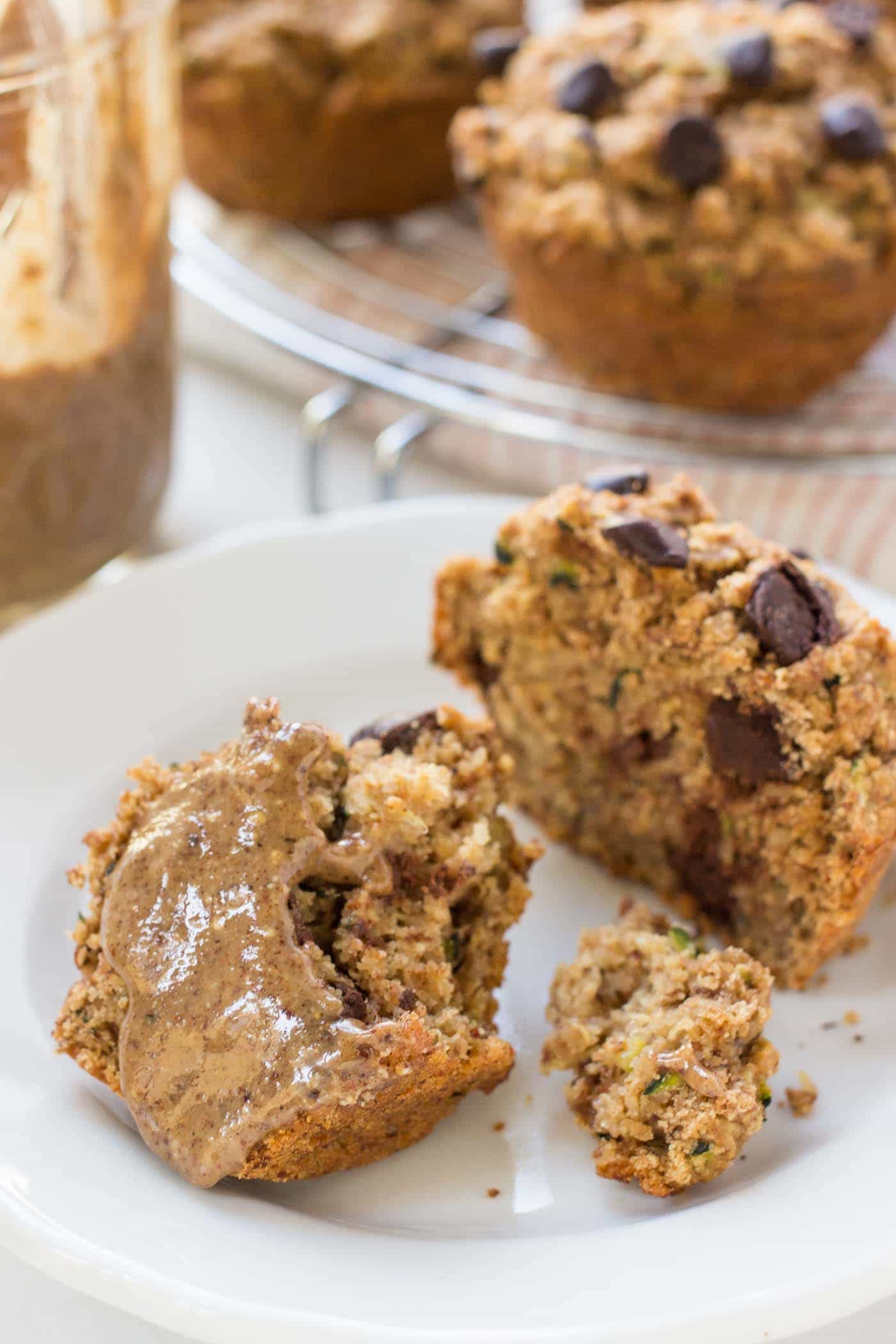 If you're also feeling the need to get your bake on, then I highly recommend you whip up a batch of these babies. They're so simple and you'll have a healthy breakfast treat (or snack) for the rest of the week!
So excuse me while I go heat up another muffin and slather it in my favorite homemade nut butter (cinnamon maple pecan)!
Your turn…
What's your favorite muffin combo? I'm looking for more flavor ideas! Let me know in the comments below and I'll add them to my recipe brainstorm list 🙂
xo Alyssa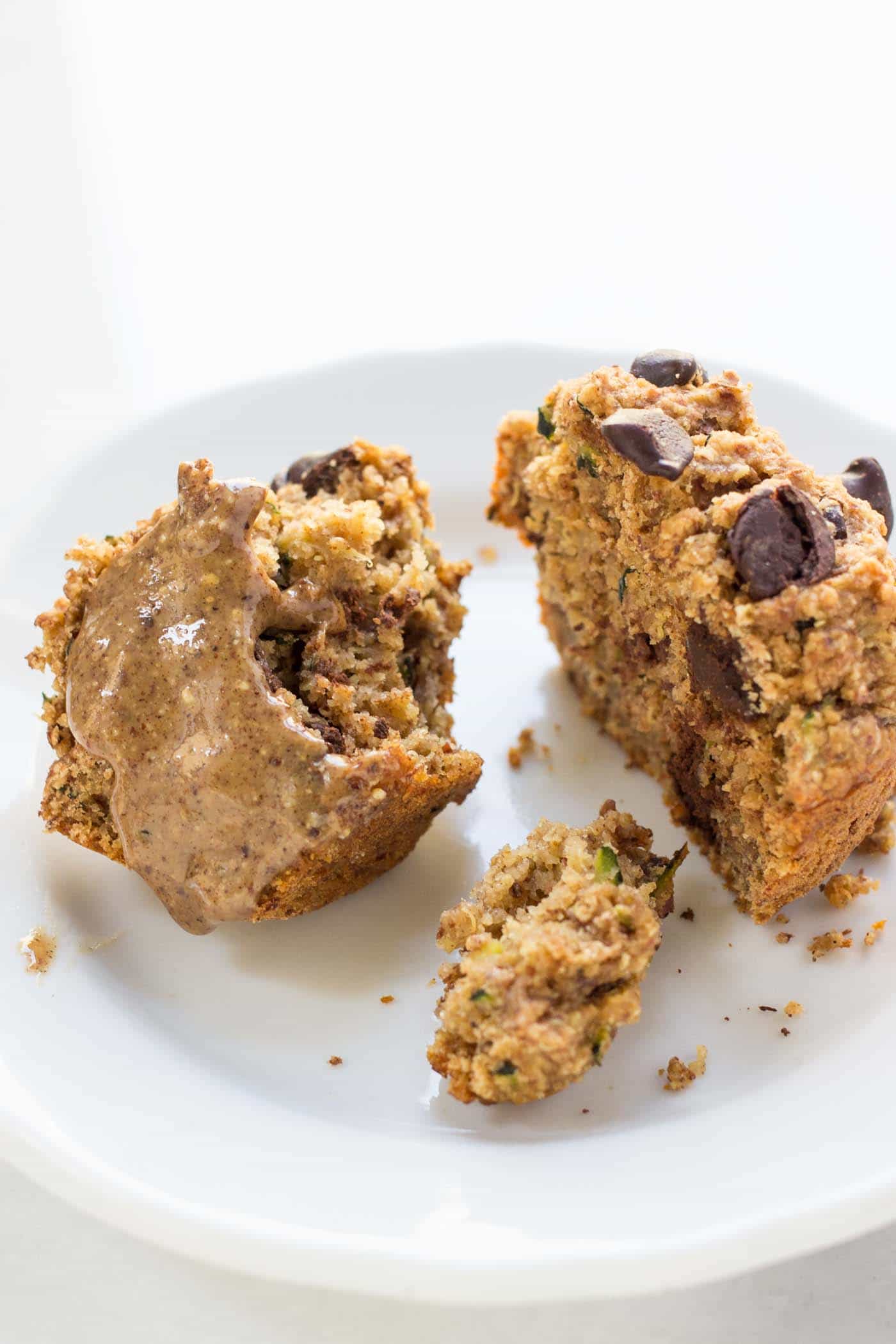 More Scrumptious Muffin Recipes to try:

Chocolate Chip Zucchini Quinoa Muffins
What I love about this muffin recipe is that it uses really basic ingredients (except for maybe quinoa flakes...but you know how much I love baking with them!), and it's really healthy. It's basically just like oatmeal, with a little fruit and natural sweeteners, turned into muffins.
Servings 10 muffins
Calories 192kcal
Instructions
Heat the oven to 350ºF. Grease a 12-cup muffin tin and set aside.

Make the flax egg by whisking together the flax and water. Set this aside to gel while you prepare the remaining ingredients.

Whisk together the dry ingredients (minus vanilla extract if using) in a large mixing bowl.

In a separate bowl, beat together banana, applesauce, milk and syrup. Whisk in flax egg and pour wet ingredients into dry. Stir to thoroughly combine (the batter will be kind of thick, but still stirable and soft). Fold in the zucchini and chocolate chips.

Fill each cup ¾ of the way full. Add water to the ones that are unused. Sprinkle the tops of the muffins with additional chocolate chips if desired (it makes them uber chocolatey and pretty!).

Bake on the center rack for 23 - 25 minutes until a cake tester inserted into the center comes out clean.

Cool in the pan for 5 minutes, then transfer to a wire rack and cool completely. If desired, reheat in the toaster oven or in the microwave and top with nut butter (optional, but highly encouraged).
Nutrition
Calories: 192kcal | Carbohydrates: 31g | Protein: 4g | Fat: 6g | Saturated Fat: 1g | Sodium: 71mg | Potassium: 228mg | Fiber: 3g | Sugar: 12g | Vitamin A: 20IU | Vitamin C: 2.2mg | Calcium: 74mg | Iron: 1.5mg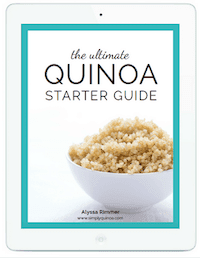 New to cooking quinoa? Grab your FREE Quinoa Starter Guide!
Become part of the Simply Quinoa community and receive weekly emails with exclusive content that I only share in email, as well as my in-depth guide to starting your quinoa journey.
Want more quinoa breakfast recipes?
Follow my board on Pinterest!
share what you make
Tag #simplyquinoa on Instagram with your creations! We love sharing what you make with the community. We can't wait to see!

follow on instagram