Healthy Blueberry Muffins with Blueberry Icing
These healthy blueberry muffins are full of protein, fiber and are naturally sweetened using fruit and maple syrup. Topped with sugar-free blueberry icing!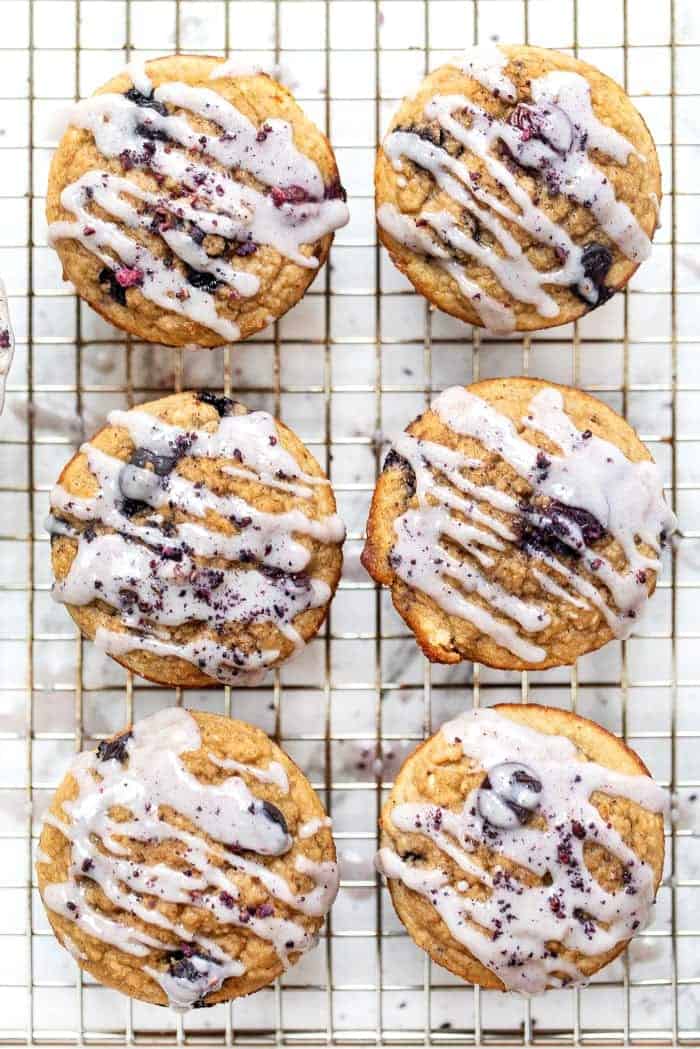 While we were on our road trip last week, we stopped a little cafe for breakfast and I ordered a blueberry muffin. It was heavenly! And it made me realize…I've never made a healthy blueberry muffin recipe for YOU!
So that's what we're doing today. We're making moist, tender, gluten-free and vegan blueberry muffins that are not just healthy, but they're also delicious. Not too sweet, bursting with fresh blueberry flavor, all topped with an incredible (and yes, still healthy!) blueberry icing.
If we're talking breakfast goals…these are it!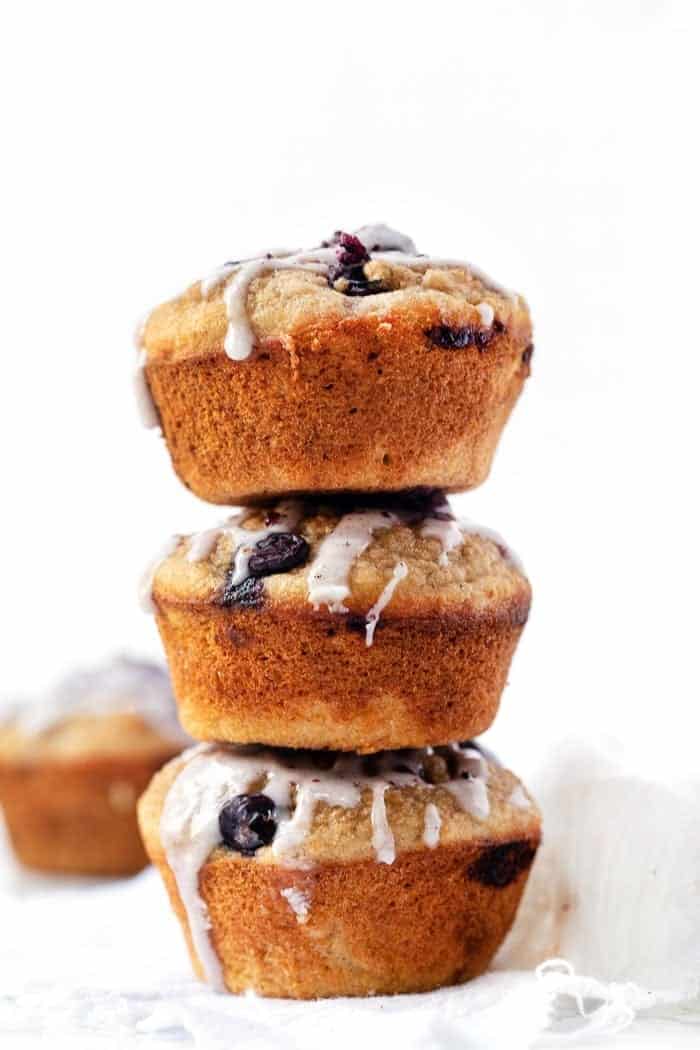 What makes a muffin healthy?
When it comes to making muffins, there are a few things we can do to "lighten" them up. I don't like using that word, but in this case, it works because we're stripping out some of the not-so-healthy stuff and replacing it with good-for-you ingredients that are going to make you feel better, not worse.
So for me, making a muffin healthy involves a few things:
a) The flours. We want to make sure that we're whole grain flours in our muffins rather than traditional white flours which are fairly void of nutrients.
b) The sugar. If you look at the nutrition facts for a muffin at your local bakery (or Starbucks), you might be shocked to see how much is in there. In my view, that amount of sugar is totally unnecessary because we're not using much in this recipe and they're still scrumptious!
c) The fat. Most traditional muffin recipes call for either a lot of oil or a lot of butter, well these babies are completely OIL-FREE and they're still super moist and tender!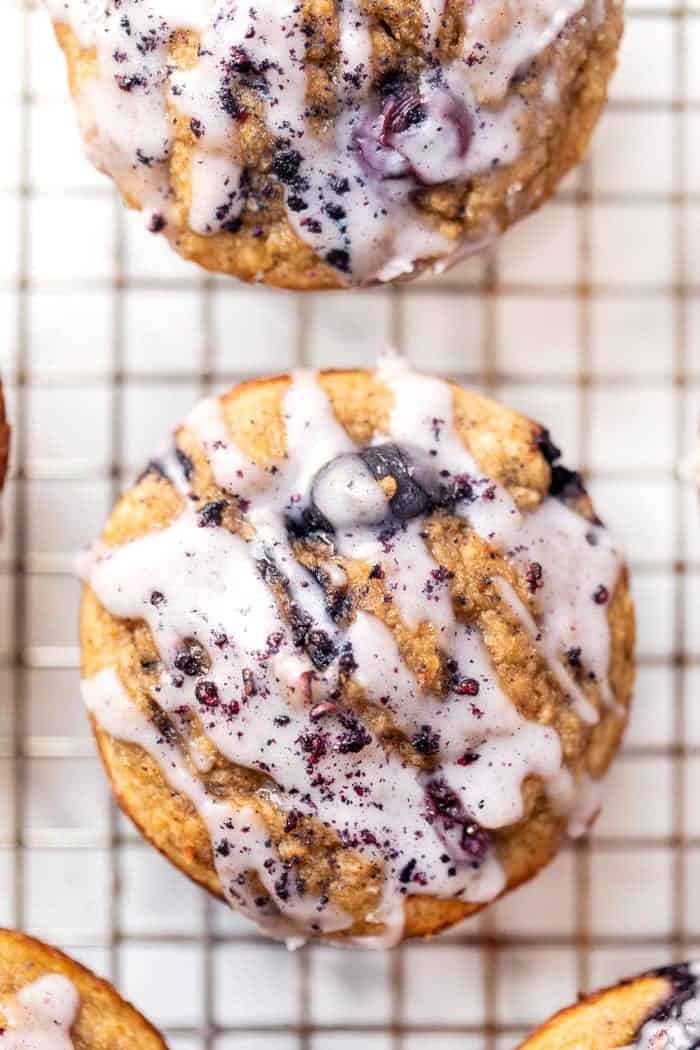 The base for our healthy muffins
Since I want these muffins to be something you can eat for breakfast and actually feel sustained, I made sure to pack fiber and protein. The secret? A blend of oat flour, quinoa flakes and almond flour.
Oats and quinoa are amazing because they're complex carbohydrates and digest more slowly in the system to help keep you full for longer. They're also both packed with fiber.
For protein, we've got the almond flour and quinoa flakes.
So basically, just with the flours alone, we're off to a hella good start!

How to naturally sweeten muffins
Next up, the sweetness!
Let's be real for a second…no one wants a blueberry muffin that isn't sweet, right? But also since we want these to be healthy blueberry muffins, we don't want to overload them with sugar.
The solution here? Fruit and maple syrup!
We're using a combo of banana and applesauce which are both naturally sweet on their own. We're also using just 1/4 cup of maple syrup to add a touch more. And of course, finishing things off with the fresh blueberries themselves.
Each little bite of muffin is a burst of sweetness!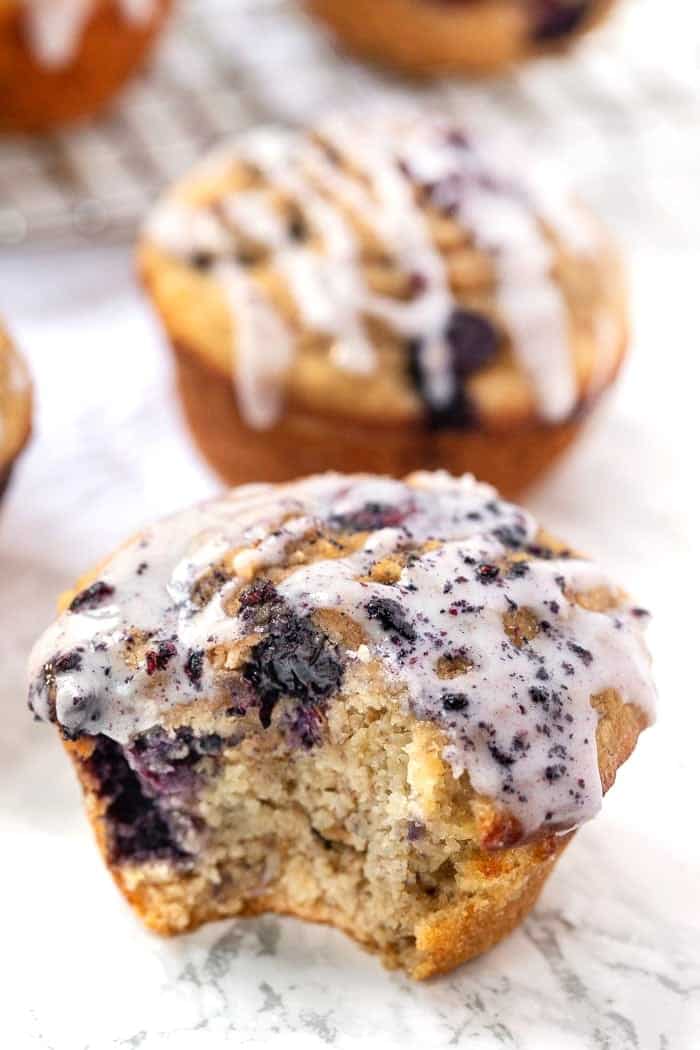 So next time you're passing the bakery and start eyeing those fluffy blueberry muffins, just remember that you can totally recreate that at home in a healthy and nutritious way.
Not to say you can't ever eat those muffins, but if baked goods and pastries are how you like to start your day…one of these will be much nicer on your waistline and your energy levels!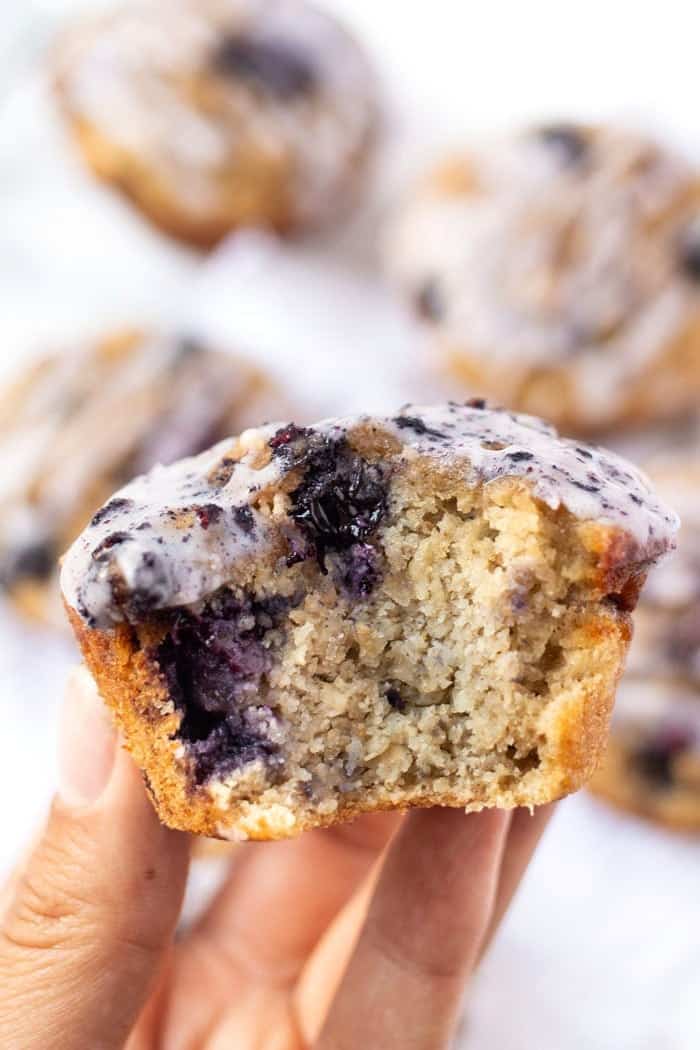 More Healthy Muffin Recipes
Healthy Blueberry Muffins
These healthy blueberry muffins are the ultimate breakfast treat. Made with oat flour, almond flour and quinoa flour, they're packed with fiber, protein and healthy fats!
Servings 9 muffins
Calories 179kcal
Instructions
Preheat the oven to 350ºF. Line a muffin tin with paper liners (or grease with coconut oil) and set aside.

Beat together wet ingredients in a large mixing bowl. Add dry (minus the blueberries) and stir together until incorporated. Fold in the blueberries.

Divide batter evenly between the muffin cups (this recipe makes about 9 - 10 muffins). Bake on the center rack for 20 - 23 minutes until a cake tester inserted into the center comes out clean.

Allow muffins to cool in the pan for 5 minutes then transfer to a wire rack and cool completely.

Once cooled, make the glaze. Melt the coconut butter over a double boiler until it's smooth and runny. Whisk in blueberry powder and drizzle over muffins. Sprinkle each with a touch more blueberry powder if desired and enjoy!
Notes
* if using bagged oat flour, use just 1 cup To store: Place these healthy blueberry muffins in an airtight container and store them at room temperature for 3 to 4 days, or freeze them for up to 3 months. Frozen muffins can be warmed up in the microwave or left on the countertop at room temperature to thaw.
Nutrition
Serving: 1muffin | Calories: 179kcal | Carbohydrates: 29g | Protein: 4g | Fat: 5g | Sodium: 79mg | Potassium: 243mg | Fiber: 3g | Sugar: 9g | Vitamin A: 15IU | Vitamin C: 2.3mg | Calcium: 84mg | Iron: 1.4mg
share what you make
Tag #simplyquinoa on Instagram with your creations! We love sharing what you make with the community. We can't wait to see!

follow on instagram