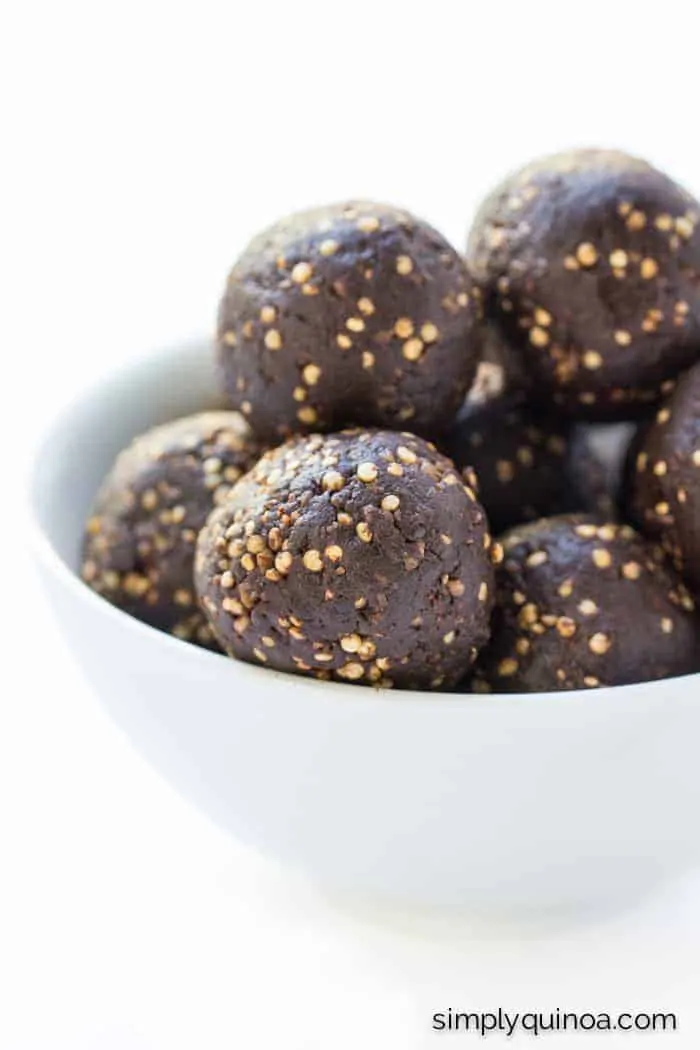 Okay, I know what you're thinking. Chocolate + tahini + quinoa. In an energy bite?
Yes, it sounds a little crazy, but just stick with me. I promise, these little balls of chocolatey goodness are seriously delicious.
The inspiration for these little quinoa energy bites came when I was browsing the nut butter aisle of Whole Foods (read staring in paralysis because I want this to be my pantry), and I spotted something interesting: black tahini.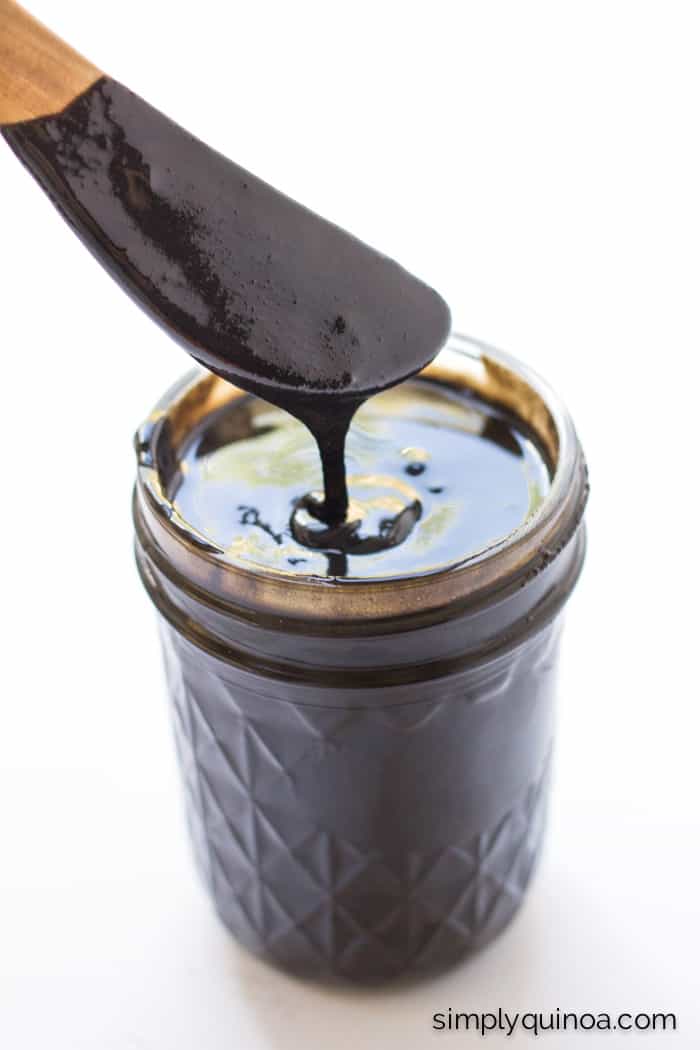 Obviously since I'm obsessed with tahini, I had to get it. And granted, I was also just curious because ummm what the heck does black tahini taste like!?
Let me tell you: it sat in my cupboard for a good week before I dared open it.
I mean this stuff is a totally crazy color, and since more often than not tahini finds its way into my salad dressings, I was a little scared to try it. Creamy black salad dressing? Not really sure how I feel about that…
But finally I cracked it open, and guess what I found inside? Instead of the sort of nutty, kind of mild taste of tahini, black tahini has a very pronounced sesame flavor and is much thinner than the tahini I've seen in the past. It's creamy, smooth and definitely on the savory side. But dang it sure does taste good!
If it wasn't this crazy color, I'd want to smother it all over a cold sesame noodle salad. Mmmhmmm! (and p.s. I still might totally do it…don't put it past me)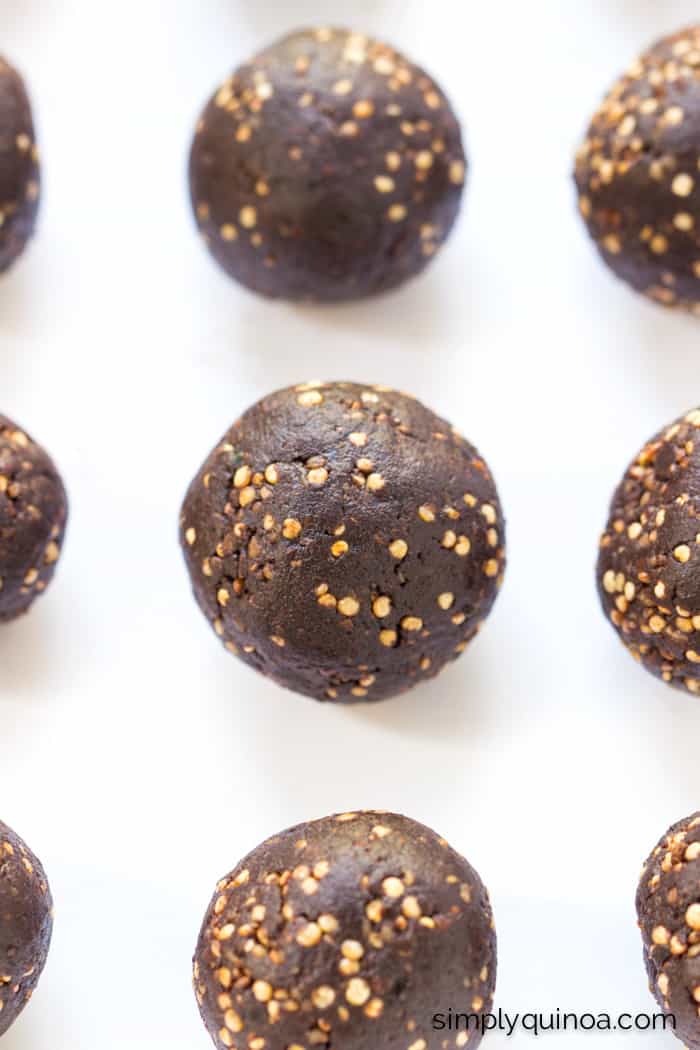 I was contemplating what to make, tried salad dressing and yes delish but the color is insane. Then I thought about what other ingredients were dark. CHOCOLATE!
I had run out of my latest batch of energy bites, so it just kind of made sense. I'd make them on the sweeter side (more dates please!) and use the black tahini instead of my traditional nut/seed butter. Then for the quinoa aspect, instead of quinoa crispies which I know a lot of you have trouble finding, I went with toasted quinoa. Remember that stuff that I added to my salads all the time this summer?
Yep. You guys these energy bites totally work. They're sweet and full of dark chocolate flavor, but with an unexpected hint of savory nuttiness. Plus, there's a little crunch from the toasted quinoa.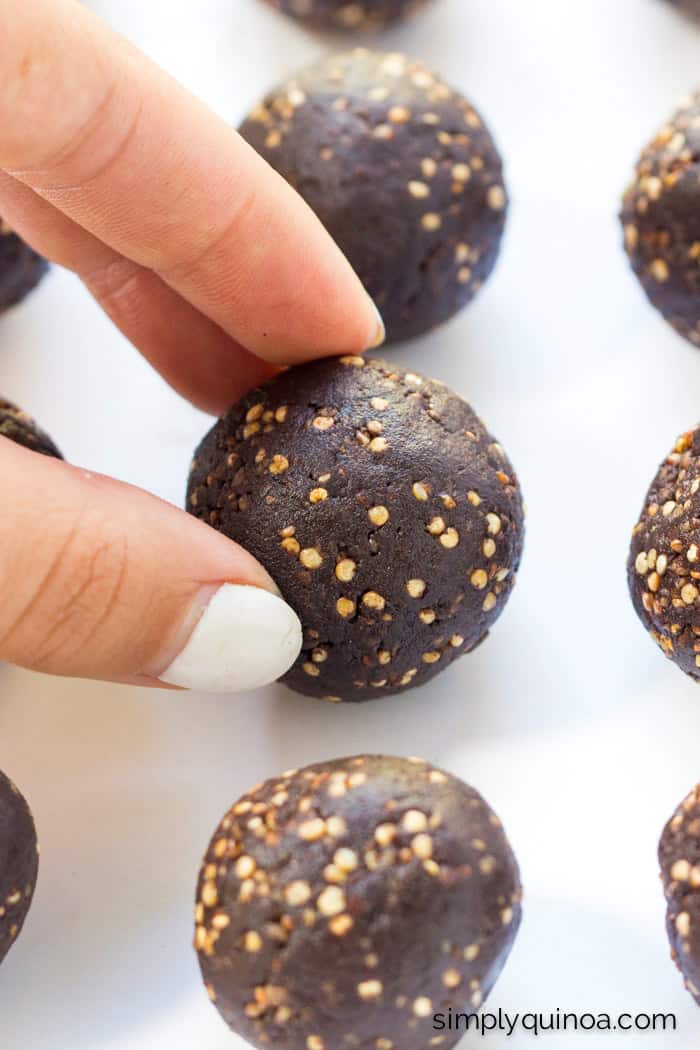 What I think you'll also really love about these bites is…
they only require 5 ingredients
they don't have to be refrigerated
Lots of energy bites lose their shape when they're kept at room temperature because they use coconut oil, but not these bad boys! They're only 5 super simple ingredients and I actually think they're better at room temp. Sooo that means they're the perfect on-the-go snack or treat.
Pop them in your workout bag, your purse or in your glove box (what, you don't keep chocolate in your glove box?) – they're a great pick-me-up energy boost that taste pretty freakin' great too.
Enjoy my chocolate-loving who isn't afraid of munchin' a little outside the box 😉
xx Alyssa

PS: if you make this recipe (or any others!) make sure to snap a pic and share it on Instagram using hashtag #SIMPLYQUINOA – I want to see your creations!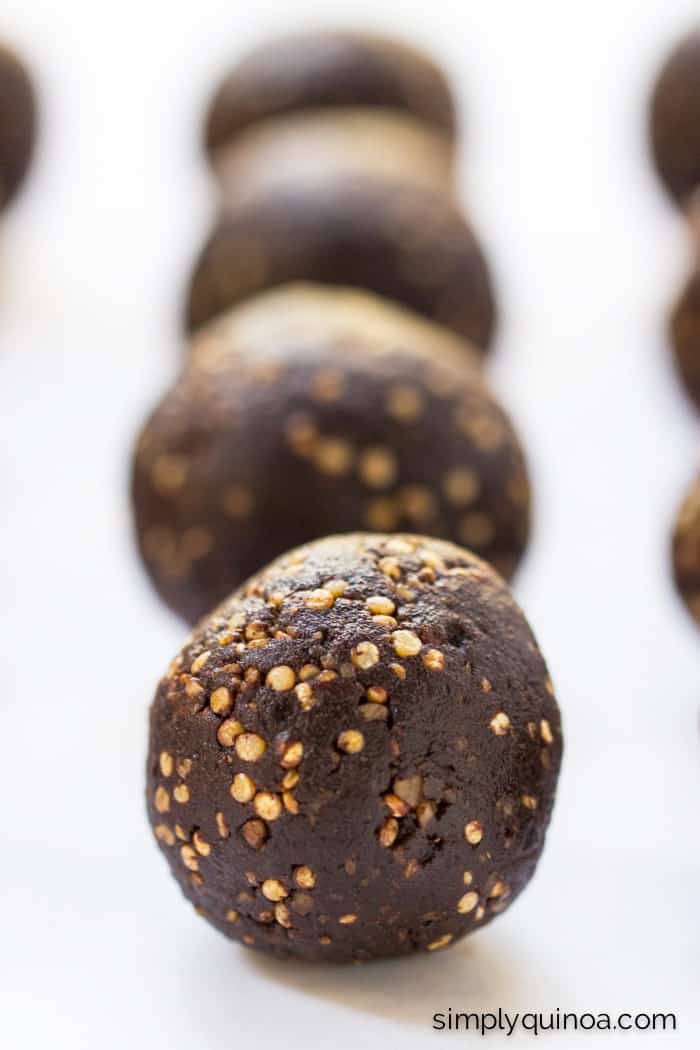 Share this recipe!
5-Ingredient Chocolate + Tahini Quinoa Energy Bites
These Chocolate and Tahini Quinoa Energy Bites are sweet and full of dark chocolate flavor, but with an unexpected hint of savory nuttiness.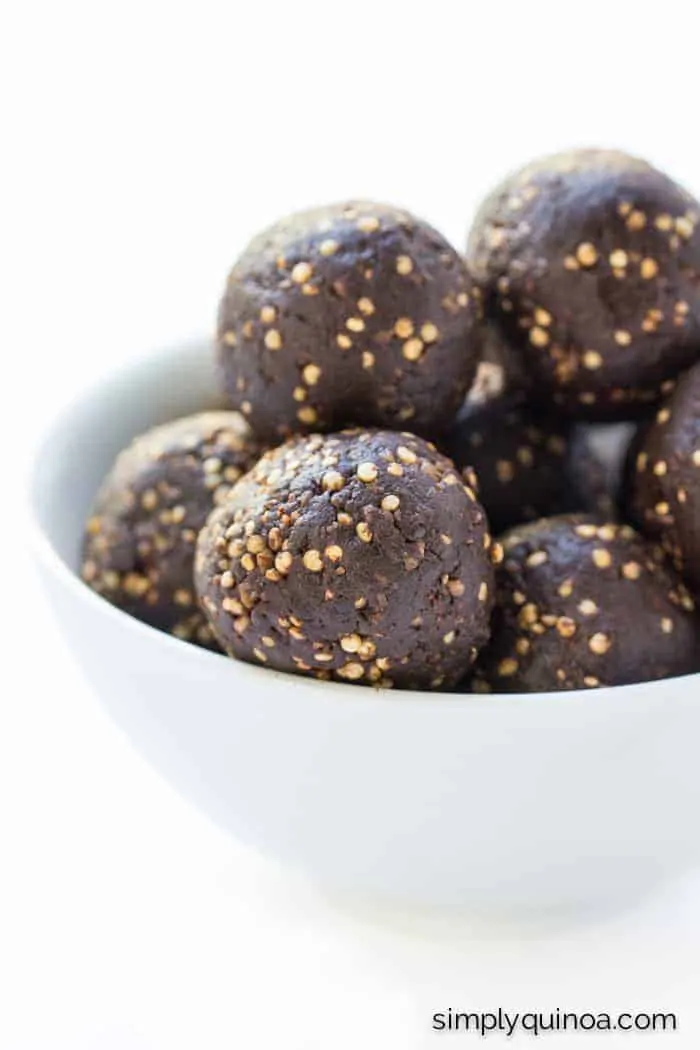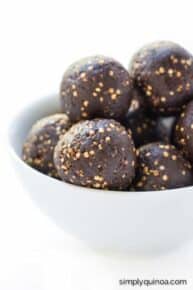 Instructions
Add pecans (or nuts of choice) into a food processor. Pulse a few times to chop them up.

Remove the pits from the dates and add them to the food processor. Process until dates have broken down and mixture is fully combined. Add cacao powder and tahini and process until the ingredients start to come together to form a dough. Pulse in the toasted quinoa.

Using a small cookie scoop or spoon, shape the dough into small balls using your hand. (You might have to squeeze them together a few times to really incorporate the ingredients)

Store at room temp for up to 5 days.
Nutrition
Calories:
67
kcal
|
Carbohydrates:
8
g
|
Protein:
1
g
|
Fat:
3
g
|
Sodium:
1
mg
|
Potassium:
106
mg
|
Fiber:
1
g
|
Sugar:
5
g
|
Vitamin A:
10
IU
|
Vitamin C:
0.2
mg
|
Calcium:
13
mg
|
Iron:
0.5
mg
Filed Under: