This amazing vegetarian kale salad is tossed with a creamy lemon-garlic tahini dressing and topped with crispy chickpeas and toasted quinoa!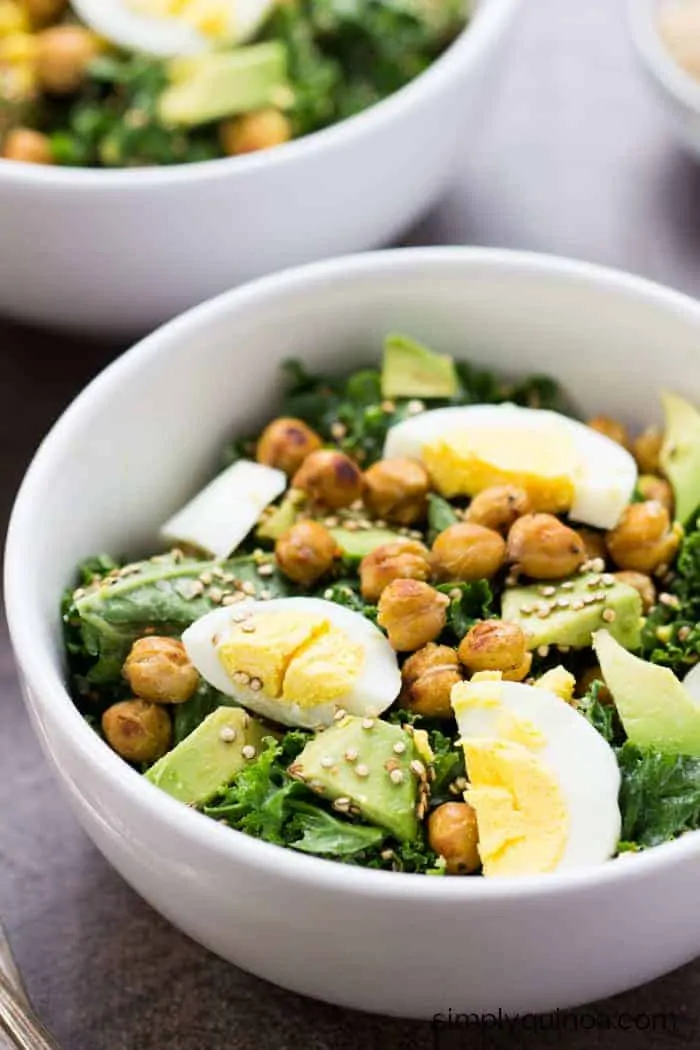 This vegetarian kale salad. Can't stop won't stop.
There are so many things about this salad that are totally workin' for me. The massaged kale is chewy, but still has a slight crunch. The creamy lemon-garlic tahini dressing is bold and tangy, without being too overpowering. The hard boiled egg is soft and mild on the palette. Avocado is…well, avocado (best. ingredient. ever.). The crispy roasted chickpeas are perfectly salted and act like crunchy croutons.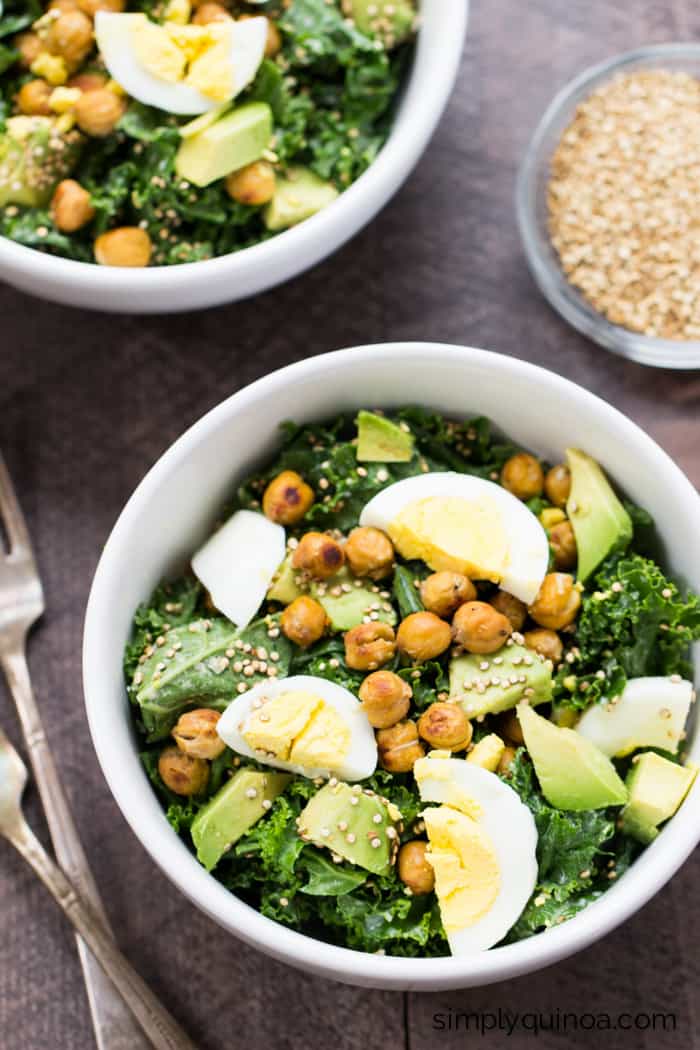 Then to top the whole thing off, there's the toasted quinoa…
I didn't think it was possible, but my obsession with quinoa has just been catapulted to a new level. You guys. It's SO GOOD.
So yes, this salad is everything.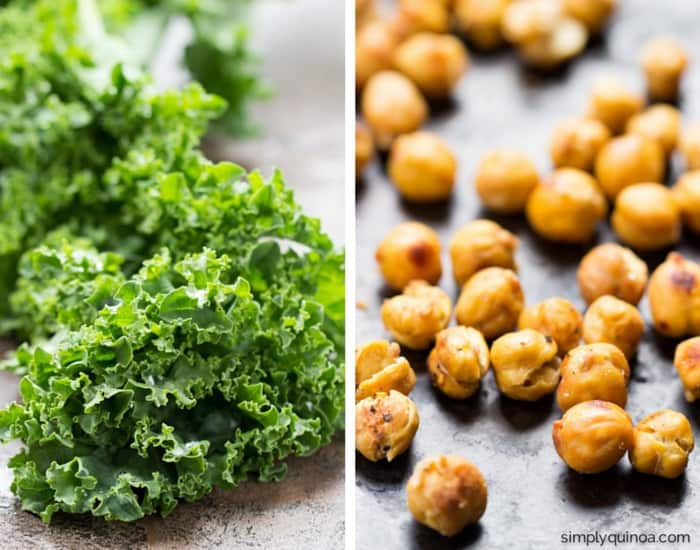 The complex layer of flavors and ingredients is what makes this vegetarian kale salad so addicting.
It starts with the kale – which in my opinion needs to be the curly kind because it's so much crunchier AND it absorbs more of the dressing – which is massaged with that lemon-garlic tahini dressing. I know it might seem a little strange to massage your kale (and btw…just the thought of massaging kale is plain bizarre), but don't knock it till you try it. It's a game changer.
My next favorite aspect is the crispy roasted chickpeas. What started as a healthy, nutritious snack, has made it's way into TONS of my meals. I know this is the first time I'm sharing them with you here, but I've been using these babies for everything – from salads, to a garnish on noodle dishes and even in some of my quinoa bowls – and they're one of my favorites.
Finally it's on to the toasted quinoa.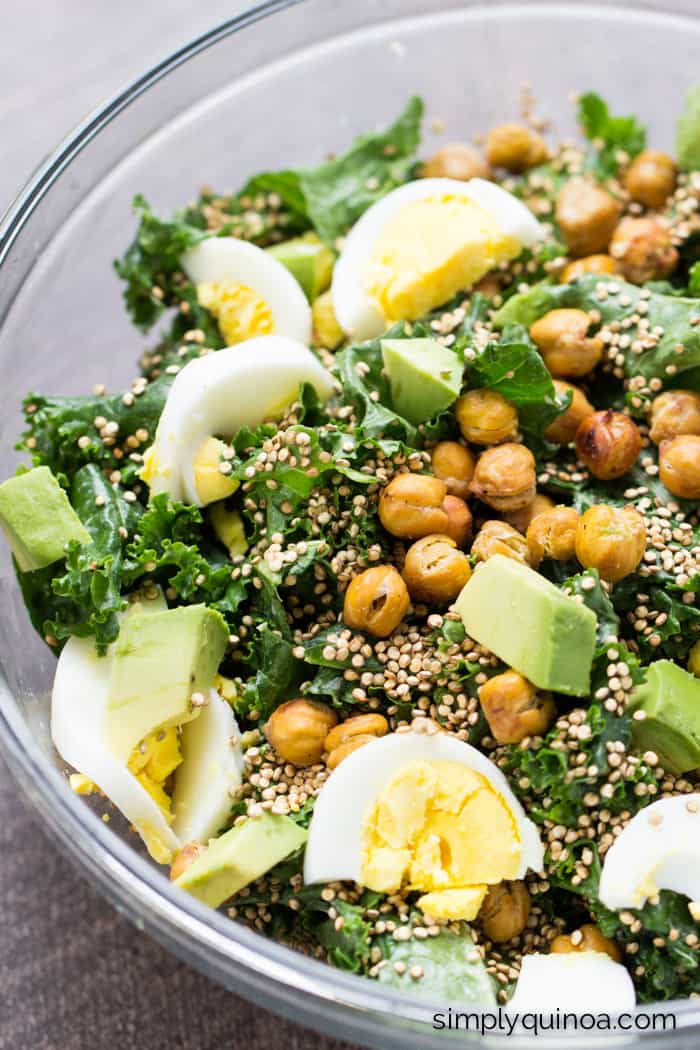 Typically when I make a quinoa salad, I add the cooked seed to the mixture. And while that's totally delicious, this time around I changed things up. Rather than cooking the quinoa to its traditional fluffy wonderfulness, I simply toasted the uncooked seed and added it directly to the salad.
OMG. It's absolutely amazing! (and I rarely say omg here, so that means it really is that good)
The toasted quinoa provides a teeny bit of crunch with every bite, but really it's the ultra-nutty and roasted flavor that comes through that I like. This garnish is certainly going into my regular salad rotation.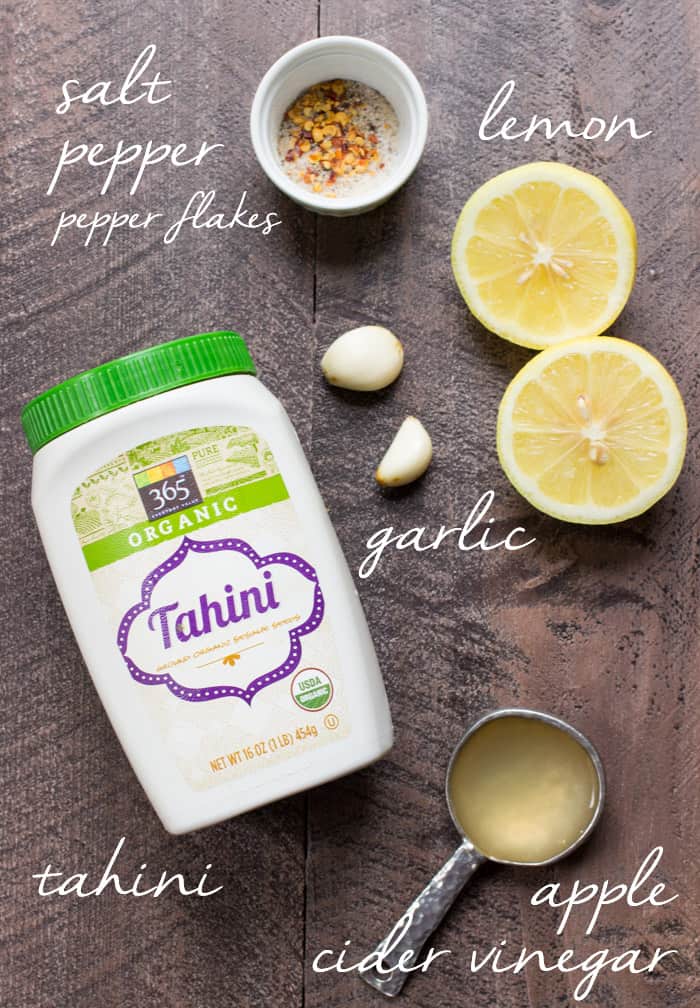 The dressing is another star of this salad. It's been my go-to for the past few months and I pretty much add it to all of my salads. It's quick, flavorful and simple enough that it goes with everything.
I will put out a word of caution…it's garlicky. So if you're not a garlic fan, go for only one clove. If you're a garlic-lover like me, you're going to want to drink this dressing 🙂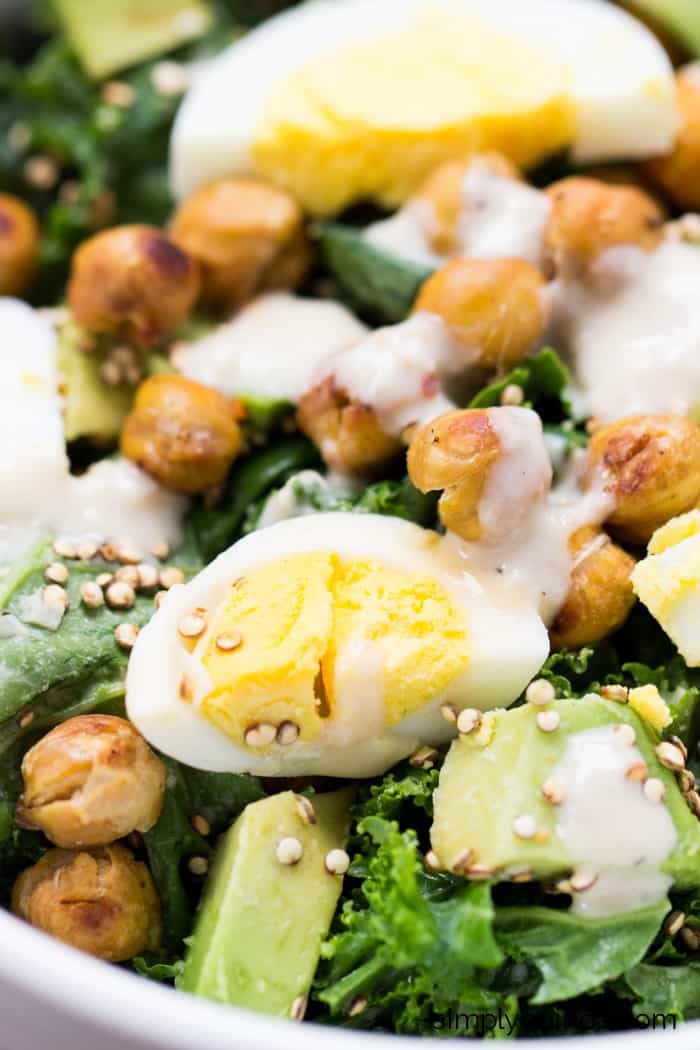 Bringing it all together makes for incredible salad eating experience. Texture. Flavor. Color. It's got it all. Along with a hefty amount of protein, healthy fats and nutrients.
Are you ready to step up your salad game with me? Give this a try!
xo Alyssa
More Healthy Kale Salads To Try:
Share this recipe!
Vegetarian Kale Salad
The massaged kale is chewy, but still has a slight crunch. The creamy lemon-garlic tahini dressing is bold and tangy, without being too overpowering. The hard boiled egg is soft and mild on the palette.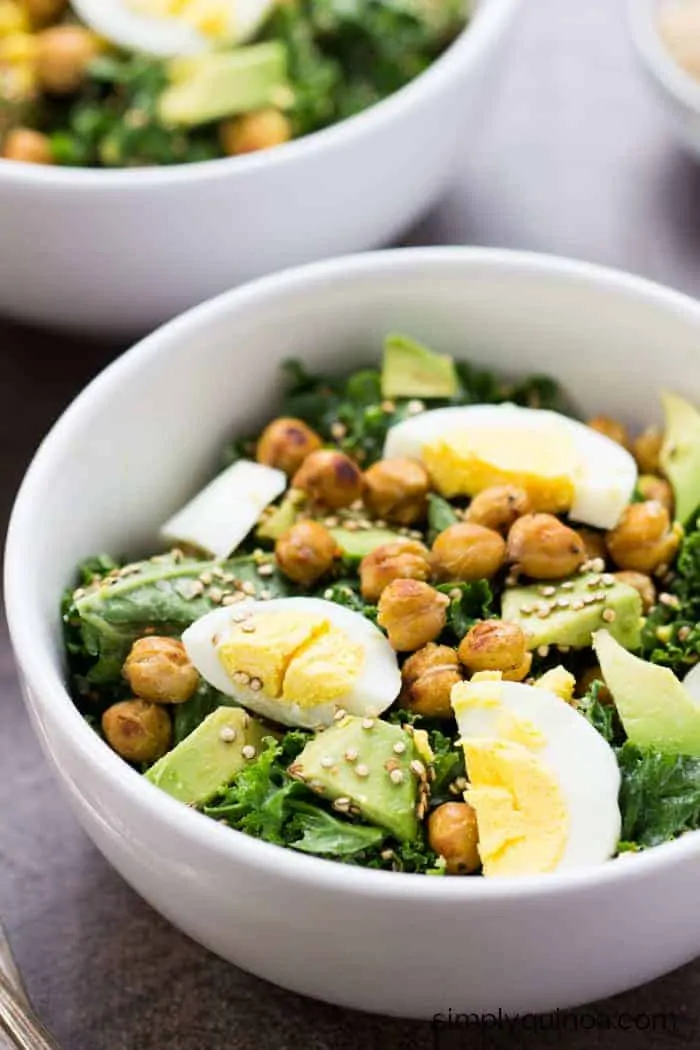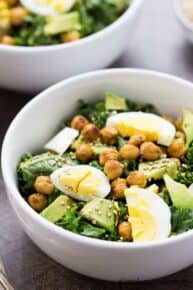 Ingredients
for the chickpeas
1

tablespoon

coconut oil

softened or melted

Salt + pepper to taste
Instructions
Preheat the oven to 350 degrees F. Place chickpeas in a bowl and add the coconut oil. Stir to combine and season with salt and pepper. Transfer chickpeas to a baking sheet and bake on center rack for 30 - 45 minutes until crispy. Stir them around a few times so as not to burn.

When chickpeas are done roasting, prepare the salad. Add kale to a large bowl and set aside.

Preheat a skillet over medium heat and add quinoa. Toss until quinoa begins to pop and starts to turn brown. Watch this process carefully as they can go from toasted to burned very quickly. (

check out this video for a demo

)

Remove the pan from the heat and allow to cool while you make the dressing.

In a small bowl whisk together tahini, vinegar, lemon juice and garlic. Season with salt and pepper. Whisk in red pepper flakes if desired.

Pour dressing over the kale and gently rub the kale with your hands until the entire salad is coated in the dressing and the kale has started to soften.

Add your chickpeas, quinoa, egg and avocado and toss to combine. Serve immediately.

Enjoy!
Nutrition
Calories:
405
kcal
|
Carbohydrates:
51
g
|
Protein:
19
g
|
Fat:
16
g
|
Saturated Fat:
5
g
|
Cholesterol:
93
mg
|
Sodium:
226
mg
|
Potassium:
1070
mg
|
Fiber:
11
g
|
Sugar:
6
g
|
Vitamin A:
10235
IU
|
Vitamin C:
139.3
mg
|
Calcium:
238
mg
|
Iron:
5.8
mg
Filed Under:

If you make this recipe, make sure to snap a pic and share it on Instagram using #SIMPLYQUINOA – I want to see your own quinoa creations!