This amazing chopped quinoa salad recipe using a combination of fresh veggies, olives, quinoa and chickpeas and is dressed in a chive-tahini sauce.

Do you ever shop on daily deal sites? You know, something like Living Social.
I hardly ever shop these types of sites, but NYC (and a few other cities in the US) has this website called Gilt City which features daily deals on restaurants, spas, activities, etc. I don't usually buy things from there, but last weekend they had one I just couldn't pass up.
The deal was for brunch at this amazing vegan restaurant here on the Upper West Side. Candle Cafe West is 100% vegan and has loads of gluten-free options. Their food is absolutely amazing and it's one of my favorite places to eat out.
The deal was a brunch for two and included one smoothie, entree and dessert for each person. (<– see? i said it was too good to pass up!) I immediately bought it, made a reservation and sent Matt the info. (side note: he's not the biggest fan of this place, but I knew he'd indulge me since dessert was included) We each ordered a smoothie, an entree and a dessert. It was probably one of the most filling brunches I've ever had, especially since everything was safe for me to eat and it was so delicious!
The most memorable part of the meal was my salad.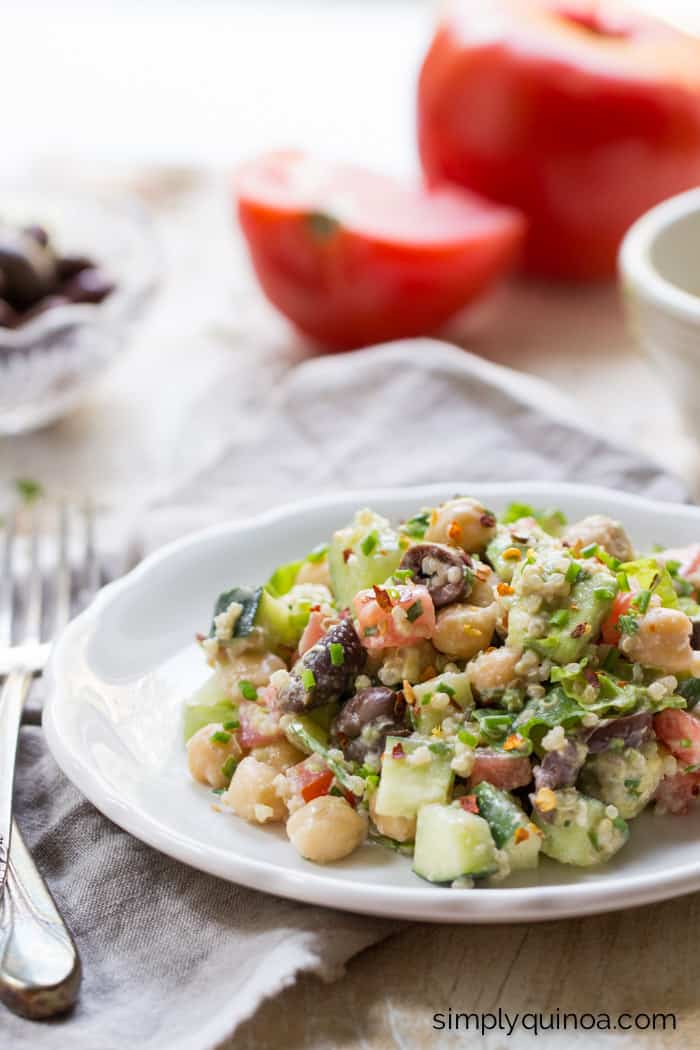 I ordered the chopped salad which came with all of my favorite veggies: avocado, tomato, cucumber, olives, lettuce and even chickpeas. It was crunchy, refreshing and satisfying.
I really loved the combination of fresh romaine, with the juicy tomatoes, briny olives and hearty chickpeas. Everything paired so well together; it was almost like a blend between a caesar and Greek salad.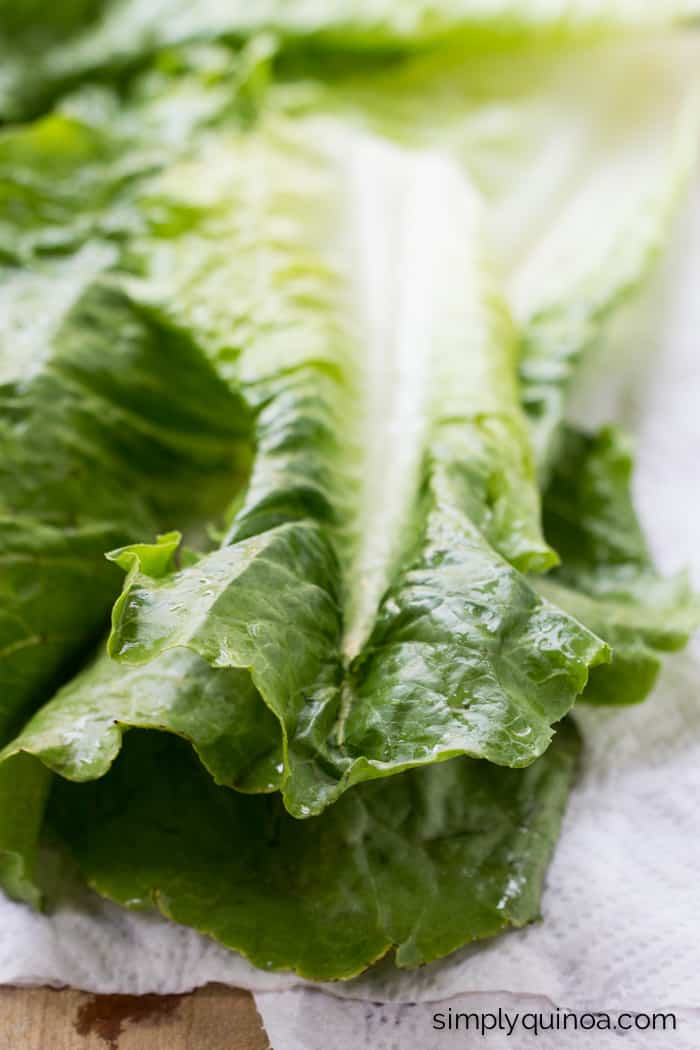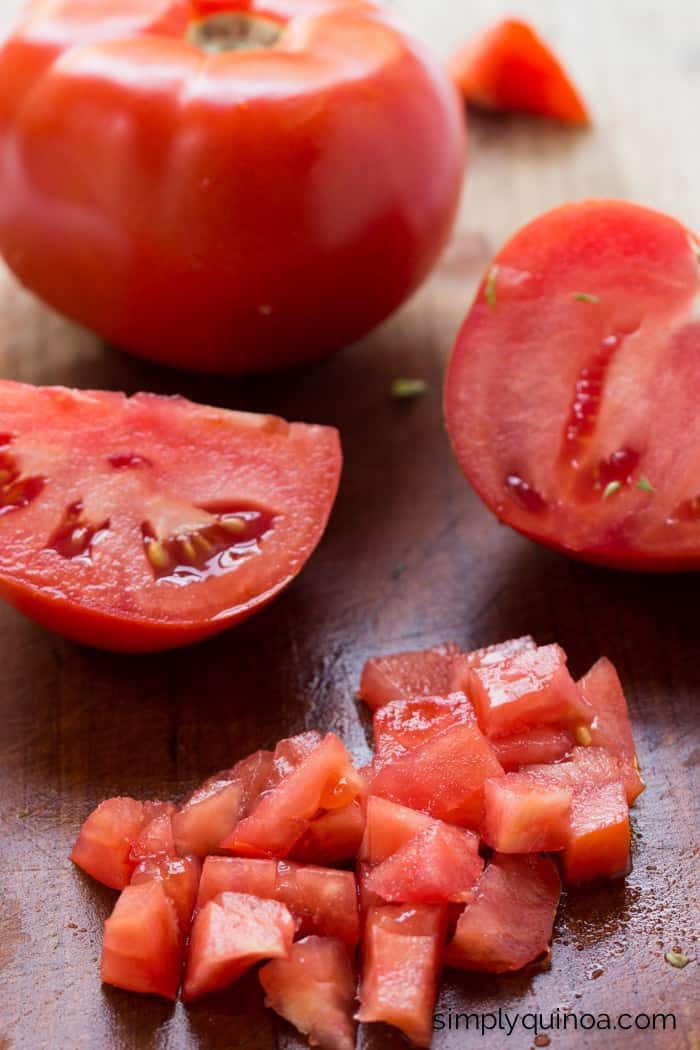 The only thing I didn't adore was the dressing. It was a creamy oregano-garlic dressing which sounded amazing, but the flavor fell a little flat. It didn't have enough zing.
As soon as I finished my plate, I looked up at Matt and told him I needed to create a quinoa version for you all, with a more jazzy dressing of course. It was just one of those dishes that I knew with a few tweaks could be truly outstanding.
So the very next day, I whipped up my own version of their salad and came up with this: a chopped quinoa salad with a creamy tahini chive dressing.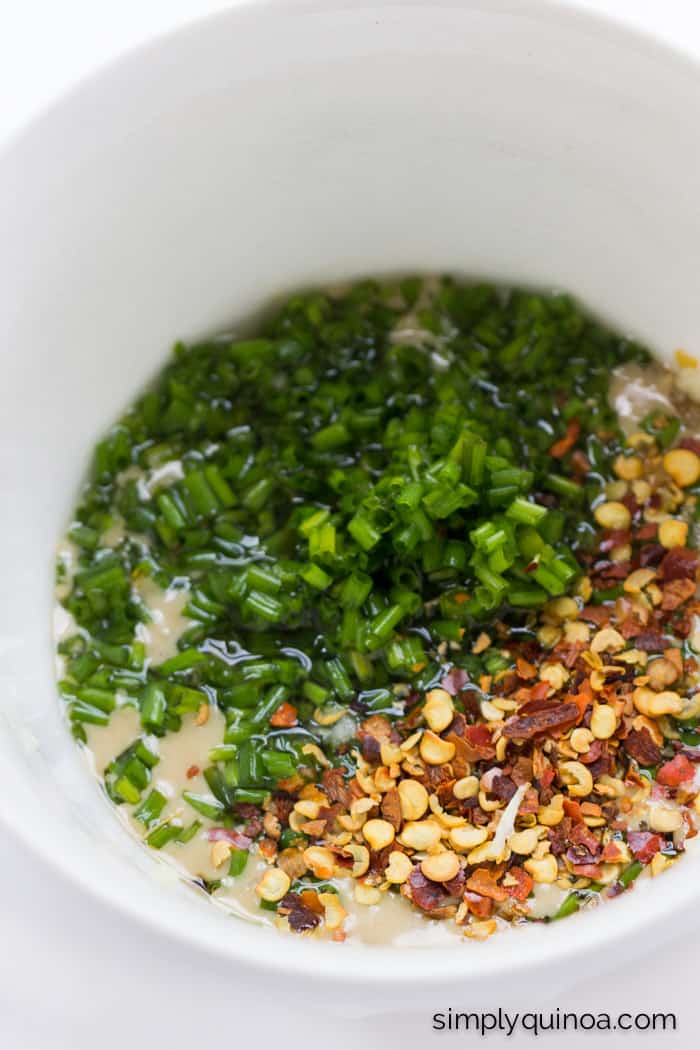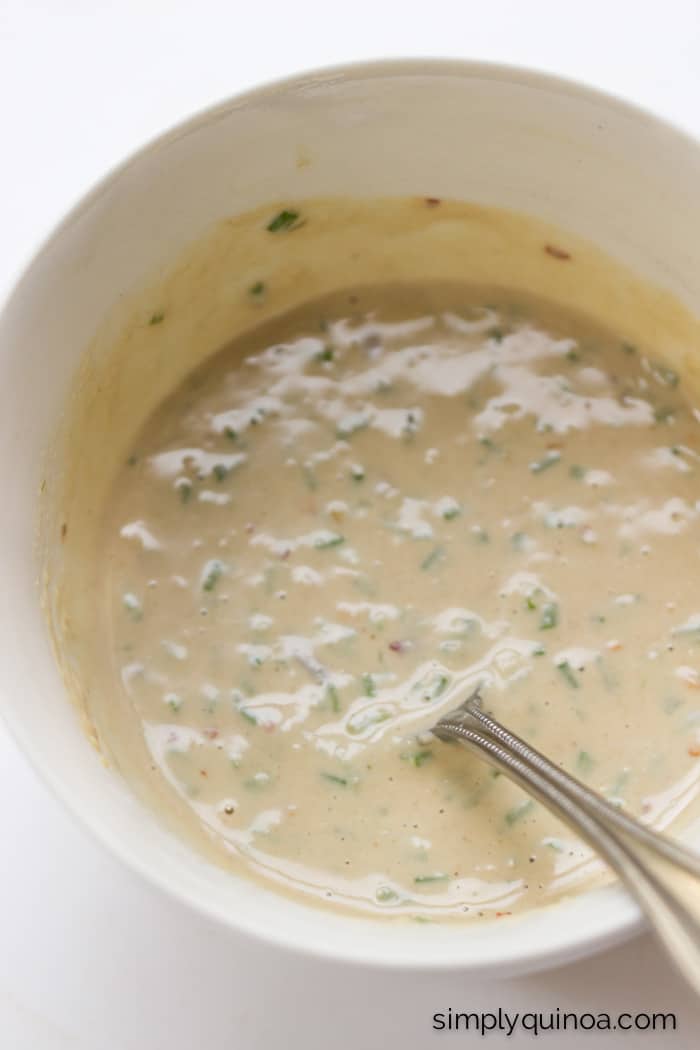 You guyssss. It's SO good! I've been eating it non-stop.
I love that it's hearty enough to stand on its own, but it still feels light. It's packed with protein, healthy fats and fresh greens, so it's pretty much the ultimate meal.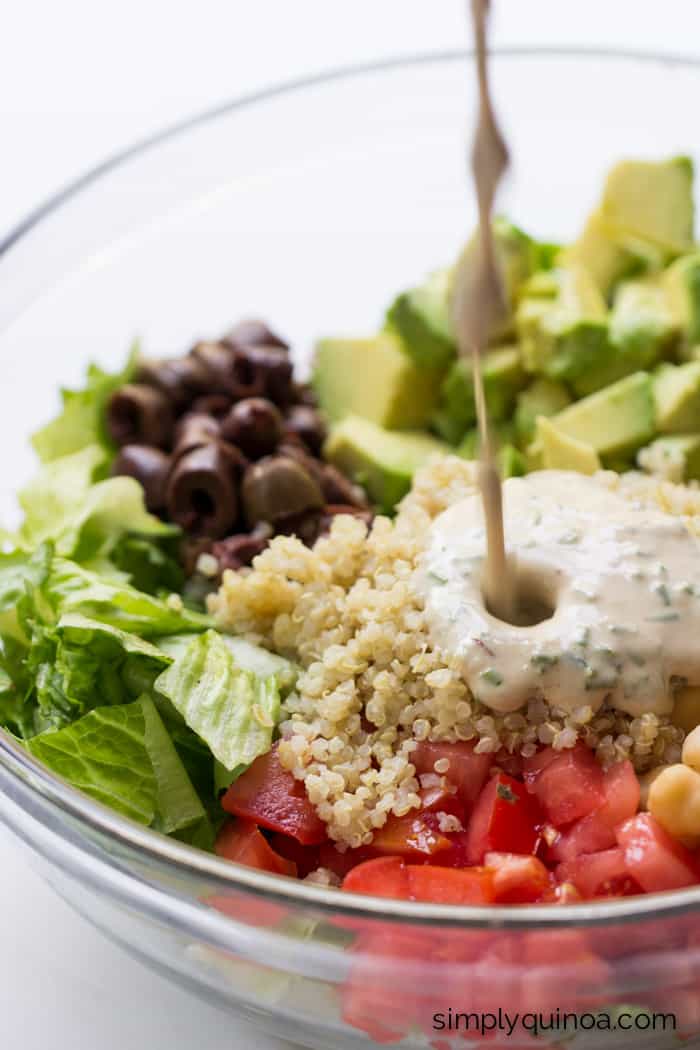 One thing I will say is that it doesn't really keep for more than a day (especially because of the avocado), so if you want to make a big batch of it, I'd just do all the prep ahead of time and toss it together when you're ready to enjoy it.
The dressing tho? That's fine to keep for a while. I've been putting it on everything. (but then again, you already know how obsessed I am with tahini, so there's that.)
Happy munching friends!

PS: if you make this recipe (or any others!) make sure to snap a pic and share it on Instagram using hashtag #SIMPLYQUINOA – I want to see your creations!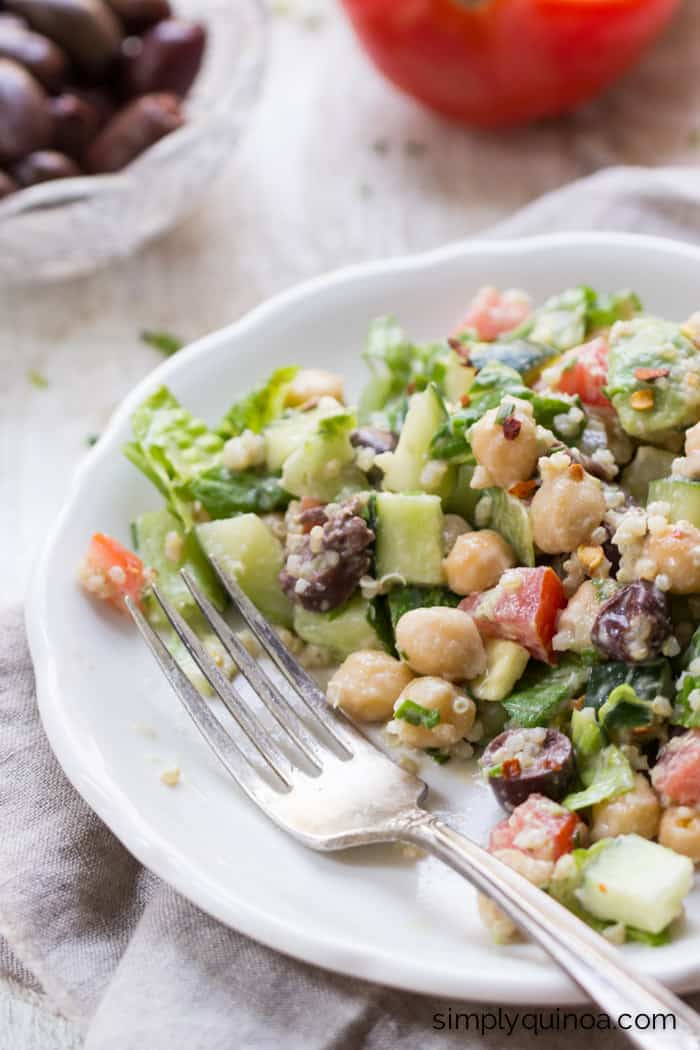 More Gut Healthy Recipes To Try:
Chopped Quinoa Salad with Chive-Tahini Dressing
This amazing chopped quinoa salad recipe using a combination of fresh veggies, olives, quinoa and chickpeas and is dressed in a chive-tahini sauce.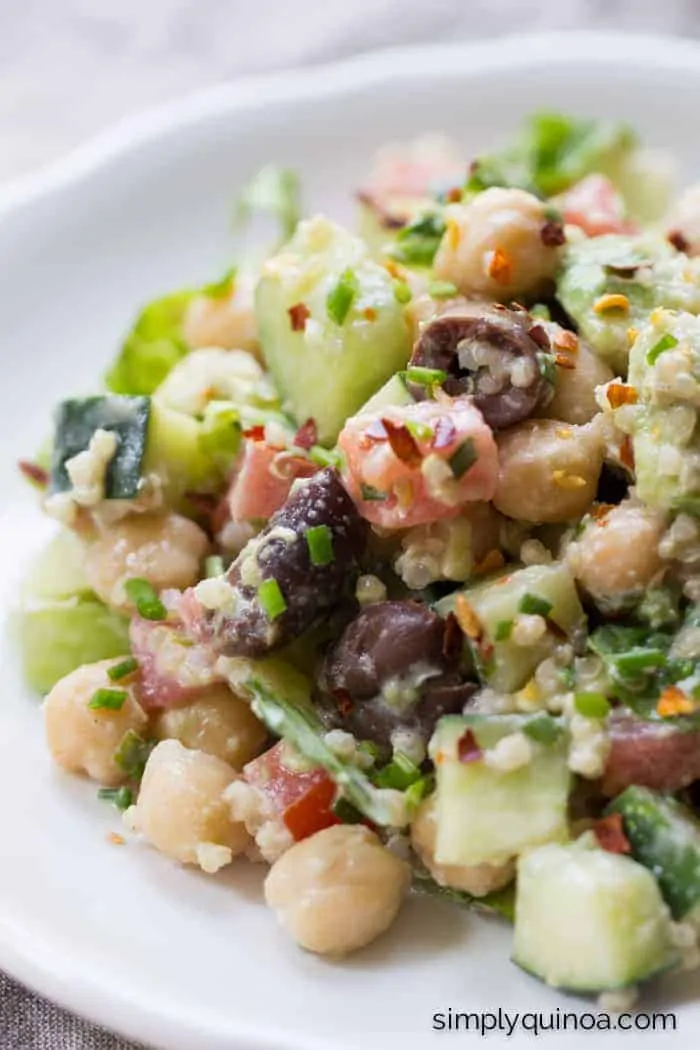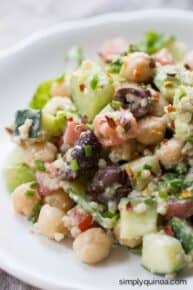 Ingredients
2

cups

chopped romaine

1

cup

diced tomatoes

1

cup

chopped cucumbers

1

avocado

diced

1/2

cup

quinoa

1/2

cup

chopped black olives

1

cup

cooked chickpeas


Instructions
In a large mixing bowl, combine romaine, tomatoes, cucumbers, avocado, quinoa, olives and chickpeas. Set aside.

In a small bowl, whisk together the dressing ingredients. Taste and adjust seasoning with fresh pepper if desired.

Pour dressing over salad and toss to combine.

Serve salad immediately (or chill for no more than 20 minutes). Garnish with additional chives and chili flakes if desired.
Nutrition
Calories:
307
kcal
|
Carbohydrates:
30
g
|
Protein:
9
g
|
Fat:
18
g
|
Saturated Fat:
2
g
|
Sodium:
486
mg
|
Potassium:
699
mg
|
Fiber:
9
g
|
Sugar:
2
g
|
Vitamin A:
2525
IU
|
Vitamin C:
14.4
mg
|
Calcium:
86
mg
|
Iron:
3.3
mg
Filed Under: