This healthy pineapple green smoothie recipe is the only green smoothie you'll ever need! It's packed with nutrients, sneaks in three types of veggies and tastes amazing!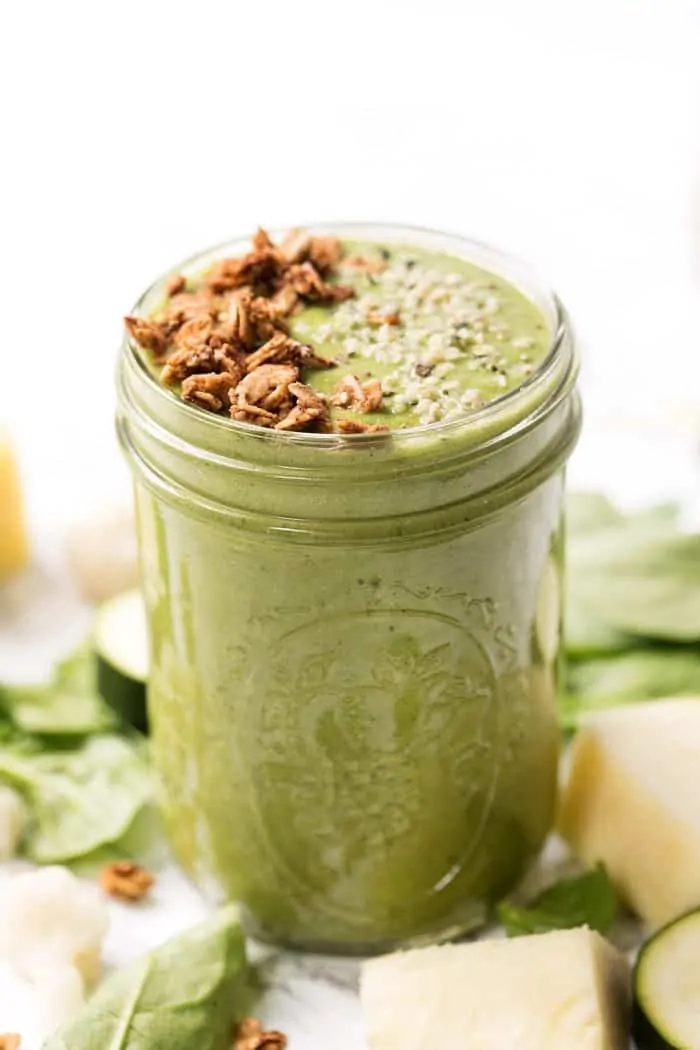 Think of this amazing green smoothie as a salad with some pineapple on top.
Strange yes, but when blended together you will not believe how delicious it becomes!
Starting your day with a burst of sweetness and a whole bunch of veggies is definitely going to put you on the right track. We're talking sky-high energy levels and a sense of fullness all the way till lunch. Not that kind of breakfast that makes you hungry two hours later and you find yourself snacking mindlessly at your desk.
No way. This pineapple green smoothie is the B-E-S-T ♡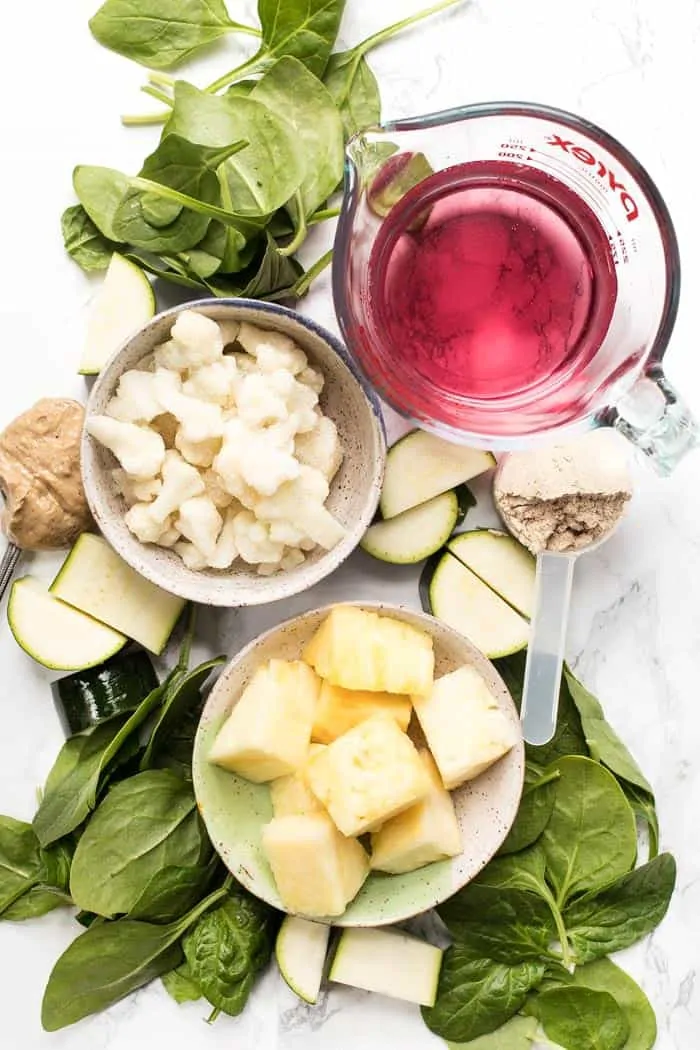 If you follow me on YouTube, then you've probably seen me put some semi-strange ingredients in my smoothies. And yes, it might be partly due to the fact that I'm definitely on the super healthy eating spectrum, but it's also because it doesn't affect the flavor or texture.
I wouldn't want to eat a real salad for breakfast. But a salad that's been made to taste like a tropical paradise? That I can be down with.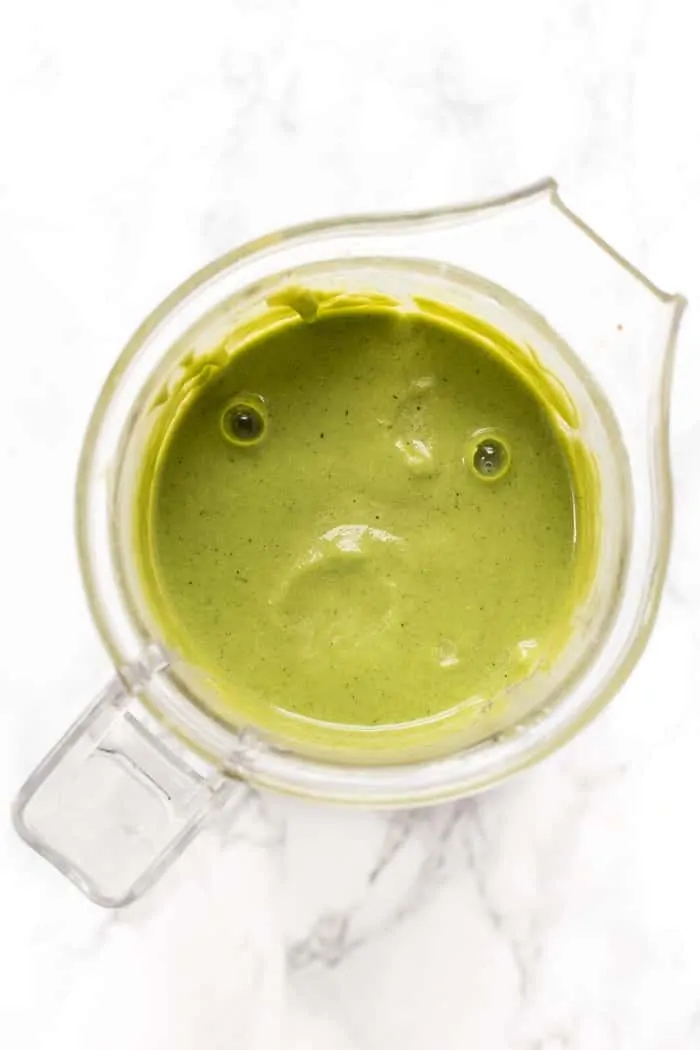 So let's talk about this smoothie…
We've been able to sneak in 3 different kinds of vegetables in here! One of them is a green, and two of them are not your standard smoothie ingredients: zucchini and cauliflower.
Now before you roll your eyes or click that back button because you're thinking, "there's no wayyyy I'm putting that in my morning shake!", let me explain:
I'm the same exact way!
I'm definitely not one to air on the savory side of breakfast. I'm all about waking up and having something sweet and delicious, and a creamy smoothie is pretty much my go-to every single day (except for the occasional batch of quinoa pancakes).
And THIS is my new favorite combination.
The greens are there for antioxidants, micronutrients, fiber, and chlorophyll (that gorgeous green!), the zucchini and cauliflower are there to help make it even more fiber-rich and ultra creamy, the pineapple is there for sweetness, as well as aiding the digestive system, and the others are just icing on the cake!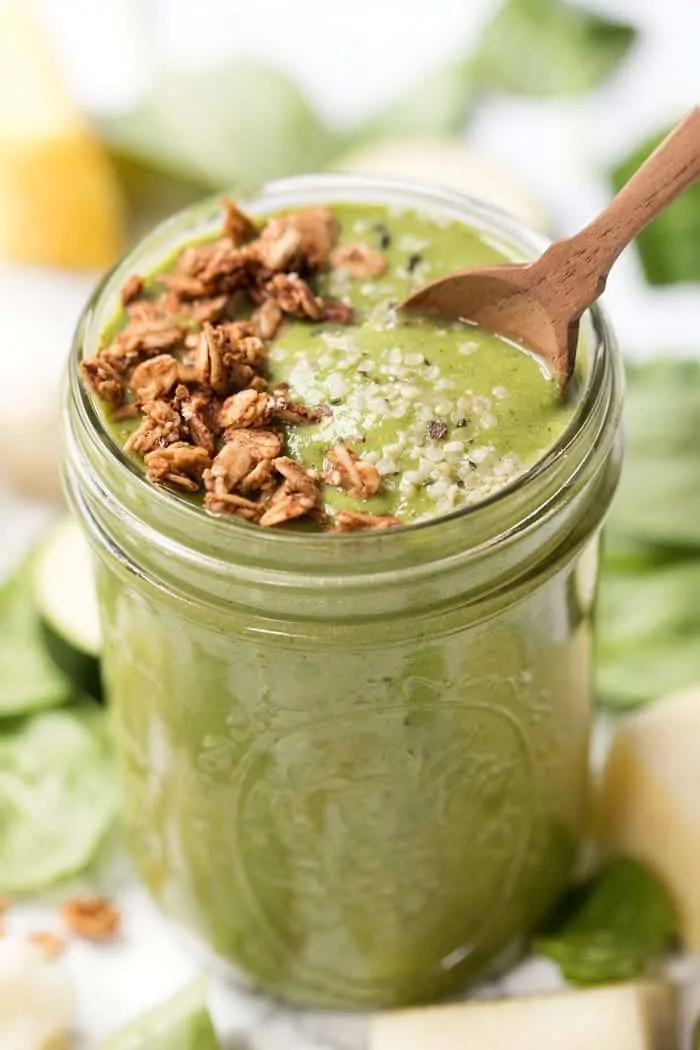 What you're going to love about this smoothie…
The texture. It's all about that perfect silky smooth texture when it comes to smoothies and this one is sheer perfection! The combination of fresh zucchini and frozen cauliflower makes it creamy and cold without making it too icy. It's also thick enough to eat with a spoon!
The sweetness. The combination of pineapple, coconut water and protein powder give this smoothie the perfect amount of sweetness without it being too much. It masks the veggies completely but doesn't leave you feeling like you've just had a bowl of ice cream for breakfast.
The energy. Probably the best thing about this pineapple green smoothie is how energizing it is! The sugar from the fruit (along with the electrolytes from the coconut water) is going to give you an instant natural energy boost, but paired with the fiber from the veggies and the addition of protein and fat, you're going to feel full, satisfied and energized all morning long!
And did I mention you can eat it with a spoon?!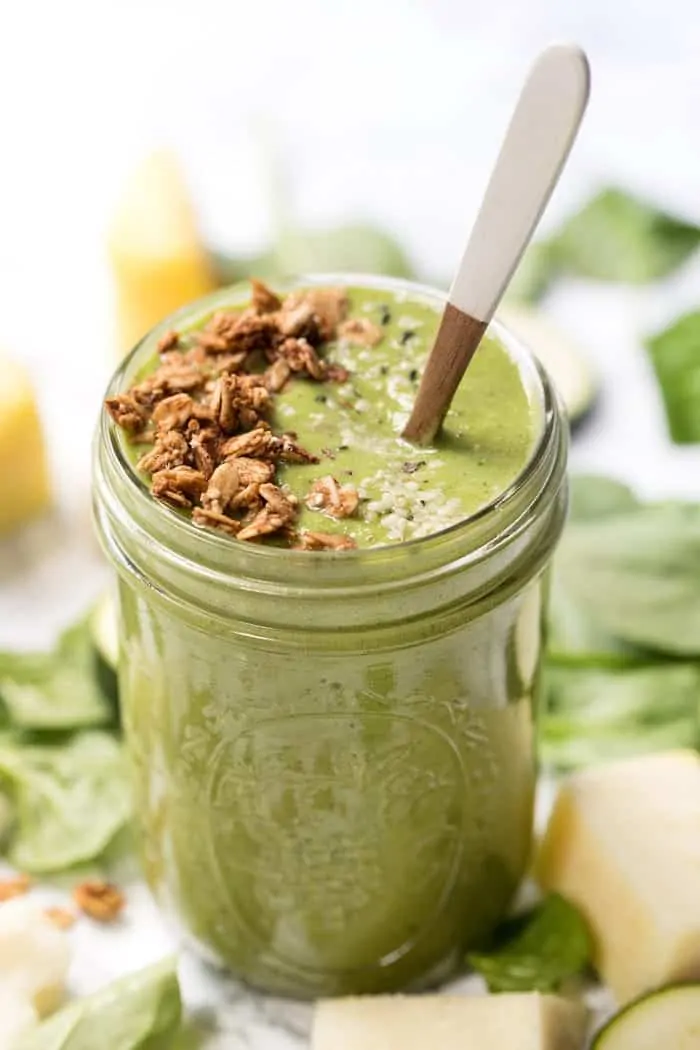 So whether you're personally trying to sneak in more veggies, or maybe you have a picky eater at home who refuses to eat their veggies, this is the smoothie for you!
It's a cinch to make, it's packed with nutrients, it's filling and super tasty. If you're a fan of pina coladas, this smoothie will become your new go-to!
Now go and get yo' drink on ????????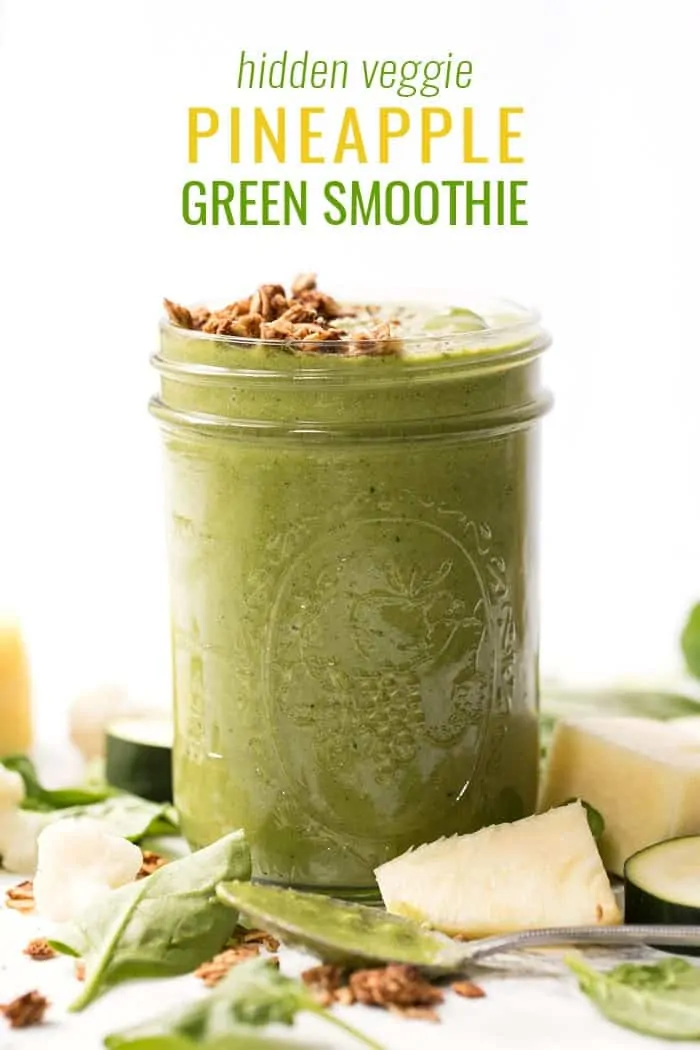 More Healthy Smoothies To Try!
Hidden Veggie Pineapple Green Smoothie
A healthy green smoothie recipe that tastes like the tropics! It's an easy way to get sneak in a ton of nutrients with fruits, veggies and healthy fats!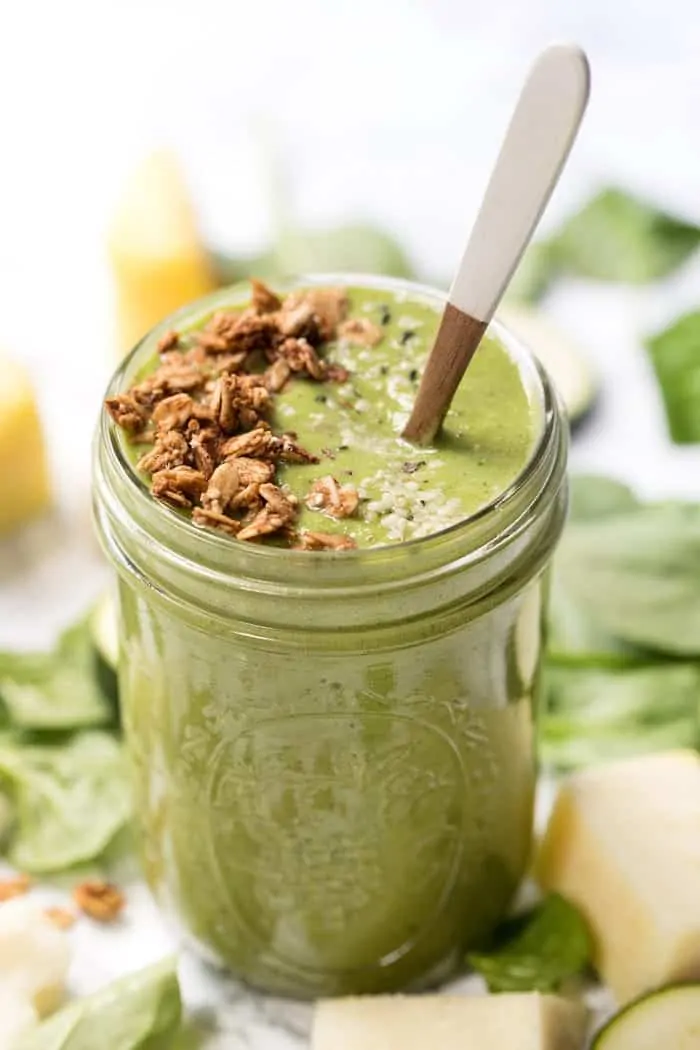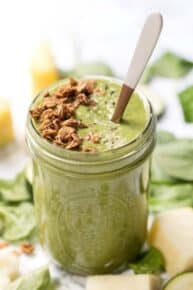 Ingredients
2

cups

spinach

or greens of choice

1

cup

fresh zucchini

1/2

cup

frozen cauliflower

1/2

cup

fresh pineapple

1

scoop vegan protein powder

optional

1

tablespoon

cashew butter

or nut butter of choice

3/4

cup

coconut water

or liquid of choice
Instructions
Add all ingredients into a blender in the order listed. Blend on high until smooth and creamy, then transfer to a glass and enjoy!
Nutrition
Calories:
220
kcal
|
Carbohydrates:
31
g
|
Protein:
9
g
|
Fat:
9
g
|
Saturated Fat:
2
g
|
Sodium:
265
mg
|
Fiber:
8
g
|
Sugar:
18
g
Filed Under: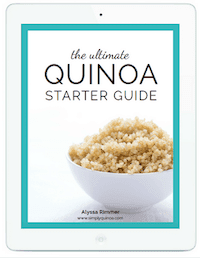 New to cooking quinoa? Grab your FREE Quinoa Starter Guide!
Become part of the Simply Quinoa community and receive weekly emails with exclusive content that I only share in email, as well as my in-depth guide to starting your quinoa journey.