These spicy kimchi quinoa bowls are the perfect weeknight dinner. They're quick, easy, and super healthy, packed with protein, fermented veggies, and greens!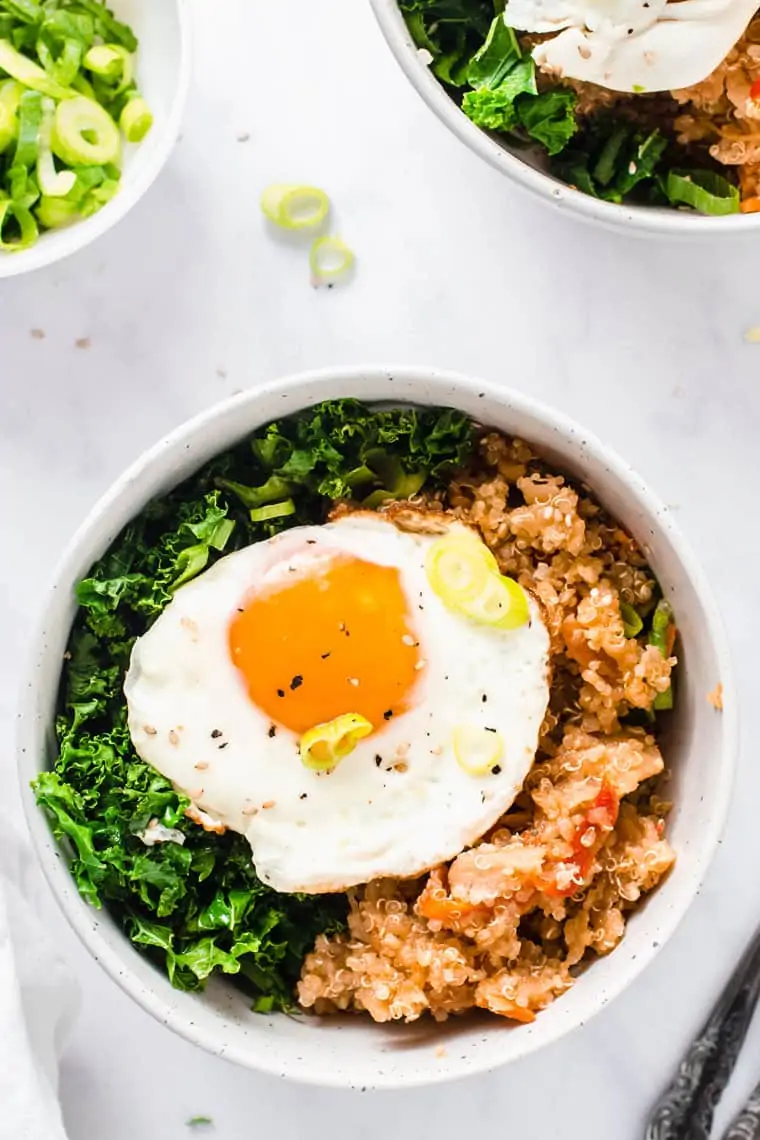 Spicy kimchi quinoa bowls. Best. Meal. EVER.
I've been kind of loving kimchi lately. It's spicy, tangy, sour and has a slightly wacky flavor that surprises my taste buds every time. And I love that each batch is just a tiny bit different. If you're not familiar with kimchi, it's a traditional Korean side dish that's made from a variety of fermented veggies typically seasoned to be spicy. The main ingredient is usually napa cabbage – and I'm using usually as a fairly loose term because it can really be made with any vegetables that you like.
While I haven't personally made my own kimchi yet, I know that it's not hard to make at home. That's on my list next because a little jar at my grocery store is pretty darn expensive.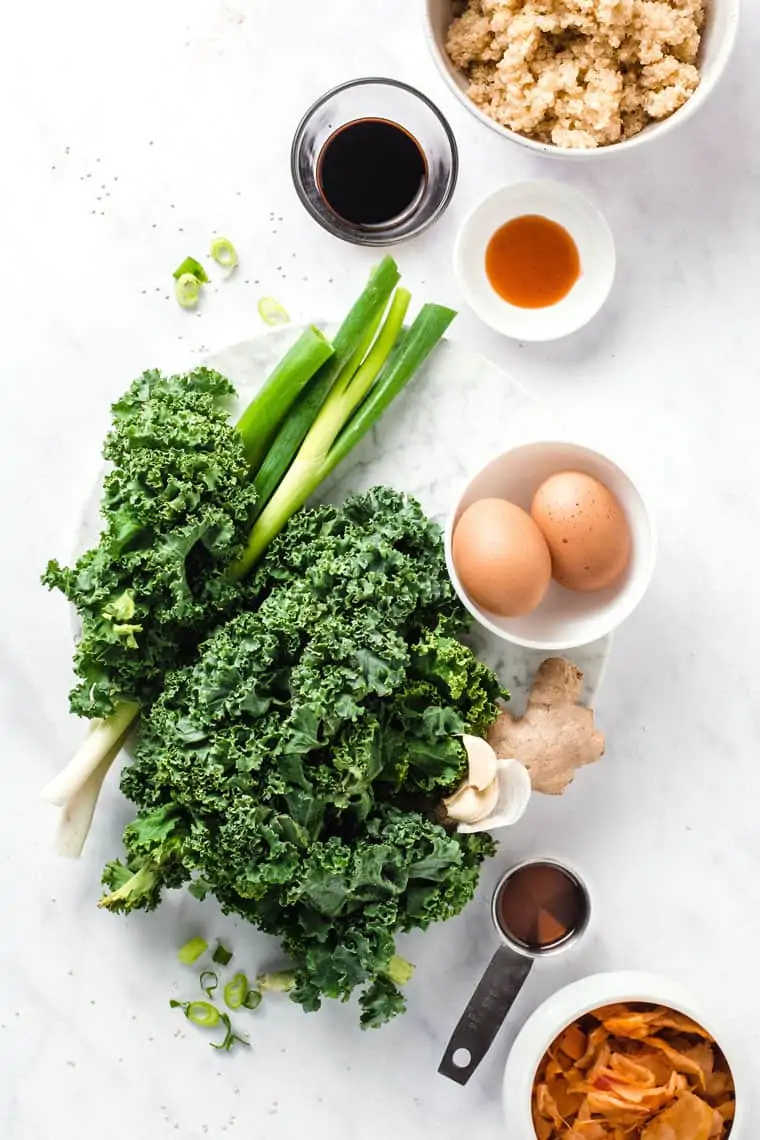 Importance of Gut Health
I love talking about gut health. It's something I've been reading a lot more about and I'm really starting to understand how integral our gut is to our overall health.
Without a healthy gut, we can see problems such as:
Digestive issues like gas, bloating, and diarrhea
Food allergies
Autoimmune diseases
Skin problems like eczema
…and even diabetes
Good thing is, there are things we can do to improve gut health, one of them being the foods we eat.
And fermented food is a great place to start.
How to Support Gut Health
Fermented foods, like kimchi, are filled with bacteria. But not the scary kind of bacteria. The kind of bacteria that helps the flora in our gut flourish. The good kind.
Removing inflammatory foods – like gluten and dairy – is another way that we can help our guts get back on track (like the recipes here on Simply Quinoa!). You can also take probiotics which is something that I try to do on a daily basis.
So kimchi, the star ingredient in these kimchi quinoa bowls, is a food that tastes good and is good for us too. Win-win!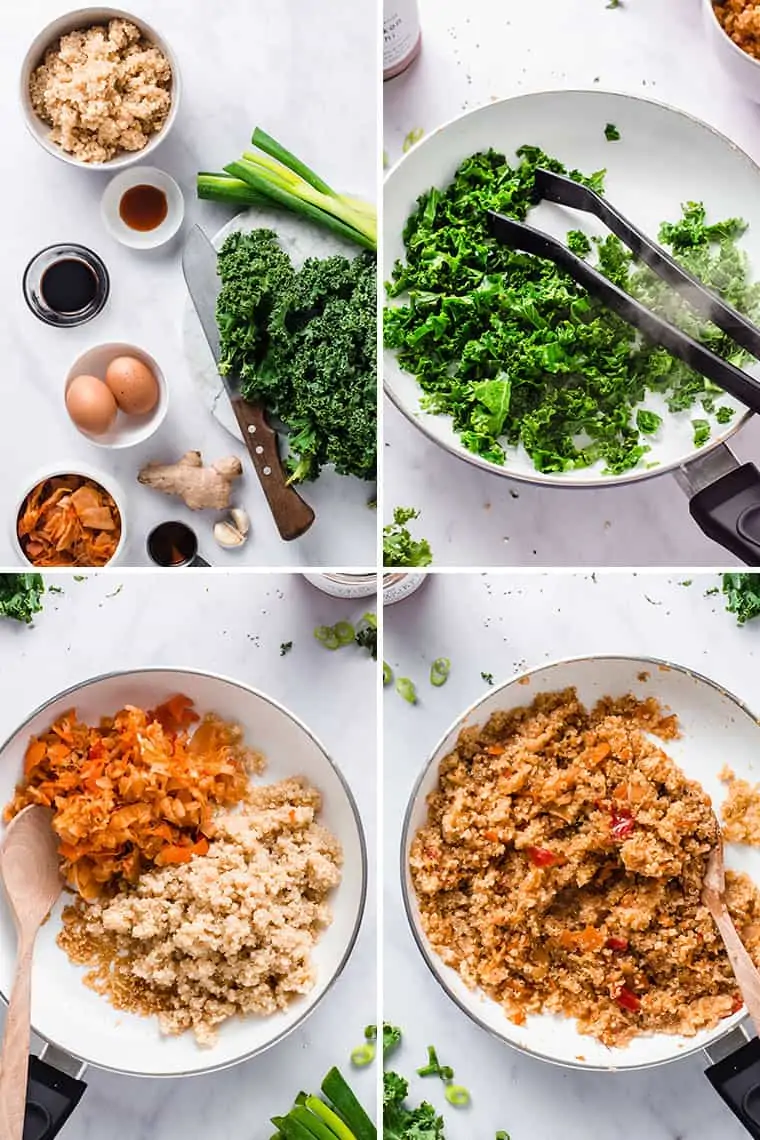 How to Make Kimchi Quinoa Bowls
This brings us to these amazing spicy kimchi quinoa bowls! These bowls are another one of my meals that couldn't be easier to make. They're kind of like the veggie quinoa fried rice, but just swapping in kimchi and adding the egg on top instead of mixing it in.
Here's what you need to make them:
Toasted sesame oil: I love the flavor this brings! If you don't want to use it in your cooking, you can also drizzle it on top to still get the gorgeous sesame flavor.
Ginger + garlic: these two ingredients really help add flavor and give it that nice little zing!
Quinoa: you'll want to have cooked quinoa already on hand to make this. You can use any type of quinoa – or another grain if you wanted.
Kimchi: next kimchi! Feel free to use any type of kimchi you have access to.
Kale: I'm always trying to add greens and the kale is wonderful in these bowls. I love it combined with the runny eggs!
Sauces: for additional flavor, we're also adding two sauces – gluten-free tamari and hot sauce (I use sriracha)
Toppings: and lastly, we have our toppings! This is where the egg comes in. Just pop a fried egg on top and add some sliced scallions – simple and so yum.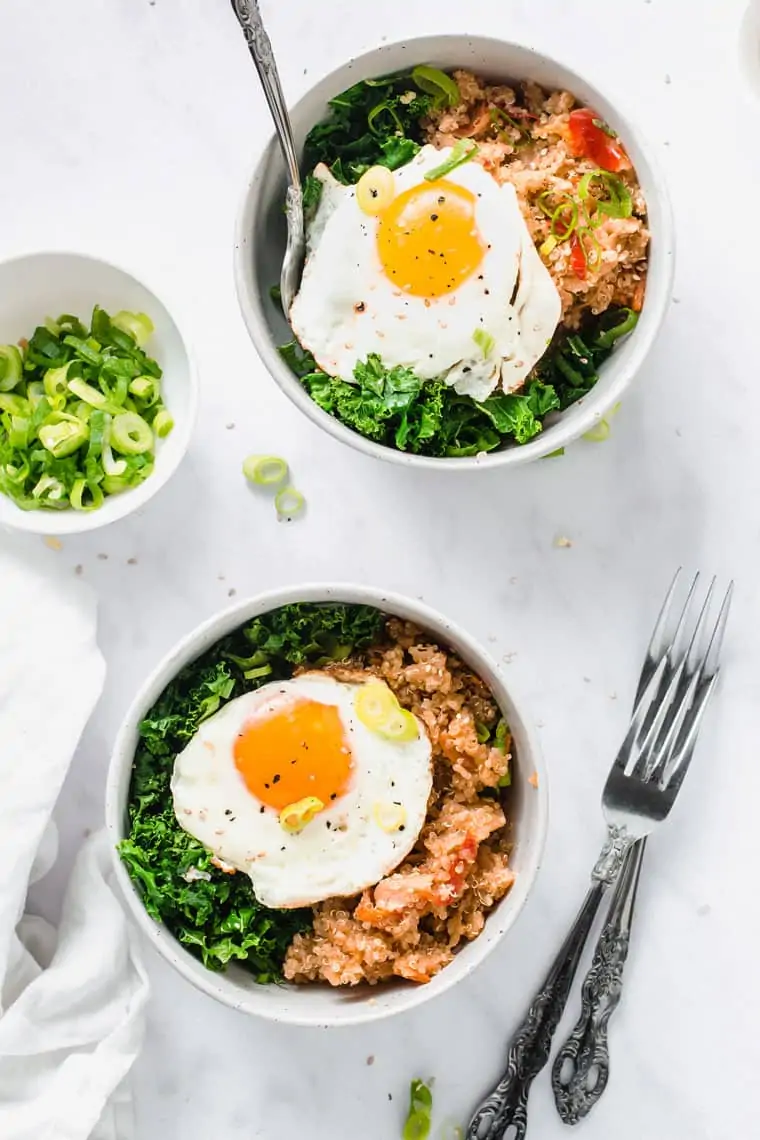 Is Kimchi Vegan or Gluten-Free?
You can find kimchi in the refrigerated section of the grocery store. You'll likely see it near the other "health food" products – things like tofu, sauerkraut, hummus, vegan cheese, etc.
Naturally kimchi is gluten-free since it's just made with veggies. But it's not always vegan. Sometimes you'll find fish sauce in kimchi. If you are vegan, just make sure to read the ingredient label!
Storage & Serving Suggestions
These kimchi quinoa bowls make a great lunch or an easy dinner. You can whip it up in less than 15 minutes or reheat it when you get to the office. It's filled with protein, fiber, greens, and good bacteria, so you'll feel full, healthy and your tummy will be smiling.
For storing: allow the bowls to cool completely, then pop them into a sealed container and leave them in the fridge.
For serving: I love to top it with a fried egg, but feel free to top it with whatever you'd like!
Subsitution Ideas for These Quinoa Bowls
Lastly, let me quickly just share some ideas for making them your own!
to make them vegan: swap the egg with tofu and mix the tofu with the quinoa and kimchi
for meat eaters: dd additional protein like chicken, shrimp or even strips of beef if you eat that
the grains: not a quinoa fan? feel free to swap out the quinoa with rice!
And now… you are ready to make and enjoy these delicious bowls! If you love quinoa bowls as much as I do, you'll also LOVE our how to make quinoa bowls: 6 ways post!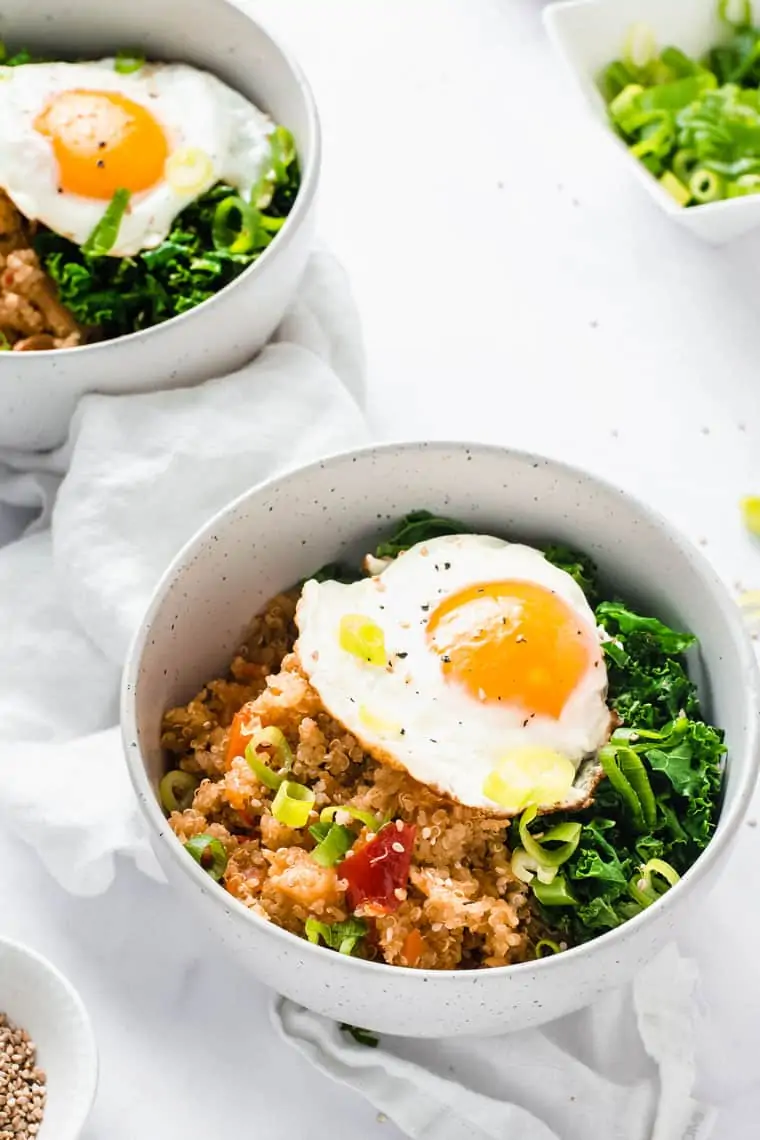 More Healthy Kimchi Recipes
Spicy Kimchi Quinoa Bowls
These spicy kimchi quinoa bowls are the perfect weeknight dinner. They're quick, easy, and super healthy, packed with protein, fermented veggies, and greens!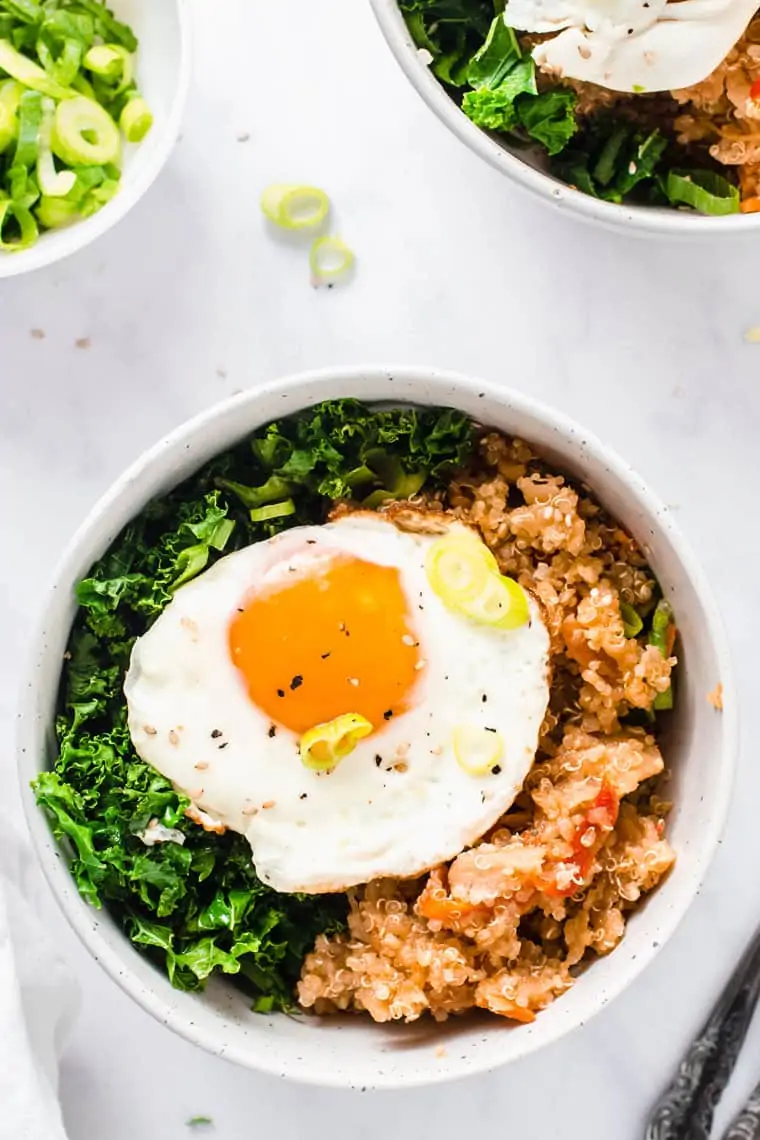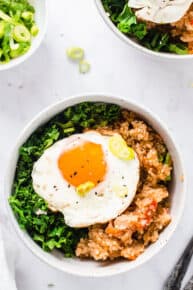 Ingredients
2

teaspoons

toasted sesame oil

1/2

teaspoon

freshly grated ginger

1

teaspoon

minced garlic

2

cups

cooked quinoa

cooled

1

cup

kimchi

chopped

2

teaspoons

kimchi "juice"

the liquid from the jar

2

teaspoons

gluten-free tamari

1

teaspoon

hot sauce

optional

2

cups

kale

finely chopped

2

eggs

1/4

cup

sliced green onions for garnish

optional

Fresh ground pepper for garnish

optional
Instructions
Heat the oil in a large skillet over medium heat. Add ginger and garlic and saute for 30 - 60 seconds until fragrant. Add the quinoa and kimchi and cook until hot, about 2 - 3 minutes. Stir in kimchi juice, tamari and hot sauce if using. Turn to low and stir occasionally while you prepare the other ingredients.

In a separate skillet, cook the eggs on low until the whites have cooked through but the yolks are still runny, about 3 - 5 minutes.

Steam the kale in a separate pot for 30 - 60 seconds until soft.

Assemble the bowls, dividing the kimchi-quinoa mixture and kale evenly between two dishes. Top with green onions and fresh pepper if using.
Notes
This recipe is easily doubled for a larger crowd or for having leftovers to take to work.
Nutrition
Calories:
359
kcal
|
Carbohydrates:
46
g
|
Protein:
17
g
|
Fat:
12
g
|
Saturated Fat:
2
g
|
Cholesterol:
163
mg
|
Sodium:
489
mg
|
Potassium:
707
mg
|
Fiber:
5
g
|
Sugar:
1
g
|
Vitamin A:
6930
IU
|
Vitamin C:
82.3
mg
|
Calcium:
157
mg
|
Iron:
4.7
mg
Filed Under: