This delicious detox chia fresca drink is made with grapefruit, lemon and spirulina to help flush toxins, support healthy digestion and help your skin glow!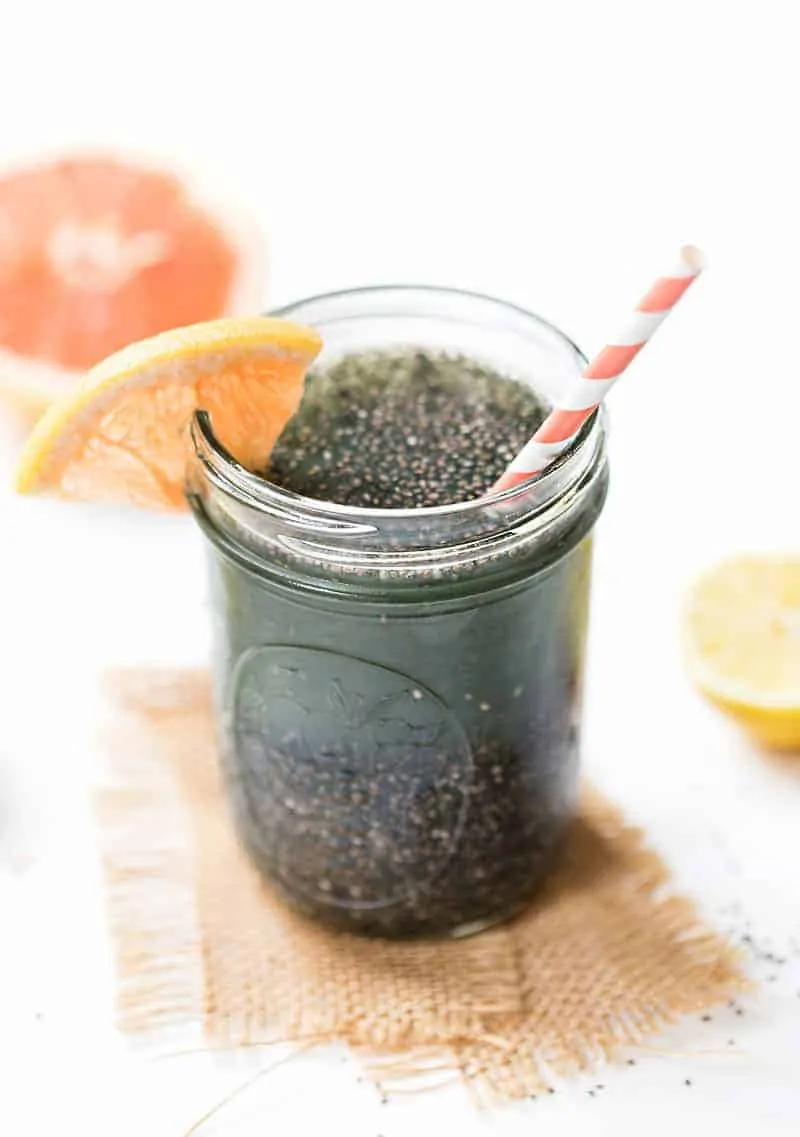 After a long holiday weekend, my body tends to crave something hydrating and detoxifying. And that's exactly what we've got with this detox chia fresca! It's energizing, delicious, simple to make and oh-so-delicious!
Chia seeds are truly a superfood. Not only are they packed with fiber, but they're rich in antioxidants, protein, and healthy fats. They were even used by ancient Aztec tribespeople as a way to stay fueled for long days hunting and gathering water.
One thing they discovered is that you can actually drink chia seeds too. Just stir them up with a little water and you've got an all-natural energy drink that requires zero prep time and only two ingredients: chia and water.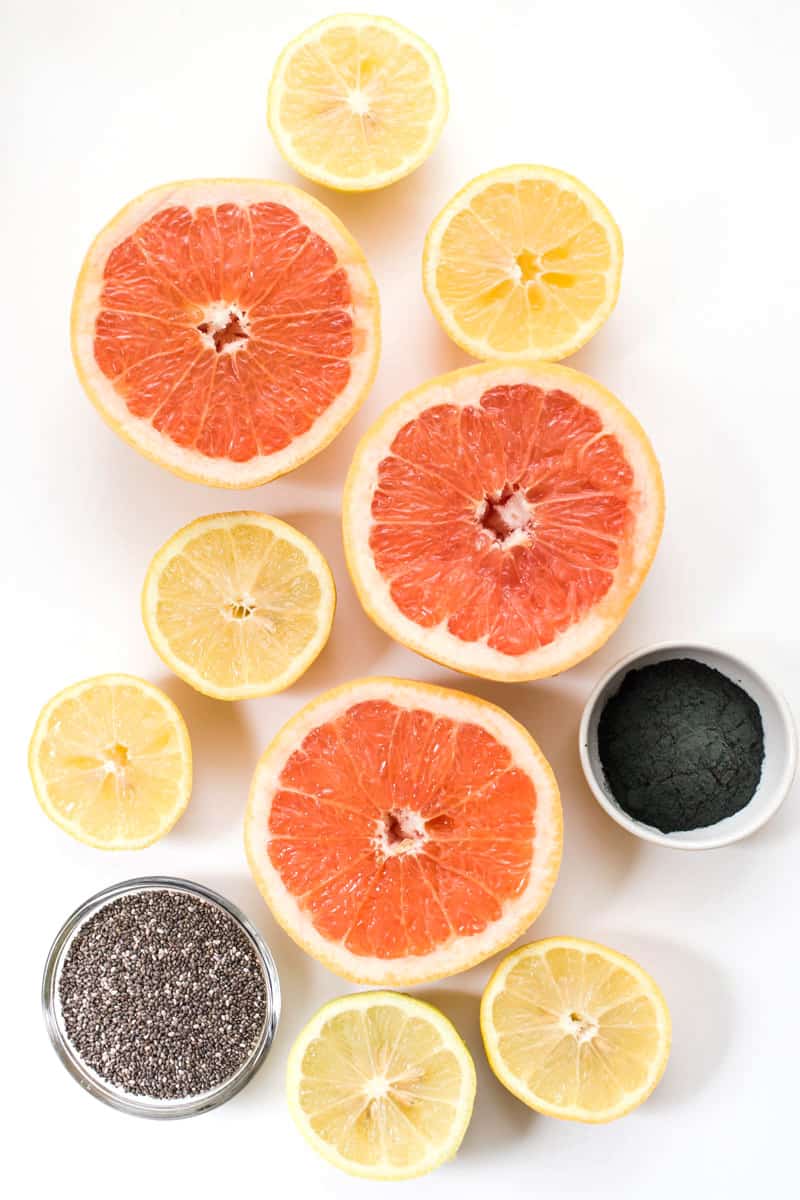 But today we're jazzing the traditional chia fresca by adding citrus juice and spirulina. My goal with this drink was to give you something that helps detox your system but doesn't taste like dirt (or in this case seaweed). So here's what we're working with:
Grapefruit Juice: of course we all know that citruses, especially oranges and grapefruit, are high in vitamin C, but what I love is that grapefruit has an alkalizing effect on our bodies and digestive system. It also has a fat-burning enzyme which has been shown to support the body's metabolism and encourage weight loss.
Lemon Juice: this has so many amazing benefits, but some of my favorites are that lemon juice aids in digestion and detoxification. It supports your liver and helps keep things moving through your body. And when your liver is functioning properly, your body is able to rid toxins from your system.
Spirulina: Spirulina is a blue-green alga that's found in pristine freshwater lakes, ponds, and rivers. It's packed with vitamins and minerals, helps almost every organ in our body AND it's high in protein. It also has 4x the antioxidants of blueberries, supports a healthy gut and immune system and it helps to pull toxins from the body.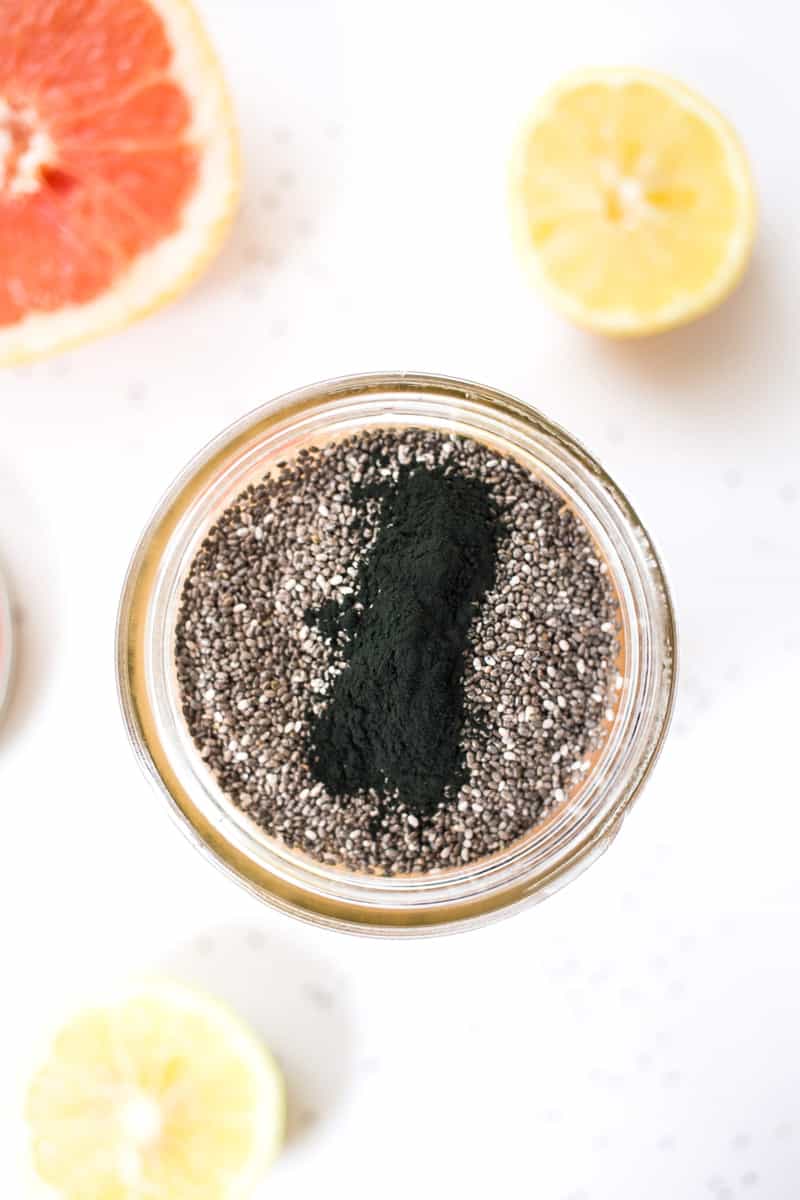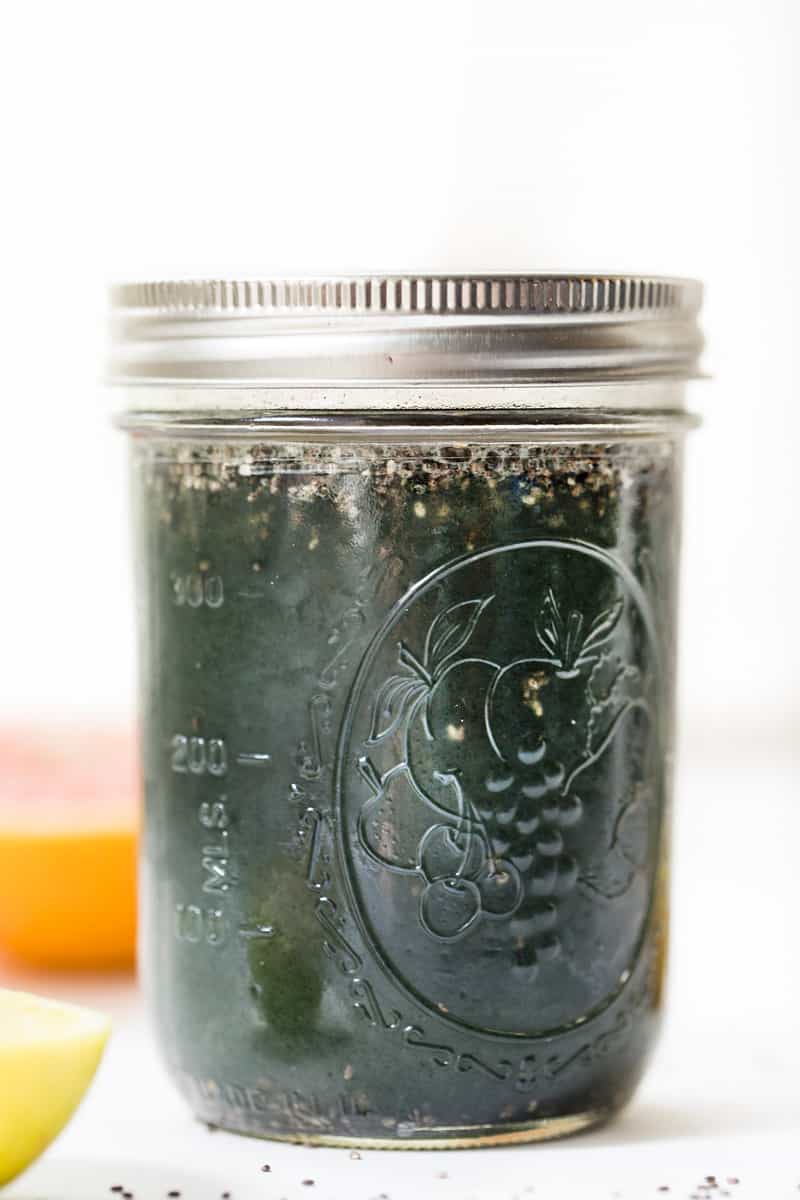 One thing I will say about spirulina is that it has a very strong flavor. It definitely tastes like seaweed (which it is), and can be quite overpowering if it's not paired with other strong flavors.
I personally like to combine it with chocolate or toss some into my smoothie, so when I first came up with this chia fresca combination, I was a little worried that the spirulina would still be a bit much, but after the first sip, I was hooked. It is absolutely delicious!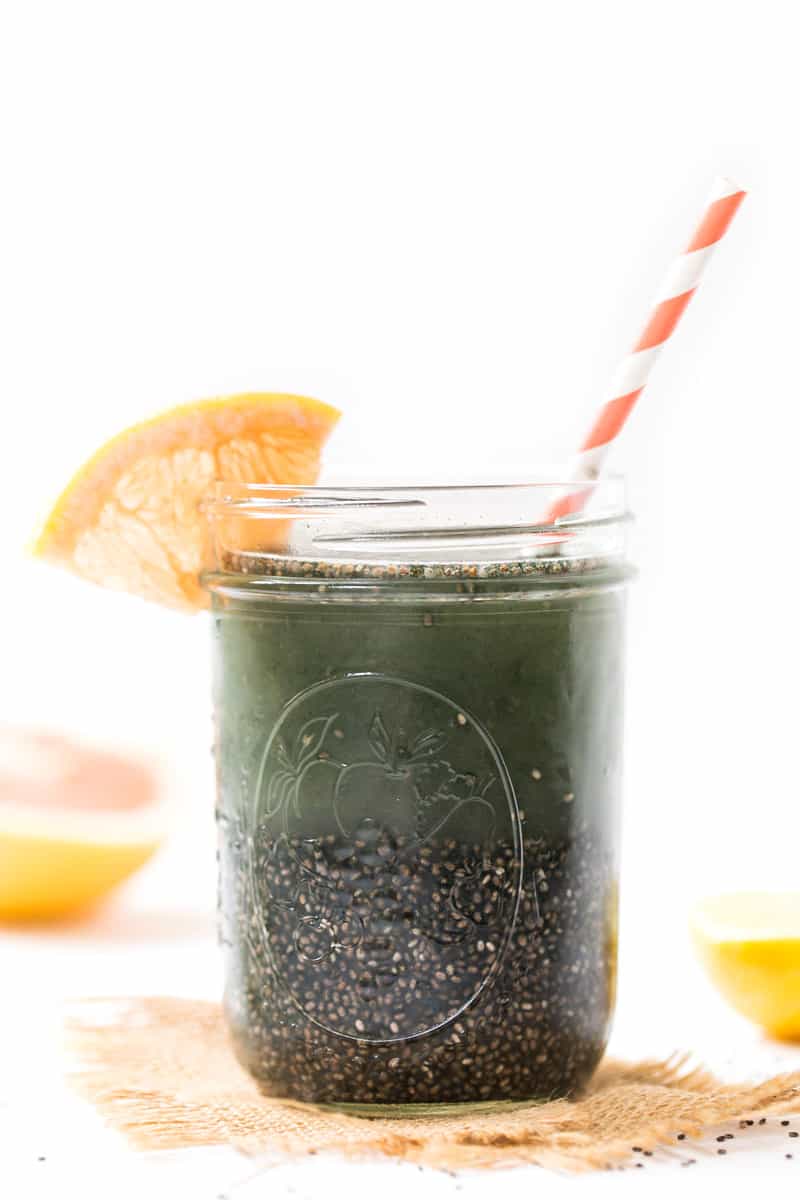 This detox chia fresca is refreshing, citrusy, bright and serves as the perfect afternoon pick-me-up! It's sweet (without any added sugar), is packed with antioxidants, rich in vitamins and minerals, and does wonderful things for your digestive system. Not to mention, these ingredients are also considered "beauty foods" meaning they're great for your skin, hair and nails.
So basically, this chia fresca…
Promotes detoxification
Provides natural energy
Is an easy and healthy snack
Supports your immune system
Boosts your metabolism
AND helps you have glowing skin, hair, and nails
You in? I sure am. BRING. IT. ON! Honestly, I know you're going to love this drink and I think we'll be sipping on it all summer long!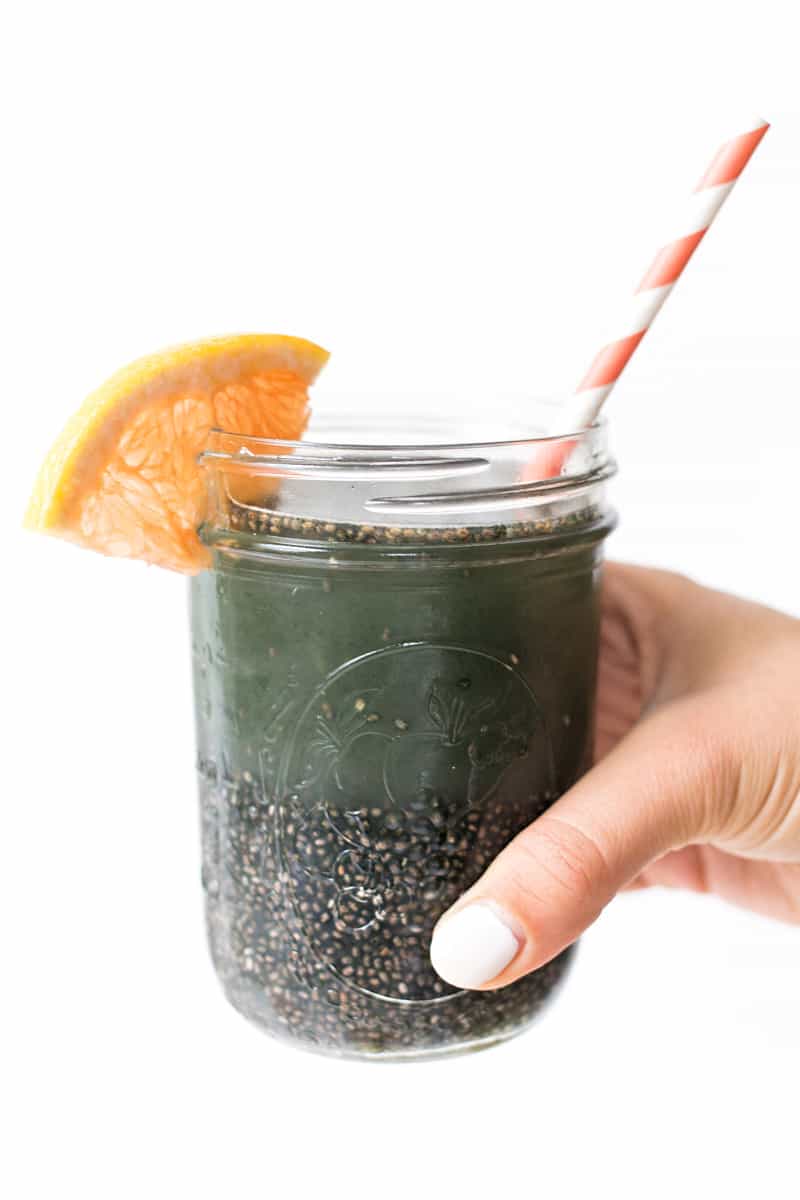 Detox Chia Fresca
This delicious detox chia fresca drink is made with grapefruit, lemon and spirulina to help flush toxins, support healthy digestion and help your skin glow!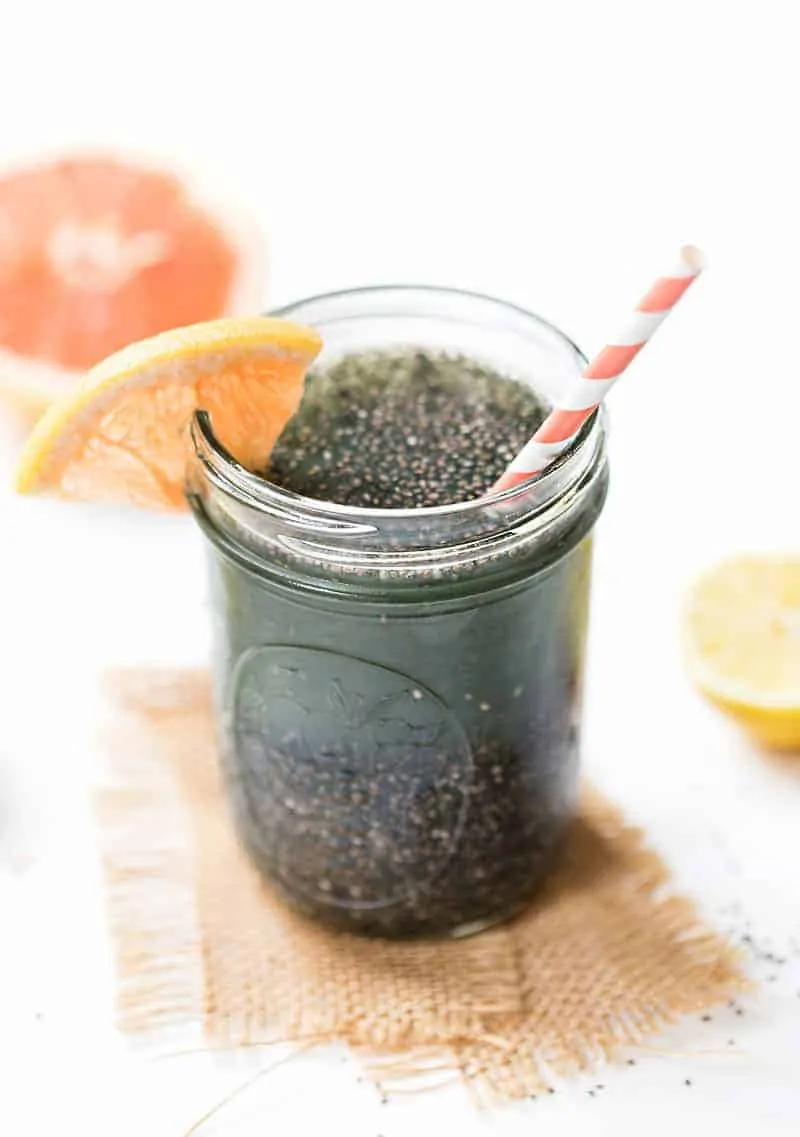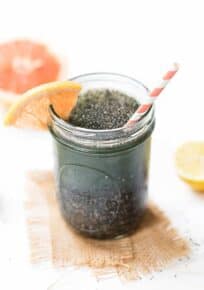 Ingredients
1

cup

filtered water

3/4

cup

fresh squeezed grapefruit juice

1/4

cup

fresh squeezed lemon juice

1/4

cup

chia seeds

1/2

teaspoon

spirulina powder
Instructions
Add all ingredients into a mason jar, screw on the lid and shake until fully combined.

Place mason jar in the fridge for at least 15 minutes to allow the chia seeds to gel.

Enjoy as is or grapefruit slices for garnish!
Nutrition
Calories:
305
kcal
|
Carbohydrates:
42
g
|
Protein:
9
g
|
Fat:
13
g
|
Saturated Fat:
1
g
|
Sodium:
39
mg
|
Potassium:
522
mg
|
Fiber:
14
g
|
Sugar:
21
g
|
Vitamin C:
71.2
mg
|
Calcium:
282
mg
|
Iron:
4.4
mg
Filed Under: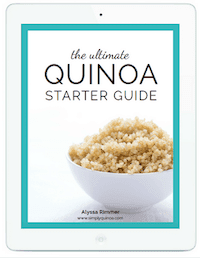 New to cooking quinoa? Grab your FREE Quinoa Starter Guide!
Become part of the Simply Quinoa community and receive weekly emails with exclusive content that I only share in email, as well as my in-depth guide to starting your quinoa journey.