These little brownie energy bites are full of superfoods, so with each bite you'll get the flavor of a brownie with nutrients, protein and healthy fats!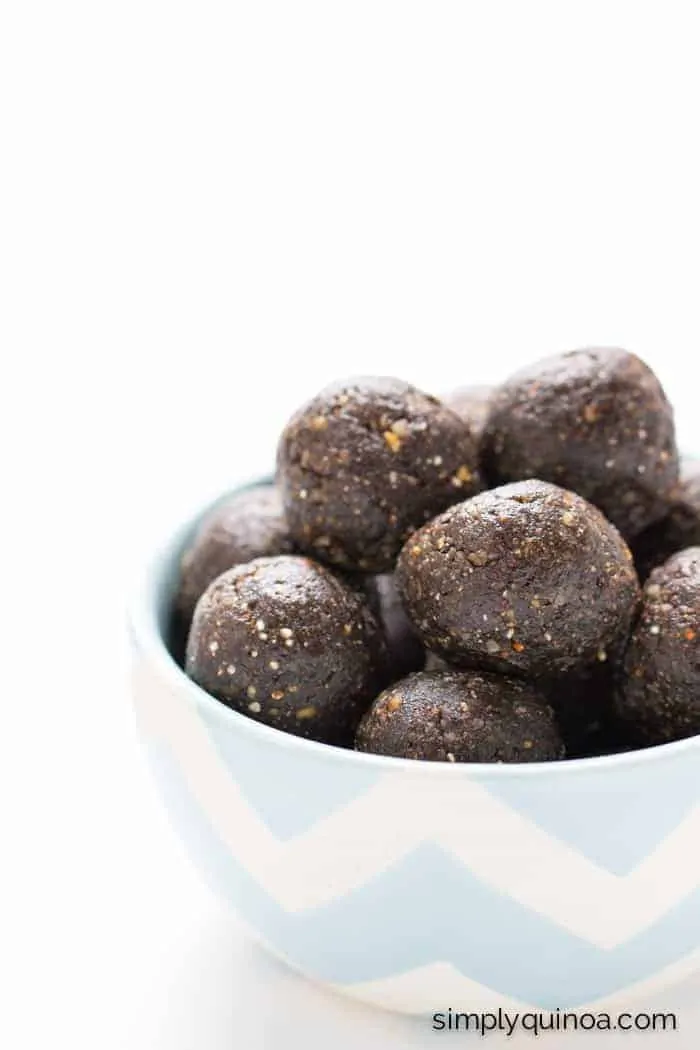 Well, friends, we're at it again. Making little balls of energizing deliciousness.
Except for this time, we're not going in the cookie-flavored direction. Nope, today we're talking chocolate brownie energy bites. They're rich, fudgy, nutty, chocolatey and sweet. Basically, everything that I adore about a good brownie. Except hey, these are actually good for you!
I've packed these little balls FULL of superfoods, so with each bite, you'll get all the flavor of a brownie with all the nutrients of these superfoods.
What is a superfood?
You often hear that this food or that food is a superfood, but what does that really mean? Does it mean that if we eat it we're going to have superpowers? Well…not exactly, but close!
Essentially, a superfood is a food with a highly-concentrated amount of nutrients that has health-promoting properties and is especially good for your health and well-being. Think things that are super high in antioxidants, trace minerals and other properties that are hard to find in your regular, everyday diet.
There are a bunch different lists of the world's superfoods, but my feeling is that there are hundreds (if not thousands) of these "superfoods" in the world and it's better to take all those lists you've found and combined them rather than just listening to one source of information.
For this recipe, I chose to go in the superfood powder direction. The base of these energy bites is my normal recipe – a mixture of dates, nuts, and quinoa – but this time I've included three of my favorite superfood powders to give these babies an extra kick. Maca, spirulina, and cocoa.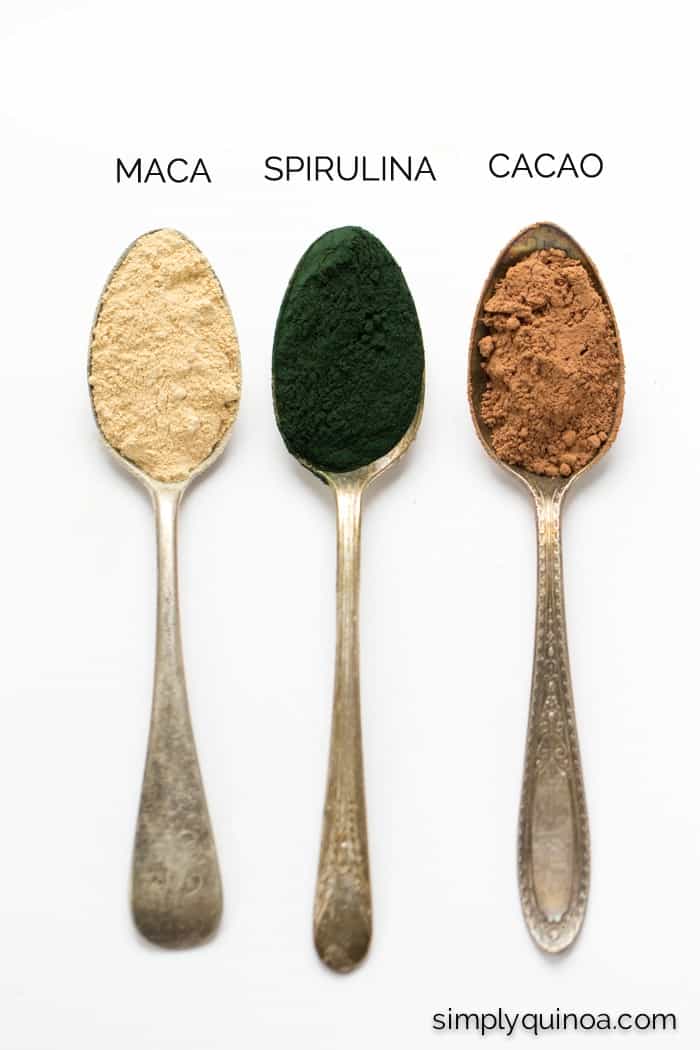 These are three superfoods that I eat on an almost daily basis. Whether it's in a smoothie, my oatmeal or these brownie energy bites, I really love the benefits they have on my mood and energy. Plus, they're actually quite tasty (although spirulina might take you a little while to get used to).
Here's a little run down on each powder:
1. Maca
Maca is a plant found in the high altitudes of Peru and Bolivia, used by indigenous Andean societies for its superfood qualities. This powder is made from the root of the plant and is known to nourish the body's endocrine system and help us cope with stress. Maca also energizes naturally, without the side effects that you get from caffeine. Additionally, maca is well known for regulating hormone balance, increasing fertility and is even believed to be a strong aphrodisiac.
2. Spirulina
 Spirulina is a blue-green algae that's found in pristine freshwater lakes, ponds, and rivers. It's a superfood in every sense of the word – it's packed with vitamins and minerals, helps almost every organ in our body AND it's high in protein. In fact, gram for gram, spirulina has more protein than beef, poultry, fish and soybeans. It also has 4x the antioxidants of blueberries. Spirulina's main benefits are that it helps with eye and gut health, strengthens the immune system and helps the body detoxify.
3. Raw Cacao
Raw cacao powder (yes, the stuff we use to make chocolate) is one of the world's richest sources of antioxidants and most powerful superfoods. Cacao is very high in essential nutrients like magnesium, B vitamins, and iron. It has been used to support heart health, lower the blood pressure, improve circulation and even suppress the appetite. Finally, as if we needed another reason to love chocolate, cacao is also a concentrated form of dietary fiber.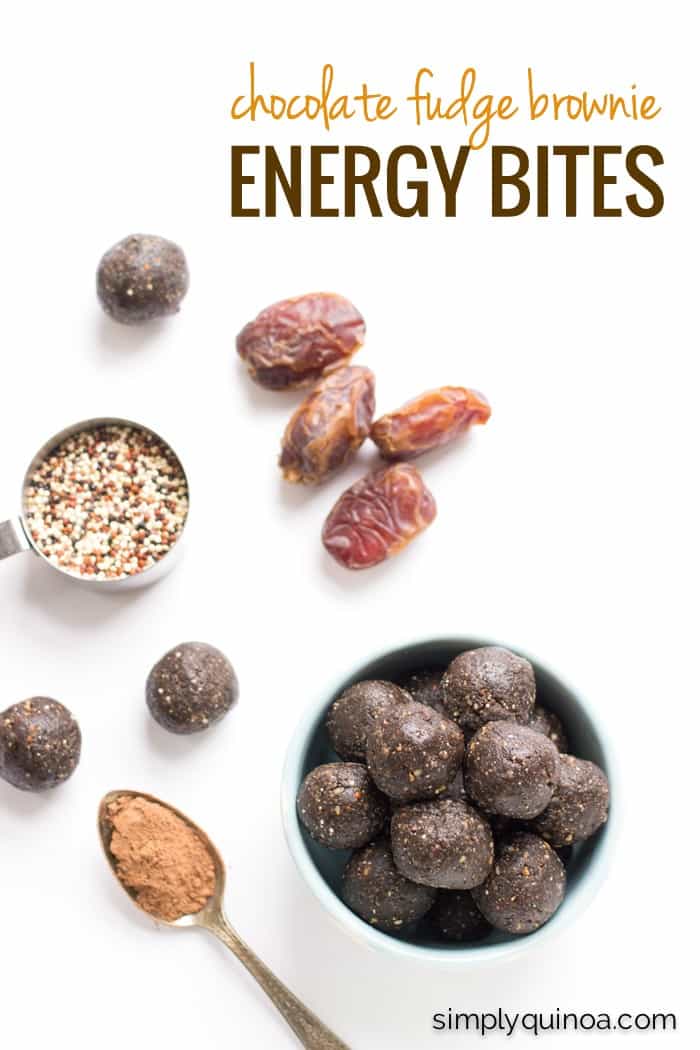 So yes, I've packaged up these little superfoods and put them into these tasty treats. So I like to think of these chocolate brownie energy bites as more than just energy bites, these are little balls that will help you look and feel your best.
More Healthy Energy Bite Recipes:
Superfood Chocolate Brownie Energy Bites
I've packed these little brownie energy bites FULL of superfoods, so with each bite you'll get all the flavor of a brownie with all the nutrients of these superfoods.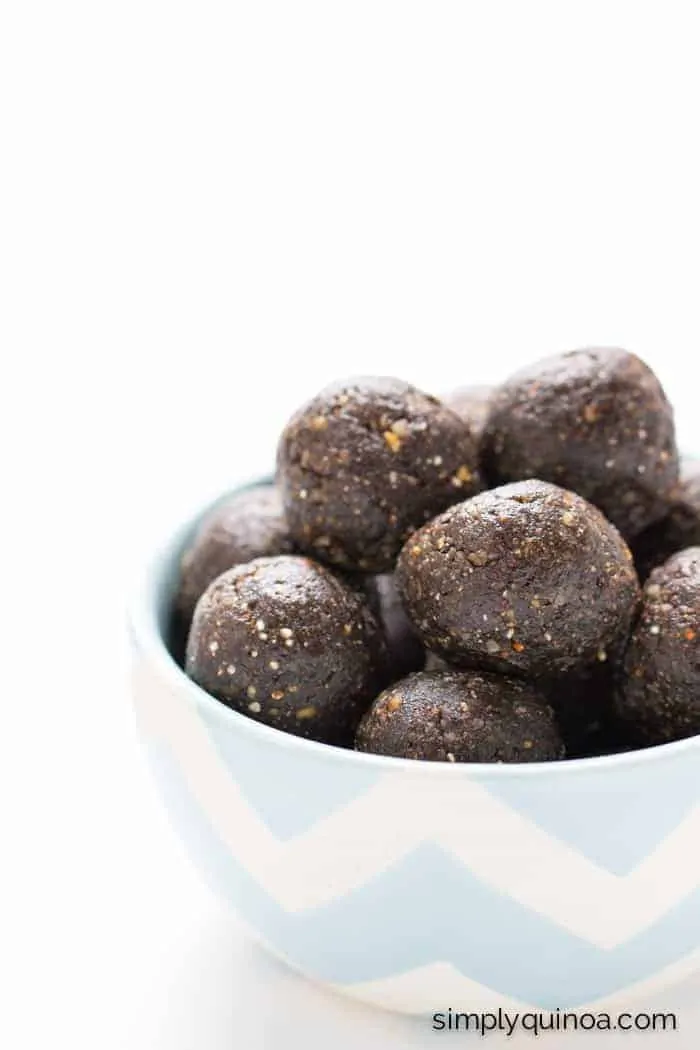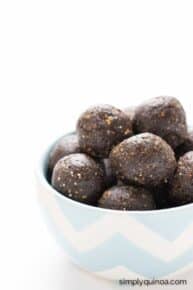 Instructions
Add walnuts to the bowl of a food processor. Pulse until the nuts are chopped into a coarse meal. Add dates, quinoa and powders and process again until combined.

With the food processor running, add the syrup and coconut oil and let run until a dough begins to form.

Remove lid and roll dough into 1" balls. Place balls on a plate or tray and freeze for 1 hour. Transfer to an airtight container for storing.

Store in the freezer for up to two months.
Nutrition
Calories:
81
kcal
|
Carbohydrates:
11
g
|
Protein:
1
g
|
Fat:
4
g
|
Sodium:
2
mg
|
Potassium:
119
mg
|
Fiber:
1
g
|
Sugar:
7
g
|
Vitamin C:
0.2
mg
|
Calcium:
14
mg
|
Iron:
0.5
mg
Filed Under: