How to make instant pot lentil chili. This easy lentil chili recipe is packed with flavor and plant-based protein! It's healthy and is ready in just about 45 minutes!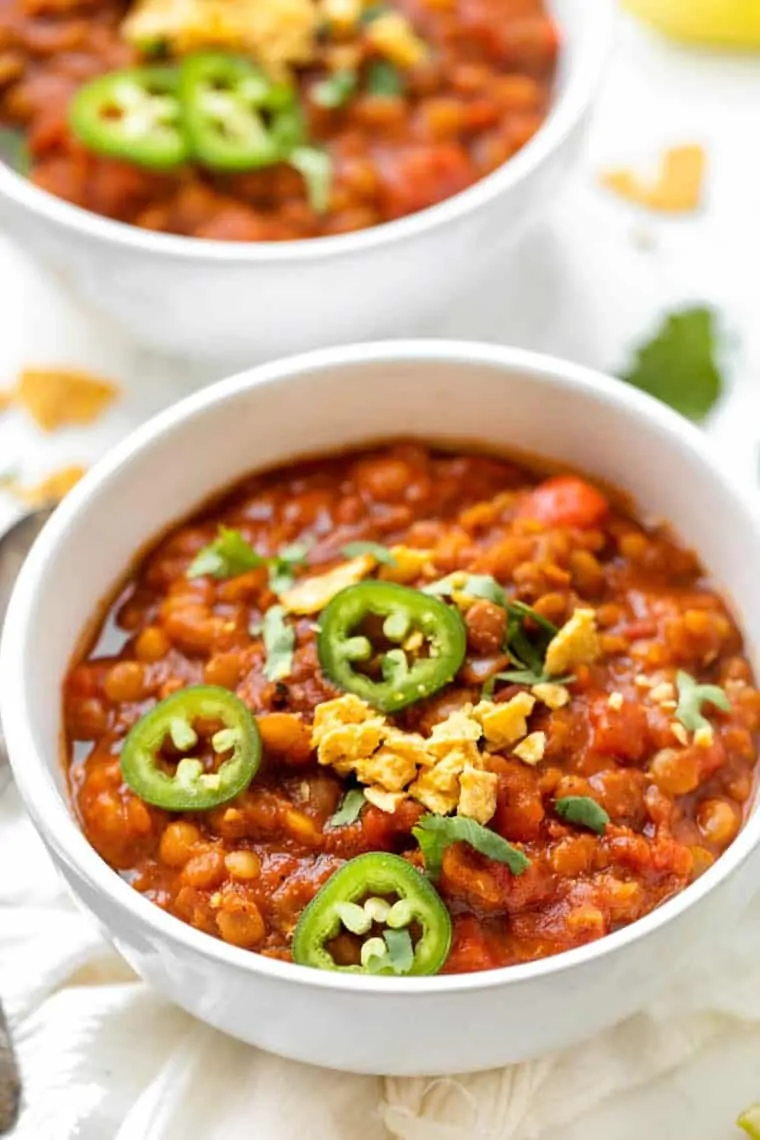 I gotta say, I just love my Instant Pot! Granted, I'm still learning and figuring out the best cooking times, but it's been making my life so much easier.
Not only can you cook things like beans in under an hour, but you can also saute with it, slow cook with it and even make yogurt. But for me, what I love most is the speed and the flavor.
Take this lentil chili for example. Typically, chili takes hours to cook in order to build up proper flavor. In the Instant Pot, it's ready in about 45 minutes, and it's bursting with flavor. I'm starting to think of it as a better version of the slow cooker!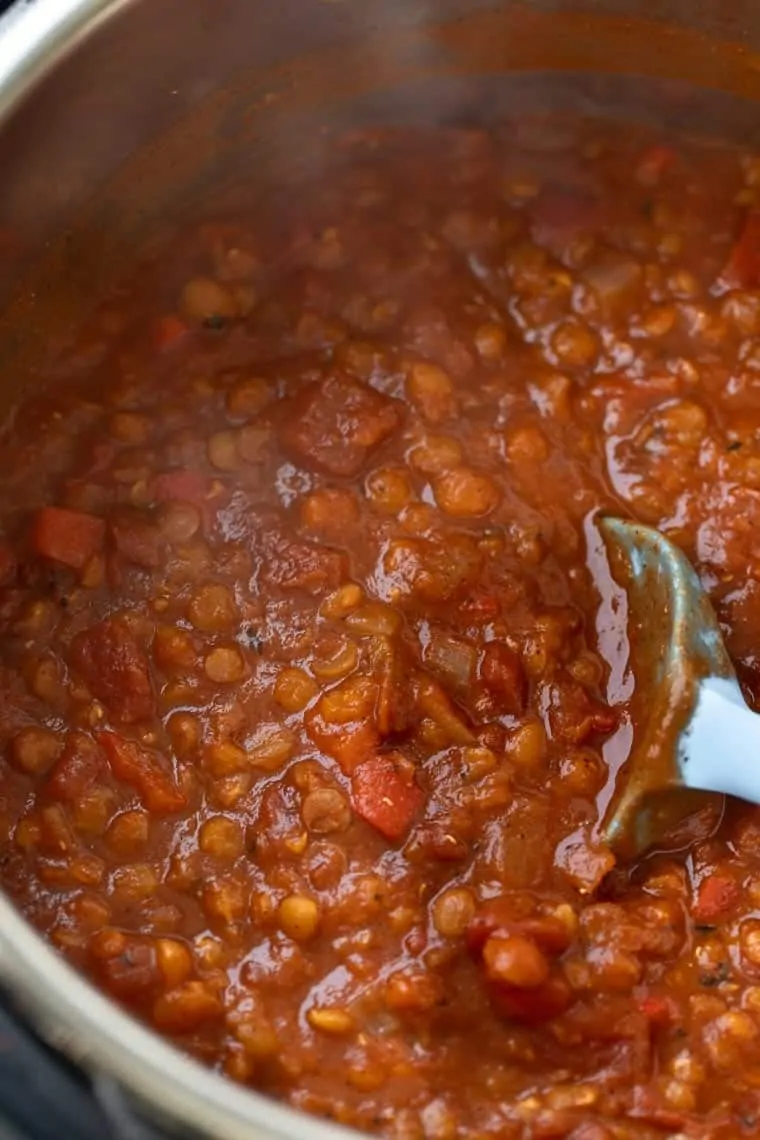 How to Make Chili in the Instant Pot
One of the things I love about the Instant Pot over a slow cooker is the saute function. With a slow cooker, you have two options:
Saute on the stove and transfer to the slow cooker
Skip the saute part and lose out on some flavor
But in the Instant Pot, you can do both which is what we're doing with our lentil chili recipe. We start by sauteeing onions and peppers, then we add in the rest of our ingredients – which includes two types of lentils and lots of amazing spices – then we just set our Instant Pot to high pressure and let it do its thing.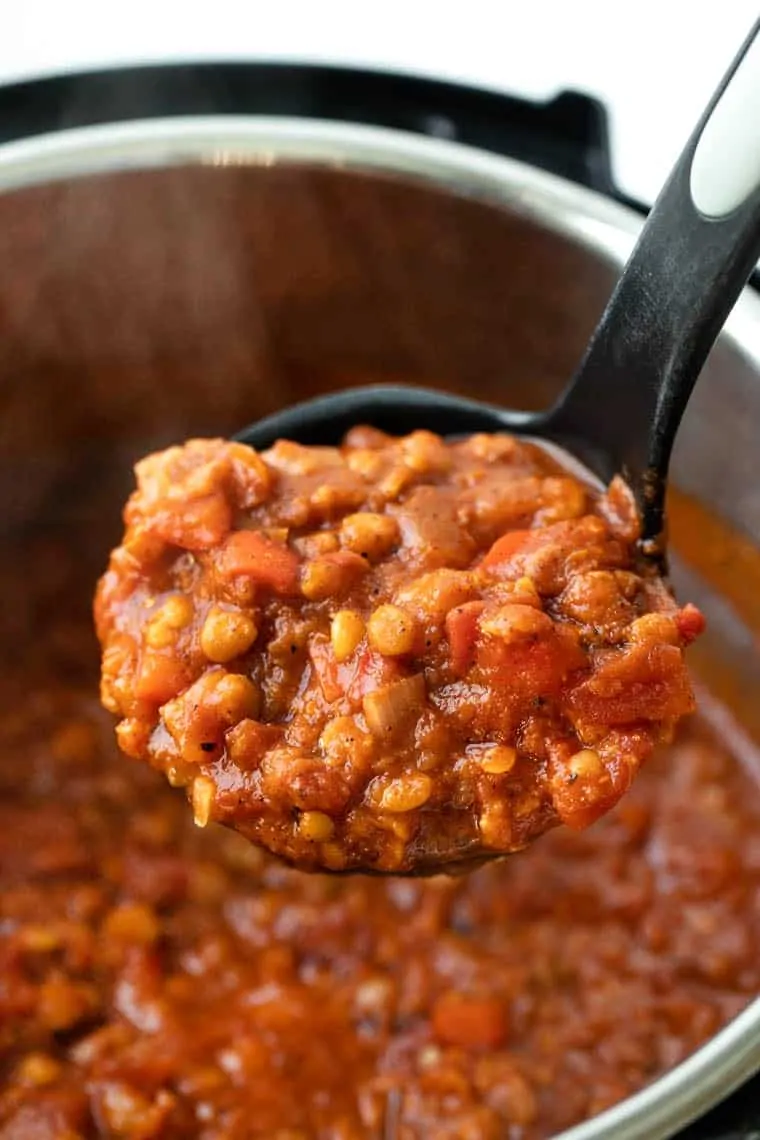 How Long Does it Take to Make Chili in the Instant Pot?
You're not going to believe me when I tell you this, but it takes just 12 minutes to cook chili in the Instant Pot! Only 12!! Isn't that crazy?!
But here's the thing we have to remember with pressure cookers, it does take extra time to build up the pressure and then naturally release the pressure. So from start to finish, and with those two things accounted for, it takes about 45 minutes to make this instant pot lentil chili.
(which I gotta say is still pretty darn good!)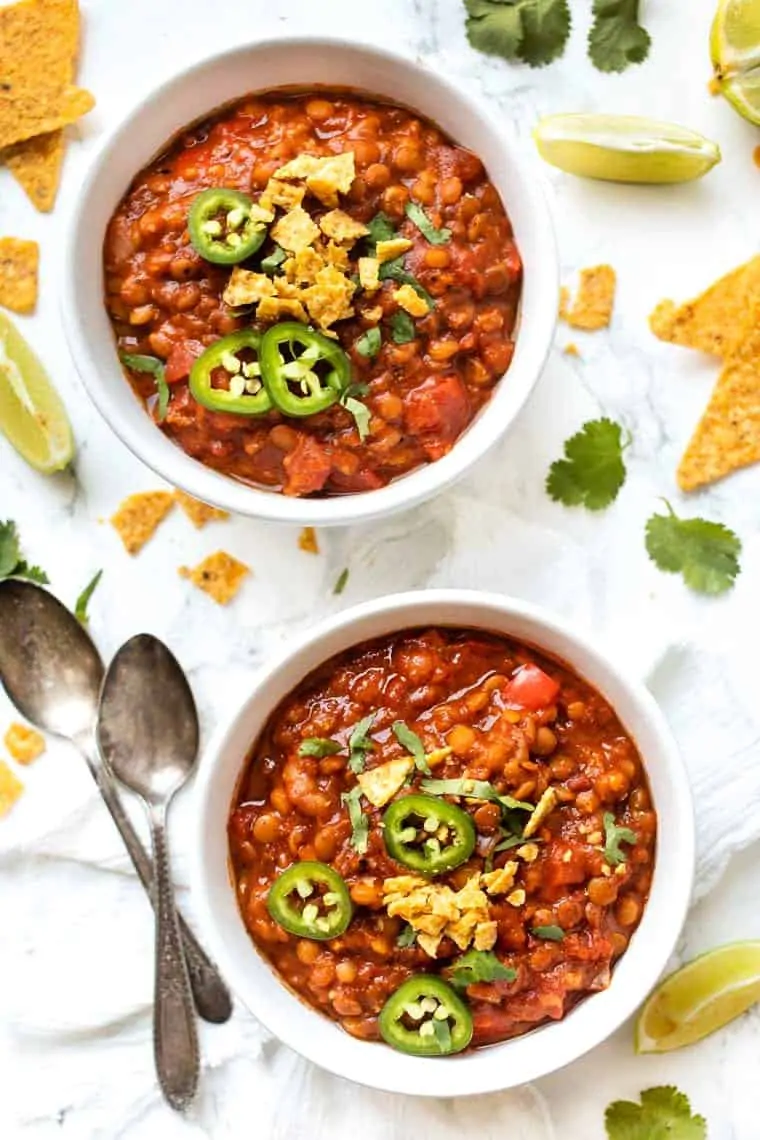 The Best Lentil Chili Recipe
Cooking time aside, this really is the best lentil chili I've ever tasted! What I love about the combo of the two lentils is that the brown lentils hold their shape so they have this almost ground beef like quality and the red lentils break down and add this creamy, richness.
Of course, chili isn't chili without spices, and we're using my favorites to flavor this one up:
Chili powder
Cumin
Coriander
Smoked paprika
Each adds a nice depth of flavor, and the smoked paprika adds a little touch of smokiness which is absolutely lovely!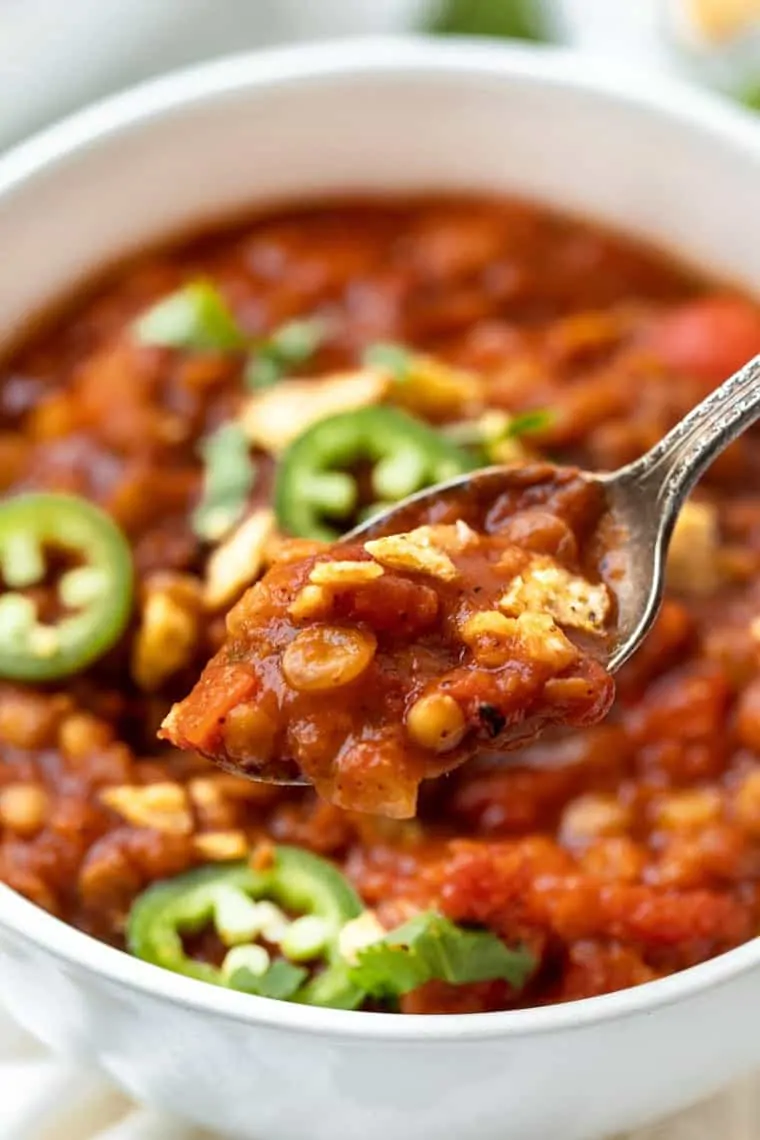 Ways to Serve Your Lentil Chili
Now the fun part, serving! Chili is one of those things that you can kind of go crazy with. If I'm having people over, I might do a chili bar situation with all sorts of toppings, but if I'm at home, then I'll keep things pretty simple. I'll include toppings like:
Avocado (or my mango guac)
Sliced jalapenos
Fresh cilantro
and maybe even some crumbled up corn chips
But no matter how you serve it, this lentil chili is a winner! It's thick, it's nourishing, it's full of plant-based protein and best of all, it's super easy to make. Oh, and did I mention it's also great for meal prep? Well, it is, so yay!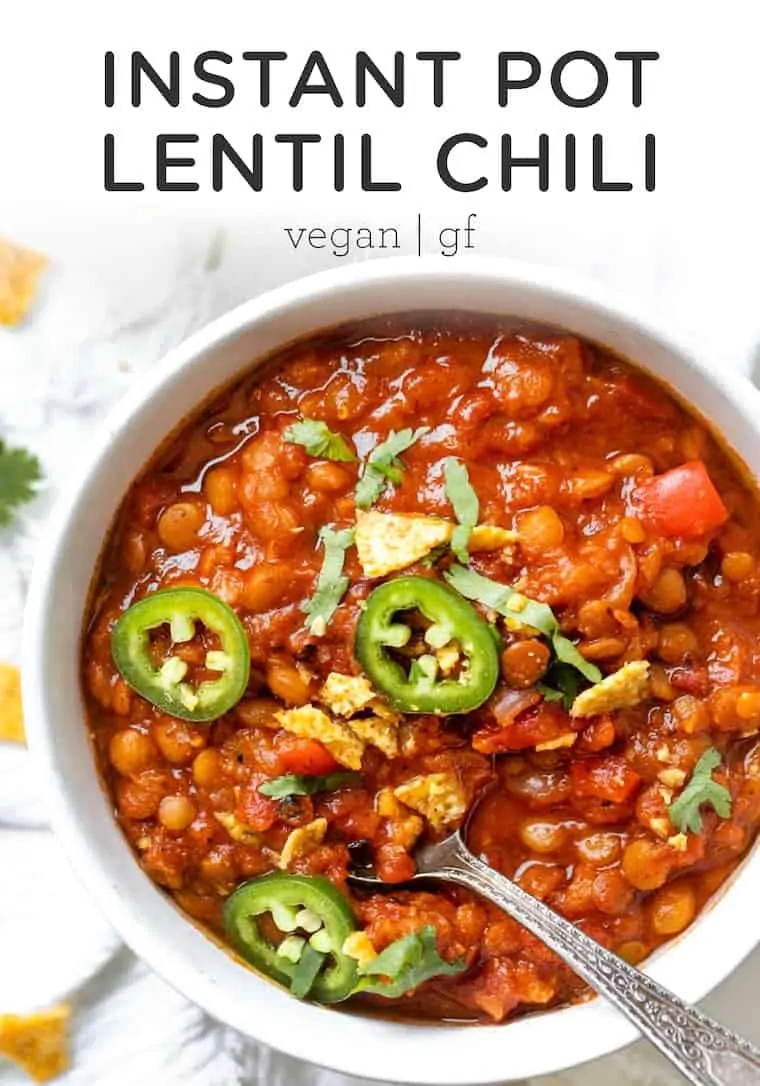 More Vegetarian Chili Recipes to Try:
Lentil Chili
This easy instant pot lentil chili is packed with flavor and plant-based protein! It has a nice, thick texture, and is ready in under 45 minutes!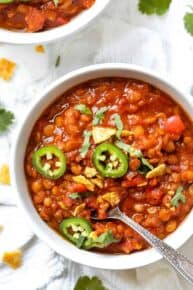 Instructions
Turn your Instant Pot to the saute function and add the oil. Once the oil is hot, add the onion and pepper. Saute for 2 - 3 minutes until the onion starts to turn translucent.

Add the remaining ingredients and give it a quick stir. Secure the lid, making sure the pressure valve is sealed and turn to pressure cook.

Set the Instant Pot to high pressure and put the timer to 12 minutes. Allow the Instant Pot to turn on and come to pressure.

Once the timer is finished, allow the pressure to naturally release for 15 minutes, then release the rest and remove the lid.

Give it a stir and if the chili feels a bit thick, stir in another cup or so of broth. Serve immediately and garnish with your choice of toppings! (I like sliced jalapeno, cilantro, avocado, and corn chips!)
Nutrition
Serving:
1.5
cups
|
Calories:
232
kcal
|
Carbohydrates:
37
g
|
Protein:
13
g
|
Fat:
3
g
|
Sodium:
544
mg
|
Potassium:
528
mg
|
Fiber:
15
g
|
Sugar:
6
g
|
Vitamin A:
1815
IU
|
Vitamin C:
30.7
mg
|
Calcium:
79
mg
|
Iron:
4.9
mg
Filed Under: