These savory chickpea pancakes are a simple, healthy and delicious meal that is packed with protein. Can be enjoyed for breakfast, lunch or dinner!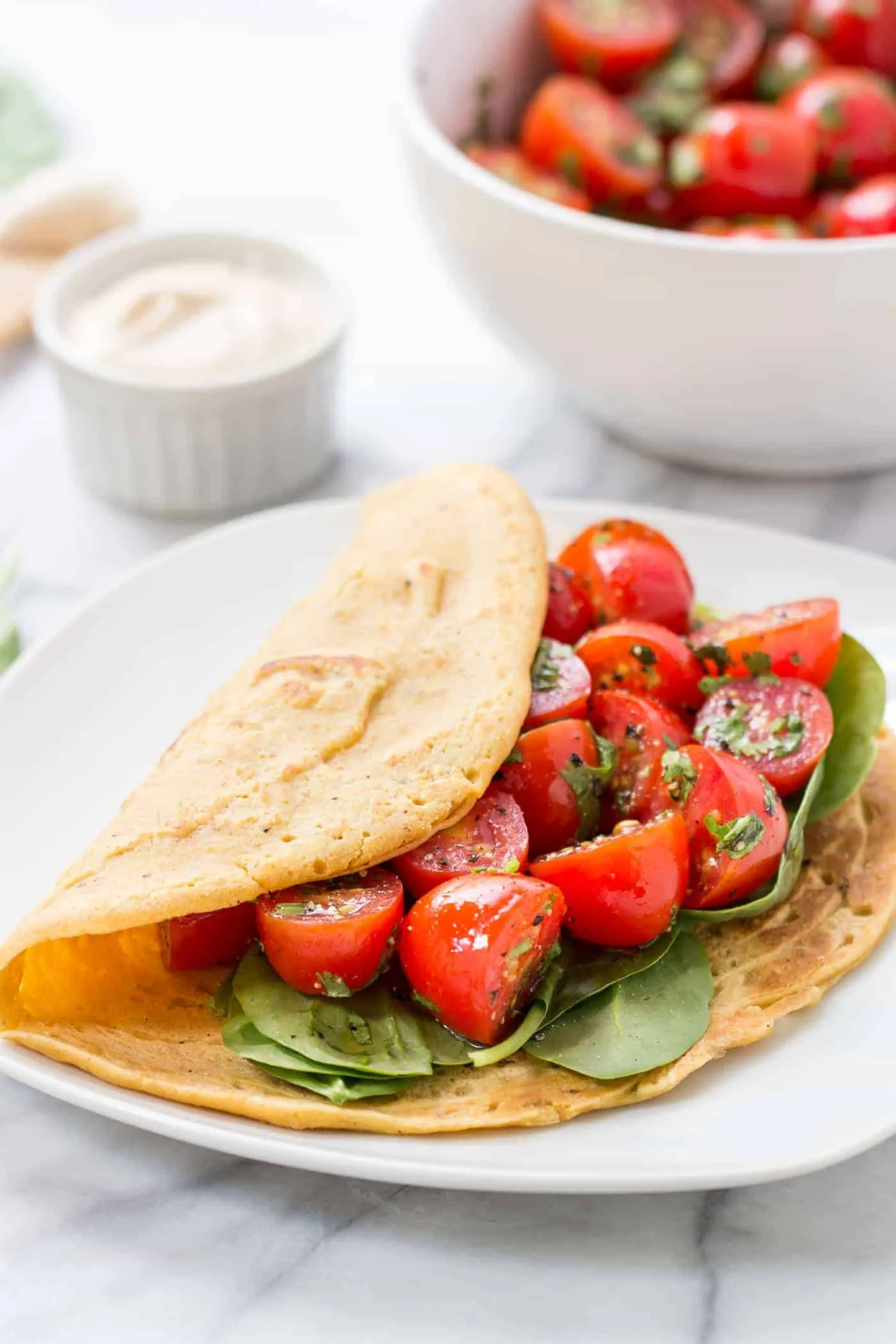 Savory pancakes? I feel like I'm losing my mind a little bit.
I'm all about pancakes but in the traditional sense. You know like my Chocolate Quinoa Pancakes or Blueberry Quinoa Pancakes. Classic flavors. Fluffy texture. Drenched in maple syrup. That's how pancakes are supposed to be, right?
Then I tried chickpea pancakes and a whole new pancake world opened up. Savory pancakes are amazing. And the best part is, it makes eating pancakes for every meal of the day totally acceptable!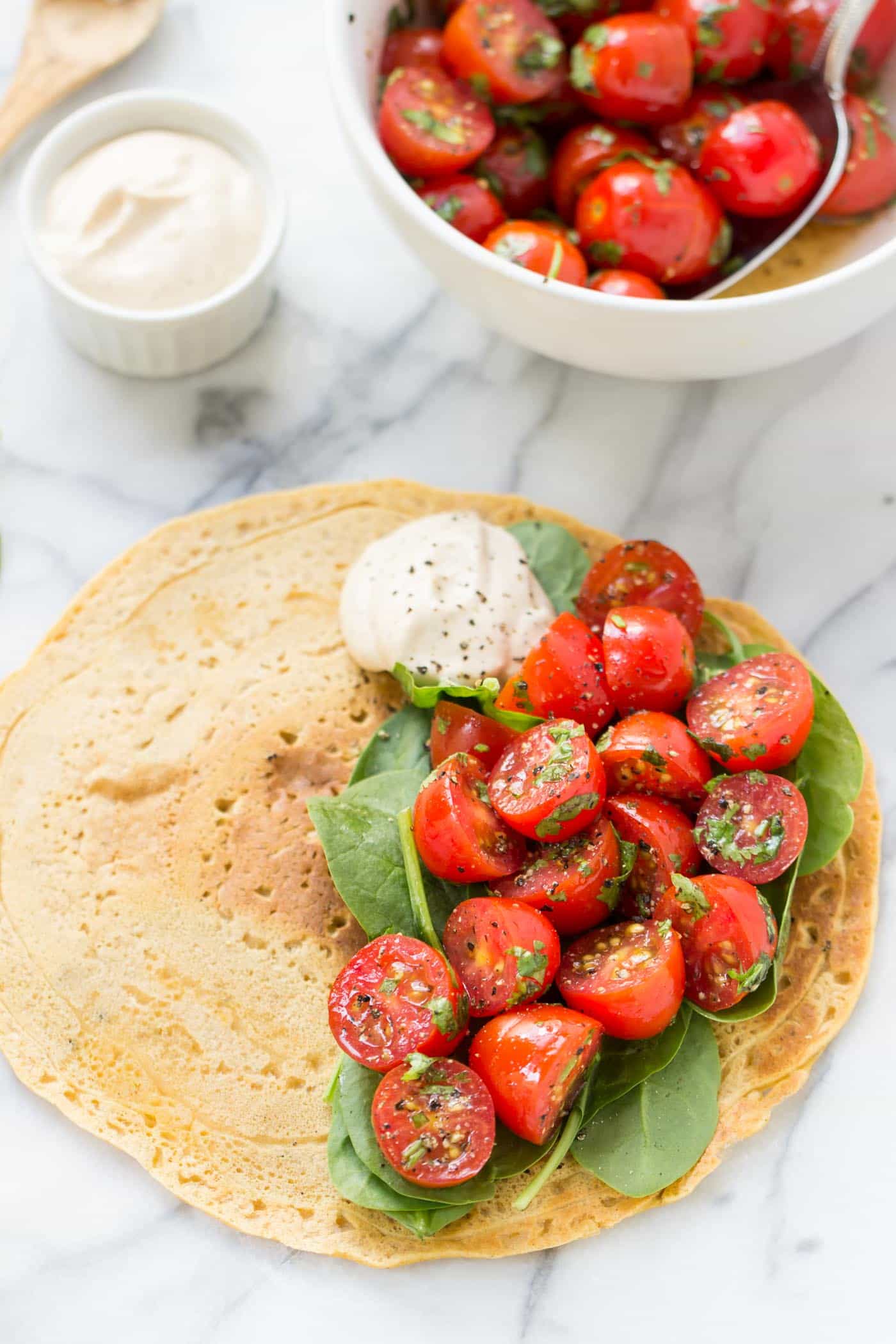 I first tried chickpea pancakes when I was visiting Prince Edward Island in June and it was the only vegan + gluten-free breakfast they had at our hotel. I was a bit skeptical, but they were surprisingly good, so I decided to recreate them when I got home.
After a few attempts, I finally have a recipe that's worth sharing. No overwhelming chickpea flavor and a faint hint of cheese, these pancakes are more like crepes than traditional fluffy pancakes. But they're wonderful and I know you guys are going to love them.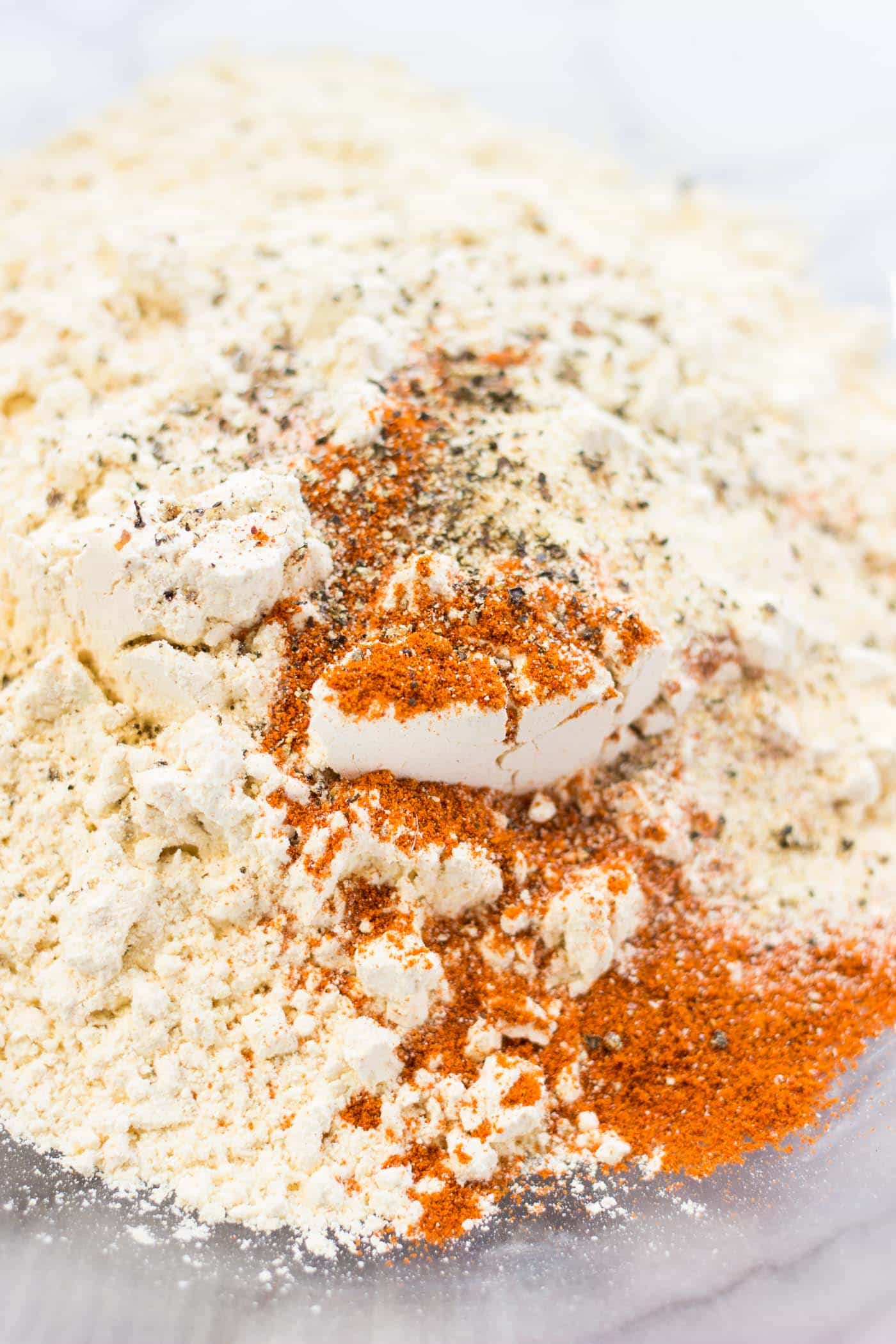 Because these pancakes are thin, you don't have to worry about making them light and fluffy. The base is just chickpea flour, quinoa, nutritional yeast, and some spices, then you stir in some oil and water. You're going to want to let the batter rest for at least 30 minutes so that it can thicken up a bit and also develop some more flavor.
Then just cook them up like crepes and you're done.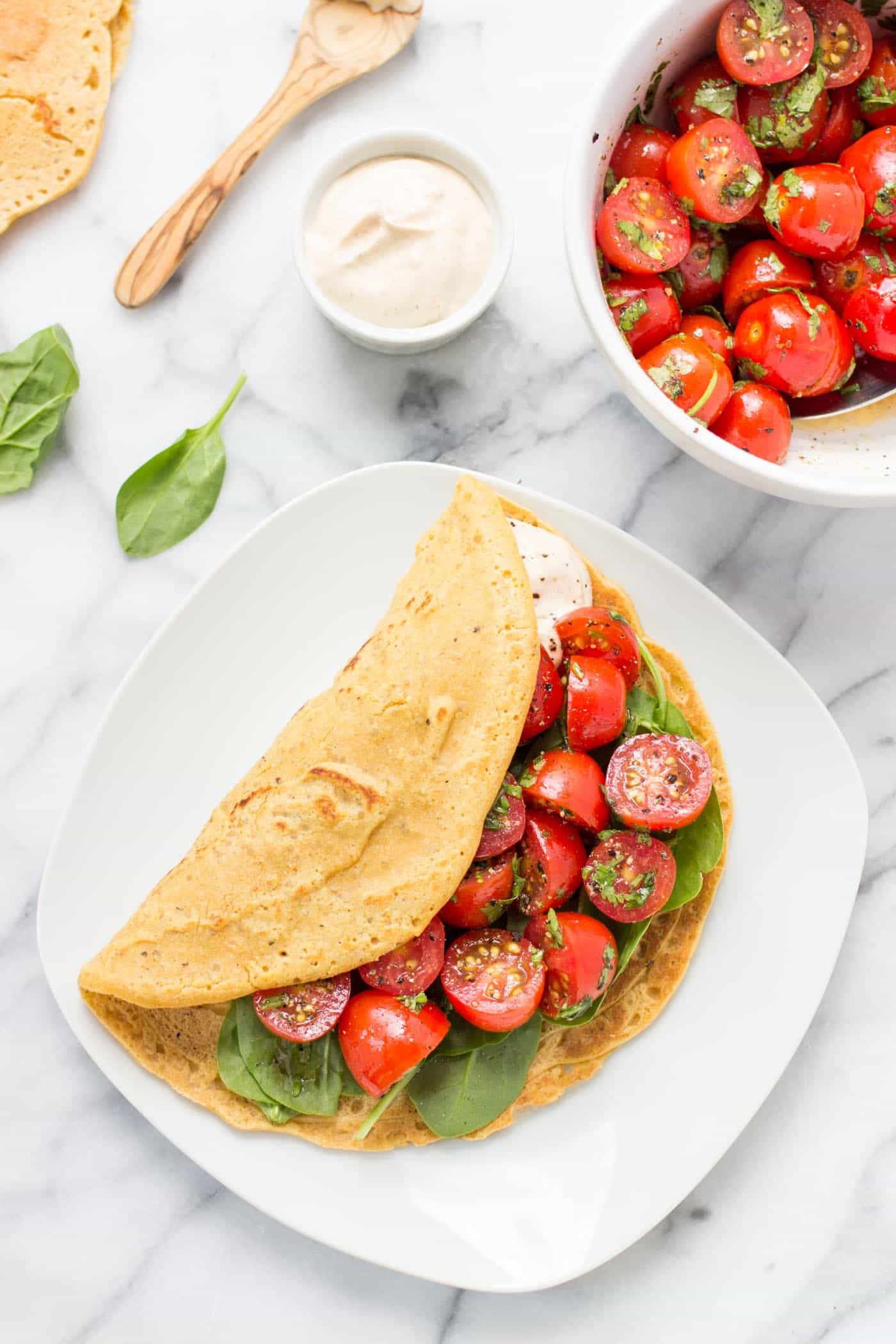 I wanted a filling that was simple to make but still boasted a ton of flavor, so I made a quick tomato-cilantro salad. The tomatoes burst with sweetness, and the cilantro adds an herbaceous undertone that pairs perfectly with the pancakes. I also added a TON of cracked pepper and a generous pinch of salt, which brought out the flavors even more.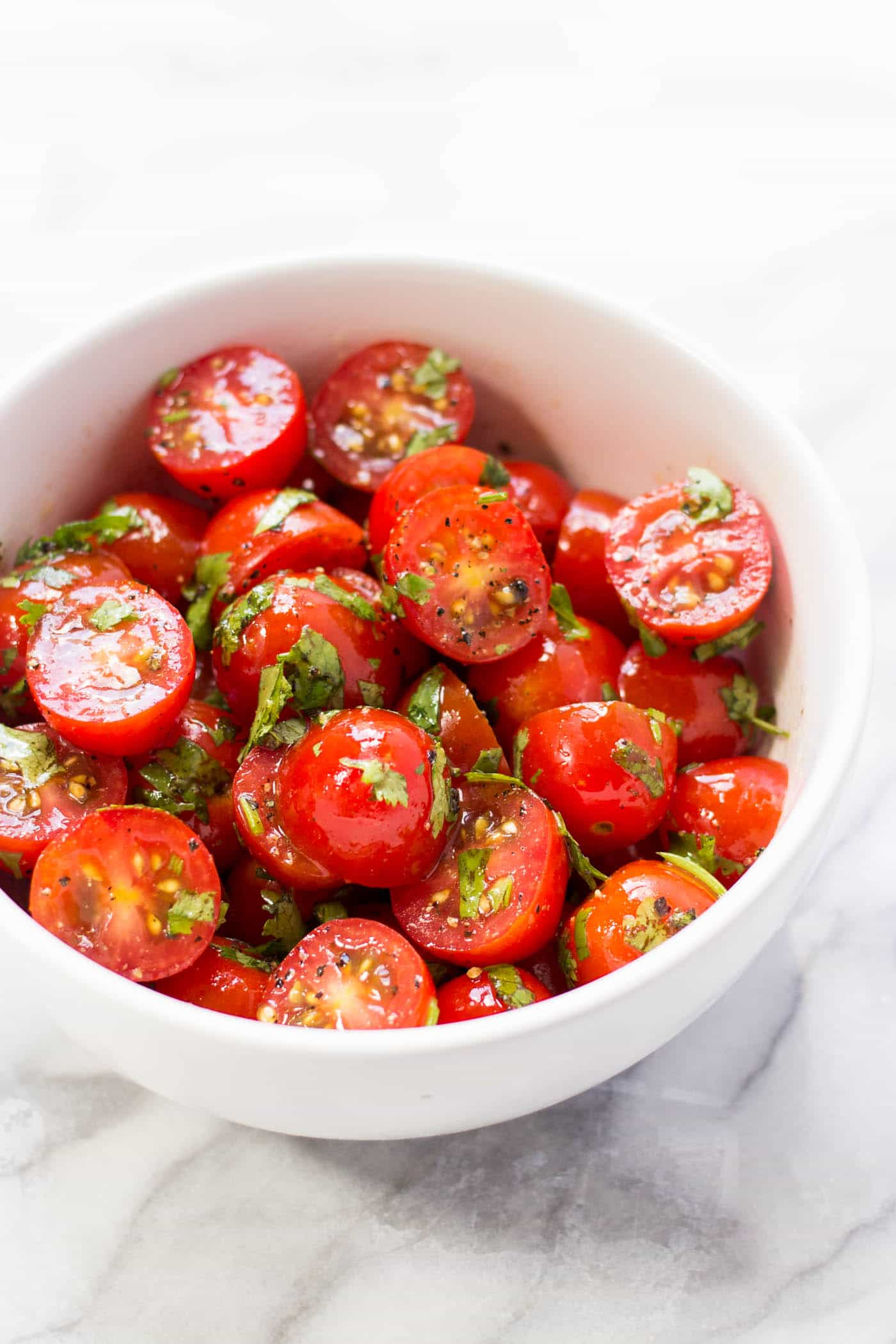 If this tomato salad doesn't seem like your thing, you can literally fill these pancakes with whatever you'd like. I've used them as "sandwich wraps" and loaded them up with hummus, sprouts, cucumber, carrots, and all the veggies. And I've also gone the Latin route, using mashed avocado, black beans, and salsa.
Really you can't go wrong. They're totally adaptable.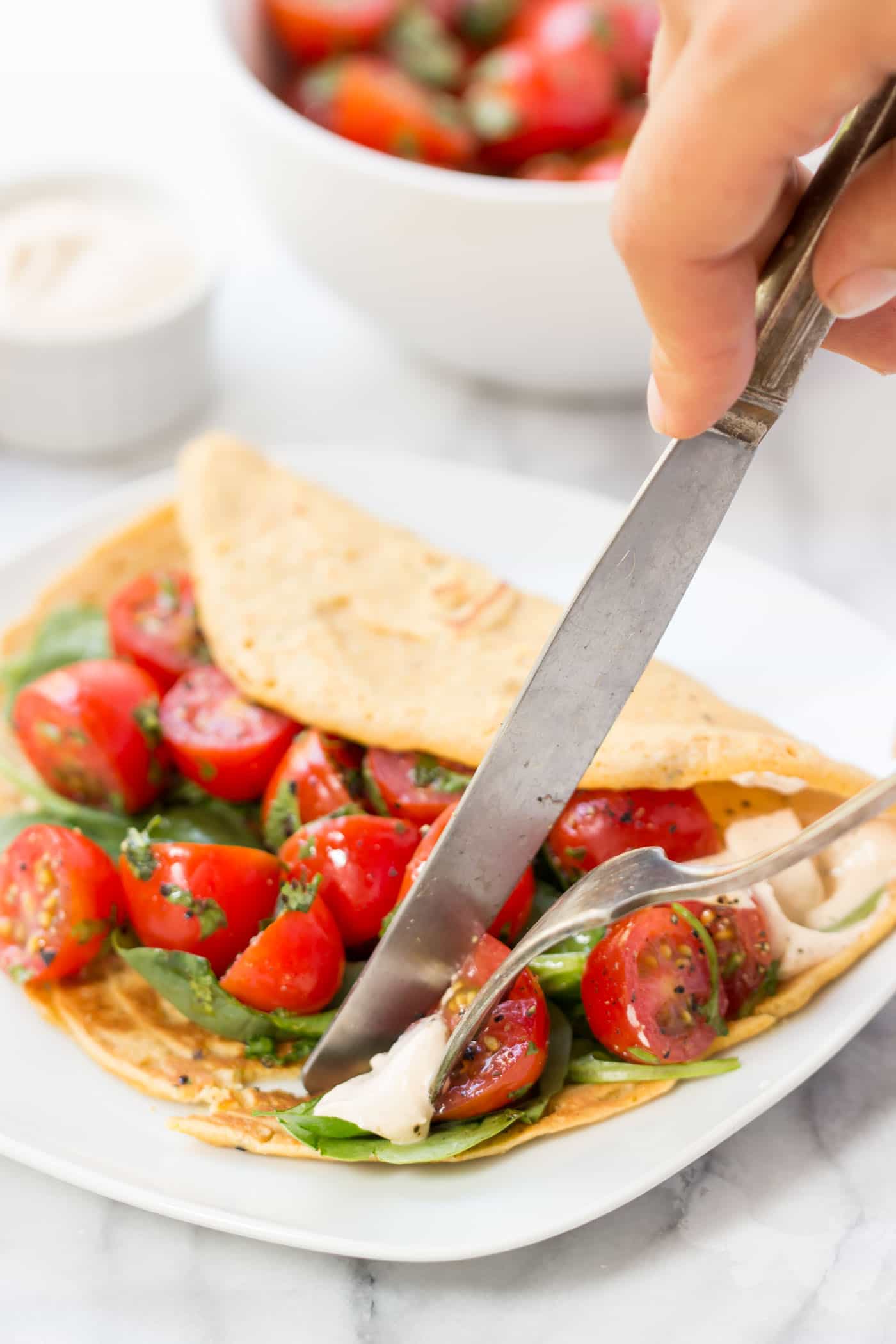 One thing I will recommend is that you're gonna want some sort of sauce with these pancakes. Since they're primarily just chickpea flour and don't have a ton of fat, I feel like they need something that provides moisture. I served this batch with my vegan lime crema, but again, hummus, guac, sour cream, yogurt, etc., would all work well.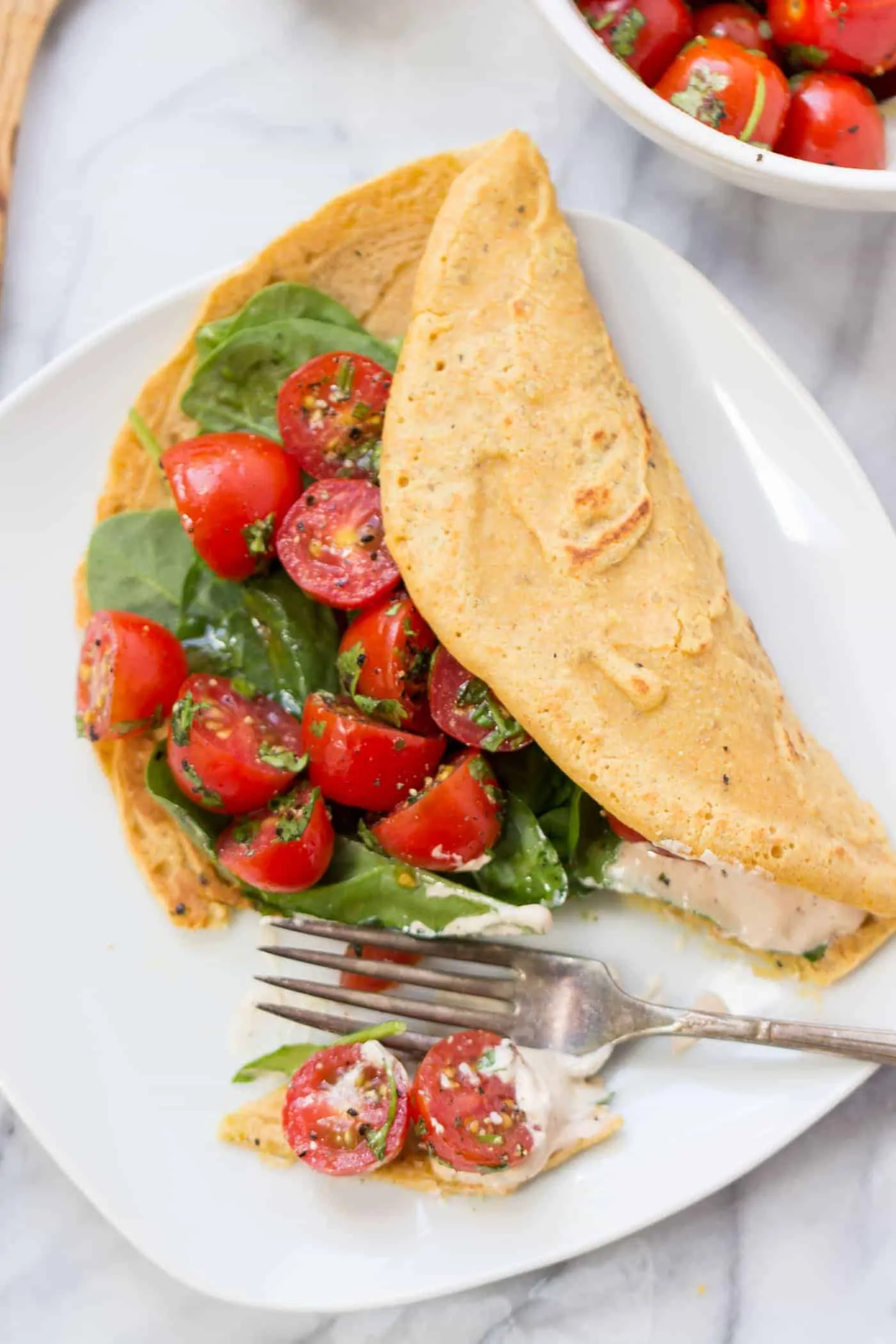 So here you go: a savory pancake recipe. Still sounds kinda crazy to me, but trust me, it works.
And what's really great about these is that they're naturally high in plant-based protein, so while they're fairly light, they're also surprisingly filling. And they'll keep you full four hours. So whip up a batch for dinner tonight and use the leftovers for a veggie wrap for lunch tomorrow. Don't you just love when you have a recipe that you can use multiple ways?!
Your turn…
What would you fill your savory pancakes with? I'd love to get some more ideas from you so I can spice up my lunch/dinner game a bit. Let me know what you think in the comments below! And if you end up trying this recipe, or any others from SQ, I'd love for you to share a pic on social – just tag @simplyquinoa or use #simplyquinoa so I can find it and give it some love <3
xo Alyssa
More Ways To Use Chickpea Flour:
Savory Chickpea Pancakes with Tomatoes + Spinach
Savory pancakes are amazing. And the best part is, it makes eating pancakes for every meal of the day totally acceptable!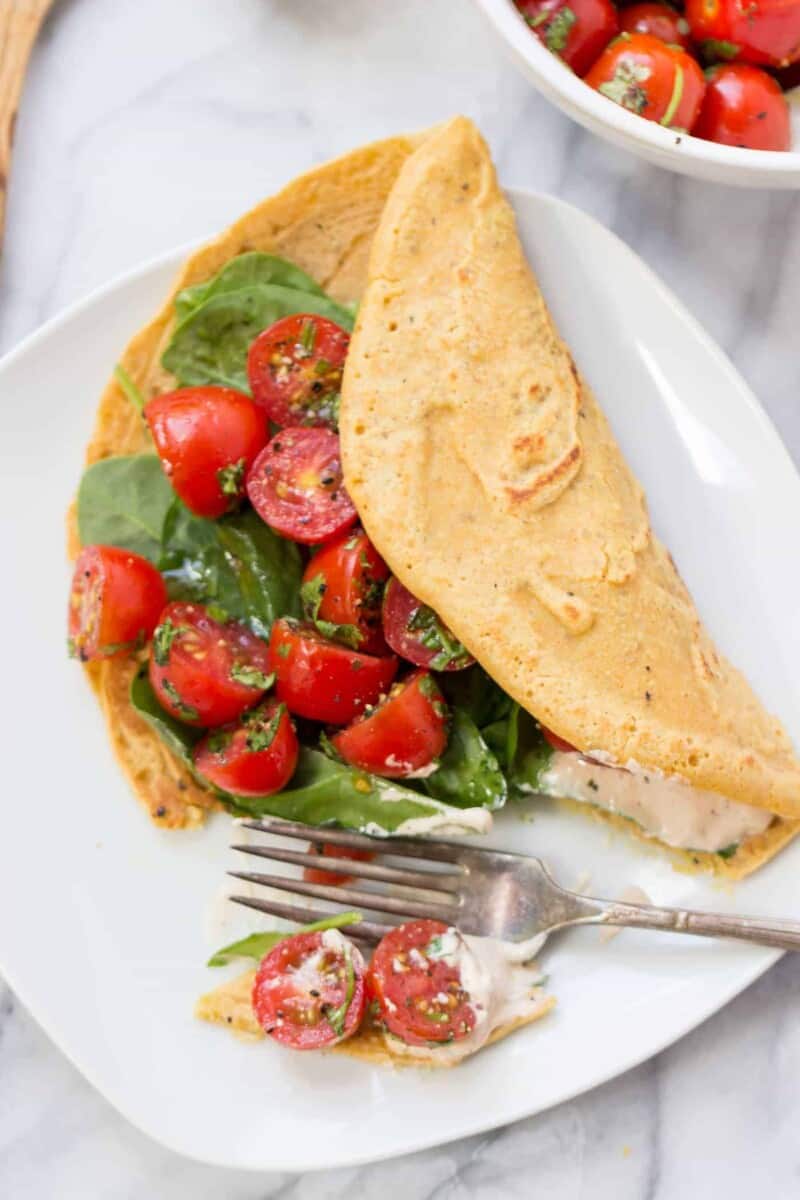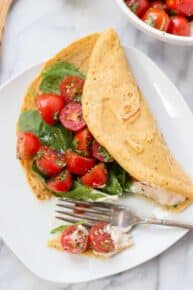 Instructions
Whisk together the chickpea flour, nutritional yeast and spices. Add oil and 1 cup water and whisk again until smooth. Fold in quinoa. Allow batter to rest for at least 30 minutes.

Heat a skillet over medium low heat. Give the batter a stir and add a touch more water if needed (you want it to thinner than a pancake batter; more like a crepe).

Spay the skillet with cooking spray, then scoop 1/3 cup of batter onto the hot pan. Swirl it around and use the back of a spoon to thinly spread it out. Allow to cook until bubbles begin to form, 1 - 2 minutes. Flip and cook for another minute or so. Transfer to a wire rack and repeat until no batter remains.

Add the salad ingredients into a small bowl and mix to combine. Taste and adjust seasoning if needed.

To serve the pancakes, lay some leaves of spinach onto one half. Top with some tomato salad and a dollop of crema. Fold in half and enjoy!
Nutrition
Calories:
223
kcal
|
Carbohydrates:
25
g
|
Protein:
9
g
|
Fat:
9
g
|
Saturated Fat:
1
g
|
Sodium:
405
mg
|
Potassium:
596
mg
|
Fiber:
5
g
|
Sugar:
6
g
|
Vitamin A:
1440
IU
|
Vitamin C:
27.9
mg
|
Calcium:
33
mg
|
Iron:
2.8
mg
Filed Under: