Gluten-Free Rice Crispy Cookies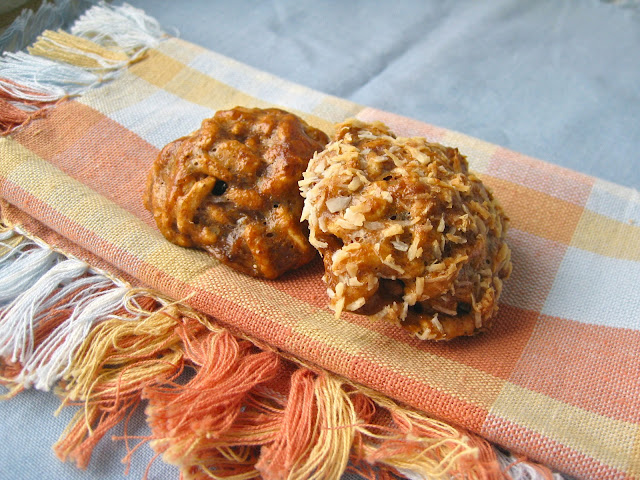 Rice crispy treats in cookie form.
What's a girl to do when she's promised herself that she won't eat sugar but she has a killer sweet tooth? One option is to avoid all things sweet to kick the habit completely. The other option is to make sweet desserts that are sugar-free. I don't have the willpower, or desire really, to cut sweets out completely, so some experimenting was in order.
I'm a firm believer that when you're trying to eat healthier and lose weight, depriving your body of what it's craving, simply sets you up for failure. Rather than just nixing the things you love, make healthier choices and alternatives. If you love spaghetti and meatballs for example, try raw pasta with turkey meatballs instead. Discover what parts of that dish you love and recreate it in a healthy, but still delicious, way. Trust me, it's easier than you think. And remember, everything in moderation.
Now before I share this recipe, I must confess these cookies blossomed from a mistake.When you're a dessert person like me, you have your vices. For some it's cupcakes. For others it's cakes. And for some it's even brownies or bars. For me, it's cookies. Gluten-free and dairy-free cookies. Whether they're chocolate chip cookies, chai iced pumpkin cookies or even carrot cake bites, cookies are always my fave. Hands down.
When I was craving something sweet last night, I knew cookies were calling my name. I wracked my brain trying to think of what ingredients I could use without using flour, eggs or sugar – I realize at this point you must be saying to yourself "What is this girl saying? Flour-free, egg-free, sugar-free cookies? What were they made out of, air?" – you will be happy to know that I came up with a great combination that didn't use any of those ingredients. They are sweet, chewy, light, and just the right amount of sweet. Exactly what I was craving.
I was skeptical at first, but one bite of these gooey, soft and buttery cookies, I knew I had discovered something great. Even Mr. Henderson gobbled them up – and he has asked me to make them again, which is definitely a good sign.
When I combined the ingredients together, they didn't have the crisp that I was looking for – probably because I didn't use rice crispies but rather puffed brown rice cereal – so I thought popping them in the oven would help to dry them out. Silly little me, didn't think about the fact that the ingredients would melt a little as they warmed in the oven. When I opened up the door instead of being cute, round little balls, they had turned into melted cookies.
Gluten-Free Rice Crispy Cookies
This recipe was inspired by Forgiving Martha's 
Peanut Butter Rice Krispy Treats
 – I used what I had in my pantry and swapped some of her ingredients to make these cookies Clean. I'm still eating on the Elimination Diet, so peanut butter and maple syrup is out. I used almond butter and puffed brown rice cereal for this recipe.
ingredients:
1 1/2 cups puffed brown rice cereal
1/4 cup almond butter
1/4 cup brown rice syrup
2 teaspoons raw cocoa powder
Dash of cinnamon
Unsweetened shredded coconut for coating
Preheat the oven to 300 degrees F. Line a baking sheet with parchment paper and set aside.
Heat the almond butter and brown rice syrup in a medium sauce pan. Whisk the ingredients together until the almond butter is completely melted into the syrup. Whisk in the cocoa powder and cinnamon.
Combine the brown rice cereal with the almond butter syrup and stir to combine. The cereal should begin to stick together.
Wet your hands and scoop out the mixture, forming it into balls. Roll the ball in the shredded coconut (either on a plate or another flat surface) and place on the baking sheet.
Bake in the center of a warm oven for 5 – 7 minutes, until the tops of the cookies begin to brown.
Makes about 6 cookies – remember we only bake for two so my recipes tend to be small, adjust proportions according to what your body is calling for.
share what you make
Tag #simplyquinoa on Instagram with your creations! We love sharing what you make with the community. We can't wait to see!

follow on instagram