How to make Vegan Gluten-Free Gingerbread Cookies for a healthy spin on a classic holiday treat topped with vegan icing too!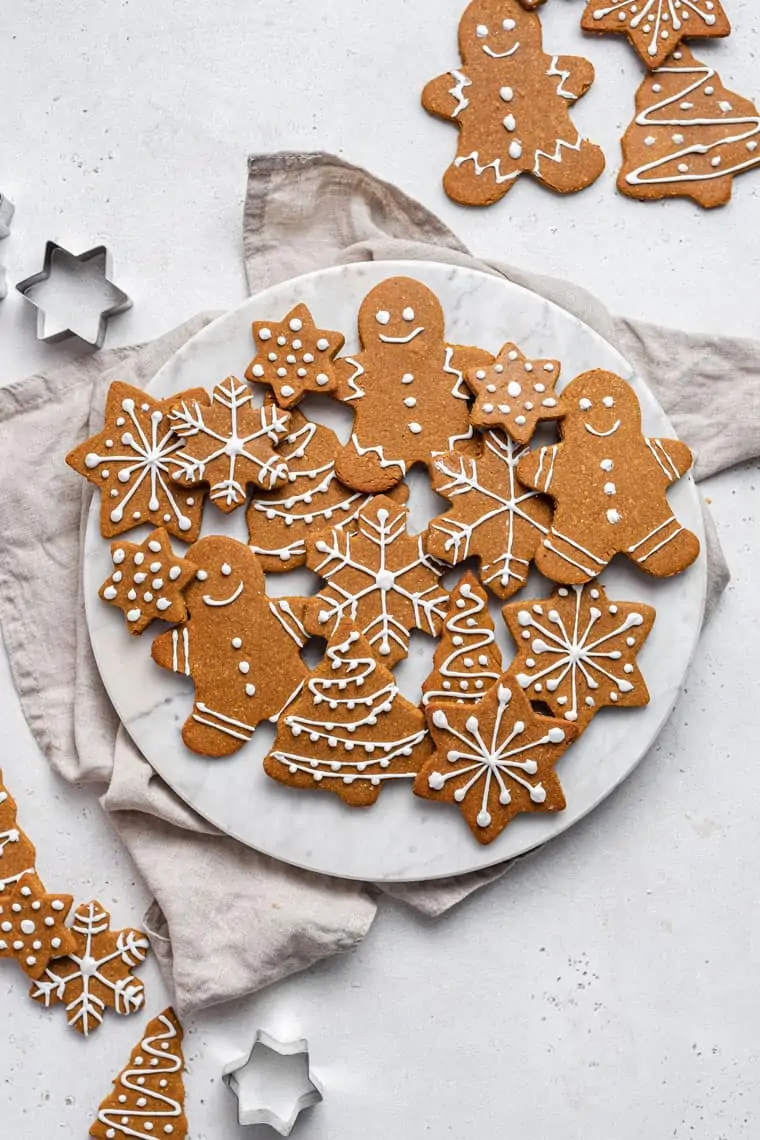 Whether you're looking for the perfect edible gift for the holidays or you want something healthier and allergy-friendly to add to your Christmas dessert spread, these gingerbread cookies are all you need.
Though they're dairy-free and gluten-free, these gingerbread men have the same spiced, caramel flavor and snappy texture you expect from classic gingerbread. They make a perfect gift for coworkers, friends, family, and anyone else with taste buds!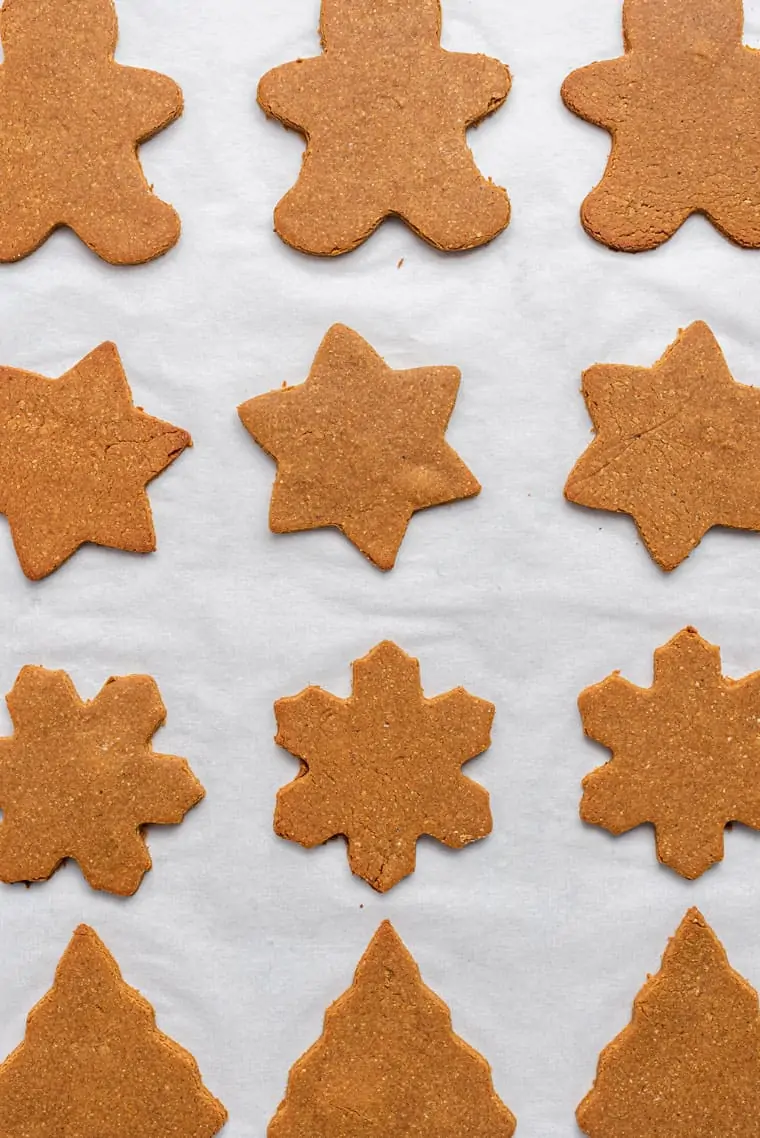 How to Make Gluten Free Gingerbread
Unlike other cookies where you scoop and drop them onto the baking sheet, with gingerbread you have to be able to roll it out.
To make sure that this dough was easy to roll out (without any gluten or eggs), I had to make a few adjustments to the usual gingerbread cookie recipe.
First, substitute real eggs with flax eggs (which is flaxseed meal and water mixed together).
Second, to replace the gluten in the dry ingredients, you'll make a homemade gluten free flour blend of:
Almond flour for richness
Quinoa flour for nuttiness
Coconut flour to help bind
And finally, tapioca starch. This gluten-free starch helps the dough bind and hold its shape. I haven't tested it without tapioca, but if you don't have that in your pantry, you should be able to use potato starch or arrowroot starch. You won't need any special ingredients like xanthan gum for these cookies.
In fact, these cookies are butter-free!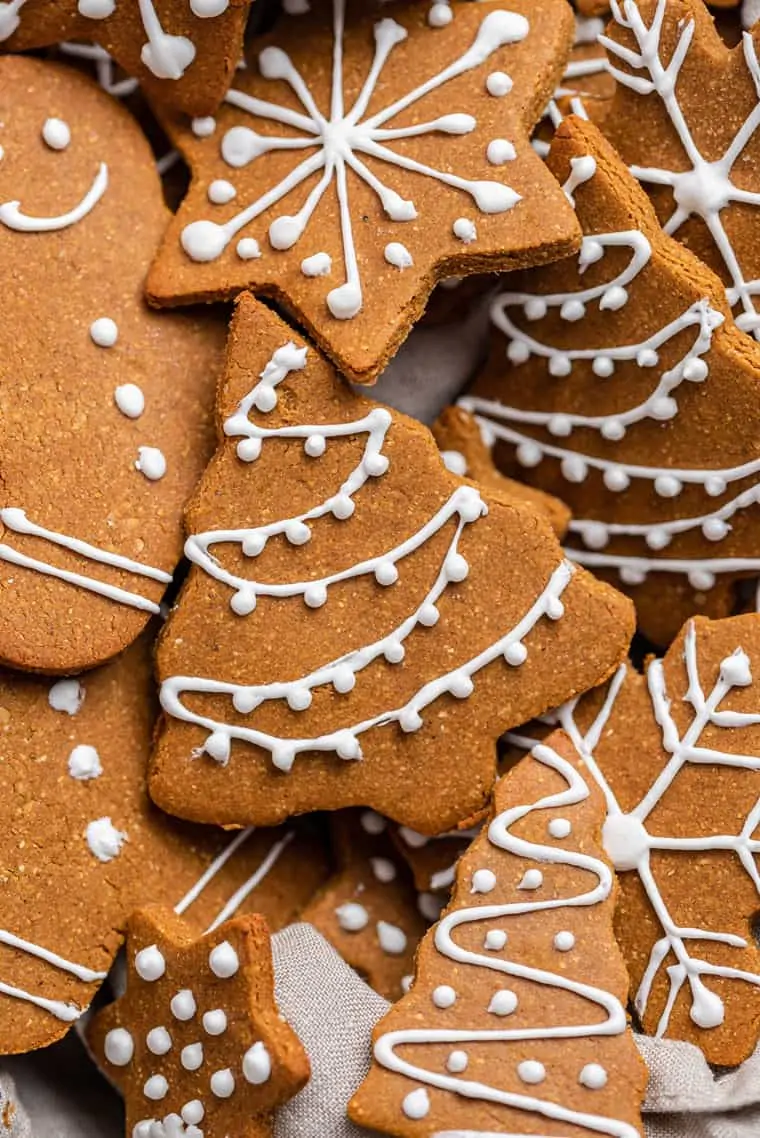 Vegan Gingerbread Ingredients
In addition to the flours, you'll need the following ingredients to make your vegan gingerbread cookie dough:
Warming spices. Use the classic combination of ground ginger, ground cinnamon, nutmeg
Baking soda to give a bit of rise to your cookies
Flaxseed meal to replace eggs.
Maple syrup. You could also use honey if you're not vegan. Coconut sugar will also work.
Molasses. This is essential for the gingerbread flavor.
Olive oil. Feel free to use another oil, such as coconut oil or avocado if you prefer.
Vanilla extract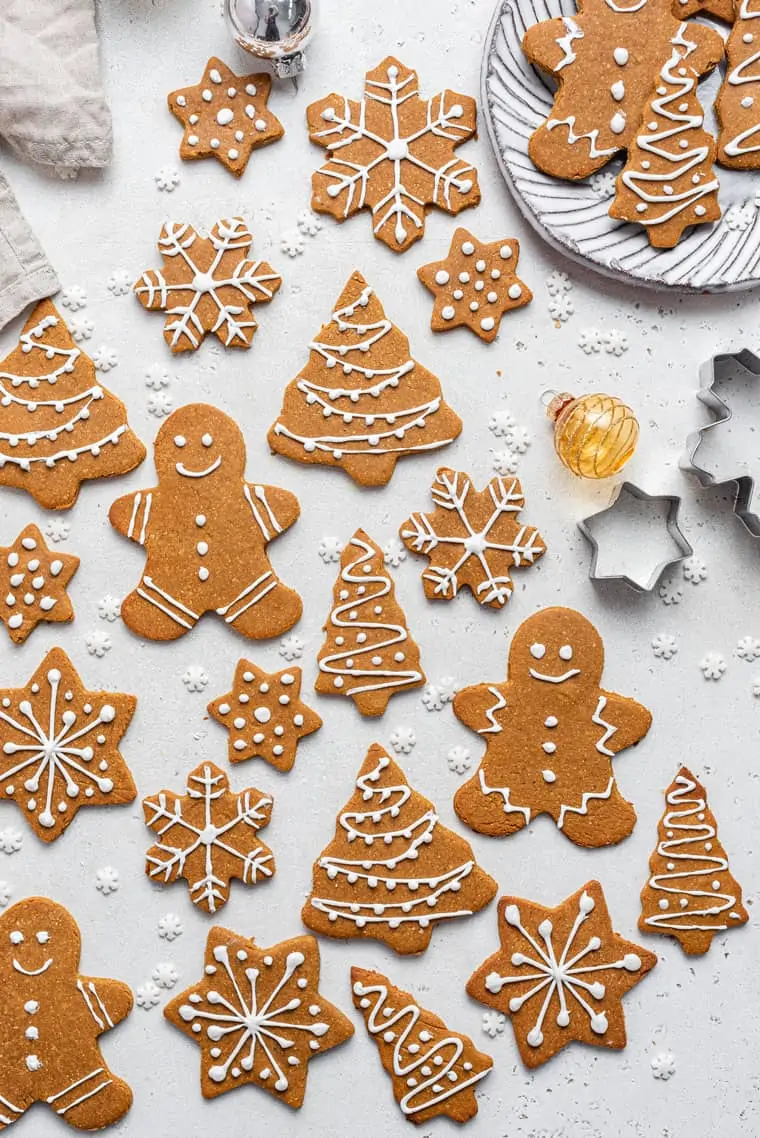 Two-Ingredient Vegan Frosting
To decorate your cookies, all you need is powdered sugar and your favorite dairy-free milk.
For decorating purposes, you can go wild! It's really fun to decorate cookies, especially with kids, so let your creativity free! I love making the dough into gluten free gingerbread men and women.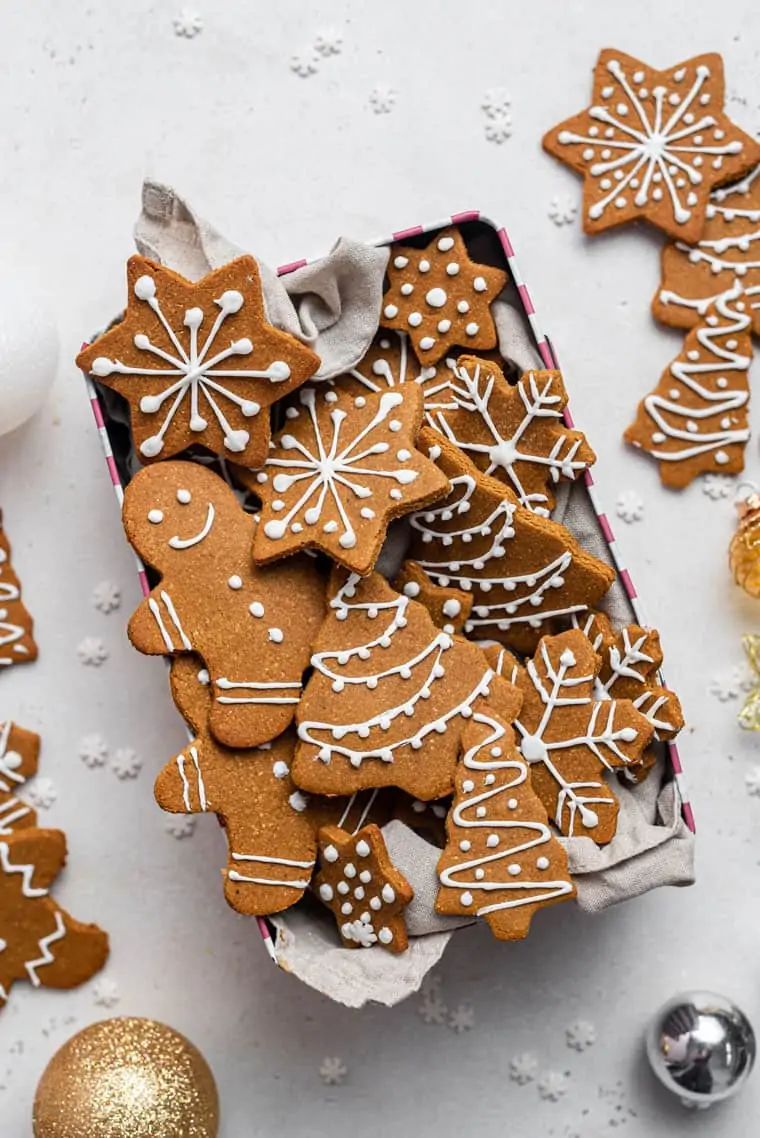 Tips for Making Gluten-Free Cookies
You don't need a stand mixer or an electric mixer to make these cookies. Just a good old-fashioned medium bowl and a whisk should do the trick.
There really aren't many surprises with these vegan gingerbread cookies. However, the dough is a little stickier than traditional gingerbread. When you're rolling it out, definitely use a piece of parchment paper and use a rolling pin with gentle pressure. You shouldn't need a second layer of parchment on top if you don't push too hard when you're rolling.
A sticky dough can also make the cutting process a teeny bit challenging. When you're cutting out your gingerbread cookies, you can either lightly grease your cookie cutter, dip it in flour or do what I do and simply use your fingers to push to dough out of the mold.
If you're gentle, the cookies will be no problem at all!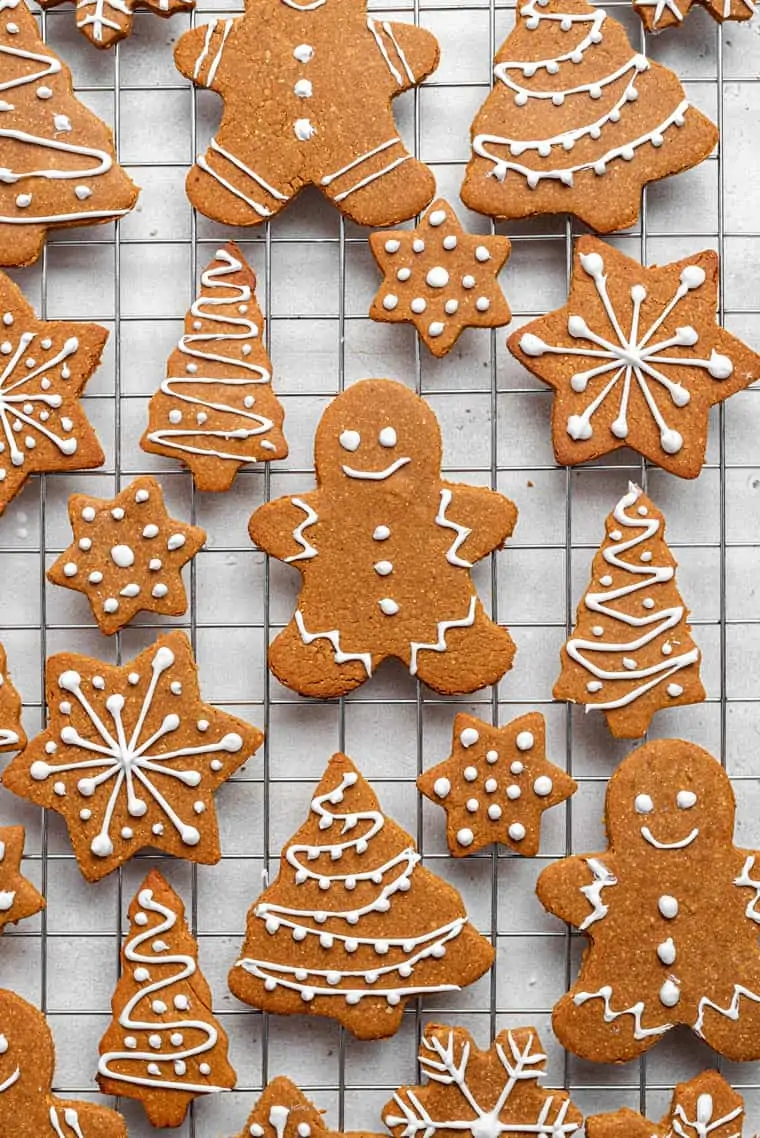 Storage Suggestions
Store leftover cookies in an airtight container for up to five days at room temperature. For longer storage, keep them in an airtight container in the freezer for up to four months. You can let the cookies come to room temperature on the counter for a few hours before serving.
The dough will also stay fresh in the freezer for up to three months. Defrost it in the fridge overnight, then roll and make your cookies as directed.
Other Healthy Christmas Cookies to try:
If you make these Vegan Gingerbread Cookies, be sure to let me know with a comment below!
Gluten-Free & Vegan Gingerbread Cookies
With these gluten-free and vegan gingerbread cookies, we're taking a holiday classic and giving it a healthy spin. Topped with an easy dairy-free icing!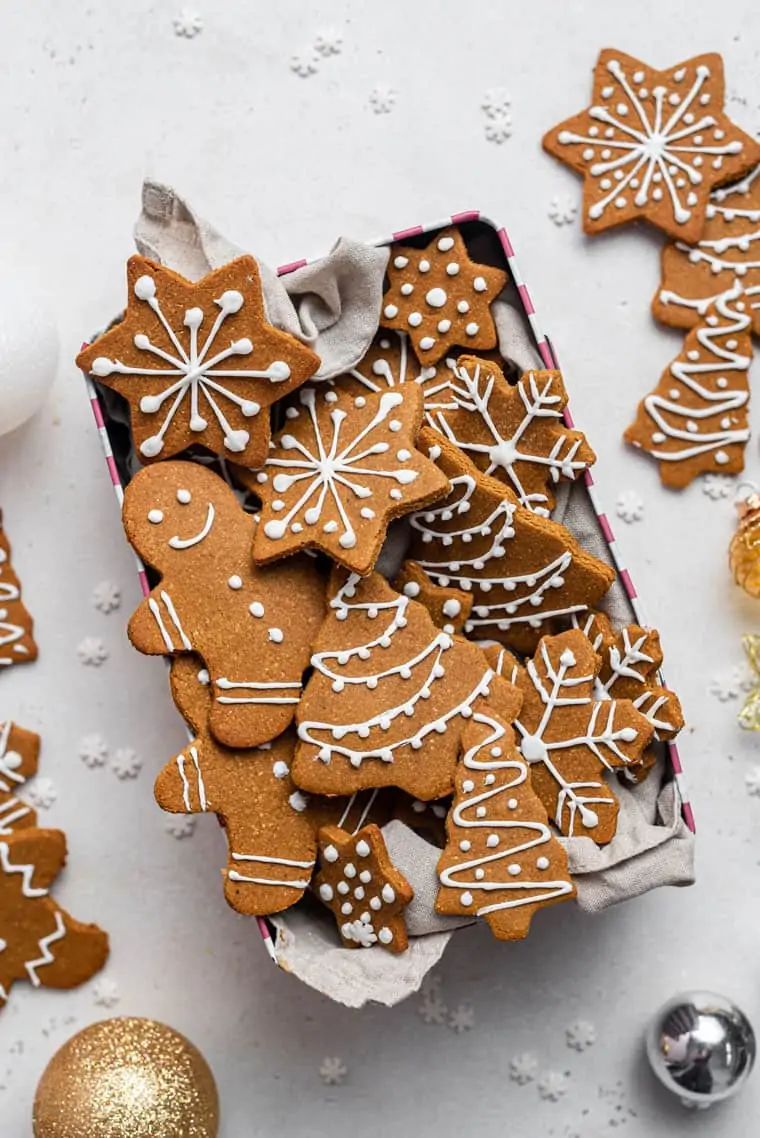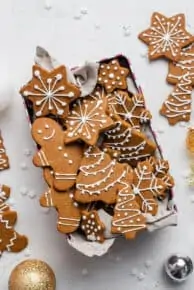 Instructions
Preheat the oven to 350ºF and line a baking sheet with parchment paper.

In a large mixing bowl, whisk together the dry ingredients. Add flax egg, syrup, oil and vanilla to the bowl and mix together until it forms a thick, pliable dough.

Transfer the dough to a parchment lined surface. Place another sheet of parchment on top and roll the dough until it's about 1/8" thick. Using a gingerbread man cutter, cut out the shapes and place them on the baking sheet. Reroll the dough and continue to cut out your cookies until the dough has been used up.

Bake the cookies for 10 minutes. Remove from oven and allow to cool completely before frosting.

For the frosting, whisk together the sugar and milk. Transfer to a piping bag or squeeze bottle.

Once the cookies are cool, pipe the frosting onto the cookies in whatever design you like. Enjoy!
Nutrition
Calories:
119
kcal
|
Carbohydrates:
15
g
|
Protein:
2
g
|
Fat:
5
g
|
Sodium:
60
mg
|
Potassium:
48
mg
|
Fiber:
1
g
|
Sugar:
8
g
|
Calcium:
31
mg
|
Iron:
0.6
mg
Filed Under: