Grilled Vegetable Salad for Summer
This Grilled Vegetable Salad is as summery as it gets, with mushrooms, onion, zucchini, asparagus, creamy avocado and sweet, garlicky balsamic dressing. This is a healthy and satisfying salad that's also easy to make ahead and perfect for barbecues.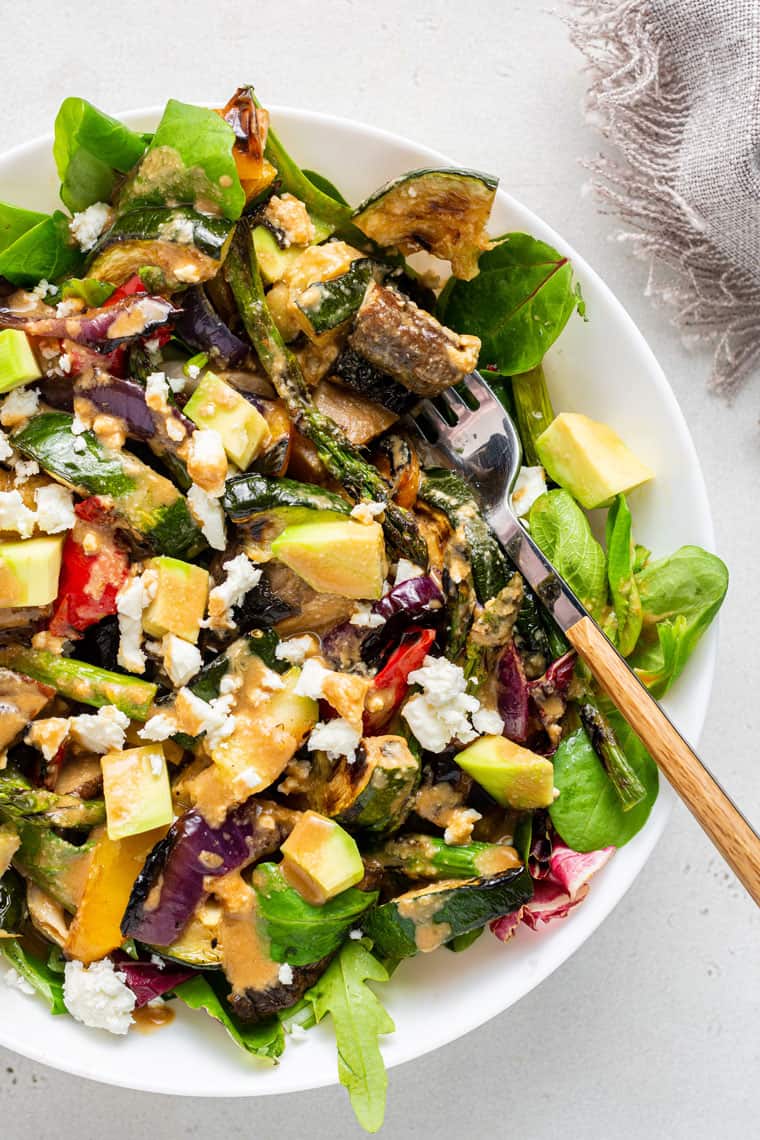 There's something special about grilled vegetables. I don't know if it's the charred flavor, the gorgeous grill marks, or simply the fact that they constantly remind me it's summer. Whatever it is, I can't enough, especially during the summer. This salad has all of my favorite seasonal vegetables grilled to perfection and tossed in a creamy tahini-balsamic dressing. It's naturally vegetarian and gluten-free but also incredibly satisfying.
So if you're looking for a make-ahead side dish or salad for your next barbecue, picnic or summertime party, then look no further.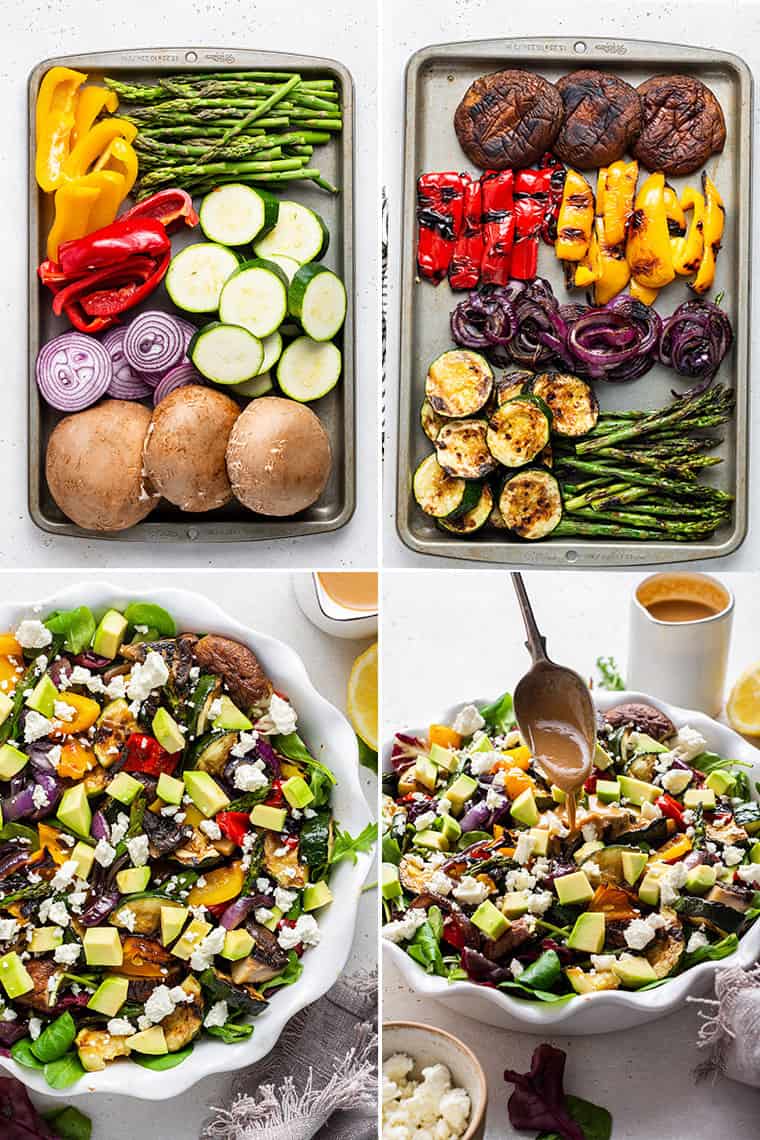 How to Make Grilled Vegetable Salad
You can use any of your favorite veggies in this salad. I like a mix of colors, textures and flavors, so I usually opt for:
Portobello mushrooms
Onion
Zucchini
Summer squash
Asparagus
For freshness, I also round out the grilled vegetable salad with fresh greens, avocado and crumbled feta.
Other veggies that work well in this summer salad include:
Other mushrooms, including oyster, shiitake and baby bella. If they're small, just skewer the mushrooms on wooden or metal skewers before grilling.
Radishes
Hearty greens, like bok choy or cabbage slices
Broccoli
Cauliflower
Leeks
The options are pretty endless! You could even toss some delicious summer fruit on the grill for some sweetness, like peaches, pears or watermelon.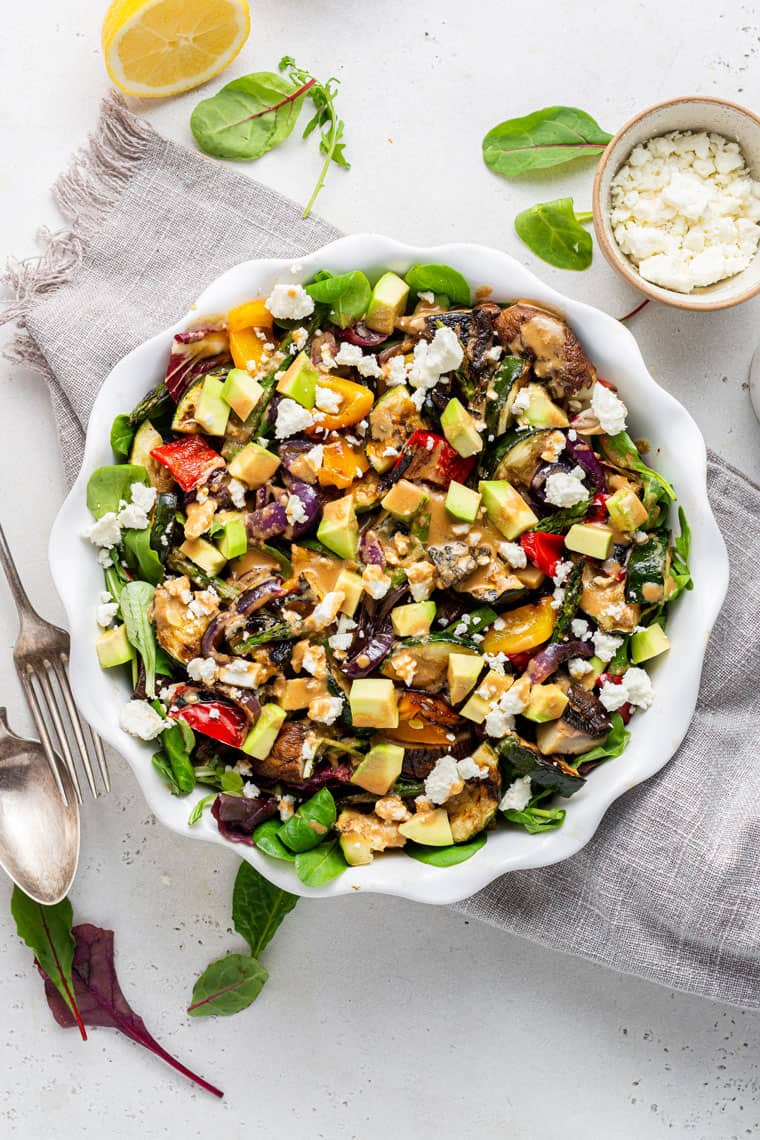 Can I Make the Salad Indoors?
Certainly! As a New York City apartment dweller, I can attest that you can make this charred, savory salad that's every bit as delicious indoors too. Simply use a grill pan instead of a gas or charcoal grill.
Is the Salad Vegan?
I like to add crumbled salty feta on this salad. However, you can make a delicious vegan version by subbing in your favorite vegan cheese or simply omitting it. Otherwise, this dish is gluten-free, nut-free and refined-sugar-free. It's a very allergy-friendly dish to bring to parties.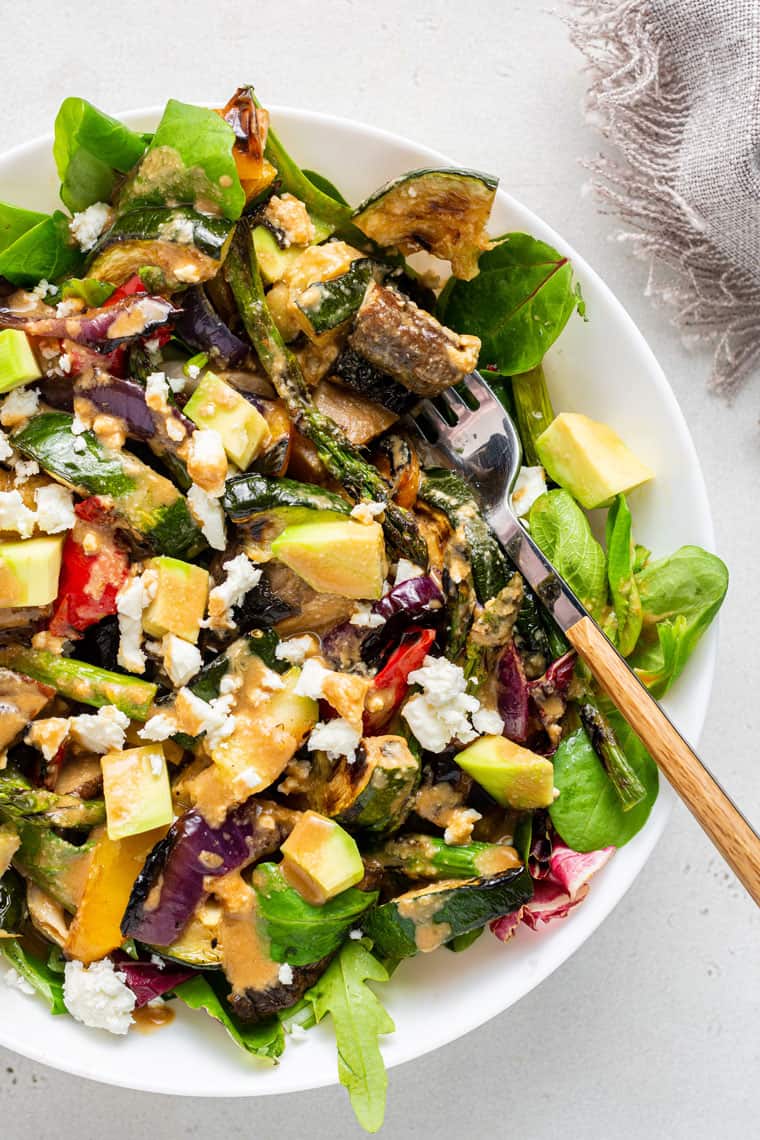 Balsamic-Tahini Dressing
It's no secret that I love a creamy tahini salad dressing. So why not drizzle it on a grilled vegetable salad too?
For a bit of acidity and sweetness, this tahini dressing has balsamic vinegar and maple syrup. You can also sub in honey if you're not vegan. Or, for a less sweet flavor, omit the sweetener altogether.
You can make the dressing right in a jar or bowl with a whisk, no blender necessary. And if you have leftovers, I highly recommend using them on this Rainbow Veggie Mason Jar Salad for lunch the next day.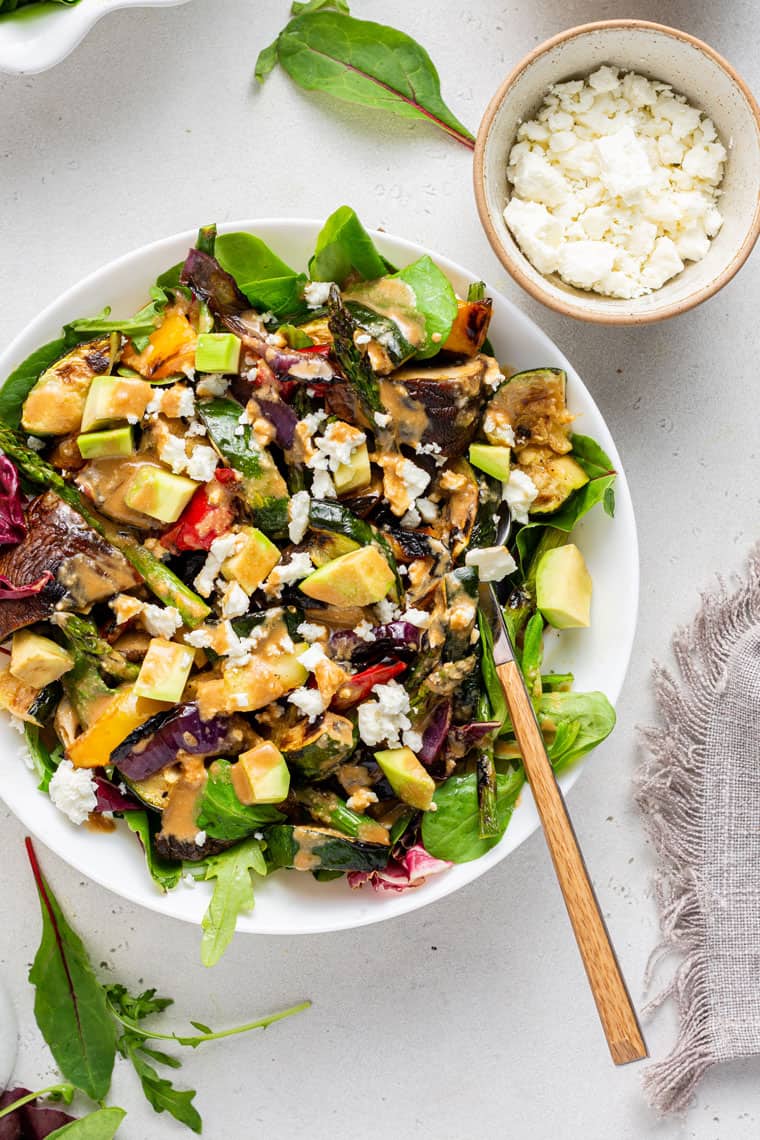 What to Serve with Grilled Vegetable Salad
If you're looking for more summery dishes to enjoy with this healthy veggie-packed salad, try Tropical Quinoa Lettuce Wraps or Barbecue Grilled Pineapple & Tofu Kebabs since you already have the grill going!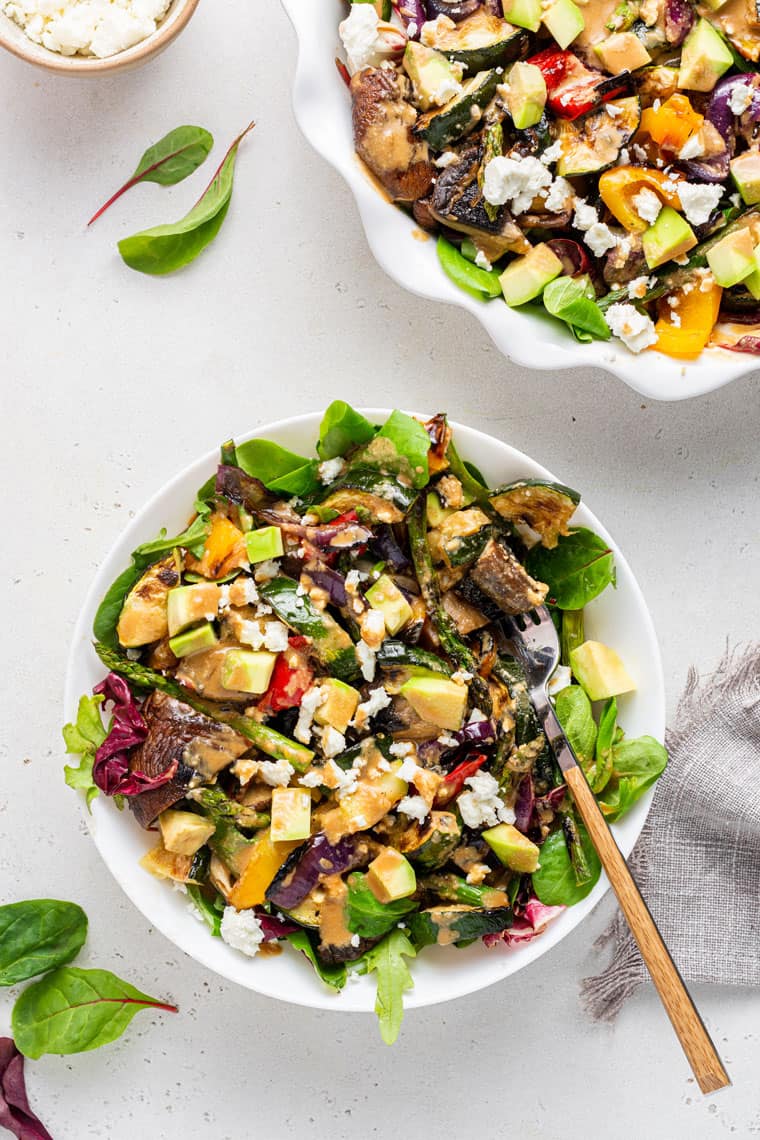 More Healthy Veggie Salad Recipes
If you make this Grilled Vegetable Salad, be sure to let me know what you think with a comment below!
Grilled Vegetable Salad
This healthy grilled vegetable salad features summer produce like zucchini, squash, onions, and avocado with creamy tahini-balsmic dressing.
Servings 4 servings
Calories 332kcal
Ingredients
for the salad:
3 portobello mushrooms
1 small onion
1 medium zucchini
1 medium summer squash
1 bunch asparagus
2 tablepsoons olive oil
Sprinkle of salt and pepper
1 avocado
1/2 cup feta (vegan optional)
6 cups greens
Instructions
Start by grilling the vegetables. Turn on your grill to medium heat.

Remove the stems from the mushrooms and place on a plate or baking sheet. Cut the ends off the onion and slice it into 1/4" thick slices. Add to the plate.

Cut the ends off the squash and zucchini and cut those into 1" rounds. Place those on the baking sheet.

Trim the ends off the asparagus and add that to the baking sheet as well.

Drizzle all the vegetables with the olive oil and sprinkle with salt and pepper.

Place the veggies directly on the grill and cook for 3 - 4 minutes, before flipping. Remove the aspargus when you flip the other veggies. Cook all the other veggies for another 2 - 3 minutes.

Remove from the grill and allow to cool while you prep everything else.

Whisk together all the ingredients until smooth and creamy. If dressing is too thick, add a splash or two of water.

When ready to serve, cut the veggies into bite size pieces. Add the greens into a large salad bowl and top with grilled veggies. Crumble up some feta and cube the avocado. Drizzle with dressing and enjoy!
Nutrition
Serving: 1salad | Calories: 332kcal | Carbohydrates: 22g | Protein: 10g | Fat: 25g | Saturated Fat: 6g | Polyunsaturated Fat: 5g | Monounsaturated Fat: 13g | Trans Fat: 1g | Cholesterol: 17mg | Sodium: 291mg | Potassium: 976mg | Fiber: 6g | Sugar: 10g | Vitamin A: 1071IU | Vitamin C: 39mg | Calcium: 155mg | Iron: 2mg
share what you make
Tag #simplyquinoa on Instagram with your creations! We love sharing what you make with the community. We can't wait to see!

follow on instagram