Spice up your avocado toast with one of these healthy avocado toast ideas! We've got four different types of avocado toast that are healthy, easy and tasty!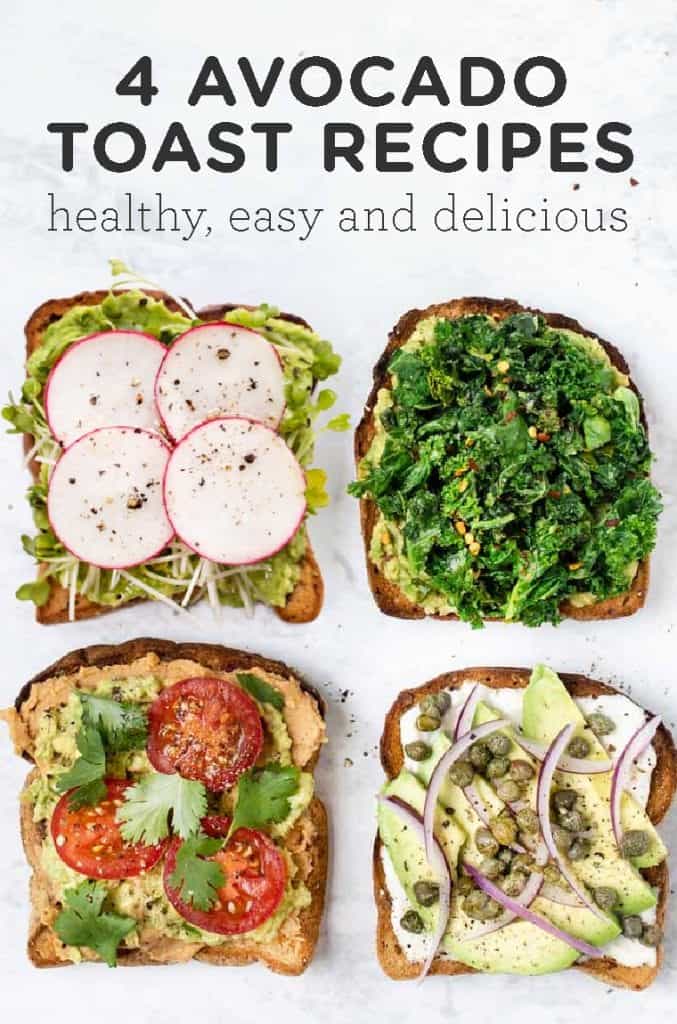 I mean of course we all know about the trendiest breakfast alive, right? Avocado toast!
Avocado toast has become one for the legend books. It's all over Instagram and now it's gracing breakfast menus across the world. And yes, I'm totally here for it.
I've been an avocado fan since I was a baby, so putting some of my favorite mashed up fruit on top of a slice of sprouted gluten-free bread? YES PLEASE.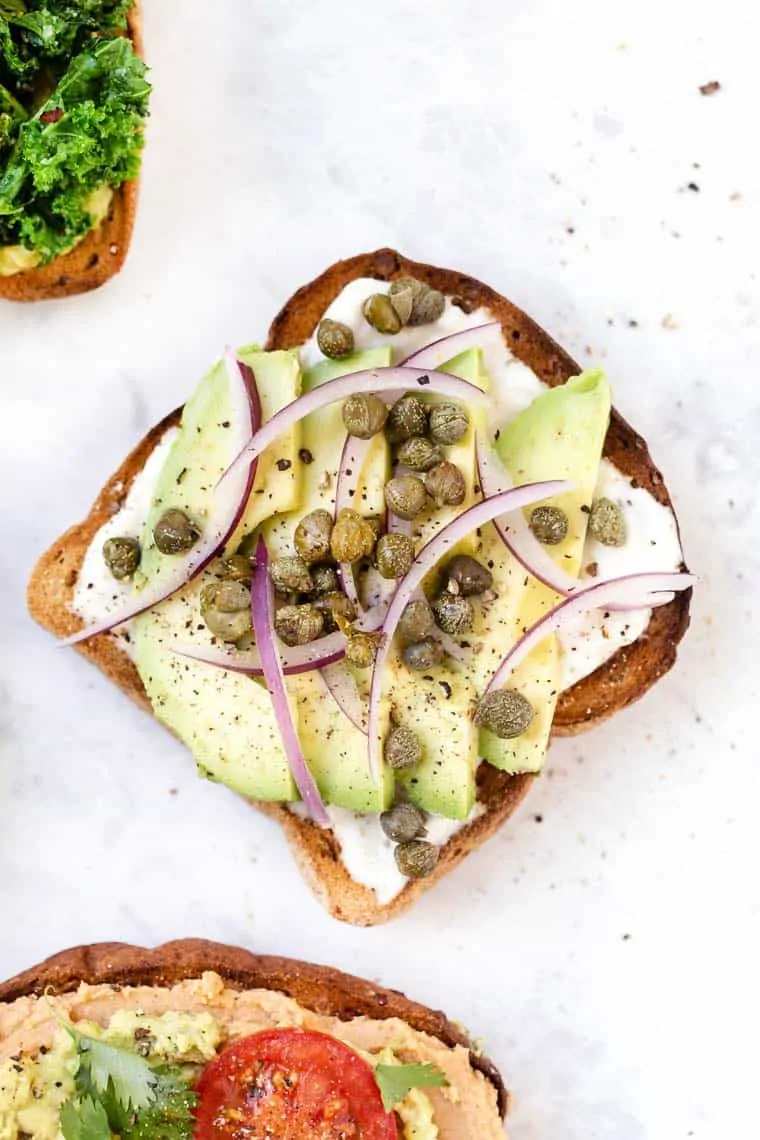 So…What's the Deal with Avocado Toast?
That's a very good question. What is the deal with avocado toast and why the heck is it so popular?
I mean I don't know it's origin story or anything, but I've been trying to come up with a list of why avocado toast is so popular. Here's what I've got:
takes about 5 minutes to make
tastes amazing
is pretty to photograph (hello, Instagram!)
can be jazzed up a million different ways
and it's relatively healthy too
I mean there's a lot to love, but for me, those are where it gets its winning marks. Especially on the simplicity/convenience factor!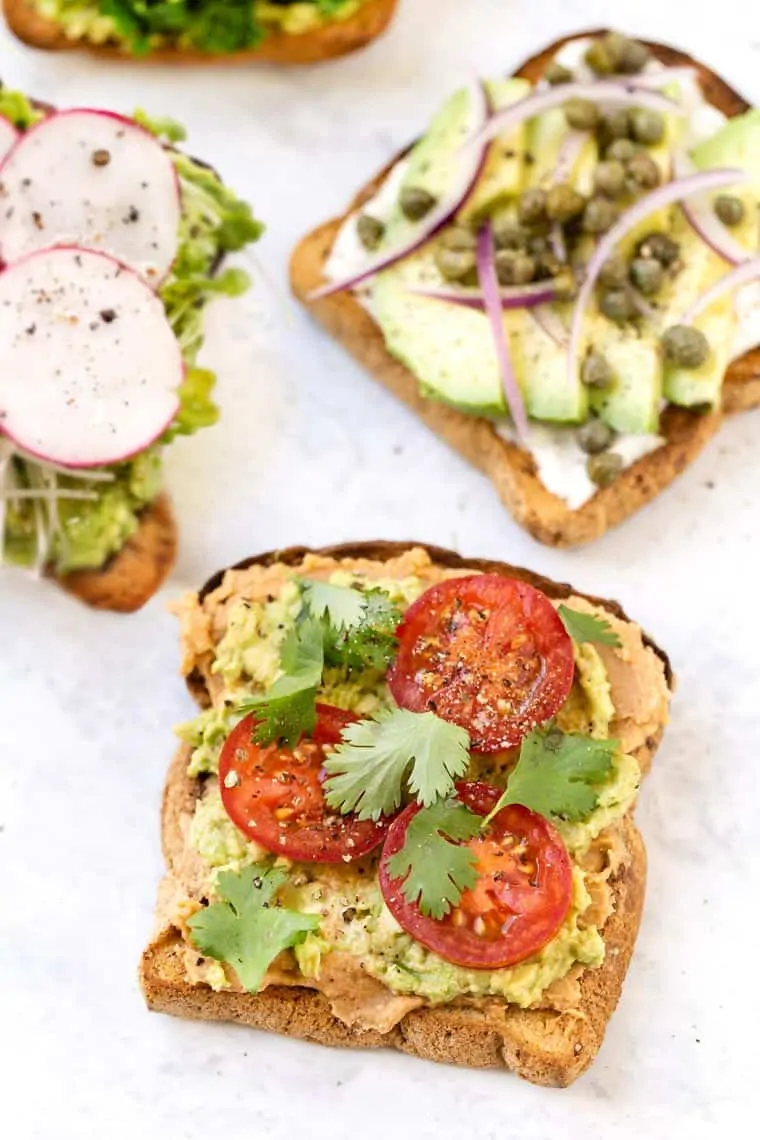 Is Avocado Toast a Healthy Breakfast?
I think the jury is out on if avocado toast alone is the healthiest breakfast. You see, I'm all about balance and while avocado toast is definitely healthy (especially when it's made with sprouted gluten-free bread!), it's not necessarily the most balanced.
Here are the health benefits of avocado toast:
healthy fats: avocado is packed with heart- and brain-healthy fats
complex carbs: pick a whole grain based bread (like this one from Little Northern Bakehouse) to get in those complex carbs
fiber: both the avocado and the toast itself will have some fiber which helps to fill you up and keep you satisfied
The only thing missing? Protein. I'm a big fan of getting protein in at breakfast, so I'd recommend pairing your avocado toast with a protein green smoothie or even two scrambled eggs. Still easy, and helps make sure you're getting a balanced breakfast.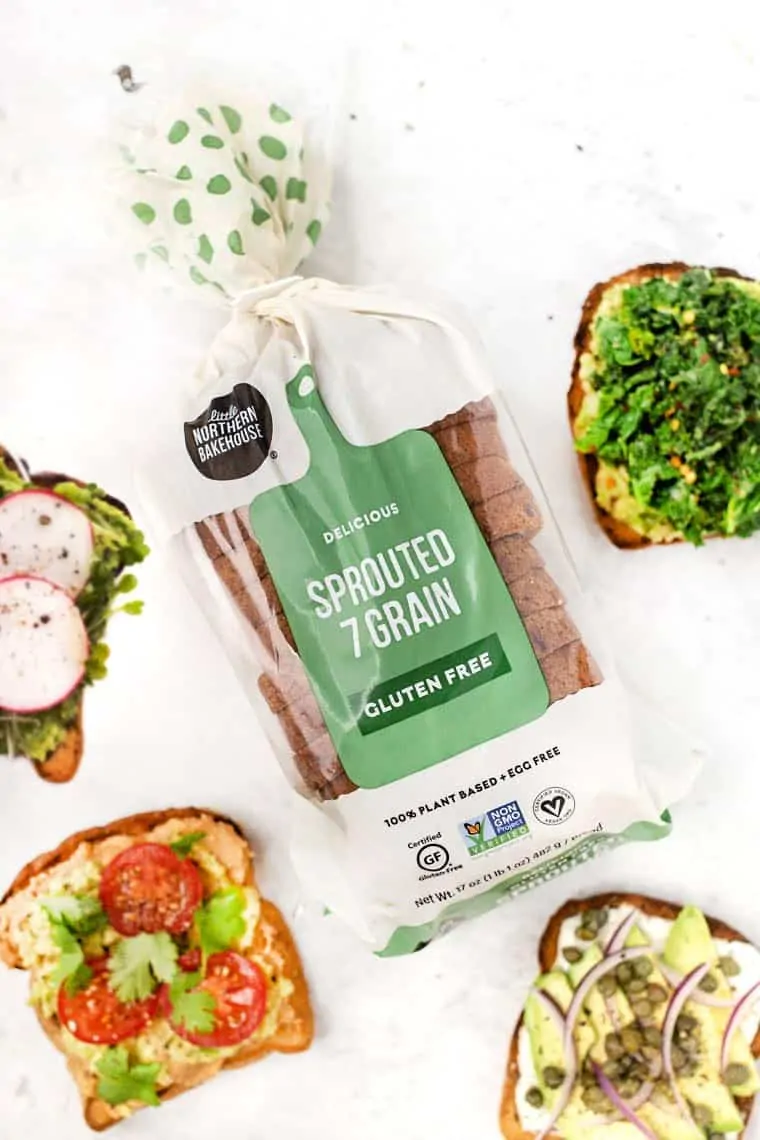 4 Different Types of Avocado Toast
Before we talk about the avocado, we need to talk about the toast itself. I've talked for years about sprouted gluten-free bread and I've found a new one to love.
The Sprouted 7-Grain Gluten-Free Bread from Little Northern Bakehouse is amazing. Not only is it made with sprouted whole grain flours (which are easier to digest), but it's also non-GMO, egg-free and completely plant-based.
And guess what? It makes a pretty darn amazing base for our avocado toast!
Our different types of avocado toast today are…
Garlicky Kale
Beans + Tomato
Capers + Red Onion
Radish + Truffle Oil
Every one of these recipes is gluten-free and vegan, but most importantly they're easy to make. Aside from toasting the bread, they shouldn't take you more than 5 minutes to put together. Breakfast in a hurry? I'm here for it!
1. Avocado Toast with Garlicky Kale
---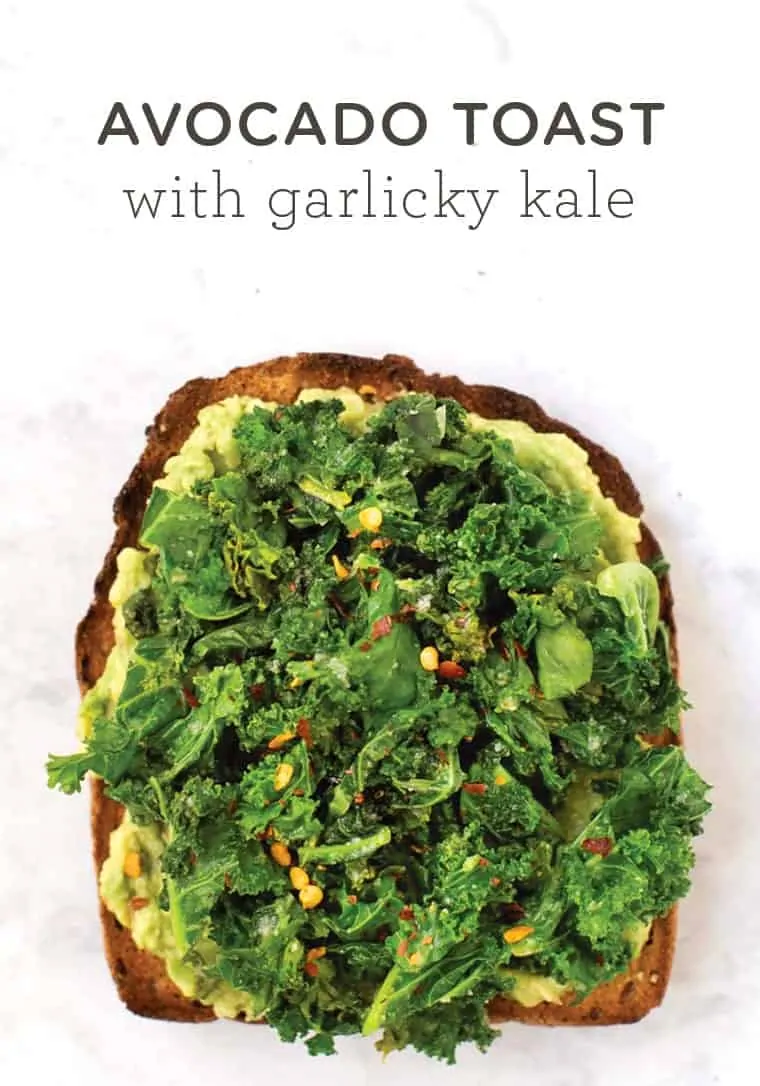 1/2 an avocado, mashed
1 cup shredded kale
1/2 teaspoon garlic powder
1 tablespoon lemon juice
Salt + pepper flakes to garnish
Pop the bread in the toaster and toast until golden brown. While the toast is cooking, heat a small pan over medium-high heat and add the kale. Add a splash of water and the lemon juice and cook until the kale has wilted, about 1 minute. Stir in spices and remove from heat.
Add the avocado on top of the toasted bread and spread it into an even layer. Top with the garlicky kale and finish with a touch more red pepper flakes.
2. Avocado Toast with Beans + Tomato
---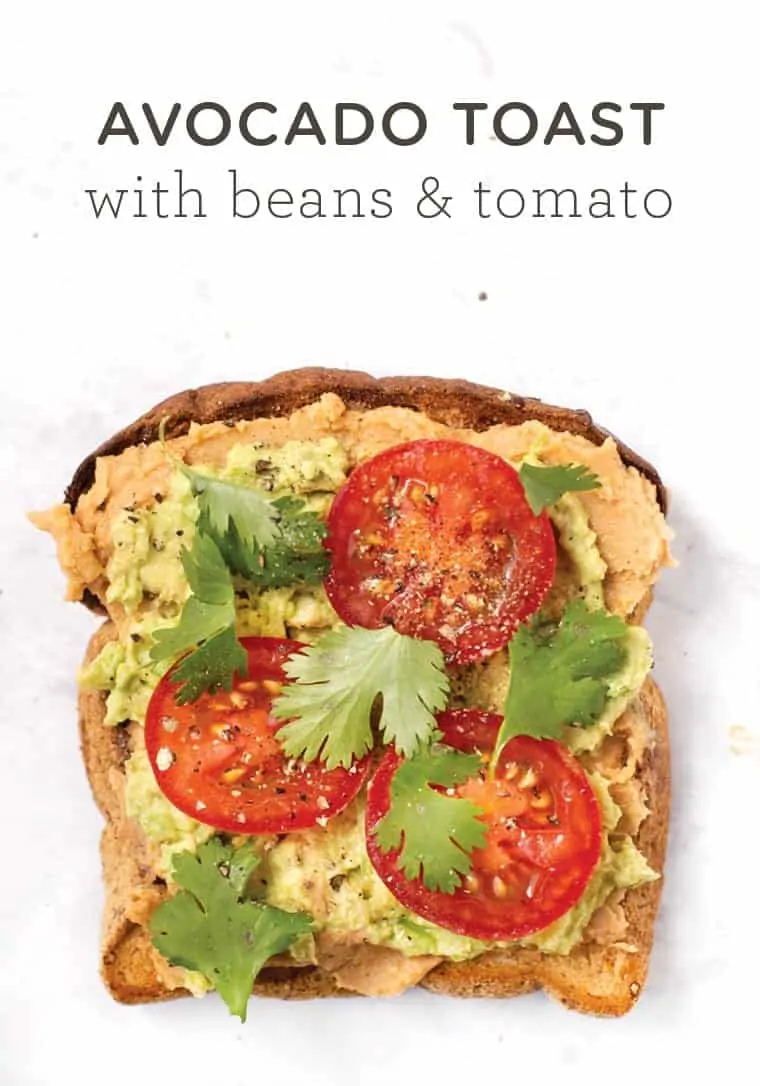 2 tablespoons vegetarian refried beans
1/3 an avocado, mashed
1 cherry tomato, sliced
Cilantro to garnish
Place the bread in the toaster and toast until golden brown. Once toasted, spread with the refried beans. Top the beans with the mashed avocado, sliced tomato and finish with a few leaves of cilantro. A little lime squeeze and fresh pepper is also fabulous
3. Avocado Toast with Capers & Red Onion
---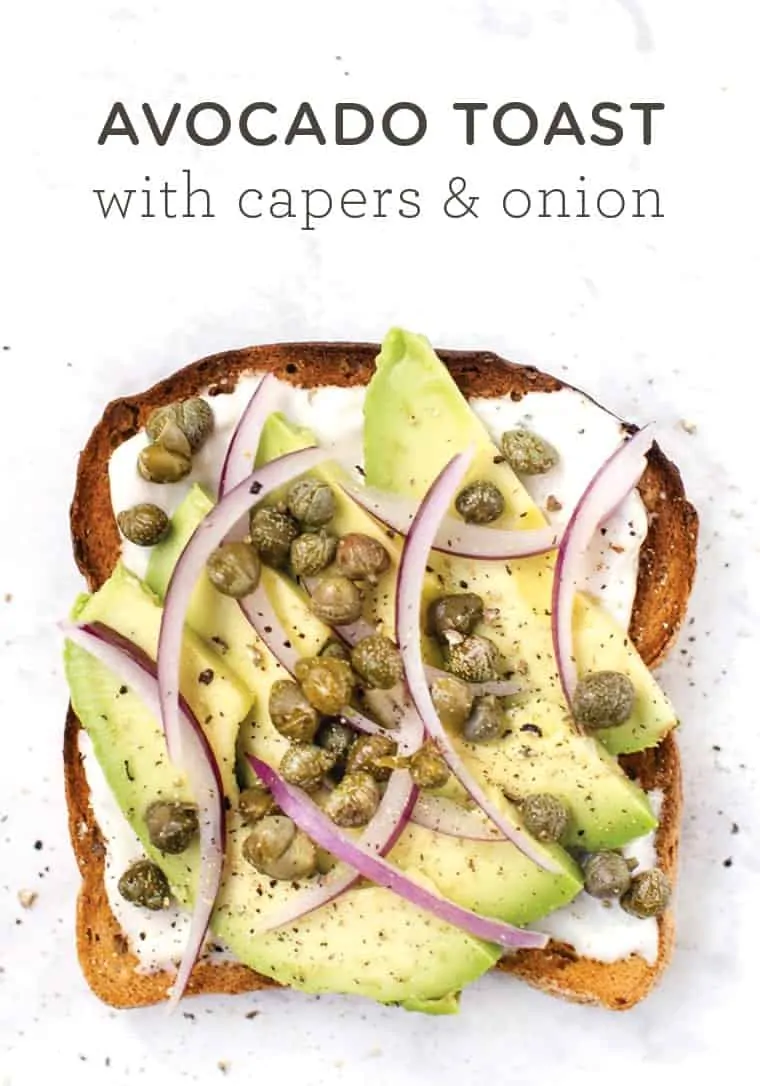 2 tablespoons vegan cream cheese spread
1/3 of an avocado, sliced
5 – 8 slices of red onion
1 tablespoon capers
Fresh pepper to garnish
Toast your bread until golden brown. Once toasted, slather on the vegan cream cheese. Top with the sliced avocado, red onion and sprinkle the capers on top. Finish with a touch of cracked pepper if desired.
4. Avocado Toast with Radishes & Truffle
---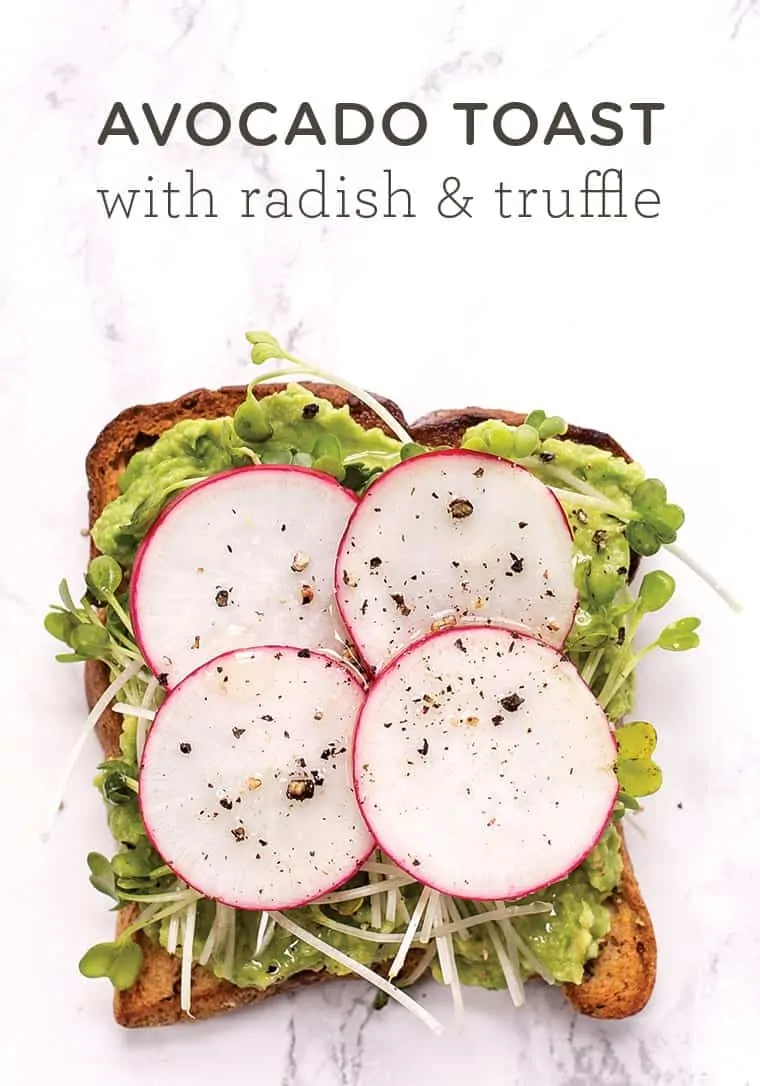 1/2 an avocado, mashed
Sprouts
1 radish, sliced
½ teaspoon truffle oil
Cracked pepper to garnish
Pop the bread in the toaster and toast until golden brown. When the toast is done, slather on the avocado. Layer on the sprouts and sliced radishes. Drizzle on truffle oil and garnish with some cracked pepper.
What's your favorite way to make avocado toast?
Let us know what some of your favorite toast toppings are! We love seeing your creativity, so don't hold back!