These homemade popcorn seasonings will take your favorite snack to the next level. From sweet cinnamon sugar to savory garlic and herb, we've got plenty of ideas that are both delicious and healthy!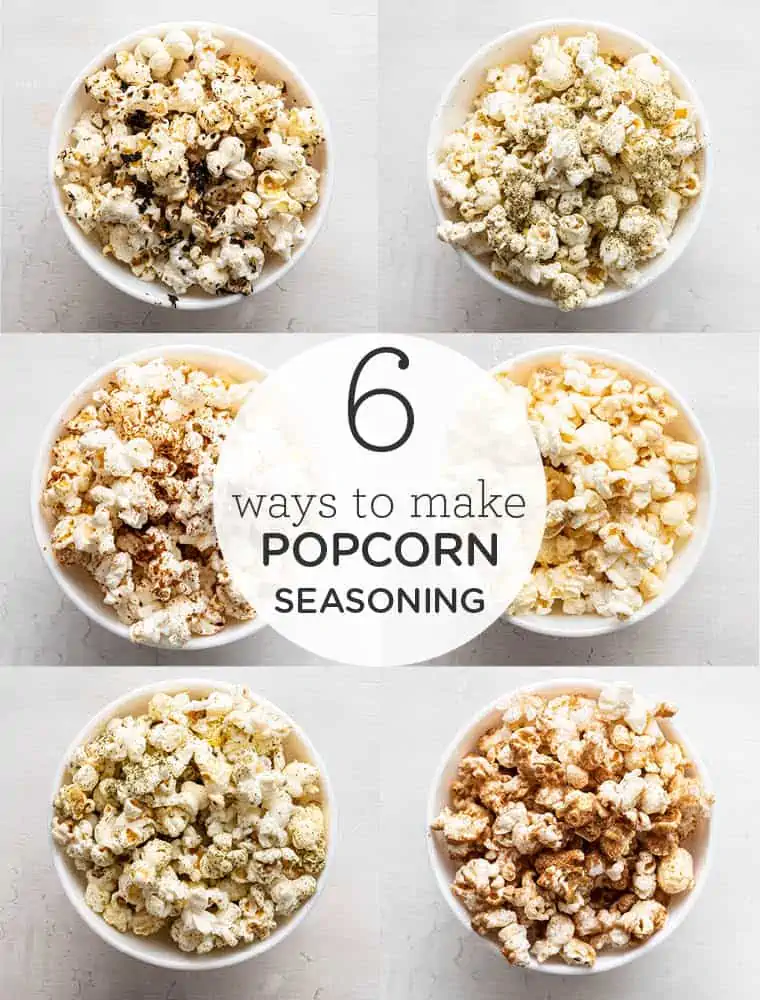 When you're craving a crispy, crunchy snack, it doesn't get much better than popcorn. While it might not be quite as nutritious as celery and carrot sticks, it's so much better than reaching for a bag of potato chips—you get more bang for your buck with popcorn because you can eat 3 whole cups of it without even hitting 100 calories! You'll also get a healthy snack with protein and fiber, and even some magnesium.
But pop a bag of store-bought microwave popcorn that's soaked in faux butter and salt and you end up negating all that nutrition. Womp womp. And that, my friends, is where these popcorn seasoning ideas come in. They're popcorn toppings that add loads of flavor without ruining your healthy snack. And I've got 6 different popcorn seasoning ideas, which means there's something for everyone!
What You'll Need
Scroll down to the recipe card below this post for ingredient quantities and full instructions.
For the popcorn:
Popcorn kernels – The unseasoned kind you buy in bags or in the bulk section, not microwave popcorn.
Olive oil – Use light or cooking olive oil, not extra-virgin. Light olive oil has a higher smoke point than EVOO.
Cooking spray
Popcorn seasoning – Choose one of the recipes below.
Classic Nooch:
Nutritional yeast – Nutritional yeast adds a cheesy flavor without cheese. It's also a great source of vitamin B12!
Salt
Umami:
Tamari – Coconut aminos, liquid aminos, or low-sodium soy sauce could also be used.
Nori flakes
Ranch:
Dried dill
Dried parsley
Garlic powder
Onion powder
Salt
Garlic & Herb:
Garlic powder
Dried oregano
Dried thyme
Dried parsley
Dried sage – This may also be labeled as rubbed sage.
Sea salt – Sea salt has a higher mineral content than regular table salt.
Spicy Chipotle:
Chipotle chili powder – This is sometimes labeled as chipotle chili pepper, depending on the brand you buy.
Lime zest
Cinnamon Sugar:
Coconut sugar – Coconut sugar is a less-processed alternative to traditional white sugar. Maple sugar is another option.
Cinnamon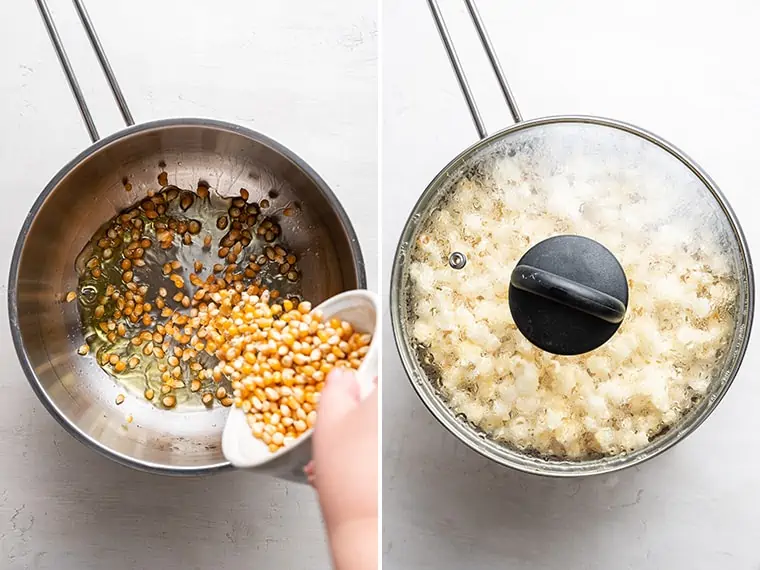 How Do You Make Popcorn?
If you've never made your own popcorn before (aside from store-bought microwave popcorn!), you might be wondering how to do it. Here are two easy methods that don't require any special equipment:
DIY Microwave Popcorn
Place the oiled popcorn kernels in a brown paper bag—the kind you use for lunches.
Fold the top of the bag twice to seal it.
Microwave for 2 to 3 minutes, or until there are about 2 seconds between pops.
Open the bag carefully, then season according to the recipe instructions.
Stovetop Popcorn
Place a large, heavy-bottomed pot over medium-high heat and add 3 tablespoons of oil.
Put a few kernels of popcorn into the pot to test the oil. Once they pop, add the rest of the kernels.
Cover the pot, take it off the stovetop for 30 seconds, then put it back on the stovetop.
When the popcorn starts popping, crack the lid just a bit to let the steam escape; when most of the kernels are popped and there are a few seconds between pops, remove the pot from the heat and transfer to a bowl.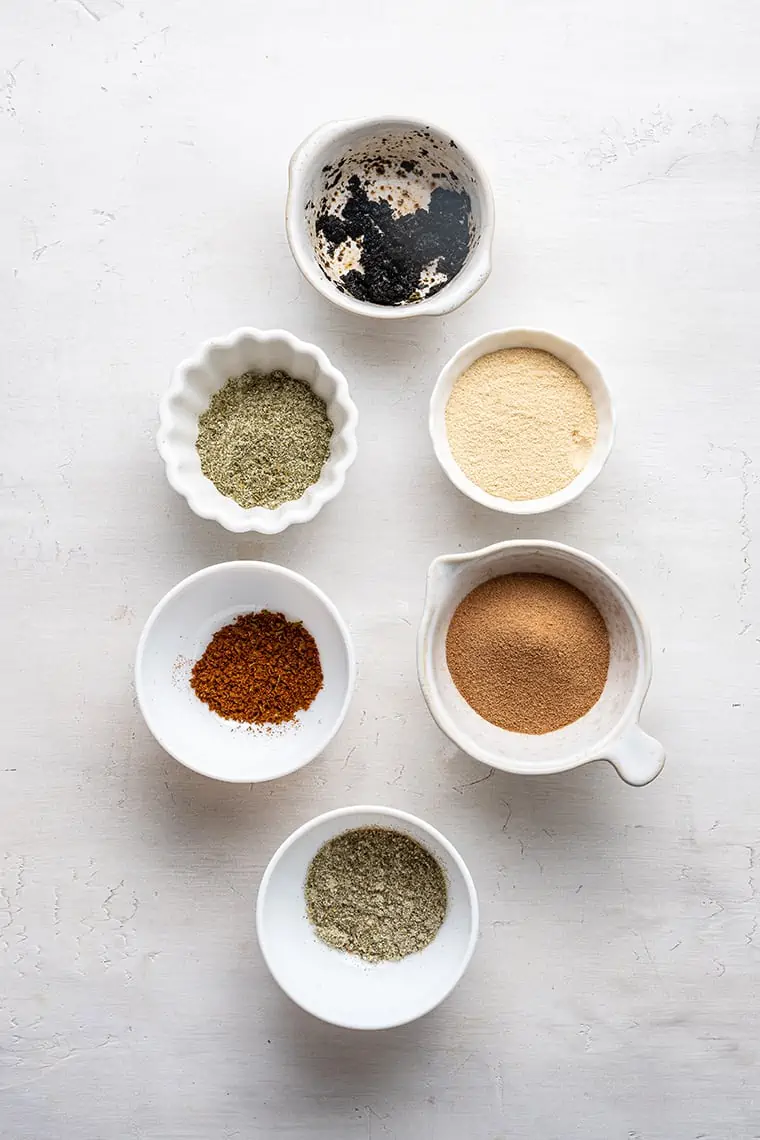 How to Make Seasoned Popcorn
Here's what you'll need to do to make your own popcorn seasonings and popcorn.
Make the popcorn. Toss the popcorn kernels with oil and use your preferred method for popping them—the stove, microwave, air popper, etc.
Prepare the seasoning. Mix together the seasoning ingredients in a small bowl. If possible, grind or blend the mixture into a fine powder to help it stick better.
Season the popcorn. Place the popped popcorn in a large bowl and lightly spray it with the cooking spray. Add the seasonings, toss to coat, and dig in!
Tips for Success
These simple hints and tips will help you make perfectly seasoned popcorn.
Use high-quality herbs and spices. If you open the jar and it doesn't have much of a smell, or it smells stale, it's past its prime—and that means it won't add much flavor to your popcorn.
Don't overdo the cooking spray. Too much will make the popcorn soggy. You just need a light coating so the seasoning sticks.
Mix in a big bowl. You need lots of room to toss the popcorn and seasonings, so use a bigger bowl than you think you'll need!
How to Store
As long as you use the cooking spray sparingly, seasoned popcorn should last for about a week when stored at room temperature in an airtight container. Moisture is your enemy when it comes to popcorn, so if it's wet when you store it, it's more likely to be stale when you eat it the next day.
Leftover popcorn seasonings can be stored in the pantry for up to 3 months, with the exception of the umami seasoning, which should be used immediately.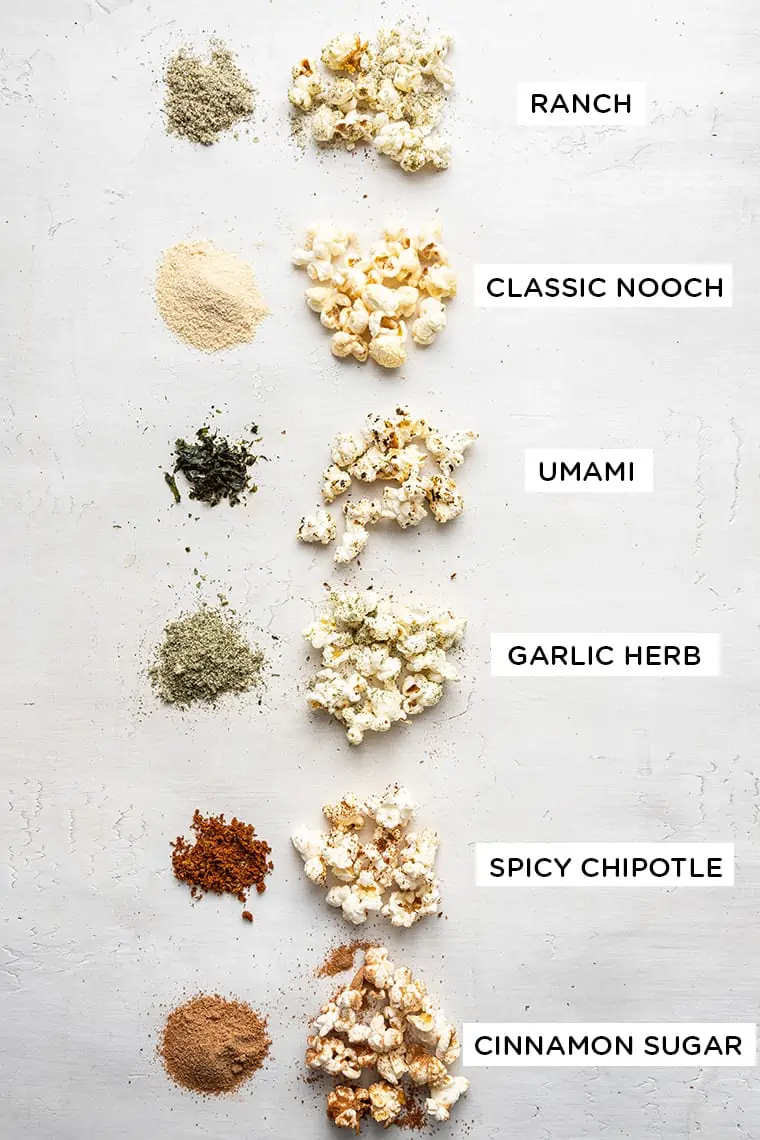 More Healthy Snack Ideas
Healthy Popcorn Seasoning: 6 Ways
These easy popcorn seasonings add loads of flavor to your popcorn, while still keeping it healthy!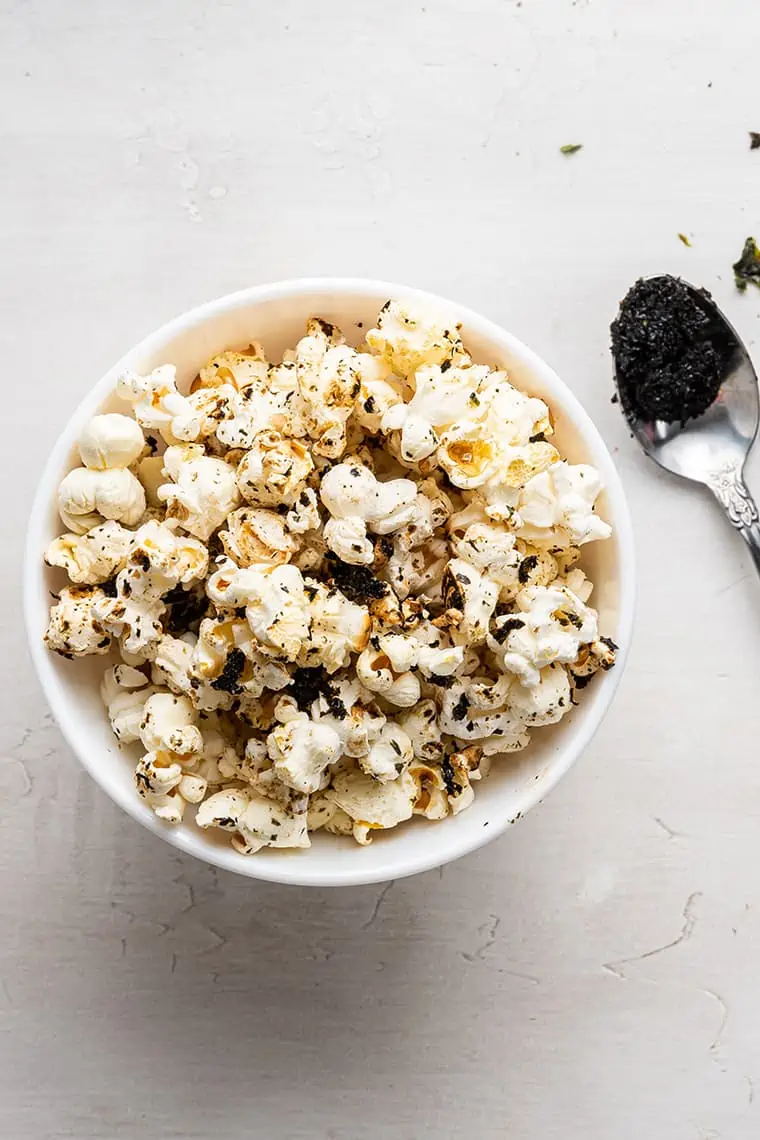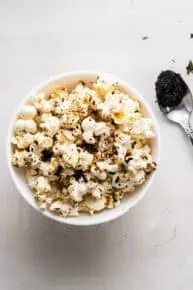 Ingredients
1/2

cup

popcorn kernels

1

teaspoon

olive oil

1

tablespoon

– 1/4 cup seasoning

, depending on the seasoning
Umami
2

teaspoons

tamari

2

teaspoons

nori flakes
Ranch
1

teaspoon

dried dill

1

teaspoon

dried parsley

1/2

teaspoon

garlic powder

1/2

teaspoon

onion powder

1/2

teaspoon

salt
Garlic & Herb
1 – 2

teaspoons

garlic powder

(depending on your preference – start with 1)

1/2

teaspoon

dried oregano

1/2

teaspoon

dried thyme

1/2

teaspoon

dried parsley

1/2

teaspoon

dried sage

1

teaspoon

sea salt
Spicy Chipotle
1 – 2

teaspoons

chipotle chili powder

Zest of 1 lime
Instructions
Toss the popcorn kernels with oil. Cook however you like to cook your popcorn (stove, microwave, airpopper, etc.)


If possible, grind or blend the spice mixture to a fine powder. This will help the seasoning stick better.


Once popped, transfer to a bowl and spritz with cooking spray. Sprinkle on the seasoning of choice, toss and enjoy!
Notes
Nutritional info is calculated on plain popcorn. Nutritional info will change based on the seasoning you choose.
Nutrition
Serving:
4
cups popped
|
Calories:
86
kcal
|
Carbohydrates:
15
g
|
Protein:
2
g
|
Fat:
2
g
|
Saturated Fat:
0.3
g
|
Polyunsaturated Fat:
1
g
|
Monounsaturated Fat:
1
g
|
Sodium:
1
mg
|
Potassium:
56
mg
|
Fiber:
3
g
|
Sugar:
0.2
g
|
Calcium:
1
mg
|
Iron:
1
mg
Filed Under: