How to make hummus 6 easy ways packed with flavor and add a creamy, fluffy texture to your favorite chickpea dip for lunch and appetizers.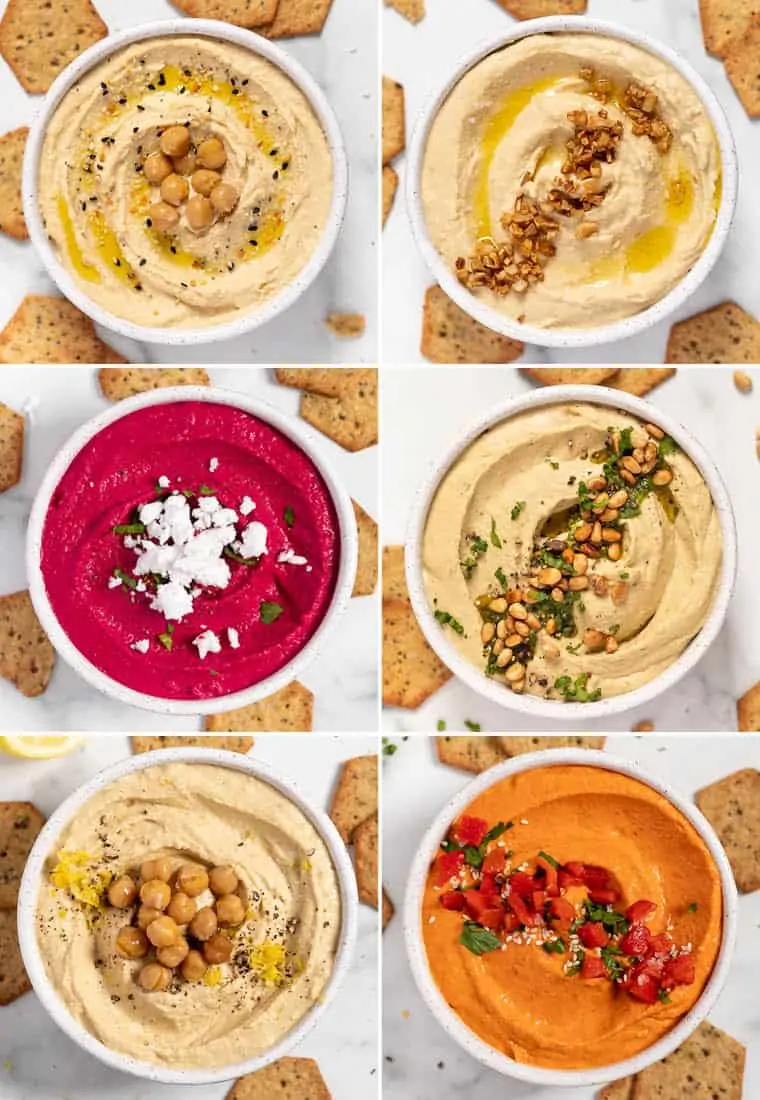 We're back with another one of my famous 6 ways post and this time it's one of my all time favorite foods: HUMMUS!
Hummus has been a staple in my diet every since I started following a mostly plant-based diet. It's not only delicious, but hummus is also high protein, high fiber, easy to make and super versatile. No joke, you can use hummus on pretty much everything!
Hummus is also a cinch to make at home. So today I'm going to show you how to make hummus at home. But rather than just give you the classic/traditional version, I'm showing you 6 amazing hummus recipe variations that are each unique, delicious and fun!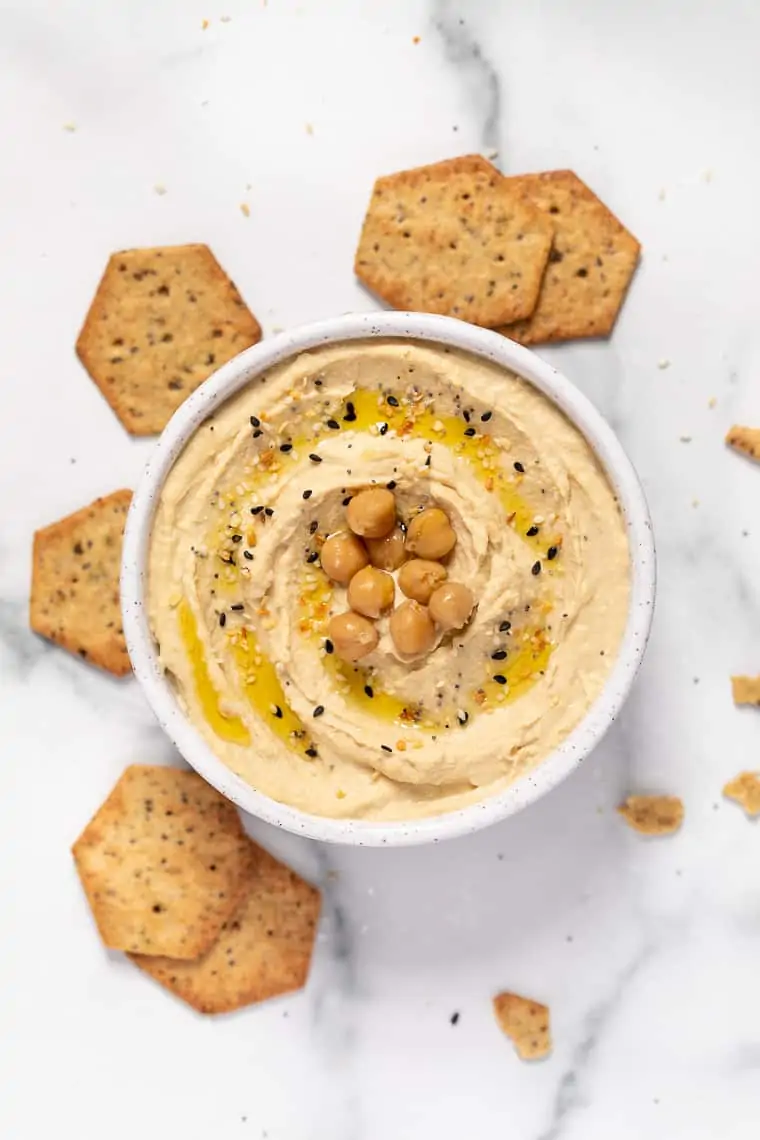 What is Hummus?
Hummus is a creamy dip or spread made from mostly chickpeas, tahini, lemon, and garlic. Hummus originates in the Middle East and is used as a dip, spread, or savory dish, most often served with pita bread. It has now been popularized across the globe and is found in almost every grocery store. You can now find hummus in a variety of flavors, and will often see it used as a dip or appetizer with veggies and crackers.
How to Make Hummus
There are many different ways to make hummus, but I've found the easiest is with a food processor. You can essentially just dump all your ingredients into the bowl and blend it up until smooth.
Do you need to remove the skin from the chickpeas to make hummus?
To get super creamy hummus, you do have to remove the skins from your chickpeas. But I'm lazy and rarely do that, and find the texture totally fine. But if you are someone that wants the texture of your homemade hummus to be the same as you would find at the store, spend the extra time it takes to remove the skin.
Can you freeze hummus?
Hummus can absolutely be frozen! Store in a sealed container for 3 – 6 months, thawing at room temperature when you're ready to consume it. It can also be refrigerated for up to one week!
Ingredients for Classic Hummus
To make classic hummus, you just need a few simple ingredients:
Cooked chickpeas (canned or homemade will work)
Tahini (store bought or homemade)
Lemon juice
Garlic (fresh is better here)
Salt + pepper
Oil (not traditional, but helps with the texture)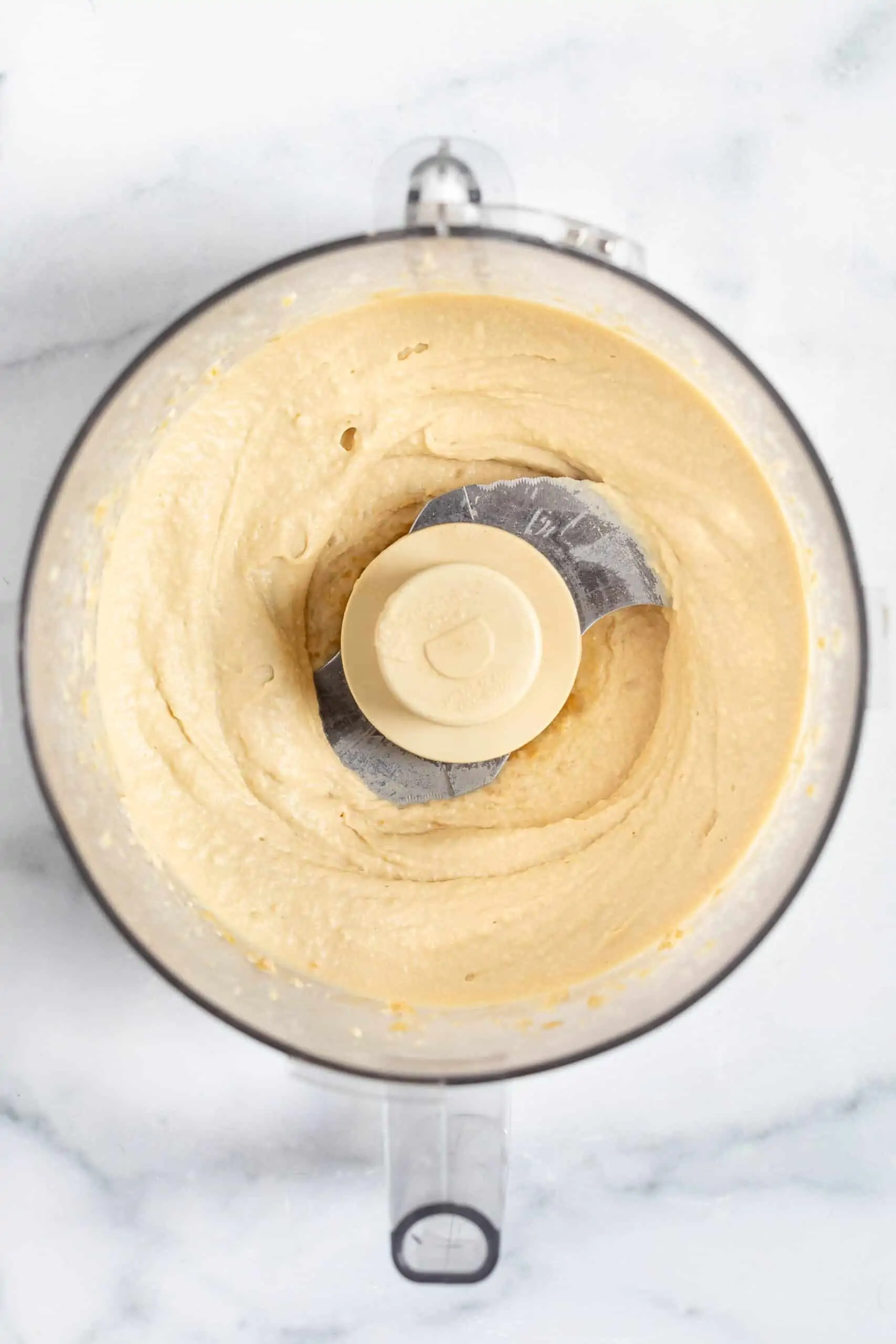 Is Hummus Vegan?
Tradition hummus is vegan. It doesn't use any dairy, cheese, or other animal products and is suitable for anyone who follows a plant-based diet. That being said, if you're buying your hummus at the store, always make sure to check the ingredient labels just to be sure. Sometimes ingredients like yogurt can sneak in without you realizing it.
Is Hummus Keto?
Since hummus is made from chickpeas, it's not keto. While beans are high in protein, they're also high in carbs, so aren't considered to fall in the "keto" bucket. However, if you do want to try making homemade hummus that is keto, I've seen recipes that use a base of cauliflower instead of beans. Here's a recipe for keto paleo roasted cauliflower hummus you might want to try!
Is Hummus gluten-free?
In addition to being vegan, hummus is also gluten-free! It doesn't use any grains or glutinous products. But if you do have Celiac disease or severe sensitivity, it's always best to use homemade hummus as sometimes store-bought varieties are processed in the same facilities as other products and might contain traces of gluten.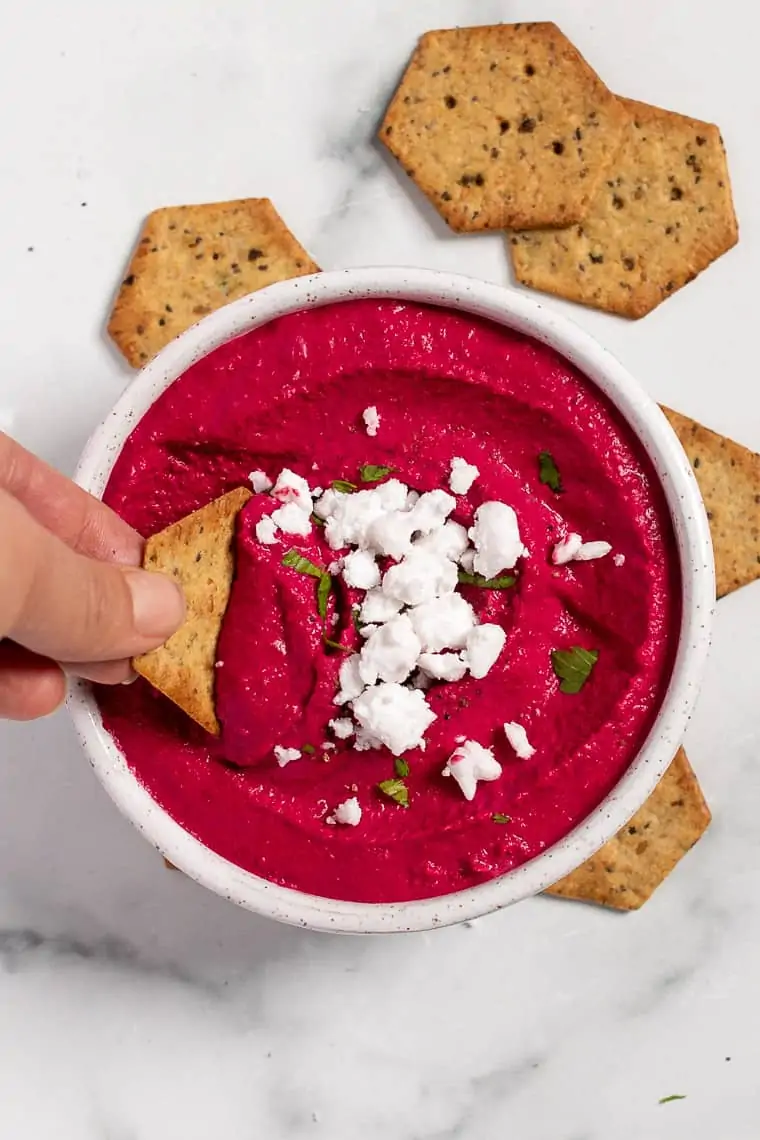 Hummus Serving Ideas
You really can't go wrong when it comes to serving hummus. Whether you're looking to use hummus as an appetizer for dinner, maybe you want to incorporate it as a healthy lunch, or you're making it into a fabulous hummus platter for a party, it's always perfect.
Here are some of my favorite ways to serve hummus:
Mayo replacement: this is one of the simplest ways to use hummus. Take any place you'd use mayo and swap it with your hummus flavor of choice. From sandwiches, toast, tuna salad, and more. It's delicious!
Snack: hummus is a great snack since it's high in protein – serve it with cut-up veggies, carrot sticks, or your favorite cracker
Breakfast: I'm seriously obsessed with hummus toast – I've even shared multiple posts on the blog all about it! (check out my autumn hummus breakfast toast post and my summer hummus breakfast toasts)
Lunch: most often I use hummus in my sandwiches or wraps – I love collard wraps for lunch and hummus adds protein and helps the veggies stick together!
Dinner: I love using hummus as part of a Middle Eastern-inspired meal – I'll put out a variety of dishes and hummus is always one of them (dressed with a little olive oil, lemon zest, and fresh herbs) OR I'll use in a bowl meal like my Mediterranean hummus bowls
Party: and if I'm having people over, a hummus platter or hummus board is always on my list – it's my healthy spin on a meat and cheese board!
But truly, the possibilities with hummus are endless!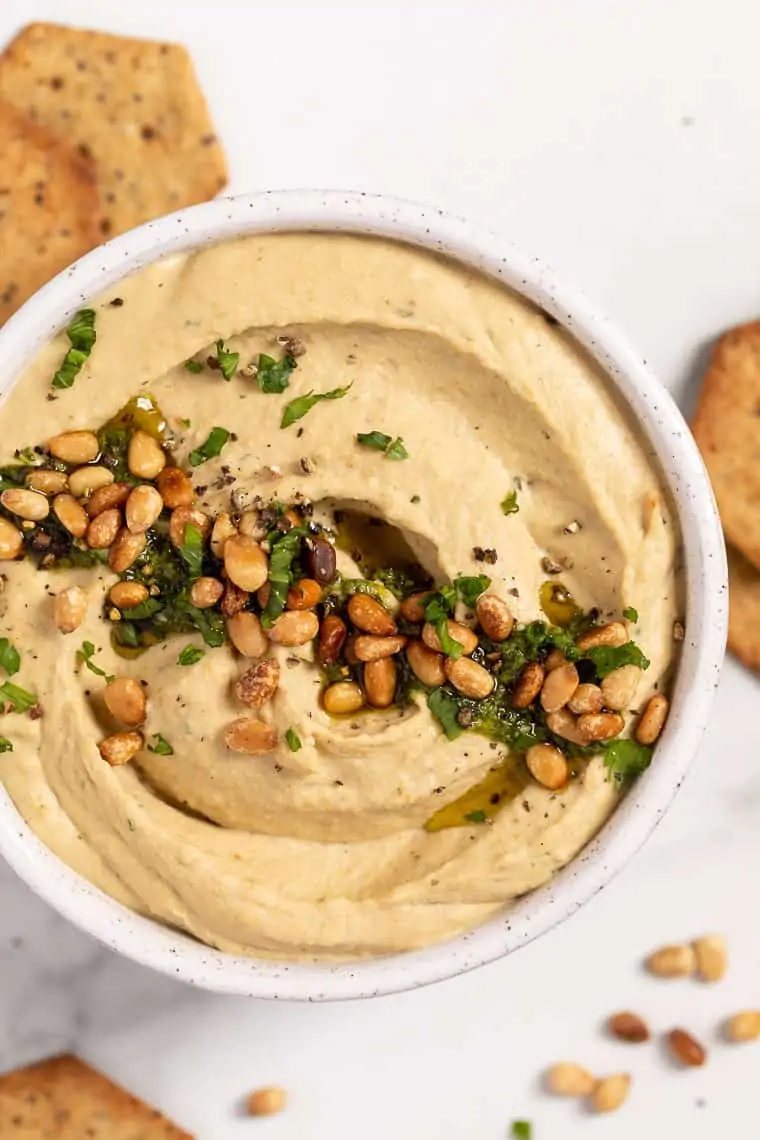 6 Different Ways to Make Hummus
Since hummus is kind of a blank slate when it comes to flavor, you can really jazz it up. There are so many different ways to make hummus, but I'm going to show you 6 best hummus recipes.
I've included all the hummus recipes down below, but here are the flavors we're working with today:
Traditional
Roasted Garlic
Lemon Pepper
Roasted Red Pepper
Beet + Feta
Pine Nut + Pesto
As I've said, this makes an awesome meal prep option, so I recommend making a batch (or two!) on a Sunday to enjoy all week long. So…ready to learn how to make hummus? Let's do this!
How to Make Hummus: 6 Ways
How to make hummus 6 easy ways packed with flavor and add a creamy, fluffy texture to your favorite chickpea dip for lunch and appetizers.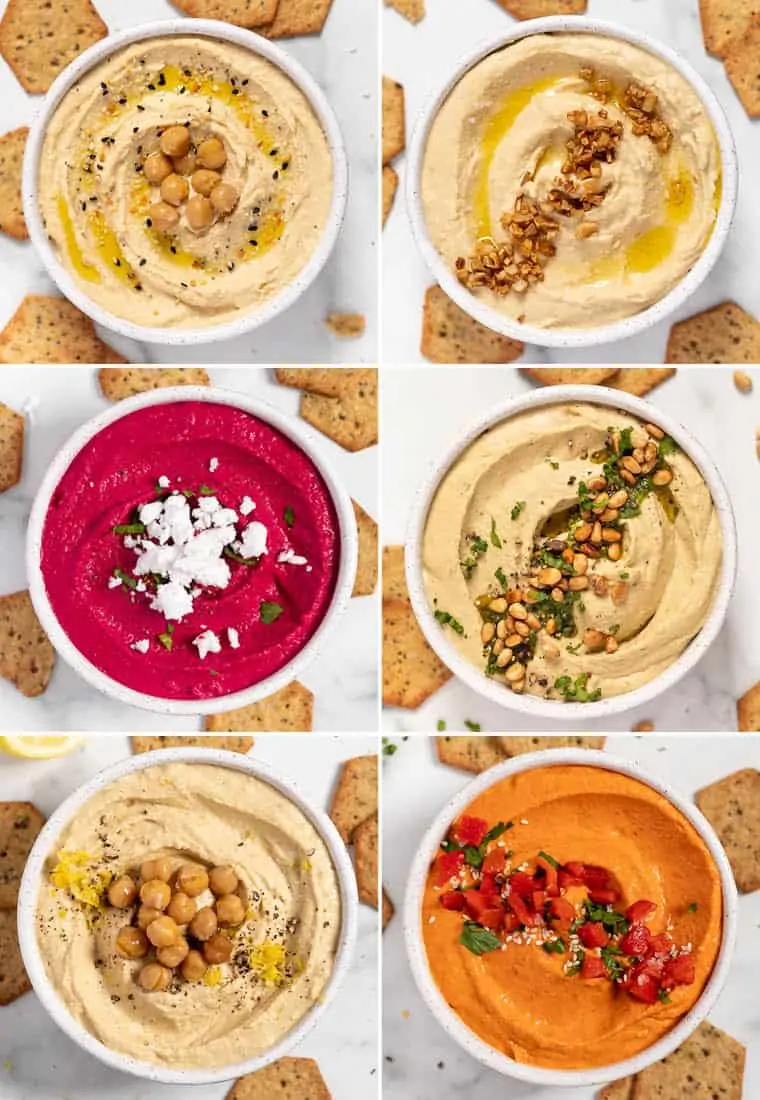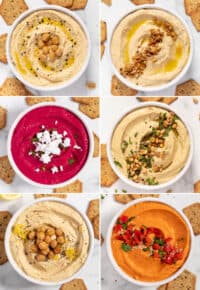 Ingredients
Instructions
For all the varieties, simply add all the ingredients (minus the water) into a food processor. Process on high until smooth. With the processor running, add the water 1 tablespoon at a time until you've reached your desired consistency.

Transfer the hummus into a bowl and top with the garnishes.

Serve immediately with crackers, pita, toast, veggies, etc.
Nutrition
Serving:
2
tablespoons (Traditional Hummus)
|
Calories:
54
kcal
|
Carbohydrates:
3
g
|
Protein:
1
g
|
Fat:
4
g
|
Saturated Fat:
1
g
|
Sodium:
58
mg
|
Potassium:
42
mg
|
Fiber:
1
g
|
Sugar:
1
g
|
Vitamin A:
5
IU
|
Vitamin C:
1
mg
|
Calcium:
11
mg
|
Iron:
1
mg
Filed Under: