These salted caramel vegan energy bites taste like dessert but are healthy, vegan and gluten-free. Full of healthy fats, fiber and sweetened with dates!
This salted caramel flavor may be my all-time favorite kind of energy bite. Not only do they taste like a decadent treat, but they happen to be healthy!
These nut bites are vegan, gluten-free, made with whole food ingredients AND they only use 8 ingredients.
They're also a cinch to make and are great for on-the-go. I love carrying energy balls on long road trips or eating them before a workout class. They're packable and give me that little boost of energy while satisfying my sweet tooth in a healthy way.
How to Make Salted Caramel Bites [Video]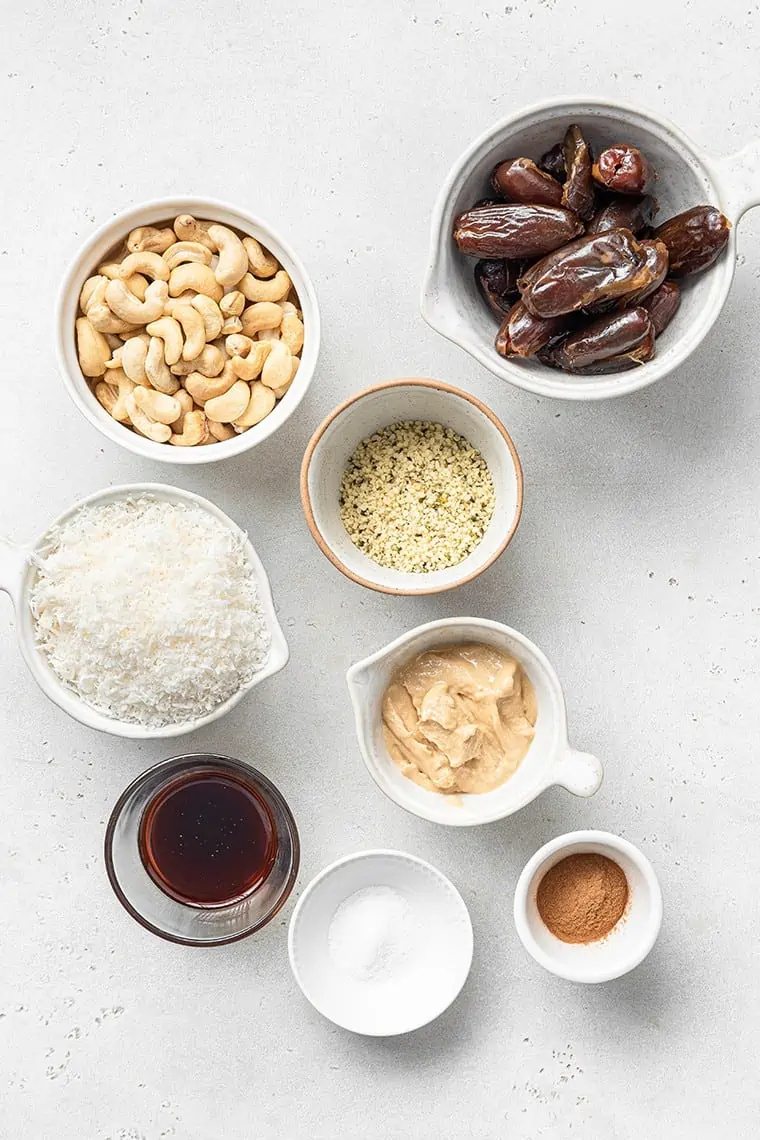 Ingredients for Salted Caramel Energy Balls
The ingredients in these vegan energy bites are so simple. You actually probably already have them in your pantry! I wanted to keep things as easy as possible with this recipe, so here's what we're using:
Medjool dates: I use these for the base of all my energy bites because they're naturally sweet and super sticky. They have a great consistency and help the balls hold together really well.
Cashews: Cashews have a mild taste that's a great foundation for the salted caramel flavor. If you're not a cashew fan – or are allergic – swap with any other nut you'd like. Walnuts or almonds will work.
simple swap
If you're allergic to cashews, feel free to use another nut. If you want to make these tree nut-free, swap the cashews with sunflower seeds.
Coconut: Shredded coconut adds a nice texture, but also a little extra sweetness. you can leave this out if you want and just add more cashews.
Hemp seeds: I wanted to sneak in something high protein without adding protein powder and this was my solution. They don't affect the flavor, but give you a really nice protein boost!
Maple syrup: Maple syrup makes the ulitimate caramel flavor without having to turn on the stove. If you think they're sweet enough with just the dates, swap the syrup with more nut butter.
Cashew butter: Feel free swap this with any nut or seed butter that you'd like!
simple swap
Use another nut or seed butter to replace the cashews. Almond, peanut or tahini would work well!
Cinnamon: This warming spice is totally optional, but adds such a lovely little flavor boost!
Sea salt: I like using Maldon sea salt, but any salt will work.
And that's it! Just eight ingredients for energy balls that taste sweet, salty and absolutely scrumptious!
How to make Vegan Energy Bites
You only need one thing to make energy bites: a food processor!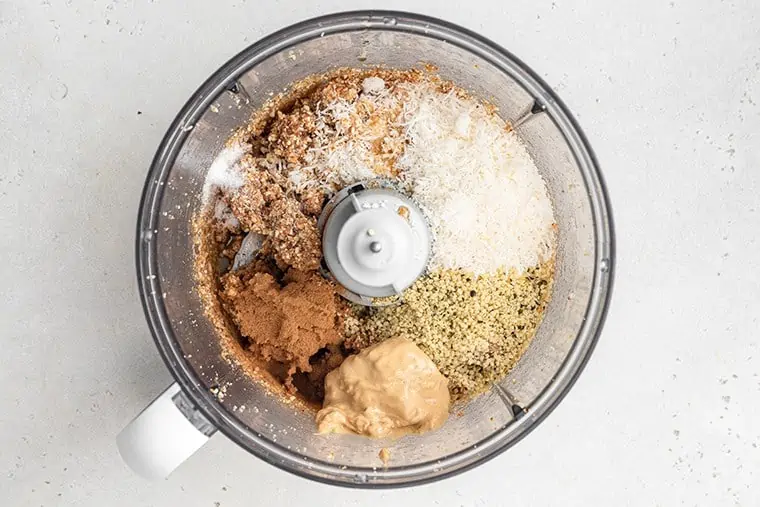 Start by adding the dried fruit and nuts to the food processor first. Blitz those up until they form a sandy like consistency and then add in the rest of my ingredients.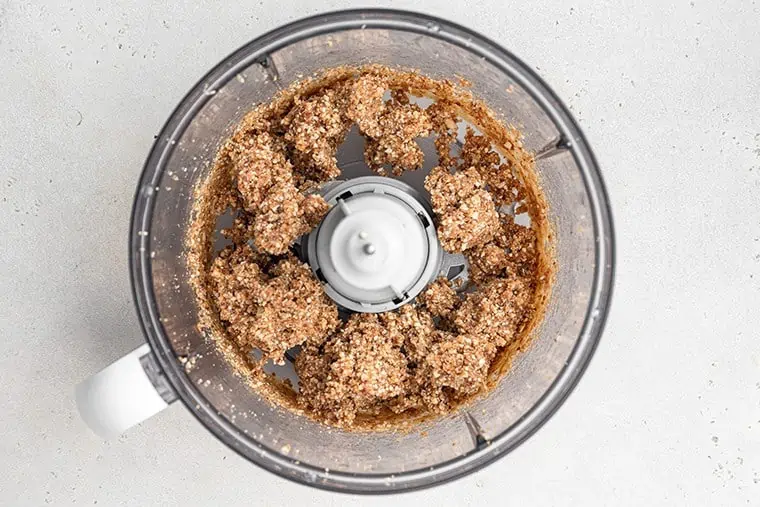 Follow with the nut butter, sweeteners and spices. With all those in there, blitz everything again to form a sticky dough. From there, just scoop out about a tablespoon of dough, roll it into a ball and keep on going until you've used everything up!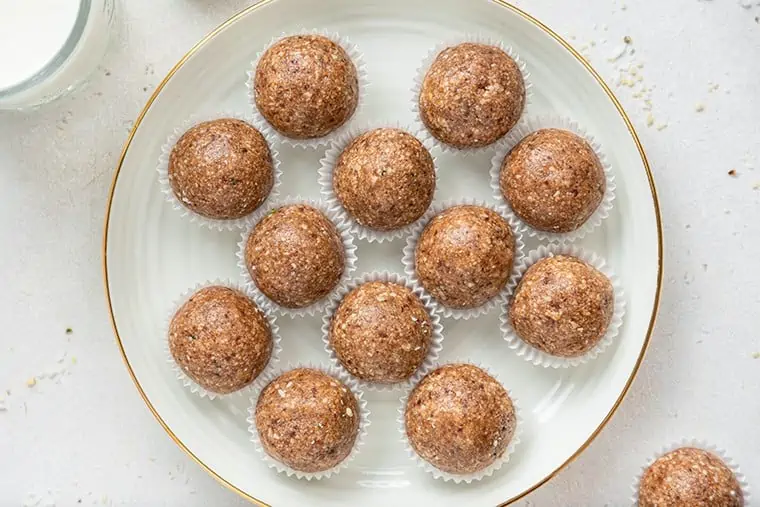 Are Energy Bites Healthy?
Aside from the fact that energy balls are easy to make and they're portable, they're also pretty nutritious!
The base of most energy balls is a combination of:
dried fruit: high in vitamins and fiber, plus unrefined sugar
nuts: high in healthy fat and protein
With some other ingredients mixed in there for flavor and texture. The combination of carbs and fat/protein is why they're such a great snack. The carbs will give you a boost of energy, while the protein/fat will keep you from crashing and help sustain that energy for longer.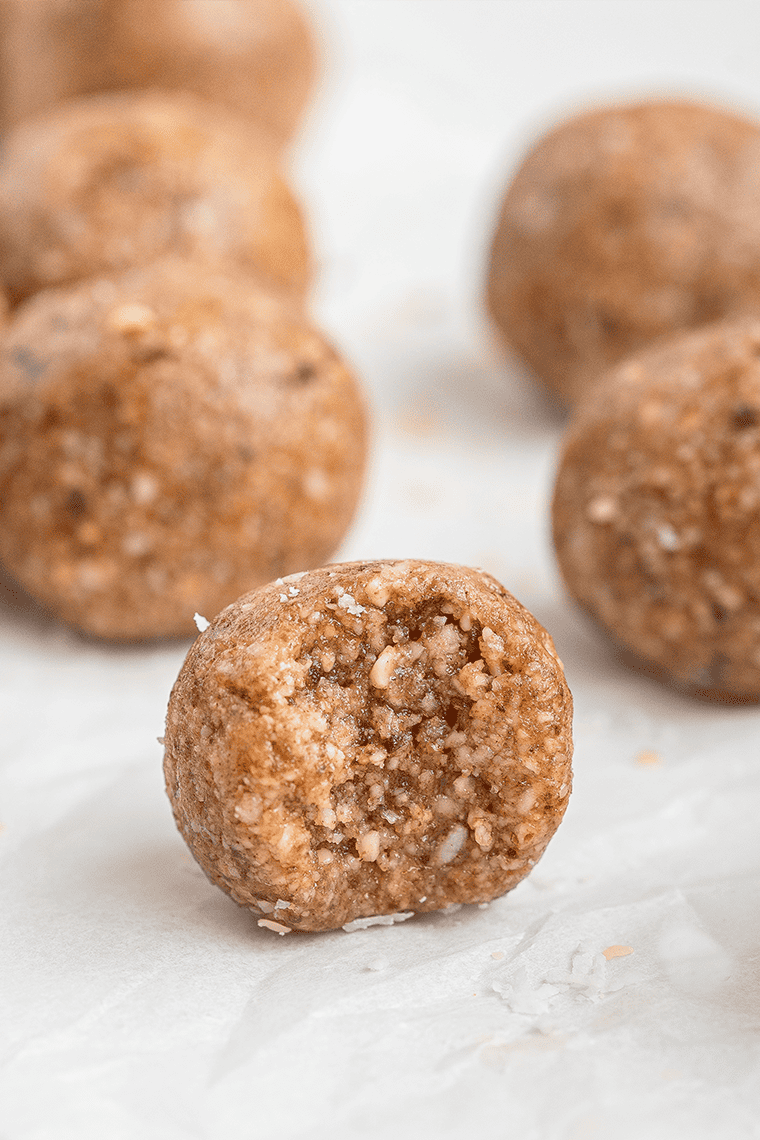 Do Energy Balls Give You Energy?
Unlike energy drinks that are full of chemicals and stimulants, energy balls are a natural food source that can absolutely give you energy. What you're looking for in terms of an "energetic" food, is sugar and carbs, mixed with protein and/or fat. As noted above, sugar and carbs will give you that quick hit of energy, while the protein and/or fat will help you maintain it for a longer period of time.
So will you instantly get a surge of energy after eating one? You won't necessarily get that jolt, but you will be fueling your body with nutrients that are serving to give your body natural energy.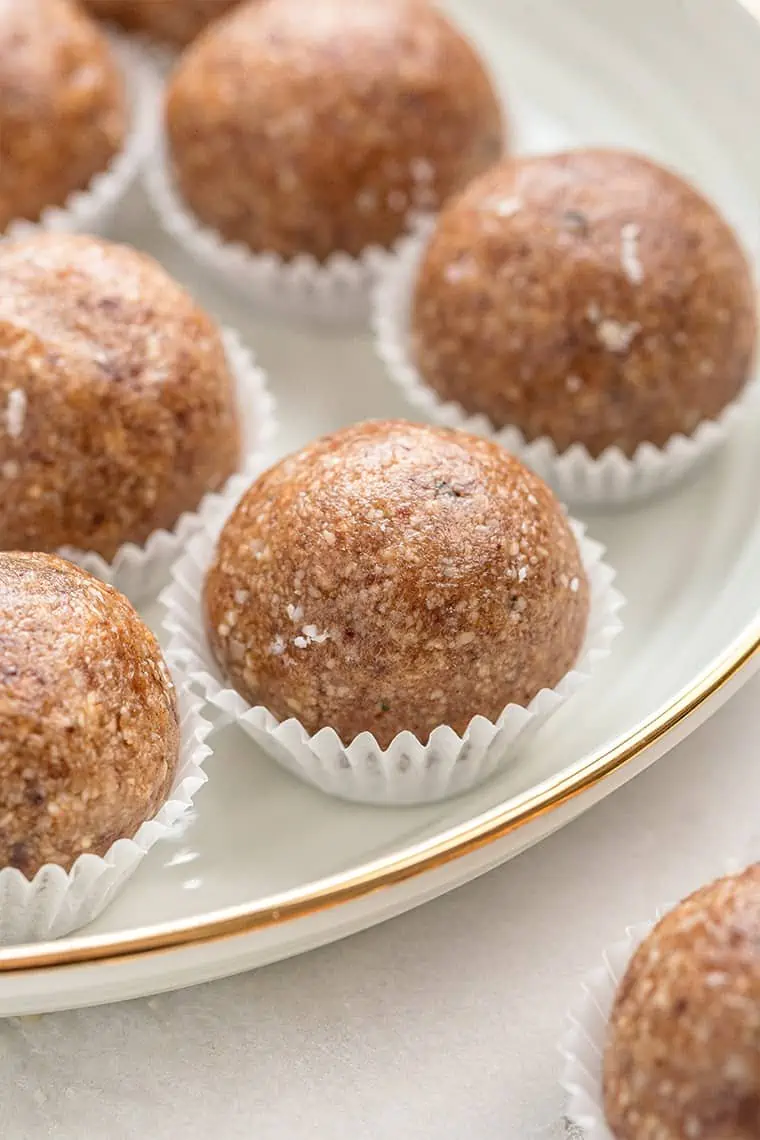 Other Flavoring Ideas
The best part about this recipe is that it's endlessly riff-able. You can make energy bites in pretty much every flavor imaginable.
The trick? You just gotta follow a formula. And I've already put that together for you!
If you want to make energy bites at home, check out our ultimate guide for how to make energy balls! It's got everything – like literally everything – you need to make your own delicious and creative flavor of energy ball at home.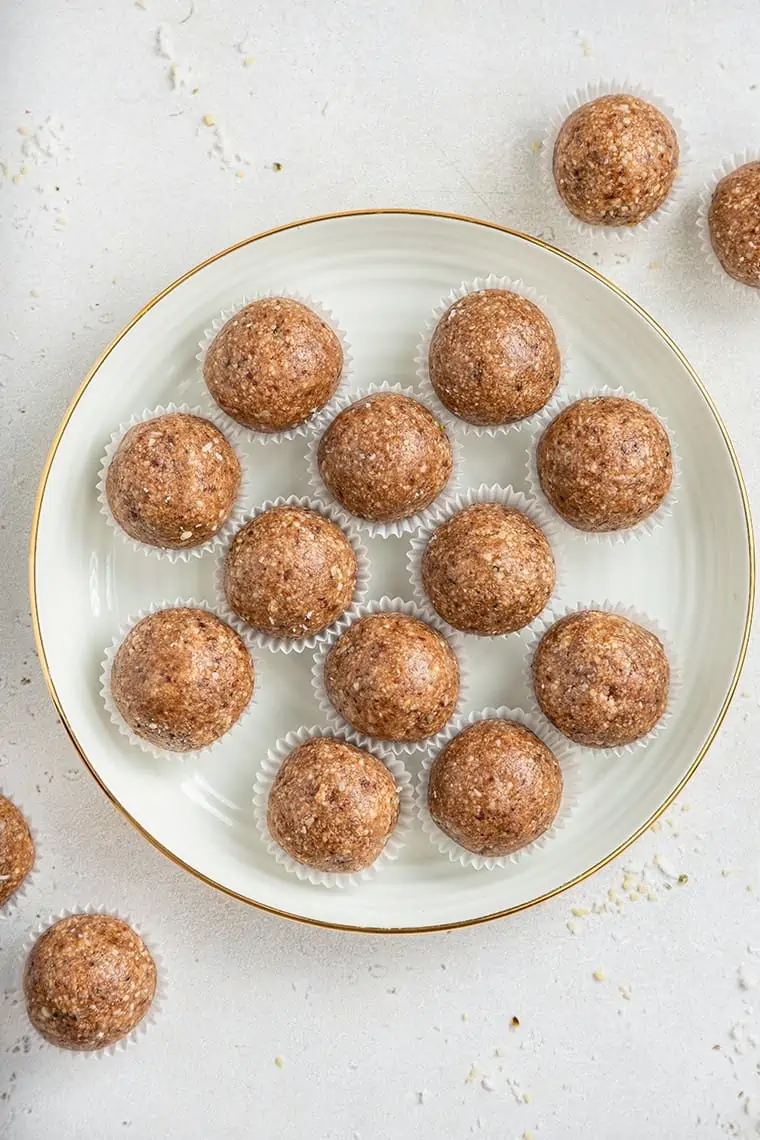 More Vegan Energy Bites to try: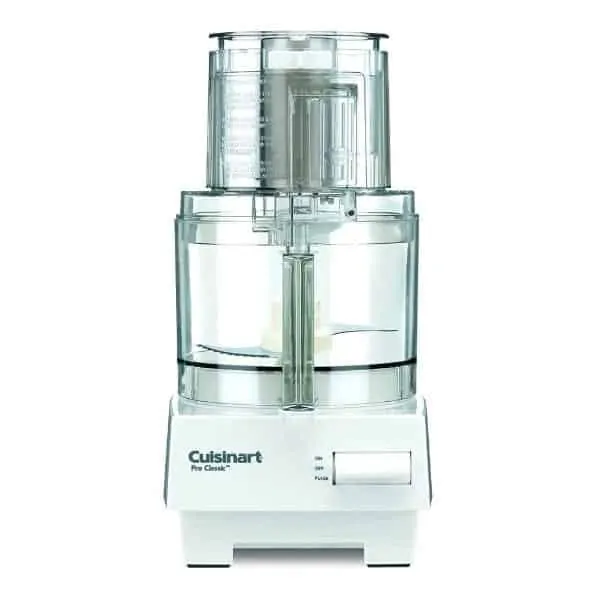 My Favorite Food Processor
This is the food processor I recommend time and time again. It's sturdy, it's powerful and it's reliable!
Salted Caramel Energy Bites
These salted caramel vegan energy bites taste just like a decadent dessert but are actually healthy and nutritious. They're the perfect snack for anyone on-the-go!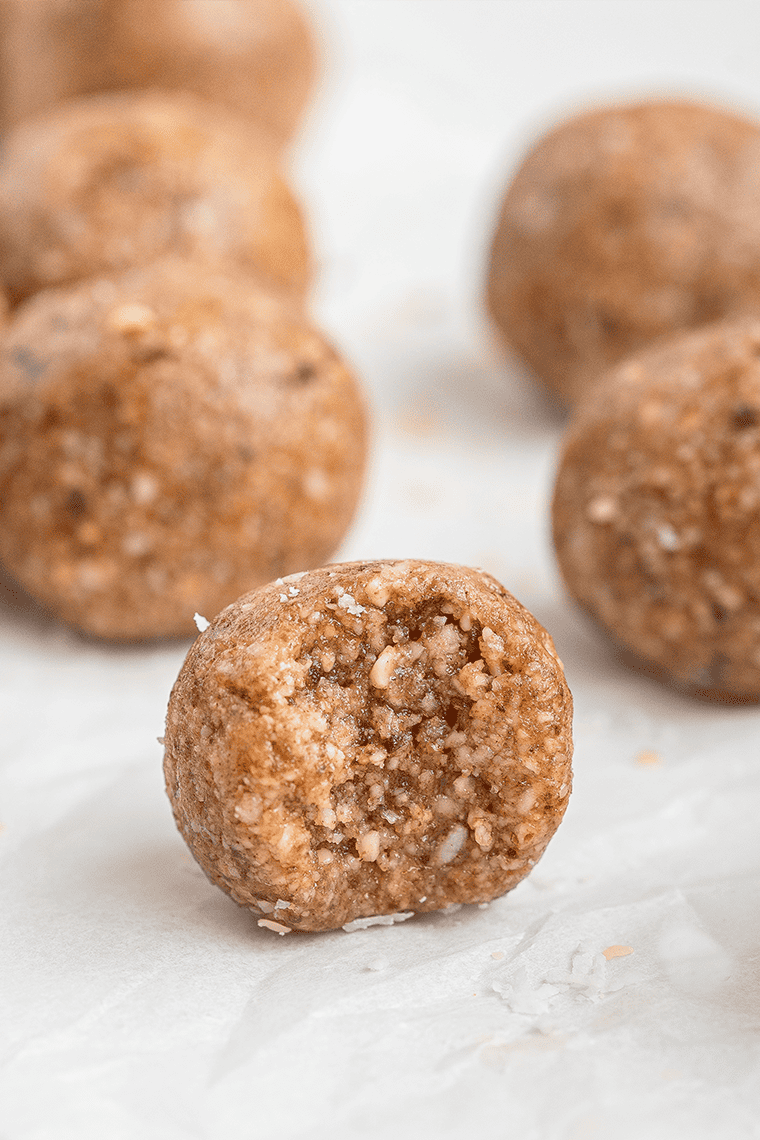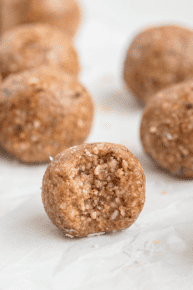 Instructions
In the bowl of a food processor combine the dates and cashews. Process until they resemble coarse sand.

Add the coconut, hemp seeds, cashew butter, syrup, sea salt and cinnamon, and process until a dough forms. If the dough does not come together, add some water, 1 tablespoon at a time until the dough sticks together when you press it between your fingers.

Form 1" balls with your hands and place on a parchment-lined plate. Freeze for at least 60 minutes and then enjoy.

Keep in a covered container in the freezer for best results, but they will also keep in the fridge.
Nutrition
Serving:
1
ball
|
Calories:
103
kcal
|
Carbohydrates:
12
g
|
Protein:
2
g
|
Fat:
6
g
|
Saturated Fat:
2
g
|
Sodium:
159
mg
|
Potassium:
119
mg
|
Fiber:
1
g
|
Sugar:
8
g
|
Vitamin A:
8
IU
|
Calcium:
13
mg
|
Iron:
1
mg
Filed Under: