This healthy soba noodle salad is packed full of colorful vegetables and tossed in a creamy almond butter and sesame dressing. It's easy to make and super tasty!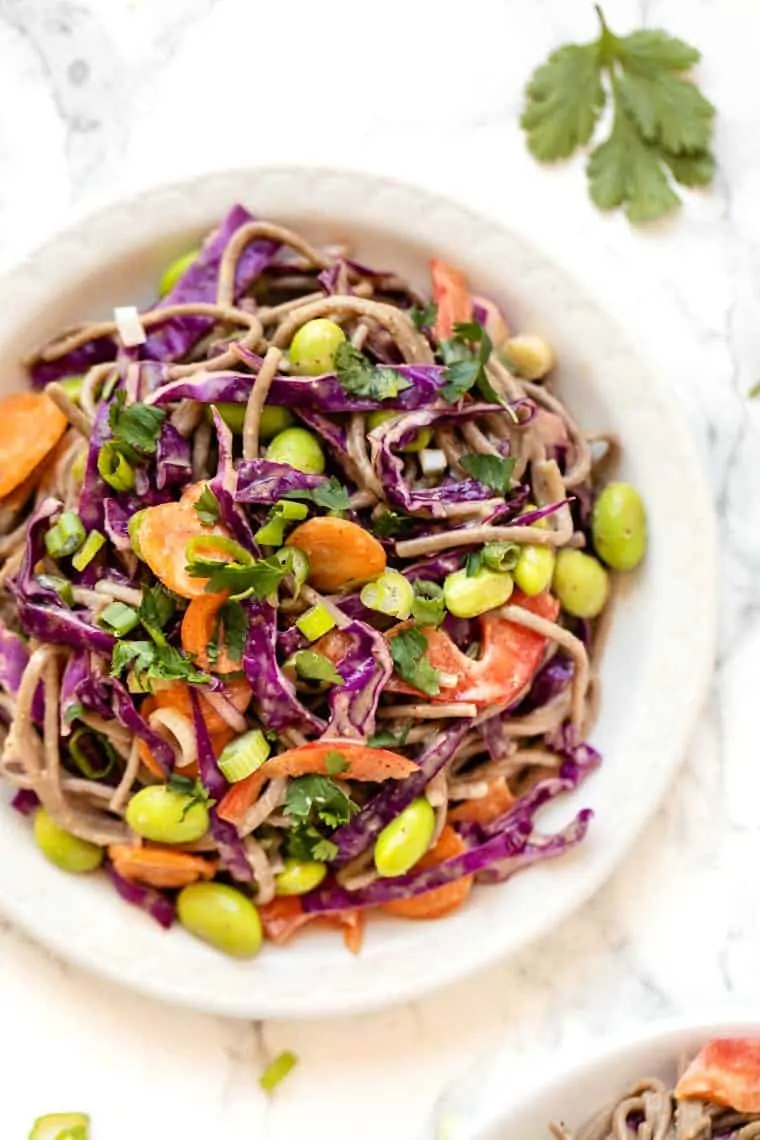 This right here friends is a pasta salad for people who don't like pasta salads. Which basically means I made this salad for myself!
I've never been a fan of pasta salad. I honestly can't put my finger on it, but there's this flavor in pasta salad that I just can't stand. So…if you're like me and don't like pasta salad, have no fear. We have a solution and it's fabulous.
It's this healthy soba noodle salad packed full of colorful veggies and tossed in the dreamiest sesame and almond butter dressing. It's legit the perfect cold noodle salad!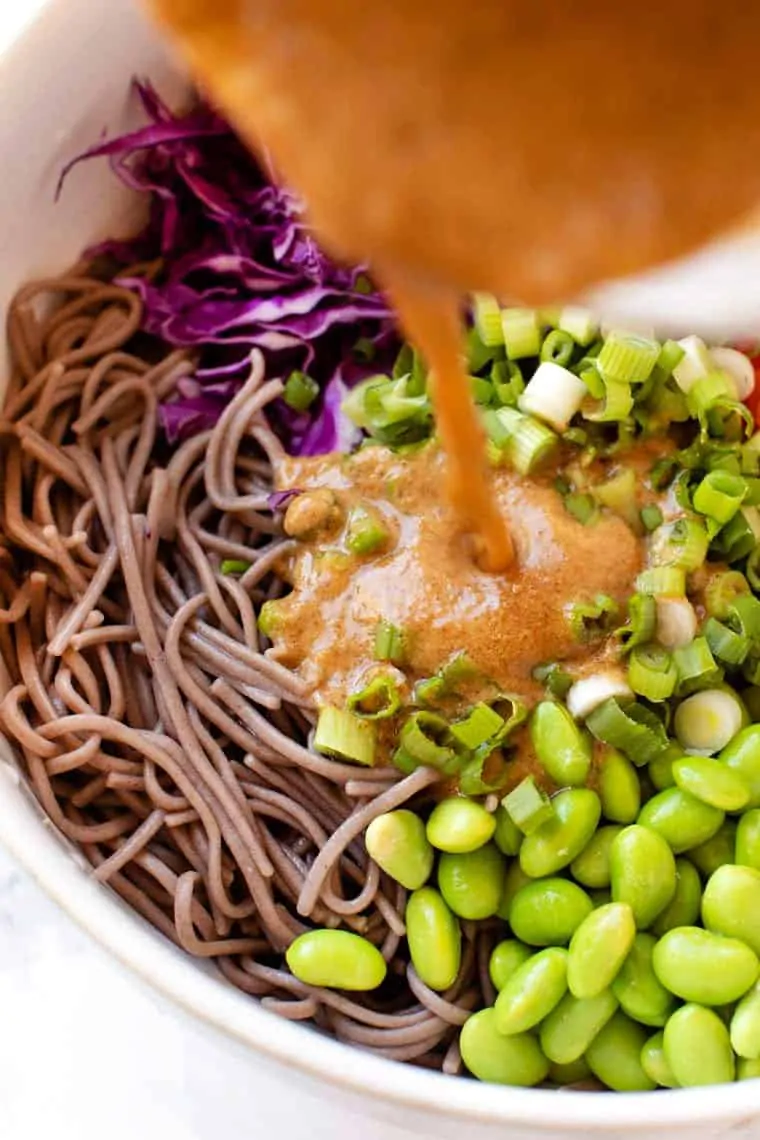 Creamy Almond Butter Dressing…Asian-Style
For any salad, I always think the dressing is the most important part. The dressing is what adds flavor and for this soba noodle salad, we're going all out!
I wanted something that was creamy, but also flavor-packed, so we're combining almond butter and sesame oil as our base.
Dressings also need some sort of acid to brighten things up. Today we're using rice vinegar and lime juice which add that nice Asian-flare but aren't too strong.
To finish it off we have salt and spice: gluten-free tamari for the salt and ginger for the "spice"!
This is a dressing that you could literally put on everything. It's got the perfect creamy texture, it's tangy, bright and goes well with crunchy veggies like we've got here!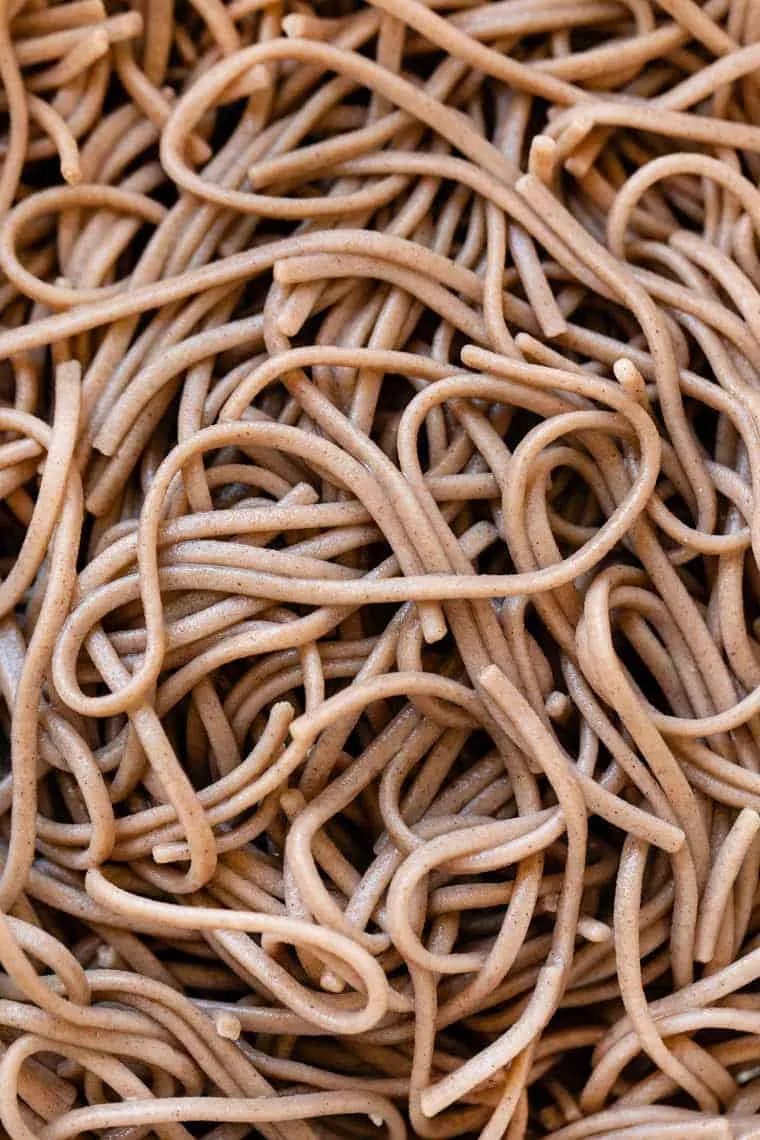 So…Are Soba Noodles Gluten-Free?
Traditional soba noodles are actually not gluten-free, but there are ones out there that are! If you have a gluten allergy or sensitivity, what you need to be careful of is when a package says, "Buckwheat Soba Noodles".
Buckwheat is gluten-free, but a lot of times even though those packages say buckwheat, they are still mixed with wheat. What you are looking for if you're following a gluten-free diet is either:
Otherwise, I'd say that you should steer clear!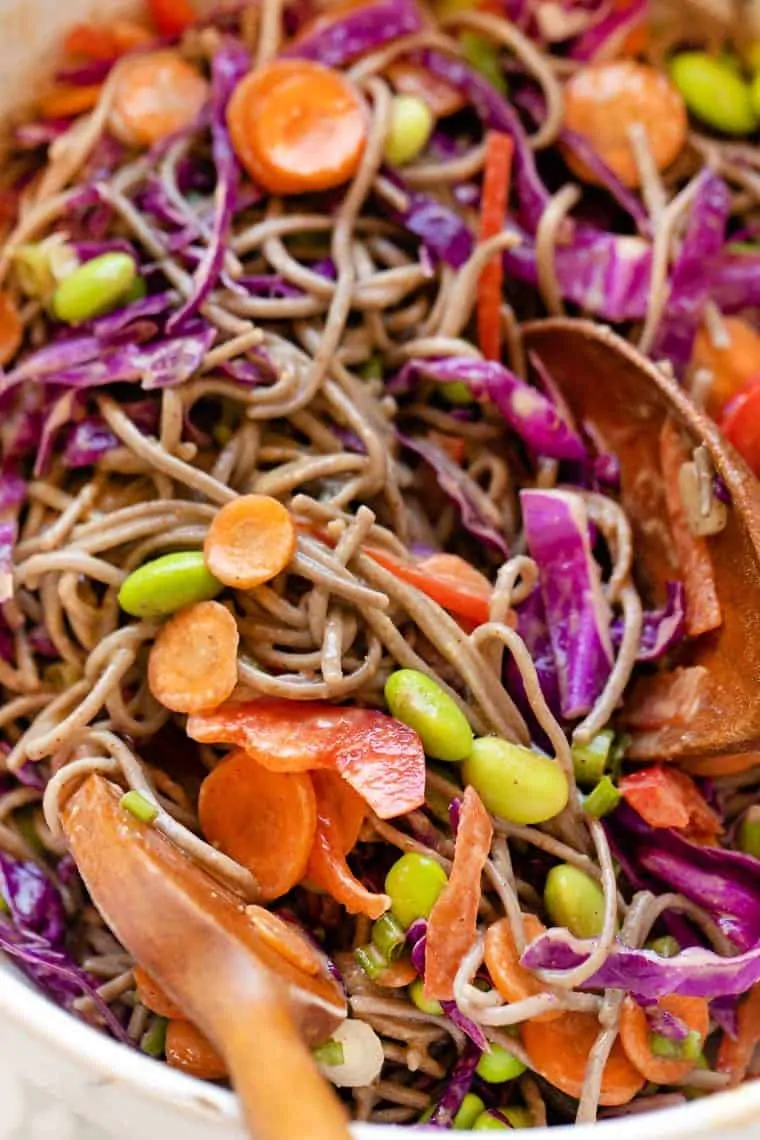 What Goes Well with Soba Noodles?
Soba noodles come from Japan, so they are most commonly used with Asian cuisine. Soba actually is the term for buckwheat in Japanese!
In Japanese cooking, soba is either served hot or cold, and usually prepared fairly simply. But in our westernized take on soba, you'll see them in either noodle soups or salads (like today).
I honestly think you can pretty much put anything with soba noodles since they're a plain noodle, but ones that are 100% buckwheat, definitely have a stronger, nuttier taste. In that case, I would choose ingredients that compliment the earthiness of the buckwheat and help brighten it up.
Think fresh veggies, light proteins (tofu, chicken, fish), and a zesty/tangy dressing. And that's exactly how I put this healthy soba noodle salad together!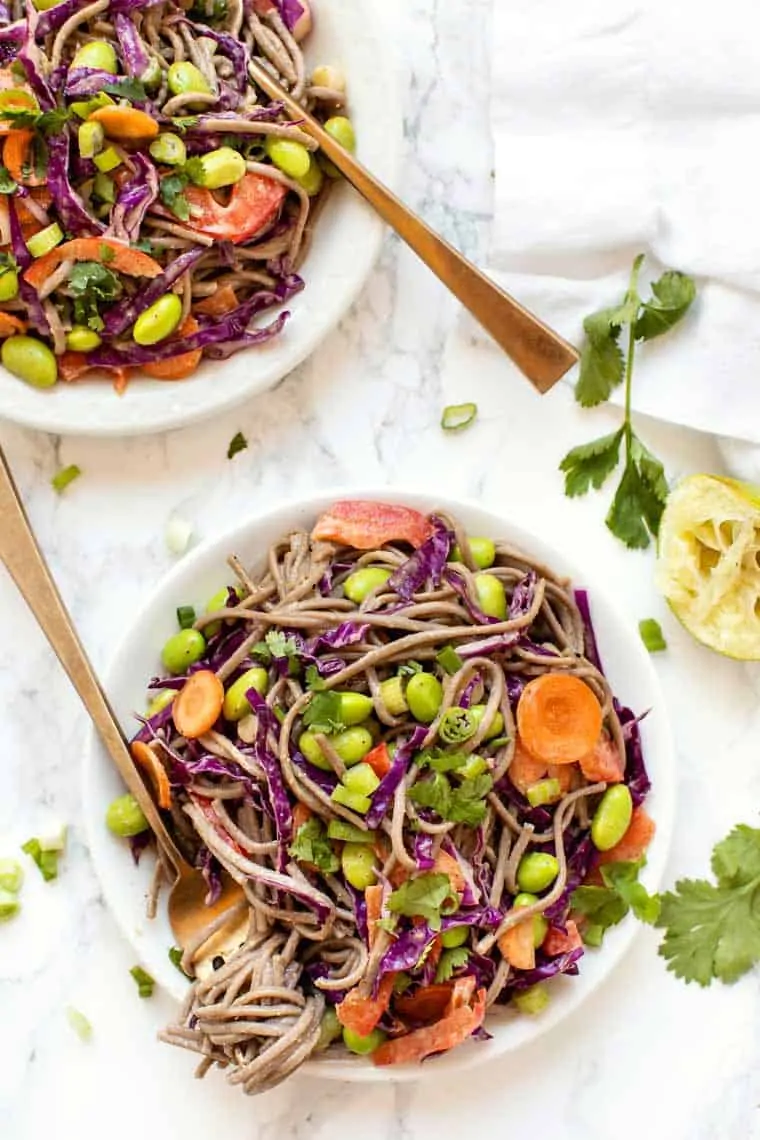 How We Made This Healthy Soba Noodle Salad
I actually used my Asian Quinoa Power Salad as inspiration for this recipe and I'm so happy with the combination of veggies!
I really wanted to this salad to be color, so I settled on using a rainbow color scheme. We've got…
Red bell pepper
Carrots
Edamame and scallions (both green)
Red cabbage
Together they are just so vibrant and pretty!
I also wanted to make sure the salad had texture and nutrition. We've got crunch from the raw veggies, but we've also got protein from the edamame and almond butter. It's healthy, it's delicious and it's so simple to make!
This is just an all-around awesome salad that I think you're going to love all spring and summer long. It's great for a picnic, awesome for lunch and makes a fabulous party dish as well!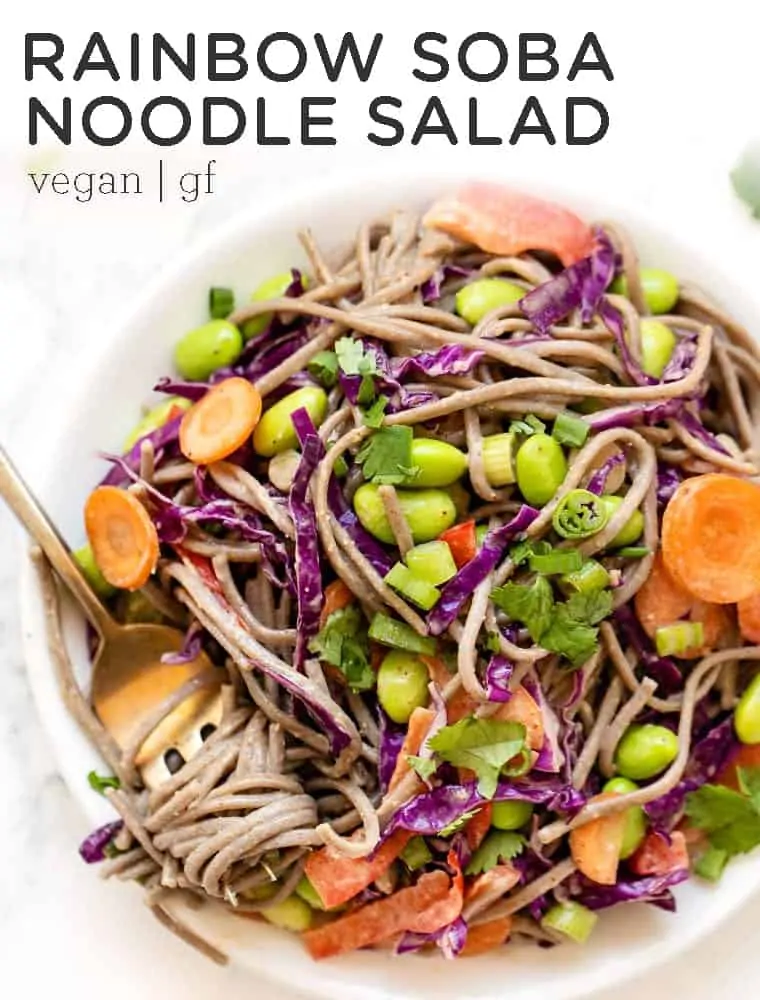 Other Healthy Pasta Salads to try:
Healthy Soba Noodle Salad
This healthy soba noodle salad is packed full of colorful vegetables and tossed in a creamy almond butter and sesame dressing. It's easy to make and super tasty!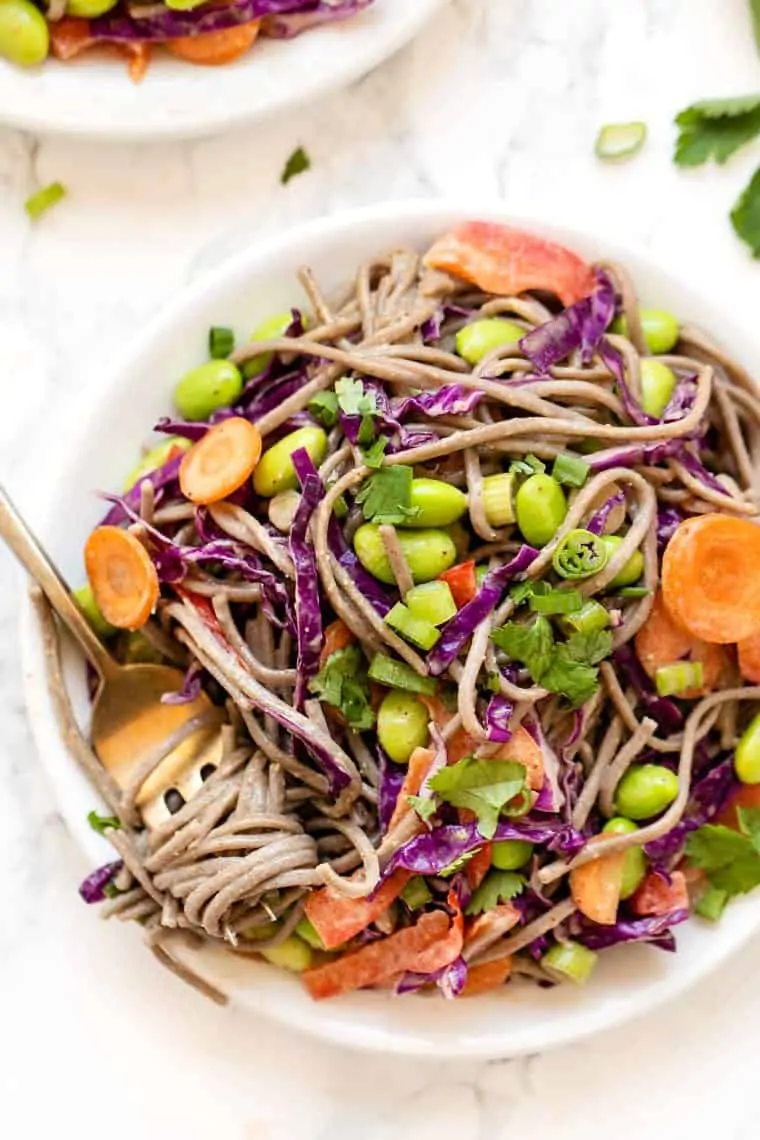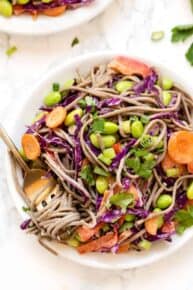 Ingredients
for the salad:
1

cup

shredded purple cabbage

1/2

cup

edamame

, shelled and thawed

1/2

cup

red bell pepper

, sliced

1/4

cup

sliced carrots

1

bunch scallions

, thinly sliced (about 1/4 cup)
Instructions
Cook the soba noodles according to the package instructions.

While the soba noodles are cooking, make the dressing. Whisk together all the ingredients (minus water) until combined. The mixture will be thick, so whisk in some water, about 1 tablespoon at a time, until you reach a consistency that is pourable.

Once the noodles are done, drain them in a colander and rinse them under cold water, using your hands to separate the noodles. Continue to rinse until the noodles are cool and not sticky.

Place the noodles in a large bowl. Add the vegetables and edamame, then pour the dressing over top. Toss together with salad tongs.

Serve immediately or store in the fridge for 2 - 3 days.
Nutrition
Calories:
393
kcal
|
Carbohydrates:
60
g
|
Protein:
14
g
|
Fat:
13
g
|
Saturated Fat:
1
g
|
Sodium:
576
mg
|
Potassium:
441
mg
|
Fiber:
3
g
|
Sugar:
2
g
|
Vitamin A:
2200
IU
|
Vitamin C:
39.8
mg
|
Calcium:
77
mg
|
Iron:
3
mg
Filed Under: