This high protein quinoa bread recipe is the best gluten free bread you'll ever taste! Loaded with protein, whole-grain flours and makes perfect sandwiches!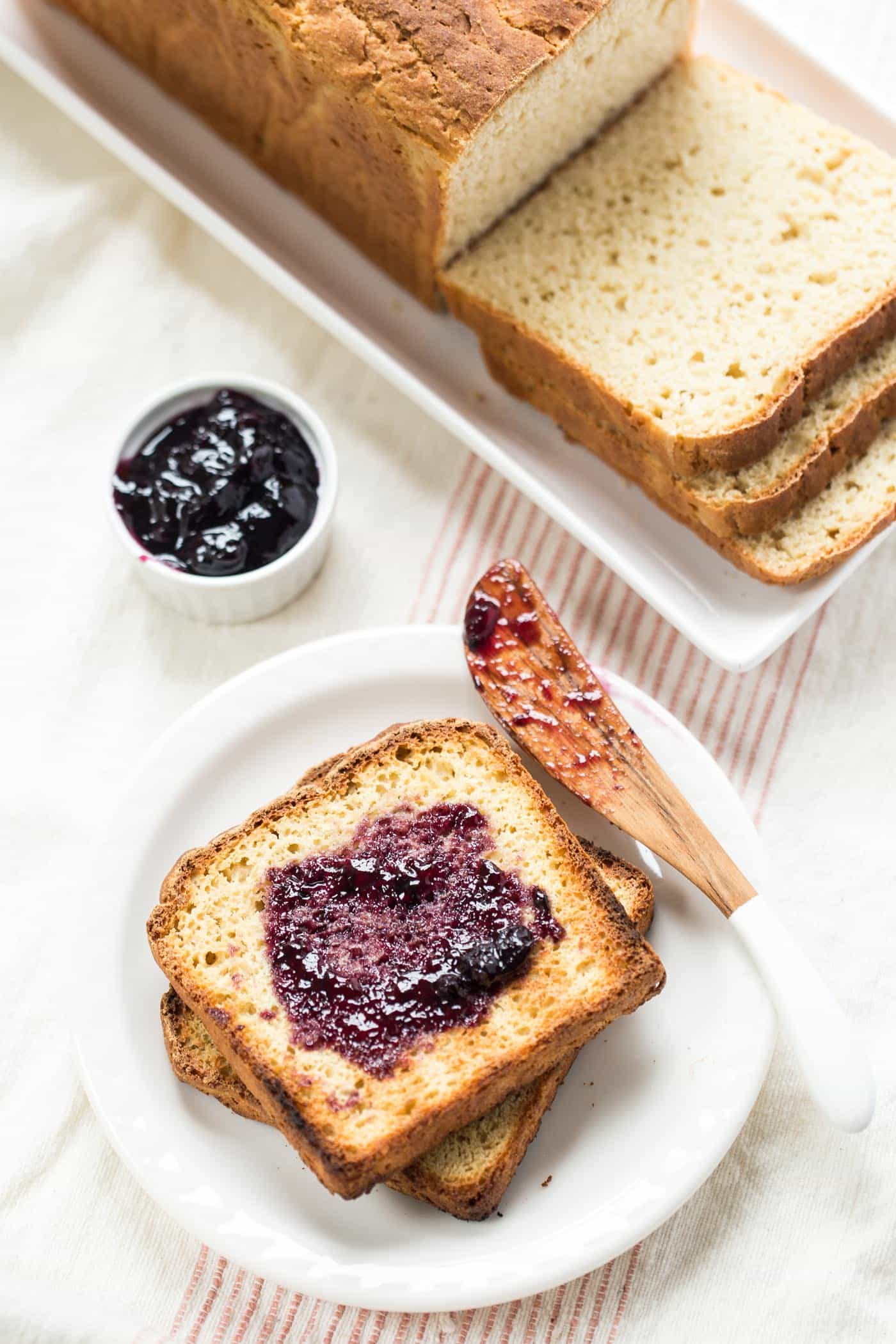 Gluten-free bread. Oh, gluten-free bread. How I love you. And how you make me crazy at times. You're so temperamental. Such an attitude. You sometimes turn out beautifully (like the Gluten-Free English Muffin Bread…hello, gorgeous!) and other times you're just flop. Yes, I'd say that we definitely have a love-hate relationship.
Gluten-free bread is something I've tried to tackle many, many times. I've shared some of my successes on the blog before (hello Gluten-Free Cinnamon Swirl Bread and Pumpkin Quinoa Bread), but there are also lots of failures that I haven't shared. I've tried to make gluten-free bread with no eggs: crumbly. I tried to make a banana oatmeal bread: didn't cook through. I hate to even think about how many ingredients I've wasted over the years.
But that's the price you pay when you can't eat gluten and you love bread. So when I finally nail the perfect sandwich bread, I just HAVE to share it. Enter my newest obsession: high protein quinoa bread!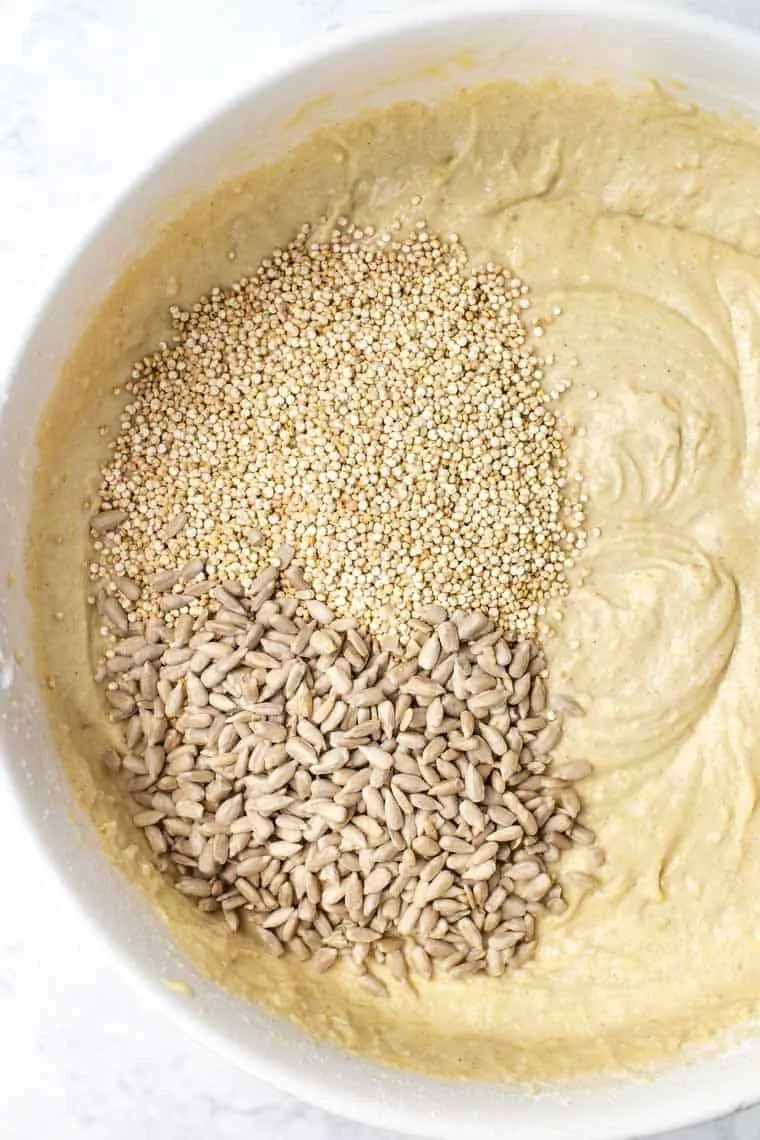 What is Gluten Free Bread Made of?
My dilemma this time around was that I wanted a gluten-free bread that was lower in starch than my normal recipes, but also higher in protein. After a little research, it turns out, protein actually helps give gluten-free bread some of its structure, so we were in luck.
Really, it makes sense if you think about it. Gluten is a protein itself and is found in "regular" flour and forms when flour and water are combined. It turns into this stretchy, elastic thing that helps us make things like pasta, kneadable bread dough, and pizza dough that you can flip over your head. Basically, gluten helps give structure to the dough, especially in yeast bread, as they rely heavily on the formation of gluten.
Ingredients used in a Quinoa Bread Recipe
So taking that knowledge and switching to gluten-free flour, where there is none of this protein is available, adding more protein to your flour blend makes sense. I would even venture to say the more proteins you can add to your bread dough, often times the better. Or at least you'll have a better structure to your yeast bread.
The flours we're using for this gluten free bread are:
quinoa flour: naturally high in protein
chickpea flour: made from chickpeas!
sorghum flour: which is an ancient grain and also has a little protein
potato starch: gives it some binding action and also might it nice and light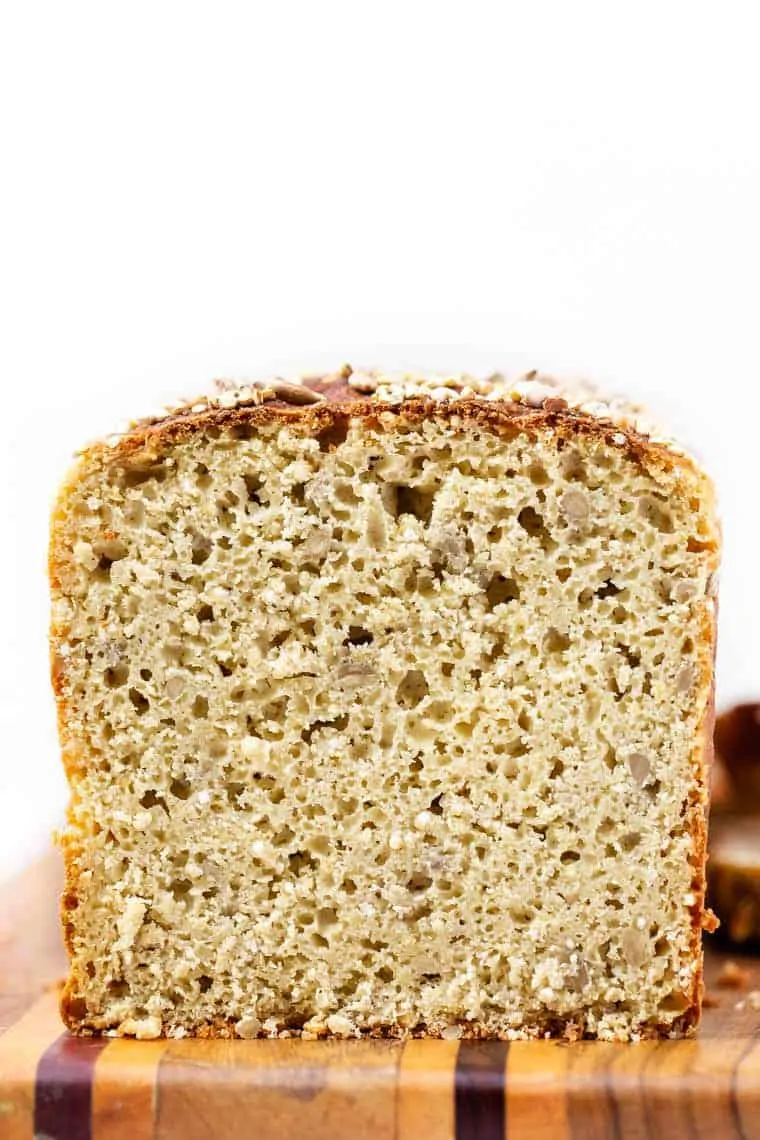 How to Make Gluten-Free Bread at Home
Now, before we get to the recipe, I just to give you a few tips for making gluten-free bread!
Use a mixer: it can take a long time to beat your ingredients together, so I recommend a stand mixer or electric hand mixer
Don't expect the same texture: gluten-free bread "dough" is more like a batter, so don't expect something you can knead by hand
Skip the second rise: gluten-free bread doesn't need a second proof unlike other breads. Just one rise and then pop it in the oven to bake!
Keeping it fresh: gluten-free bread goes stale really quickly, so I like to only keep it on the counter for 1 day. Otherwise, I'll slice it and freeze it, then reheat in the toaster oven
Have fun with the mix-ins: if you don't like what we're using here, feel free to swap with anything else!
And I will say, this is my new favorite bread recipe. It has a nice whole grain flavor, a perfect crumb and it toasts up beautifully. You could use it for sandwiches in your kiddos lunch boxes, you could have avocado toast for breakfast or you could make french toast next weekend. It's incredibly versatile, and is full of whole-grain goodies!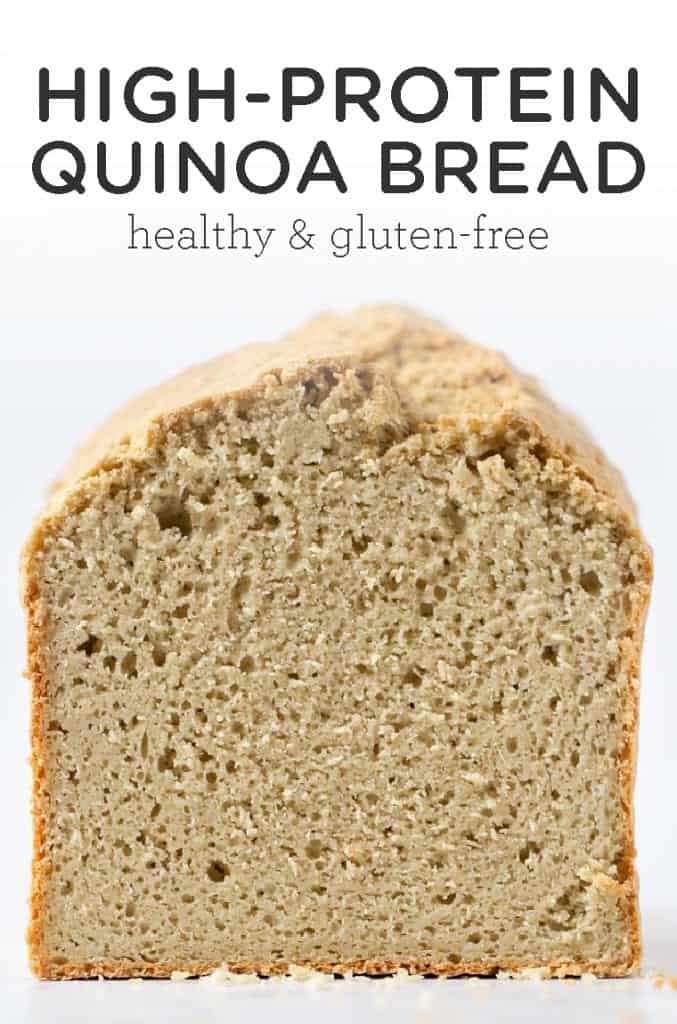 More Gluten Free Bread Recipes to try:
High Protein Quinoa Bread
You will this homemade Gluten-Free Quinoa Bread that is healthy, made with whole grains and also dairy-free! Makes awesome sandwich bread and toasts up beautifully! Yum!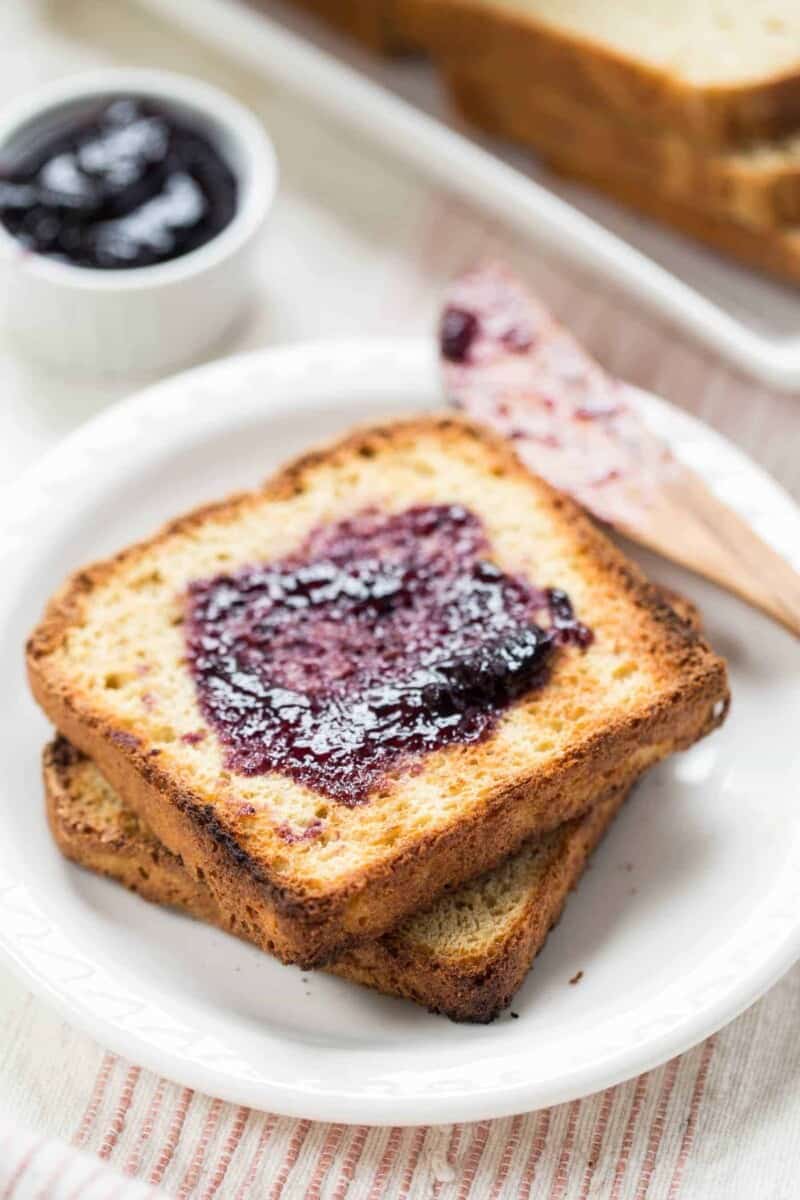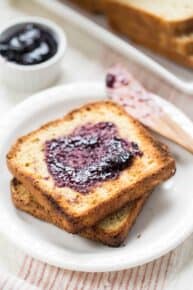 Instructions
Whisk honey into warm water and add yeast. Let stand for 5 - 8 minutes until yeast has bloomed and is puffy.

Meanwhile, whisk together dry ingredients and add to the bowl of a stand mixer. In a small bowl, beat together eggs and oil.

With the mixer running on low speed, add yeast mixture and let incorporate for a few seconds. Add eggs and almond oil, and mix for 2 minutes. Turn mixer to medium speed, and mix for another minute, adding raw quinoa, sunflower seeds, and poppy seeds if using.

Line a loaf pan (

I recommend this one

)with parchment paper and pour dough inside. Place in a warm, draft-free space in your house and let rise for 30 - 45 minutes until loaf has doubled in size.

Preheat the oven to 375 degrees F. When dough has risen, bake on the center rack for 40 - 50 minutes until loaf is browned and sounds hollow when you tap on it.

Remove bread from pan and let cool completely on a wire rack before slicing. Store extra bread in freezer (wrap in tinfoil and place in a sealable plastic bag.
Notes
* If you don't have a warm place in your house to rise the bread, turn your oven for 2 minutes, then turn off and place bread inside.
** To toast your quinoa flour, preheat your oven to 300 degrees F. Line a baking sheet with parchment paper and spread your quinoa flour onto the baking sheet in a thin layer. Bake for 1 - 2 hours, stirring every 30 minutes or so, until the flour has turned golden brown.
FOR WEIGHT MEASUREMENTS (old version of recipe):
2½ teaspoons active dry yeast

1½ cups water, about 90 degrees

2 tablespoons honey

4.5 oz chickpea / garbanzo bean flour

4.5 oz toasted quinoa flour 

3.5 oz sorghum flour

4.5 oz potato starch

2 teaspoons xanthan gum

1 teaspoon fine sea salt

3 large eggs, at room temperature

3 tablespoons almond oil (or other light flavored oil)

2 tablespoons raw white quinoa (optional)

2 tablespoons raw sunflower seeds (optional)

1 tablespoon poppy seeds (optional)
Nutrition
Serving:
1
slice
|
Calories:
130
kcal
|
Carbohydrates:
19
g
|
Protein:
4
g
|
Fat:
3
g
|
Cholesterol:
24
mg
|
Sodium:
145
mg
|
Potassium:
164
mg
|
Fiber:
2
g
|
Sugar:
2
g
|
Vitamin A:
35
IU
|
Vitamin C:
0.3
mg
|
Calcium:
15
mg
|
Iron:
0.9
mg
Filed Under: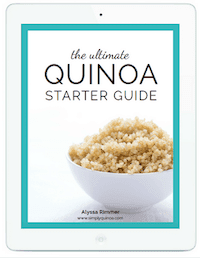 New to cooking quinoa? Grab your FREE Quinoa Starter Guide!
Become part of the Simply Quinoa community and receive weekly emails with exclusive content that I only share in email, as well as my in-depth guide to starting your quinoa journey.