An almond flour bread that's high in protein, naturally gluten-free and dairy-free! It uses a hearty blend of almond flour, quinoa flour and flax.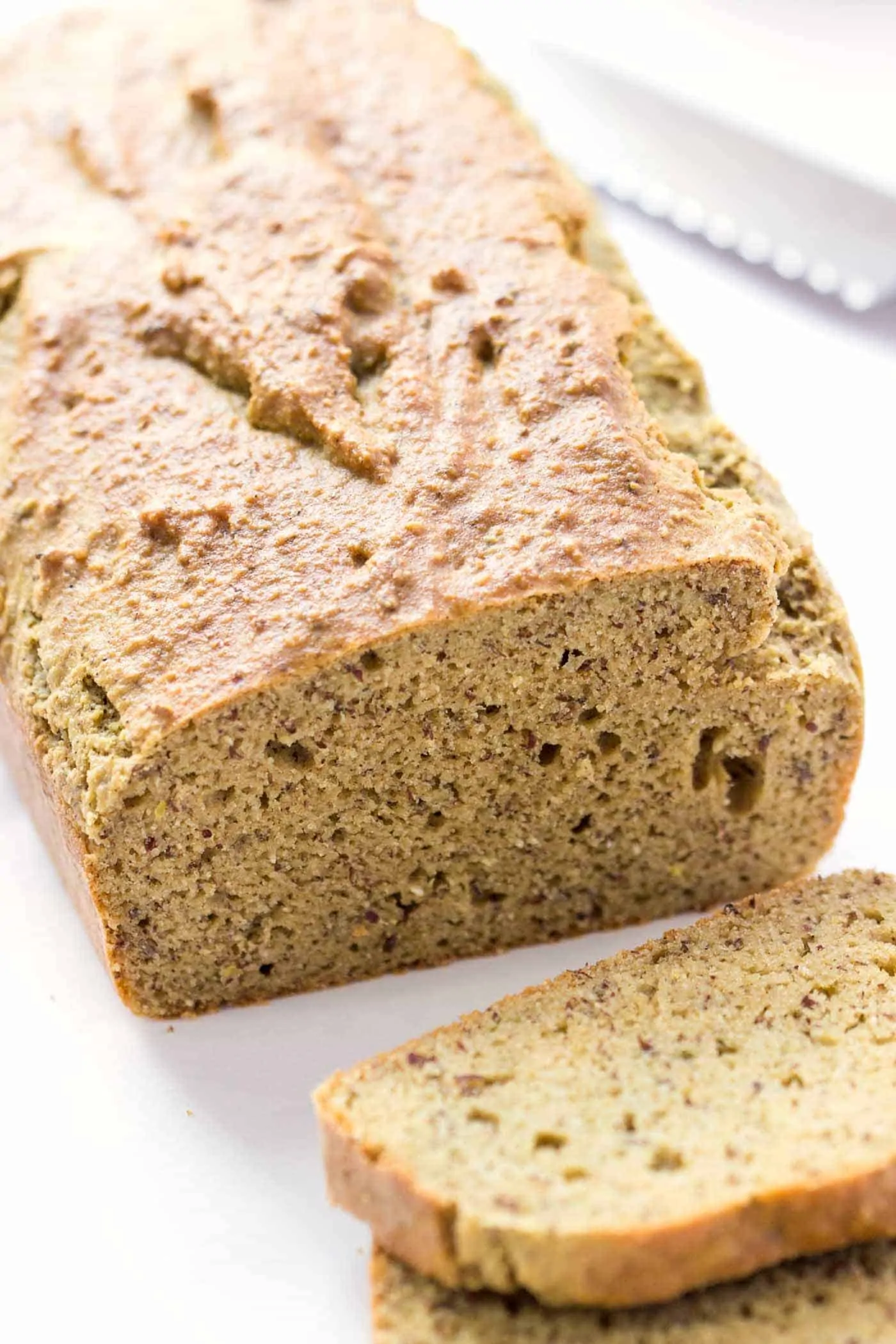 We're baking bread today, my friends! And it's quite the feat for me because homemade bread hasn't happened in over a year at my house.
I used to bake bread all the time, but honestly I think this past year laziness just got the better of me. I didn't feel like pulling out my stand mixer, proofing my yeast, waiting for the bread to rise and then waiting another hour while it bakes. So I just skipped it.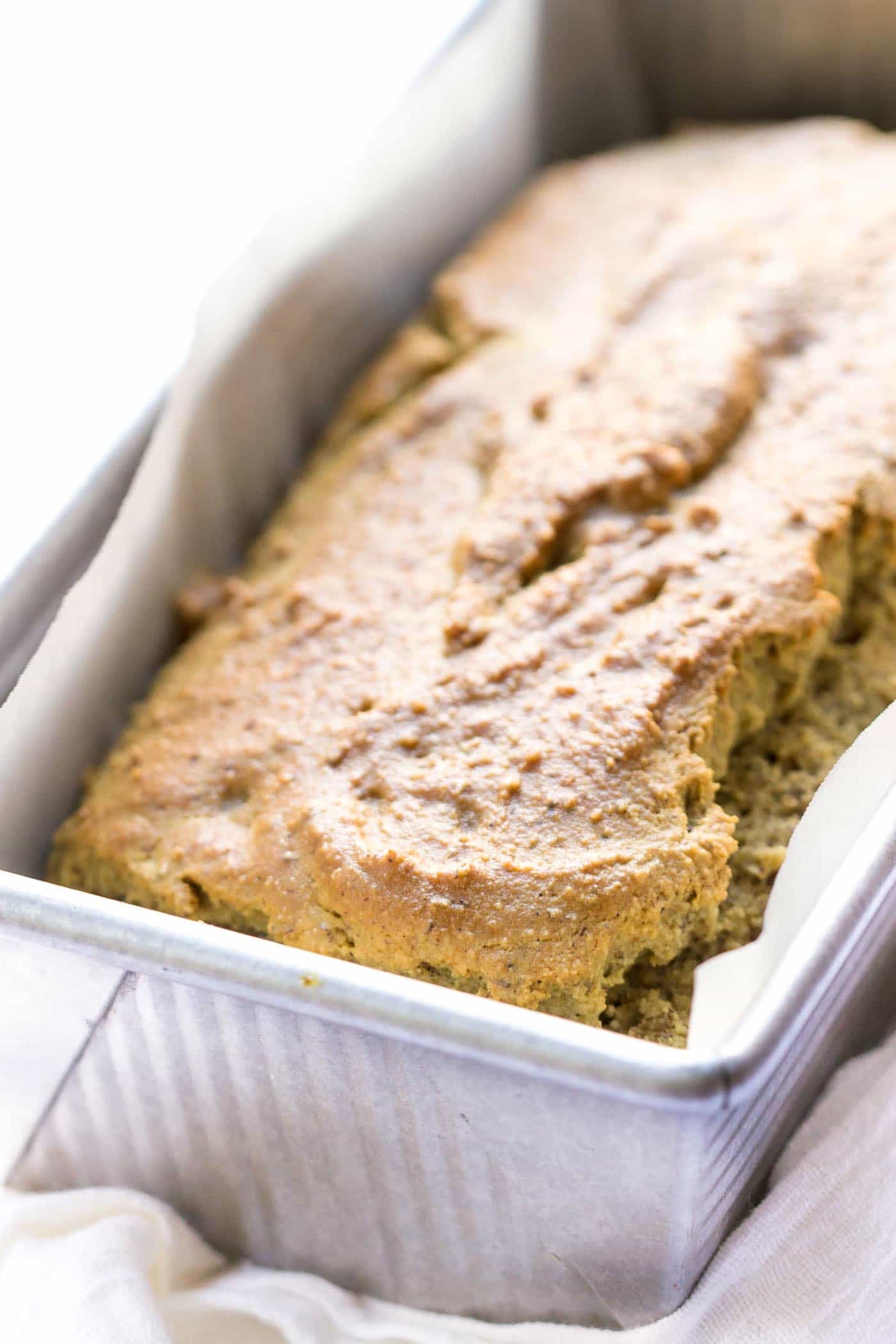 Since it's been so long since I made bread, I was feeling the need to change things up. I love my high-protein quinoa bread, but when the mood for bread struck I was still in major lazy mode. So the goal with this new recipe was to give you something that was easy and still really healthy.
So that's what we've got. A bread that bakes in just 30 minutes, doesn't require any yeast or rising, and is made in your food processor. There's no gluten or dairy AND it uses two super high-protein flours. I'm thinking you're going to be really excited when you see the recipe 😉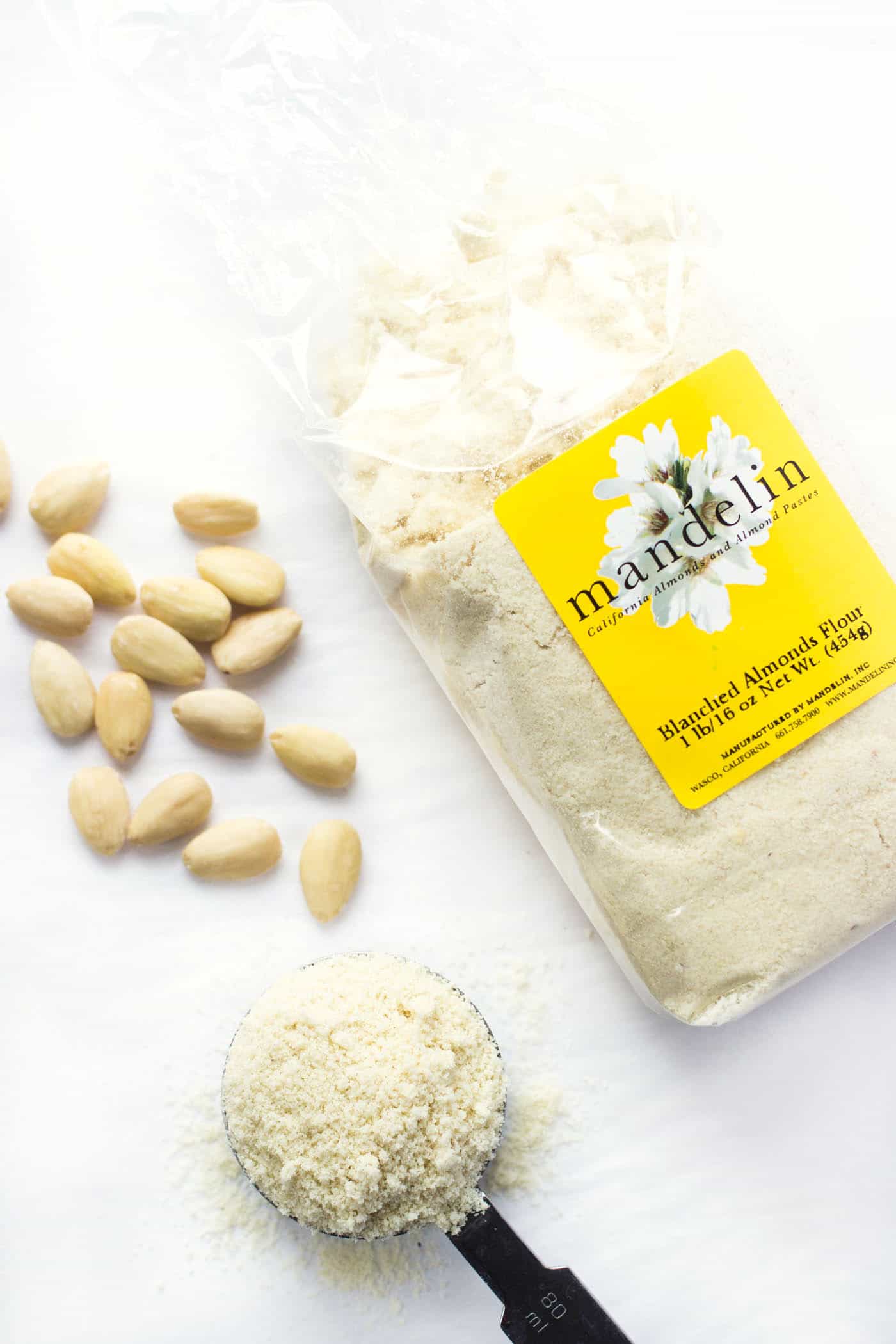 The base of this recipe is a blend of toasted quinoa flour and blanched almond flour. The bulk of the dry ingredients is actually the blanched almond flour which I think makes the bread have this wonderful nutty flavor and gorgeous texture. I love using it in my baking – you've probably seen it in a lot of my recipes – and this almond flour bread is no exception.
Almond flour can be a tricky ingredient to work with, so I always recommend that you find a high quality blanched almond flour. Blanched means that the skins have been removed from the almonds before they are ground into a flour. This means the flour is a lot lighter in color and won't cause your recipes to be really dark brown.
The other thing you want to keep an eye out for is how coarse the flour is. I always use finely ground almond flour which is not the same as almond meal. And it's not really something you can make at home either. When you make almond flour at home (like in your food processor) you're going to get the texture of almond meal.
In today's recipe I'm using the blanched almond flour from Mandelin which is a company I just discovered and absolutely love. They're based in California and source all their almonds from there too. Their flours are very high quality, have a delicious flavor and bake up wonderfully. They were kind enough to send me a goodie box of their almond products and I've already gone through all my almond flour. You can check out their website to order some of their flour if you're interested in trying it!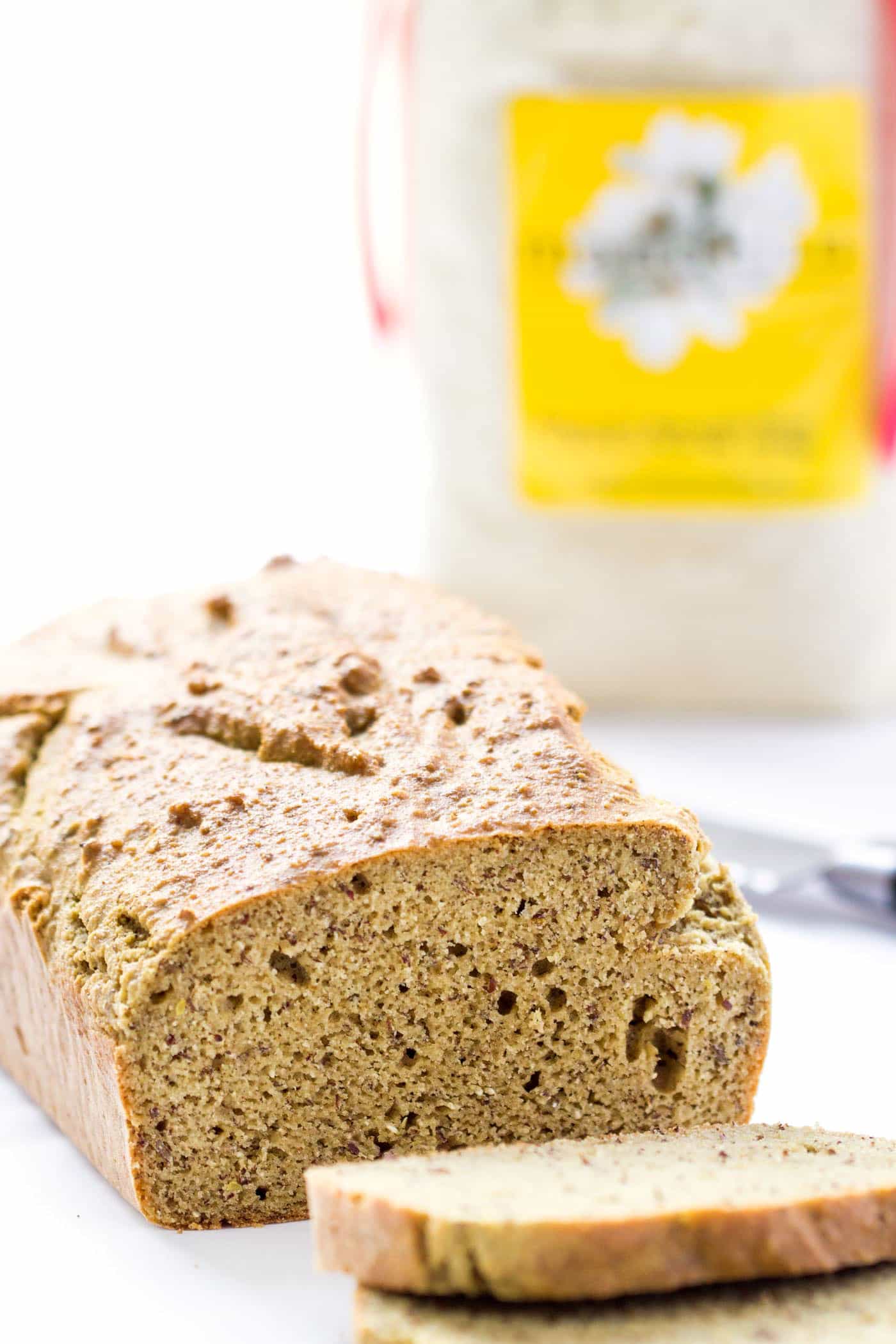 After the almond and quinoa flour, we add just a touch of arrowroot powder for some lightness and binding, some flaxseed meal for more nutrition, and some coconut flour, which again helps bring the bread together and create a really nice crumb.
The rise we get from baking soda which is activated by apple cider vinegar. I was actually surprised how well it rose – it's making me want to try more yeast-free bread options!
The wet ingredients are mainly eggs, with the addition of a touch of maple syrup and olive oil. All in all, there are only 11 ingredients and it's made in one bowl (or food processor). Couldn't be easier!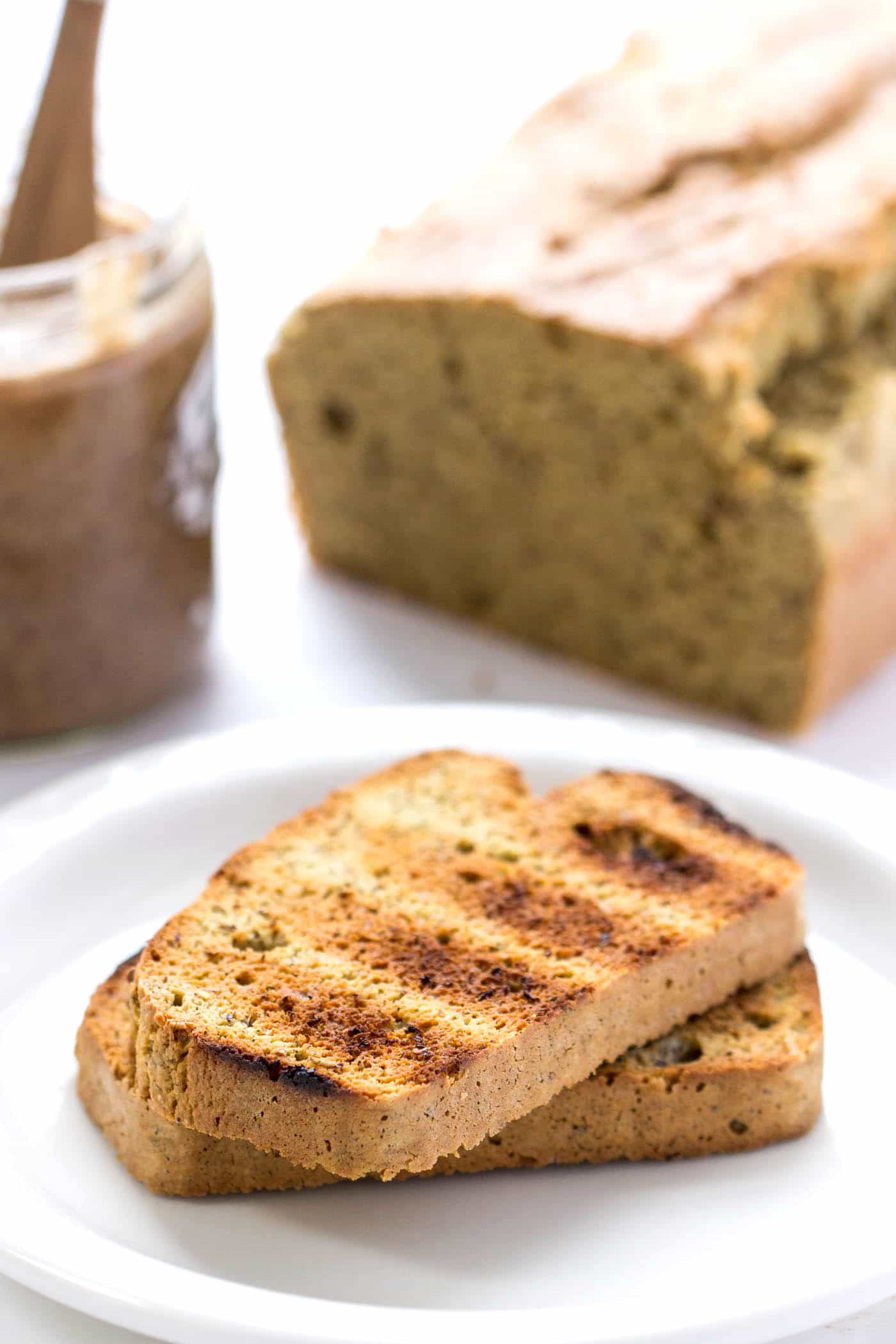 Now as with a lot of bread baking, there are likely going to be some questions about substitutions and changes. So I'd thought I'd run through those right here:
Almond flour vs. almond meal: like I mentioned above, these two flours are not the same and I don't recommend substituting them 1:1. If you do want to use almond meal, you're going to have to adjust your other ingredients to compromise for the change in texture.
Nut-free: I'm sure some of you are wondering what you can substitute for the almonds all together. Unfortunately, this recipe was developed specifically for almond flour and I don't think their will be a suitable alternative. If you want to try a nut-free bread, check out my high-protein quinoa bread!
Egg-free: this recipe calls for 5 eggs and relies heavily on them for not only moisture, but also texture and rise. I have not tested this without eggs and honestly can't say if it will work. You could try using an egg substitute, but I don't think you will get the same rise. You might also have to increase your baking time.
No food processor: I made this in the food processor, but you can absolutely make it in a bowl or your stand mixer. If you're making it in a bowl, I recommend that you use an electric mixer to really get the ingredients incorporated. You might also want to beat the eggs in a separate bowl before adding them to the dry ingredients.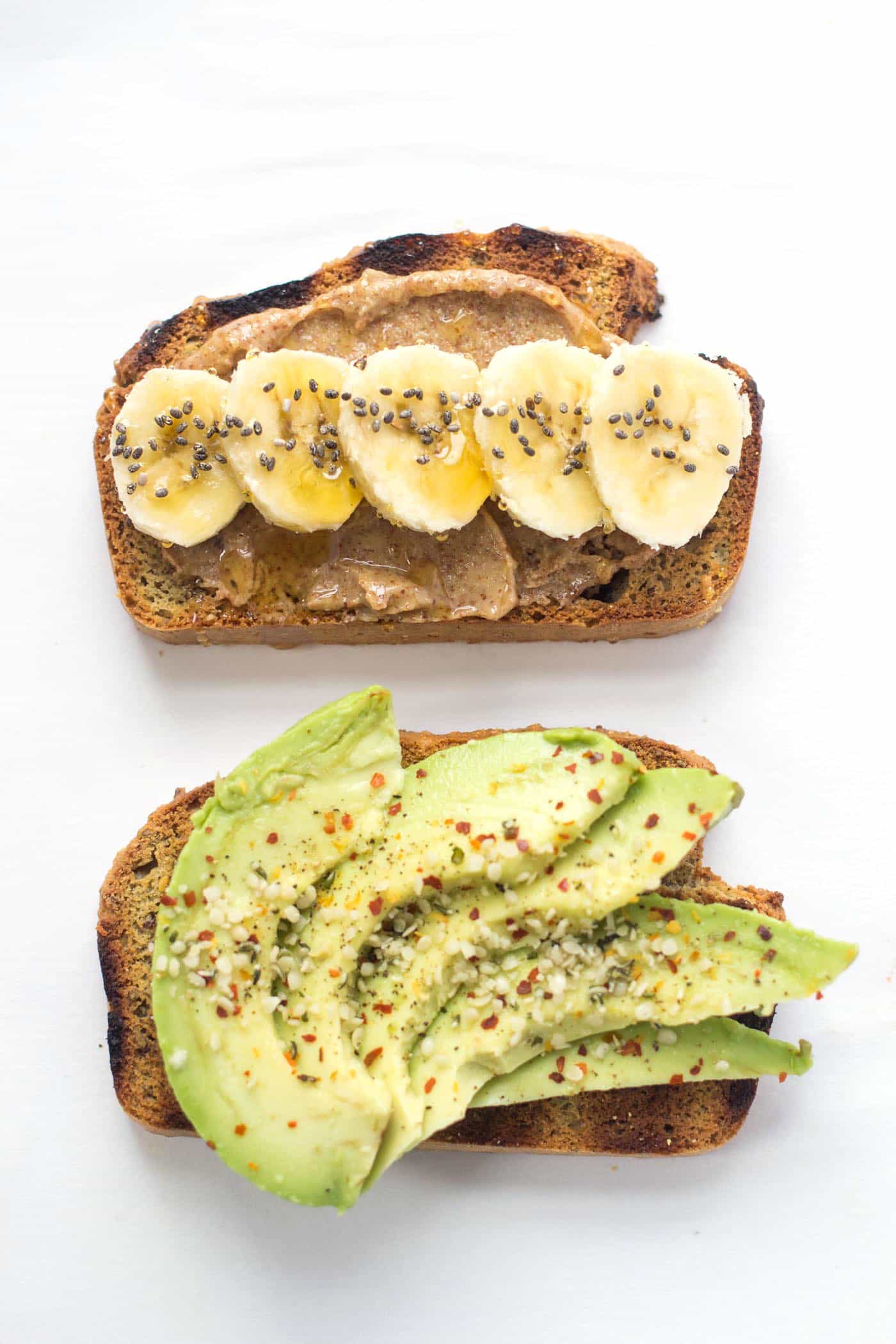 And now that we've gotten those questions answered, it's time to have some bread, don't you think?
My favorite way to enjoy this almond flour bread is toasted. Since I can never decide between sweet and savory, I usually do one slice with almond butter and banana (and in this case chia seeds) and one with avocado. It makes for such a delicious breakfast or lunch and packs a powerful punch in the nutrition department. All those healthy fats and fiber are going to keep you fueled and energized!
Your turn…
What are you favorite toast toppings? There are so many ways to enjoy breakfast toast and I'd love to hear what you usually make. I'm always looking to change up my morning meals 🙂
xo Alyssa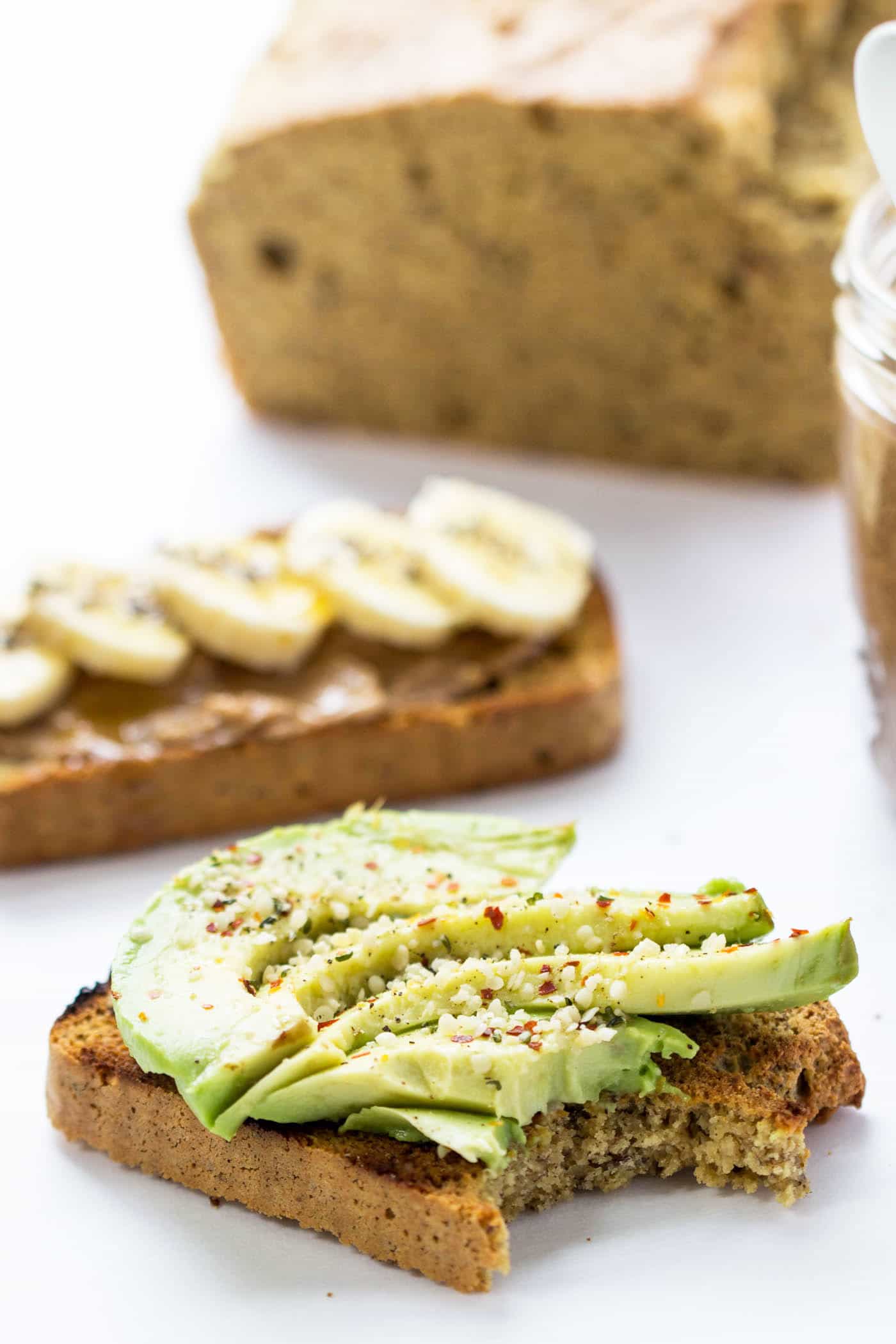 More Amazing Bread Recipes to try:
Quinoa Almond Flour Bread
A bread that bakes in just 30 minutes, doesn't require any yeast or rising, and is made in your food processor. There's no gluten or dairy AND it uses two super high-protein flours.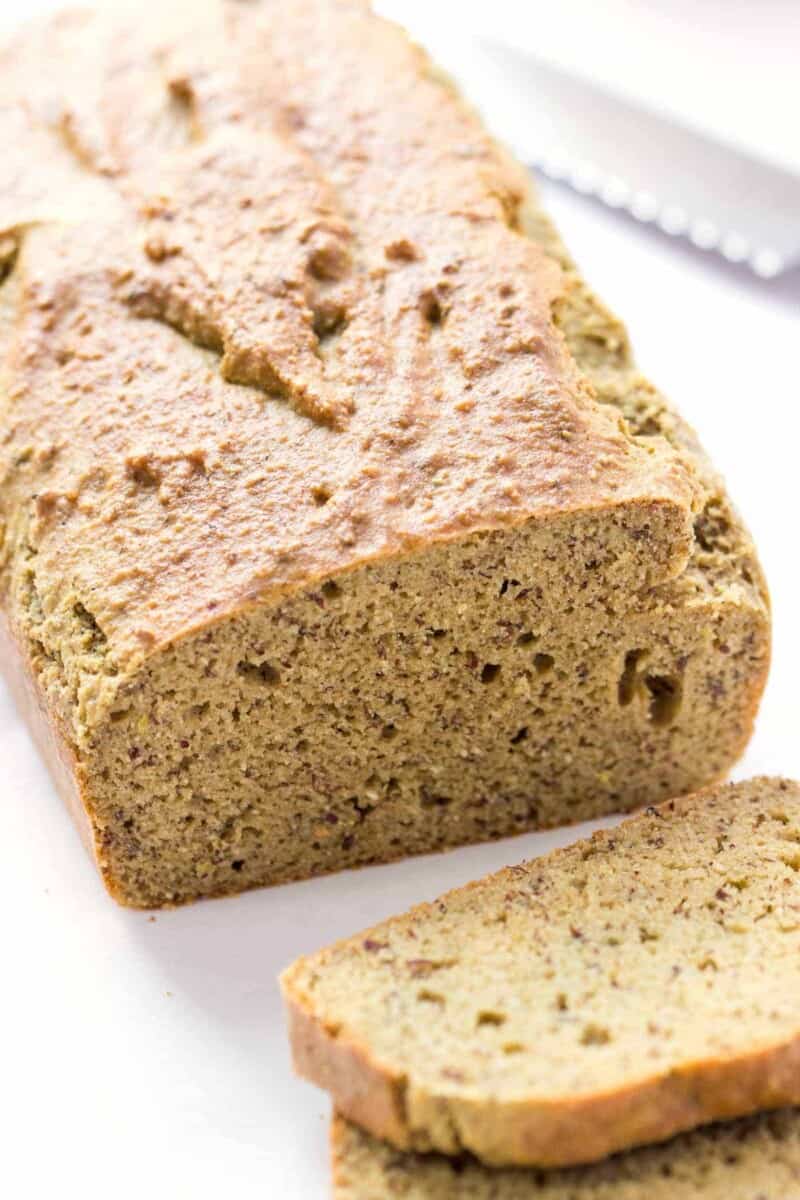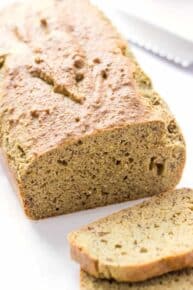 Instructions
Preheat the oven to 350ºF. Line a loaf pan with parchment paper and set aside.

Add the dry ingredients to the bowl of a food processor and pulse to combine. Add eggs, oil, syrup and vinegar and process until smooth.

Transfer batter to prepared loaf tin and bake on the center rack for 25 - 35 minutes (mine took 30) until the top has turned golden brown and a cake tester inserted into the center comes out clean.

Cool in the pan for 1 hour then transfer to a wire rack and cool completely before slicing.
Nutrition
Calories:
109
kcal
|
Carbohydrates:
6
g
|
Protein:
4
g
|
Fat:
7
g
|
Cholesterol:
45
mg
|
Sodium:
82
mg
|
Potassium:
37
mg
|
Fiber:
2
g
|
Sugar:
1
g
|
Vitamin A:
65
IU
|
Calcium:
35
mg
|
Iron:
0.8
mg
Filed Under: