Whip up this delicious Honey Blueberry Quinoa Granola for breakfast! Healthy, gluten-free, flavorful and fiber-rich to keep you full all morning long!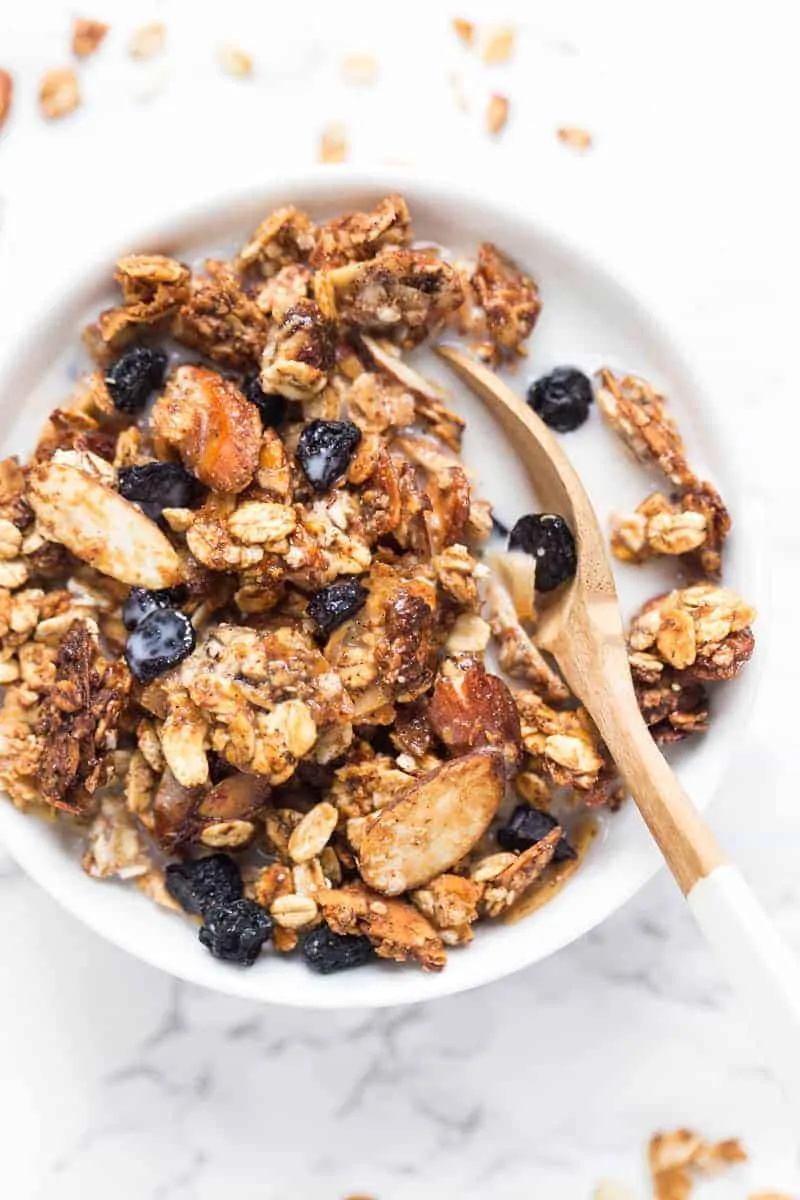 Can we just talk about the world of health food products for a moment? I mean really, it's kind of insane how many specialty products are out there now. Don't get me wrong, I love all the variety and options, but it's a little overwhelming. I was walking down the cereal aisle at Whole Foods last week and no joke there was probably 20 different brands of granola. All with their own twist, but still…how many do we really need!?
Like granola is one of those things that is SO simple to make from scratch. Do we have to spend $6+ per bag when we can just as easily make a glorious batch of homemade granola at home? And even if you're passing up on the convenience of store-bought, I still vote granola from scratch any day of the week!
Today we're making a new version of quinoa granola and I'm pumped. We're using honey to sweeten and dried blueberries for added flavor. It's perfectly sweet, totally crunchy and tastes delicious!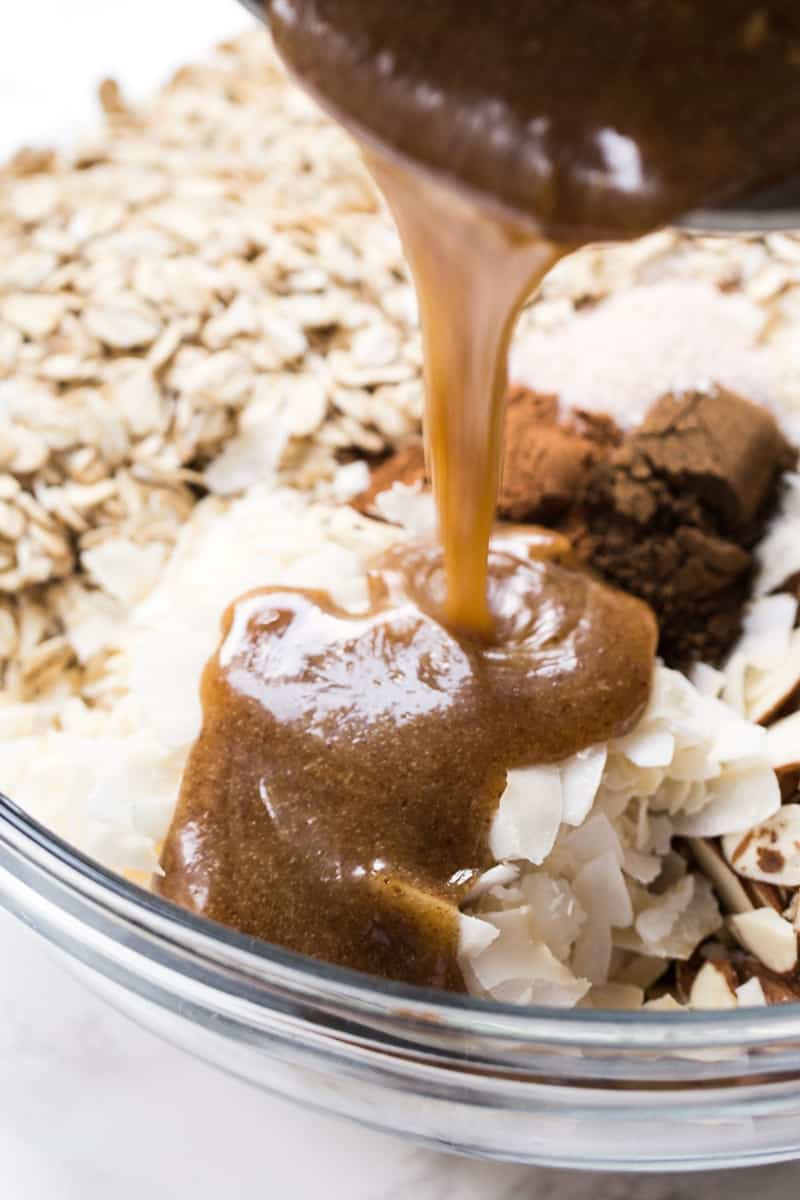 Traditional granola recipes usually call for a lot of oil or butter. Personally, I like to keep the oil down and instead, I like to use nut butter. You're still getting fat which helps to crisp up the granola, but you're also getting that delectable nuttiness AND it helps the granola clump together. I'm all about those granola clumps!
My trick for making sure you can easily stir in the nut butter is to actually melt it on the stove with the other liquid ingredients. In this recipe, we're using honey, almond butter, a little coconut oil, and water, and by melting everything together it's the perfect consistency to stir into our granola.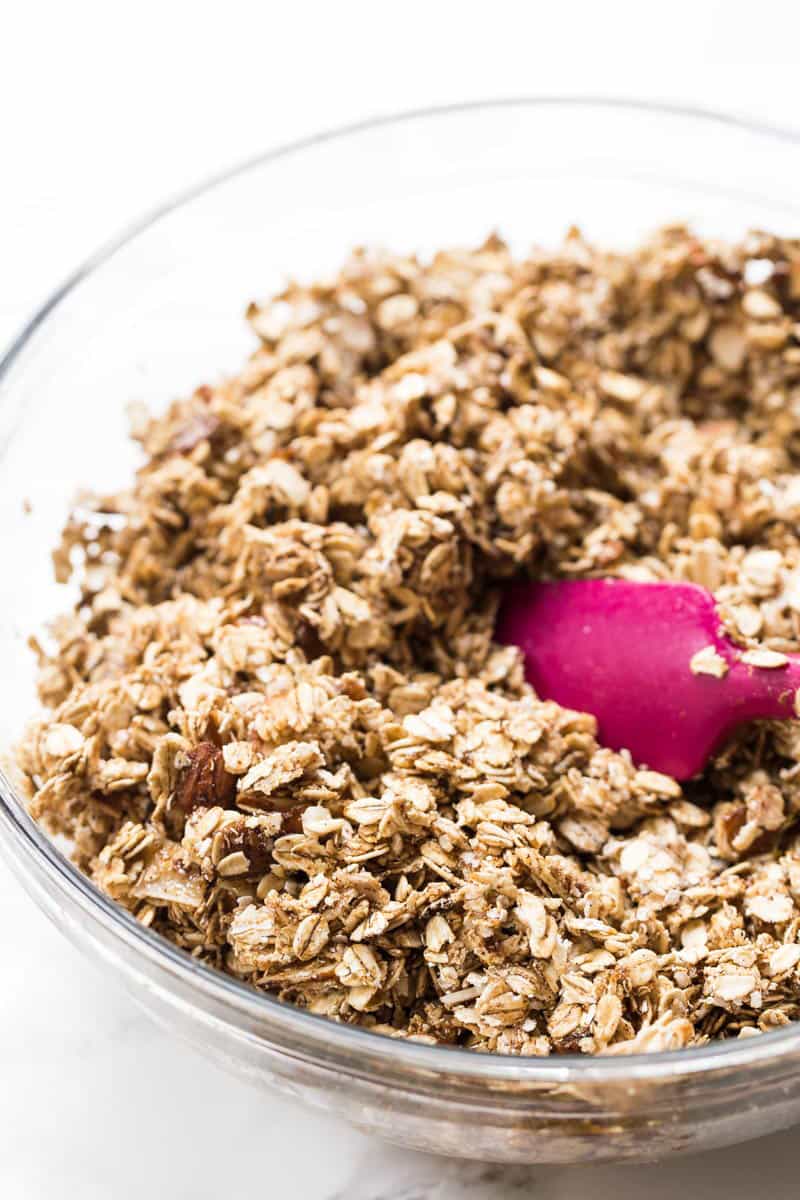 The second trick I have for my homemade granola is by using both rolled oats and quinoa flakes.
If you're a fan of crispy, clumpy granola, then you NEED to try adding quinoa flakes. Since quinoa flakes are a little lighter than rolled oats, they actually almost act like a flour and really help the granola hold together and get nice and clumpy.
I know I'm talking a lot about the clumps here, but I'm tellin' you, it's the best!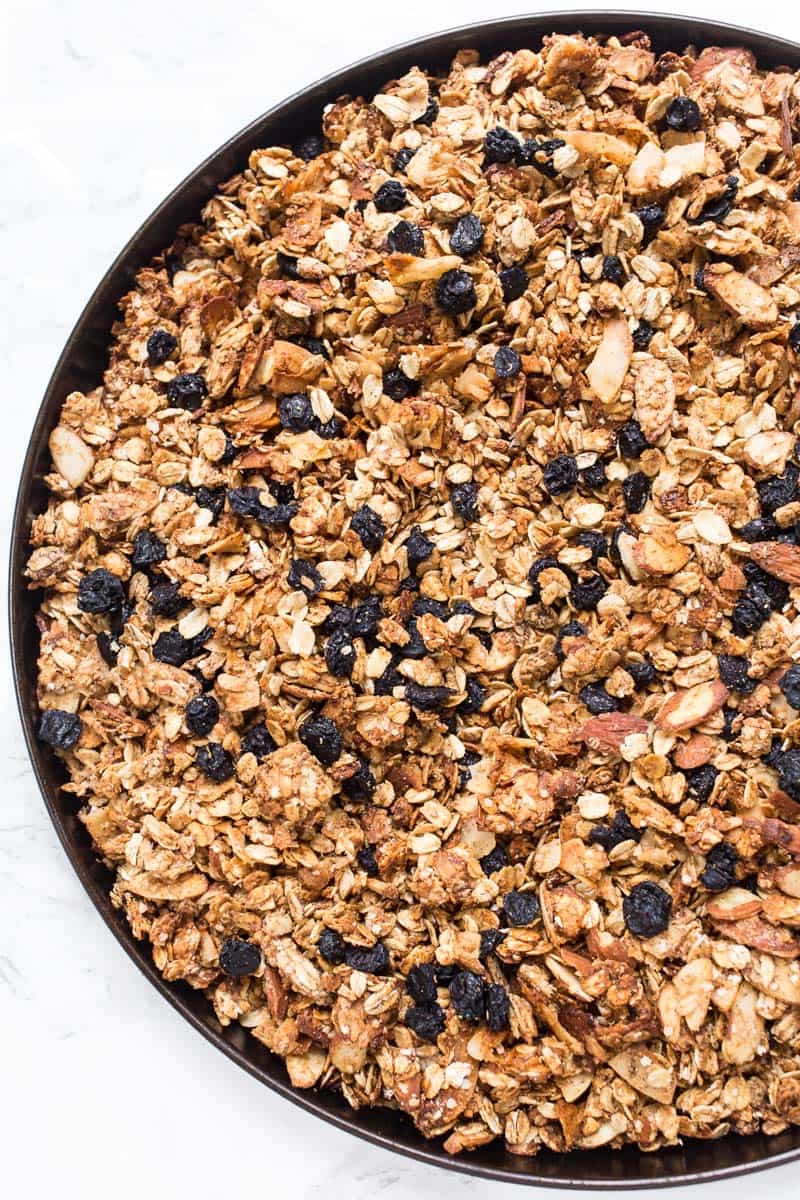 The next trick to making perfect homemade quinoa granola is to stir it while it's baking. I like to bake my granola at 350ºF which can brown it pretty quickly, so when we toss and stir during the cooking process (I usually do this every 10 – 15 minutes), we're able to make sure our granola gets evenly golden brown and crispy.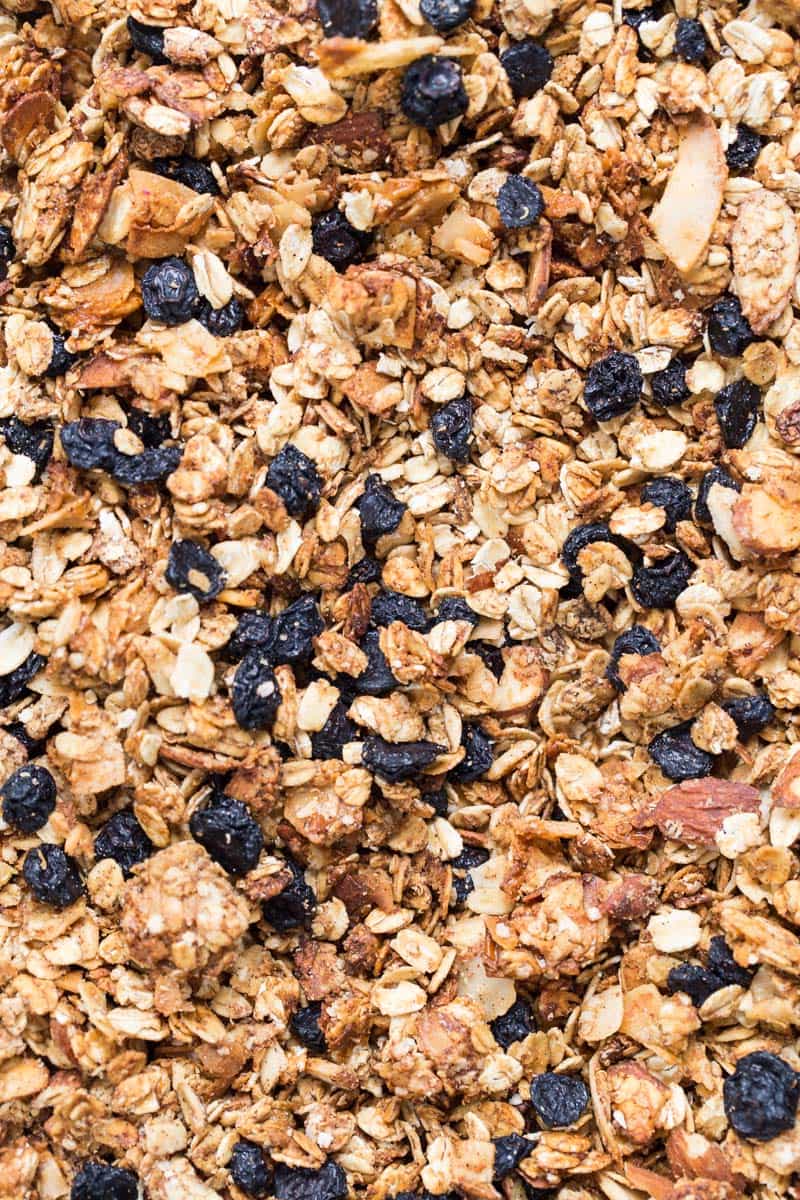 And our final granola hack has to do with the blueberries.
Whenever you're adding dried fruit to your granola, I recommend that you stir it in at the very end. I've found that if I add the fruit too soon in the cooking process (like while the granola is baking), then they either get burned to a crisp OR they're hard as rocks.
So if you're goal is to not break a tooth when you're eating your granola, then you definitely want to stir in your dried blueberries (or whatever dried fruit you're using) once the granola has finished baking.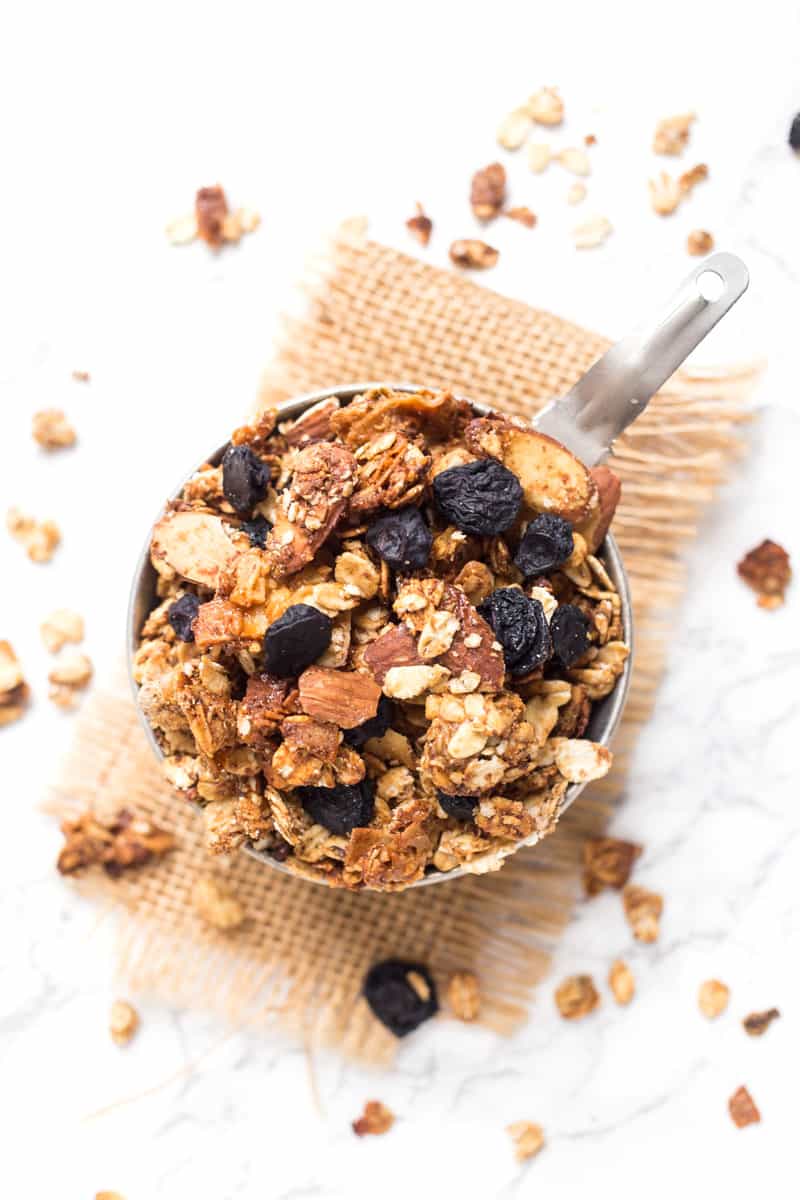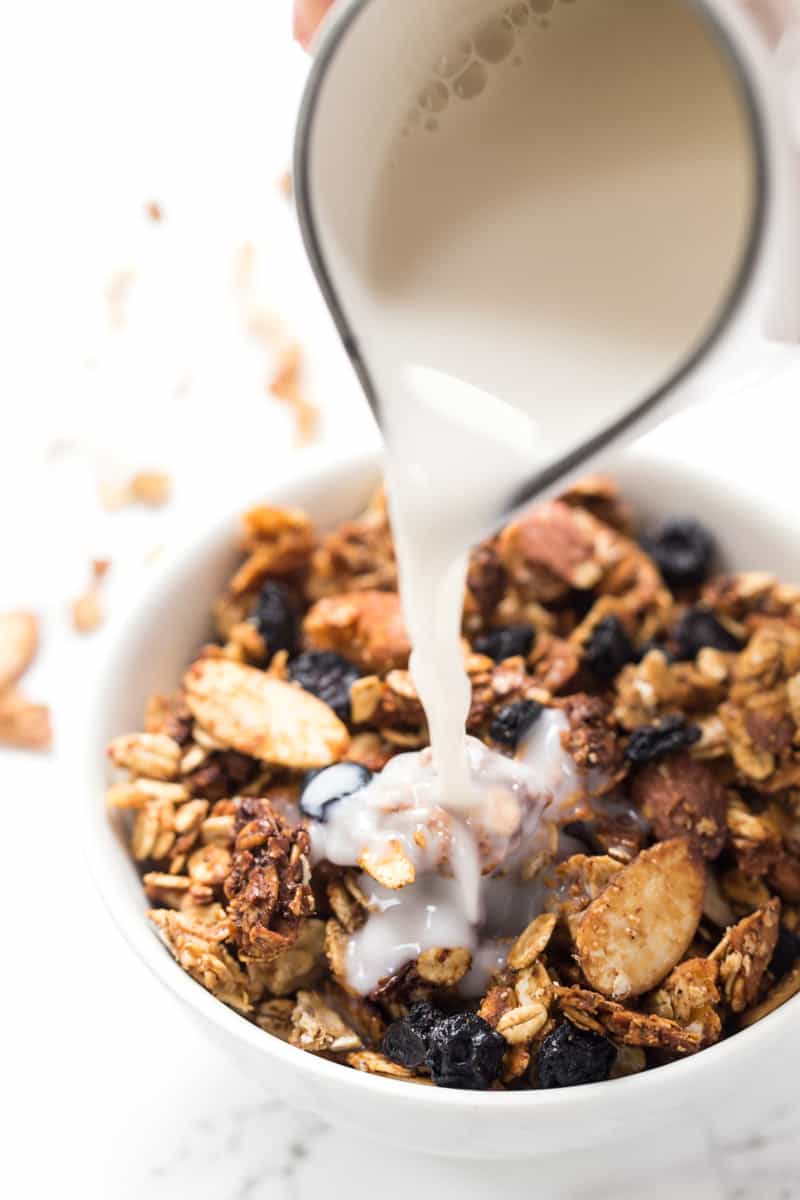 Need some ideas for serving up this tasty Honey Blueberry Quinoa Granola? I've got you covered!
Add to bowl and top with almond milk
Stir into your favorite non-dairy yogurt
Mix with your favorite cereal for some added crunch
Carry in a small bag in your purse for a healthy snack
Throw on top of your favorite smoothie bowl!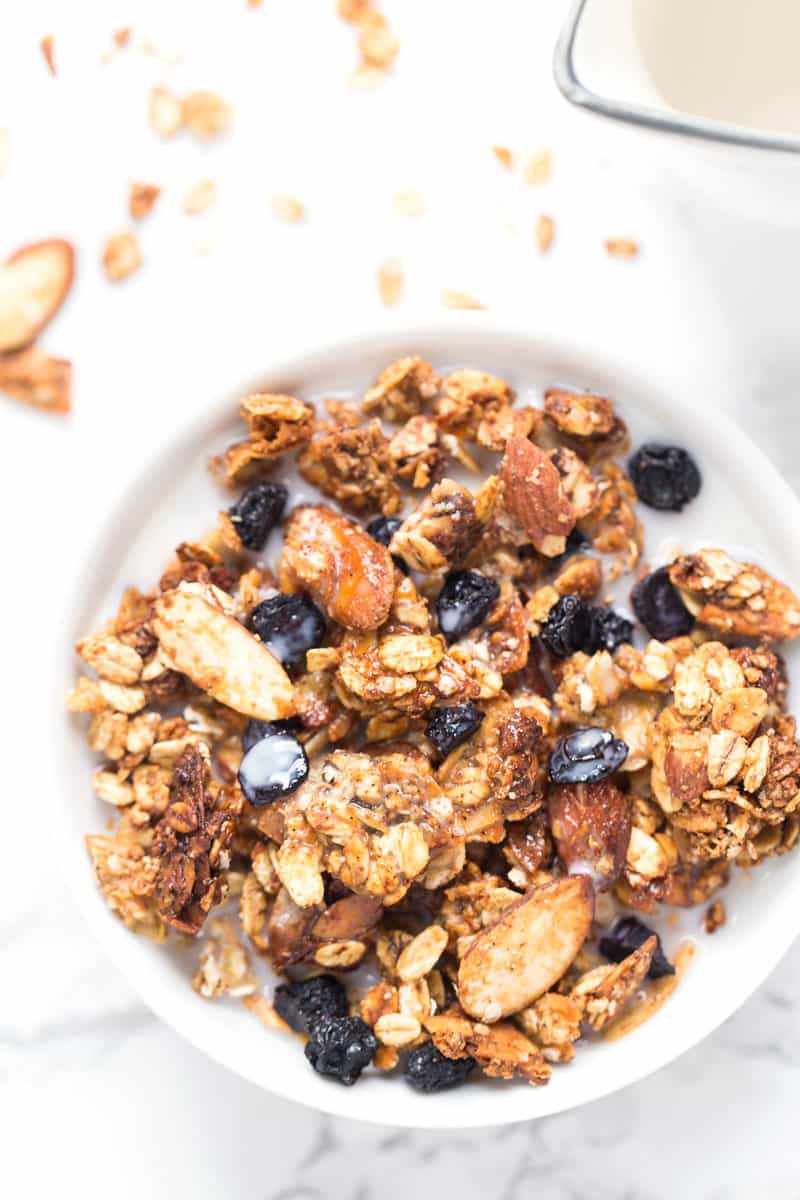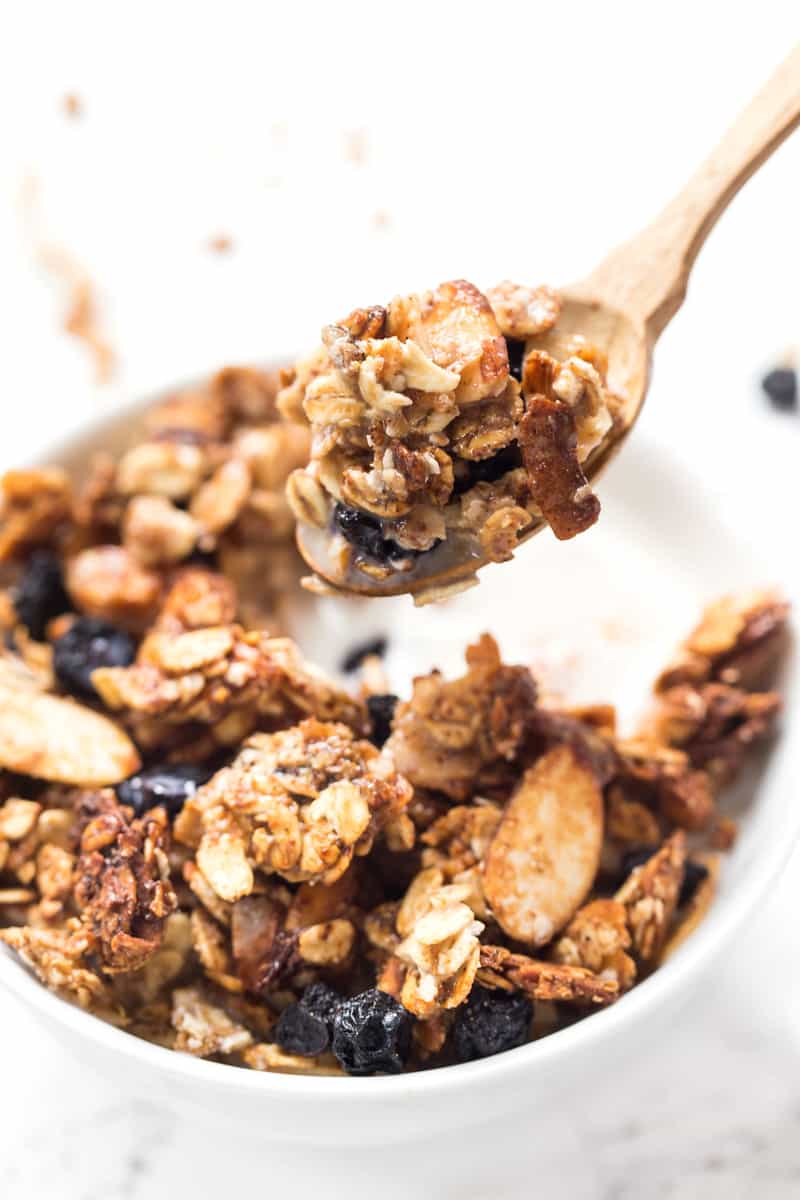 For storing, I always recommend that you let your granola cool COMPLETELY before you transfer it to a glass container. I like keeping it in my cupboard because it's dark and cool, but if you live somewhere very warm, you might want to keep your granola in the fridge.
You can actually also freeze granola! My mom taught me this and she usually makes a big batch, probably three times what this recipe makes, and freezes the extras in a large ziplock bag. That way, when she runs out, she has some on hand, plus she's really only making her granola every few months, rather than every few weeks.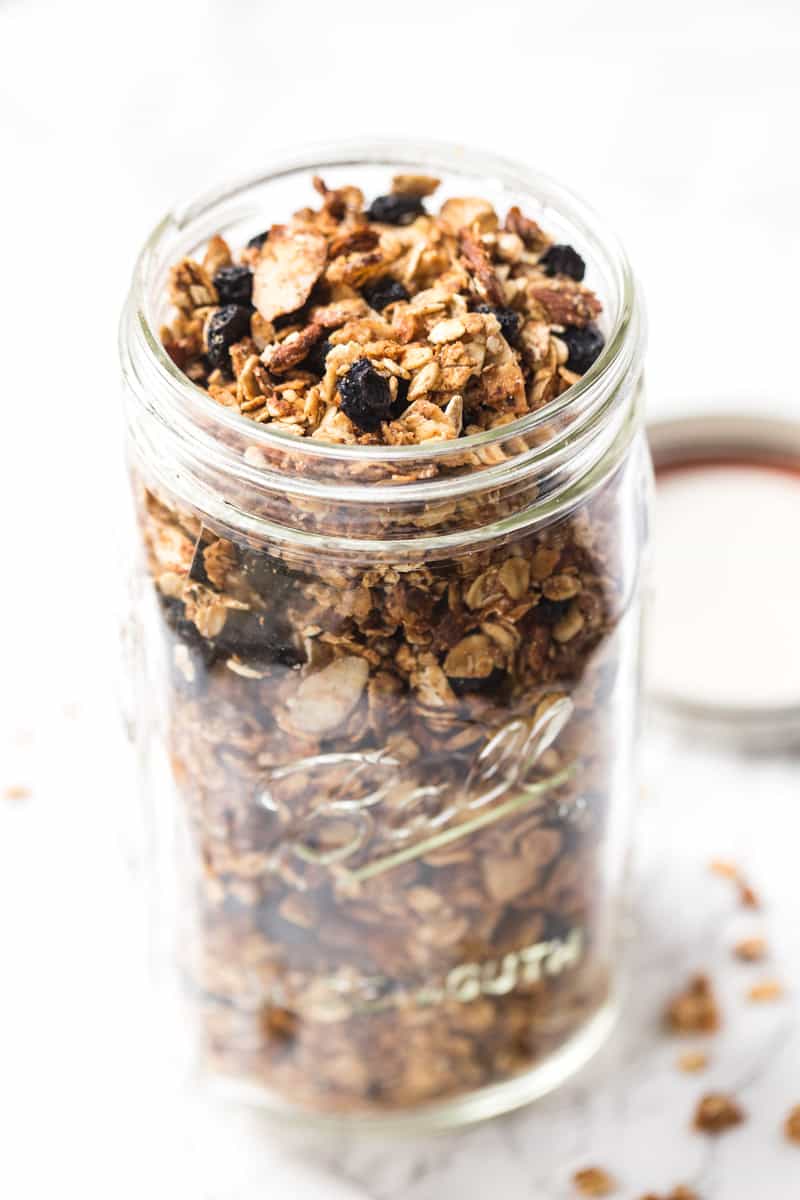 And then I want to end today's post with some substitution ideas because I know you guys appreciate when you have options for these recipes!
Substitution ideas…
Quinoa flakes can be subbed for more oats
Sliced almonds can be subbed for any other nut
Coconut can be subbed for another nut
Almond butter can be subbed for any other nut/seed butter
Honey can be subbed for any other liquid sweetener (I like maple syrup)
Oil can be subbed for more water (or sweetener)
Dried blueberries can be subbed for any other dried fruit/berry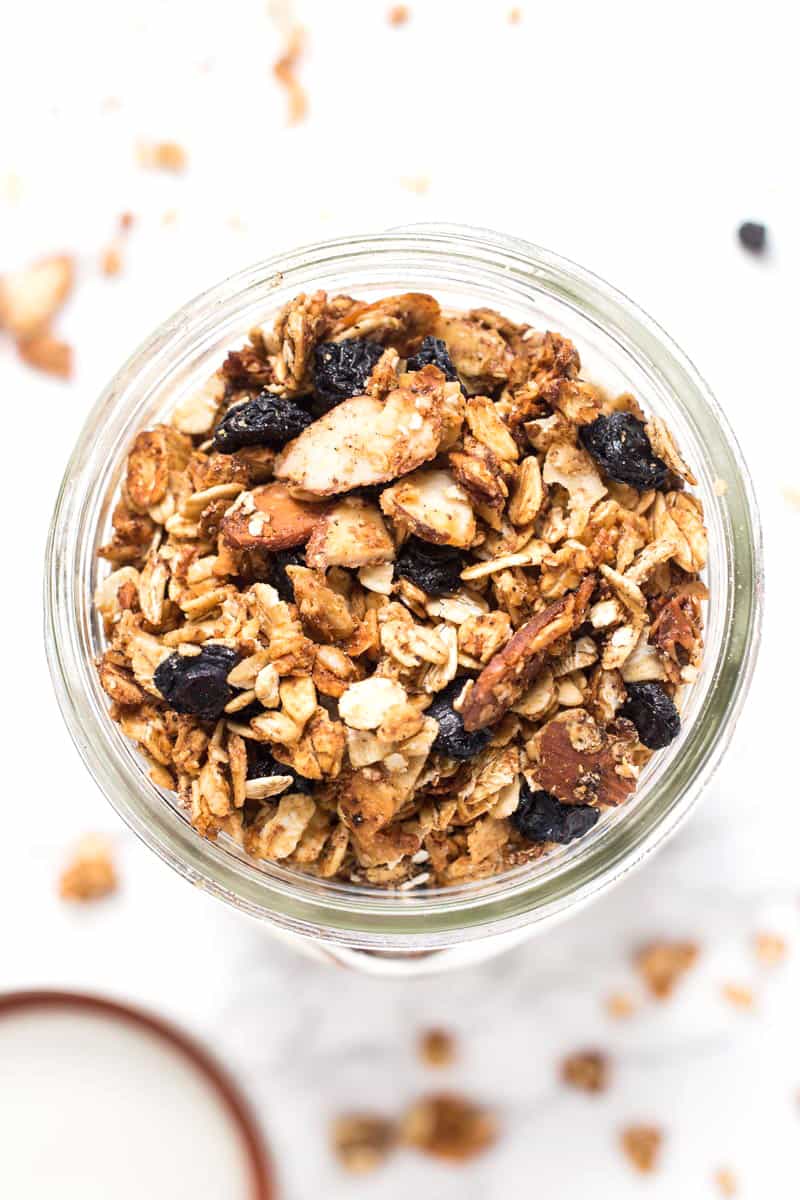 Hope you guys ❤️ this new granola recipe! I can't wait to see what you end up serving it with. Make sure to snap a pic and share it with me on Instagram by tagging @simplyquinoa and using #simplyquinoa!
xo Alyssa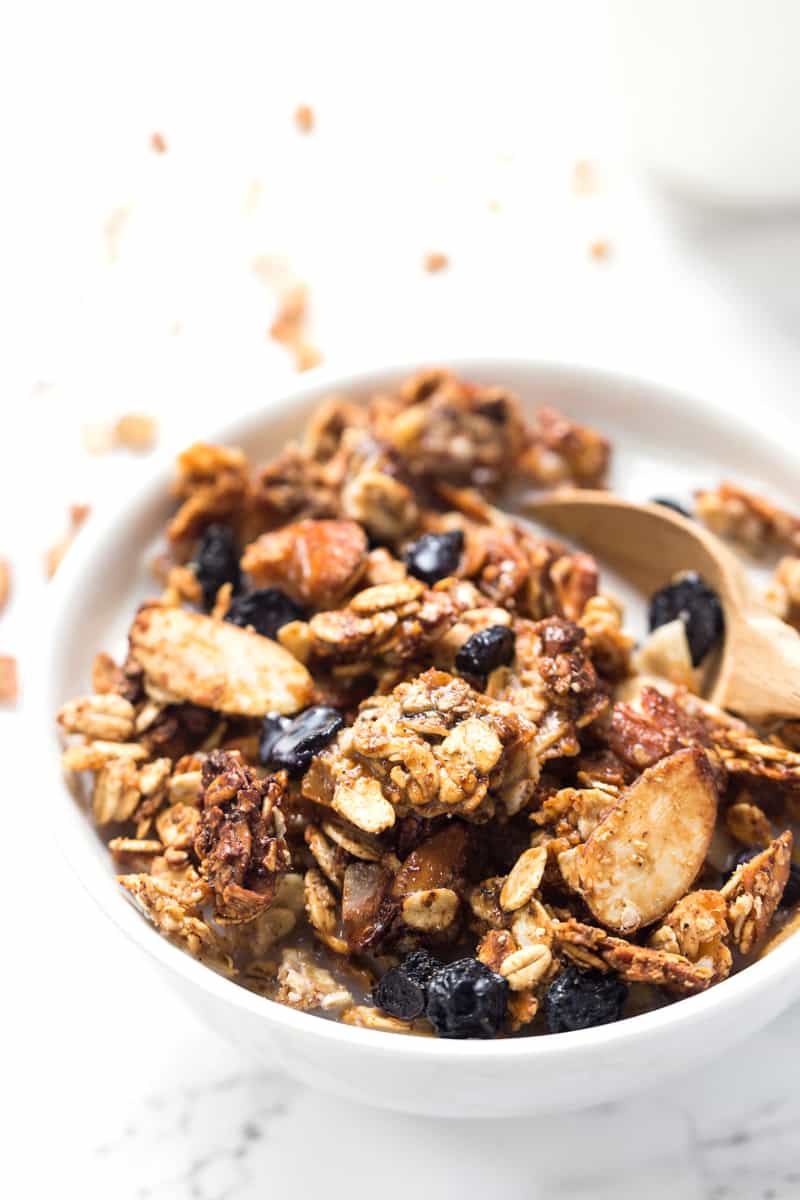 More Quinoa Granola Recipes
Honey Blueberry Quinoa Granola
Whip up this delicious Honey Blueberry Quinoa Granola for breakfast! Flavorful and fiber rich to keep you full all morning long!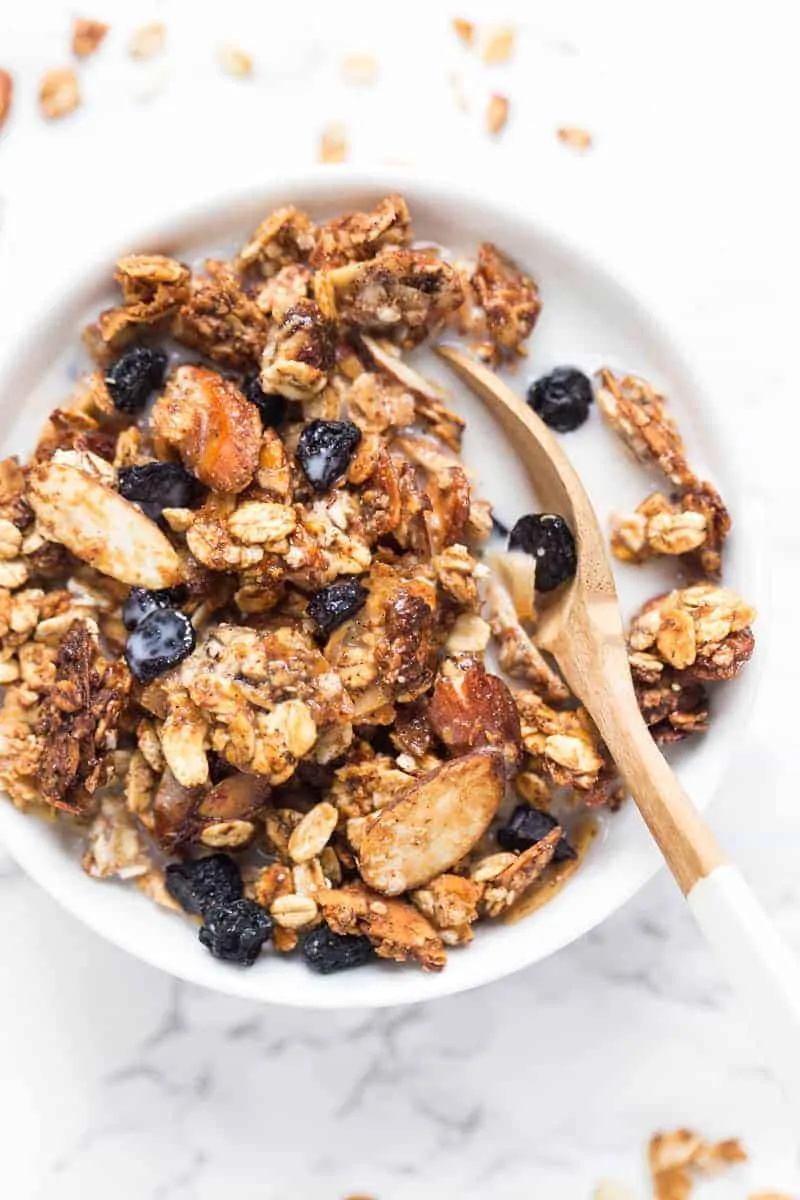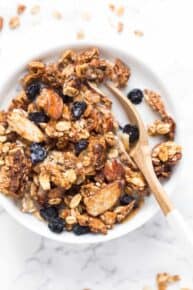 Instructions
Preheat the oven to 350ºF. Line a baking sheet with parchment paper and set aside.

In a large bowl, combine the oats, quinoa flakes, almonds, coconut and spices. Stir to combine.

In a small saucepan, melt together the almond butter, honey, oil and water. Stir until smooth and completely melted. Pour liquid mixture over the dry ingredients and mix until evenly coated.

Transfer this mixture to the prepared baking sheet and bake on the center rack for 30 minutes, stirring every 10 minutes. For more clustery granola, press down on the granola to pack everything together before returning to the oven. Remove from oven and stir in blueberries

Allow the granola to cool completely before breaking apart. Serve however you like to enjoy granola!

For storage, keep in a sealed glass container in a cool dark place (the cupboard is great) for at least two weeks.
Nutrition
Calories:
181
kcal
|
Carbohydrates:
24
g
|
Protein:
5
g
|
Fat:
8
g
|
Saturated Fat:
3
g
|
Sodium:
62
mg
|
Fiber:
3
g
|
Sugar:
8
g
Filed Under: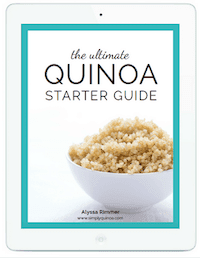 New to cooking quinoa? Grab your FREE Quinoa Starter Guide!
Become part of the Simply Quinoa community and receive weekly emails with exclusive content that I only share in email, as well as my in-depth guide to starting your quinoa journey.