If you're looking for a healthy, flavorful granola that's low in fat and sugar, this pumpkin quinoa granola is the recipe you've been waiting for!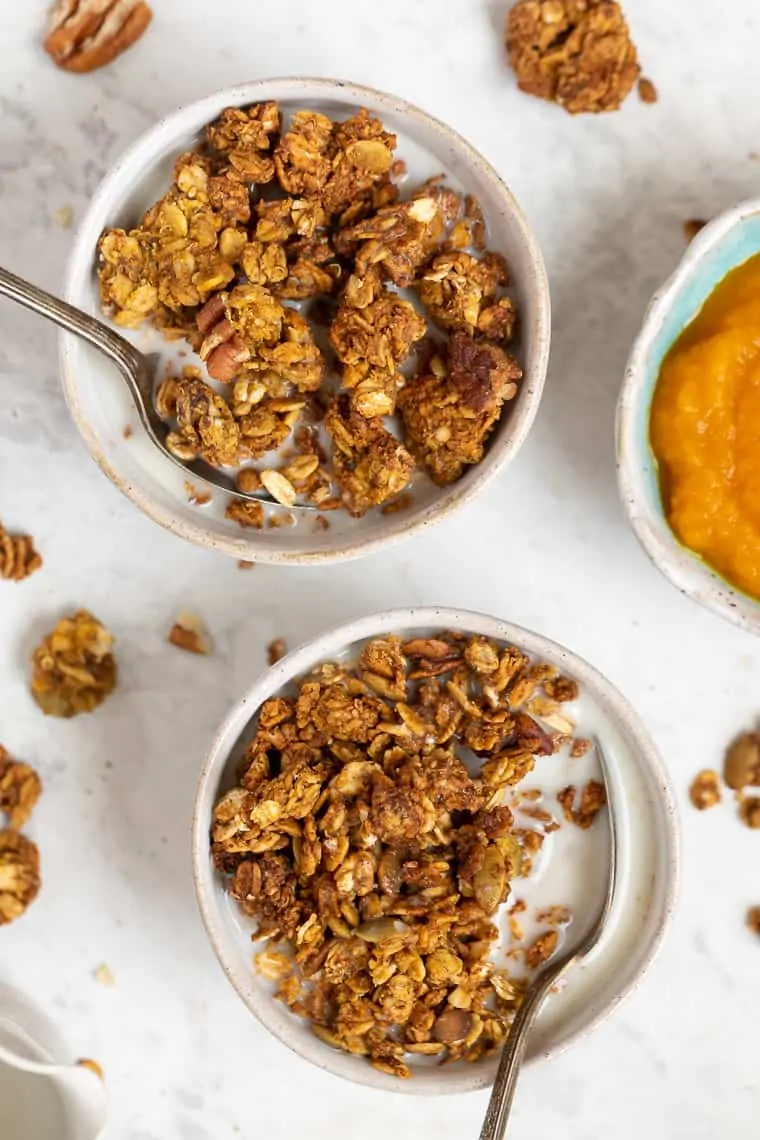 Kickstarting pumpkin season with one of my all-time favorites: healthy pumpkin granola!
If you're new around here, granola is one of my absolute favorite things to make. I make so much that I actually created an entire post dedicated to how to make homemade granola.
And today, I'm showing you how to make one of my greatest hits. A granola that is not only easy to make but flavorful, hearty, not too sweet, and perfect for fall!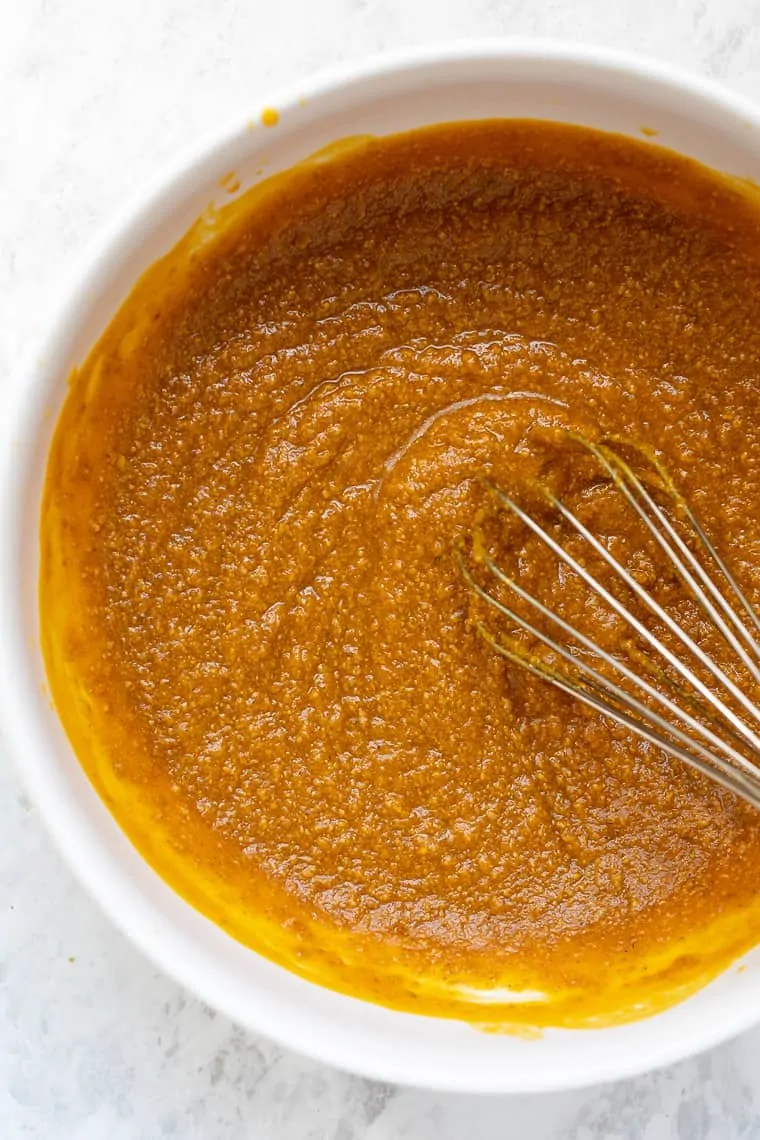 What's In Today's Homemade Granola
You'll recognize most of my standard granola ingredients in today's recipe – and we're following our formula – but I like to give you a quick overview of the ingredients before we dive in. Here's what we're using:
Rolled oats: I like old fashioned for the best texture
Quinoa flakes: we get a bit of protein and they also cluster really well (swap with quick oats if need be)
Crispy rice cereal: absolutely love the crunch factor this brings
Maple syrup: the perfect complement to pumpkin
Pumpkin: either buy canned or make it fresh!
Almond butter: swapping the oil with almond butter which adds crunch and helps create yummy clusters
And then we're also stirring in some pumpkin seeds, pecans, and pumpkin pie spice!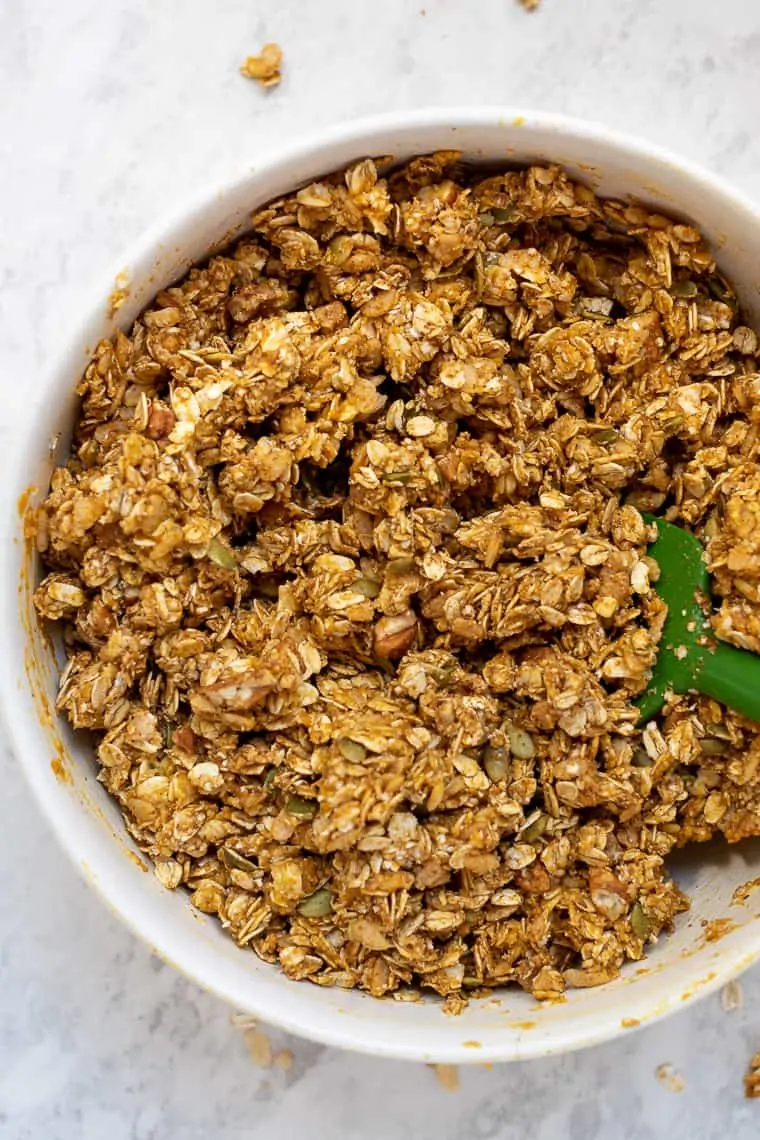 How to make Healthy Pumpkin Granola
Granola is super simple to make and you probably don't really need an explanation, but in case you do, let's cover our bases really quickly.
To make this healthy pumpkin granola, you'll want to first mix your dry ingredients. Once they're all melted together, set it aside and move onto your wet ingredients. Melt your wet ingredients together until they form a kind of sauce. Pour that liquid over the dry ingredients and stir to combine. Make sure all the oats are covered! Then pop it in the oven, stirring it every 15 minutes or so, and cook until it's golden brown.
If you're having a hard time with it crisping up, you can leave it in the oven with the door propped open and the oven turned off. Works like a charm!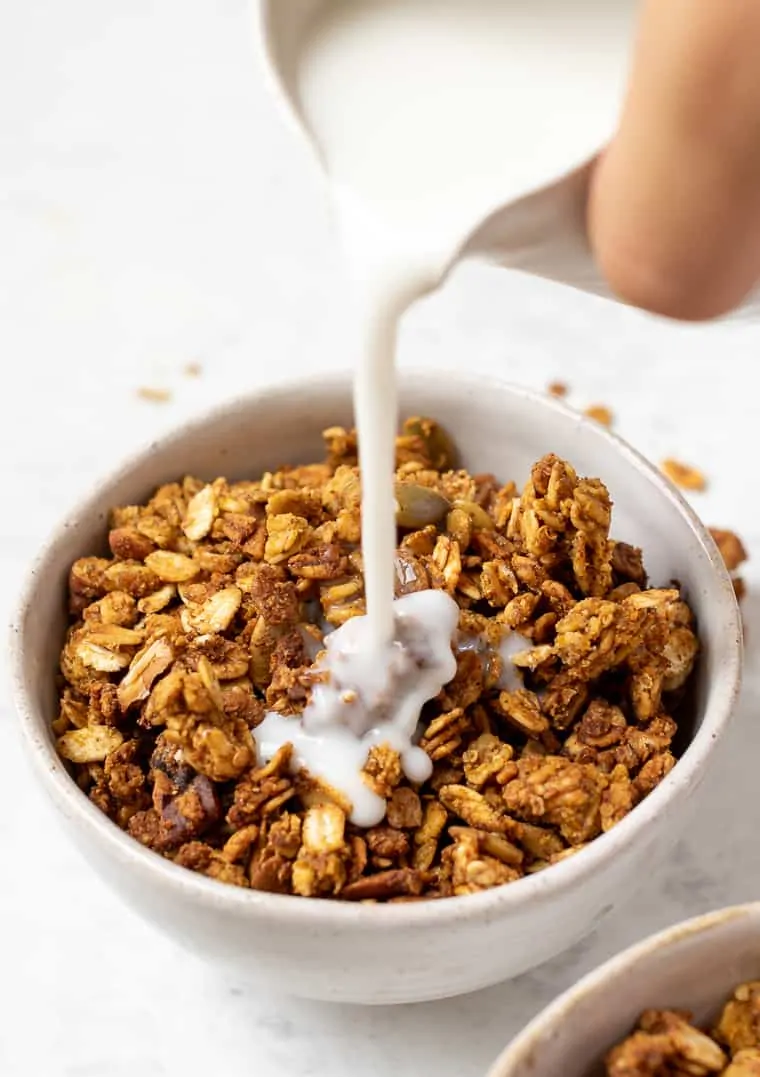 How To Make Granola Healthy
What did we do to make this granola healthy you may be wondering? Welllll…we used:
almond butter instead of butter
maple syrup instead of sugar
pumpkin for flavor and in place of some extra oil
then used a really awesome blend of cereals to lighten it up but still keep it filling
Rather than just oats, I did a combo of oats, rice crispies, quinoa, pecans and pumpkin seeds. Lower in calories, but still high in fiber and even some protein sprinkled in. And so, so good.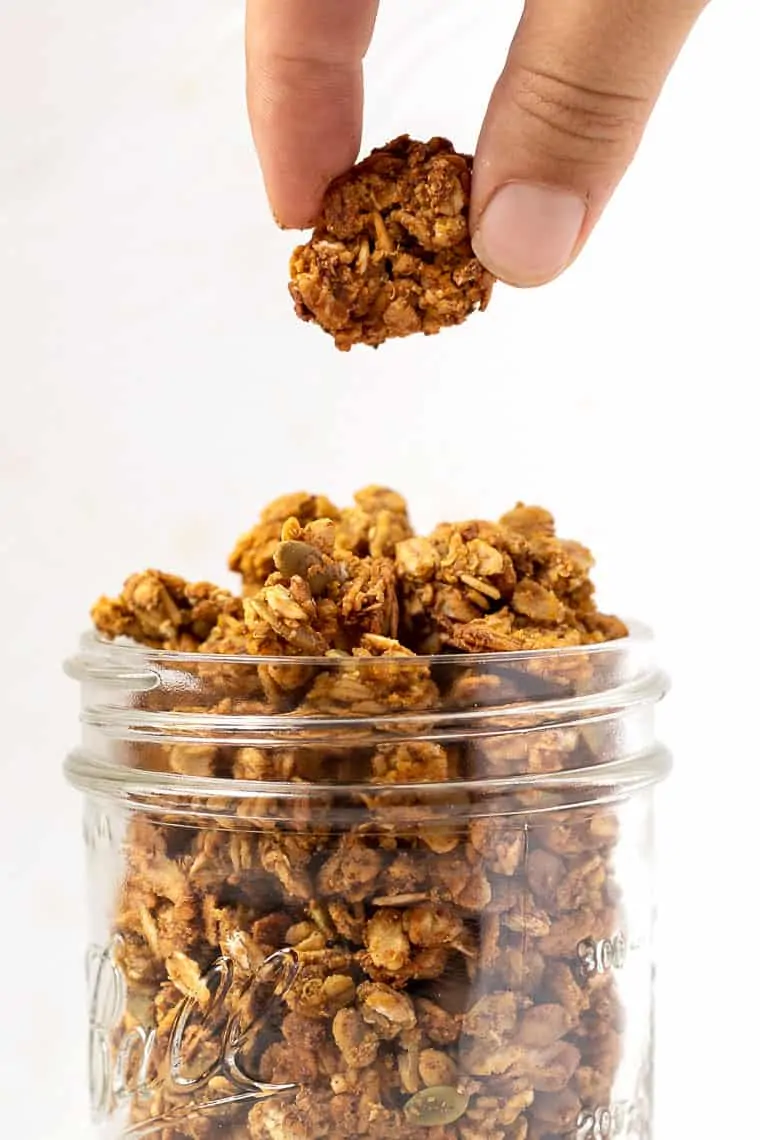 Why You'll Love This Pumpkin Granola
There's so much to adore about this recipe, but what I love is that it's:
super crunchy and clustery
semi-sweet
naturally vegan
oil-free
got this subtle pumpkin pie flavor without it being shoved in your face
Basically, it just tastes like awesome granola with a hint of pumpkin. I mean…how can we ever say no to pumpkin? I'm legit obsessed!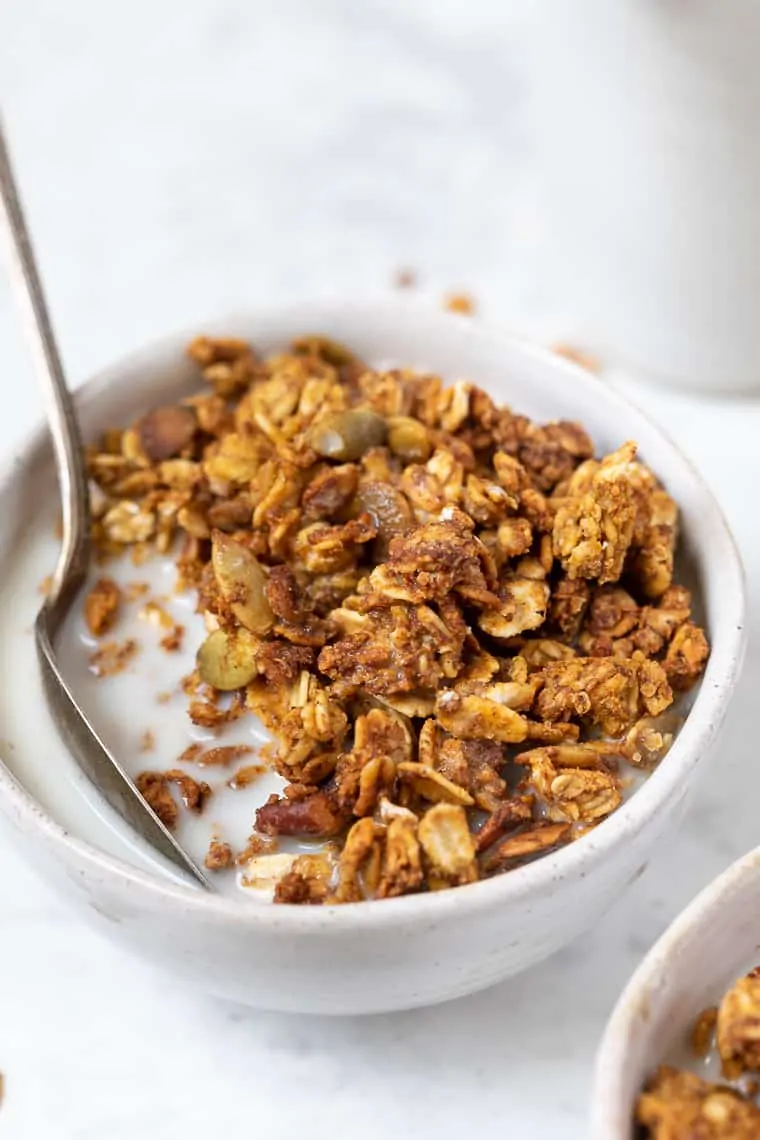 More Healthy Granola Recipes to try:
Healthy Pumpkin Quinoa Granola
If you're looking for a healthy, flavorful granola that's low in fat and sugar, this pumpkin quinoa granola is the recipe you've been waiting for!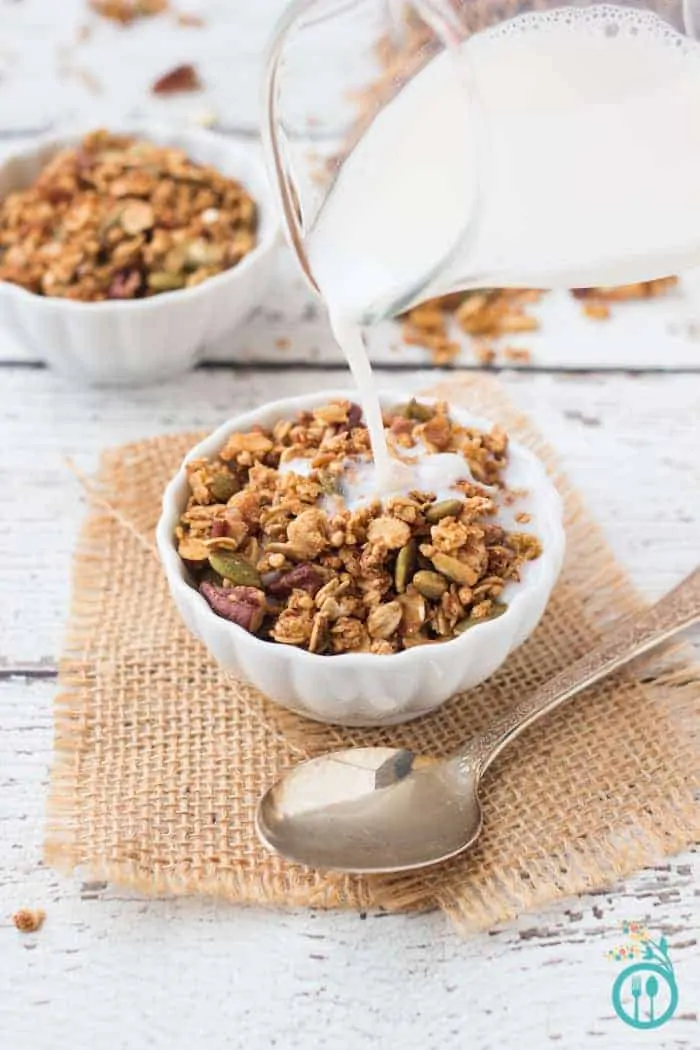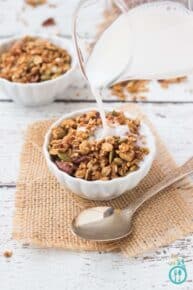 Instructions
Preheat the oven to 350ºF.

In a large mixing bowl, mix together the oats, quinoa flakes, cereal, and spices. Stir until completely incorporated.

In a small saucepan, melt the maple syrup, pumpkin and almond butter. When melted, pour entire mixture over the dry ingredients and stir to combine.

Transfer ingredients to a baking sheet. Bake on center rack for 30 minutes, stirring every 10 – 15 minutes so as not to burn the granola. Remove from the oven and stir in pumpkin seeds and pecans. Return to the oven and bake for another 15 minutes until the nuts are golden brown.

When browned, remove from the oven and let cool completely before storing.*
Notes
* for even crispier granola, let granola cool in the warm oven for 2 - 3 hours.
Nutrition
Serving:
0.25
cup
|
Calories:
134
kcal
|
Carbohydrates:
18
g
|
Protein:
4
g
|
Fat:
6
g
|
Saturated Fat:
1
g
|
Sodium:
3
mg
|
Potassium:
150
mg
|
Fiber:
3
g
|
Sugar:
5
g
|
Vitamin A:
1525
IU
|
Vitamin C:
1
mg
|
Calcium:
38
mg
|
Iron:
1
mg
Filed Under: