How to find healthy food at the grocery store. Learn how to navigate the grocery store and the 6 best places for you to find healthy and nutritious foods.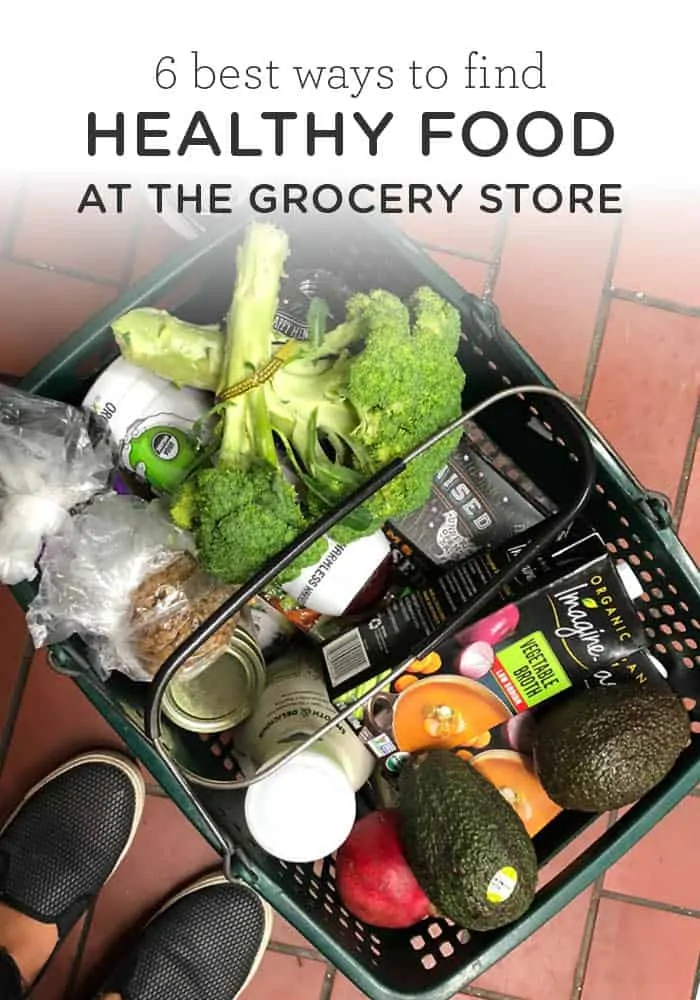 Do you find the grocery store overwhelming? Do you wish you had a game plan everytime you went to the grocery store so you could buzz through efficiently? With aisles and aisles of food choices, it can be hard to figure out where to find truly healthy food at the grocery store.
So today I thought it could be fun to share how I navigate the grocery store to make it a stress-free, painless and healthy experience! Think of this post as you coming with me to the store. I'll guide you through the different areas, share what items are on my weekly list and hopefully, you'll come away feeling more confident for the next time you go shopping!
Oh and just want to put this reminder at the top because if you're like me, it's easy to forget… bring your reusable bags! Grocery stores are a HUGE generator of plastic, so always make sure you're bringing reusable tote bags as well as produce bags. You can pick up reusable produce bags really inexpensively and they're amazing! Here are the ones I have and love.
How to find Healthy Food at the Grocery Store
To give this post a little organization, I'm basically just going to share how I shop. I'll walk you through the different sections, sharing what I focus on, what makes it into my cart and how I incorporate everything from produce to packaged food in my diet. (because yes, I do believe there is a place for packaged food in a healthy diet!)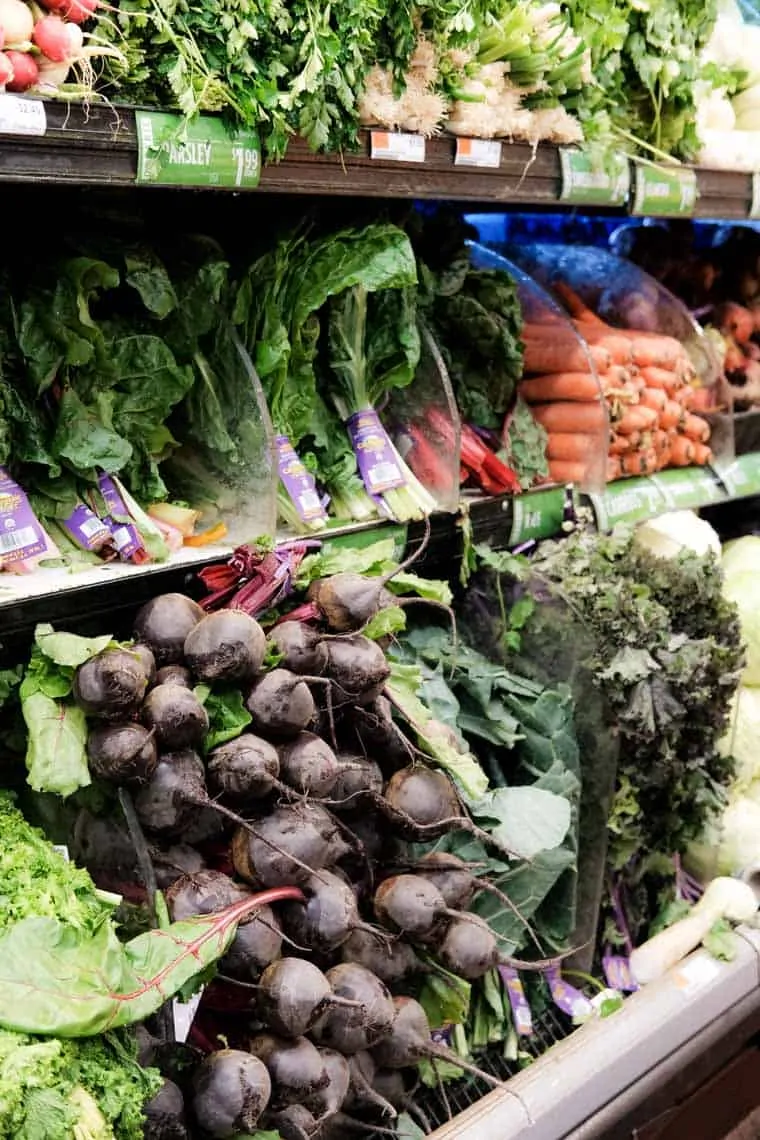 1. Start with the produce.
This is typically right at the entrance of the store so it makes sense to start here! Plus produce is what I like to build my meals on. A lot of people use the protein as their base, but for me, it's all about the veggies. I go in with a list, but sometimes they don't have what I'm looking for (or it's not looking great), so I have to change course. By starting with my veggies, I'm able to adapt the rest of my shopping as needed.
I also love starting here because I can find new things to try. There are always interesting vegetables popping up as the seasons change, so I try to keep new things in rotation each week. Of course, I have my staple (which I'll share below), but it's important to get a variety of produce into your diet.
My weekly list of produce staples are:
Fresh greens (usually kale + spinach)
Sweet potatoes
Green vegetables (broccoli, brussels sprouts, etc.)
Squash (winter when it's cold, zucchini when it's summer)
Mushrooms
Peppers
Onions/shallots
Fruit (apples, citrus & tomatoes)
and AVOCADO (duh!)
This section is very seasonally dependent, so it definitely evolves as the year goes on. I try to stay as seasonal as possible, but these days it can be tricky because you can pretty much find everything all year round. If there are things that are in season (like pomegranates, persimmons, zucchini, etc., I'll make a point to add those into my basket.

2. Refrigerated section
After produce, I usually make my way to the refrigerated section. Here you'll find all your non-dairy milks, yogurts, and cheeses, as well as eggs, fermented foods like sauerkraut, kimchi, miso, tempeh, hummus, tofu, and often times beverages as well.
I'll be honest, I don't often buy fermented foods because they last me a while, but each week I stock up on:
Non-dairy milk (I rotate between almond, coconut and oat milk)
Coconut yogurt (I've been loving Coyo lately!)
Hummus
Tempeh/Tofu
Eggs
Creamer (for Matt's coffee)
Coconut water & kombucha
3. Grains
We definitely go through a lot of grains in our house, but they're still not something that I have to purchase every week. I always make sure I have these in my pantry, do a little inventory and then stock up as necessary. One thing to note: some grocery stores have bulk sections where you can get just the amount you need rather than purchasing an entire package. Our staple grains include:
Quinoa (duh!)
Oats (quick cooking & rolled)
Rice (white and wild)

4. Canned & jarred items
Canned items can sometimes get a bad rap but I have no shame buying them. Not everyone has time to make beans or tomato sauce from scratch! I also use this area to stock up on broths, nut butters, and any other pantry items I might have run out of. Check out this blog for 10 spices I always keep on hand!
Depending on the week, I pick up:
Organic, canned beans (low or no-sodium)
Organic canned tomatoes or tomato sauce
Vegetable broth for soups
Nut butters
Oils, vinegars, and spices
5. Packaged goods
Even though I eat healthy food, I still do buy some packaged items at the store. Luckily there are great brands out there these days that are made with great ingredients. This section is where I buy things like gluten-free, whole grain bread (I like Food for Life's Gluten-Free Sprouted Breads), crackers and tortilla chips, pastas and other dried goods.
Any given week, you might find items like this on my grocery list:
Brown rice pasta
Chickpea/lentil pasta
Simple Mills crackers
Mary's Gone Crackers
Whole grain GF bread
Seite tortilla chips

6. The freezer section
My last stop in the grocery store is always the freezer aisle. Not going to lie, this is actually one of my favorite areas of the store. The reason being is that frozen fruits and vegetables are super reasonably priced AND it's a great way to get items that aren't in season anymore. Some people might think that fresh fruits and veggies are healthier, but it's actually the opposite most times.
The reason for this is that when items are being frozen, they're picked at peak ripeness, then frozen immediately. You're getting optimal freshness in the bag. Fresh produce, on the other hand, needs to be shipped, so it's often picked before it's ripe and left to ripen in transit. Not you're not getting quite as high quality or flavorful produce in the stores.
I totally stock up in the freezer section, especially on frozen fruit, frozen cauliflower and other frozen veggies like green beans, peas, and cauliflower rice. These are the items you'll find on my list every week:
Blueberries
Raspberries
Peaches (for Matt!)
Strawberries (also for Matt – he loves the strawberry peach combo)
Cauliflower florets & rice (for my smoothies)
Additional frozen veggies depending on my menu for the week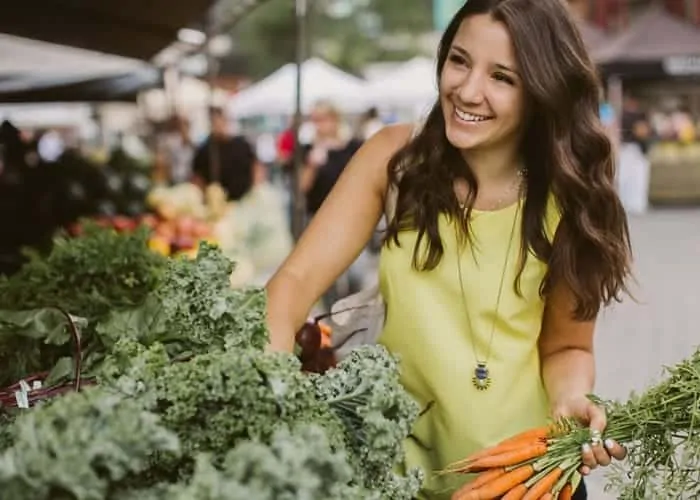 How do you find healthy food at the grocery store?
I hope you found this post helpful! The grocery store should not stress you out or make you feel like you can't find healthy and nutritious food! Plan ahead, bring your grocery list and try to tackle the grocery store the way I've outlined. You'll quickly discover how easy it is to pack your cart with healthy items.
And one final thing I want to leave you with:
One of the best tips I've ever gotten is to shop around the perimeter of the grocery store – the inner aisles are where all the junk food and packaged items usually live. Obviously, we all need some packaged food from time to time, but when all else fails, stick to the outside and you'll be golden!