A list of the 10 most essential spices to have in your spice cabinet. These spices are versatile, easy to find and add the most flavor to your healthy recipes!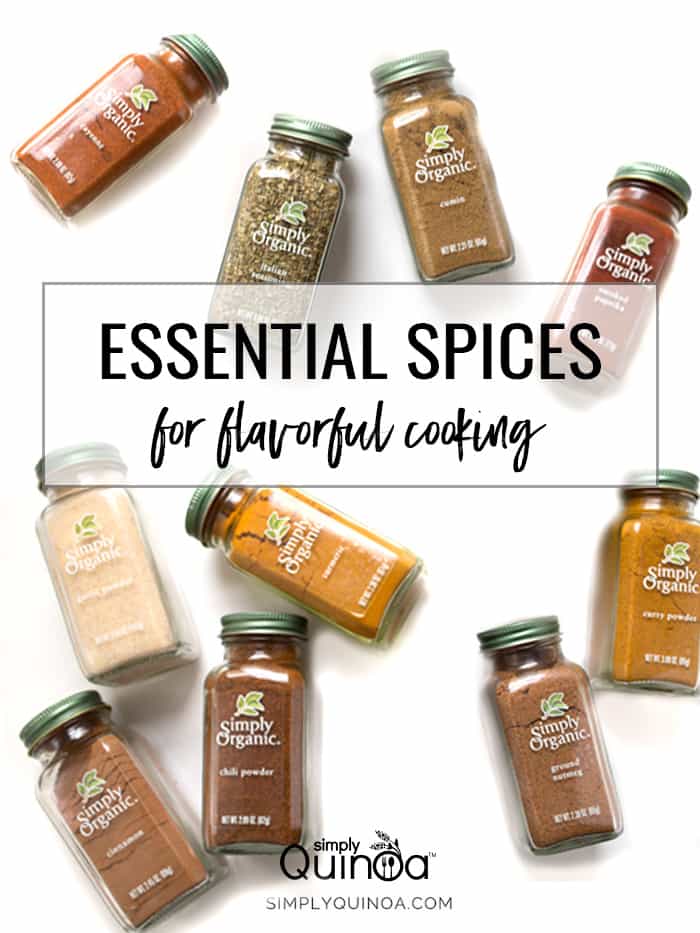 Happy Tuesday, friends!
Today we're talking all about spices and I'm sharing my top 10 essential spices for everyday cooking. These are the spices that I use the most. The ones I keep on my bottom spice shelf for easy grabbing. And the ones I find myself replacing over and over again.
This list is full of spices that can be used in a variety of recipes, are easy to find and are packed with flavor! I'm excited to be partnering with my friends at Simply Organic as their spices are by far my favorite. They're high quality, incredibly fresh and potent, are all organic and they have an incredible range to choose from.
Narrowing my list down to my top 10 essential spices was tough, but I think you'll find this post super helpful. And I'm even giving you some of my favorite recipes to try!
---
1. Cinnamon
Cinnamon is by far my fave spice! I use it every single day and go through it super quickly. I love adding it to my morning smoothies, oatmeal and pancakes, and you will almost always see it in my baked goods. I love sprinkling cinnamon on top of apples for a sweet snack, and it can actually also be used in savory cooking like curry!
Recipes to try: Snickerdoodle Breakfast Cookies, Maple Cinnamon Mixed Nut Butter, Cinnamon Apple Breakfast Quinoa, Coconut Pumpkin Granola with Cinnamon
Country of Origin: Vietnam
---
2. Garlic Powder
Garlic powder is another spice that we go through on the regular. We use it in almost all of our savory cooking including guacamole and salad dressings. What I love about garlic powder is that you a) don't have to chop fresh garlic and b) you don't have to worry about burning fresh garlic. The garlic powder from Simply Organic has a really fine texture, so it blends nicely and tastes just like real garlic. (<- because it is!)
Recipes to try: Garlic Butter Quinoa, Autumn Harvest Quinoa Bowls, Vegan Kale Caesar Salad, Garlic & Herb Quinoa
Country of Origin: China
---
3. Turmeric
Turmeric is well known for staining everything in your kitchen yellow (including your fingers), but it's also an incredible spice to add into your diet. Aside from all the health benefits that we've talked about before, turmeric can be used for way more than curries and Indian dishes. I love using turmeric in oatmeal, salad dressings, soups and of course, golden milk!
Recipes to try: Creamy Coconut & Turmeric Wild Rice Soup, Orange Overnight Quinoa, Lemon Turmeric Quinoa, Mango Turmeric Smoothie
Country of Origin: Sri Lanka
---
4. Chili Powder
Chili powder and quinoa are a match made in heaven which is probably why I love it so much. This spice actually combines a variety of peppers and pairs perfectly with Central and South American cuisine. Simply Organic carries a few different chili powders, which range in flavor and heat, but if you're looking for just a solid, standard chili powder, theirs is the best. Not too spicy and just the right amount of flavor!
Recipes to try: Mexican Quinoa Stuffed Peppers, Grilled Corn & Avocado Salsa, Sweet Potato Quinoa Nachos
Country of Origin: United States
---
5. Italian Seasoning
I wouldn't be my mother's daughter if I didn't mention Italian Seasoning. If you love making pasta, pizza and really anything with Italian flavors, you need this spice blend in your cabinet. For starters, it will save you money and space because it blends all the classic Italian spices into one jar. And the one from Simply Organic I have found is the best spice ratio. I use this all the time; we love it on roasted veggies, in marinades, dressings and of course, any and everything Italian!
Recipes to try: Creamy Italian Quinoa Soup, Vegan White Bean & Mushroom Soup, Savory Breakfast Quinoa, Balsamic Roasted Vegetable Quinoa Bowls
Country of Origin: Turkey
---
6. Cumin
I learned to love cumin from my mom. She uses it in her cooking all the time (and it's actually her secret ingredient in her guacamole) and I am now a cumin convert. It's delicious in savory cooking and pairs exceptionally well with Latin American and Indian cuisines. It's not one I use every single day, but it can completely transform the flavor of your dish and takes it to a whole new level!
Recipes to try: Baked Grain-Free Falafel Bites, Black Bean Quinoa Fajita Bowls, Vegetarian Quinoa Burrito Bowls
Country of Origin: Turkey & India
---
7. Cayenne
You know I love my spicy food and that's why I adore cayenne pepper. I find that the spice itself doesn't have a ton of flavor, but man does it add a kick. If you like spice, this could be your new best friend. But I will warn you… a little goes a long way. Start small (like 1/8 teaspoon) and increase from there so you don't totally knock everyone's socks off!
Recipes to try: Slow Cooker Moroccan Chickpea Stew, Sweet Potato Black Bean Quinoa Chili
Country of Origin: India
---
8. Smoked Paprika
Maybe not the most popular spice around, but I seriously am in love with smoked paprika! My favorite way to use it is actually on popcorn (it pairs really well with nutritional yeast), but it's also delicious with roasted sweet potatoes and most Mexican/Southwestern inspired dishes. You do need to like smokiness for this spice, which is probably why I adore it so much, but if that's not for you, you can always pick up Simply Organic's traditional paprika as well.
Recipes to try: Vegetable Quinoa Paella, Vegan Kimchi Queso Dip, Quinoa Mac & Cheese with Spinach, Spanish Vegan Meatballs with Smoked Paprika
Country of Origin: Spain
---
9. Ground Nutmeg
As we're getting into pumpkin season, nutmeg HAS to be on the list. I could eat pumpkin spiced things all year round (and in fact, I do with my daily matcha), but it does lend itself particularly nicely to the colder months of the year. It's a warming, grounding spice that is amazing in baked goods, but can also be used in savory cooking. It's actually my secret ingredient in one of my cauliflower soup recipes! It adds a gorgeous, robust flavor that is wonderfully unexpected!
Recipes to try: Vegan Gingerbread Loaf, Apple Pie Overnight Quinoa, Healthy Carrot Cake Blender Muffins, Carrot Cake Muffins with Coconut Oil + Nutmeg
Country of Origin: Indonesia
---
10. Curry Powder
And last on our list is curry powder! Curry powder is definitely a stand out spice – it's flavorful and really comes through when added to a recipe, but there are tons of ways to use it. Not only is it delicious in Indian-inspired dishes, but it's also lovely with roasted vegetables. I'm partial to roasted carrots and sweet potatoes! And actually, I recently discovered curry roasted chickpeas as a healthy snack and they are SO delicious! Highly recommend trying them ????
Recipes to try: Curry Cauliflower Rice + Quinoa, Curried Cauliflower Quinoa Salad, Curried Sweet Potato & Carrot Fritters
Country of Origin: India
What's your favorite spice? Let me know in the comments below!