Traveling somewhere? Check out these tips for staying healthy while traveling – including what food to bring and what products to pack!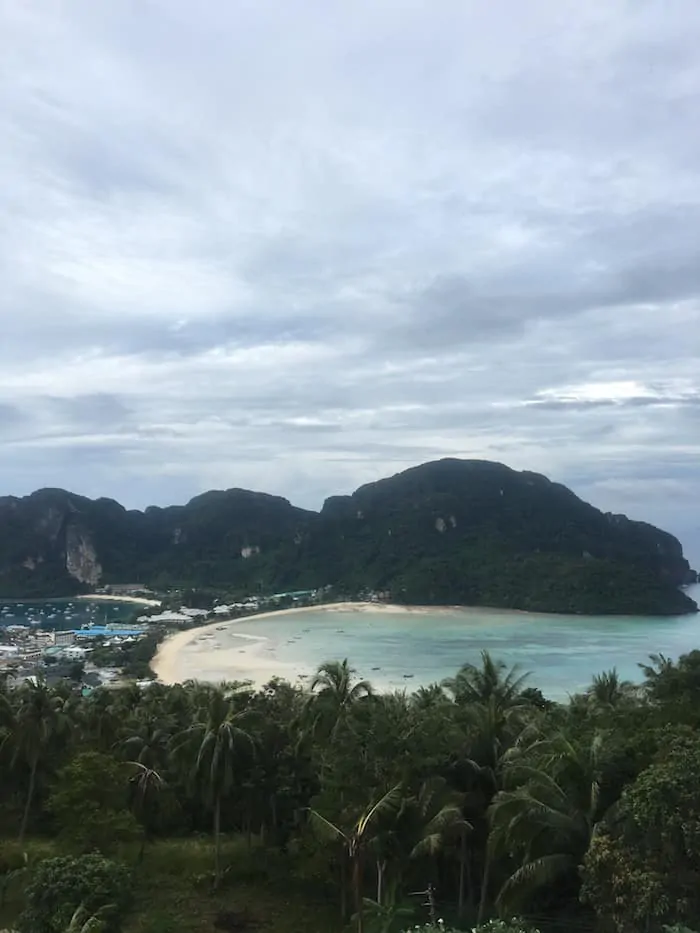 It's vacation season! Who's excited?
Tomorrow Matt and I are headed off for a two-week vacation to Costa Rica – it's going to be a blast. We'll be by the beach the whole time and hopefully, eat lots of delicious food, swim in the ocean, try some stand-up paddle boarding,  do some yoga and maybe even learn to surf. It's going to be relaxing and totally glorious.
Since I know many of you are planning trips too, today I wanted to share my best tips for staying healthy while traveling. I'm taking you inside my travel bag and sharing all the products I take with me on the road. From food to beauty products and even some random things thrown in. Watch the video below to see what I'm packing!
And now for a detailed look at each of these products!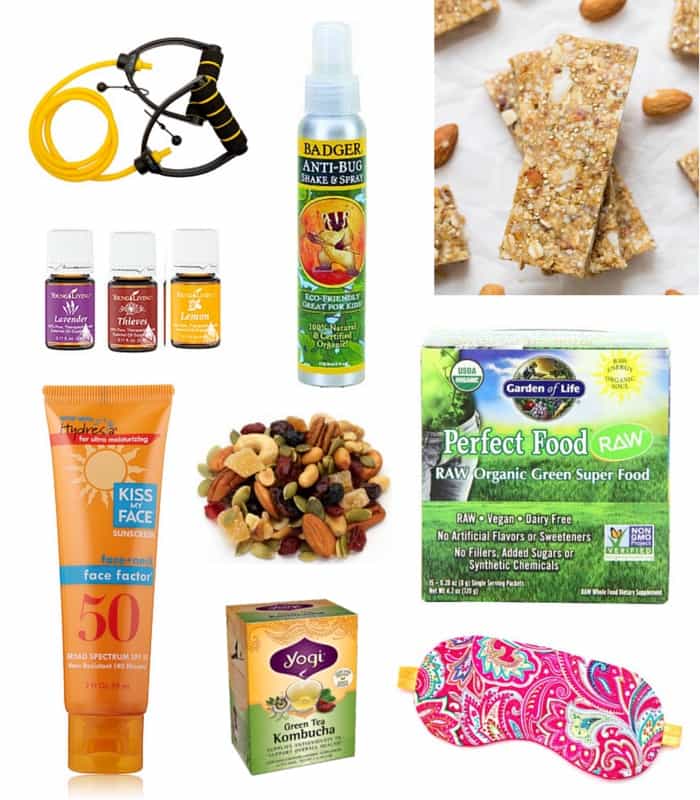 1. Food
Trail Mix – this is one of my favorite on-the-go snacks. I make a big batch and then portion it out into little baggies to carry with me. It's energizing, filling and nutritious. The mix in the video has brazil nuts, cashews, almonds, pumpkin seeds, goji berries, mulberries, coconut flakes AND cocoa nibs. It's delicious!
Homemade Granola Bars – another must-have when I travel is granola bars. I like bringing my own because it not only saves me money, but they're a lot healthier than the kind you buy. These are my Almond + Coconut Quinoa Granola Bars and they're delicious!
Quinoa Flakes – while this might seem a little strange, I like having quinoa flakes with me while I travel because it helps me guarantee that I can have a filling and nutritious breakfast. You can cook them up with just hot water and add in whatever you'd like (like some trail mix or fresh fruit!). There's protein, fiber and it's gluten-free!
Green Juice Powder – I love my green juices, so this is a great way for me to get my greens in even if there isn't a juice bar around. Just mix it with a little water or fruit juice and you have instant green juice. I like Garden of Life's varieties, but I encourage you to test a few out and find a variety that you like. Even try the flavors!
Tea – I'm a big tea drinker (and actually don't drink coffee) so I always make sure to have tea with me. I like to bring a mix of greens and herbals so I have a few to choose from.
2. Skincare
Natural Sunscreen – I always like to have sunscreen with me when I travel! The one I have here is: Kiss My Face Face Factor (SPF 50). You'll see I also have a second one in my hand, but I actually decided against it. It was the Honest Company's sun lotion and it has terrible reviews on Amazon. Instead, I purchased these two (both of which I really like): Blue Lizard Sensitive Sunscreen (SPF 30) and Beauty by Earth All Natural, Mineral & Organic Sun Block (SPF 25).
Bug Spray – bugs are attracted to me for some strange reason so I make sure to always have bug spray. The first one in this video is a homemade variety made with essential oils and the second one is from Badger. Both are all natural and chemical free!
Coconut Oil – coconut oil is a must-have for me wherever I go. I carry it in a small travel container and use it for moisturizing, I mix it with sunscreen and I'll use it on a sunburn if I get burned (which hopefully I won't!)
3. Essential Oils
Lavender – one of my go-to oils for everyday life, lavender really calms me down. It's great for sleep too!
Lemon – this is more of an energizing oil which I'll use if I need to pep up or I'll even just add a drop to my water for a little boost.
Thieves – this is a great oil for traveling because its anti-microbial meaning it helps to kill germs. I carry it in a spray bottle and use it on germ-y surfaces. It especially important to carry this with you during cold season!
4. Miscellaneous
Sleep Mask – this is a must-have if I'm flying somewhere. I use sleep masks to help me block out the light and really tune out. I like to put a little essential oil on the mask, then pop in my headphones in and just relax.
Resistance Bands – I've really gotten into working out lately, so making sure I have something to keep me active is important. I like resistance bands because they're so lightweight and easy to pack. Check out YouTube for some great workout videos! (I like this one a lot)
And that's it!
I'd love to know what you travel with. Any must-haves that I missed? Let me know in the comments below!
Happy travels 🙂
xo Alyssa