Got a sweet tooth? You've got to try these no-bake Banana Snickers Bites! They're a healthy spin on the classic candy bar, made with just 5 ingredients, vegan and GF!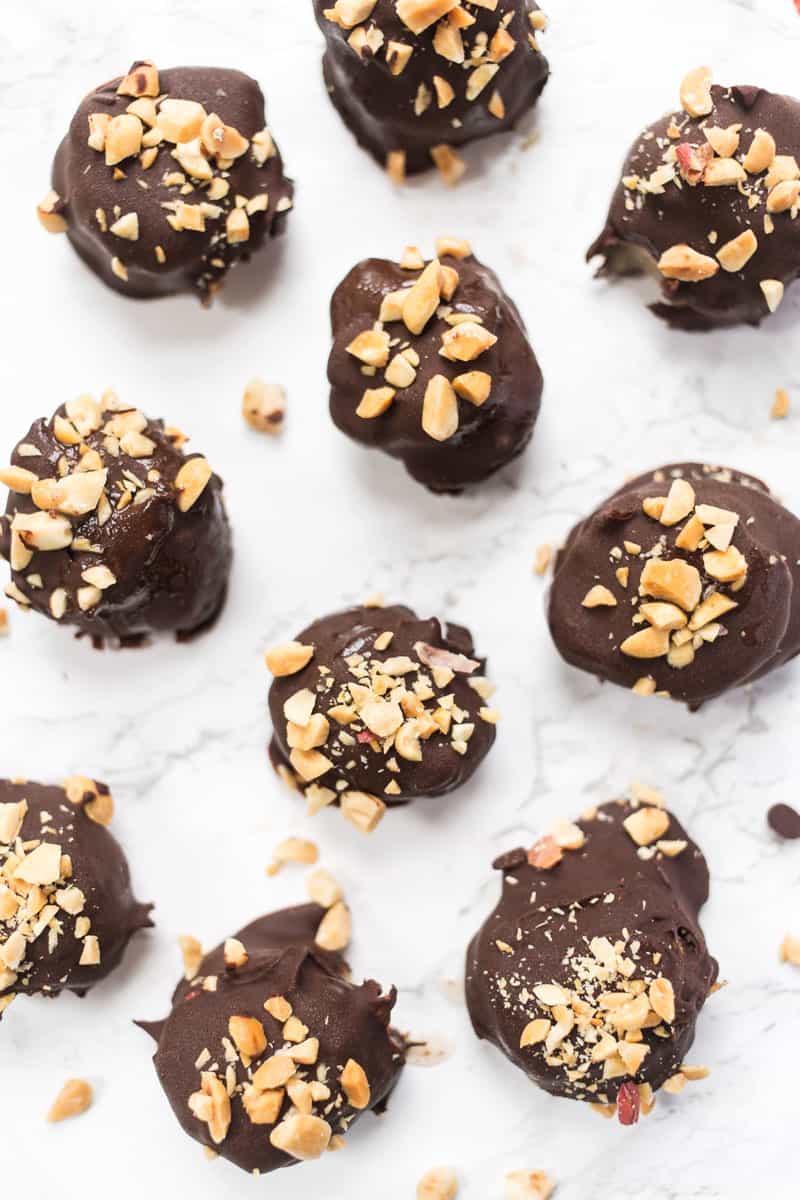 It's funny how we get strange things from our parents. Like Snickers. My mom looves Snickers bars and it has always been my candy bar of choice as well.
One of my favorite ways to eat a Snickers bar is actually frozen. If you haven't tried, oh jeez, it's amazing! We used to get them when we went to the beach and it was the most refreshing treat ever. And definitely the nutritious kind of snack you want your kids to be munching on after a long day in the hot sun. KIDDING!
So rather than encourage you to eat a frozen Snickers bar, which I don't really recommend, I'm going to give you a healthy, tasty, nutritious way to enjoy this insanely delicious treat. We're making No-Bake Snickers Banana Bites!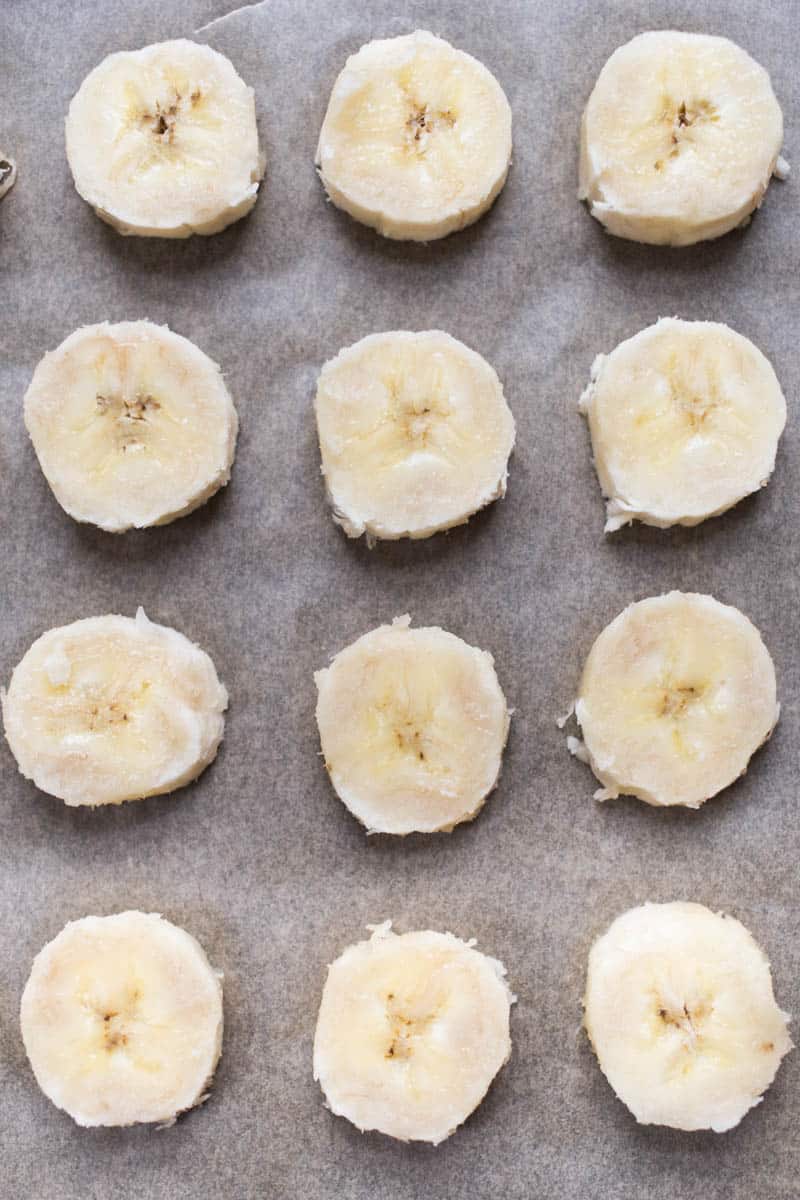 So if we're breaking down the actual anatomy of a Snickers bar, here's what we're working with:
1. Peanut butter nougat
2. Caramel
3. Roasted Peanuts
4. Chocolate Coating
And we're replacing all four layers in our own clean way!
First up we've got the peanut butter nougat. My solution? Sliced bananas and peanut butter! Which we freeze to give that nice creamy texture!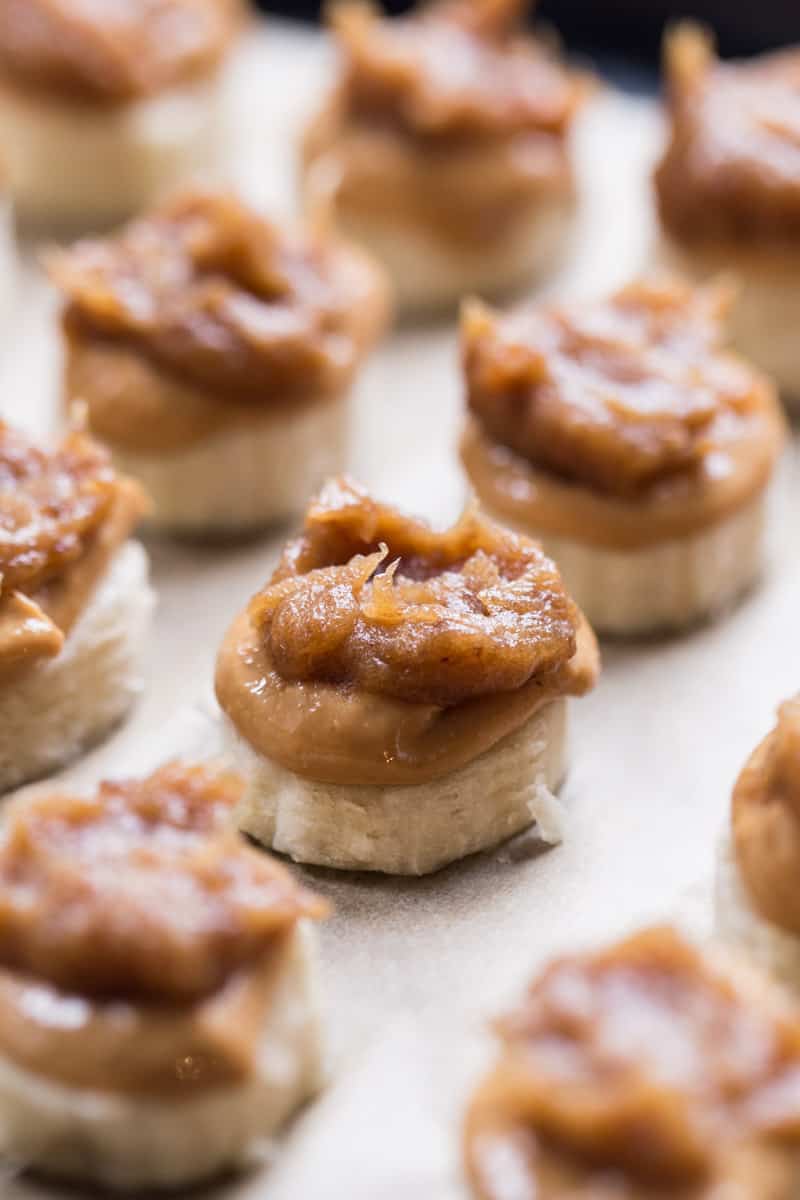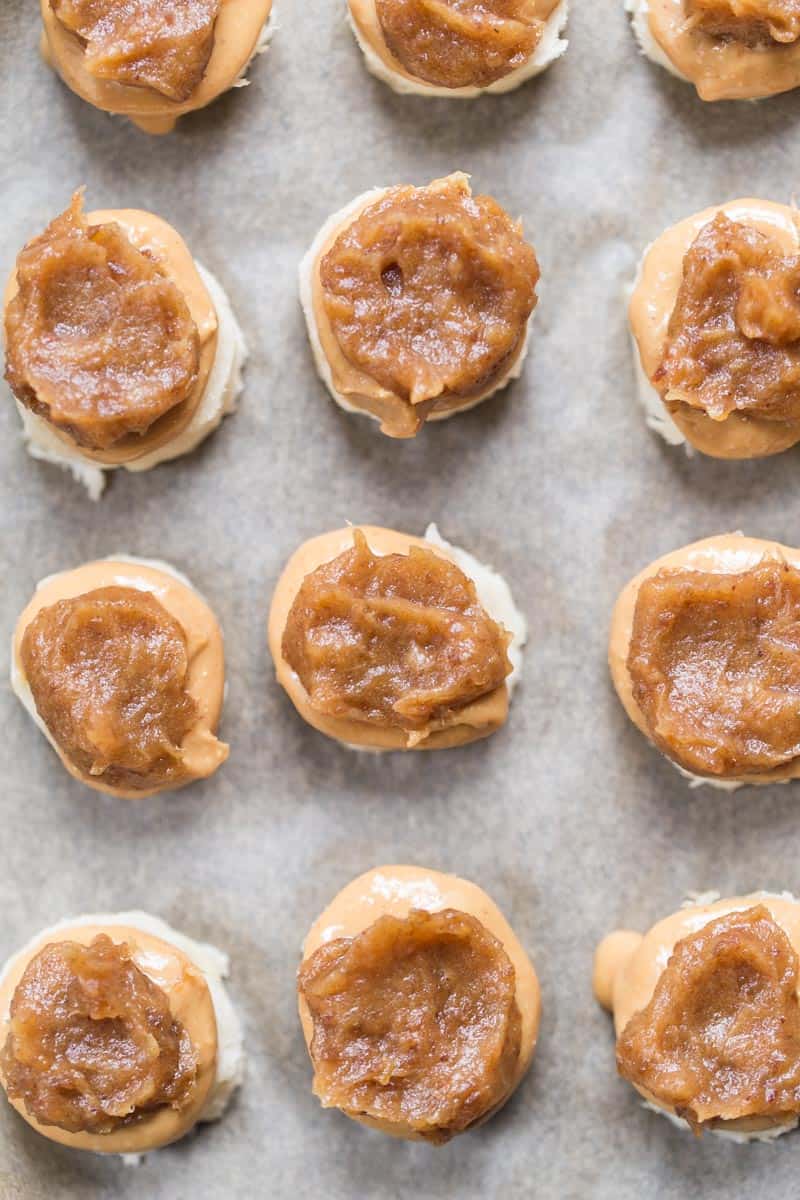 Our next layer to worry about is caramel. Vegan caramel can be a tiny bit tricky finicky and I wanted to also give you a treat that was frozen and no bake, so we're resorting to date caramel.
We're using soaked Medjool dates which taste remarkably like caramel!
Medjool dates are amazing in no-bake desserts because they're sticky, super sweet and they usually they help to bind things together. But as a caramel? Holy deliciousness!
(plus they're packed with fiber and iron! #bonuspoints)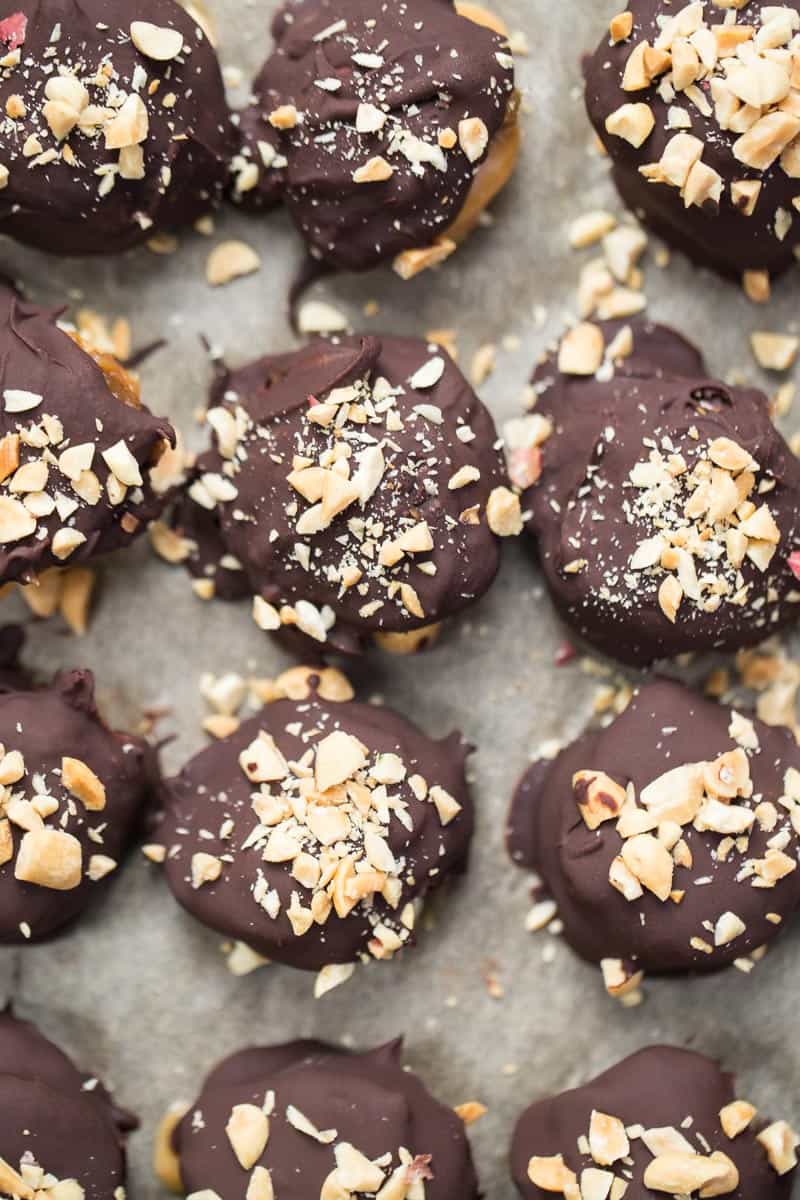 Final step…the chocolate!
I simply melted some dark chocolate chips together and then dunked the frozen banana bites in that melty goodness. Topped with chopped roasted peanuts for some added crunch and what do we have?
NO BAKE SNICKERS BITES! That are not only simple to make, but also healthy, naturally sweetened and with zero of the junk that traditional Snickers bars have.
Now this is a dessert that you can feel good about serving to adults, kids and everyone in between ????????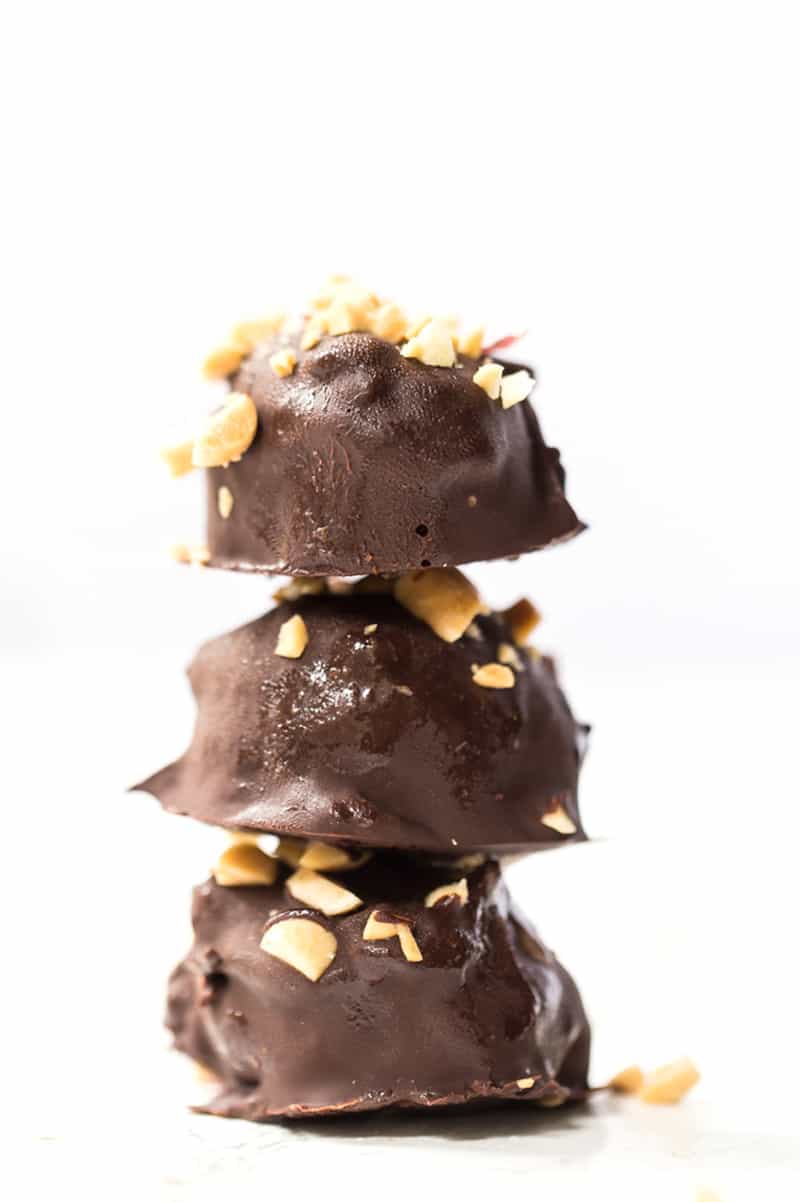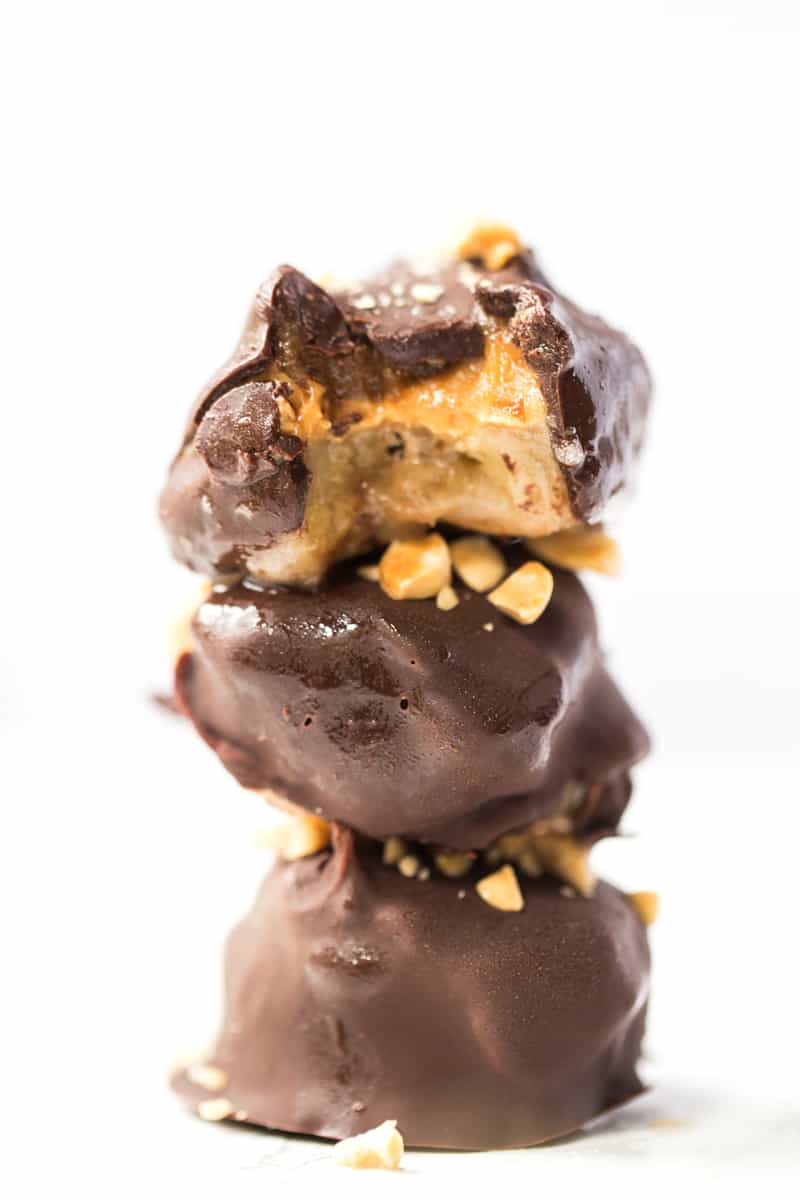 Can you see all those amazing layers!? SO. DAMN. GOOD.These are definitely a must-try for all you candy lovers out there!
These are definitely a must-try for all you candy lovers out there!
And if you're looking for even more healthy, no bake desserts, check out my latest YouTube video! I'm sharing three delicious no-bake recipes, all of which are perfect for the summer and satisfying your sweet tooth with a nutrient-rich treat.
xx Alyssa
More No-Bake Dessert Recipes You'll Love!
No Bake Snickers Banana Bites
These healthy snickers banana bites are a delicious summer treat that requires zero baking! Keep your freezer stocked and enjoy a nutritious dessert every day!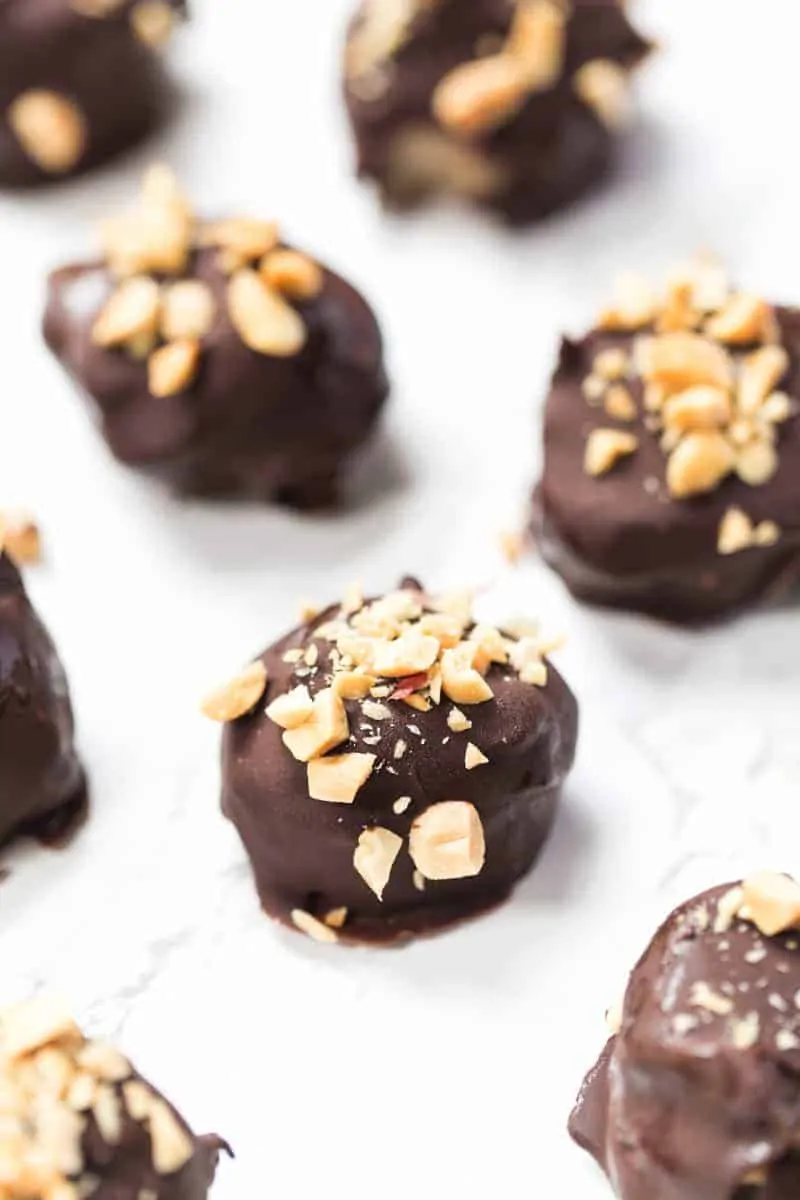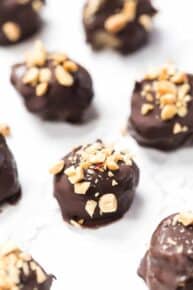 Instructions
Add the dates into a bowl and cover with hot water. Set aside for 15 minutes.

Remove dates from the water (don't discard!) and add to a blender along with 2 tablespoons of the soaking liquid. Blend on high until smooth.

Slice the bananas into circles about 1/8" thick. Transfer circles to a parchment lined baking sheet.

Top each slice of banana with 1 teaspoon of peanut butter, followed by 1/2 teaspoon of the date caramel. Freeze for 1 hour.

When ready to dip, melt the chocolate chips. Carefully dip each frozen banana into the chocolate, tapping off any excess chocolate and transfer back to the baking sheet. Top with chopped peanuts and repeat until all bananas are covered. Freeze for another 1 hour before enjoying.

Store in the freezer for best results!
Nutrition
Calories:
111
kcal
|
Carbohydrates:
18
g
|
Protein:
2
g
|
Fat:
5
g
|
Saturated Fat:
2
g
|
Sodium:
2
mg
|
Fiber:
2
g
|
Sugar:
15
g
Filed Under: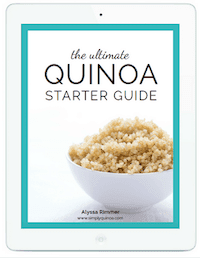 New to cooking quinoa? Grab your FREE Quinoa Starter Guide!
Become part of the Simply Quinoa community and receive weekly emails with exclusive content that I only share in email, as well as my in-depth guide to starting your quinoa journey.