These no bake key lime pie bars are the ultimate healthy treat! Made with a creamy cashew filling, a crunchy crust and bursting with tons of lime flavor!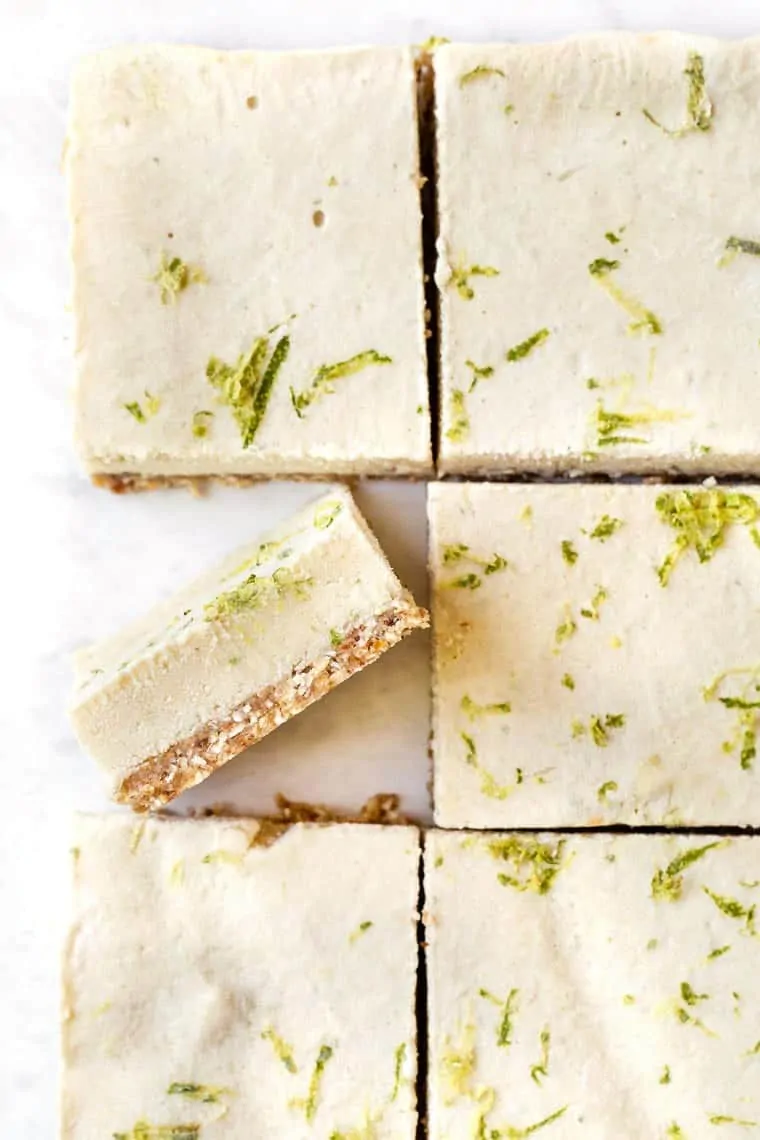 When it's hot as all get out and you're craving something sweet, the last thing you want to do is turn on your oven. Sure you could pick up some popsicles from the store or make some banana ice cream, but wouldn't it be nice to just have a freezer stocked with yummy treats?
That's one of the reasons I love no bake desserts! You can keep a stockpile in your freezer all year long and just pull out a delicious bite of goodness whenever it strikes your fancy.
Lately, I've been obsessing over these no bake key lime pie bars! They've got the texture of a cheesecake, but also kind of like ice cream and they taste incredible.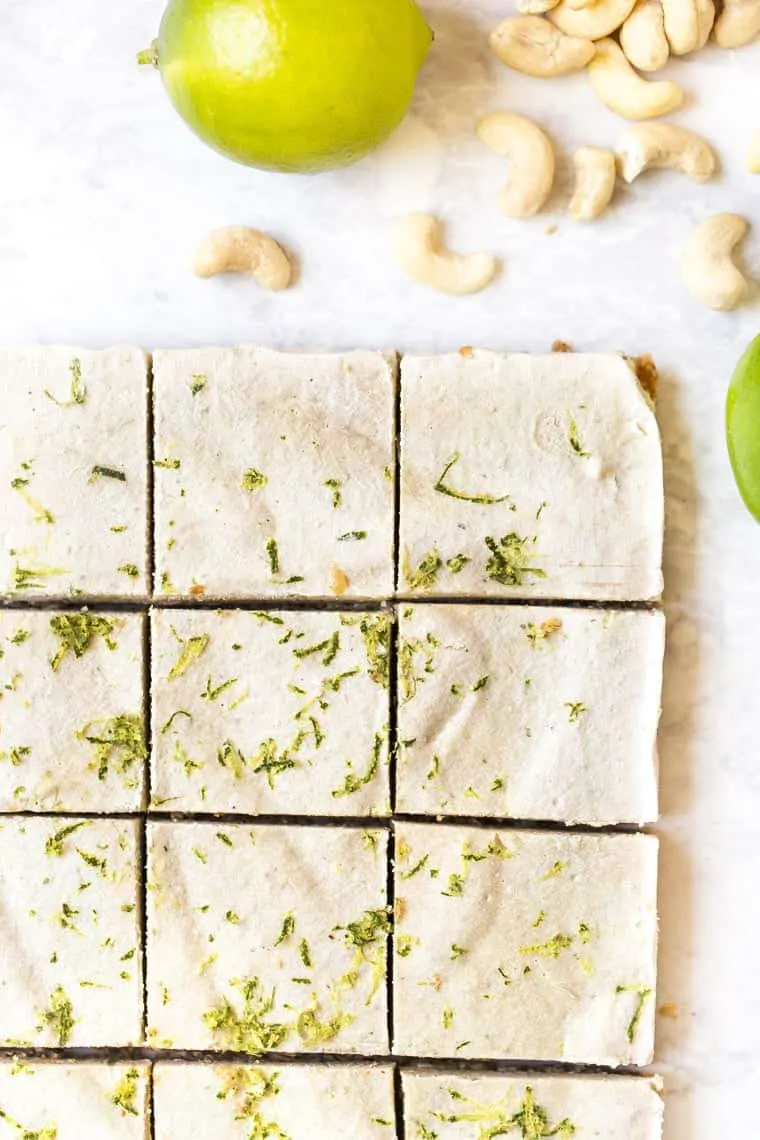 How to make a No Bake Crust
The first order of business with these key lime pie bars is the base. Traditional cheesecake recipes have a graham cracker crust, but I wanted to a) keep things gluten-free and b) keep them unprocessed.
So rather than blending up some gluten-free graham crackers with vegan butter, we're going to go the healthy route. In this no bake crust we're using…
oats: they have a mild flavor and help us use less nuts
pecans: have that semi-sweet nuttiness that is awesome in recipes like this
dates: add sweetness, but also make the crust stick together
coconut oil: also helps hold everything together, especially when frozen
And all you need to make the crust is a food processor! Just add everything in, blend it up until it's a sandy, somewhat sticky texture, transfer it into your pan, press it down firmly to form the base and move on to the filling!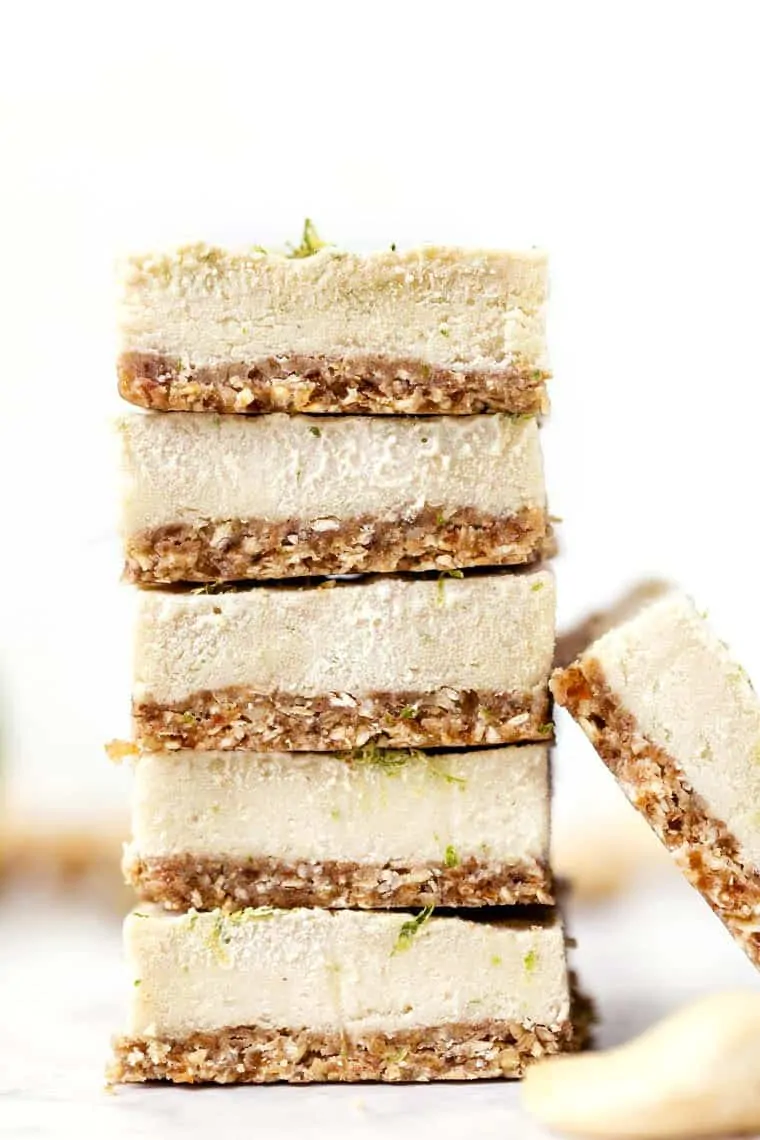 Ingredients for No Bake Vegan Cheesecake Filling
The secret ingredient to almost any no bake vegan cheesecake chilling is raw cashews. And the key here is that those cashews need to be soaked.
I don't know what it is about raw cashews, but when you soak them and let them soften up they have the most insanely smooth and creamy texture. Just like thick full-fat cream or cream cheese would. So basically they're perfect for a vegan cheesecake filling and are the best way to make these no key lime pie bars.
Here are the other ingredients we're using in the vegan cheesecake filling:
raw cashews: that cream factor!
limes: we're using both the juice and zest and you could use regular or key limes if you can find them
maple syrup: for sweetness
coconut oil: to help it hold its shape when frozen
vanilla extract: for just a hint of added flavor
And again, just like the crust, all we're doing is blending all these ingredients (this time in a blender to get the silky smooth texture), pouring it over the crust and popping it into the freezer.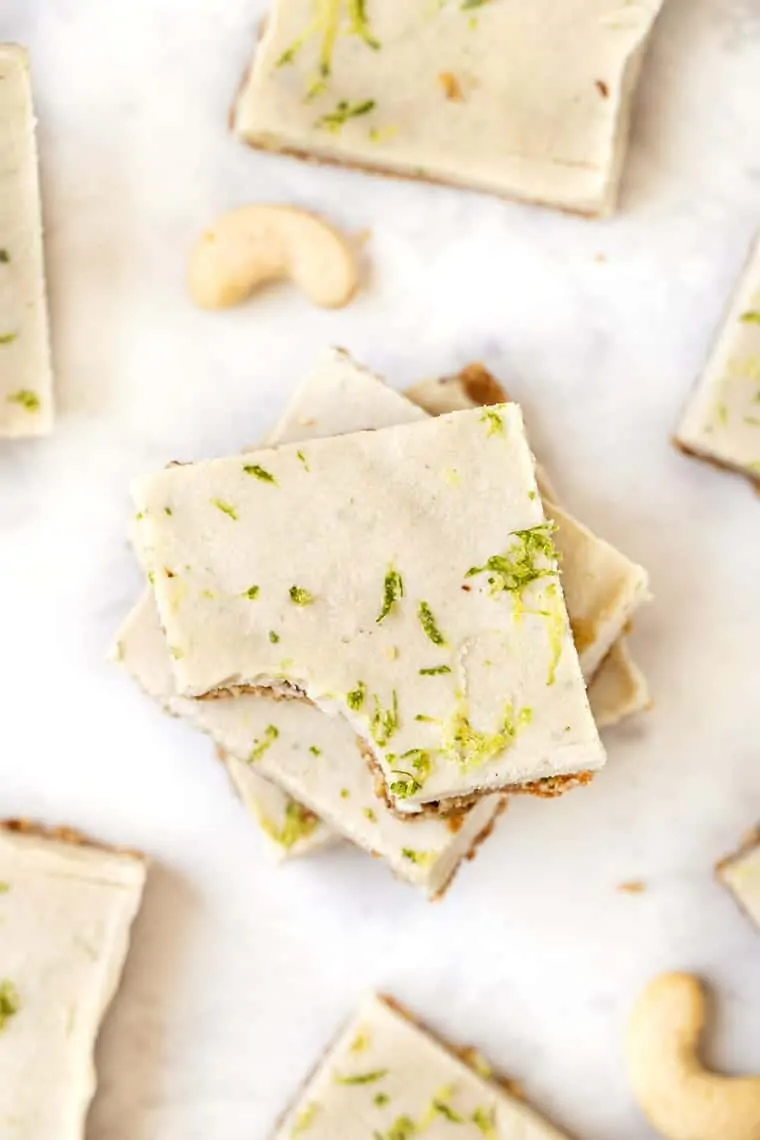 Healthy No Bake Key Lime Pie Bars
And that's how easy it is to make these no bake key lime pie bars. The hardest part of the whole recipe is waiting for them to firm up in the freezer! Otherwise, it's just a little blending and bam!
Here's a quick tip to make these even more enjoyable: when you take them out of the freezer, give them a few minutes to soften. It makes them easier to bite into and really gives you that soft, cheesecake-y texture.
Oh and lastly, you definitely want to keep these in the freezer. They tend to get a little "melty" if they're in the fridge. So I just like to keep a stash on hand for a quick and easy treat whenever I don't feel like baking. Hope you love them too!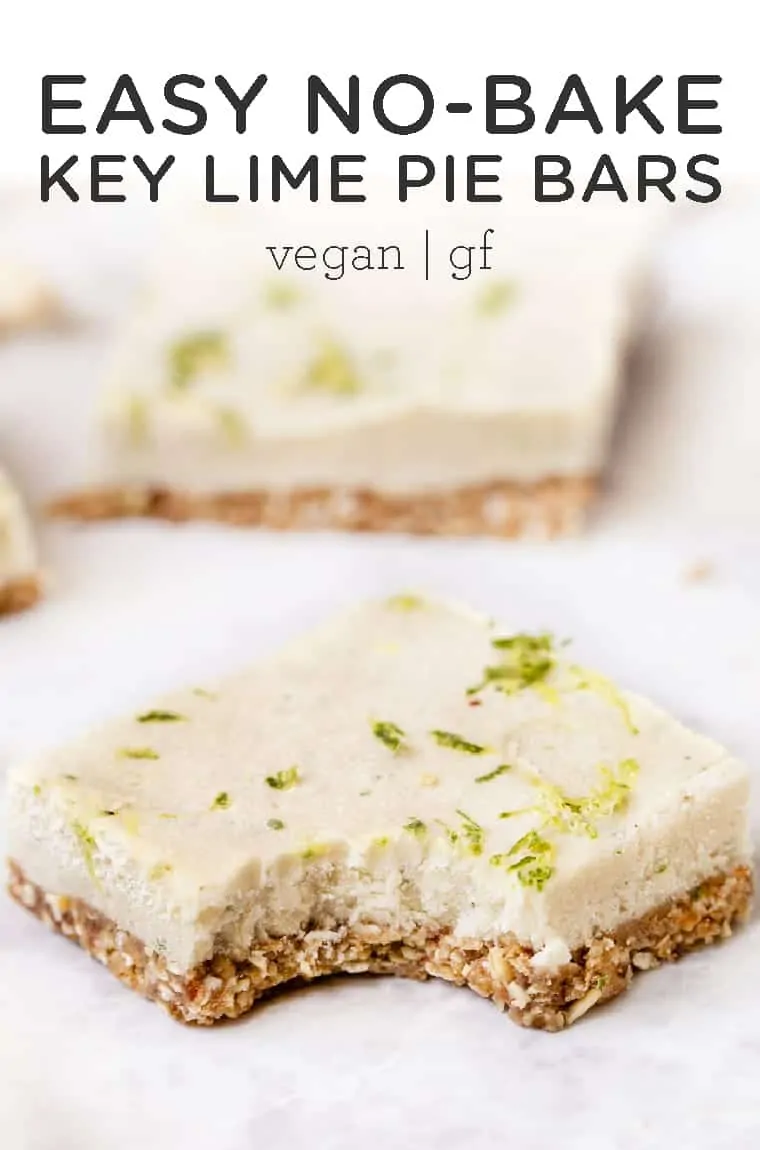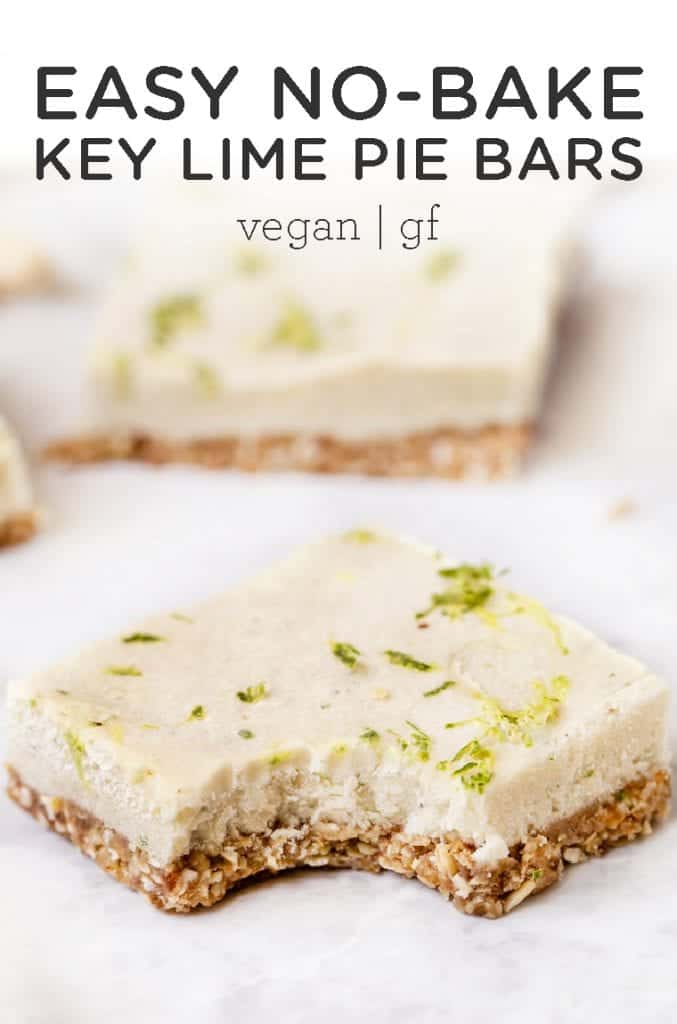 More No-Bake Vegan Treats:
No Bake Key Lime Pie Bars
These no bake key lime pie bars are the ultimate healthy treat! Made with a creamy cashew filling, a crunchy crust and bursting with tons of lime flavor!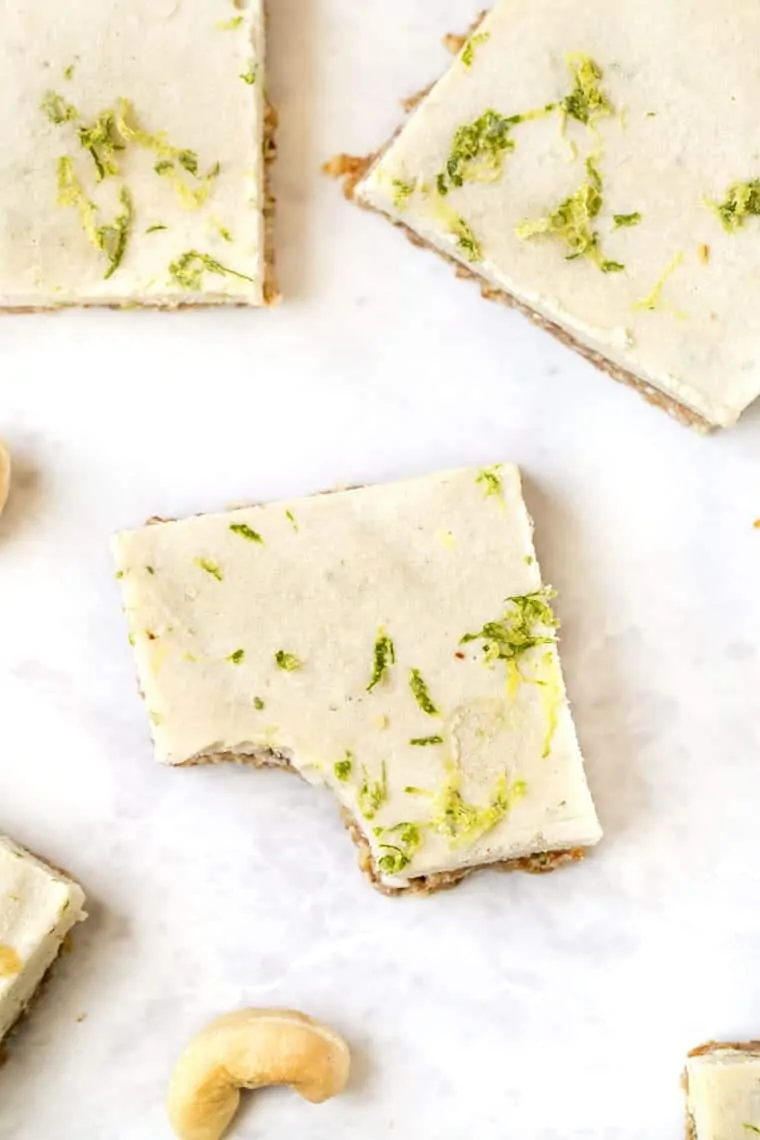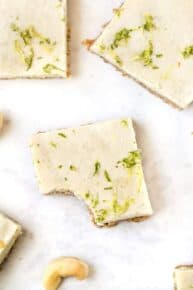 Instructions
Add the oats, pecans, dates and coconut oil into a food processor. Process until a sandy, sticky texture forms. Transfer this into a parchment-lined 8x8 baking pan. Press firmly (like really hard) into the bottom to create a crust.

Add the soaked cashews (they need to be soaked!), lime juice and zest, syrup, coconut oil and vanilla into a blender. Blend on high until smooth and creamy.

Pour the filling over the crust and freeze for at least 4 - 6 hours, preferably overnight.

When ready to serve, allow to sit at room temperature for 5 minutes, then slice. Store in the freezer and enjoy as a refreshing cold treat on a hot day!
Nutrition
Serving:
1
bar
|
Calories:
151
kcal
|
Carbohydrates:
15
g
|
Protein:
3
g
|
Fat:
10
g
|
Saturated Fat:
3
g
|
Sodium:
2
mg
|
Potassium:
172
mg
|
Fiber:
2
g
|
Sugar:
8
g
|
Vitamin C:
0.2
mg
|
Calcium:
15
mg
|
Iron:
1.1
mg
Filed Under: