Did you know that most bedrooms are full of harmful chemicals? This list contains the best non toxic bedroom items including mattresses, sheets, and pillows.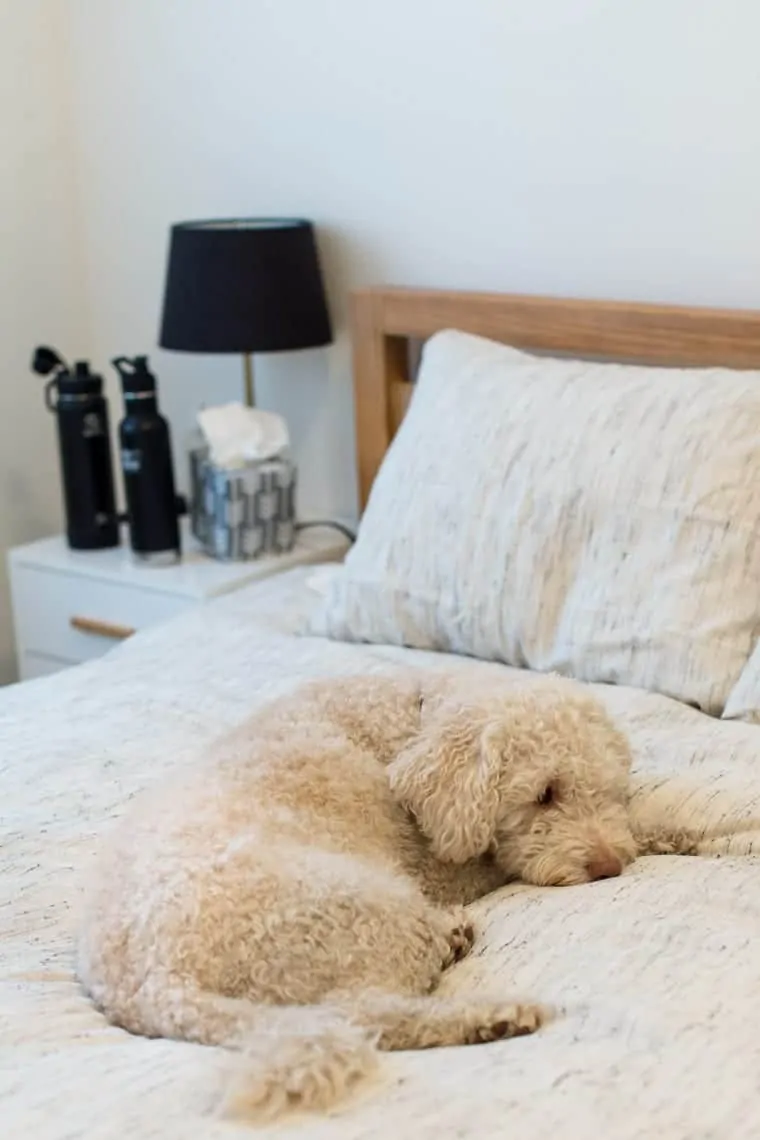 If you asked me what my favorite room in my apartment is, it would definitely be my bedroom. Is it for you too? I think for most people, the bedroom is a sacred space. It's where you go to relax and it becomes this calming place for you to unwind. For me, my bedroom has become this little oasis that is peaceful, comfortable and now, also healthy.
You might be thinking, "healthy? That doesn't make sense", but it actually most common bedroom items aren't very healthy. They're full of chemicals that are toxic for our systems and since we spend so much time in our beds every single day, that toxic exposure builds up.
Think about this: we spend 6+ hours a day in our bed. Our skin, which is our largest organ, is in direct contact with that bed for that entire time. That means anything that's in our sheets, pillows, mattresses, etc., is getting absorbed by our skin.
Luckily, toxins are starting to get more attention. There's the clean beauty trend, the non-toxic cleaning products trend. But people aren't really talking about the bedroom. And the bedroom is where we spend at least 25% of our time which means we're getting long-term exposure to harsh, intense chemicals.

What Toxins are Hiding in Your Bedroom?
There is a range of different toxins that can be found in your bedroom. Rather than just give you a list individually, we'll do a quick overview for each of the main categories, mattresses, sheets, and pillows.
Mattresses
Most mattresses are the market are toxic. They include things like polyurethane foam (which emits volatile organic compounds, or VOCs) and can cause respiratory irritation or other health problems, as well as flame retardant chemicals (linked to cancer, hormone disruption and adverse effects on the immune system), and PVC or vinyl covers that can damage developing reproductive systems. Check out this mattress buying guide from the EWG for more info.
Sheets
While sheets aren't necessarily treated with things like flame retardants, you do need to be mindful of what they're made of. Most sheets are made from cotton – or at least partially – and cotton has the highest levels of pesticide use. One common pesticide use on cotton is called Aldicarb and one single drop absorbed through the skin can kill an adult.
Pillows
Similar to mattresses, pillows can be full of things like flame retardants, toxic foams, treatments for allergens, perfumes and more. In addition, pillows can be susceptible to things like mold, bacteria, dust mites and more. Some of the things used in standard pillows can cause allergic reactions, respiratory issues, and can exacerbate things like asthma and sinus problems.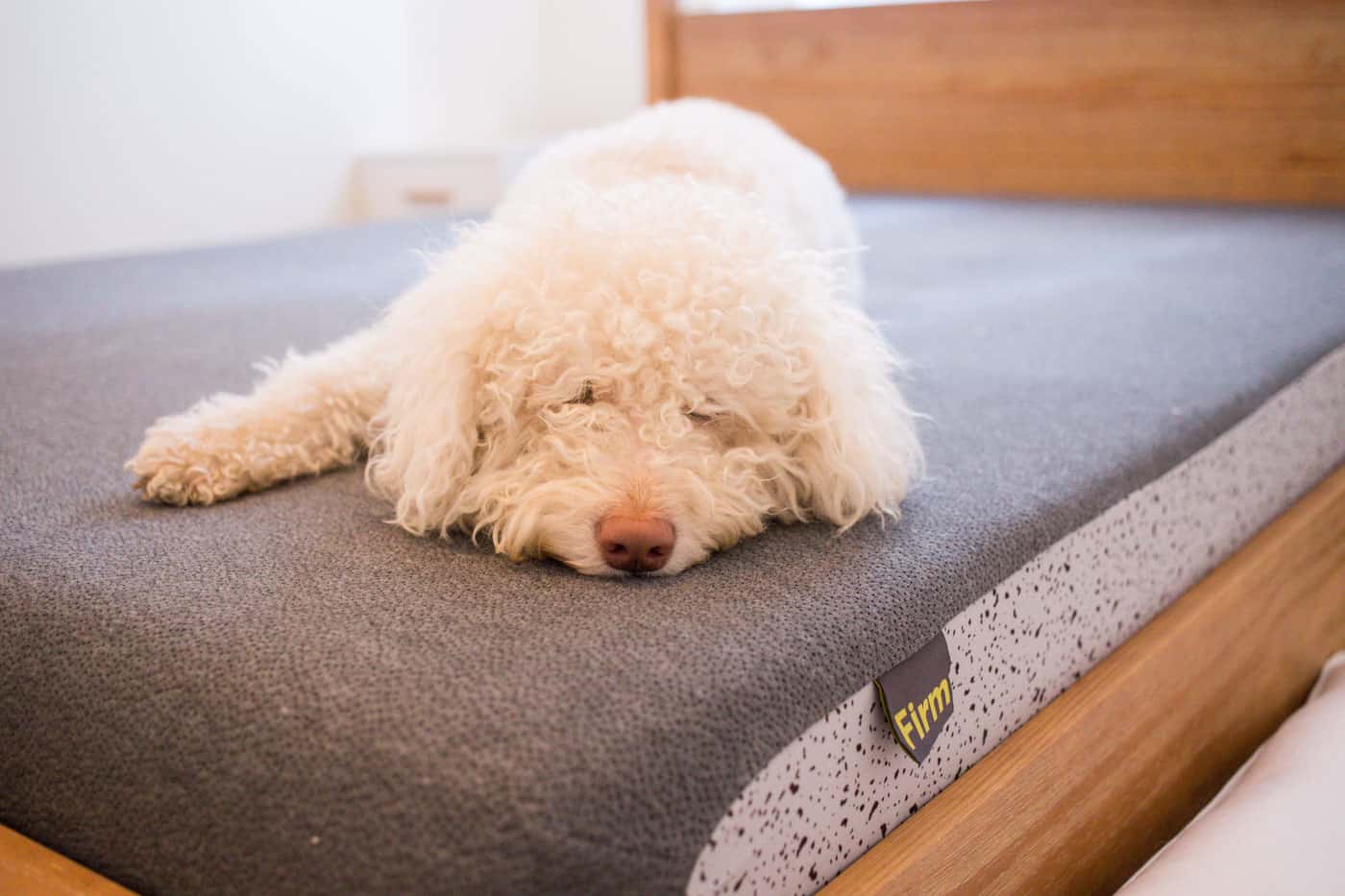 Your Guide to a Non Toxic Bedroom
Honestly? They're everywhere. From your mattress, your sheets, pillows, curtains, and even furniture. And the thing is, it's actually harder to find healthy options than the standard options sold across the world.
So I wanted to put together a post that not only helps inform you of where these toxins might be hiding but also share some of the safe alternatives. Below we've got product and brand recommendations for mattresses, sheets, pillows and some other things like furniture and curtains.
The Best Non-Toxic Mattresses
There are quite a few companies diving into the non-toxic mattress space, and while I haven't had experience with all of them, I do have three favorites which I absolutely adore!
Naturepedic
A company that I recently discovered and am loving! They are the #1 organic mattress company and have quite a few options to choose from. Everything from a vegan mattress, to non-toxic latex mattresses, even crib, and toddler mattresses as well. There's something for everyone which I adore.
Naturepedic is handcrafted in the US with organic, non-toxic materials and is certified to the Global Organic Textile Standard (GOTS). With Naturepedic you do not have to worry about questionable labels or claims. Their mattresses provide safe healthy sleep for the whole family with a whole range of comfort levels and mattress types. Their adult mattresses also ship roll packed for easier transport (and setup!). I actually don't currently have a Naturepedic, but we'll be moving in a few months and it is going to be the one that I get when we upgrade to our king!
Avocado Green Mattress
This is a newer company to the green mattress space, and it has fewer options to choose from than Naturepedic, but also makes 100% non-toxic mattresses. They aren't cheap, but they're made with high-quality ingredients, have a 25-year warranty and also ship directly to your door.
We actually have an Avocado mattress topper which I think is a great way to start making the transition to a non-toxic mattress. As these mattresses can be quite pricey, if you just want to test things out or aren't ready to make the full investment, you can get a topper first and then if you like it, invest in the full thing. I really like the topper we have, but note that Naturepedic also makes non-toxic mattress toppers!
OSO
This is the mattress we got about two years ago and it's been great. It's non-toxic, more affordable than the other two brands, but isn't quite as high quality. I'd say this is a non-toxic alternative to a Casper mattress whereas the other two are more in line with Tempurpedic in terms of quality and price.

The Best Non-Toxic Sheets & Bedding
As I mentioned, the best way to avoid toxins in your sheets and bedding is to make sure that you're buying 100% organic cotton products. There are lots of options out there, but these are my three favorites:
Naturepedic
Again, the quality from Naturepedic is top notch. We have a set of their Organic Cotton 400 Thread Count Luxury Sheets and I can honestly tell you, they're the softest, most comfortable sheets we have ever slept in. No joke. These sheets are LEGIT! I climb into bed every night with a huge smile on my face. I sleep better, I'm so comfortable and I just think they are so well made. They're also a cream color which I love because they're less apt to get sweat stains!
Coyuchi
This is another brand that makes high-quality organic sheets. I haven't personally tested them out, but have heard great things. The only thing I would say is that they're quite pricey! They do have more options in terms of colors and materials than Naturepedic, but I can't speak to the comfort.
West Elm
Surprisingly, this retail giant actually does carry some organic cotton bedding. We have an organic cotton duvet cover which we really like and they also carry different sheet sets. We haven't tested their sheets, but they do have a few different styles to choose from. Based on touching them in store, I would say they aren't as comfortable as Naturepedic!
Buffy
Last but not least, our new sustainable and non-toxic comforter! We used to sleep with just a standard comforter and I didn't even think about the materials being used. I discovered Buffy through an Instagram ad of all things and I have to tell you, I'm obsessed. This comforter is SO comfortable, it's a perfect weight and we both LOVE it. It's also made from sustainable materials – the filling is recycled bottles of all things! – and is 300 thread count.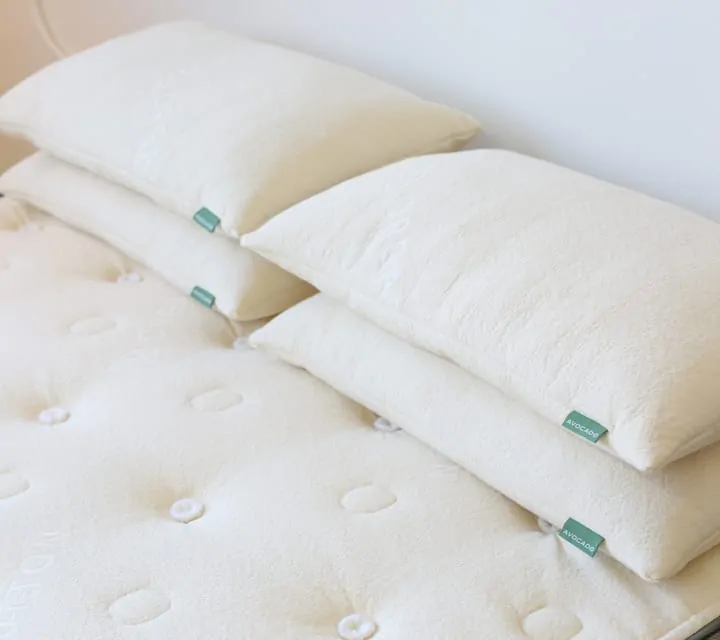 The Best Non-Toxic Pillows
More so than Mattresses, there are lots of different options when it comes to a non-toxic pillow. You want to be sure you're looking for one that is made from non-toxic materials, which can include cotton, latex, wool and even down. I have personally slept on a down pillow my entire life, and haven't found the perfect pillow (yet!), but both Naturepedic and Avocado both made non-toxic pillows.
Naturepedic
They carry about 4 different pillow options, so I'd recommend checking out the site and seeing which one sounds like it would be the most comfortable for you. I'll be honest and tell you that I tried that Organic Kapok/Organic Cotton pillow and it was too firm for me. I'm used to a cloud-like feeling and just can't get used to firm pillows. I think the Trio one would actually be better for me!
Avocado Green Mattress
Avocado also makes pillows that their customers rave about! We tested them out and found them to be rather firm, but after reading the reviews I think we just need to take some of the fill and I bet that would help.
Want more non-toxic pillow ideas? Check out this list of 14 eco-friendly pillows!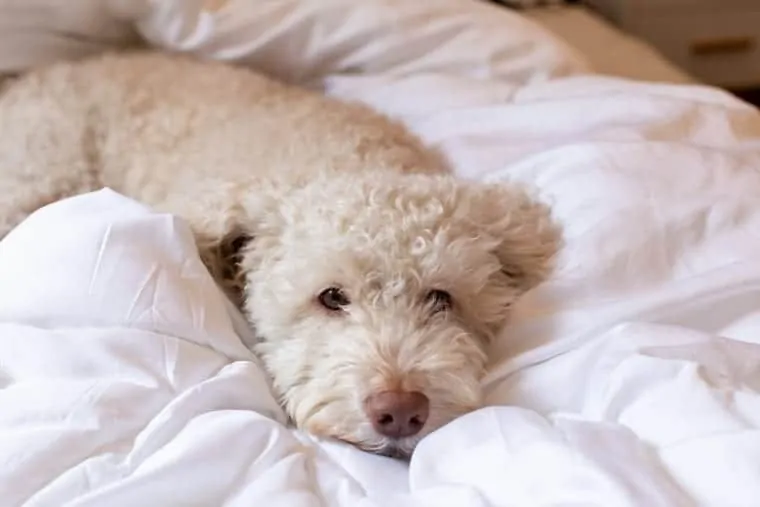 Other Non-Toxic Items for Your Bedroom
Furniture: cheaply made furniture – you know the ones made from particleboard, pressed wood, plywood, and MDF – is often assembled with toxic glues that contain formaldehyde which off-gases for a long time and can cause a host of health issues. Furniture also can be covered in stain or varnishes, which again are made from chemicals that seep into the air. This is something I didn't really think about when I redecorated my bedroom a few years ago. Since we're not staying in our current apartment that much longer, I'll make the upgrades when we move!
Curtains: these are often sprayed with flame retardants as well as toxic stain preventers. Look for 100% organic cotton – which can be hard to find – or consider using an organic cotton shower curtain instead!
Rugs: rugs that aren't made from natural materials can contain chemicals that off-gas into your space. I recommend looking for a 100% organic, dyed with natural dyes and/or made from sustainable or recycled materials. Our rug in our bedroom – which is from West Elm and I love!! – probably isn't the best, but we do have a recycled rug in our living room that I really like. I also found this company, Hook & Loom, on my search that makes eco-friendly rugs!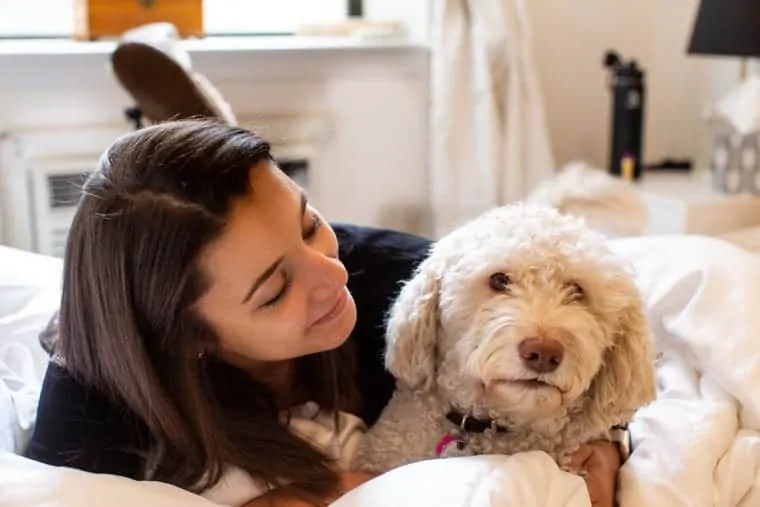 FAQs for Your Non Toxic Bedroom
1. How do I know if my mattress is toxic?
First, check the brand name. Then head to google and find what the mattress contains. If nothing comes up, search "[you mattress brand] + flame retardants" or "[your mattress brand] + latex" and you should be able to find some info. If not from there, I'd find a customer service number and call the company directly to ask. Most likely, if you've purchased just a standard mattress without making sure it's eco-friendly first, it will have toxic materials in it.
2. How do I detox my bedroom on a budget?
I totally get it, making all these swaps can be super expensive. First thing I would do is figure out what you already have. So do kind of an audit. Then I would focus first on your mattress and your sheets. If you can't afford a brand new mattress, think about investing in a non-toxic mattress topper. Those can at least provide a barrier between you and your mattress. Plus they're comfortable and once you're ready to upgrade, go ahead and do it.
For sheets, I'd say just bite the bullet and buy new ones. High-quality sheets will last you for a long time and are the things coming in direct contact with your skin on a nightly basis. Before I got my Naturepedic sheets, I had ones from target that literally fell apart in about 2 months. While they were cheap, if you have to replace your sheets over and over again, it ends up being more worth it to just have nice ones. And again, the Naturepedic ones are INCREDIBLE!
3. What other things can I do to detox my bedroom?
There are a few other ways to support the detoxification of your bedroom:
Run an air purifier at night when you sleep (here's the one we have)
Use essential oils to help purify the air
Vacuum & dust your room on a weekly basis to avoid the accumulation of dust, dirt, and mold
Wash your sheets and pillowcases weekly
Wash your duvet cover biweekly
Any other questions?
If you have any other questions, please drop them down below! I'll be happy to share my thoughts, more product links, answer questions, etc. So just let me know what else you need!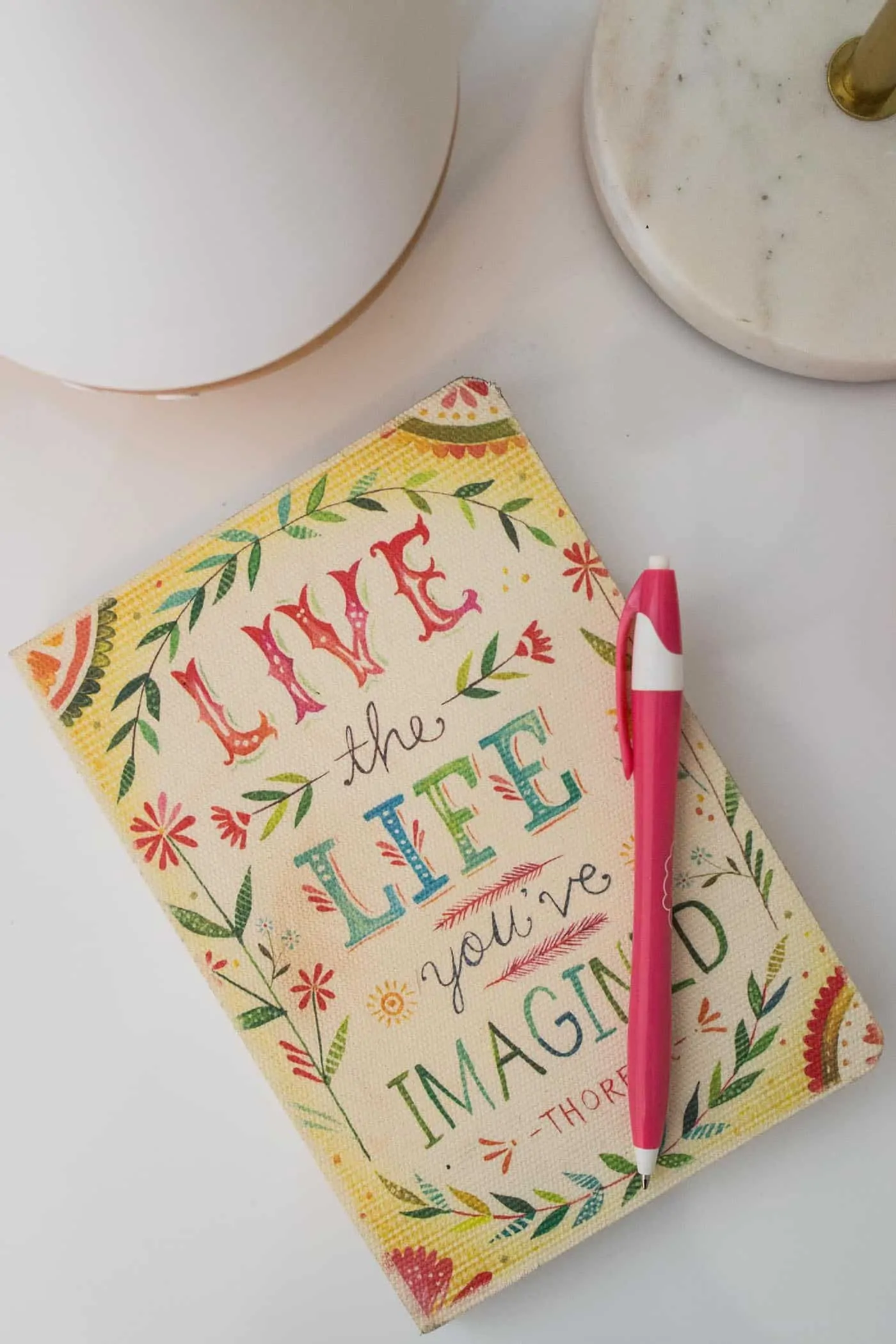 I was gifted product from Naturepedic and Avocado for this post, but all opinions are my own.