This is the ultimate recipe for vegan meatballs! Made with white beans and sun-dried tomatoes, these meatballs are flavorful, easy to make and also healthy!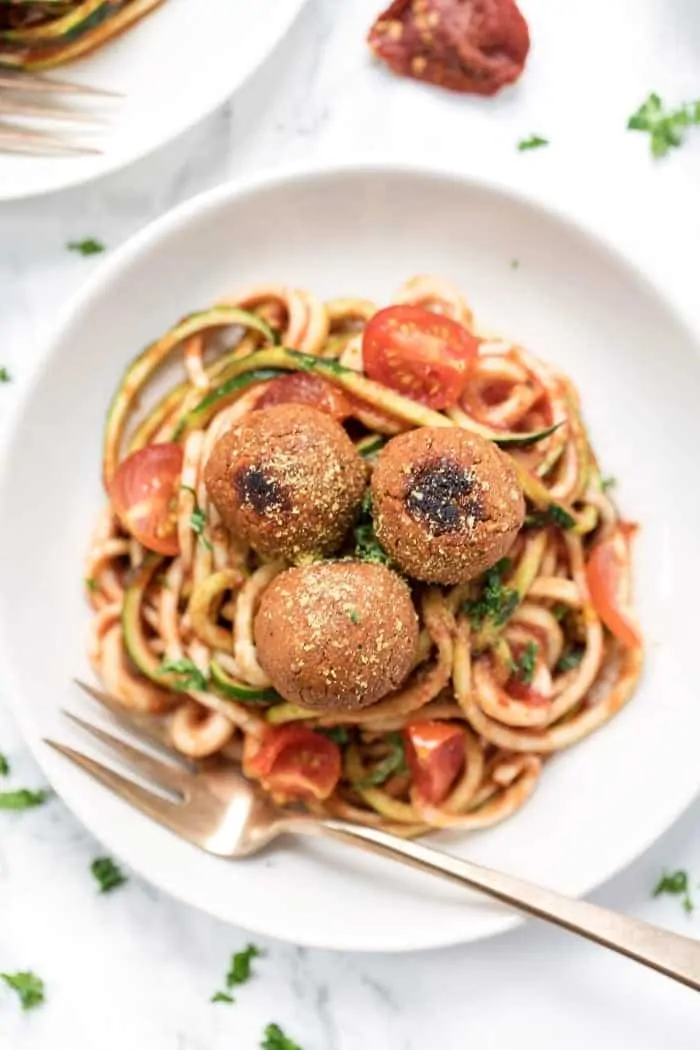 Growing up in an Italian-American family, many of our holiday meals featured my grandmother's famous meatballs and gravy. It's a "recipe" that has been passed down through the generations and one that my mom taught me while I was in college. I used to make it for Matt and I on Sundays sometimes in that first year we were living together after college.
It's still a constant in our holidays, and probably the most requested meal from my brother when we're visiting my parents, but now that I'm plant-based, it's no longer a meal that I eat. That doesn't mean my holidays are ruined! By all accounts they're still amazing and my family is super accommodating, but I do still miss those meatballs!
So I finally came up with a recipe that I feel like I can use to replace that beloved meal: these perfect vegan meatballs!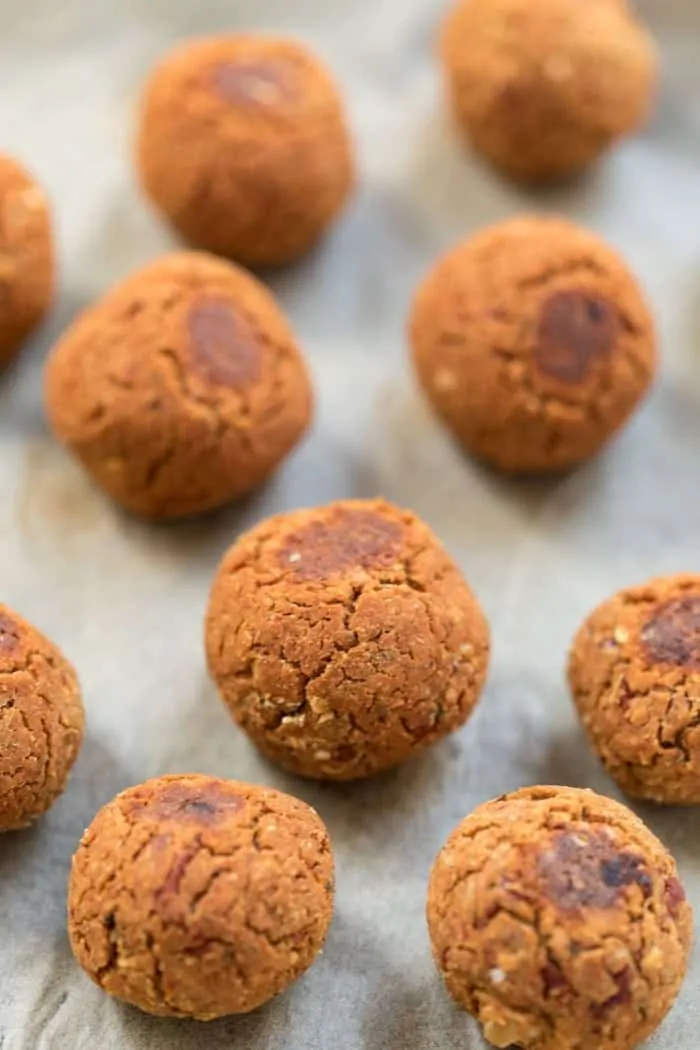 Traditional Meatballs vs. Vegan Meatballs
One thing to remember is that these are vegan. And with any vegan product, you're not going to get the exact same texture or feel that you would with a traditional meat product. These are plant-based "meatballs" – i.e. no meat and no standard meaty texture – so if you're looking for a 1:1 replacement for traditional meatballs, these aren't going to be that.
BUT they're still delicious! We're combining a ton of different ingredients to give them a deep flavor and by baking them, we're actually able to create that crispy outside and soft inside that traditional meatball have.
My mom browns her meatballs before putting them in her sauce and you still get that same browned feel with these vegan meatballs.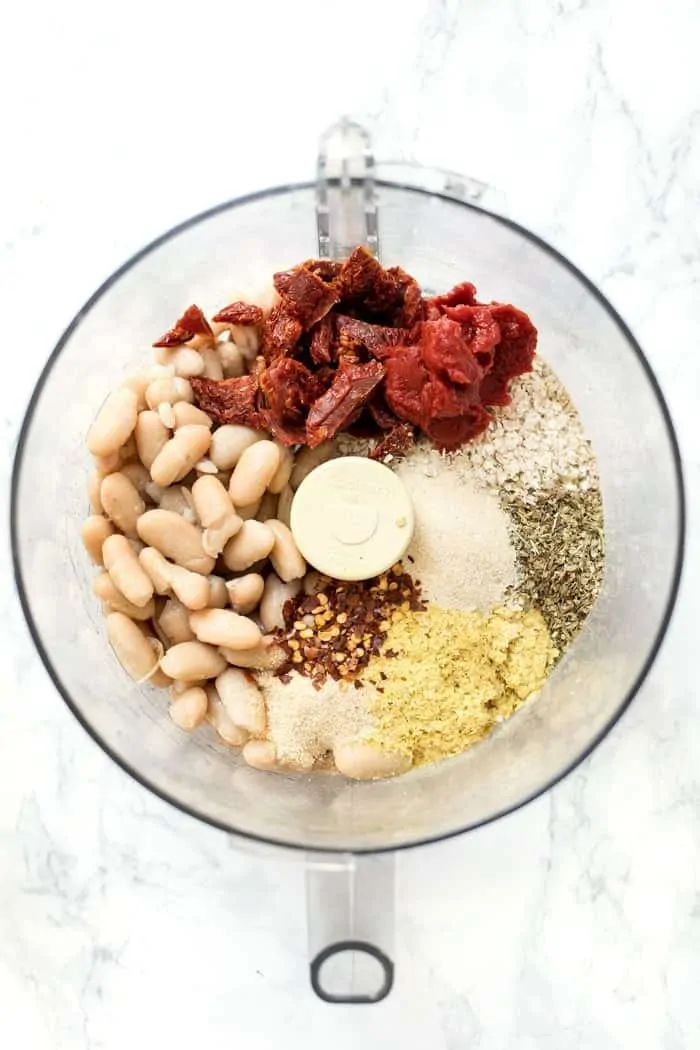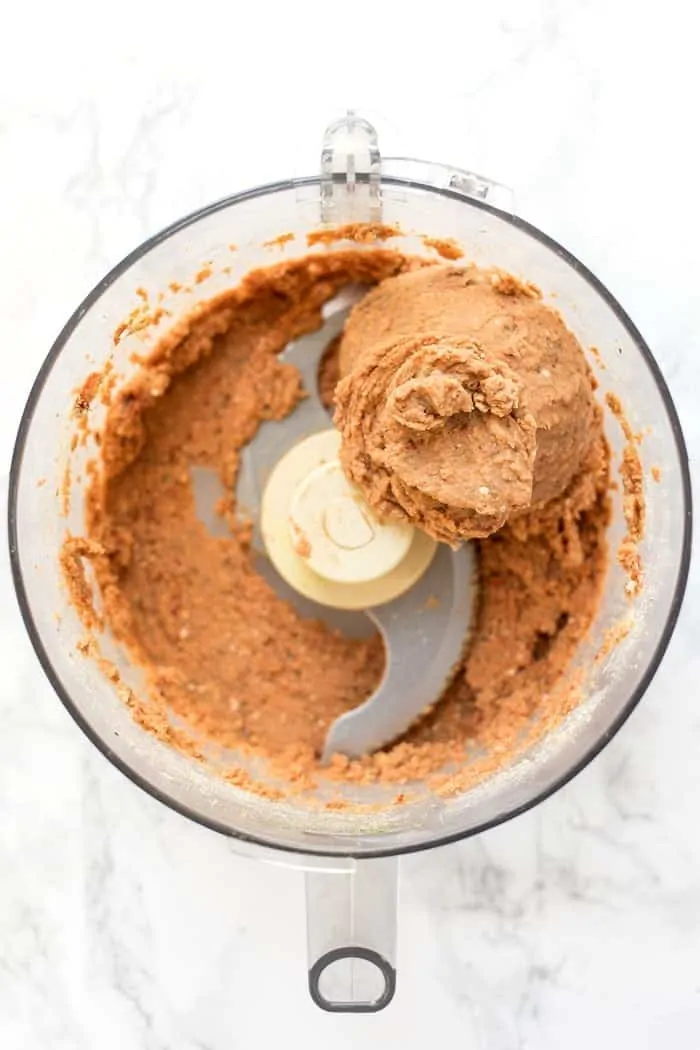 How to make Vegan Meatballs
We're going to make these meatballs in our food process which cuts down on prep time and saves you some dishes!
The base of our vegan meatballs are white beans which have a lovely texture and a somewhat bland flavor. Since they don't have a distinct flavor, we can really jazz them up, which is where some of our other ingredients come in.
We're adding…
Sun Dried Tomato: for some sweetness, but some tartness and a much more pronounced tomato flavor
Nutritional Yeast: for cheesiness
Tomato Paste: for more tomato flavor, a little sweetness and also moisture
Italian Herbs: for that classic blend of flavors
Garlic & Onion Powders: which just finish round it all out!
Once you have your meatball dough blended up, you just roll them into balls and bake them until crispy!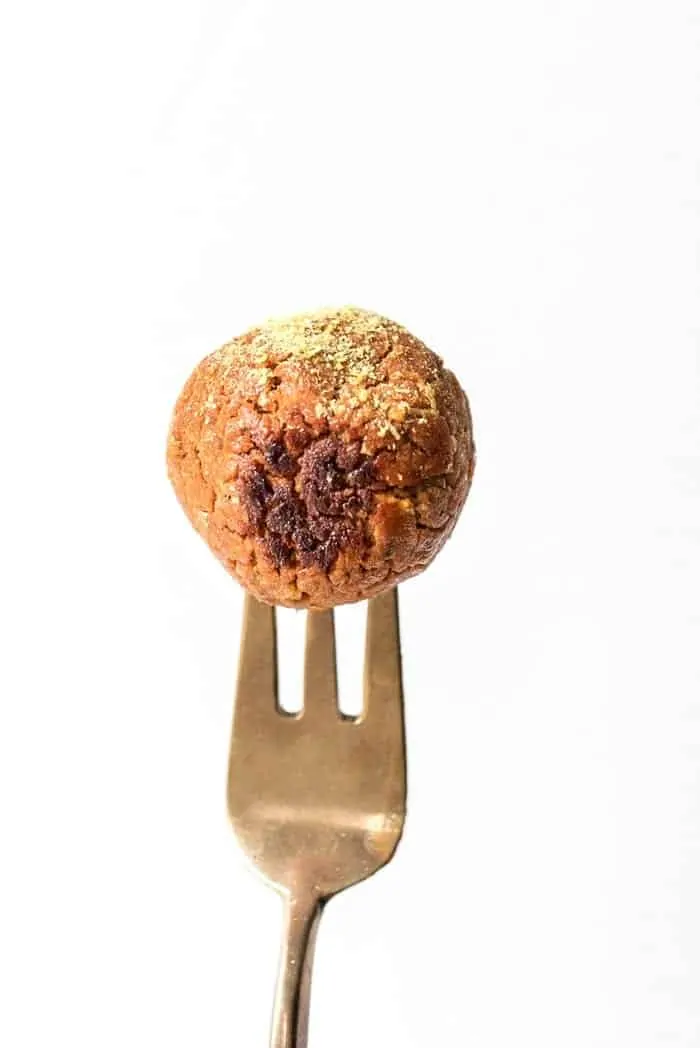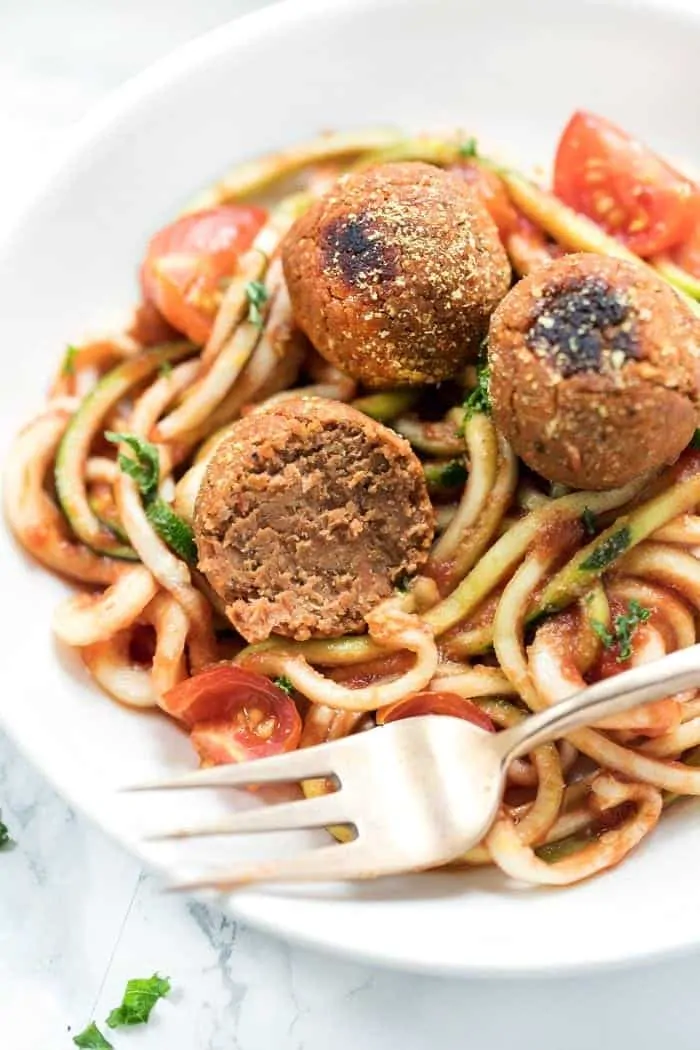 The Ultimate Plant-Based Dinner
I personally love serving these meatballs with noodles that have been tossed in a tomato sauce, but you really could go any direction here. They'd be delicious with pesto, vegan alfredo sauce or even a spicy arrabbiata sauce.
And have fun with your noodles too! I have these served with zucchini noodles because when I made the recipe and photographed it, it was 100ºF outside, but I've since enjoyed them with penne, gluten-free spaghetti and even on a sandwich.
Any which way you would enjoy classic meatballs, you can use these vegan meatballs in its place!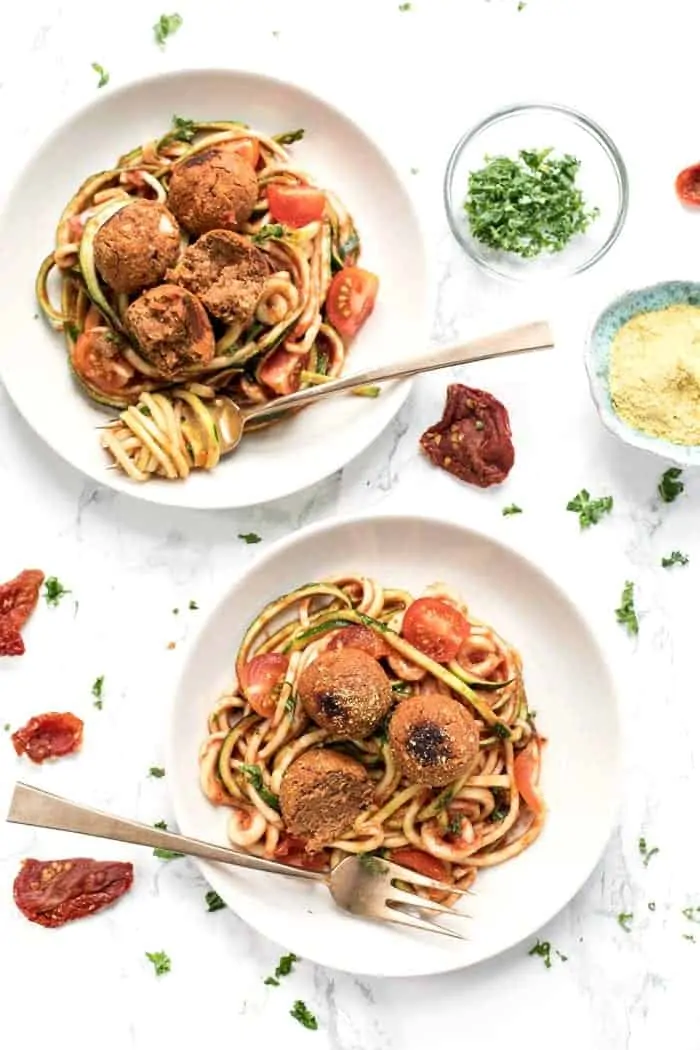 Easy Vegan Meal Prep Ideas
One of the final things I want to mention about these vegan meatballs before I let you dive into the recipe is that they are fabulous for meal prep!
Since this recipe makes about 20 meatballs, you can store them in the fridge or freezer and reheat them for meals all week long. I've tried both refrigerating and freezing and it works great either way!
So now you can not only enjoy a classic, vegan-style Italian Sunday feast, but you can also have those leftovers for lunches or dinners next time you don't feel like cooking!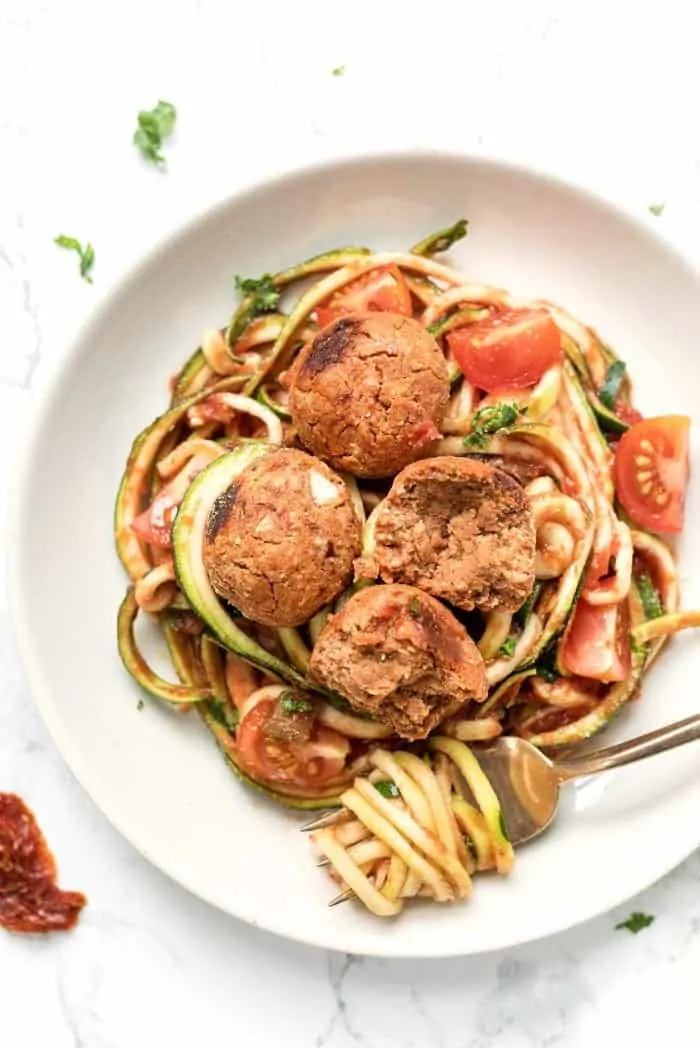 Other Vegan Italian Recipes to try:
Perfect Vegan Meatballs
The ultimate recipe for vegan meatballs is here! Made with a base of white beans and sun-dried tomatoes, these meatballs are crispy on the outside and soft on the inside just like the classic recipe!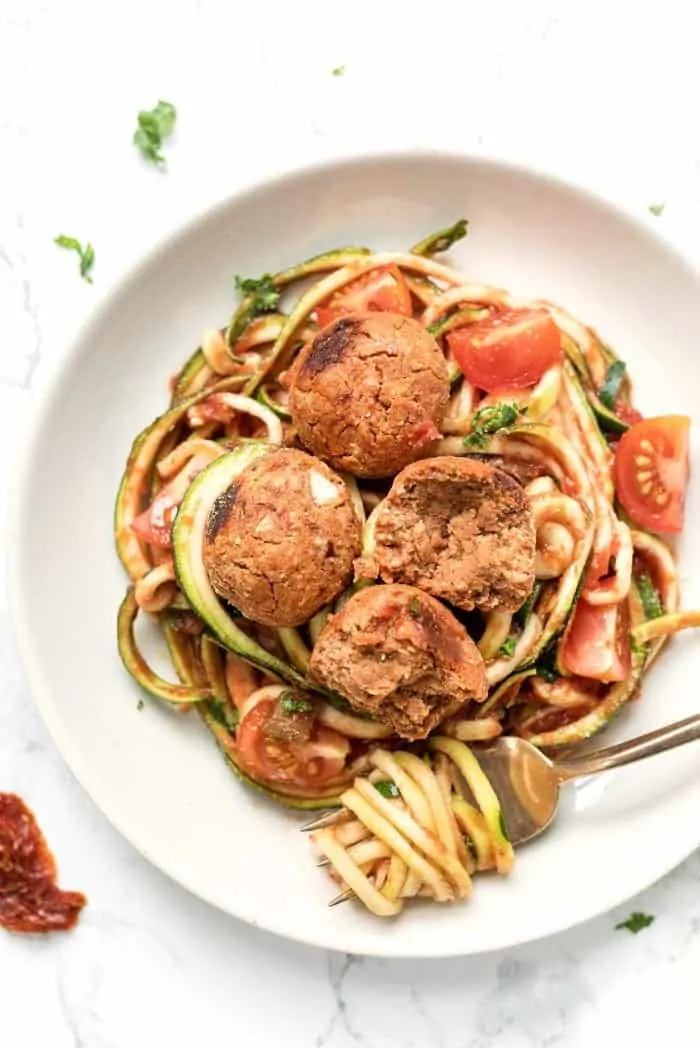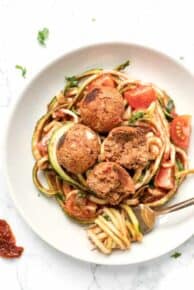 Instructions
Preheat the oven to 350ºF. Line a baking sheet with parchment and set aside.

Add all the ingredients into the bowl of a food processor. Process on high until a dough comes together.

Using your hands, shape the dough into golf ball-sized "meatballs" and place them on the baking sheet. Repeat until all dough has been used.

Bake the meatballs for 30 minutes, flipping halfway through.

Once cooked, serve immediately with your choice of pasta and sauce!
Nutrition
Serving:
1
meatball
|
Calories:
39
kcal
|
Carbohydrates:
7
g
|
Protein:
2
g
|
Sodium:
18
mg
|
Potassium:
182
mg
|
Fiber:
1
g
|
Vitamin A:
55
IU
|
Vitamin C:
0.9
mg
|
Calcium:
22
mg
|
Iron:
1
mg
Filed Under: