This is the ultimate recipe for vegan meatballs! Made with white beans and sun-dried tomatoes, these plant-based meatballs are flavorful, easy to make, and also healthy.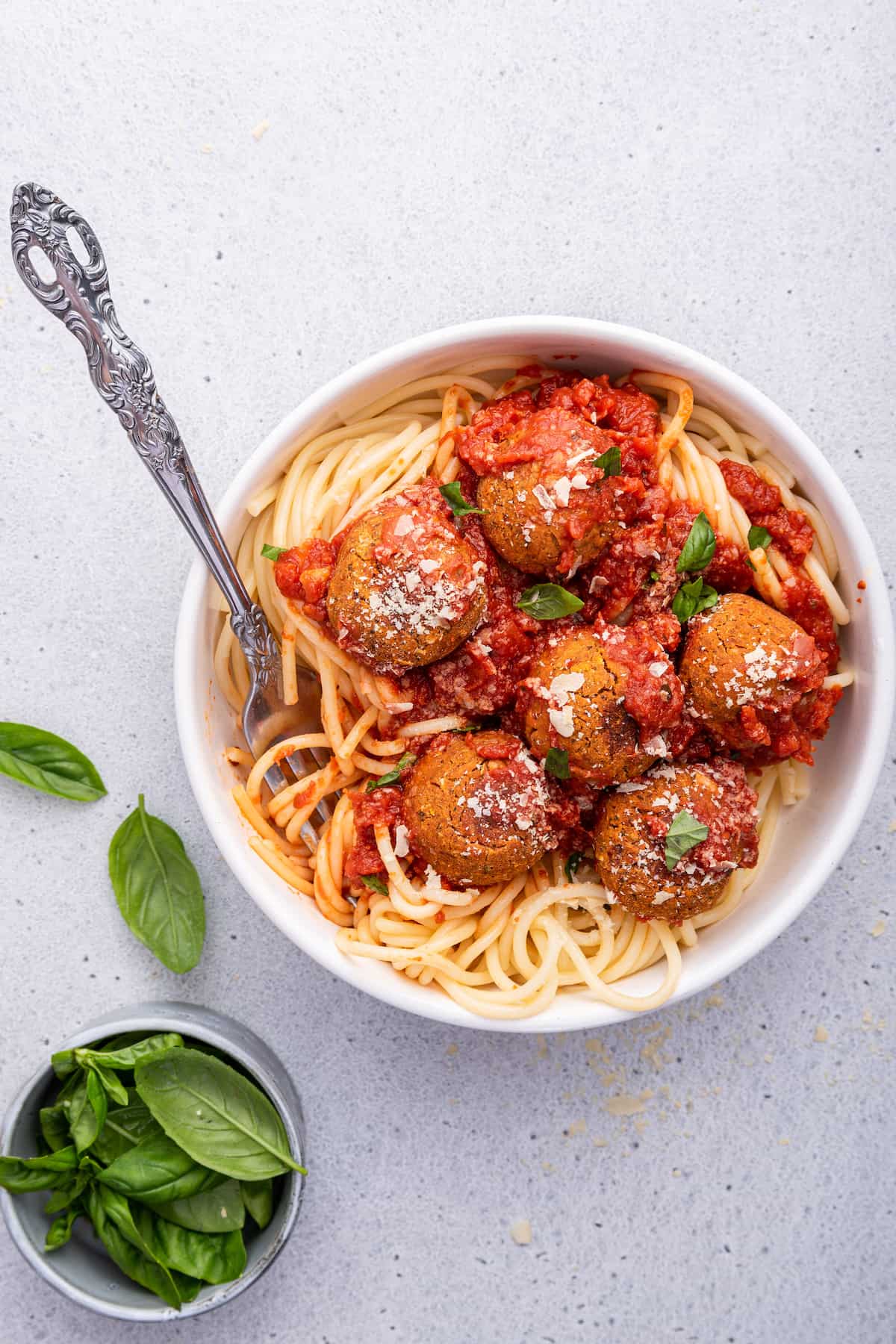 Growing up in an Italian-American family, many of our holiday meals featured my grandmother's famous meatballs and gravy. It's a "recipe" that has been passed down through the generations and one that my mom taught me while I was in college. When I stopped eating meat, I came up with this recipe for perfect vegan meatballs.
Of course, as with any vegan product, you're not going to get the exact same texture or feel that you would with a traditional meat product. But they're still delicious! We're combining lots of herbs and spices, along with sun-dried tomatoes, to give them a deep flavor and by baking them, we're actually able to create that crispy outside and soft inside that traditional meatball have.
My mom browns her meatballs before putting them in her sauce and you still get that same browned effect with these vegan meatballs.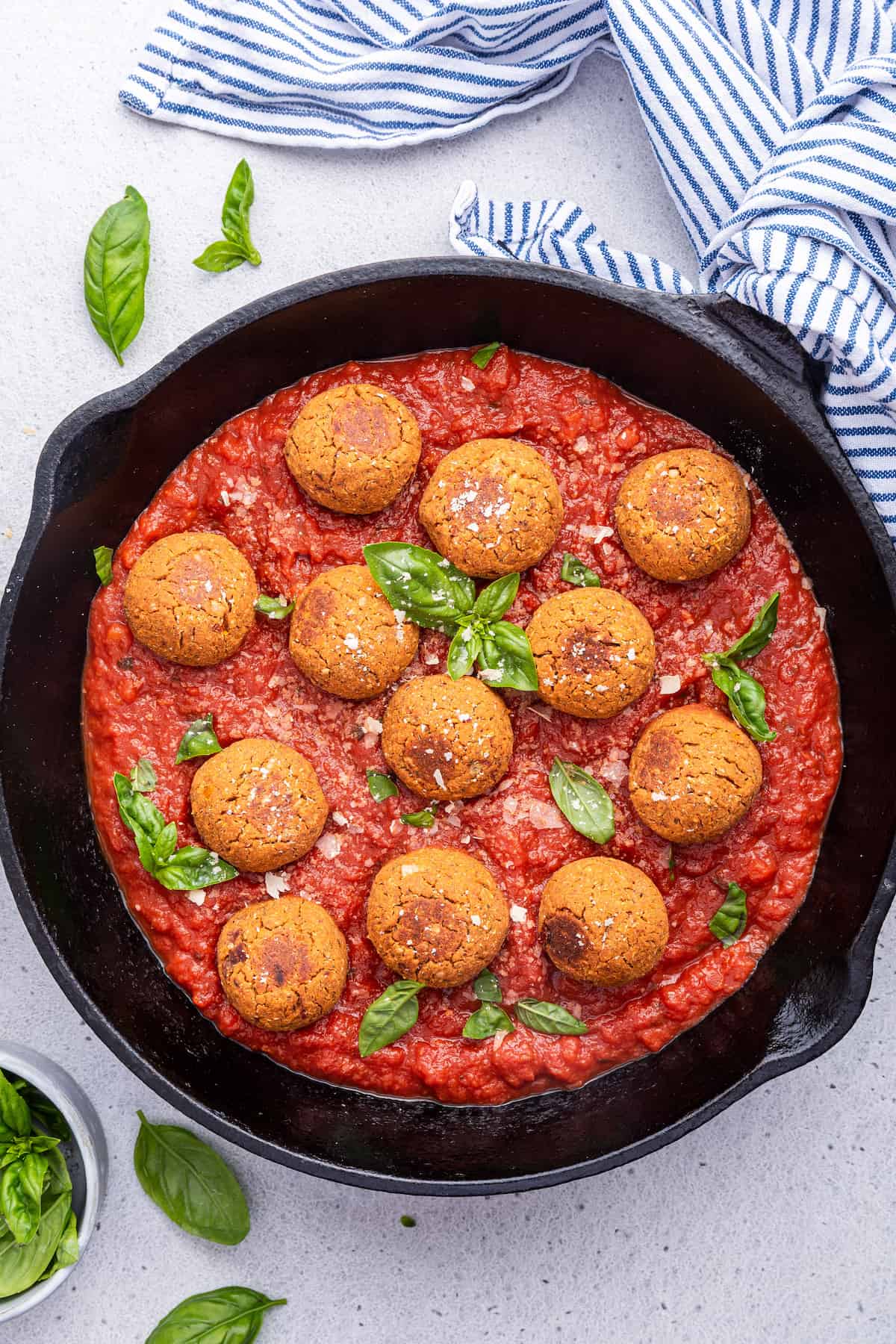 Why You'll Love This Vegan Meatball Recipe
Here's what makes these vegan meatballs a favorite:
Real food ingredients. So many store-bought plant-based substitutes have a long list of unpronounceable ingredients. These vegan meatballs are made with simple, wholesome ingredients so you can feel good about eating them.
Easy to make. There's no need to spend hours in the kitchen on a complicated recipe that requires you to cook beans from scratch or sauté veggies for the meatballs. This one is easy and straightforward—perfect for busy weeknights!
Freezer-friendly. Make a big batch and freeze vegan meatballs for future meals! They reheat beautifully and make meal prep a breeze.
Packed with flavor. From the sun-dried tomatoes to the Italian herbs and spices, these meatballs are bursting with flavor, making them a delicious addition to any bowl of pasta.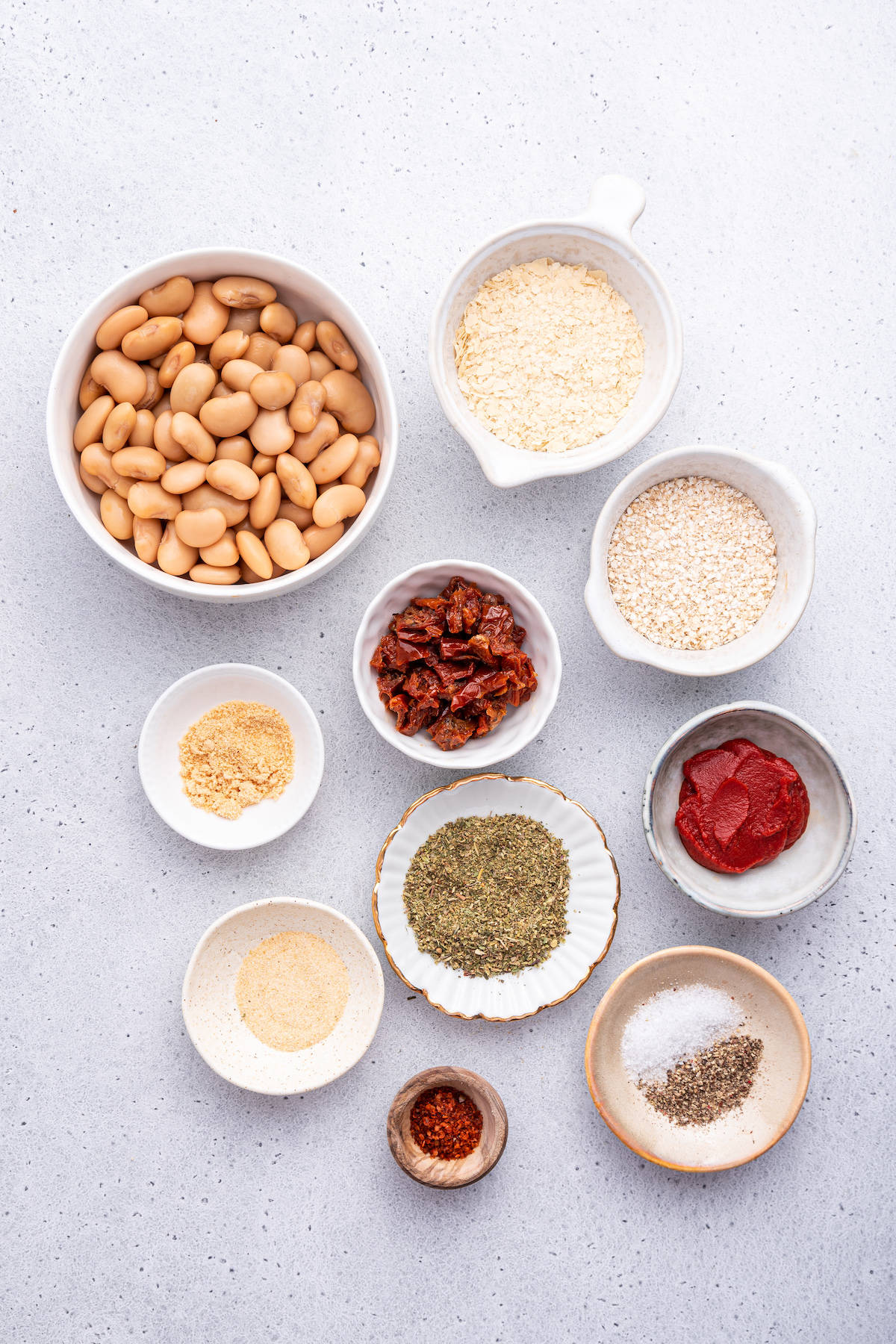 What You'll Need
Here are all of the ingredients you'll need when making these vegan meatballs. Make sure to check out the recipe card at the bottom of the page to see the exact quantities for each ingredient.
White beans – I like using white beans because they have a creamy texture that works well in a veggie burger or, in this case, vegan meatballs.
Sun-dried tomatoes – For a robust flavor with a hint of sweetness.
Nutritional yeast– Nooch adds some cheesiness, reminiscent of the grated Parmesan often added to Italian-style meatballs.
Quinoa flakes or quick cooking oats
Tomato paste
Italian seasoning
Garlic and onion powders – These add a layer of savory flavor.
Red chili flakes – You can use more for a spicier meatball, or less if you want to keep it mild.
Salt and pepper
Can You Save Leftover Tomato Paste?
Ever notice how recipes always call for a small amount of tomato paste? Even though tomato paste cans are tiny, you still end up with leftovers.
Luckily, you can freeze tomato paste in a zip-top bag and use it later, or you can freeze it in one-tablespoon portions in an ice cube tray. Once the tomato paste is frozen, pop the cubes out and store them in a freezer bag. Then when you need a tablespoon or two for a recipe, you'll be able to grab and defrost exactly what you need.
How To Make Vegan Meatballs
We're going to make these meatballs in our food processor, which cuts down on prep time and saves you some dishes! Here's what you'll need to do.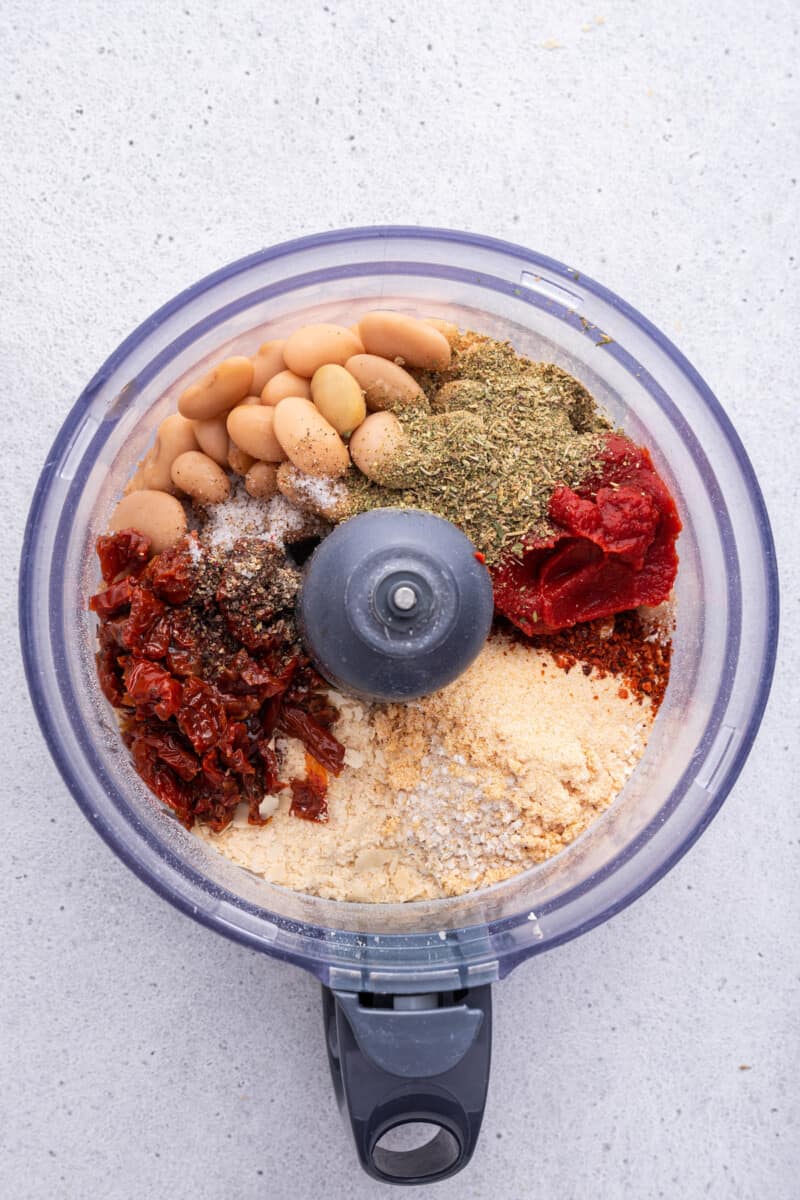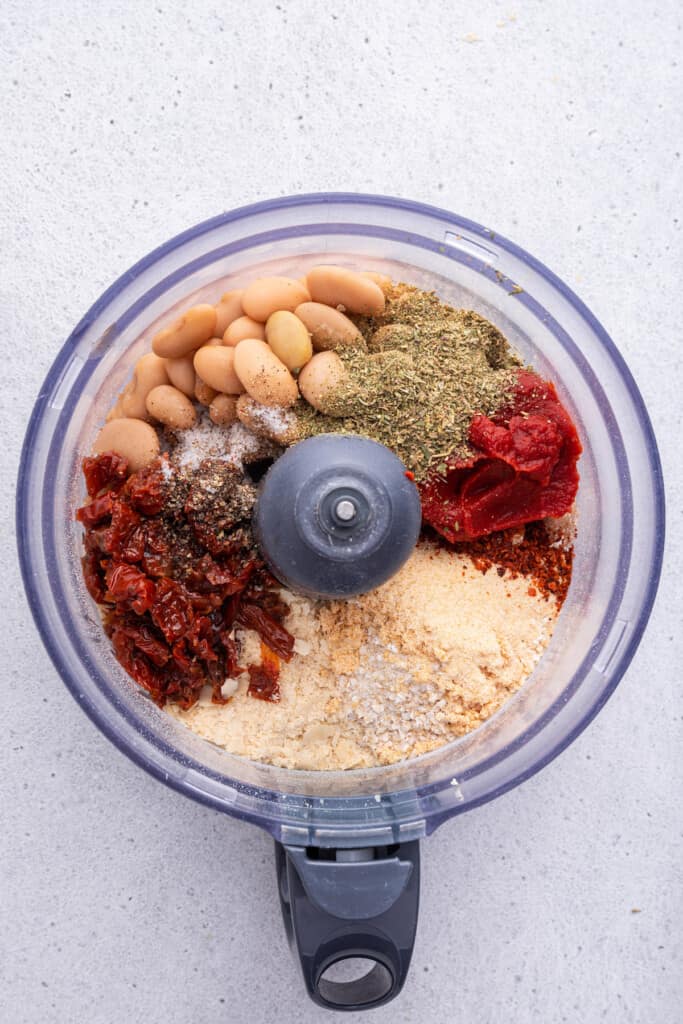 Prepare. Preheat your oven to 350ºF and line a baking sheet with parchment paper.
Process. Add the vegan meatball ingredients into the bowl of a food processor and process until the mixture forms a dough.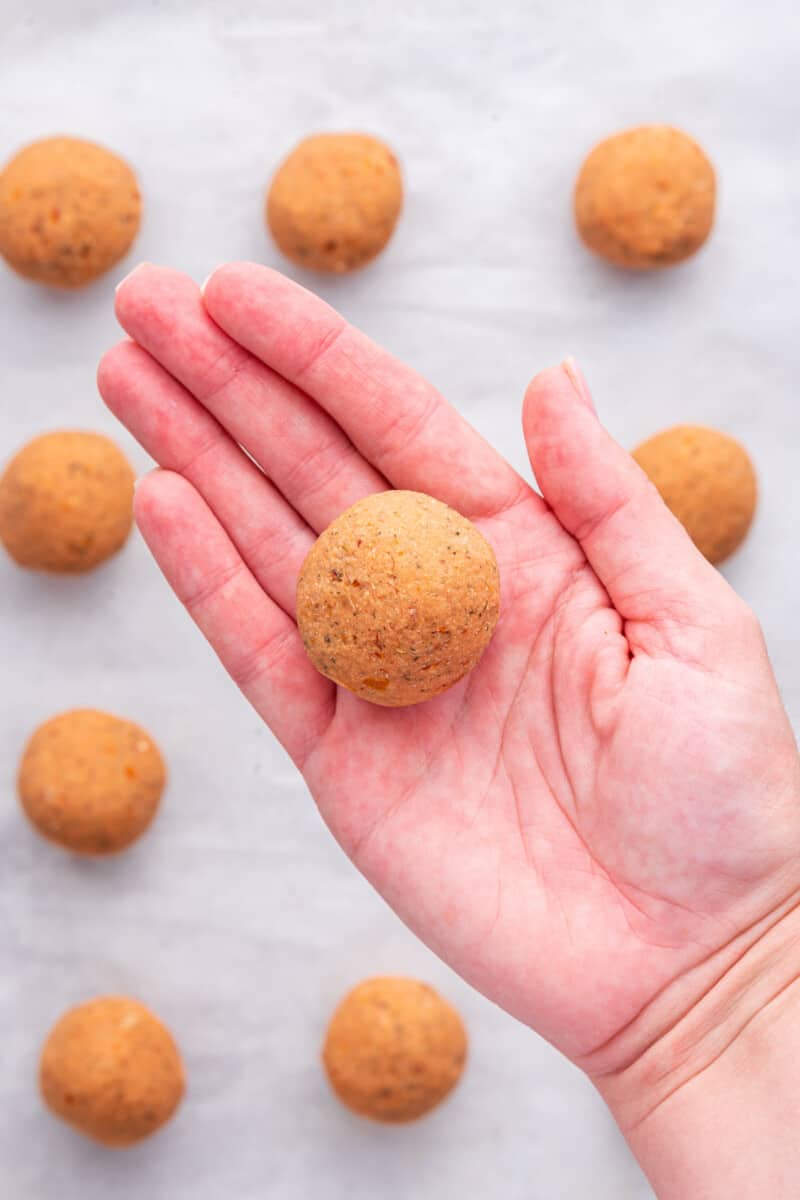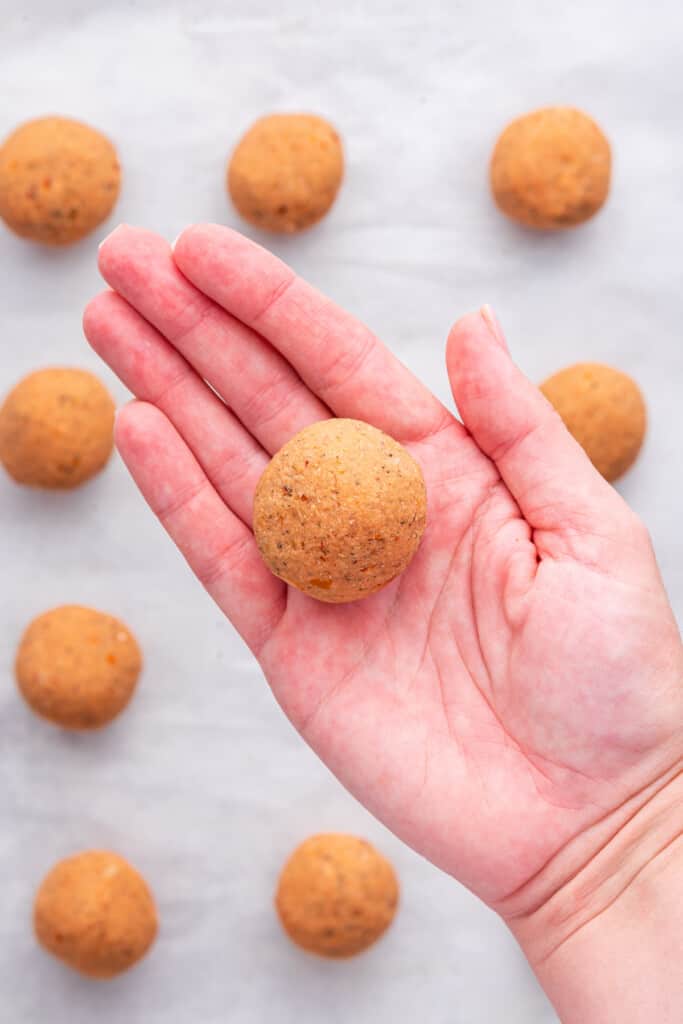 Shape. Use your hands to roll the dough into golf ball-sized meatballs. Set them on the prepared baking sheet.
Bake. Place the pan in the oven and bake the meatballs for 30 minutes, flipping them halfway through the baking time.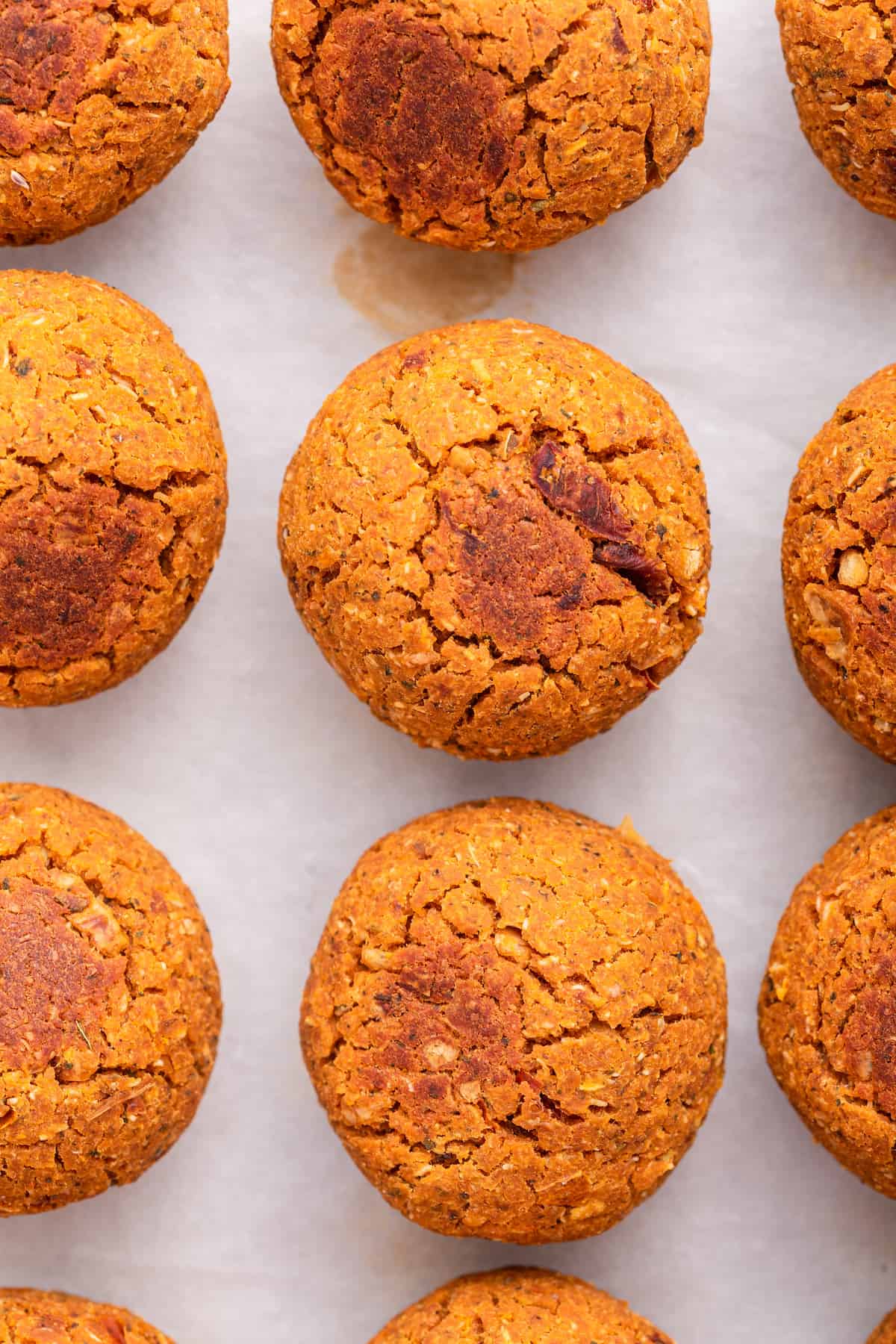 Tips for Success
These pointers will help you make sure your vegan meatballs turn out perfect.
Adjust the texture if desired. As you can see in the photos, I like to start with a smooth, cohesive "dough" for the meatballs. If you prefer a coarser texture, pulse the ingredients in your food processor until they hold together when pinched between two fingers.
Don't overbake. Keep a close eye on your meatballs—they're done when they're crispy on the outside and baked through on the inside. Overbaking vegan meatballs will dry them out.
Use a rimmed baking sheet. This will keep them from rolling off the pan! If you don't have one, you can place the individual meatballs in a mini muffin pan or 9×13 baking dish.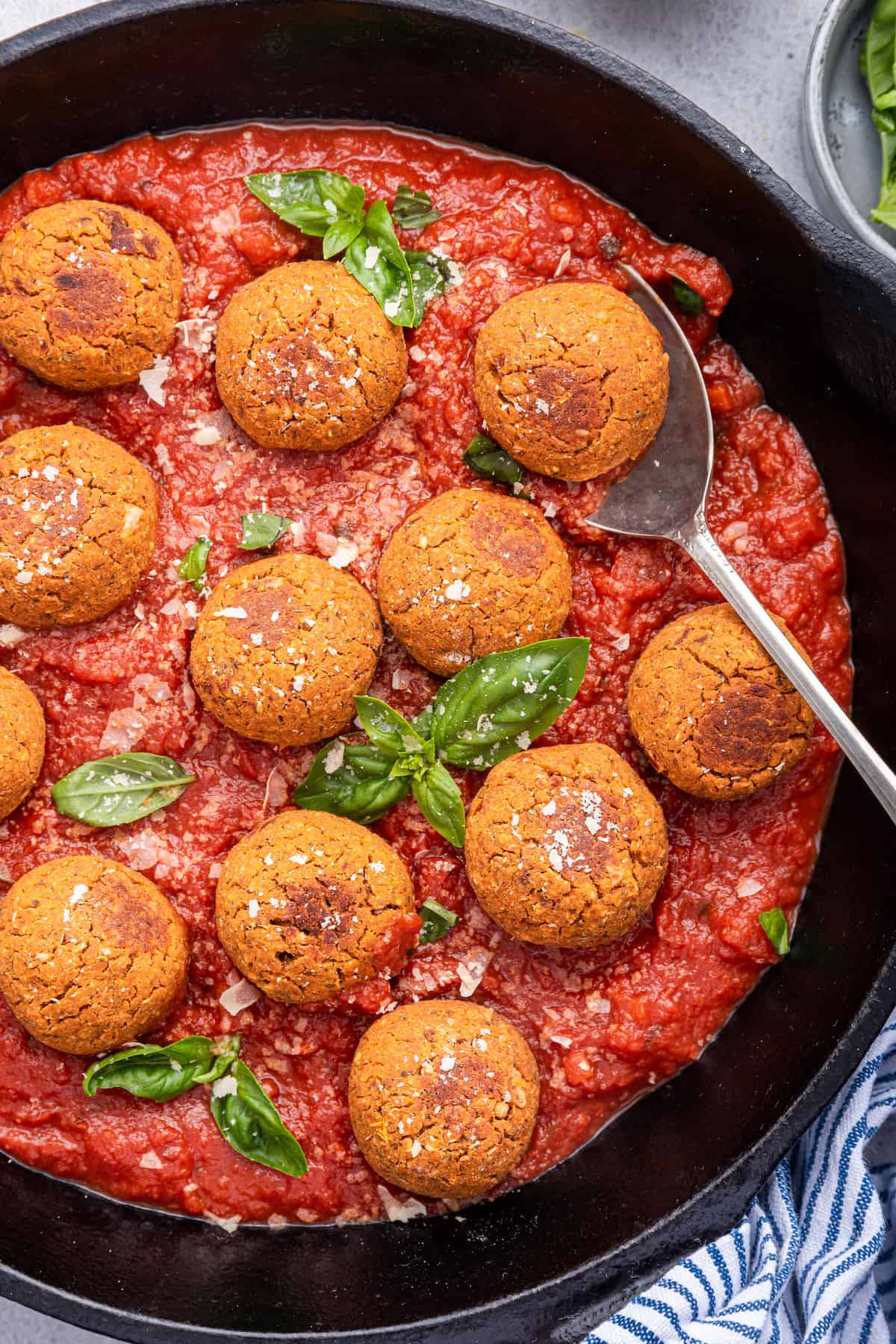 How to Use Vegan Meatballs
I personally love serving these meatballs with noodles that have been tossed in a tomato sauce, but you really could go any direction here. They'd be delicious with pesto, vegan alfredo sauce, or even a spicy arrabbiata sauce.
Any which way you would enjoy classic meatballs, you can use these vegan meatballs in its place!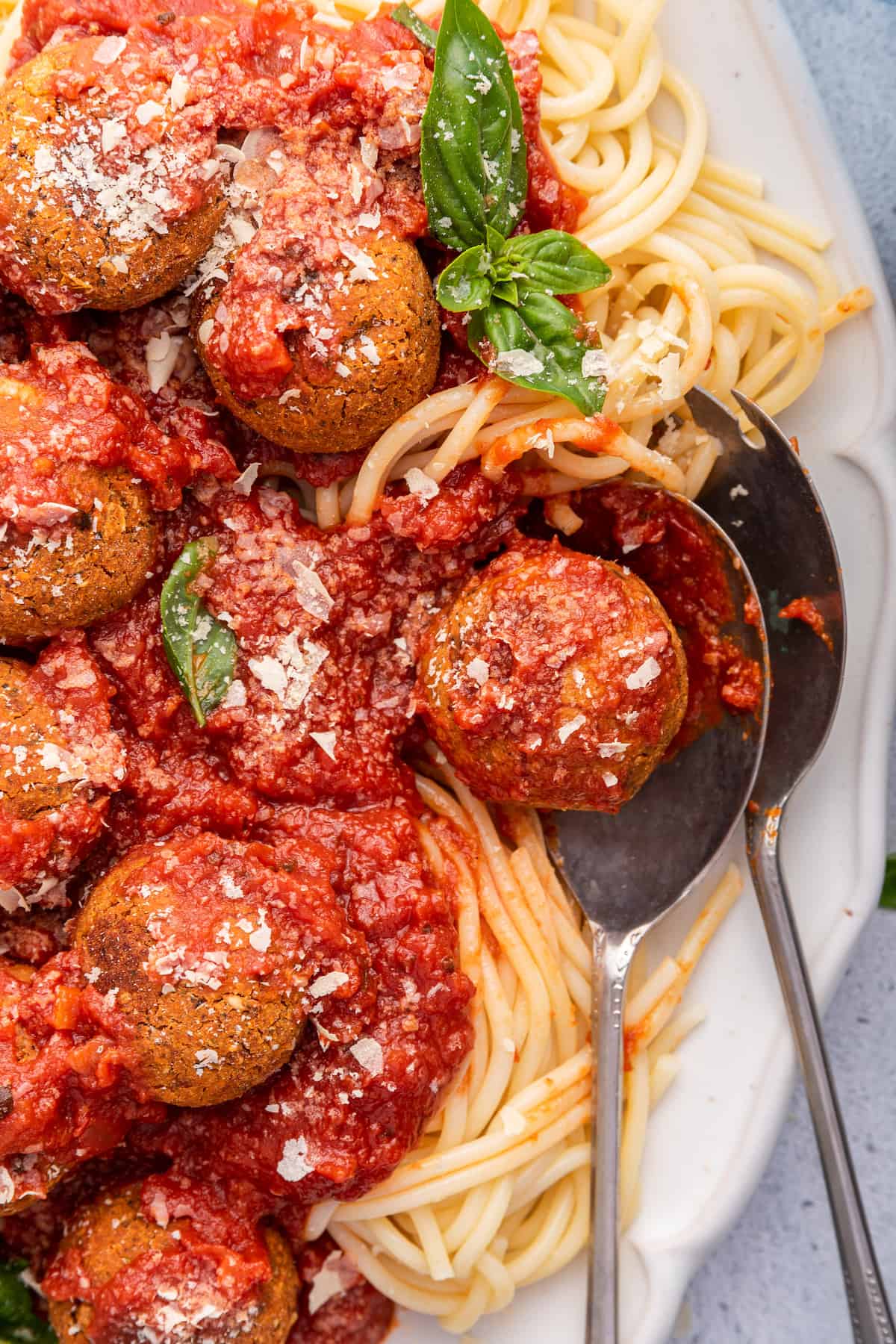 How to Store
Vegan meatballs are great for meal prep! Since this recipe makes about 20 meatballs, you can store them in the fridge and reheat them for meals all week long. They'll keep in an airtight container for 4 to 5 days, and you can reheat them in the microwave, a 350ºF oven, air fryer, or a skillet on the stovetop.
Can I Freeze This Recipe?
These vegan meatballs are fantastic for freezing, too. Place them on a baking sheet and flash-freeze them for about an hour, or until they're frozen solid. Transfer the frozen meatballs into an airtight container or freezer-safe bag and freeze for up to 3 months. When you're ready to eat them, reheat them directly from frozen using one of the methods described above.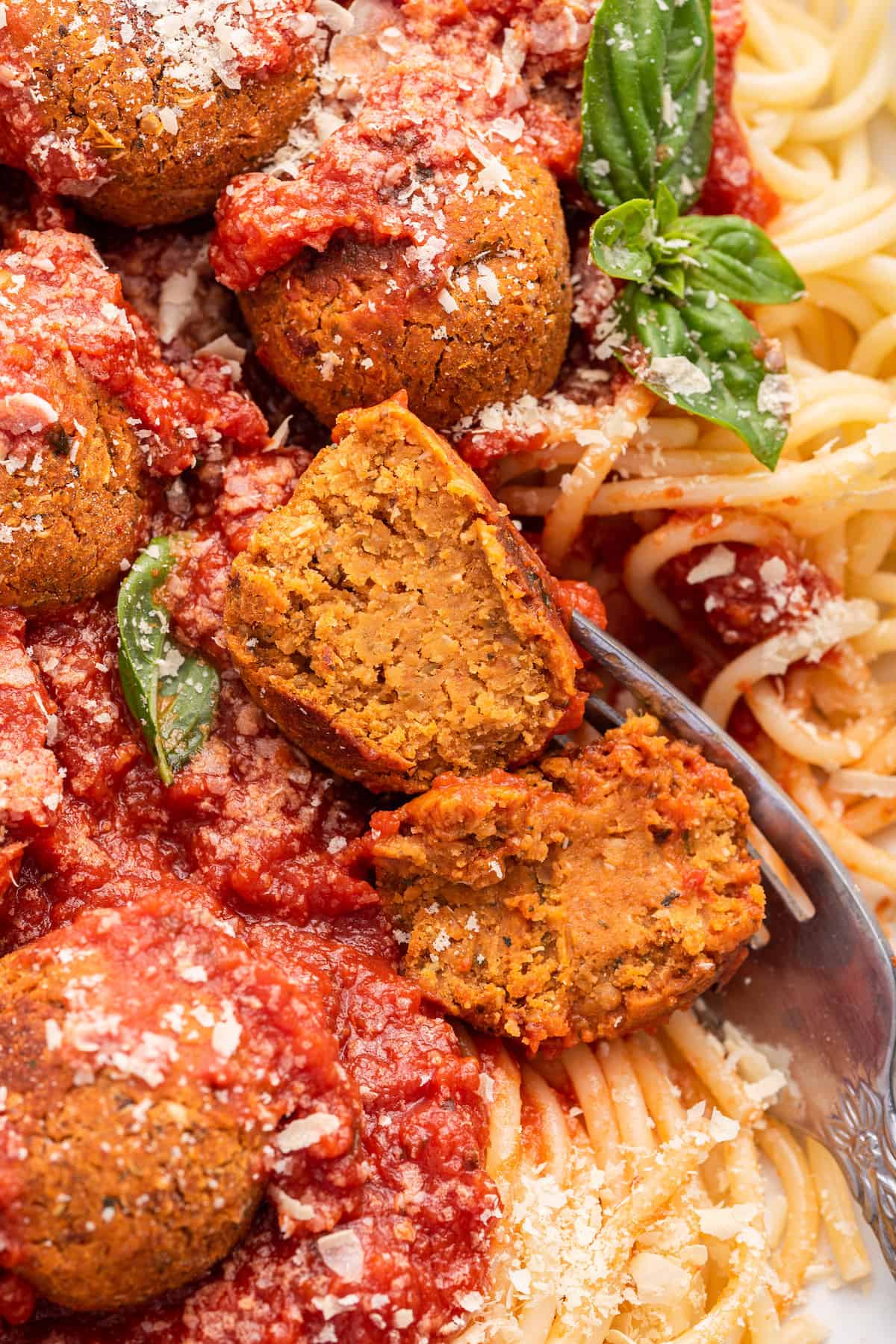 Other Vegan Italian Recipes to try
Perfect Vegan Meatballs
The ultimate recipe for vegan meatballs is here! Made with a base of white beans and sun-dried tomatoes, these meatballs are crispy on the outside and soft on the inside just like the classic recipe!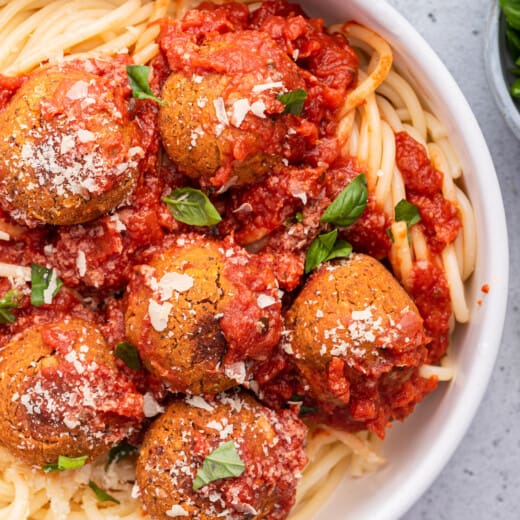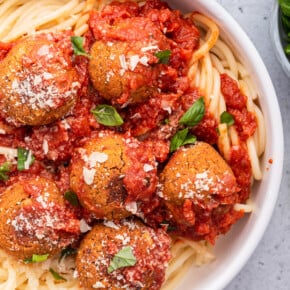 Instructions
Preheat the oven to 350ºF. Line a baking sheet with parchment and set aside.

Add all the ingredients into the bowl of a food processor. Process on high until a dough comes together.

Using your hands, shape the dough into golf ball-sized "meatballs" and place them on the baking sheet. Repeat until all dough has been used.

Bake the meatballs for 30 minutes, flipping halfway through.

Once cooked, serve immediately with your choice of pasta and sauce!
Nutrition
Serving:
1
meatball
|
Calories:
39
kcal
|
Carbohydrates:
7
g
|
Protein:
2
g
|
Sodium:
18
mg
|
Potassium:
182
mg
|
Fiber:
1
g
|
Vitamin A:
55
IU
|
Vitamin C:
0.9
mg
|
Calcium:
22
mg
|
Iron:
1
mg