The only vegan pesto recipe you'll ever need! It tastes just like the "real" link uses nutritional yeast instead of cheese to make it healthy and vegan.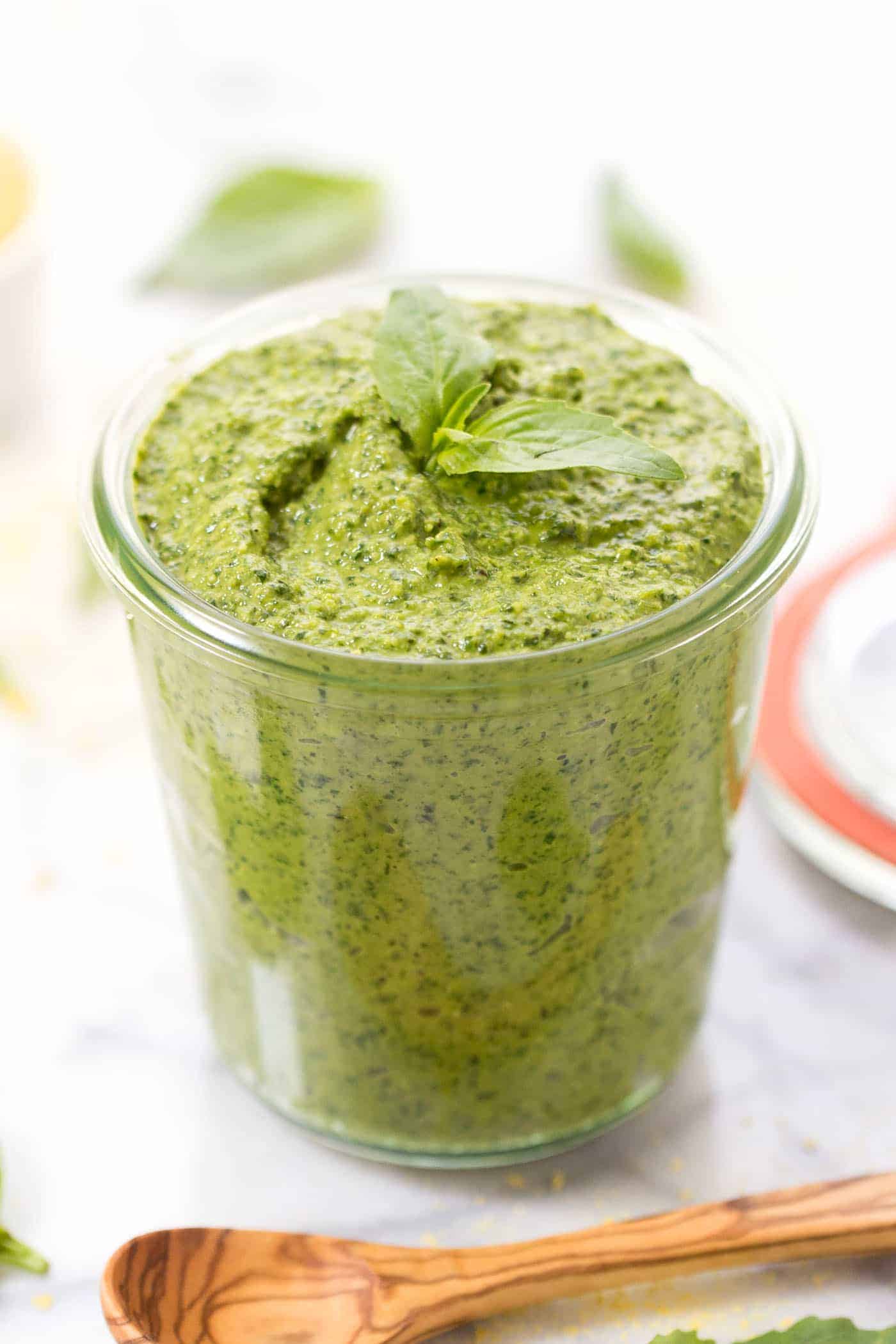 You know when you make something off the cuff and its tastes soooo good, but then you try and try to recreate it and you can't? That's what happened this vegan pesto recipe.
I made it when I was in Vermont a few weeks ago, didn't measure, didn't keep track of what I was adding and it turned out to be the best damn pesto I've ever tasted. Tried to recreate it the next day and fail. Since then I've made at least five batches and finally, finally, I have it down.
I've made my fair share of pesto recipes here on SQ including my quinoa pesto, my hemp seed pesto and also that raw avocado pesto, but while each of those are super delicious, this pesto is more traditional. It goes with everything and has that familiar pesto taste just without the parmesan cheese. It's the perfect vegan pesto for every day.
To make this pesto vegan, we're swapping in nutritional yeast for the parmesan/romano cheese. It adds that sharp cheesy flavor, with a hint of salt and I, swear, if you were to compare this recipe side by side with a dairy one, you'd be hard-pressed to tell them apart.
I actually get a lot of questions about nutritional yeast and where to buy it, so I'll just give you quick bullet points before we get to the recipe:
nutritional yeast is a yeast (deactivated) often sold in flakes or powders
it is naturally gluten-free and vegan
it's high in B-complex vitamins and is sometimes fortified with vitamin B12 (awesome for the non-meat eaters out there!!)
it has a nutty, cheesy flavor and can be used to replace parmesan in most recipes
Where can you find it? Most natural food stores sell nutritional yeast in bulk, but if you can't find it locally you can get a great price on Amazon!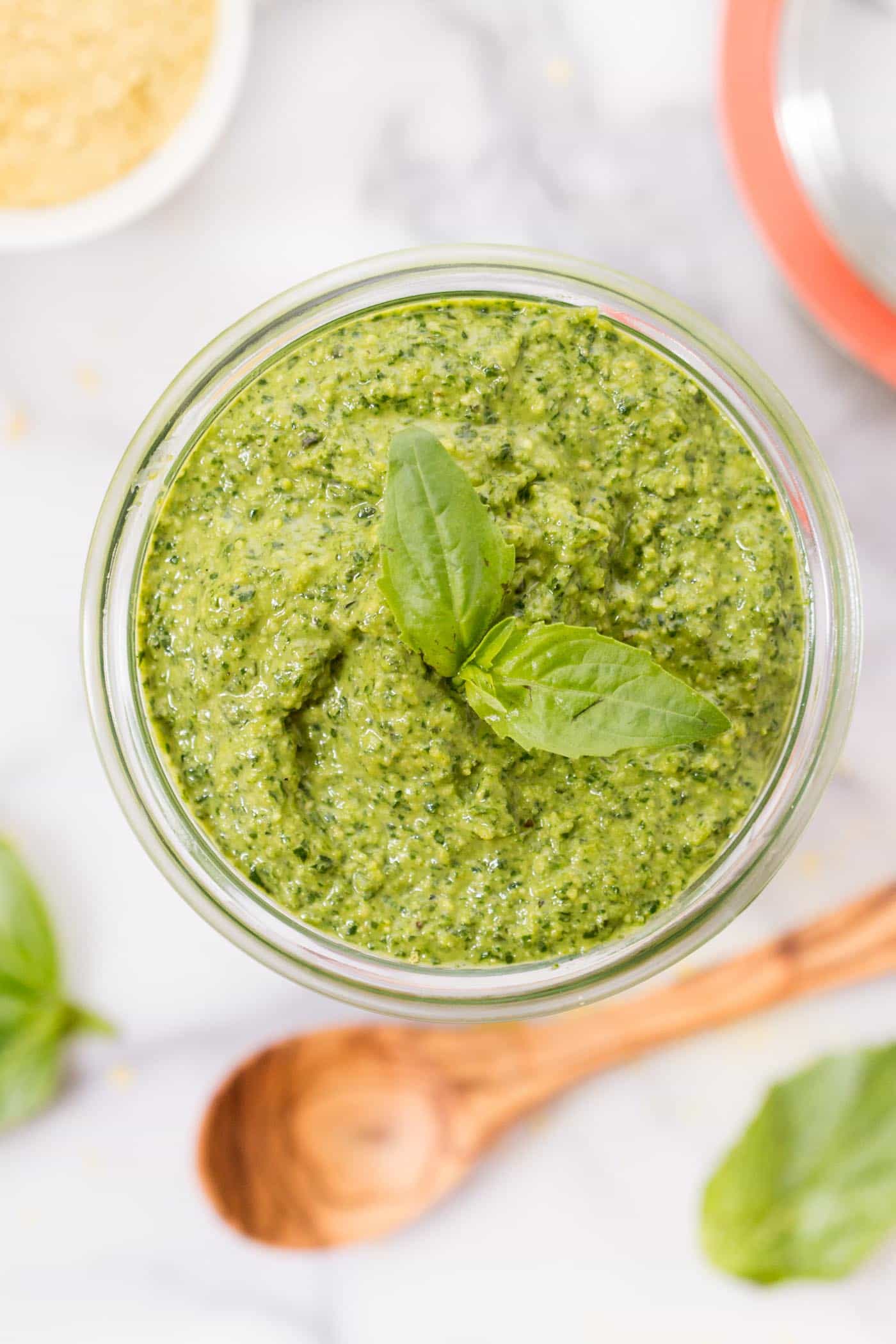 Now for the recipe!
All you need to make your pesto is a food processor. You simply add everything in, blend it up, then drizzle in your olive oil. It seriously couldn't be easier.
For storage, I keep mine in a sealed container in the fridge for 4 – 5 days, but this pesto also freezes really well and would keep all winter long. So my tip? Stock up on basil while it's in season, make a bunch of batches of pesto and store them in your freezer so you can have fresh, homemade pesto whenever you want it 🙂
xx Alyssa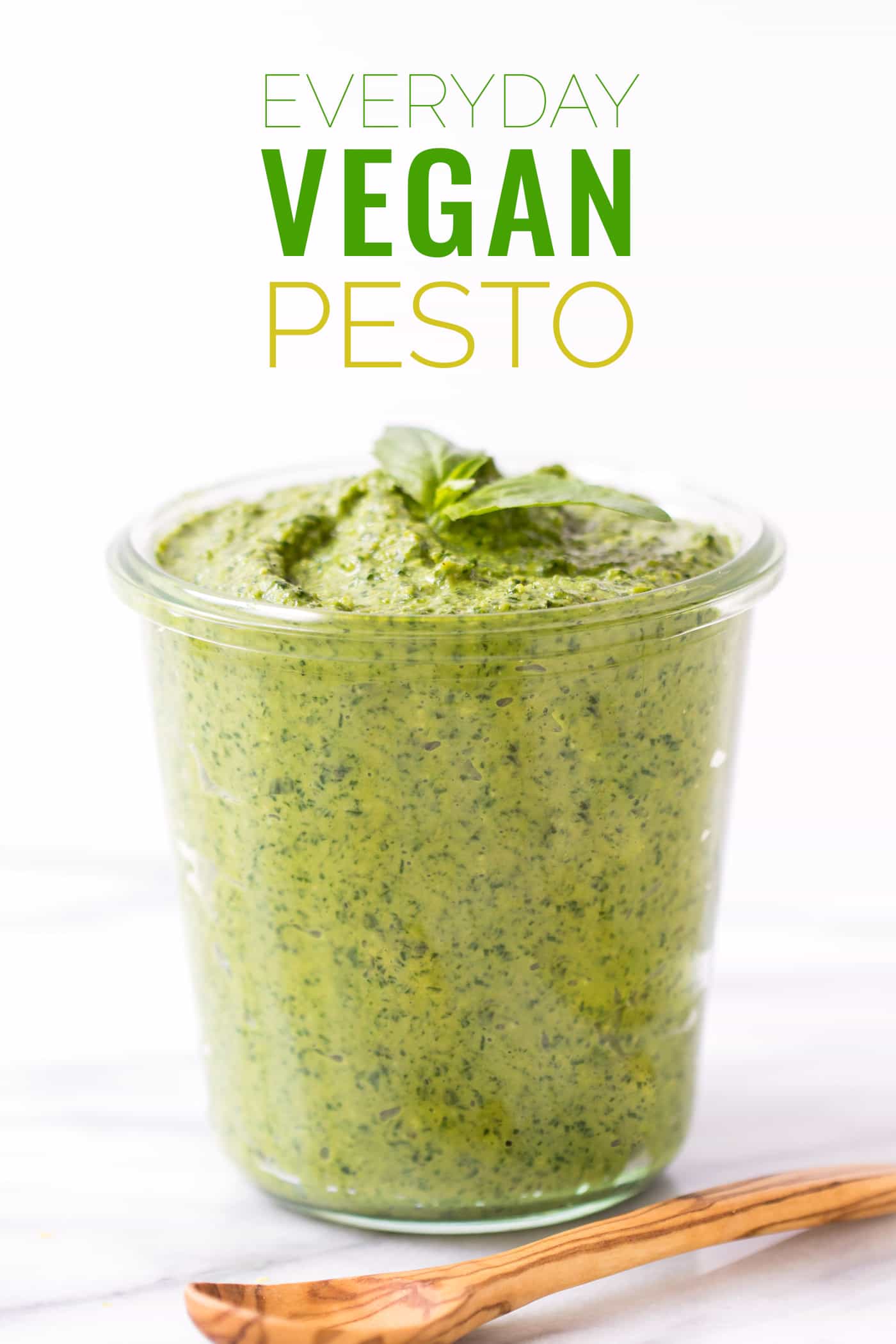 Recipes To Try With Your Pesto
Everyday Vegan Pesto
This vegan pesto only takes 5 minutes to make. It uses nutritional yeast instead of parmesan cheese, and it's every bit as tasty as a traditional pesto!
Servings 2 cups
Calories 865kcal
Ingredients
4 packed cups fresh basil leaves
1/2 - 2/3 cups nutritional yeast depending on taste
Juice of 1 lemon
1/4 cup pine nuts or walnuts if you don't have/can't find pine nuts, although I just saw you can get raw ones on Amazon for a great price!
2 tablespoons hemp seeds
2 - 3 garlic cloves I like to use 3 but only had 2 when I filmed the video
Generous teaspoon of salt
Fresh cracked pepper
1/4 - 1/3 cup extra virgin olive oil depending on consistency*
Instructions
Add everything aside from the oil into a food processor. Process until combined.

Remove the lid and scrape down the sides with a spatula.

Place the lid back on and with the food processor running, drizzle in the olive oil. Start with 1/4 cup and add more if you need it. Scrape down the sides a few times and process again until smooth.

Transfer to a glass container and store in the fridge for up 5 day or the freezer for up to 6 months.
Notes
If you don't want to use that much oil, you can replace some oil with water (although it will change the texture and flavor considerably).
I haven't tried this recipe in a blender, but I think if you do want to try it you'll need a high-powered blender like a Vitamix or BlendTec Twister Jar.
Nutrition
Calories: 865kcal | Carbohydrates: 16g | Protein: 21g | Fat: 82g | Saturated Fat: 10g | Polyunsaturated Fat: 18g | Monounsaturated Fat: 50g | Sodium: 3mg | Potassium: 647mg | Fiber: 8g | Sugar: 1g | Vitamin A: 125IU | Vitamin C: 3mg | Calcium: 39mg | Iron: 5mg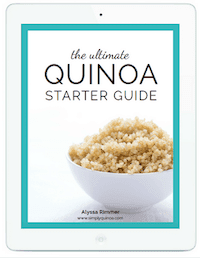 New to cooking quinoa? Grab your FREE Quinoa Starter Guide!
Become part of the Simply Quinoa community and receive weekly emails with exclusive content that I only share in email, as well as my in-depth guide to starting your quinoa journey.
Want more sauce + dip recipes?
Follow my board on Pinterest!
share what you make
Tag #simplyquinoa on Instagram with your creations! We love sharing what you make with the community. We can't wait to see!

follow on instagram