I'm all about quick and easy these days. You would think that in my transition to working from home I would be spending hours in the kitchen, but it's actually quite the opposite. Now more than ever when I open my fridge, I'm looking for things I can throw together for a healthy and delicious meal.
Well I'm not going to claim that I came up with this genius idea, but whoever did, I'm thankful to you. Pizza made on a gluten-free tortilla is simply amazing. It's an immediate, low-cal crust that tastes delicious. Not to mention it's totally kid-friendly and could be topped with anything!
To see what I topped my Quick & Healthy Gluten-Free Pizza with, hop on over to the Balanced Platter. I'm sharing this scrumptious recipe, and I can promise you, you're not going to want to miss this. One of the easiest, quickest and most delicious recipes ever!
---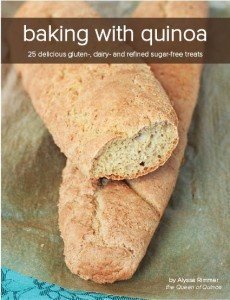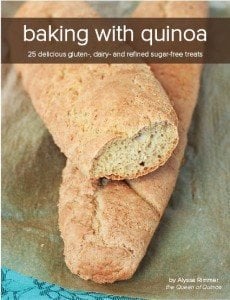 NOW AVAILABLE! Baking with Quinoa
Featuring 25 mouthwatering recipes – all free from gluten, dairy & refined sugar – Baking with Quinoa will show you just how easy it is to make healthy & nutritious baked goods.