A quinoa flour pizza crust that is made with just easy 5 ingredients! This healthy pizza is gluten-free, vegan, oil-free and holds up to all your toppings!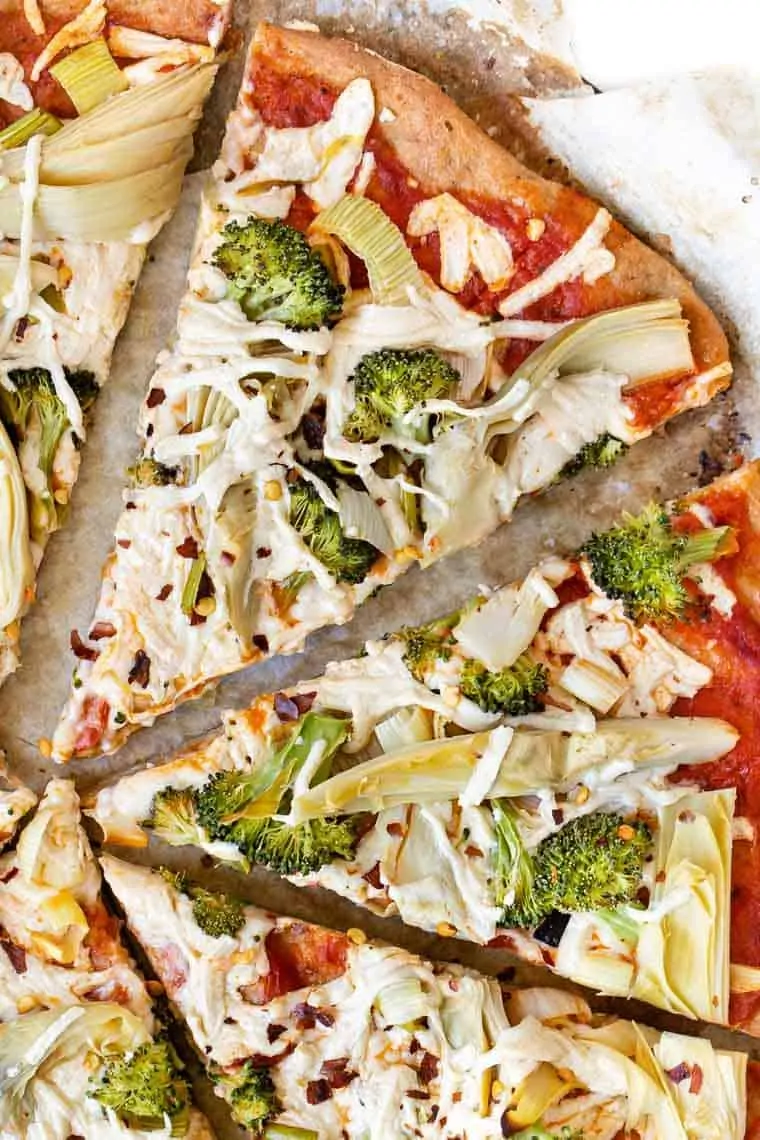 It's no secret that pizza is one of my favorite foods. Not only have I shared a bunch of pizza crust recipes on the blog before, but if you're following me on YouTube then you've probably seen them in a lot of my vlogs.
I can actually credit my 5-ingredient pizza crust for helping me launch this business. It was the first post of mine that really went "viral" and it's been a fan favorite ever since. And honestly? It's probably the recipe that I make most often.
The thing that's not so great? You have to soak your quinoa for a few hours. So I decided to create a new quinoa pizza recipe that uses quinoa flour as the base. It comes together much quicker, has an awesome texture and is just as healthy!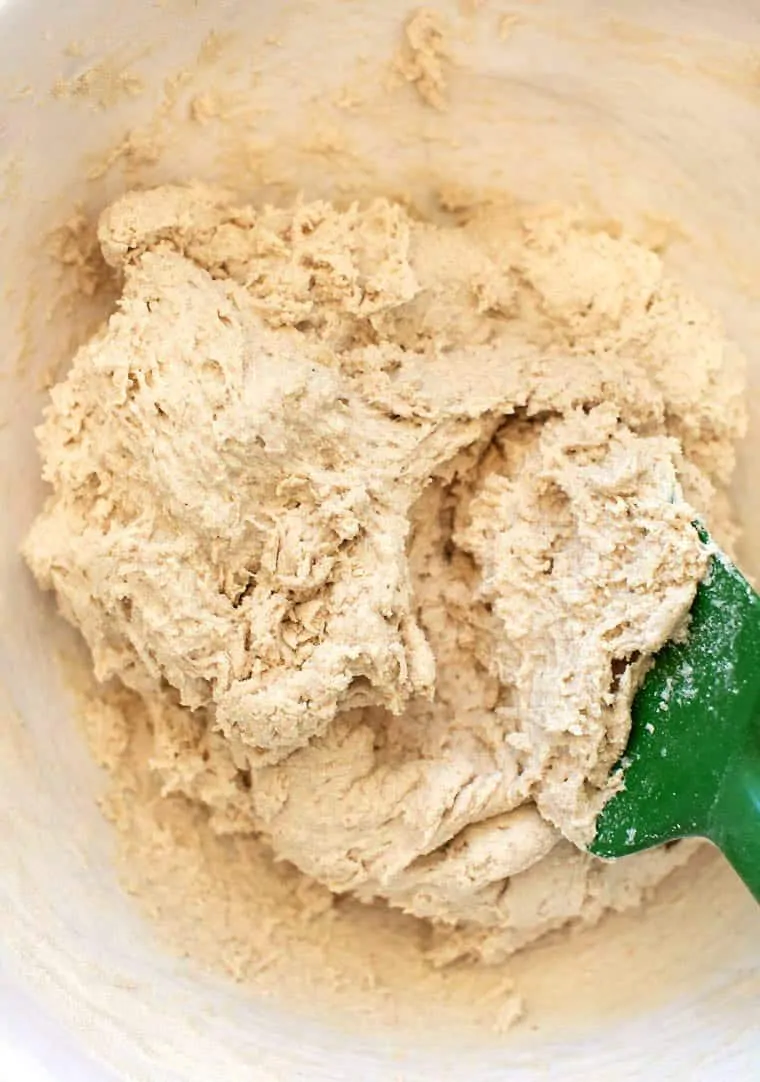 The Benefit of Using Quinoa Flour
Last week I shared a post all about how to use quinoa flour and talked about why I love it so much. There are so many ways that you can use it, but I especially like it for pizza.
Quinoa flour is great for pizza because of its protein content. Gluten is a protein found in wheat and helps provide structure to baked goods, so when we're making something gluten-free, it can be really helpful to use high protein flours.
This recipe doesn't have the same pull and stretch that a gluten-based dough would but after it's baked it's nice and sturdy. It can hold up to all your favorite toppings, which to me, is really the test!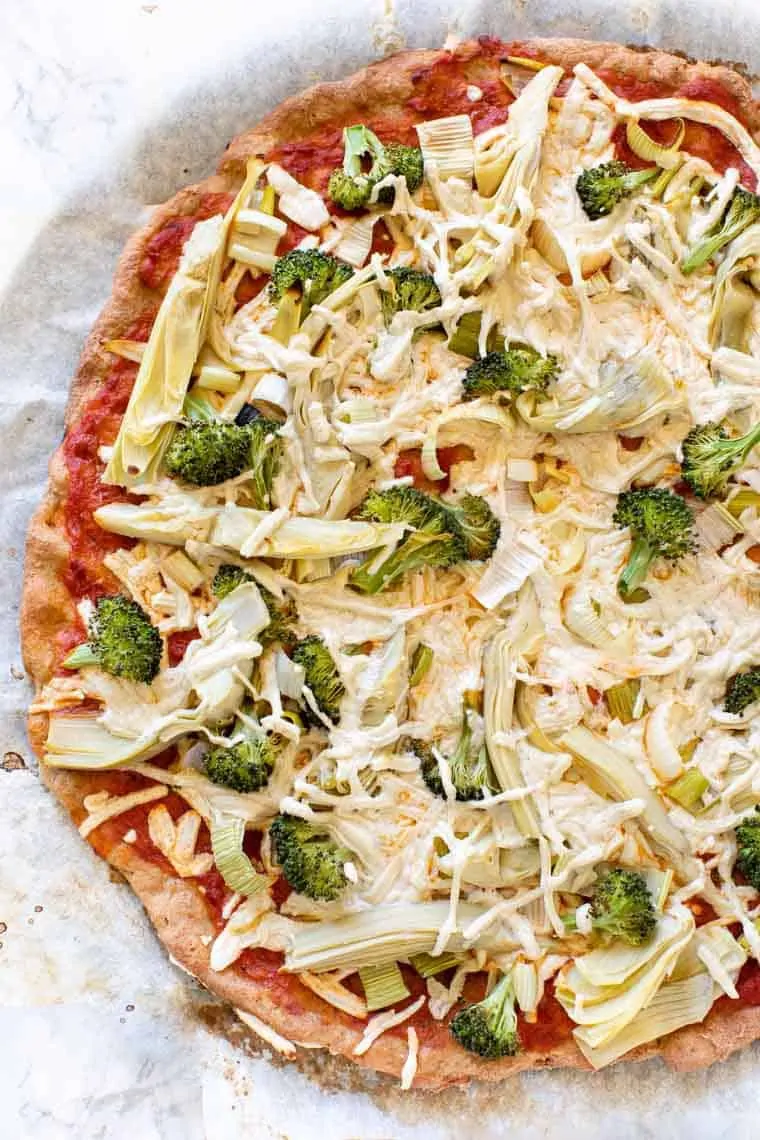 Our New Favorite Gluten-Free Pizza Crust
I have loved all the pizza crusts I've shared on the blog so far, but this might just be my new favorite. It's only 5 ingredients, it's naturally vegan (and gluten-free), it's high protein and it's super simple to make.
It's also yeast-free, oil-free and nut-free which makes it great for so many diet types.
Best of all…it's actually healthy. Which means pizza whenever you want!
I'm all about making the traditionally unhealthy foods healthy so that even when you're following a specific diet you can still enjoy the foods you love. This is the ultimate example. Pizza all the time = winning in my book!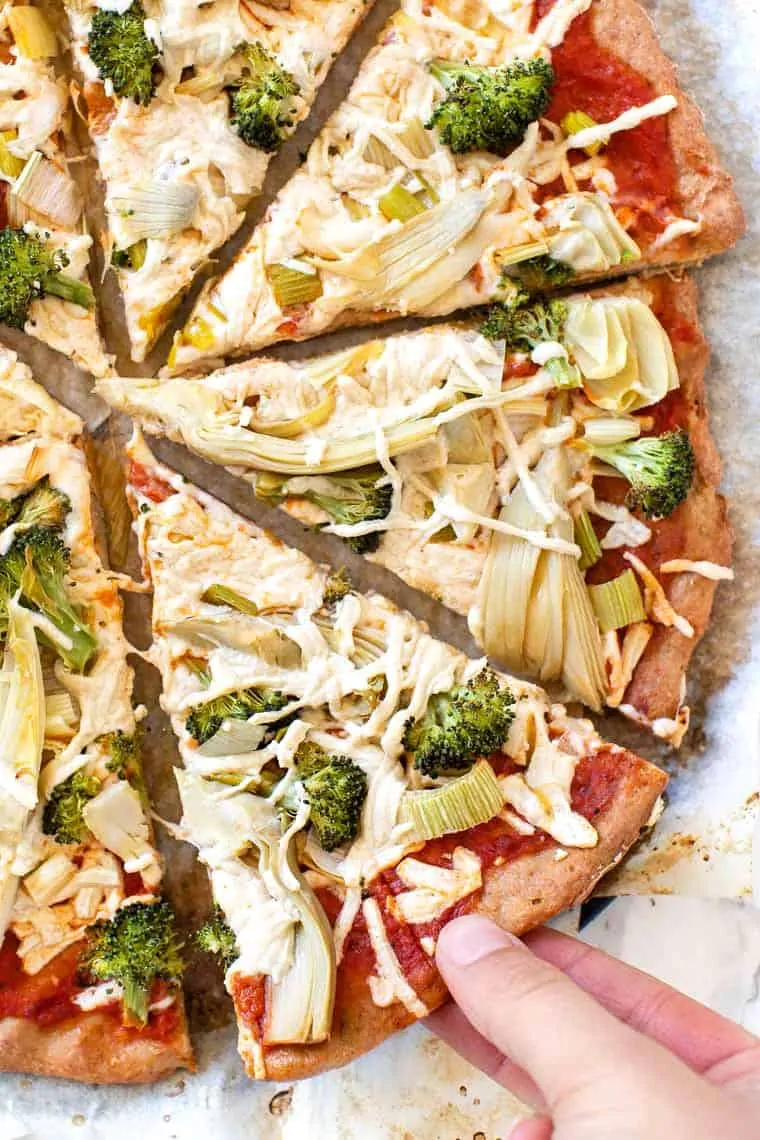 How to Top Your Quinoa Flour Pizza
It's all about the toppings for me and I like things full. Like I want to fit on as much as I possibly can!
I'll share what's on top of this quinoa flour pizza, but I also want to give you some other ideas in case you need a little inspo.
Here are some of my favorite vegan pizza toppings:
Tomato sauce, broccoli, leeks & artichokes (the I used for one!)
Tomato sauce, sauteed kale, caramelized onions & mushrooms
BBQ sauce, tomatoes, shallots &chickpeas
Hummus, sliced tomato & sliced zucchini
Lentil bolognese & vegan cheese
Homemade pesto, asparagus, artichokes & arugula
But really, the possibilities are endless! Basically just choose your sauce, then your toppings and finish it up with some vegan cheese and you're good.
I mean the truth of it is…you can never go wrong with PIZZA!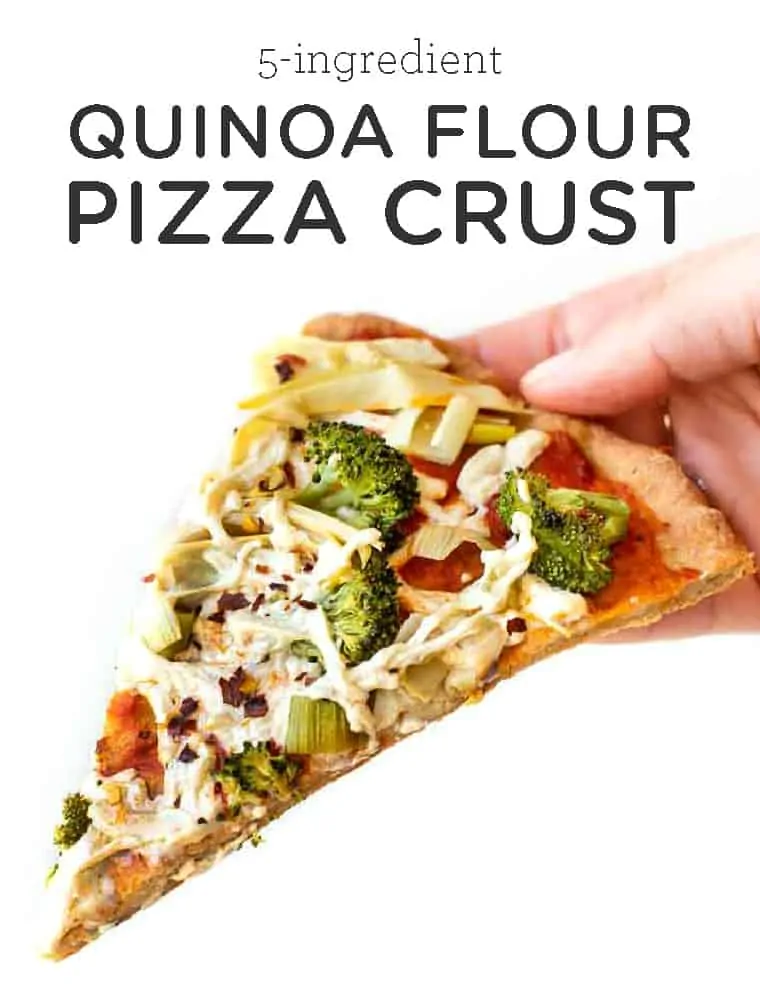 More Gluten-Free Pizza Recipes from SQ:
Quinoa Flour Pizza Crust
A quinoa flour pizza crust that is made with just 5 ingredients! This healthy pizza is gluten-free, vegan, oil-free and super easy to make!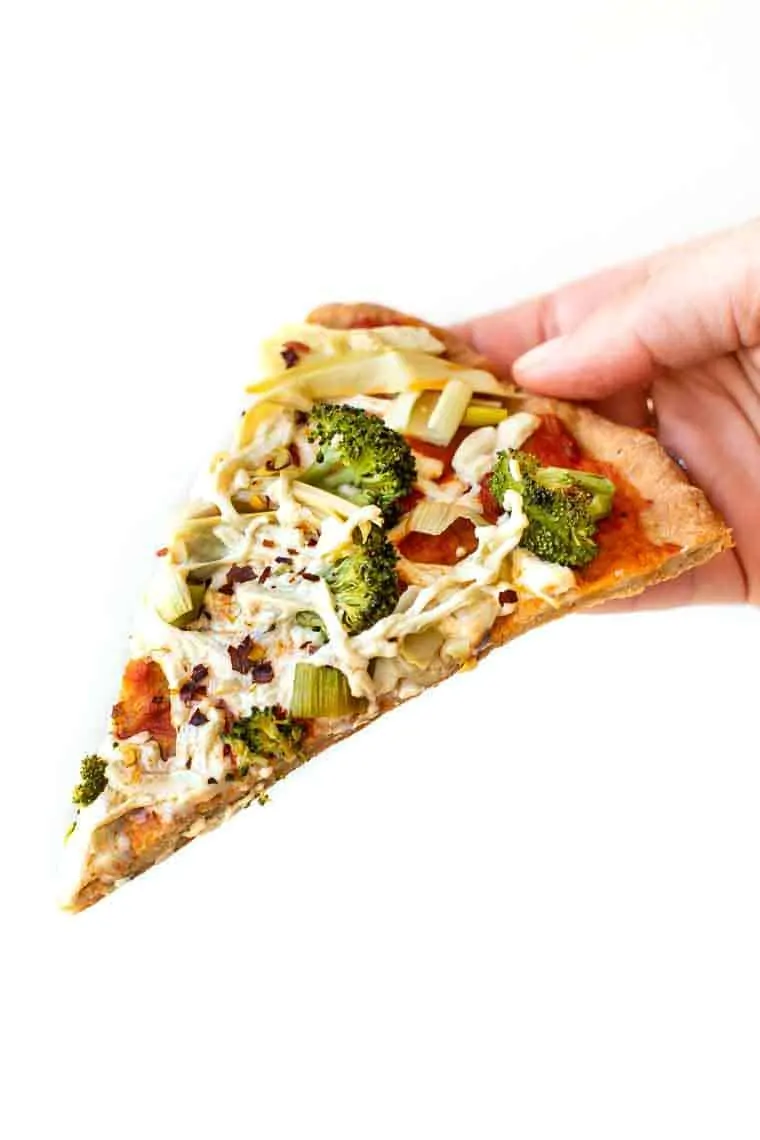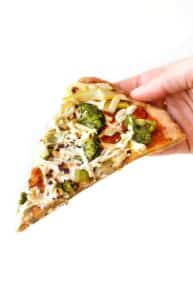 Instructions
Preheat the oven to 400ºF and line a baking sheet with parchment.

In a large bowl, whisk together dry ingredients. Stir in warm water and mix until a sticky dough has formed.

Transfer dough to the baking sheet. Using wet hands, spread the dough out into a pizza shape, about 1/4" thick. Bake for 20 minutes.

Remove crust and top with sauce/pesto and toppings, and return to the oven for another 20 minutes. Allow to sit for 5 minutes before slicing and enjoying!
Notes
* nutrition facts are based on 1 slice of crust (toppings not included)
Nutrition
Serving:
1
slice
|
Calories:
94
kcal
|
Carbohydrates:
16
g
|
Protein:
3
g
|
Fat:
1
g
|
Sodium:
81
mg
|
Potassium:
25
mg
|
Fiber:
2
g
|
Calcium:
20
mg
|
Iron:
1
mg
Filed Under: