I love burgers. Who doesn't, right? Burgers are awesome. Simple, flavorful and fairly easy to add your own healthy twist to, they tend to be a go-to favorite in our house.
When most people think of burgers, they think of juicy, tender, meaty burgers, oozing with what seems like blood. Appetizing, isn't it? Yeah, I don't think so either.
Since doing my cleanse four months ago, I have stopped eating red meat completely. I thought it was going to be hard, but you know what? I'm really enjoying it. Those steaks, lamb chops, and sausages that I used to enjoy, now make my stomach turn. Just the thought of going back to eating red meat makes me cringe.
And so, I've found alternatives. Delicious and healthy alternatives.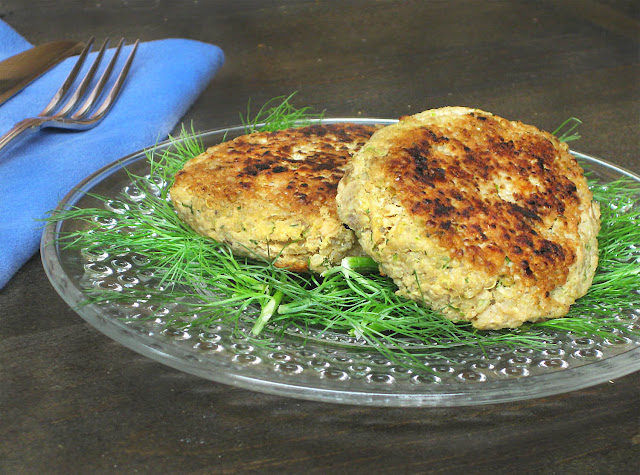 Think you may be limited in the burger world without eating red meat or gluten? Don't worry, there are TONS of options out there. Trust me, the burger world is your oyster.
Like my gluten-free and vegan chickpea quinoa burgers or butternut squash and green lentil burgers. They're both vegan, both totally delicious and both use quinoa, making them naturally gluten-free. What more could a non-red meat eating, gluten avoiding person ask for?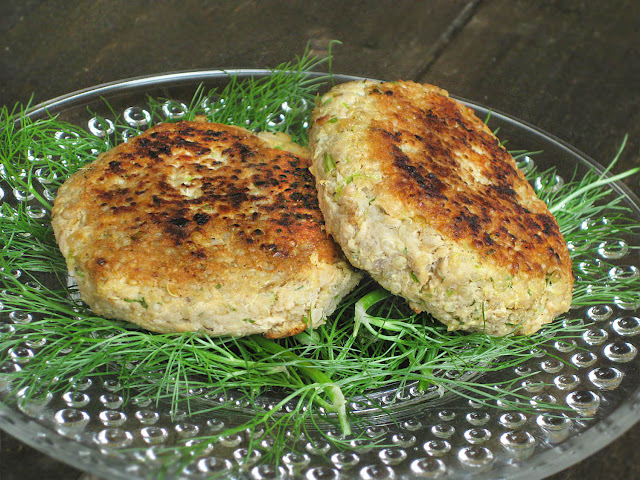 But today we're not talking about bean and veggie burgers. We're talking about fish burgers.
More specifically, Salmon Cakes.
Healthy, all natural, made with whole grains and totally gluten-free. These are quinoa salmon cakes to be exact.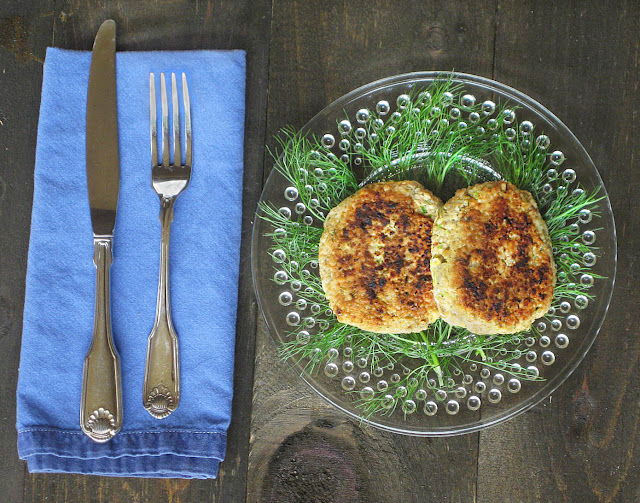 When I started experimenting with these salmon cakes, the texture was my biggest concern. We played around with the amount of quinoa, tested different ingredients, experimented with binding agents until finally, we had the perfect salmon cake.
And here I give to you my most favorite fish cake recipe on the planet. Truly the best, I promise. You'll never look at another salmon cake the same.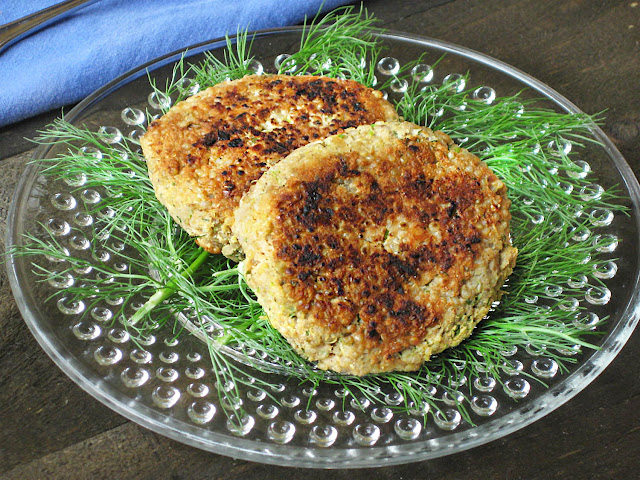 Quinoa Salmon Cakes
Moist, easy to assemble, and deliciously nutritious, these salmon cakes have now become a staple for us. You can whip them up in minutes and they are sure to be a crowd pleaser. (I made them for my parents the other night and they were a huge hit!)
Quinoa Salmon Cakes
serves 6
ingredients:
3 cans wild caught, no salt added Atlantic salmon
1/2 cup dry quinoa
1 bunch green onions
1 tablespoon lemon zest
1 tablespoon fresh dill, minced
1 large egg
Salt & pepper to taste
1 tablespoon olive oil
Prepare the quinoa by placing 1 cup water on the stove to boil. When the water is ready, add the quinoa, cover and turn down to simmer for 10 minutes, or until the water has been absorbed.
While the quinoa is cooking, debone and remove the skin from the salmon. Place in a large bowl and break it up with a fork. Set the bowl aside.
In a food processor, fit the metal s-blade, add the green onions, lemon zest, dill, salt and pepper. Process in about 5 – 6 one second pulses, until the onions are minced.
When the quinoa is done cooking and has cooled slightly, add this and the salmon to the food processor and pulse until a dough begins to form and all the ingredients are combined, about 10 pulses. Make sure to scrape down the sides of the bowl as you're blending.
Crack the egg into the bowl that the salmon was in. Add the contents of the food processor and mix the everything together with a wooden spoon. Sprinkle with a touch more salt and pepper if you wish. Form the dough into patties and set aside.
In a cast iron skillet or saute pan, heat the olive oil over medium heat. Place the salmon cakes into the skillet and cook for 2 – 4 minutes per side, or until they are heated through.
Serves these cakes with a side of fresh sweet potato fries and topped with a touch of hot sauce (we used Frank's Red Hot) – yum!