These Sweet Potato Salmon Cakes are so delicious! If you're looking for a quick and easy weeknight meal, that tastes like you've spent hours in the kitchen, then look no further.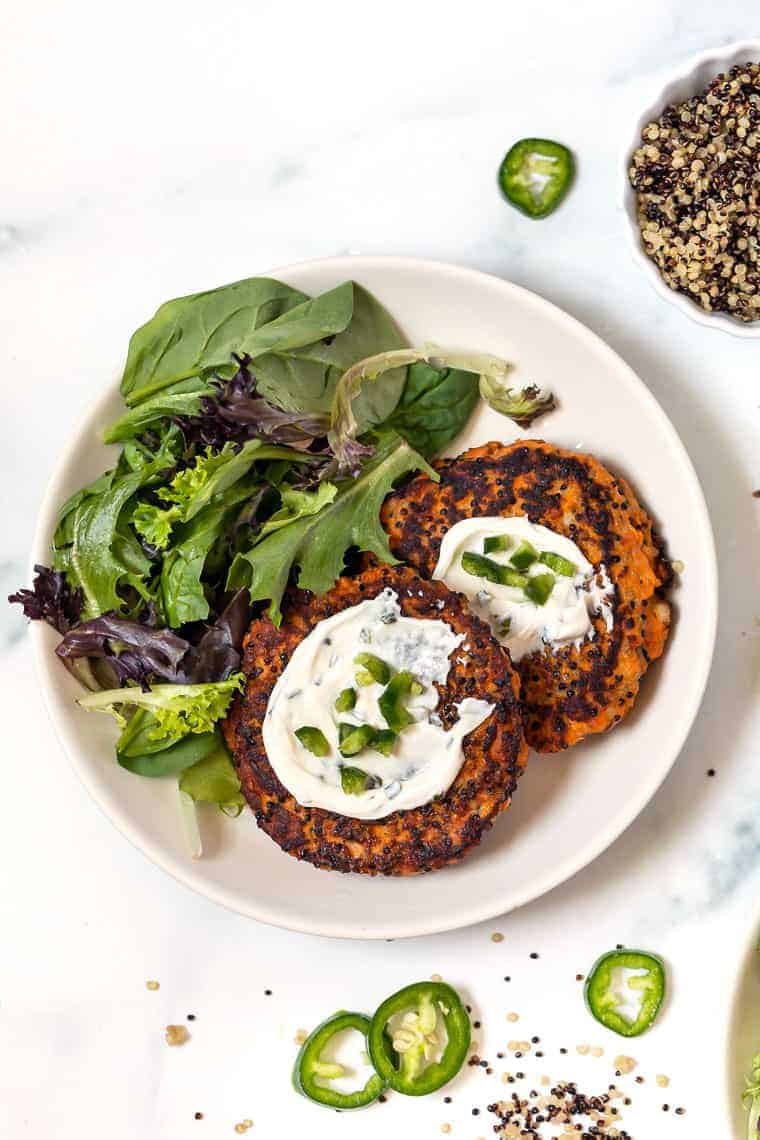 If you're looking for a quick and easy weeknight meal, that tastes like you've spent hours in the kitchen, then look no further. These Sweet Potato Salmon Cakes are sensational.
And surprise: they're a cinch to whip up! The ingredient list is short, but they're full of flavor and I promise they won't disappoint.
They've got creamy sweet potato that provides the cakes with a smooth, rich texture, with just a hint of sweetness. Combined with quinoa which adds are really unique texture. And then the salmon! It's the ultimate combination and yields a salmon patty that is light but totally sticks together.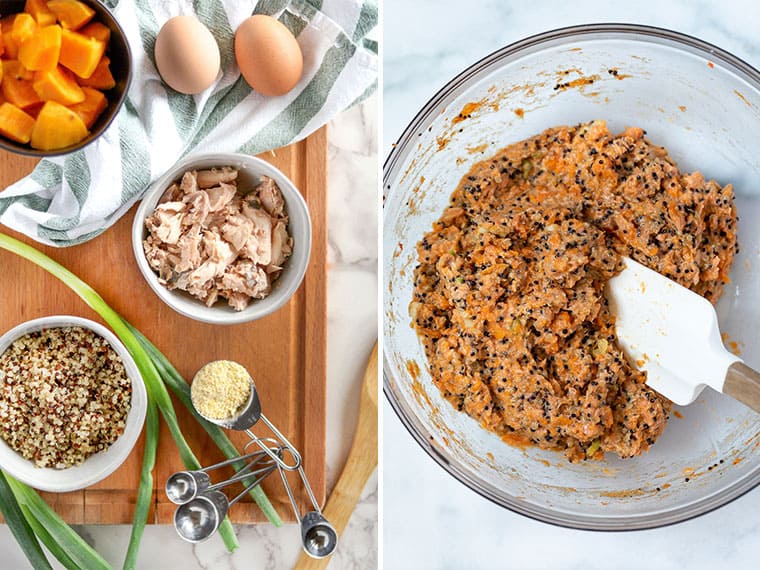 Ingredients for Healthy Salmon Cakes
Sometimes my ingredient lists can get pretty long, but for this one, I wanted to keep it as simple as possible. We've got the option of using freshly baked or canned salmon, and just a few other simple ingredients.
Here's what you'll find inside our salmon patties:
Steamed sweet potato: this gives the patties a really nice sweet flavor, gorgeous orange color, and also helps to bind them. If you're not a sweet potato fan, you can replace it with regular potatoes, more salmon, or even squash!
Cooked quinoa: I love making these patties with leftover quinoa. They're fantastic for meal prep! You can use any variety of quinoa you'd like – my personal favorite is tri-color.
Salmon: as I said, you can use either fresh baked salmon or canned salmon. My mom loves to make extra salmon when they're making it for dinner and save the leftovers to make these cakes!
Eggs: we're using 2 eggs in this recipe to help bind them together.
Flour: we need a little bit of a dry ingredient to also help with binding, but since it's such a small amount, you can use any type you'd like. I went with quinoa…duh!
Scallions: these add a really nice bite and flavor to the cakes! You can leave them out, but rather than doing that, I'd suggest swapping them with shallots or red onion just to get that extra bit of zing.
Salt & pepper: that's all we're using for seasoning because really I think that's all they need!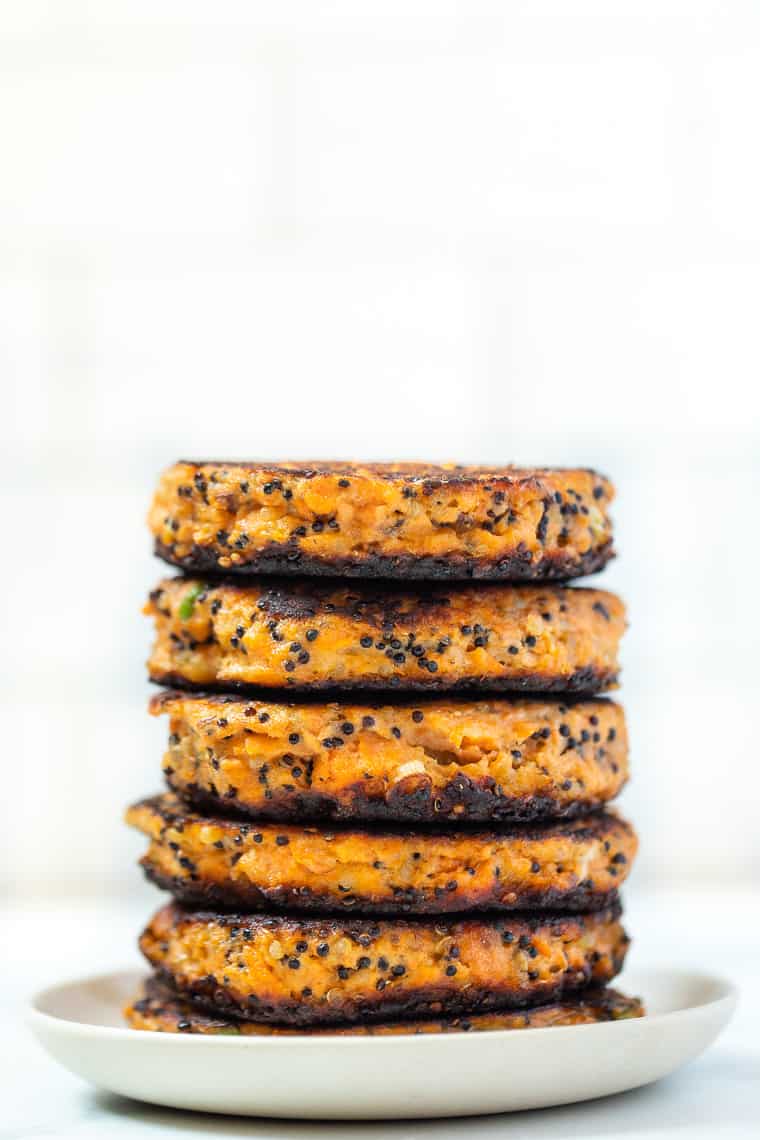 Baked vs. Canned Salmon for Salmon Cakes
What's great about this recipe is that you can use either fresh or canned salmon. If you are using canned salmon, try to get skinless and boneless os that you don't have to deal with that. But otherwise, you can follow the recipe 1:1.
What's the main difference you might wonder? The flavor.
If you're using freshly baked salmon you're going to have a richer flavor. Canned salmon can be a little briny – similar to how canned tuna fish tastes – and that does come through in the flavor of the final cakes.
But don't worry! Both are absolutely delicious – you really can't go wrong.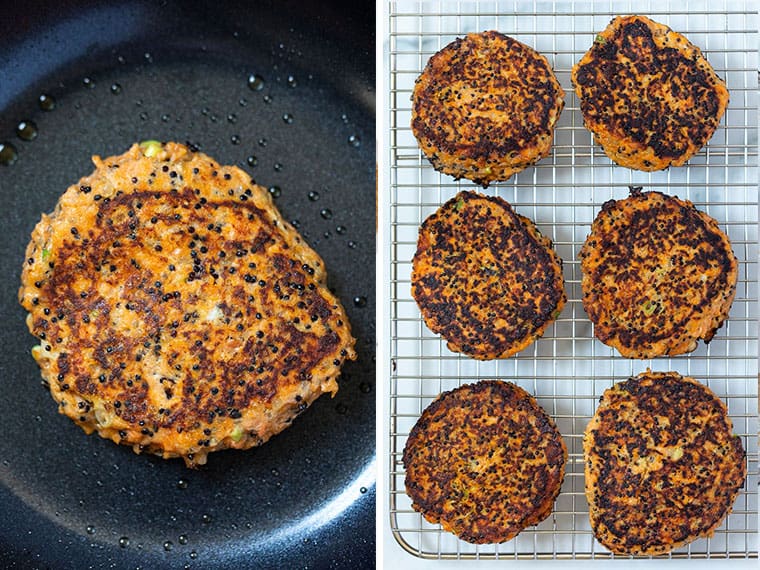 How to Make Salmon Cakes from Scratch
All you need for these salmon cakes are a pot, a bowl, and a saute pan!
STEP ONE: The Potatoes
We'll start by steaming our sweet potato. You'll want to peel your sweet potato first and then cut it into cubes. It should be about 2 cups worth of cubes. Then add your potatoes into a steamer basket, put the basket in a pot with a bit of water and steam the potatoes. It should take about 5 – 7 minutes – you're waiting for them to get fork-tender.
STEP TWO: Make the Cakes
Next is to make our salmon patty "dough". Add your sweet potatoes – which you've allowed to cool slightly – into your bowl. Mash them up until they're almost smooth. Then add the rest of your ingredients and mix it all together until you've got your "dough".
STEP THREE: Cook the Cakes
I personally like to pan sear my salmon cakes. They get crispy on the outside and stay nice and soft on the inside. To do that, I'll just add a bit of oil into a pan, drop in my patties and let them cook until they're golden brown. It takes about 2 – 3 minutes, then just flip them over and cook them on the other side.
And no joke…that's it!
Tips for Keeping Salmon Patties from Falling Apart
Do you ever run into the issue where you're salmon cakes fall apart? I think the two main reasons this happens are:
They're too dry
They don't have enough binders
For salmon patties to stick together, you don't want the dough to be dry. You should be able to pick it up with your hands, but only gently form it into a patty. Not like a burger that you can full shape.
If they're still falling apart and your dough isn't too dry, you don't have enough binders (i.e. eggs). The eggs are part of the reason the cakes stay together – as they cook, they start to firm up and hold their shape. Think about how scrambled eggs cook – they're liquid and then they hold their shape. They're doing the exact same thing with your salmon patties.
So if you keep having issues with your salmon patties falling apart, trying reducing your flour a bit and adding in an extra egg!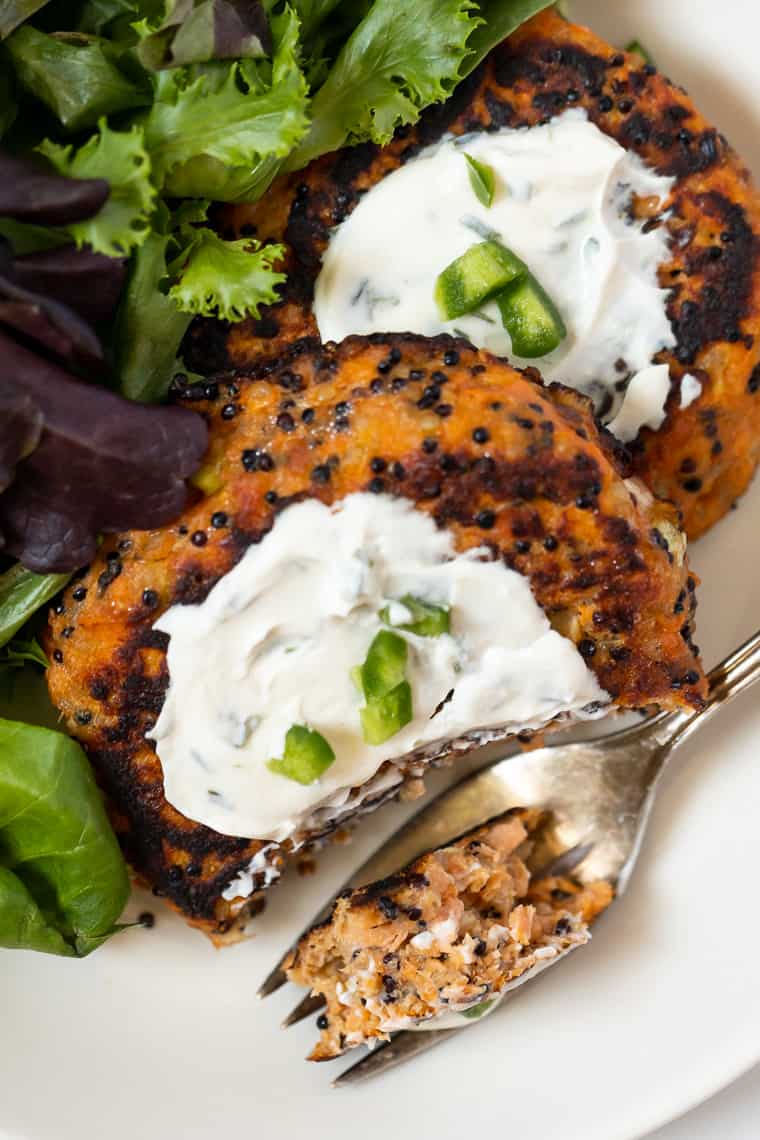 Can you Freeze Salmon Patties?
Want to make these for meal prep? Great! They're an awesome option for meal prep because they'll not only stay good in the fridge for a few days, but they can also be frozen.
For the refrigerator: keep for 3 – 4 days in a sealed container
For the freezer: wrap in parchment and store in a sealed container; keep for 3 – 6 months
What to Serve with Salmon Cakes
Last but not least…let's talk toppings!
I think salmon cakes are incredibly versatile. I love to serve them on their own with a small side salad or some sort of veg, but I also will use them as a salad topper, as an easy side, or even as an appetizer.
For serving, I have a few favorite things:
Or they're also super tasty just on their own with a squeeze of lemon. No matter how you serve them, I know you're going to absolutely LOVE them!!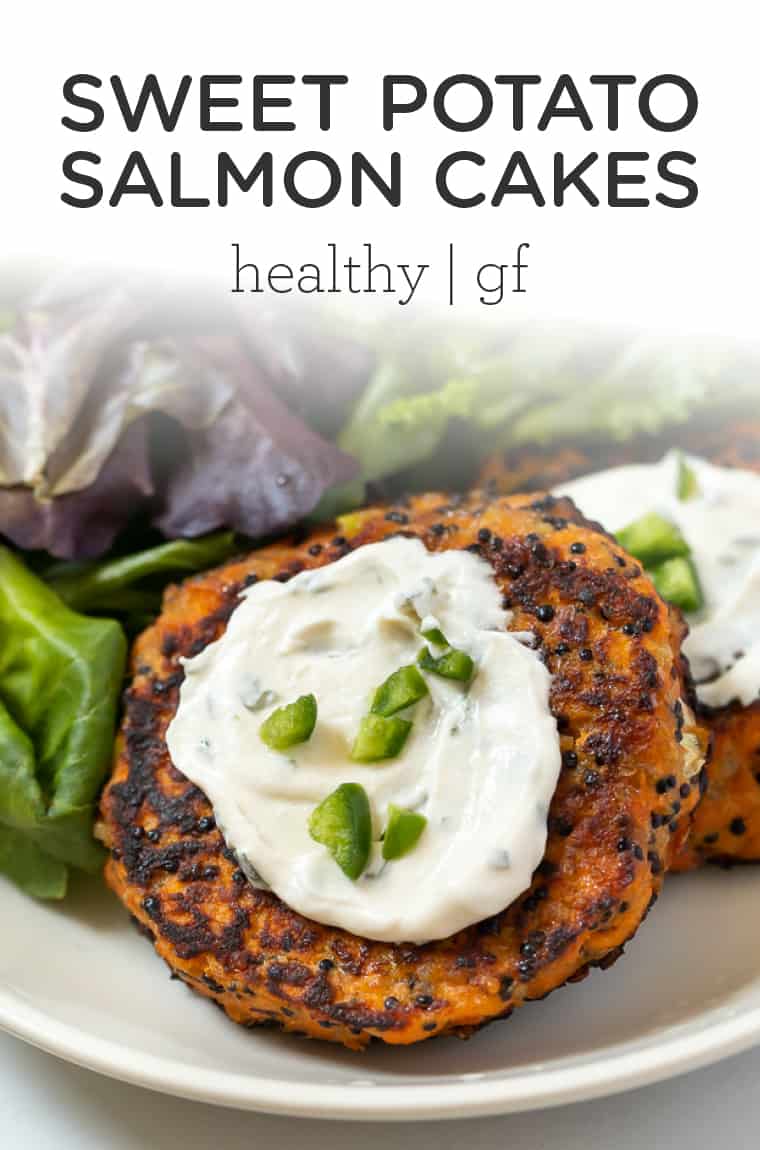 More Healthy Salmon Recipes to try:
Sweet Potato Salmon Cakes
These Sweet Potato Salmon Cakes are so delicious! If you're looking for a quick and easy weeknight meal, that tastes like you've spent hours in the kitchen, then look no further.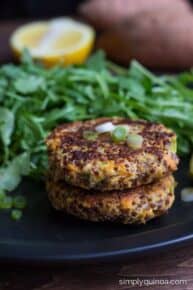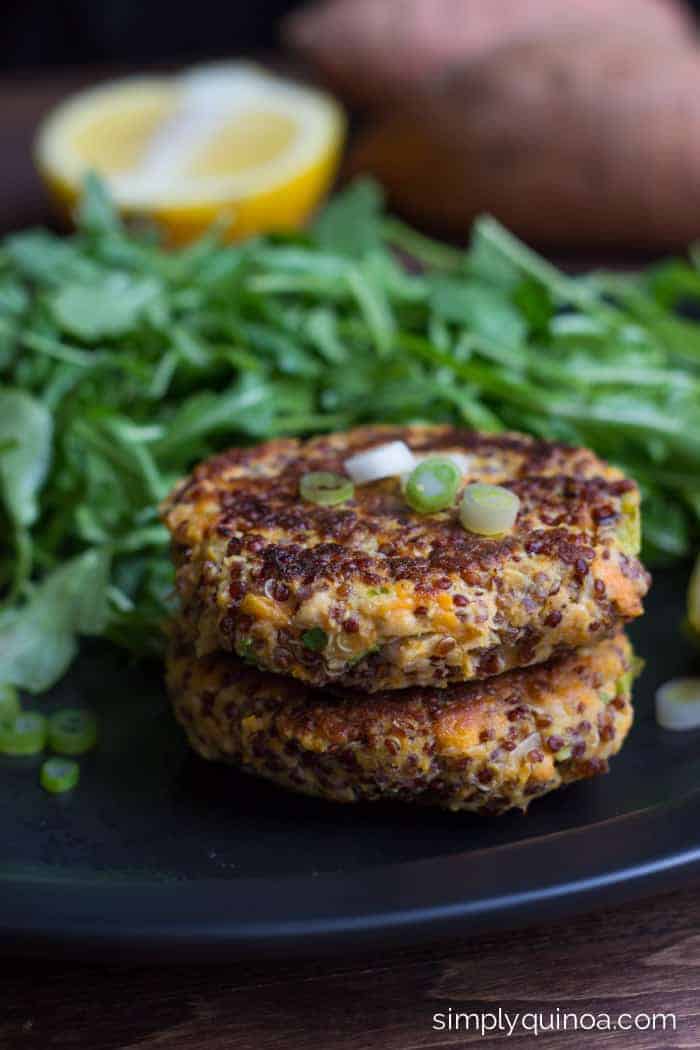 Ingredients
1

medium sweet potato

, peeled

1/2

cup

cooked quinoa

I used red for this recipe because I liked the color

1

6 oz can wild salmon (skinless and boneless if possible)

2

large eggs

4

green onions

minced

2

tablespoons

gluten-free cornmeal/flour of choice

Salt & pepper to taste

Oil for cooking
Instructions
Cut the sweet potato into cubes. You'll have about 2 cups. Add them to a steamer basket and steam for 5 - 7 minutes until the potatoes are fork-tender.

Allow the sweet potatoes to cool slightly, then transfer them to a bowl and mash them until (almost) smooth.

Add the rest of ingredients into the mixing bowl and mix with a wooden spoon until everything is combined and a dough has formed.

Form the dough into 6 patties, place on a plate and set aside.

Heat the oil in a 10" skillet over medium heat. Saute the salmon cakes for 3 - 5 minutes per side, until browned, crispy and heated through.

Serve warm with your desired dipping sauce (we used guacamole with sriracha mixed in)

Enjoy!
Nutrition
Serving:
1
cake
|
Calories:
134
kcal
|
Carbohydrates:
10
g
|
Protein:
8
g
|
Fat:
6
g
|
Cholesterol:
70
mg
|
Sodium:
96
mg
|
Potassium:
291
mg
|
Fiber:
1
g
|
Sugar:
1
g
|
Vitamin A:
3245
IU
|
Vitamin C:
2.1
mg
|
Calcium:
26
mg
|
Iron:
1.1
mg
Filed Under: