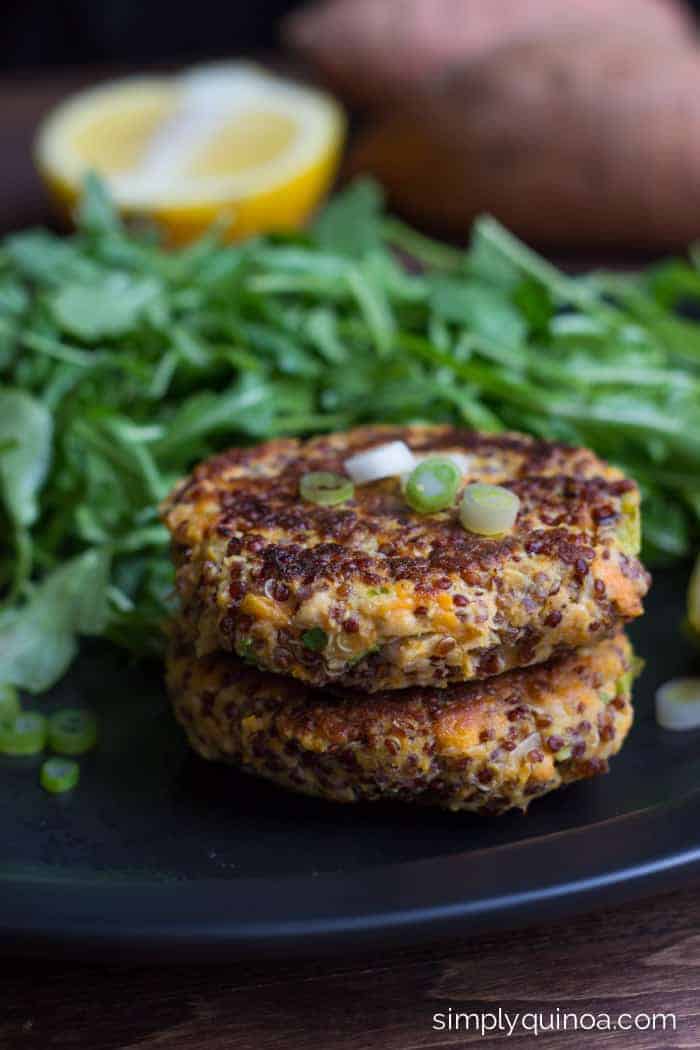 If you're looking for a quick and easy weeknight meal, that tastes like you've spent hours in the kitchen, then look no further. These Sweet Potato Salmon Cakes are sensational. And surprise, they're a cinch to whip up! The ingredient list is short, but they're full of flavor and I promise they won't disappoint.
Remember my quinoa salmon cakes? Well, think of this recipe as those little beauties but kicked up a few notches. This time I've added sweet potato into the mix. It gives the cakes a smooth, rich texture, with just a hint of sweetness that doesn't overwhelm the bold fish flavor.
I'm obsessed.
And of course, this recipe was just begging for quinoa.
I love adding quinoa to my burger recipes. It's acts as a natural gluten-free binder, which actually boosts the nutrition content of your recipe rather than just adding empty carbs (like gluten-free breadcrumbs would). I've used it in my other salmon cake recipes as well as my vegan chickpea burgers, and each time it works like a charm.
When I saw this recipe for sweet potato salmon burgers, I had to have them immediately. I literally ran to the store, threw the ingredients into my basket and ran home. Made them in under 1o minutes (since I already had mashed sweet potato in my fridge) and dinner was served. Seriously, does it get any better then that? Simple, delicious, and bursting with flavor.
And guess what? They freeze well too. Hello leftovers!
Share this recipe!
Sweet Potato Salmon Cakes
Ingredients
½ cup cooked quinoa (I used red for this recipe because I liked the color)
1 medium sweet potato, boiled and mashed
1 (6 oz) can wild salmon (skinless and boneless if possible)
2 large eggs
4 green onions, minced
2 tablespoons gluten-free cornmeal
Salt & pepper to taste
Oil for cooking
Instructions
Add all the ingredients in a large mixing bowl and mix with a wooden spoon (or your hands!) until everything is combined and a dough has formed.
Form the dough into 6 patties, place on a plate and set aside.
Heat the oil in a 10″ skillet over medium heat. Saute the salmon cakes for 3 – 5 minutes per side, until browned, crispy and heated through.
Serve warm with your desired dipping sauce (we used guacamole with sriracha mixed in)
Enjoy!

If you make this recipe, make sure to snap a pic and share it on Instagram using #SIMPLYQUINOA – I want to see your own quinoa creations!
This post was shared on: Whole Food Fridays, Simple Meals Friday, Gluten-Free Fridays