These amazing Raspberry Chocolate Chip Protein Bars make for a perfect breakfast or snack! With three forms of protein, they're filling, healthy and tasty!
It's Day 2 of Meal Prep Week and we're moving into the actual recipe part of it! Yesterday we chatted about how to create a healthy meal plan and today we're getting into breakfast.
For me, breakfast is actually the quickest meal of the day. I usually just make a smoothie and it takes me about 5 minutes. But I also work from home, which provides the luxury of taking a little extra time if needed.
I know a lot of you reading this might not have that same luxury. So today I'm going to share one of my favorite breakfast recipes that can be prepped ahead and is still healthy, filling and delicious: the raspberry chocolate chip protein bars!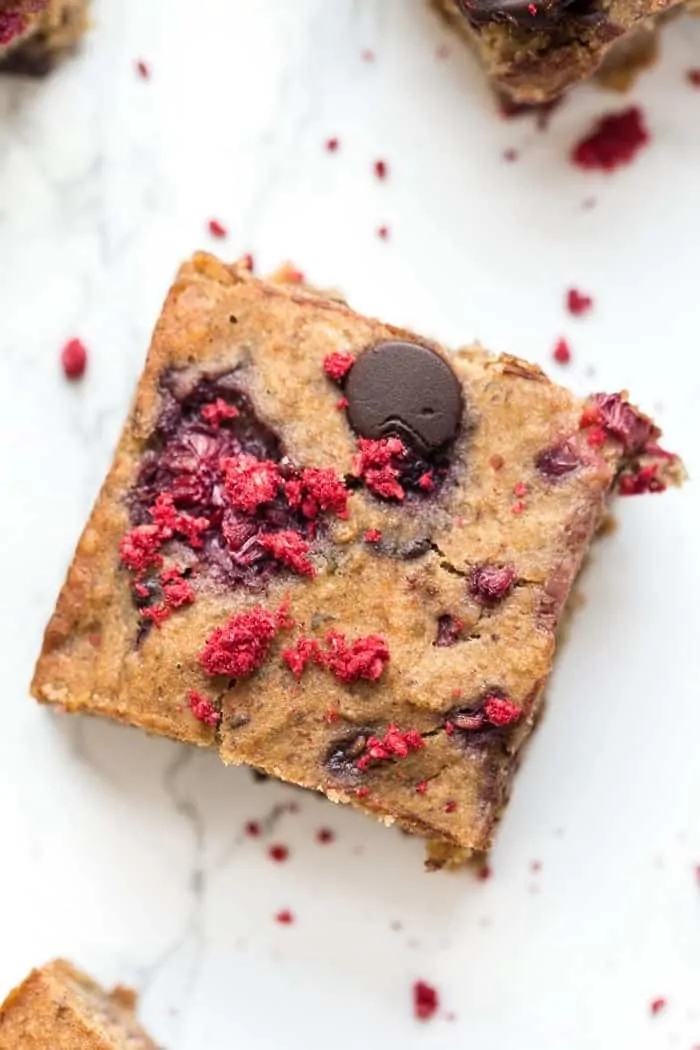 How to make Protein Bars with a Food Processor
Now, these bars might look like a dessert, but they're actually packed with all the things you need for breakfast: protein, fiber, complex carbohydrates and healthy fats.
And they couldn't be easier to make. We start by blending up our base in the food processor, pulsing in our raspberries and chocolate chips, then pouring everything into a pan and baking it.
I love recipes that use a blender or food processor because they are so quick. From start to finish this recipe should take you no more than 35 minutes!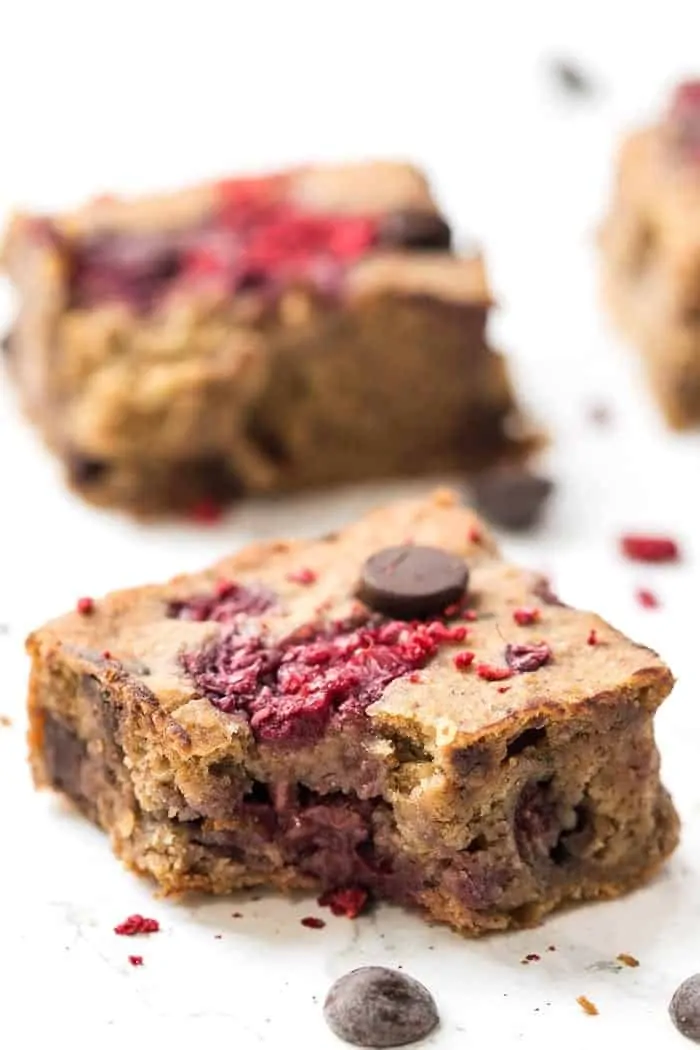 Healthy Chickpea Protein Bars
The secret ingredient to these raspberry chocolate chip protein bars? Chickpeas!
I know it sounds strange, but I promise you can't taste them. Matt is someone who does NOT like weird things in his baked goods, but I totally fooled him with these.
He got home the other night, ate one and commented, "Wow, these are good!"
I said, "You'll never guess what's inside!" And when I told him they were chickpeas he gave me a surprised look and said again how much he liked them. Now that, my friends, is saying something!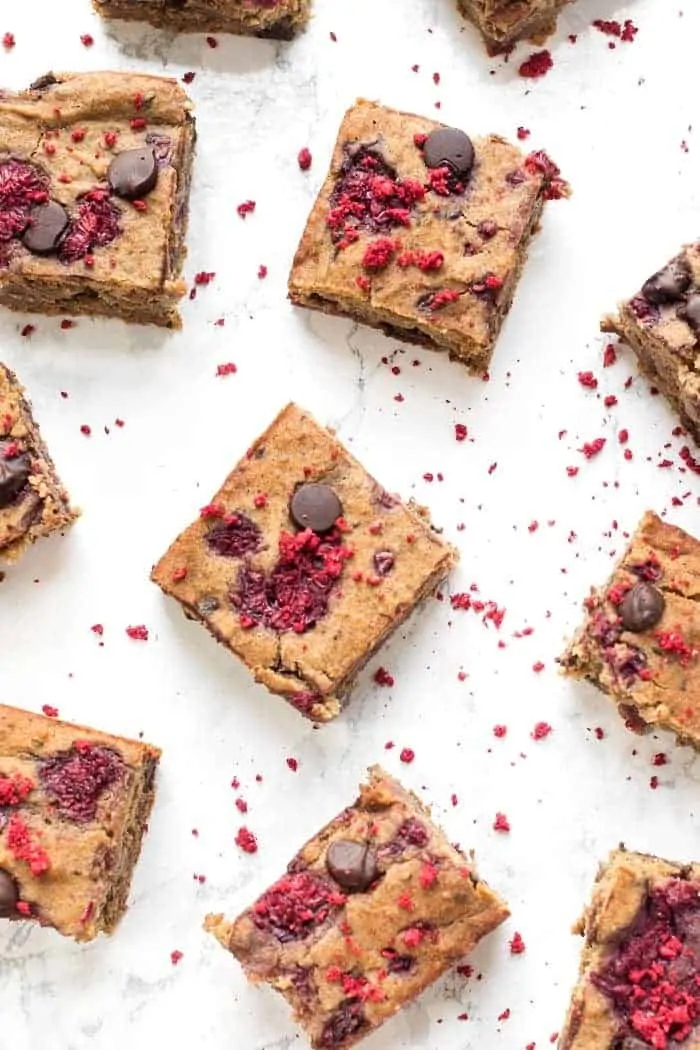 Raspberry Chocolate Chip Bars
With these bars, we wanted to make sure they were more than just banana and chickpeas, so we're stirring in some frozen raspberries and some chocolate chips!
I honestly think this is one of the best combos ever. The raspberries are sweet, but with a little tang, while the chocolate makes them a little more elegant and decadent. Plus, who wouldn't love having a little chocolate for breakfast?!
Ultimately, these make the perfect breakfast bar. They're nutrient-dense, easy to make and totally portable. You can grab a few on your way out the door, and enjoy them with your morning cup of matcha (or coffee). They're filling, satisfying and will actually fuel you up for a productive morning!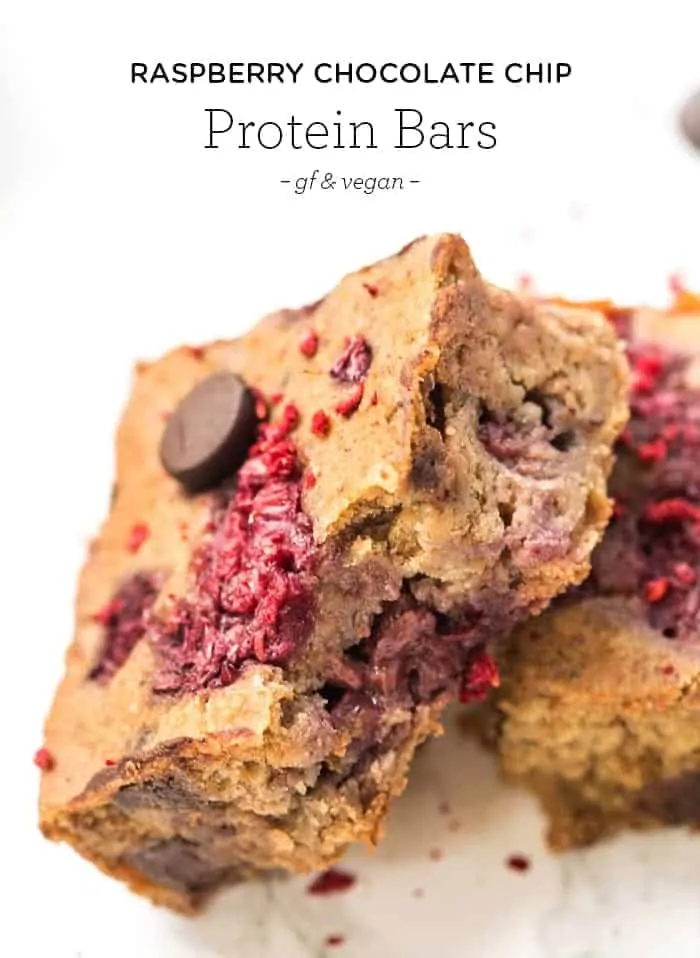 More healthy breakfast bar recipes:
Raspberry Chocolate Chip Protein Bars
These amazing raspberry chocolate chip protein bars make for a perfect breakfast or snack! With three forms of protein, they're filling and delicious!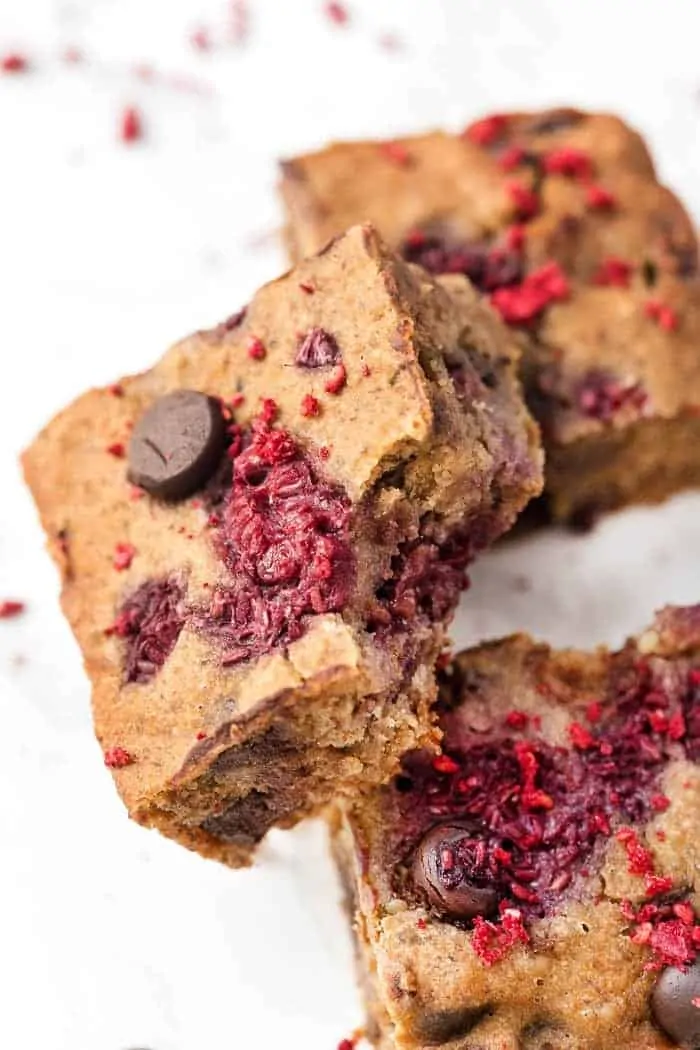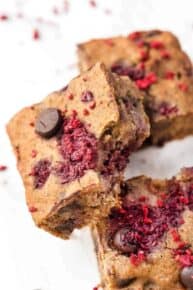 Instructions
Preheat the oven to 350°F. Grease and line an 8x8 baking pan with parchment and set aside.

Whisk together the flaxseed meal and water in a small bowl. Set aside for 5 minutes.

Once gelled, blend the flax egg, chickpeas and banana in a food processor until completely smooth.

Add the dry ingredients (minus the hemp hearts, chocolate chips and raspberries) and blend again until smooth. Pulse in the remaining ingredients.

Dump the batter into the prepared pan. Sprinkle with additional chocolate chips and raspberries if desired and bake on the center rack for 25 - 30 minutes until a toothpick inserted into the center comes out clean.

Let cool in the pan for 10 - 15 minutes, then transfer to a wire rack and cool completely before slicing.

Slice into 12 - 16 bars. Store in an airtight container for 2 - 3 days.
Nutrition
Serving:
1
bar
|
Calories:
95
kcal
|
Carbohydrates:
14
g
|
Protein:
2
g
|
Fat:
2
g
|
Sodium:
76
mg
|
Potassium:
73
mg
|
Fiber:
1
g
|
Sugar:
6
g
|
Vitamin A:
30
IU
|
Vitamin C:
1.7
mg
|
Calcium:
17
mg
|
Iron:
0.9
mg
Filed Under: