These amazing Pumpkin Chocolate Chip Quinoa Bars will make all your fall dreams come true! Made with quinoa, pumpkin, banana, flax, hemp, and chickpeas, they're healthy, vegan & gluten-free!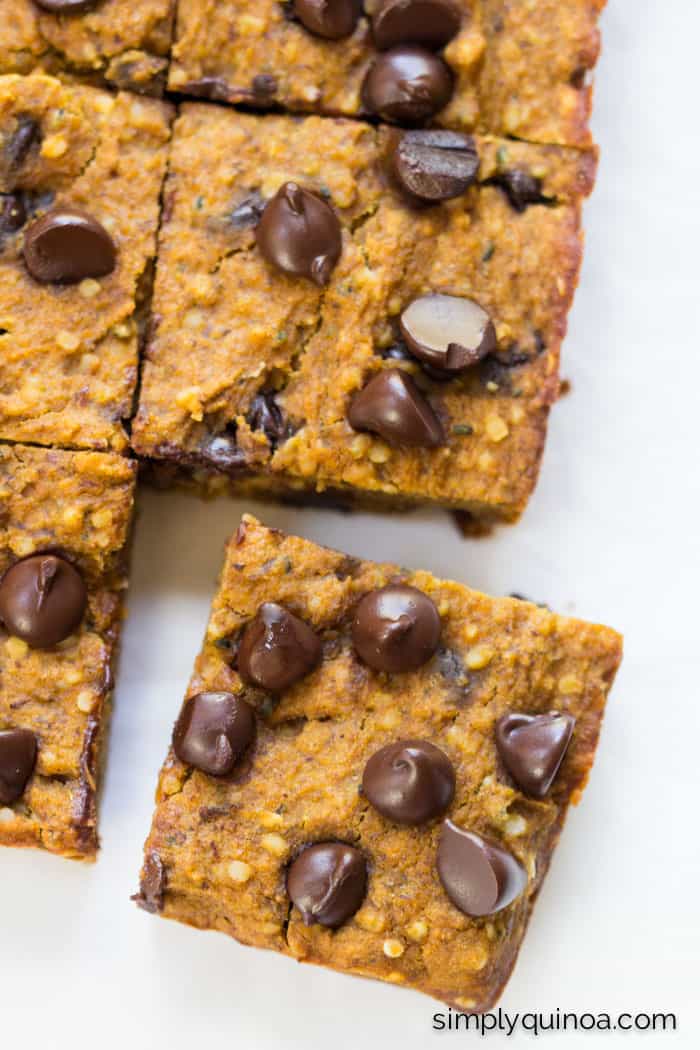 Well hello there! Does anyone else spy a little orange tint to those quinoa bars?
Oh yes my friends, it's happening. Pumpkin. And chocolate. And quinoa. All wrapped up into one little square of deliciousness.
You aren't going to believe me when I tell you about these bars. They're sort of a crazy jumbling of ingredients and my goodness they are good. Like realllllly good. So good in fact, that I've had to give part of the latest batch away because I'm finding myself sitting on the couch and eating like four at a time.
No bueno.
Although they do taste super bueno and, despite their decadent look, they're actually healthy too.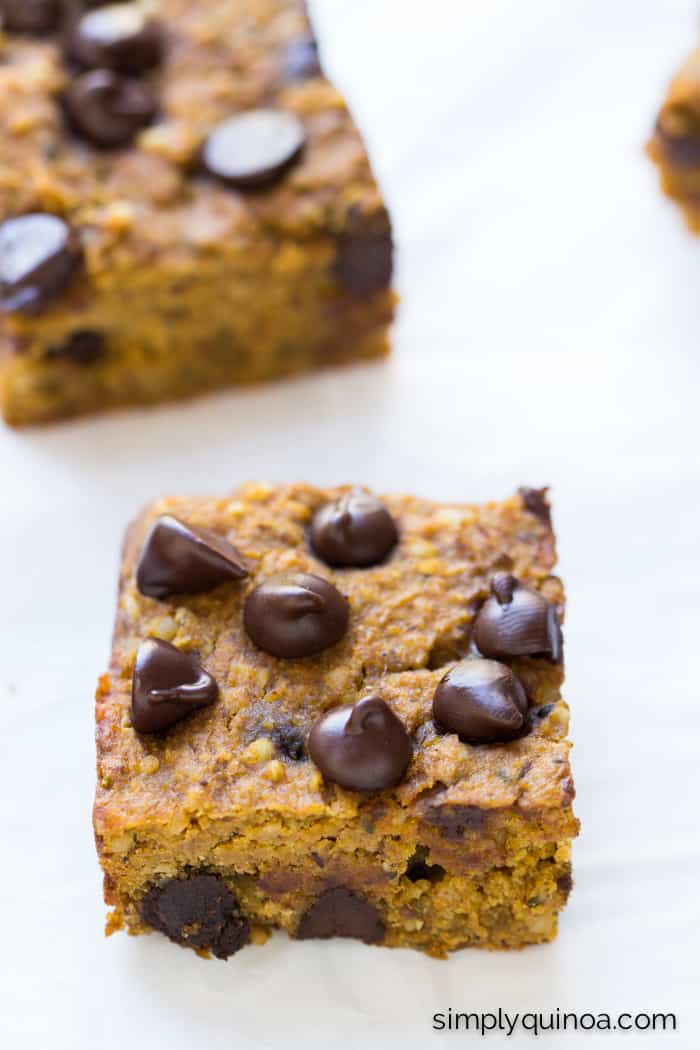 I know it's probably a little early for pumpkin season, but I just couldn't help myself.
After your response to the peanut butter bars and the blueberry breakfast bars I made a few weeks ago, I've been dreaming up fun new ways to add quinoa to bars. Why? Because since so many of you are busy busy, bars are a great option when you need something quick and healthy while you're on the go.
These? They're no exception. And even though they are studded with dark chocolate chips, you're going to love all the goodness that's happening inside.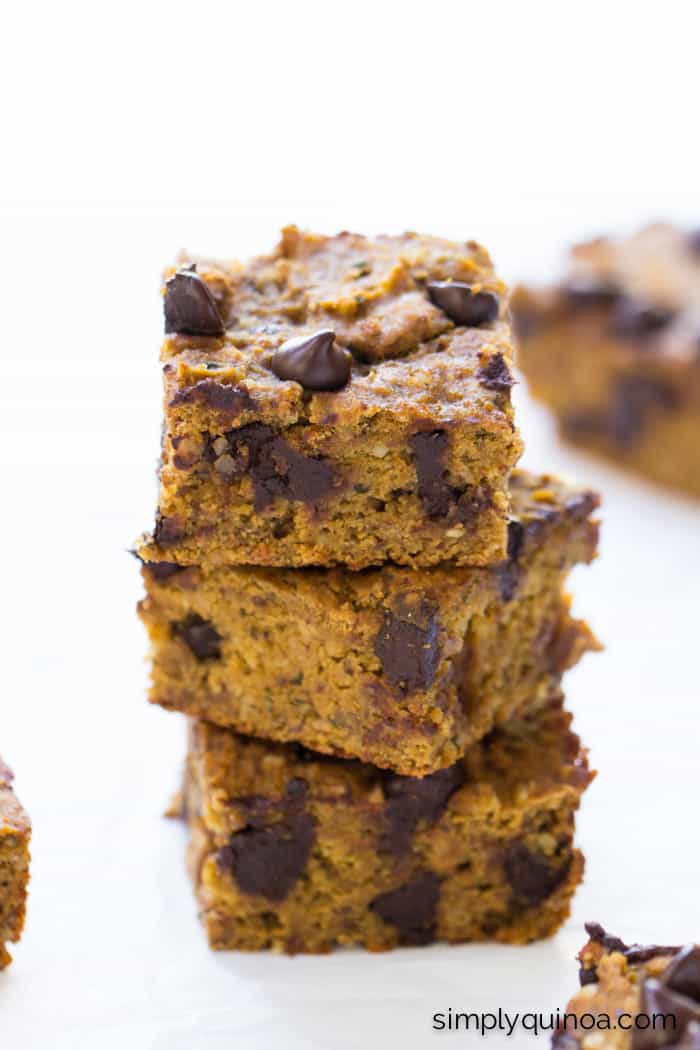 Aside from the obvious addition of quinoa, these bars are stacked with a whole list of super-charged ingredients:
Pumpkin: not only is pumpkin one of the greatest flavors ever, but it's also got lots of nutritional benefits that work for us. Pumpkin is packed with fiber, is high in vitamin A, has lots of beta-carotene (gimme all the orange veggies!) AND is super high in potassium. Plus, it's relatively low in calories and can be a great addition to baked goods (like these) to replace some fat and add some moisture.
Banana: Oh how I adore banana and if you haven't already noticed, I'm kind of obsessed with adding it to my baked goods. Banana is high in natural sugars which makes it perfect for adding to things like this because it amps up the sweetness without the need for tons of added sugar. Bananas are also high in fiber, potassium, vitamin B6 and vitamin C.
Flax: we use flax a lot around here as an egg replacer, but flaxseed meal is also a really amazing ingredient. Flax seeds are one of the highest plant-based sources of omega-3 fatty acids which support heart health, regulate circulation and support proper kidney function. Flax is also high in both soluble and insoluble fiber and is super easy on the digestive tract.
Hemp hearts: ahh hemp hearts! They've seriously stolen my ❤ (see what I did there?) We don't use them much around here, but man are these tiny little seeds amazing. Hemp hearts are an excellent source of fatty acids, are considered a complete plant protein, meaning they have all the essential amino acids (like quinoa). They're also high in antioxidants and a multitude of vitamins. Arguably one of most powerful things about hemp hearts is their protein content, with a serving size clocking in at 10g, and this particular form of protein is much more digestible than meat, dairy, eggs, and other animal proteins. ????????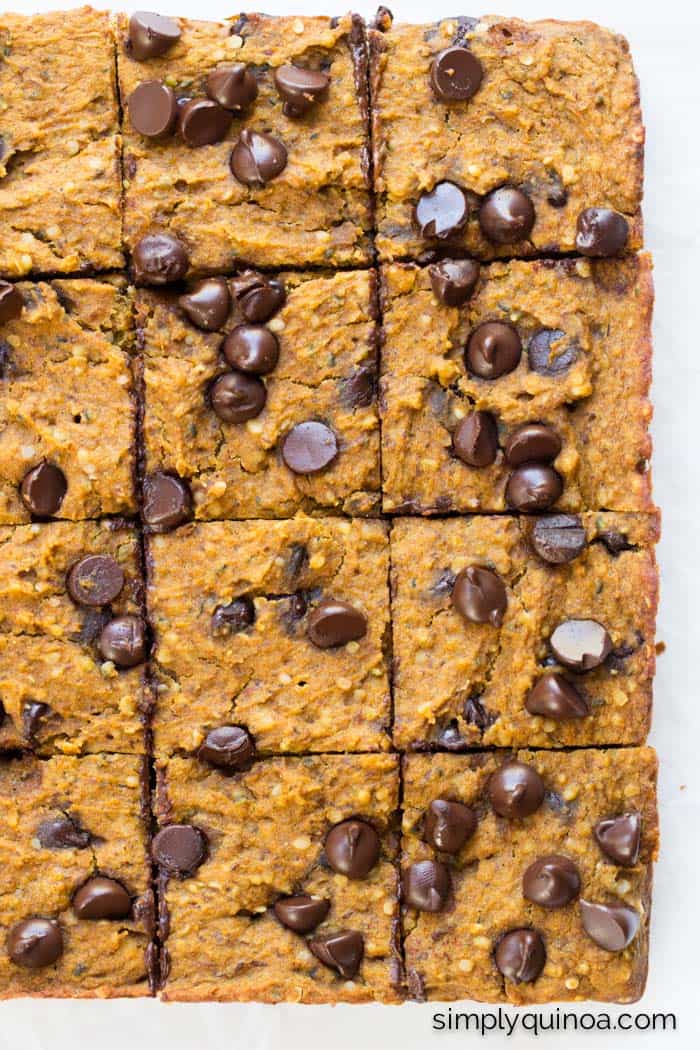 And while all those ingredients are simply amazing, I've got one more surprise in store for you.
Unlike my blondies or peanut butter bars, the base of this sweet treat isn't a nut butter. In fact, there's hardly any fat in these at all.
Instead, we're using…
CHICKPEAS!
Say whaaa? I know it sounds insane. But it's pretty amazing too.
Granted, this isn't a new idea. There are lots of recipes out there for chickpea blondies, but this is my first time dabbling in the chickpea-inside-of-baked-goods world and yes, while I was also a little skeptical at first, I think you're going to be amazed at how tasty these are.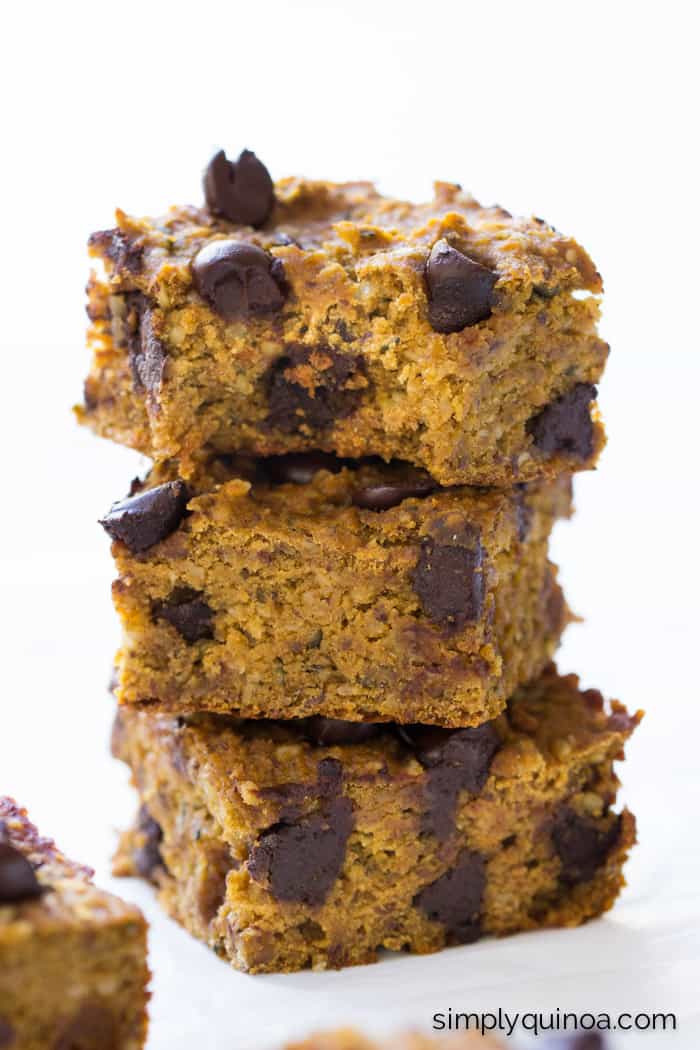 Let's think of them as a different version of black bean brownies, which definitely have become a "thing" in the last few years.
Adding chickpeas to your bars is basically the same thing, but I almost think better because they let you play around with your other ingredients more. Black beans? They need chocolate. Chickpeas? You can go in whichever direction your heart takes you!
Plus, they really amp up the protein of these quinoa bars. So there's that going for them too.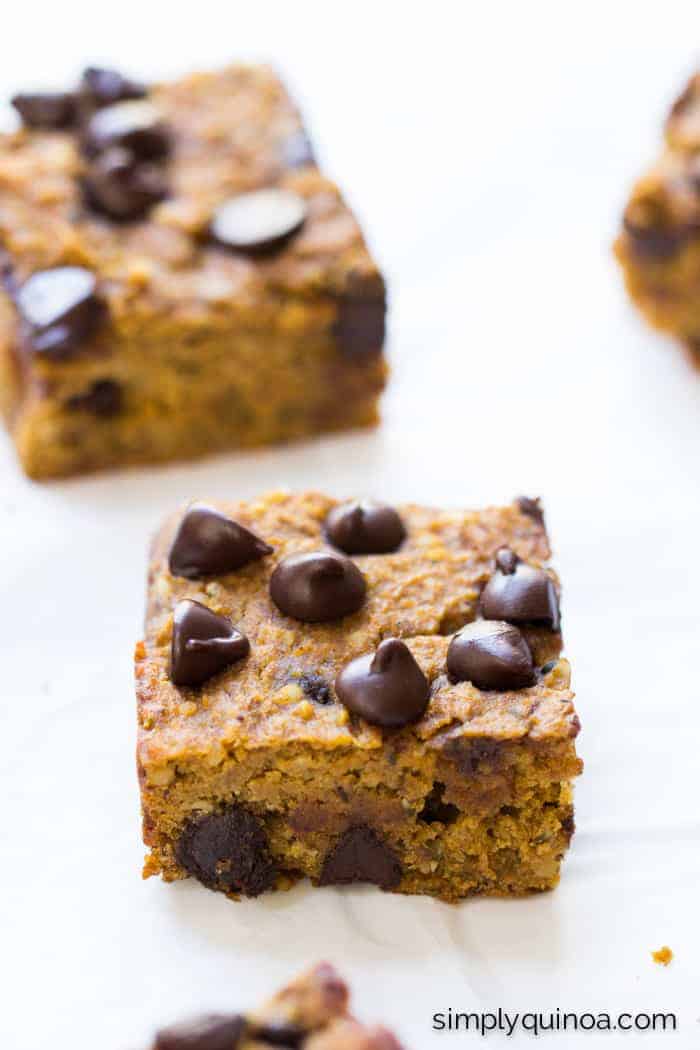 OKAY. Let's review.
We've got: quinoa, pumpkin, banana, flax, hemp, and chickpeas (plus coconut sugar, spices and chocolate chips). What we don't see: gluten, dairy, oil, refined sugar, eggs, or nuts.
Ummm hello. These bars are perfect.
And if it was me…these beauties are TOTALLY breakfast worthy. Woo hoo!

PS: if you make this recipe (or any others!) make sure to snap a pic and share it on Instagram using hashtag #SIMPLYQUINOA – I want to see your creations!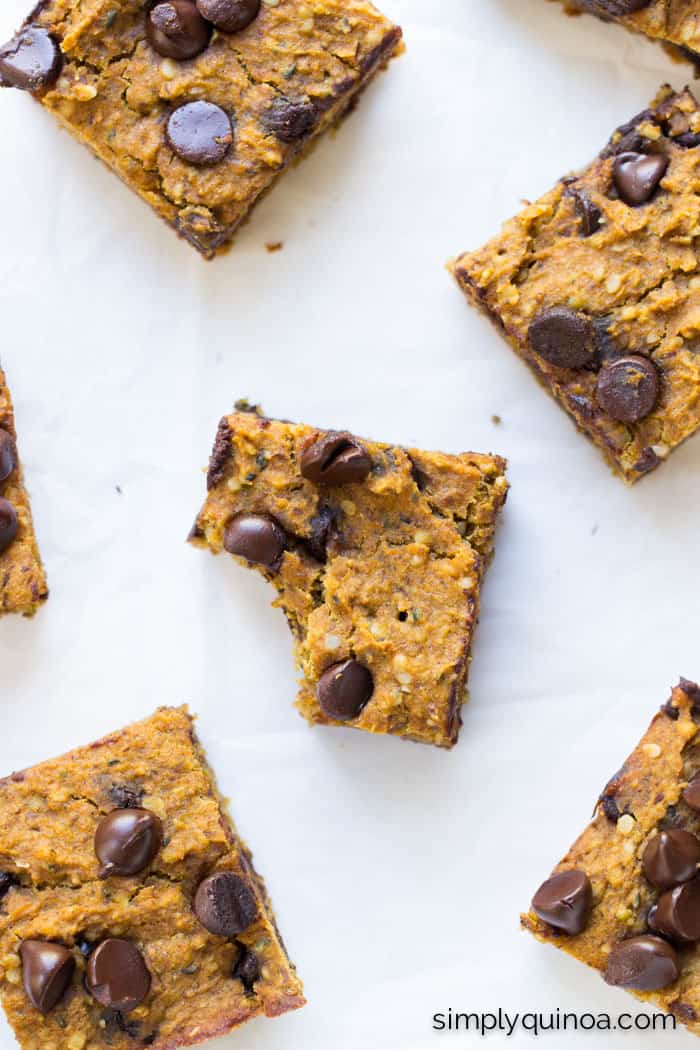 More Healthy Quinoa Pumpkin Recipes
Pumpkin Chocolate Chip Protein Quinoa Bars
Oh yes my friends, it's happening. Pumpkin. And chocolate. And quinoa. All wrapped up into one little square of deliciousness.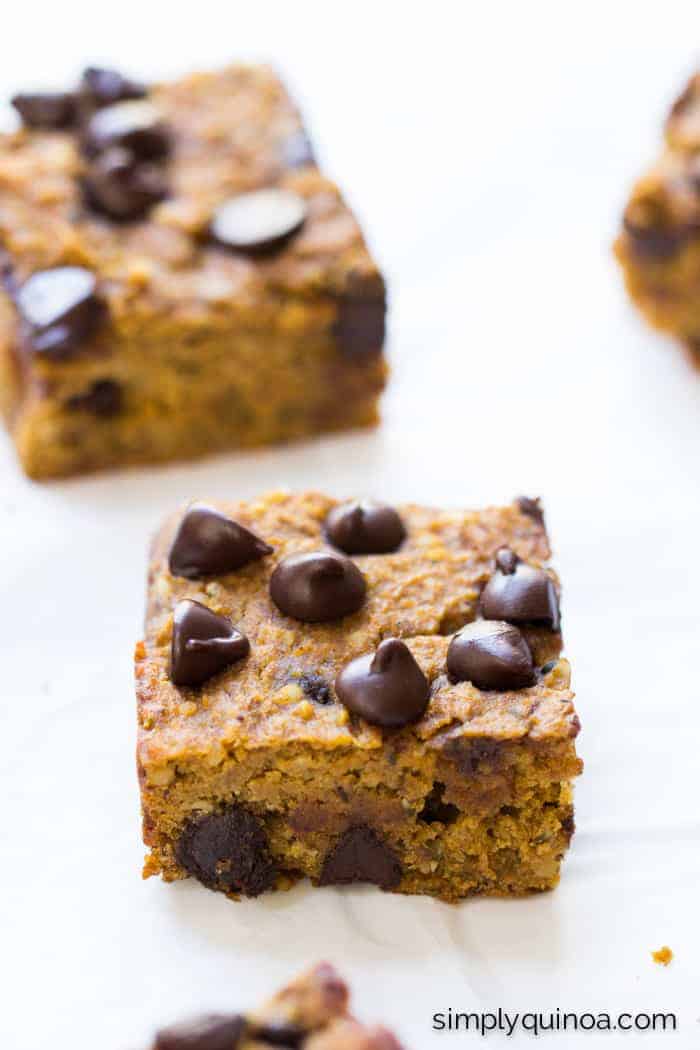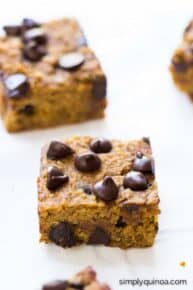 Instructions
Preheat the oven to 350°F. Grease and line an 8x8 baking pan with parchment and set aside.

Whisk together the flaxseed meal and water in a small bowl. Set aside for 5 minutes.

Meanwhile, blend the chickpeas, banana and pumpkin in a food processor until completely smooth.

In a large mixing bowl, whisk together the dry ingredients, reserving the hemp hearts and chocolate chips. Pour the chickpea-pumpkin mixture into the bowl along with the flax egg and mix to combine.

Fold in the hemp hearts and chocolate chips.

Dump the batter into the prepared pan. Bake on the center rack for 22 - 26 minutes until a toothpick inserted into the center comes out clean.

Let cool in the pan for 10 - 15 minutes, then transfer to a wire rack and cool completely before slicing.

Slice into 12 - 16 bars. Store in an airtight container for 2 - 3 days.
Notes
If you can't find vanilla powder, substitute 1 teaspoon of vanilla extract and add the vanilla to the food processor while blending the wet ingredients.
adapted from my Peanut Butter Quinoa Bars
Nutrition
Calories:
92
kcal
|
Carbohydrates:
13
g
|
Protein:
2
g
|
Fat:
3
g
|
Sodium:
95
mg
|
Potassium:
78
mg
|
Fiber:
1
g
|
Sugar:
5
g
|
Vitamin A:
1210
IU
|
Vitamin C:
0.9
mg
|
Calcium:
23
mg
|
Iron:
1
mg
Filed Under: