Rosemary Mustard Baked Halibut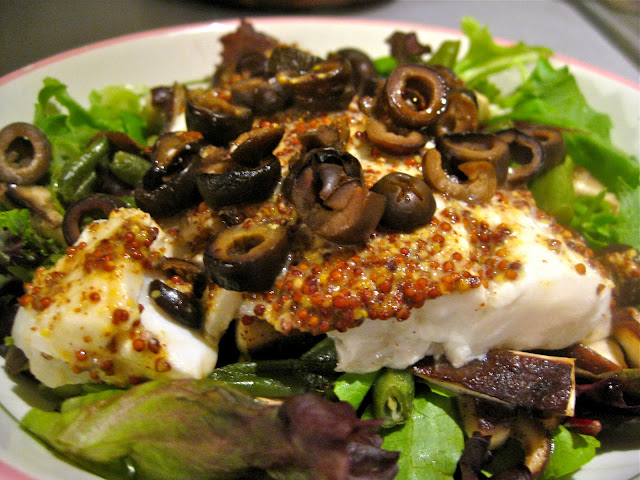 Rosemary Mustard Baked Halibut served over a fresh bed of greens
With rosemary in my fridge and halibut in my freezer, I was convinced I could come up with something fabulous. I scoured the internet to find inspiration, but this time it failed me. I decided I was just going to wing it and go with what I had on hand. Confidence is all you need to make a delicious meal! My goal: to come up with a recipe that combines the flavors and contents of my fridge and turns them into a healthy, gluten-free dinner.
Before I share this super yummy recipe with you, I want to begin by telling you why and how it came about. Long story short, Matt and I had a very long and lazy weekend. Lots of couch sitting and baking was involved, followed by eating those baked goods and watching another movie. As I'm sure you can imagine, we were feeling on the heavy side by Sunday. Sunday night is usually when we make something comforting, rich and delicious. Pasta. Stew. Bread. Potatoes. You know, the heavy stuff.
Since we'd been enjoying ourselves all weekend and feeling very sluggish, we were craving green vegetables and a light protein. No grains, no heavy carbohydrates, no starches. Something that would satisfy our hunger, but leave us feeling happy, full and satisfied.
Enter Halibut. The star of this incredibly healthy and gluten-free meal. This recipe was one of those things I just threw together on a whim and it turned out to be great!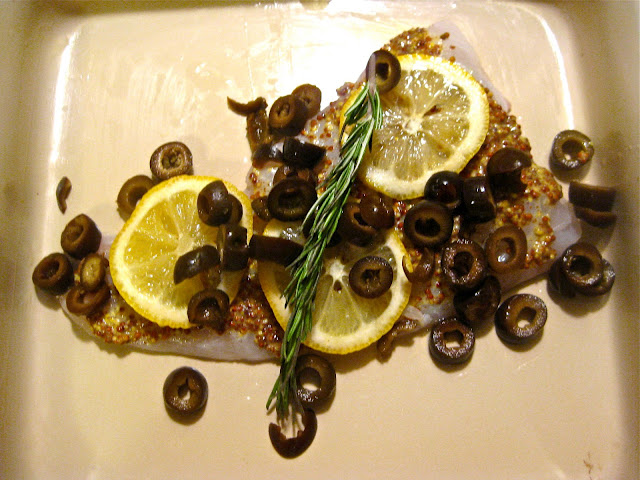 My mustard coated Halibut, ready to be baked.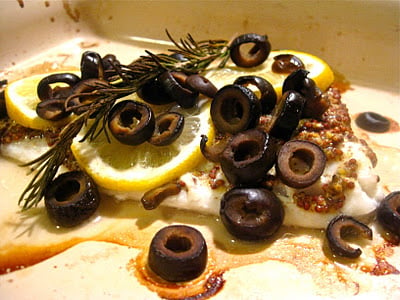 Rosemary, lemons and olive give the fish a distinctly Italian flavor profile.
Rosemary and Mustard Baked Halibut
A flakey, flavorful, perfectly baked piece of fish is pretty hard to beat. This recipe for baked halibut is incredibly easy and quick to make, healthy and totally gluten-free. You can add other spices or herbs, but the rosemary and mustard combination was divine.
for the fish:
2 filets of halibut (or other cold water, white fish)
1 tbsp coarse grain mustard
1 sprig of rosemary
1 lemon, thinly sliced
1/4 cup sliced black olives
Salt & pepper to taste
for our salad:
4 green onions, thinly sliced
5 – 6 large shitake mushrooms
2 cups fresh mixed greens
Olive oil to saute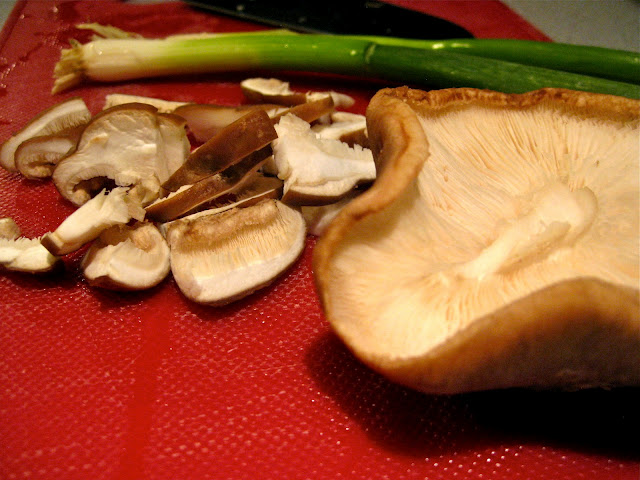 We topped our salad with sautéed mushrooms & scallions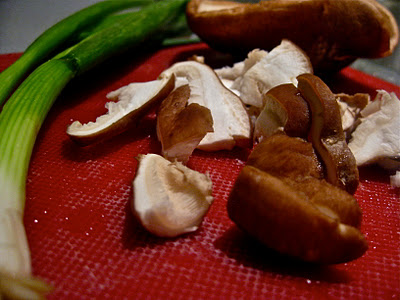 Shitake mushrooms are always a favorite on salads.
Preheat your oven to 400 degrees F.
Prep your fish by patting it dry with a paper towel and place it in a baking dish. Coat the top of the fish with the mustard, top with the lemon slices (I used three per filet) and squeeze the extra juice over the filets. Spread the olives over the fish and place the rosemary on top. Sprinkle with salt and pepper and baked for 10 – 12 minutes, until the fish flakes easily.
While the fish is cooking, simply saute your mushrooms and place them, along with the scallions over a bed of mixed greens.
When the fish is cooked, let it cool for a few minutes, then place it on your salad. Drizzle with balsamic vinegar and a little olive oil and enjoy!
Serves 2
share what you make
Tag #simplyquinoa on Instagram with your creations! We love sharing what you make with the community. We can't wait to see!

follow on instagram