This super healthy green detox soup is high in nutrients and packed with vegetables. Rich and creamy, this soup is also low-fat, gluten-free and vegan.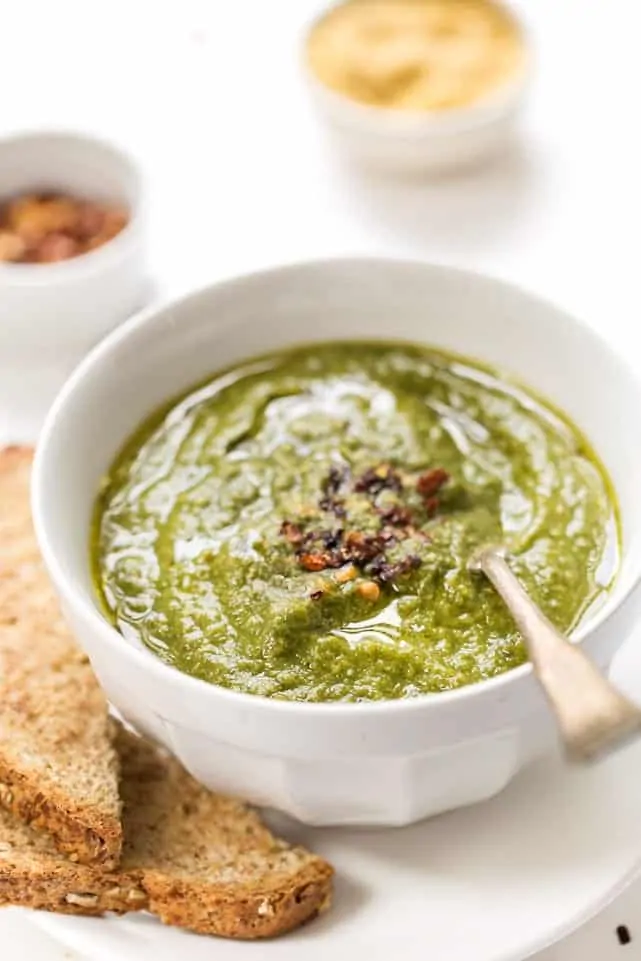 Another day that I intended to post about my healthy fish taco recipe, but something came up that was even better (and healthier!). I'm sure you already know, I have a slight obsession with green smoothies. I have one every single morning. But I'm here to say, there might just be a new green machine in my life.
My newest green obsession – this super healthy (and vegan) green detox soup.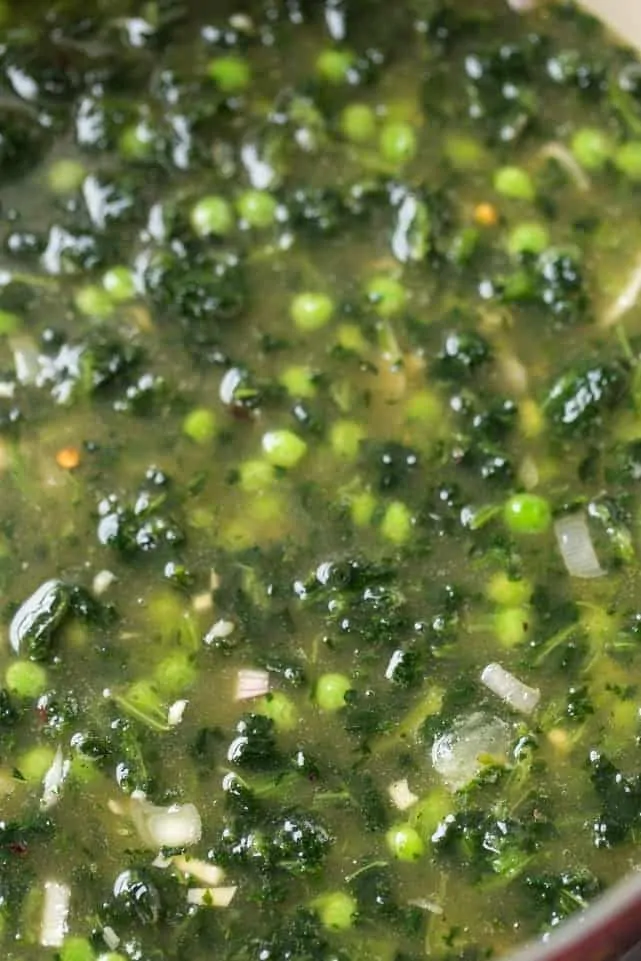 To me, this super-duper green soup is simply genius. Not only is the color sensational, but the fact that each bite of soup is packed with nutrients and is incredibly tasty, would sway even a vegetable-hater's mind.
Side note: I've never actually met a vegetable-hater in my life – aside from a picky 5-year-old – but I'm sure they would still love this soup ????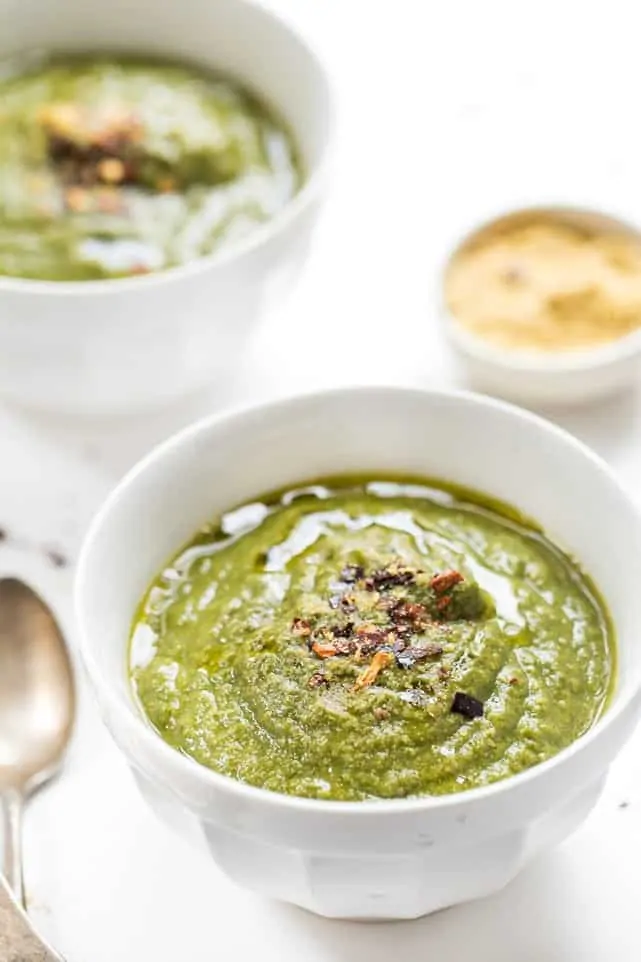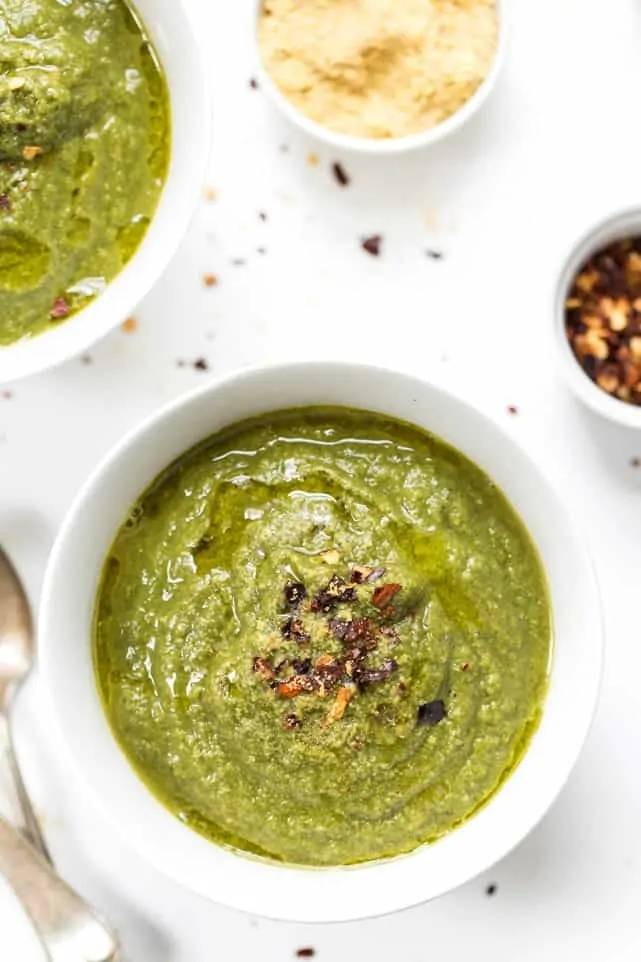 Winter in Vermont = soup. This much you know. I've shared numerous soup recipes, each post griping about the bone-chilling cold, whining about how much I hate winter. But it wasn't until yesterday that it hit me.
I'm leaving. Putting Vermont behind me. Saying goodbye to the state I've called home for my entire life.
No longer will I be surrounded by lush green forests, or will I be able to walk through open fields full of wildflowers in the summer, or be mesmerized by view of Lake Champlain, or be captivated by the beauty of the rolling hills of Vermont.
Nope. In 48 hour's time, I'll be waking up in a new city. A new adventure on my hands. I'll be living in New York City.
Scared? Yes. Nervous? Heck yes. Excited? Absolutely.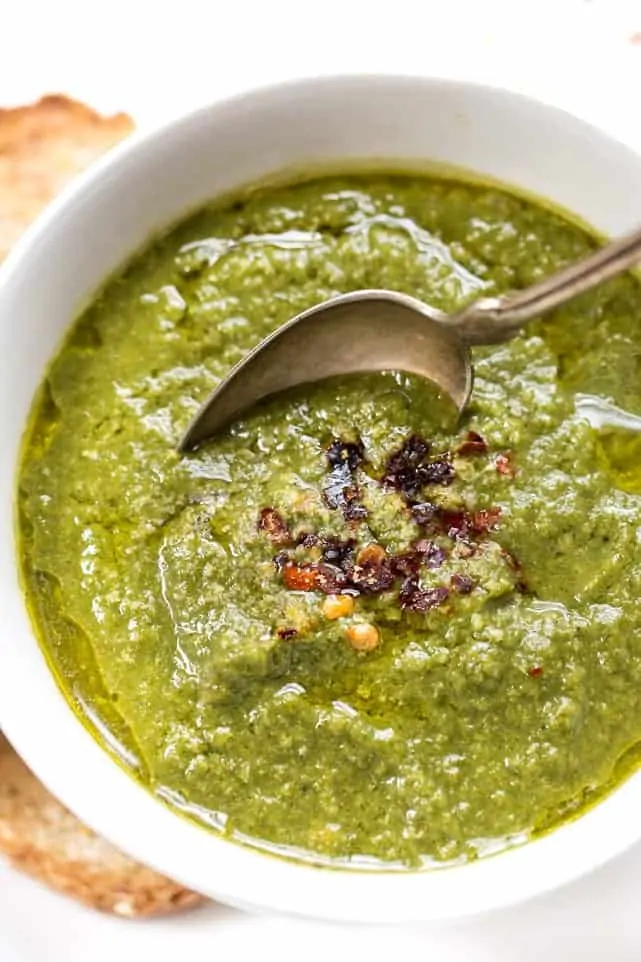 My life is about to get turned upside down. And when life starts to get stressful, I always turn to soup. This healthy green detox soup is just what my body was looking for. Thick, creamy and lusciously green – a soup to calm your nerves and soothe your soul.
How to make Super Healthy Green Detox Soup
More Hearty Soup Recipes To Try:
Healthy Green Detox Soup
This super healthy green detox soup is high in nutrients and packed with vegetables. Rich and creamy, this soup is also low-fat, gluten-free and vegan.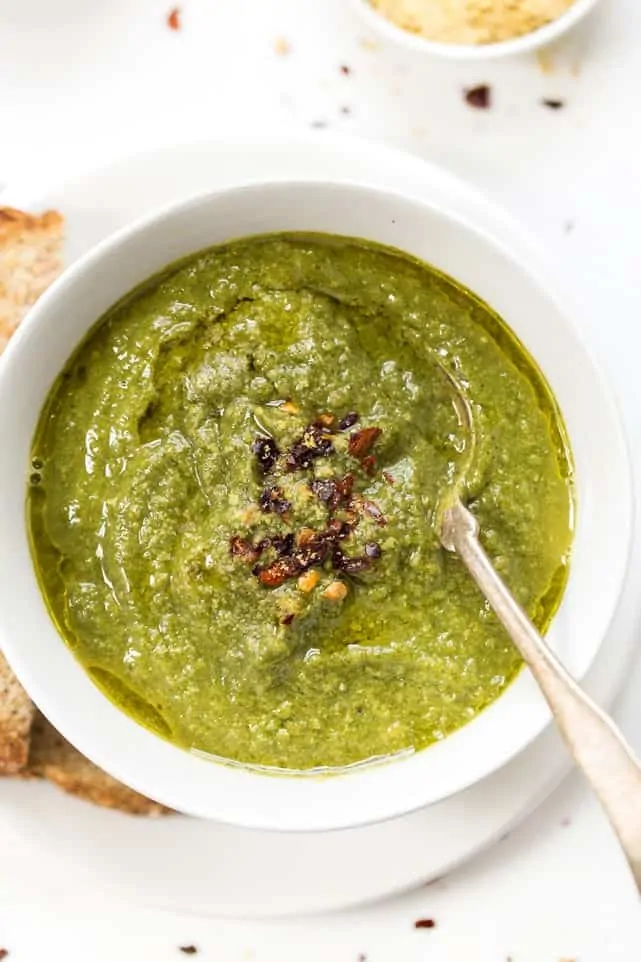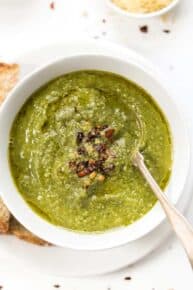 Instructions
Preheat the oven to 425 degrees F. Spray a baking pan with non-stick cooking spray and set aside.

Toss broccoli with 1 tablespoon olive oil, sprinkle with salt and pepper, and add to the baking sheet. Roast for 15 – 20 minutes, until broccoli has softened and browned. Rotate half way through.

While the broccoli is roasting, heat the remaining 1 tablespoon of oil in a large sauce pan over medium heat. Add garlic and shallot and saute until fragrant, 2 – 3 minutes. Add the spinach, peas and liquid and bring to a boil, stirring constantly until spinach has thawed. Season with salt and pepper. Turn down to a simmer and cover.

When broccoli is done, add to the pot and keep covered for another 5 minutes.

Remove the soup from the heat and, in batches, blend on high until smooth. Return to the pot, season with additional salt and pepper to taste.

Serve immediately. Garnish with a drizzle of oil or chili flakes.
Nutrition
Calories:
72
kcal
|
Carbohydrates:
13
g
|
Protein:
5
g
|
Sodium:
256
mg
|
Potassium:
536
mg
|
Fiber:
4
g
|
Sugar:
4
g
|
Vitamin A:
5200
IU
|
Vitamin C:
73.4
mg
|
Calcium:
84
mg
|
Iron:
2.4
mg
Filed Under: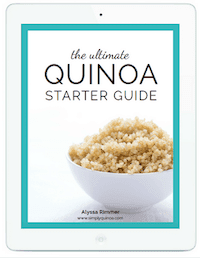 New to cooking quinoa? Grab your FREE Quinoa Starter Guide!
Become part of the Simply Quinoa community and receive weekly emails with exclusive content that I only share in email, as well as my in-depth guide to starting your quinoa journey.