How to Make Kitchari: Gut Healing & Anti-Inflammatory
Learn how to make kitchari, a traditional ayurvedic recipe that is gentle on digestion, packed with fiber and flavor, and great for balancing your doshas.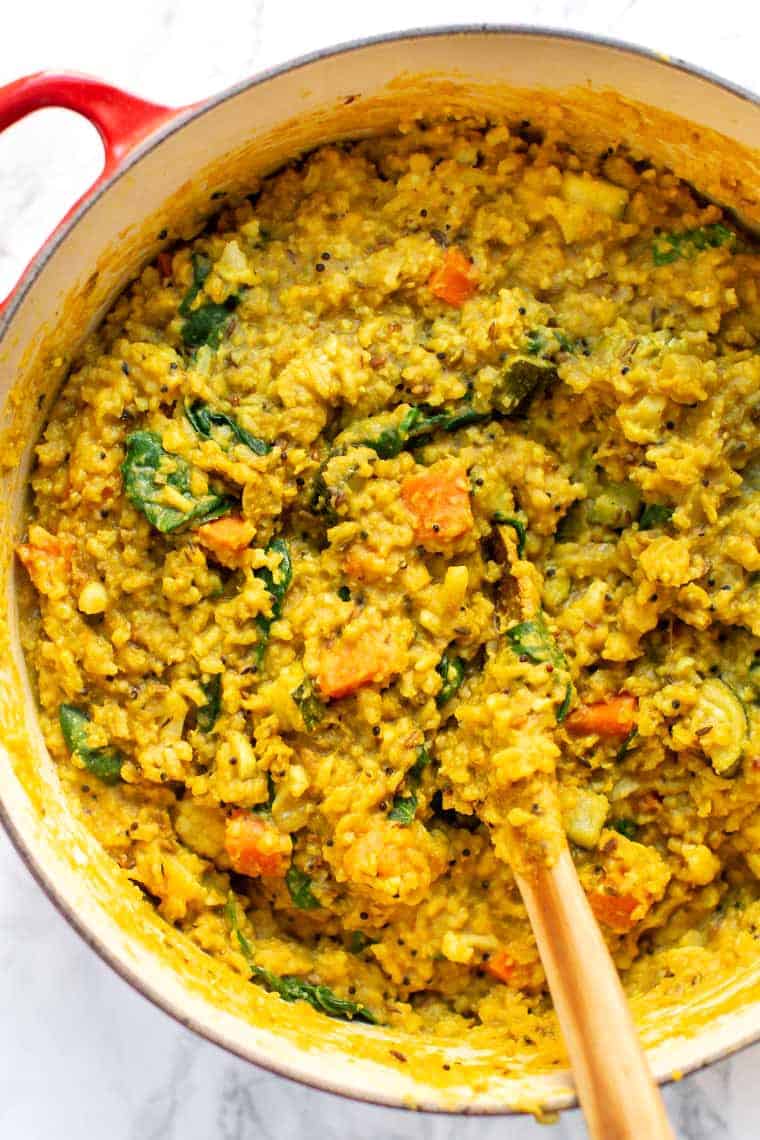 You guys, we're on a major roll with this gut healing kick. As you might remember, the start of 2019 was all about gut health for me. It was about resetting my system, getting back on track and nourishing my digestive system.
The first thing I did was follow my own 21-day reset protocol in my Simply Nourished program. Once those 21 days were up, I started focusing on making recipes that would be easy on the system, incredibly gentle, but also delicious.
A few of my staples so far: vegan bone broth, turmeric carrot soup, kimchi fried quinoa and now this incredible kitchari recipe!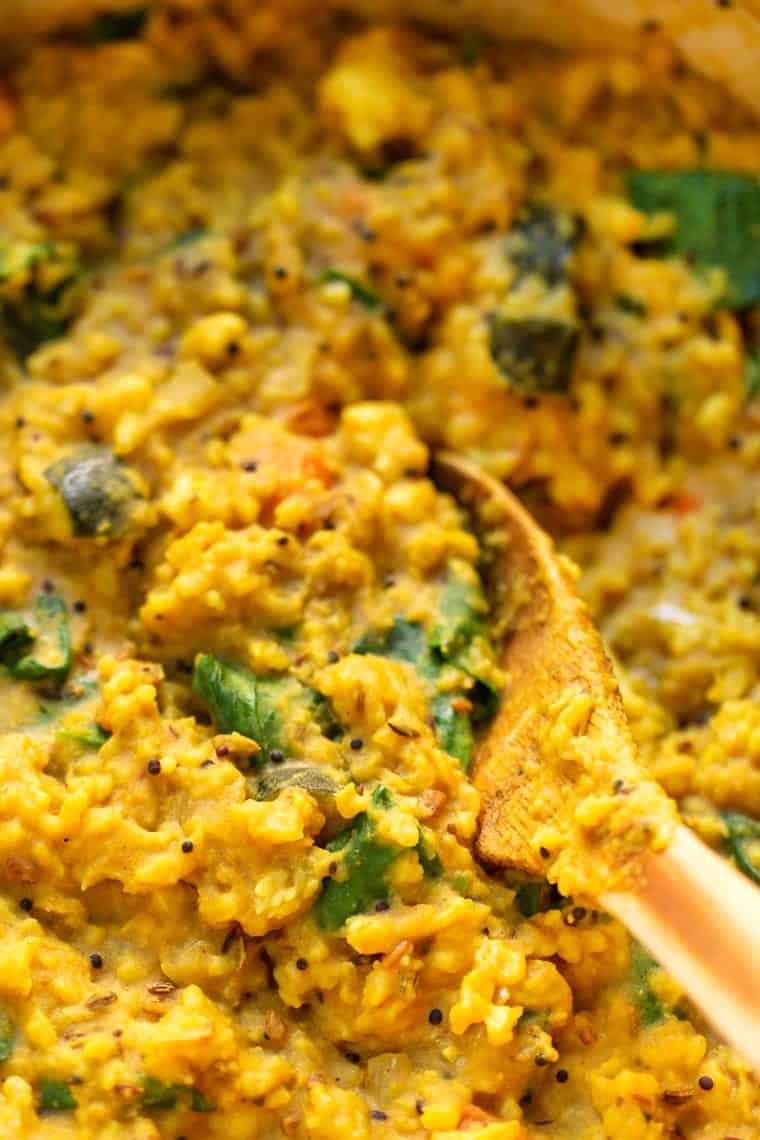 What is Kitchari?
First, let's talk about what the heck kitchari even is.
Kitchari is a dish used in ayurvedic cooking and is a staple in this way of life. It's made from a blend of basmati rice and mung dal and is designed to be very gentle on digestion. Kitchari can be made many different ways and has references dating back thousands of years.
Kitchari, which literally means mixture, combines those two foods (basmati and dal) along with other healing vegetables and lots of spices to create a dish has balancing properties for all three doshas. If you're not sure what a dosha is, check this out and take the quiz to find out what dosha you are! (I'm a blend of Pitta and Vata)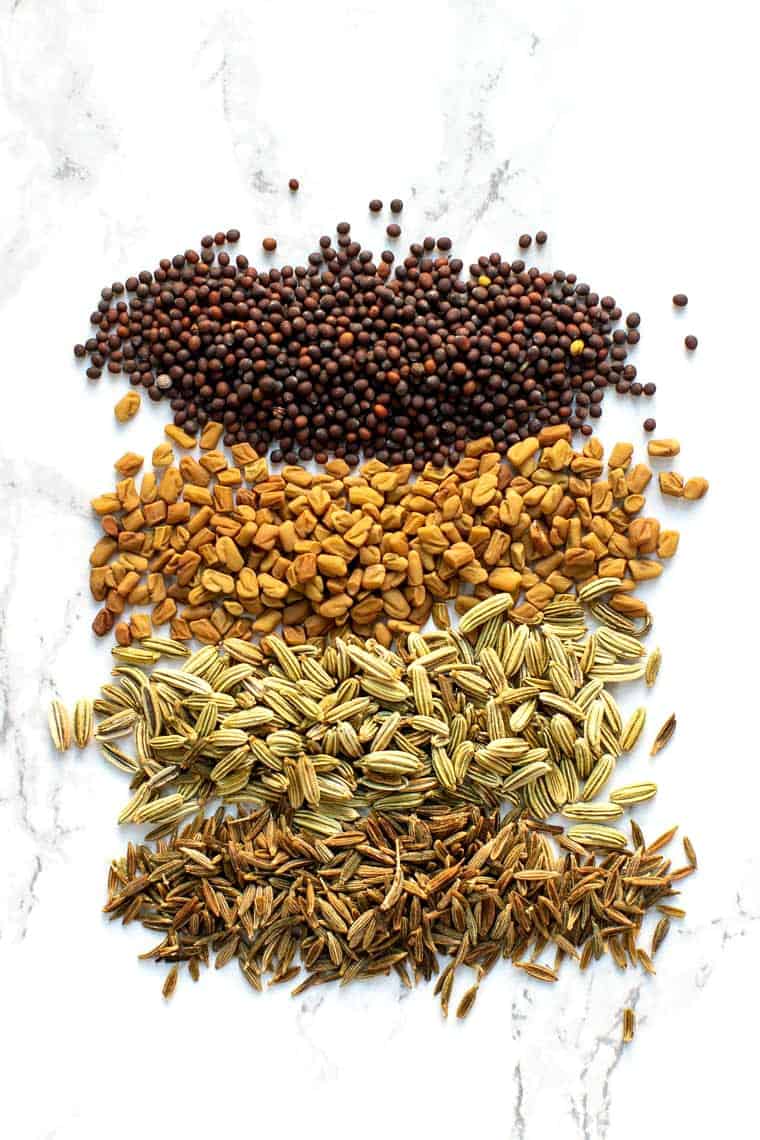 What Spices Should You Use in Kitchari?
Ayurveda originates in India and thus like many other Indian-inspired recipes, kitchari is full of spices.
The unique blend of spices used in kitchari is there to not only add flavor but also again balance out the doshas. There are warming spices, detoxifying spices, anti-inflammatory spices, and the blend is just delicious.
The other secret to using spices in your kitchari is that you want some of them to be whole spices. You'll notice in the recipe that we're using whole mustard seeds, fennel seeds, cumin seeds, and fenugreek and that's because whole spices retain more freshness and more flavor.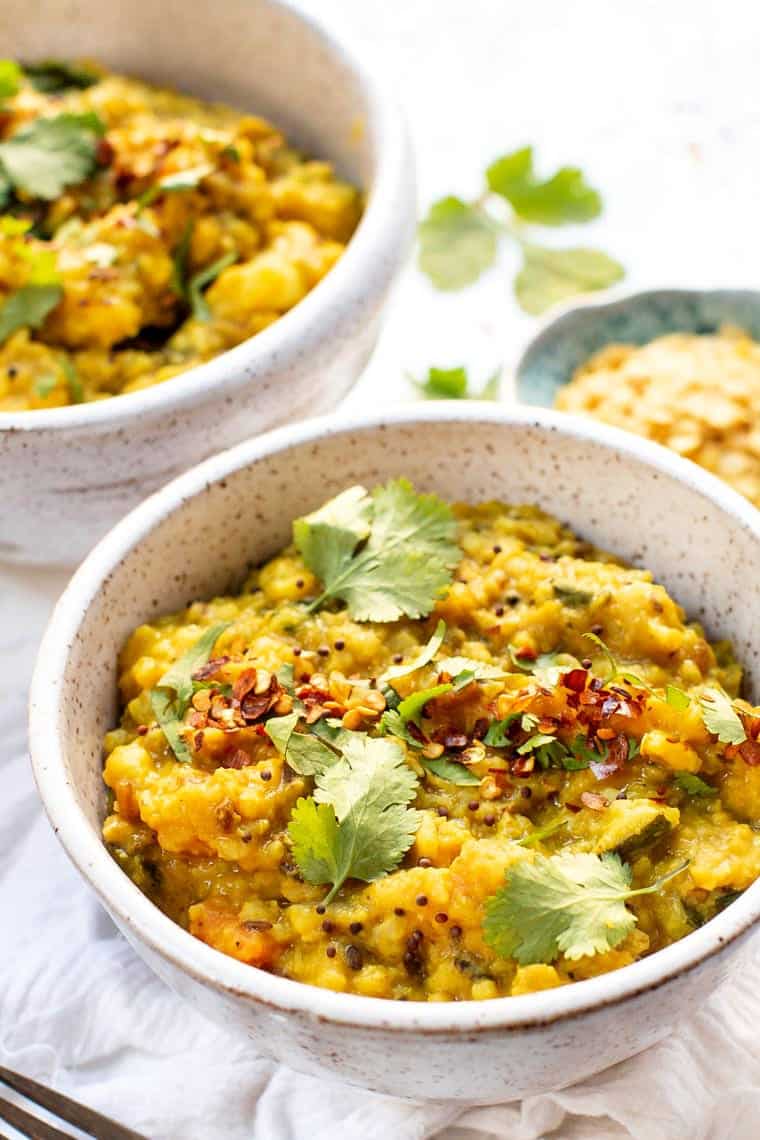 The Kitchari Cleanse
In the Western world, kitchari has been gaining a lot of popularity and I think it has to do with the Kitchari Cleanse. We seem to love anything having to do with cleansing, so whenever there's a new cleanse out, people jump on board!
While I'm not personally a fan of doing big cleanses – especially juice cleanses – I can see why this particular one would be beneficial. First off, you're eating real food. Secondly, you're eating tons of fiber. And thirdly, everything is nourishing and healing for the gut.
Here's the deal with the kitchari cleanse:
breakfast: oatmeal
lunch: kitchari
dinner: kitchari
Pretty straightforward, not too hard to follow and again, you're actually eating. Check out my 3-day juice cleanse experience to see why I'll probably never do one of those again!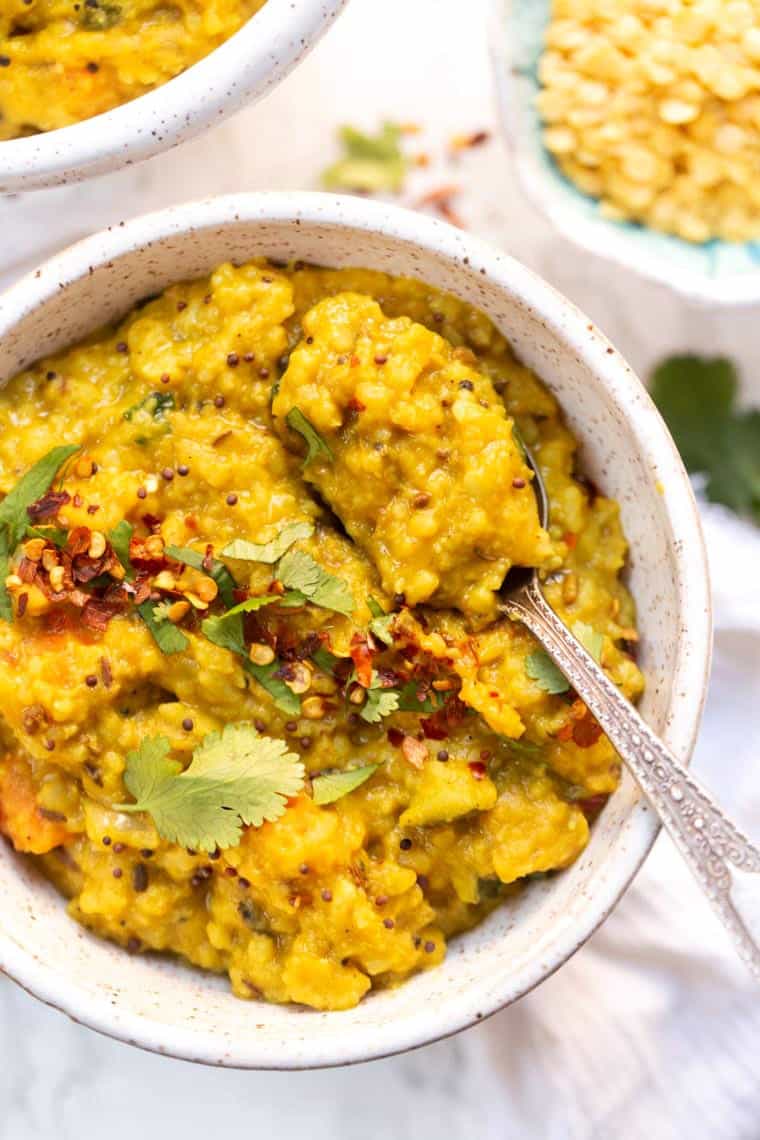 How to Make Kitchari
What you're going to love about this recipe, aside from the awesome flavors, is how easy it is to make. You just need one pot and most of the cooking time is completely hands off.
You start by sauteing the spices in a little coconut oil to boost their fragrance and enhance their flavor, then add in your rice, dal, veggies of choice and some liquid. Cook it for about an hour and you're good to go. It's seriously that easy!
And best of all, since it's plant-based based and it's a sort of stew, kitchari is great for meal prep or freezing. You can make a big batch (like this recipe), keep it in the fridge for days and just heat it up whenever you're ready to eat it!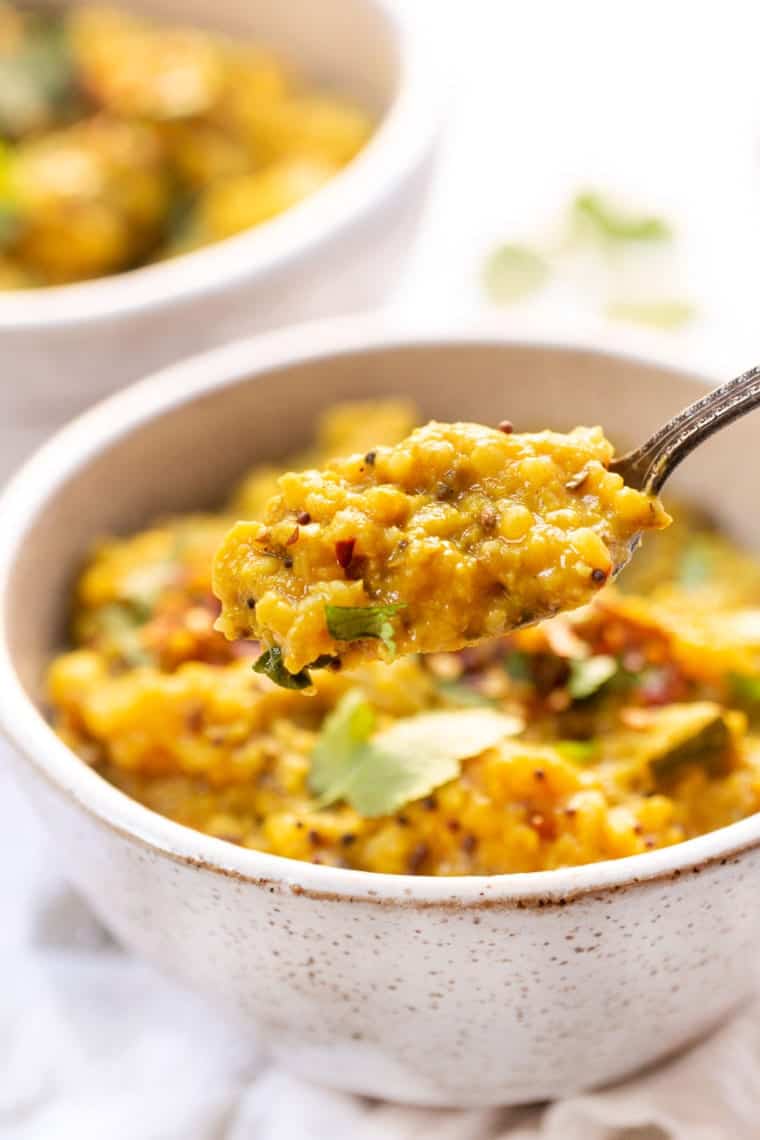 Why You'll Love Kitchari!
I promise you're going to absolutely love this kitchari recipe! It's…
bright
aromatic
comforting
full of protein & fiber
great for meal prep
customizable
& super flavorful
And as I said earlier, it's great for your gut. I don't get any gas or bloat with this recipe, it helps me get regular and I never get sick of the flavor. I love serving it with a dollop of coconut yogurt, some cilantro and pepper flakes. SO GOOD!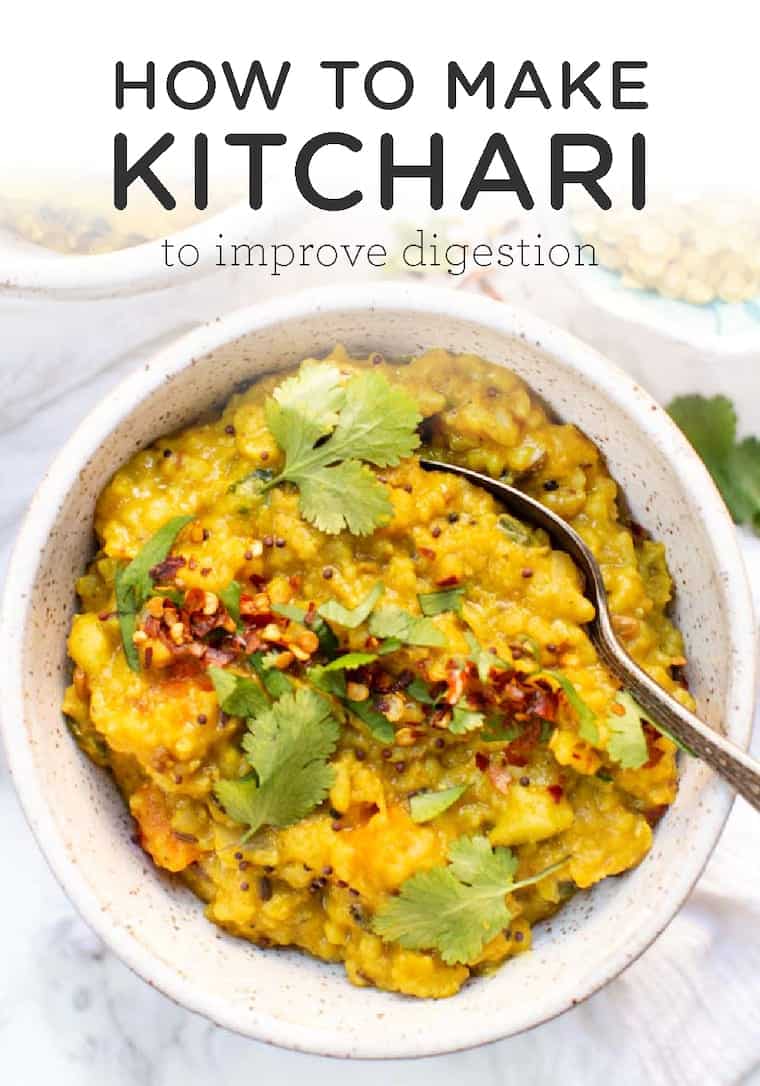 More Gut Healing Recipes to Try:
Kitchari Recipe
This kitchari recipe is full of flavor, great for your gut health, and healing for your mind and body. It's a staple of Ayurvedic eating, and easy to make.
Servings 8 servings
Calories 343kcal
Instructions
Heat the oil in a large stockpot or dutch oven. Once melted, add the spices. Cook the spices in the oil until they start to become quite aromatic, about 2 - 3 minutes. From there add the garlic and onion/shallots and cook another 2 minutes or so.

Add the beans, rice and veggies and give it a quick stir to ensure the spices are evenly coating the rest of the ingredients. Pour in the liquids and stir in the bay leaves.

Bring the mixture to a boil, then reduce to simmer and cover and cook for about an hour. Remove the lid, give the mixture a good stir and add a touch more liquid if desired.

When ready to serve, portion out between bowls. Top with cilantro and coconut yogurt if desired.
Notes
Store the kitchari in an airtight container in the fridge for up to 4 days, or in the freezer for up to 3 months. Reheat in the microwave on 80% power in 30-second increments. 
Nutrition
Calories: 343kcal | Carbohydrates: 59g | Protein: 18g | Fat: 5g | Saturated Fat: 3g | Polyunsaturated Fat: 0.2g | Monounsaturated Fat: 0.5g | Sodium: 346mg | Potassium: 395mg | Fiber: 9g | Sugar: 4g | Vitamin A: 113IU | Vitamin C: 50mg | Calcium: 73mg | Iron: 4mg
share what you make
Tag #simplyquinoa on Instagram with your creations! We love sharing what you make with the community. We can't wait to see!

follow on instagram