A bright and flavorful dish, this roasted vegetable quinoa salad is tossed in a toasted spice vinaigrette, with chickpeas, seeds and your favorite veggies!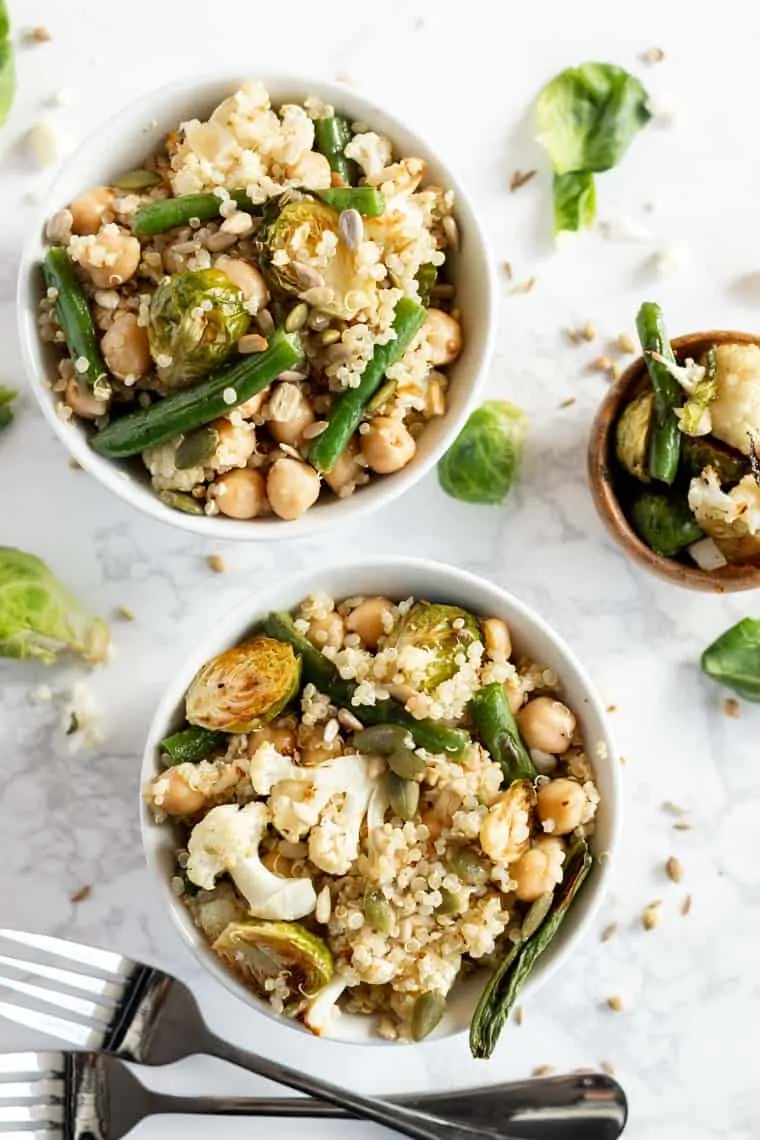 I'm always looking for new ways to use vegetables and today's quinoa salad is just the ticket! Not only can you use whatever veggies you have on hand, the dressing is fantastic!
We're making a roasted vegetable quinoa salad with a toasted spice vinaigrette and even though it sounds a little fancy, it's actually so easy to make. It comes together in about 40 minutes (most of which is hands-off time), and is packed with fiber and protein. It's also great for meal prep and is totally protein flexible!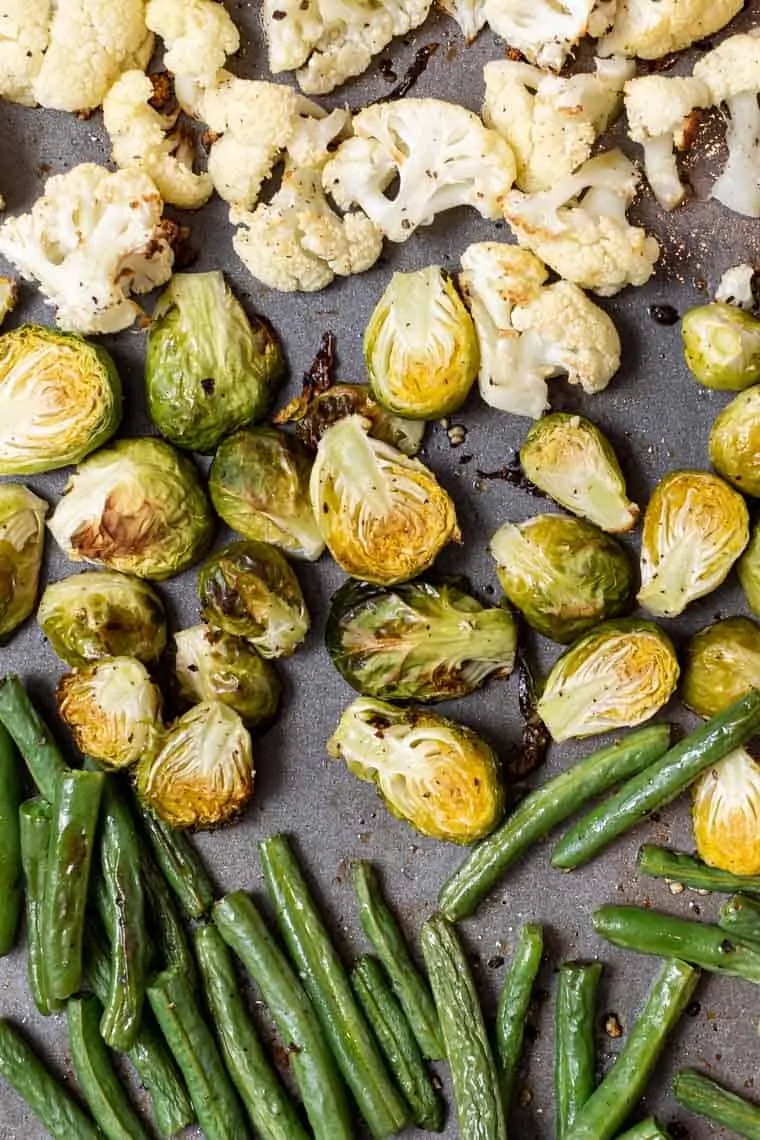 How to Roast Vegetables
First things first, let's talk veggies! Roasting veggies is probably one of my favorite things to make when I'm not sure what I'm craving or I need something I can eat all week long. In this salad, I'm using cauliflower, brussels sprouts, and green beans, but that's the beauty of roasted veggies – you can literally use anything!
Here's how to roast vegetables:
Preheat your oven: I like to do mine on 425ºF because they cook quicker and get nice and crispy!
Choose your veggies: you can use anything! Broccoli, cauliflower, brussels sprouts, squash, potatoes, mushrooms, cherry tomatoes. You get the idea!
Chop your veggies: try to keep them as uniform as possible so that the cooking times are even(ish).
Season: toss them first in some oil and then season them with whatever you'd like! I usually keep things easy with just salt & pepper.
And then just bake them up until they're soft and crispy! It can take anywhere from 20 – 30 minutes and you can test by using a fork.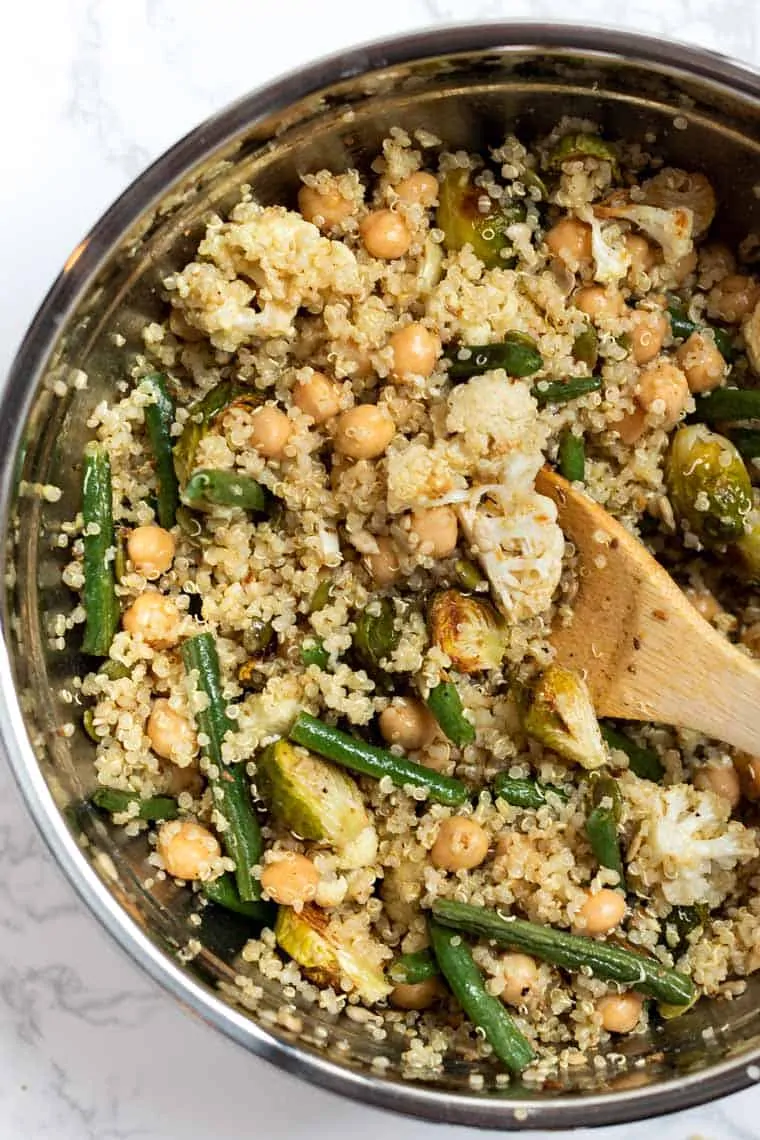 Ingredients for Roasted Vegetable Quinoa Salad
Now that you know how to make roasted vegetables, let's talk about this quinoa salad. What I love about this salad is that you basically just toss everything together in a bowl and call it a day! We have just a few base ingredients – which I'll share below – but keep in mind, this salad is totally customizable!
Quinoa: as with most of my salads I love using white quinoa! But you can also do red or tri-color if you want as well.
Veggies: I'm using a blend of cauliflower, brussels sprouts, and green beans, but feel free to change that up!
Chickpeas: my favorite bean to add into salads, but these could be replaced or left out.
Sunflower seeds: to add a little crunch!
Pumpkin seeds: to add even more of a crunch ?feel free to replace with another nut or leave them out.
And of course, we also have our toasted spice vinaigrette!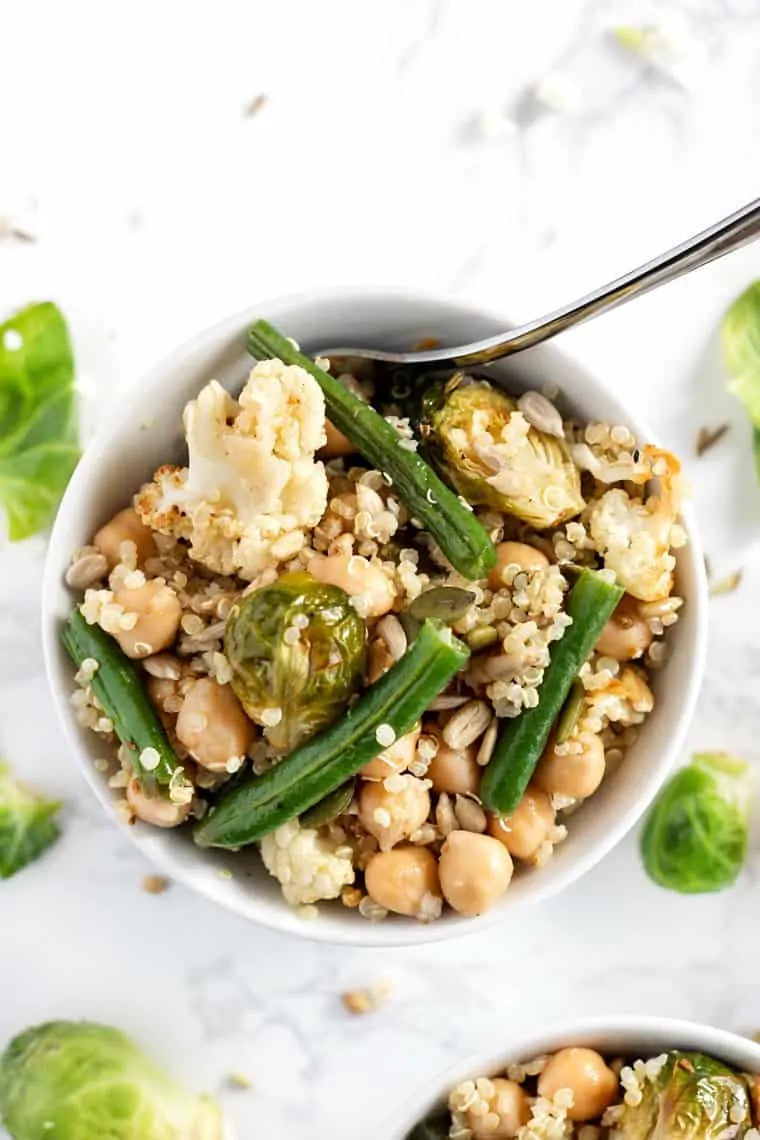 Easy Toasted Spice Vinaigrette Recipe
To me, the highlight of this dish is definitely the vinaigrette. It's super-duper flavorful and surprisingly simple to make!
We start by toasting our spices in a dry skillet:
Cumin seeds
Fennel seeds
Coriander seeds
From there, I recommend grinding them up with either a mortar and pestle or a spice grinder. You can blend everything together in a blender, but the spices don't get quite as blended as they need to.
And then you can just use those ground spices with your other dressing ingredients: oil, vinegar, lemon, salt, and pepper. It's so easy!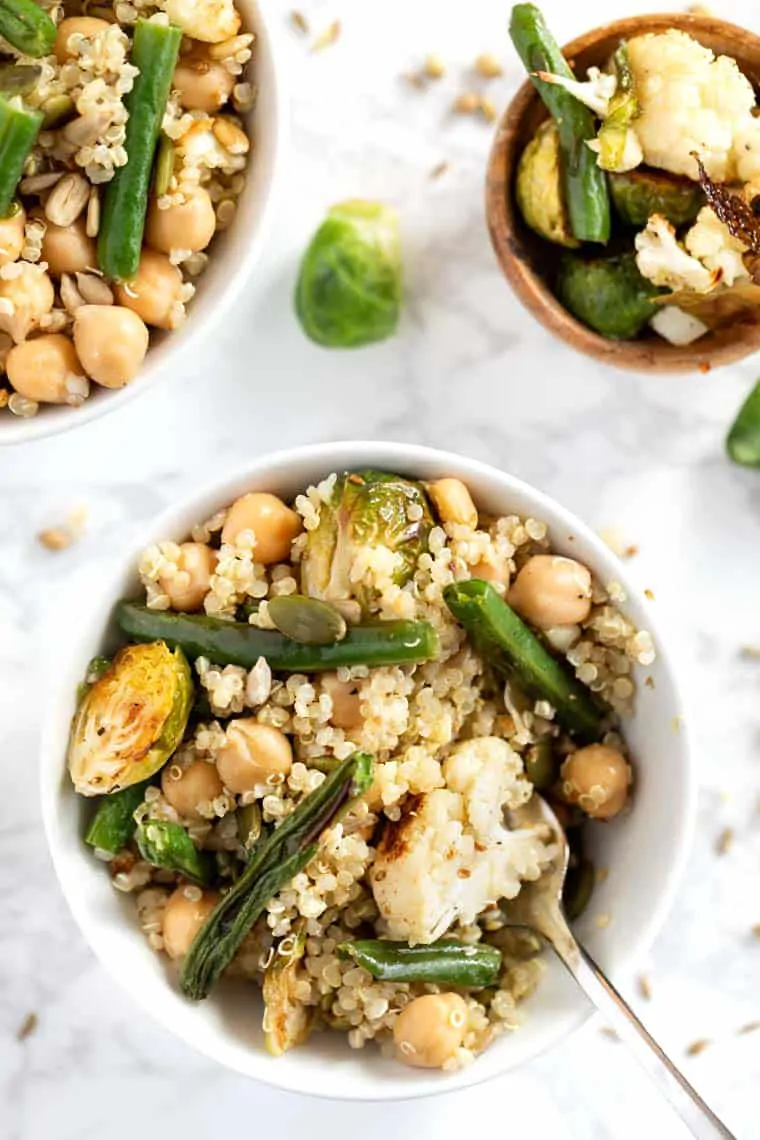 Substitution Ideas for This Quinoa Salad
If you're not feeling like some of these ingredients work for you, I wanted to give you some ideas for changing it up!
Veggies: use any mixture of vegetables here – just use a total of 4 cups
Chickpeas: you can use another bean or whichever protein you prefer. This is totally a protein flexible meal, so if you're cooking for different types of diets, you can leave the chickpeas out until serving and serve each with whatever protein people want (chicken, salmon, shrimp, steak, tofu, etc.).
Quinoa: another grain like rice or farro will work!
Dressing: while I love this dressing, I know not all of you might dig all the spices. So if you're wanting something a bit more basic, go ahead and try this shallot dressing recipe!
How to Store a Roasted Vegetable Quinoa Salad
Quinoa salads are one of the best meals to make ahead. All you need to do is put them into a sealed container and store them in your fridge. They should last for at least 4 – 5 days!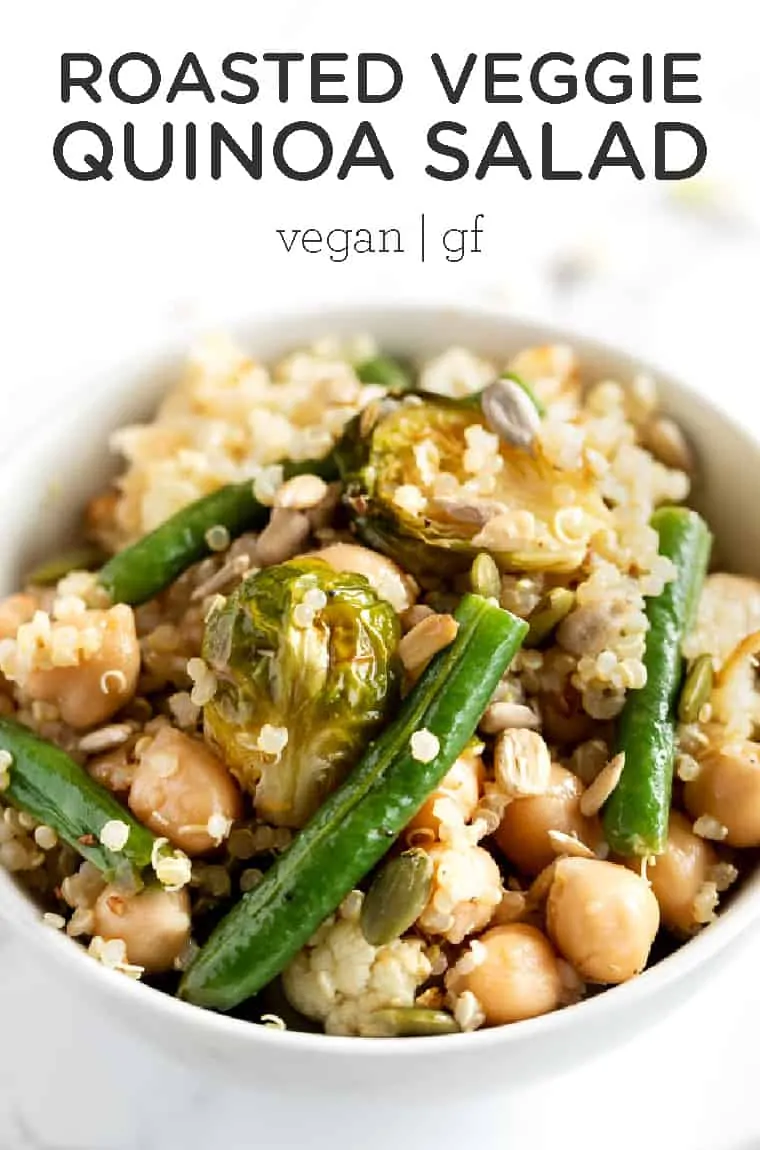 And that's pretty much all you need to know about this yummy roasted vegetable quinoa salad. I can't wait to hear how you make it your own – make sure to come back and leave a star rating and comment on this post!
More Healthy Quinoa Salad Recipes
Roasted Vegetable Quinoa Salad
This amazing Roasted Vegetable Quinoa Salad is delicious and flexible! Use whatever vegetables you have on hand and toss with our awesome homemade dressing!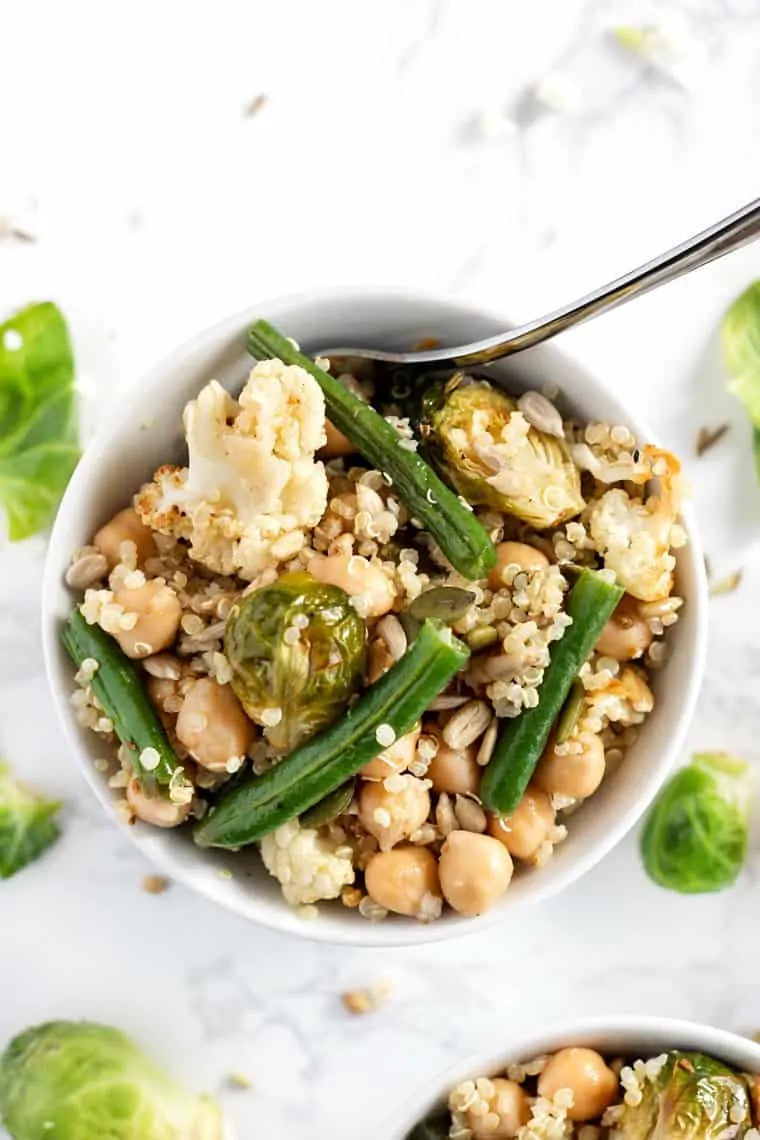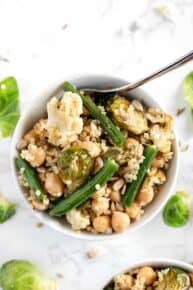 Instructions
Toss vegetables with the olive oil and sprinkle with salt and pepper. Place on a baking sheet and roast until tender, 25 - 30 mins.

While veggies are roasting, cook quinoa. Add quinoa and water into a sauce pan. Bring to a boil, cover and reduce to simmer for 15 minutes. Once cooked, remove from heat and let sit, covered for 5 minutes.

After cooling, transfer quinoa to a baking sheet and refrigerate until cool, about 20 mins.

While quinoa is cooling and veggies are roasting, prepare the vinaigrette. Toast coriander, cumin and fennel seeds in a dry skillet over medium heat until fragrant, about 2 - 3 minutes. Let cool then chop or grind in a spice grinder.

Whisk spices with remaining ingredients and set vinaigrette aside.

When veggies are done roasting and quinoa has cooled, transfer them all to a large serving bowl. Add chickpeas, sunflower seeds, and pumpkin seeds and toss to combine. Drizzle with vinaigrette and toss until coated. Taste and adjust seasonings as desired.

Serve chilled or slightly reheated. And of course, please enjoy!
Notes
This dish is easily scaled down for a smaller crowd. Just half all the ingredients and it should serve a family of about 6 - 8 with some leftovers - this makes a great lunch!
adapted from Bon Appetite
Nutrition
Serving:
1.5
cups
|
Calories:
255
kcal
|
Carbohydrates:
25
g
|
Protein:
8
g
|
Fat:
14
g
|
Saturated Fat:
2
g
|
Sodium:
165
mg
|
Potassium:
390
mg
|
Fiber:
6
g
|
Sugar:
1
g
|
Vitamin A:
186
IU
|
Vitamin C:
23
mg
|
Calcium:
56
mg
|
Iron:
3
mg
Filed Under: