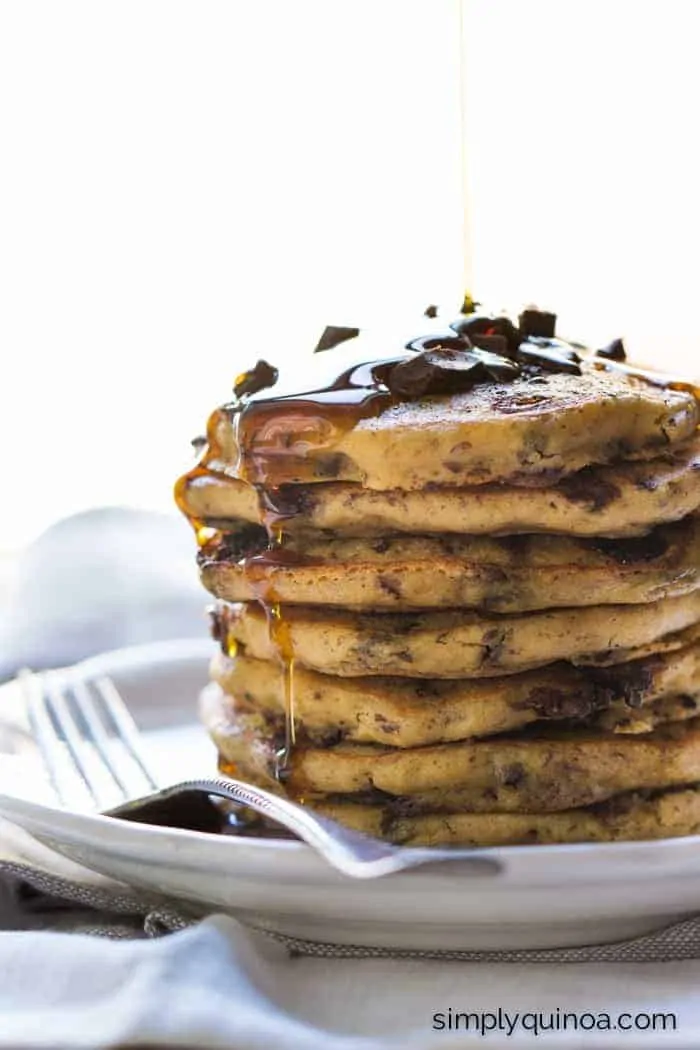 When you imagine your perfect weekend morning, what do you see? 
Mine looks a little something like this: 
It actually starts with going to bed early the night before so that when Trevi wakes me up at 7am, I'm not feeling exhausted and annoyed. Instead, I get out of bed with a smile, grab my coat and boots and head to the park with her. Before the park I go around the corner and pick up a large green juice (it's my weekend treat to myself).
After the park, it's yoga time. I have this hot yoga class that I absolutely love – it's sweaty and hard, but it's slow enough that I can focus on my breath and it's ends up being pretty relaxing.
And when I get home, it's breakfast time. More specifically, IT'S PANCAKE TIME.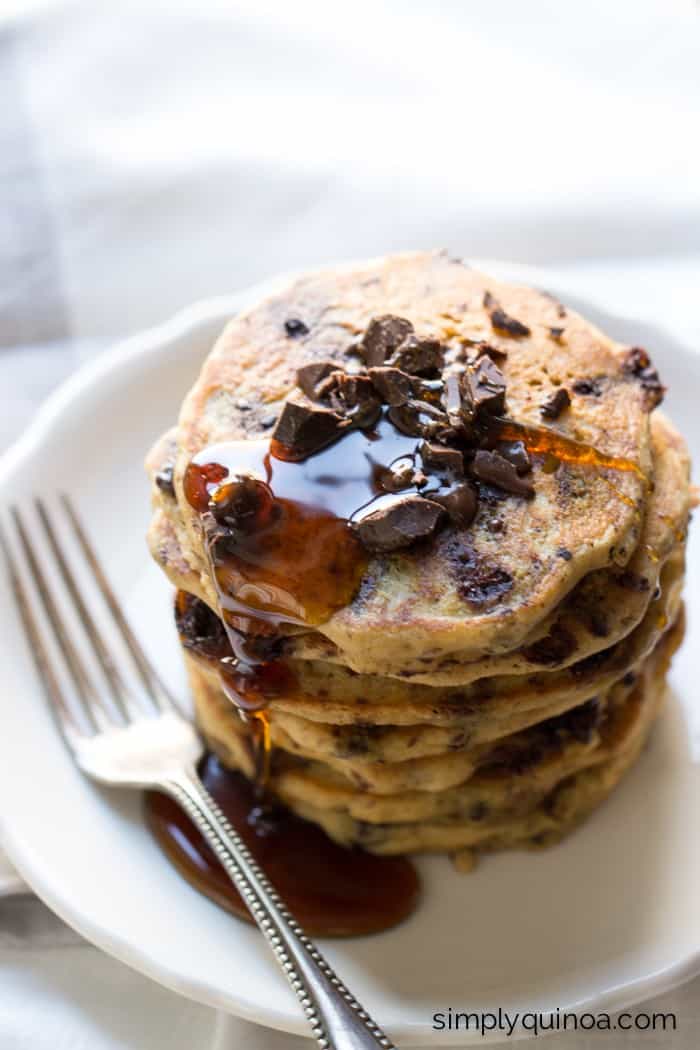 Pancakes have been a staple in my weekend routine since I was a little girl. I won't bore you with my pancake love story again (you can read about it here!), but they're totally my comfort breakfast and a weekend without my mile-high stack just never feels quite right.
That's why my perfect weekend morning always includes pancakes.
Yesterday I finally had that blissful morning. It was glorious. It was everything that I wanted it to be, but I do have to admit, while the juice, puppy play time and yoga were all pretty wonderful, I can almost guarantee it was these quinoa pancakes that made it super, over-the-top special.
Two things make them extra dreamy: One, they're vegan (nailed it…it only took my a few years trying) and two, they're full of chocolate. Oh and three, they're healthy! <– even with the chocolate (score!)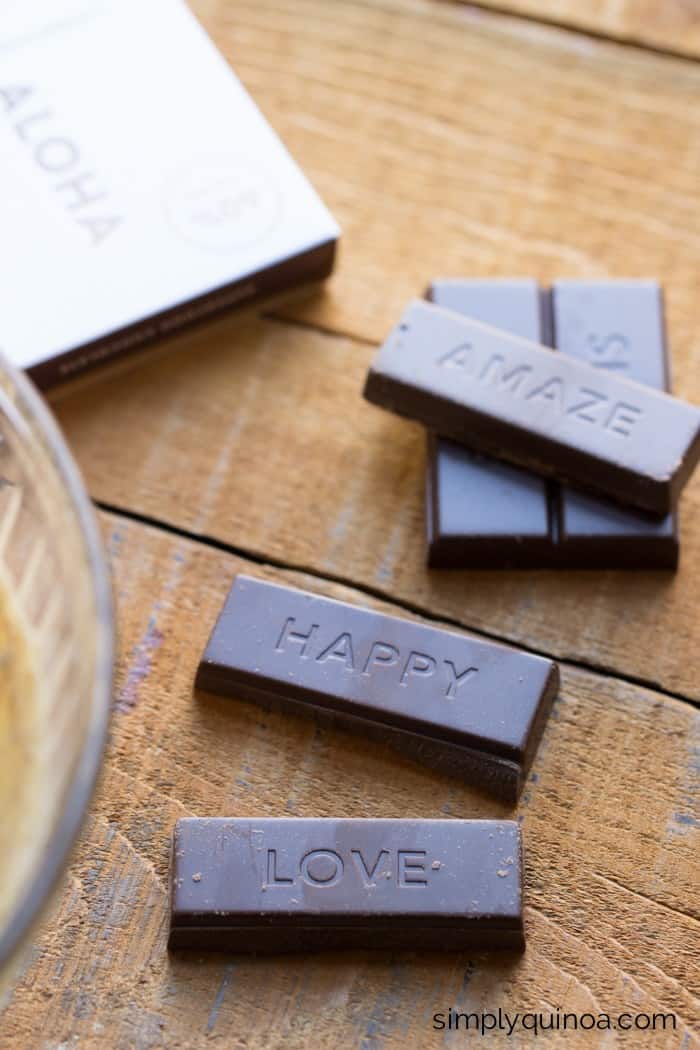 But here's the thing about this chocolate…and promise you won't let anyone in on our little secret…it's packed with superfoods.
Superfood chocolate? How is that even possible?
My thoughts exactly, except when I tasted this new chocolate from ALOHA, I knew I hit the mother-load. Not only is it gluten-free, vegan and free from many of the other top allergens, but it has greens in it! (you all know how much I obsess about getting in my greens each day)
So basically what that means is that we can now be eating a chocolate bar, but still be getting nutrients from superfoods like spinach, wheatgrass, blueberries, raspberries and yes, even mushrooms. Sounds a little nutso (I know), but it's SPECTACULAR. I don't know how they figured it out, but I'm telling you, the ALOHA team is amazing and this chocolate is now my absolute favorite way to sneak in an extra dose of greens.
I mean who wouldn't love eating chocolate flavored spinach?! Perfection.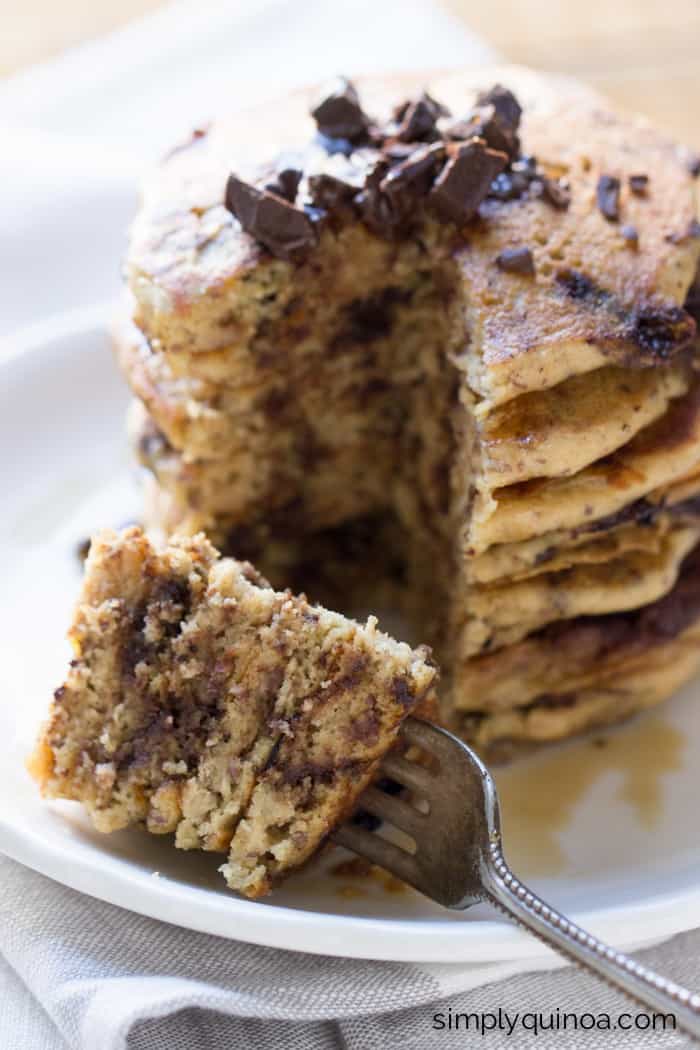 While I have been devouring these bars as a snack or for dessert, I could think of no better way to round out my perfect weekend morning than with some superfood chocolate added into my quinoa pancakes.
And let me just tell you, they are outrageously delicious.
(oh and bonus, they're 100% gluten-free + vegan too!)
Share this recipe!
Superfood Chocolate Quinoa Pancakes
I could think of no better way to round out my perfect weekend morning than with some superfood chocolate added into my quinoa pancakes.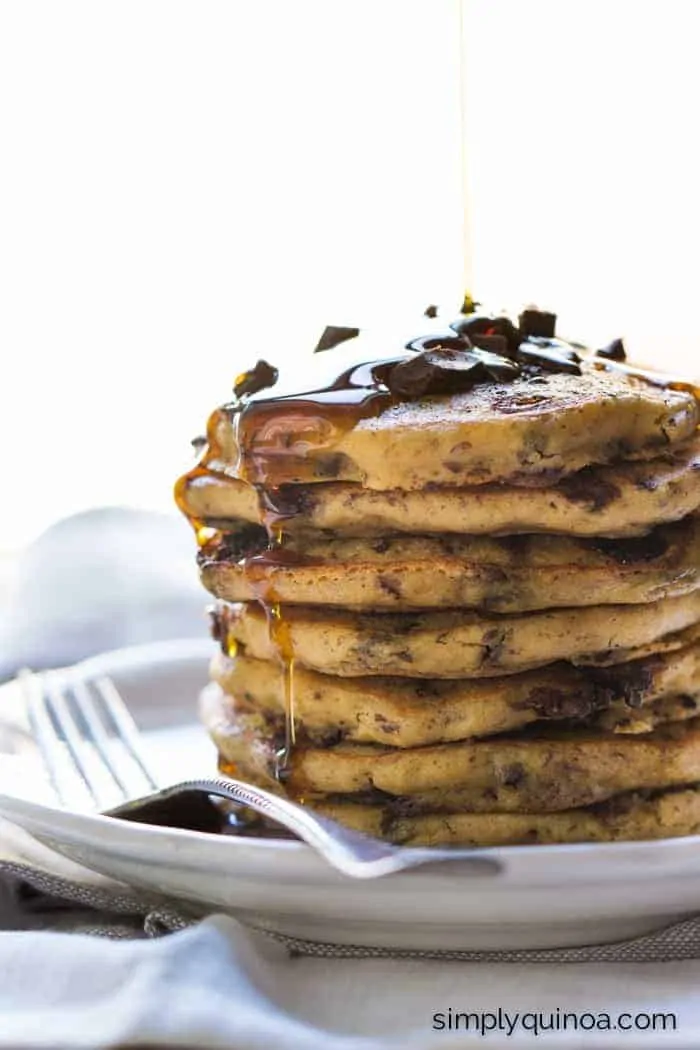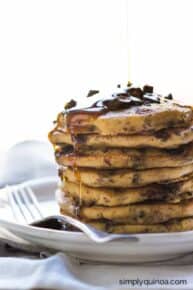 Instructions
Preheat a griddle over medium low heat.

In a large mixing bowl, whisk together the dry ingredients. Add wet ingredients and mix until a smooth batter forms.

Roughly chop the chocolate bars and fold them into the batter.

Lightly grease your griddle with nonstick cooking spray or coconut oil. Ladle 1/4 cup of batter onto the griddle and repeat until you have filled your pan. Cook the pancakes until small bubbles begin to form, about 2 - 3 minutes. Flip and cook for another 1 - 2 minutes longer until the other sides are golden brown. Transfer to a wire rack and repeat until no batter remains.

Serve pancakes warm with pure maple syrup and additional chocolate shavings (if desired).
Nutrition
Serving:
2
g
|
Calories:
141
kcal
|
Carbohydrates:
13
g
|
Protein:
2
g
|
Fat:
8
g
|
Saturated Fat:
4
g
|
Sodium:
139
mg
|
Potassium:
94
mg
|
Fiber:
1
g
|
Sugar:
3
g
|
Calcium:
79
mg
|
Iron:
0.9
mg
Filed Under: