Three Alarm Vegetarian Quinoa Chili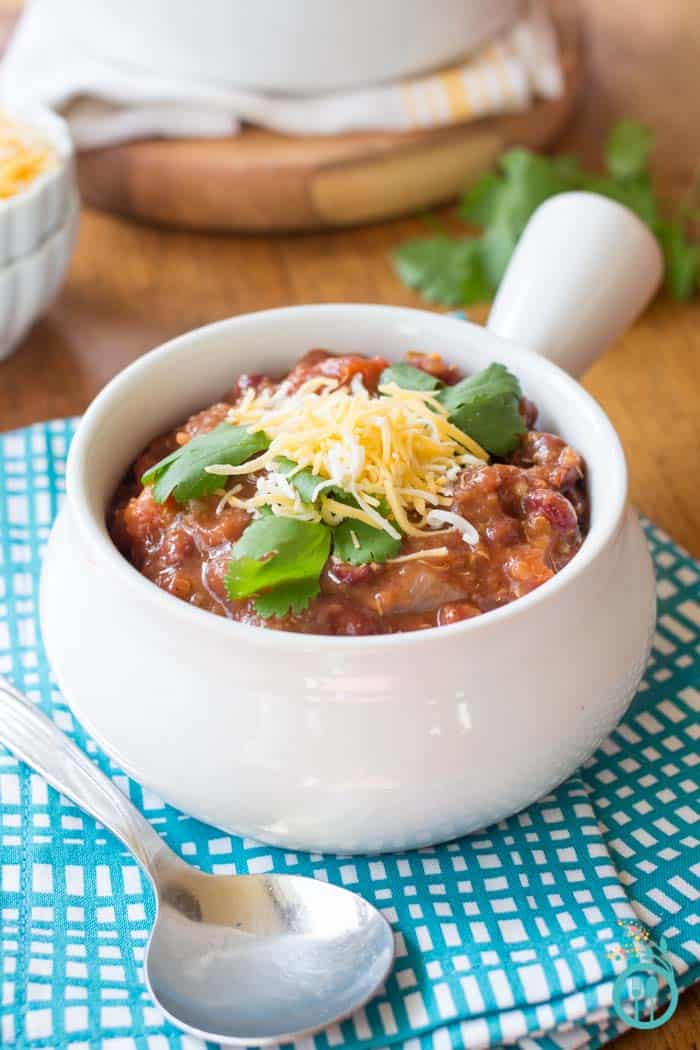 It's official. It's winter and I'm freezing my tooshy off.
And umm hello… this happens every year, it's not like I should be surprised or anything. But it's inevitable. I'm super excited when fall comes because I can break out the boots, chunky sweaters and scarves, and then .5 seconds later, it's snowing, the temperatures are below freezing, my fingers are numb, and I'm wrapped up in a hundred layers because I can't stay warm.
Somehow, I still get bummed when it happens. And I swear, if it weren't for meals like this vegetarian quinoa chili, I might just go crazy.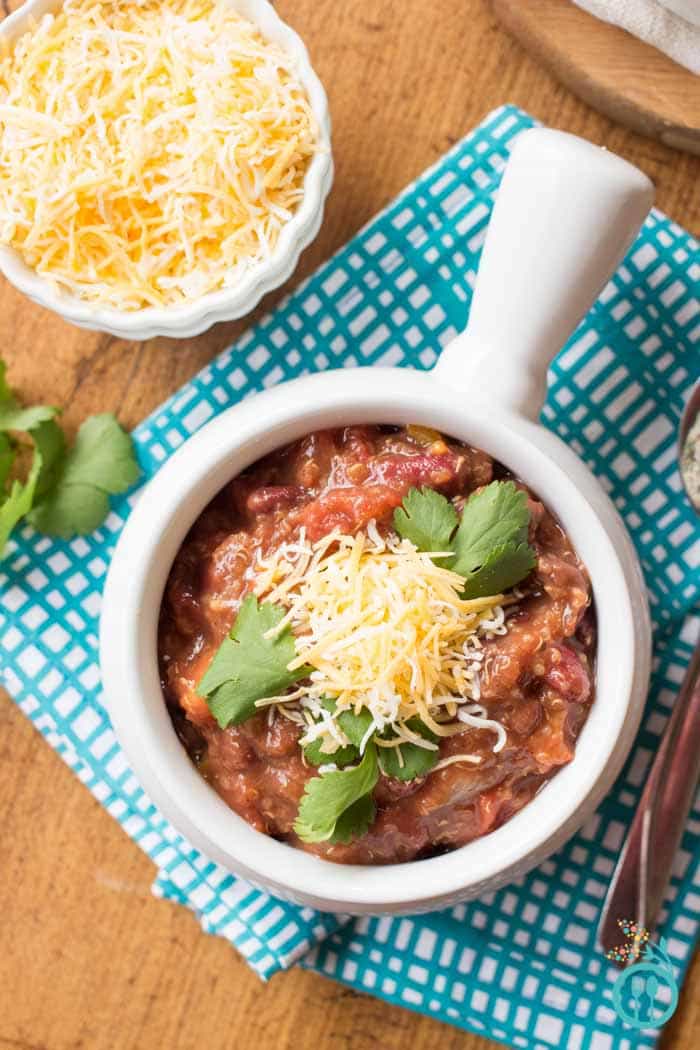 I made this chili in my crock pot and I just have to say, slow cookers were one of the best kitchen inventions ever. I mean they cook your food without you having to do any of the actual work! How is amazing is that!?
Take this chili for example. All you have to do is just throw all your ingredients into the pot, turn it on and walk away. Yes, it's as simple as that. WALK. AWAY. and your done.
When you come back it'll be bubbling away and ready to enjoy.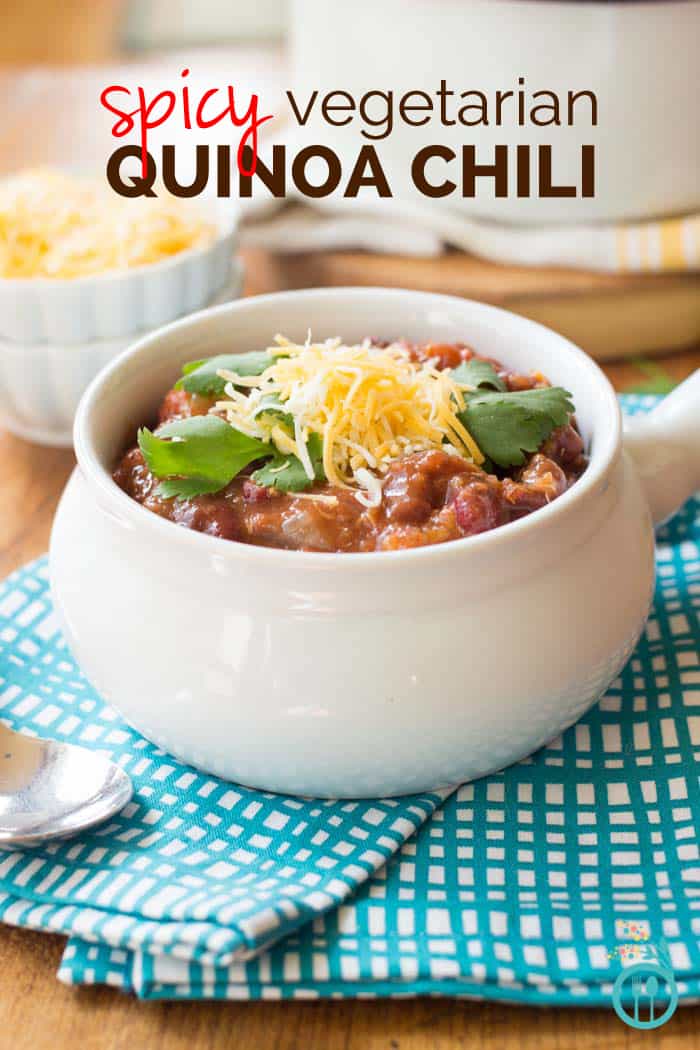 Now, I've made quinoa chili before, but this one is different. This one's got some spunk.
Some punch.
Some zing.
Even a little kick.
Yes, it's spicy. But not the knock-you-on-your-butt kind of spicy. The good kind of spicy that awakens the senses and brings the flavors of this chili to life. It'll cure those winter blues with just one bowl.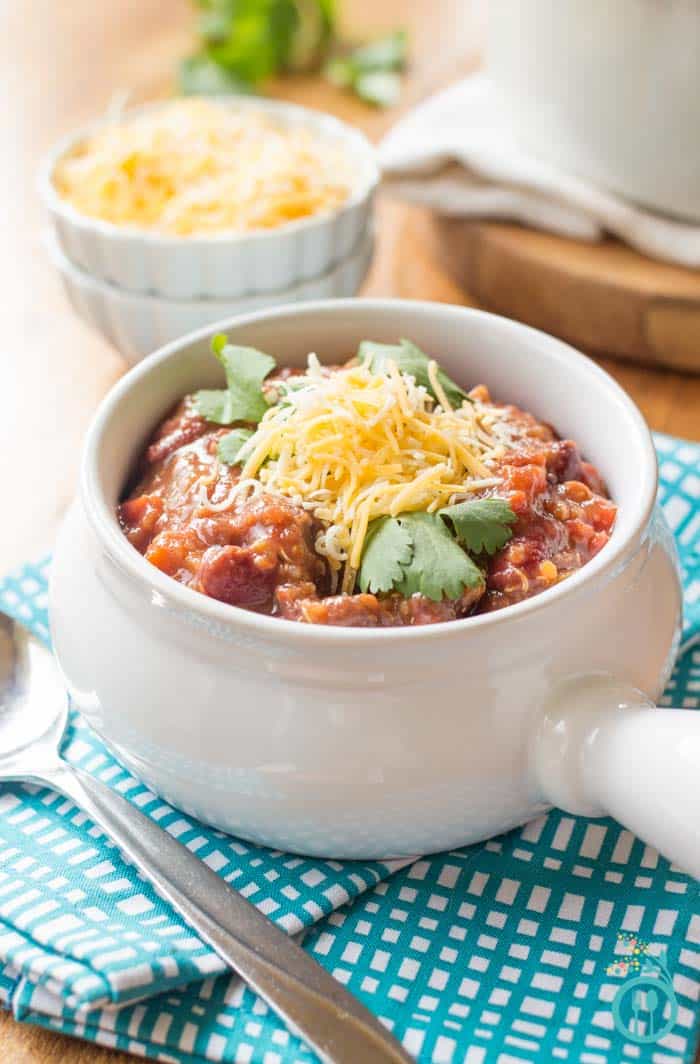 P.S. Here's the crock pot I use and I absolutely LOVE it! It's a total life saver, especially this time of year and I love that it's big enough to make a big batch of something so I can freeze for later, but it also handles small batches when it's just me and Matt home for dinner. I've had it for years and it's never disappointed me – it's helped fill my belly with so many tasty dinners!
Three Alarm Vegetarian Quinoa Chili
All you have to do is just throw all your ingredients into the pot, turn it on and walk away. Yes, it's as simple as that. WALK. AWAY. and your done.
Servings 8 Servings
Calories 290kcal
Instructions
Add all ingredients into a crock pot (minus the cornmeal). Turn on high and cook for 4 hours, turn down to low and continue to cook until ready to serve.

Stir in cornmeal 15 minutes before serving.

Serve with shredded cheese, sour cream, fresh cilantro, avocado, etc. Whatever you like best - you can't go wrong!
Notes
1) If you don't have the option to turn your crock-pot down after four hours (like you're at work), just leave it on low for 6 - 8 hours and the results will be the same. 2) If you don't want a spicy chili, just forgo the habaneros and cayenne pepper - it will still taste delicious!
Nutrition
Calories: 290kcal | Carbohydrates: 54g | Protein: 15g | Fat: 1g | Sodium: 710mg | Potassium: 983mg | Fiber: 15g | Sugar: 8g | Vitamin A: 5720IU | Vitamin C: 51.6mg | Calcium: 112mg | Iron: 6.2mg
share what you make
Tag #simplyquinoa on Instagram with your creations! We love sharing what you make with the community. We can't wait to see!

follow on instagram