This amazing quinoa porridge is packed with superfood ingredients to keep you fueled and energized all day long. It's easy to make, tasty and good for you!
You know I'm a big smoothie bowl fan, but lately, I haven't been able to do it. I don't like waking up when it's cold out and eating something cold. It just doesn't make me feel good.
So instead I've been making bowl after bowl of this amazing stuff: Superfood Quinoa Porridge!
It's a cozy, warming, soul-nourishing bowl of goodness that is packed with good-for-you ingredients. We've got protein, we've got fiber, we've got healthy fats. And we've even got some natural sweetness. This quinoa porridge is better than your standard oatmeal in so many ways and it tastes just as good as it looks!
Superfood Ingredients in this Quinoa Porridge
What makes this porridge a bit different is that we're using a blend of oats and quinoa, as well as some other goodies that get stirred in at the end. I tried to jam as much nutrition into this bowl as possible by using some "superfood" ingredients.
Here's what you'll find inside:
Quinoa: quinoa makes up the bulk of this porridge and is one of my favorite breakfast foods! Quinoa is high in protein, fiber and has all nine essential amino acids. If you want to learn more about it, check out my page for quinoa nutrition facts!
Oats: another staple for most breakfast, oats are a fantastic source of fiber! They're not as high in protein, but they are complex carbohydrates so they digest more slowly, helping to keep you fuller for longer.
Hemp seeds: also known as hemp hearts, these are powerhouse ingredient that are full of plant-based protein. 3 tablespoons of hemp hearts contain 10g of protein! They're also a good source of healthy fats and trace minerals.
Chia seeds: chia seeds are most well-known for being full of omega-3s. But in addition to those, they also have protein! Chia seeds are also easy to digest and full of other vitamins and minerals.
Flaxseed meal: flax is another source of omega-3s, and similar to chia and hemp, contains protein and healthy fats. It's important to make sure that you eat flaxseed meal instead of whole flaxseeds as those are much harder to digest.
Cinnamon: my all-time favorite spice, and not just for flavor! Cinnamon is an amazing spice to add to carb-heavy recipes because it helps support our body's blood sugar regulation.
And we've also got our toppings, as well as some water and almond milk for cooking!
How to Make Quinoa Porridge: 3 Ways
I'll start by saying I haven't personally tested these three cooking methods, but from experience cooking quinoa, I'm pretty darn sure they will all work. So here are the three ways I think you can make quinoa porridge:
Stovetop: this is my preferred method because it's quick and painless. You add your quinoa and your oats together in the pan, along with the almond milk and water. Then bring the mixture to a boil, cover and reduce it to simmer for about 10 – 15 minutes.
Slow Cooker: similar to how you would make a soup/stew, you basically just add your ingredients to a slow cooker and cook it up! For this recipe, I'd recommend using either thick-cut rolled oats or steel-cut oats because they have a longer cooking time and thicker texture. You'll add all these ingredients into the slow cooker, stir it up and cook it on high for 2 – 3 hours. And just stir in the extras at the end!
Instant Pot: I have yet to make quinoa successfully in the Instant Pot, but I know it's possible, so I'm including it here. Similar to the slow cooker, I'd recommend that you use thick oats or steel-cut so that it doesn't turn to mush after cooking. If you're using thick-cut, add the liquid and set the IP to high for 1 minute. Then do NPR for about 10 – 15. And again, just stir in the add-ins at the end.
What's Better: Oats or Quinoa?
The most common breakfast cereal in the world is definitely oatmeal, but over the last few years, quinoa has been nipping at its heels. And I think the question on a lot of peoples' minds is: what's better for you: oats or quinoa?
As we mention in the ingredient section of this post, there are some nutritional differences between oats and quinoa:
Quinoa has more protein than oats (1 cup cooked: 8g vs. 5g)
Quinoa and oats have the same amount of fiber (5g)
Oats have fewer carbohydrates that quinoa (1 cup cooked: 29g vs. 37g)
Oats have fewer calories than quinoa (1 cup cooked: 170 vs. 220)
Quinoa and oats have the same amount of fat (4g)
Quinoa has more trace minerals than oats
So…what's better?! I'd personally say it's based on what you're looking for nutritionally. Is protein a goal? Then choose quinoa. Are calories or carbs your goal? You might want to choose oats. Getting in your vitamins and minerals? Quinoa is the winner.
Essentially: both quinoa AND oats are amazing ingredients – both are great for breakfast – and you can't go wrong with either!
How to Store Quinoa Porridge
The best way to store quinoa is in your fridge. You can keep it in a large container as one portion, or if you want to meal prep this recipe, you can portion it out into individual containers. I love these little weck jars for meal prepping breakfasts like this.
To reheat your quinoa porridge, either pop it in the microwave or if you have access to a stove you can put it back in a small saucepan and heat it up with a bit of almond milk. Or if you don't have options for either, this can totally be eaten cold too!
Ways to Serve Quinoa Porridge
I personally love serving this warm, but it all honesty, it's about the toppings! Here are some of my favorite topping options:
Fresh berries: I love blueberries, but raspberries or sliced strawberries would also be great
Sliced fruit: I'd go for some banana or sliced peaches if they're in season
Nuts/seeds: I'm all about the crunch factor, so I love using sliced almonds, chopped walnuts or even pumpkin seeds
Nut butter: a good drizzle of almond or peanut butter is fabulous on top of quinoa porridge
Yogurt: if you can have dairy, a dollop of Greek yogurt would be a great way to get in some extra protein, but if you're vegan, opt for some coconut yogurt
Raw honey or maple syrup: and lastly, sweetness! I love to drizzle on some honey (like I did in this recipe) or maple syrup – it just gives it a touch of decadence!
But truly no matter what way you serve up this recipe it's going to be delicious! And I really think it's going to become a staple in your morning rotation. Can't wait to hear what you think!
More Healthy Quinoa Breakfast Recipes:
Ultimate Superfood Quinoa Porridge
This amazing quinoa porridge is packed with superfood ingredients to keep you fueled and energized all day long. It's easy to make, super tasty and so good for you!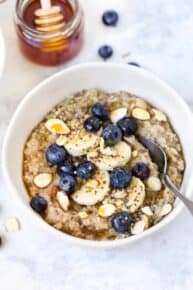 Ingredients
recommended toppings:
1

banana

, sliced

1/2

cup

fresh blueberries

1/4

sliced almonds

drizzle of honey
Instructions
Add the quinoa, oats, almond milk, water, and cinnamon into a small pot. Stir together and bring the liquid to a boil. Reduce to low and simmer the porridge until the oats are soft and most of the liquid has been absorbed about 10 - 15 minutes.

Remove the porridge from the heat and stir in the syrup, hemp seeds, chia seeds, and flaxseed meal. If it thickens up too much, add a splash more of almond milk.

Divide the porridge equally between two bowls and top with the desired toppings. My recommendations are listed above! Enjoy 🙂
Nutrition
Serving:
1.5
cups
|
Calories:
557
kcal
|
Carbohydrates:
80
g
|
Protein:
18
g
|
Fat:
20
g
|
Saturated Fat:
2
g
|
Sodium:
350
mg
|
Potassium:
617
mg
|
Fiber:
16
g
|
Sugar:
24
g
|
Vitamin A:
115
IU
|
Vitamin C:
9
mg
|
Calcium:
483
mg
|
Iron:
6
mg
Filed Under: