This healthy Triple Berry Quinoa Breakfast Bake is full of berries and flavor. It's also gluten-free and vegan so it doesn't use any eggs, milk or dairy!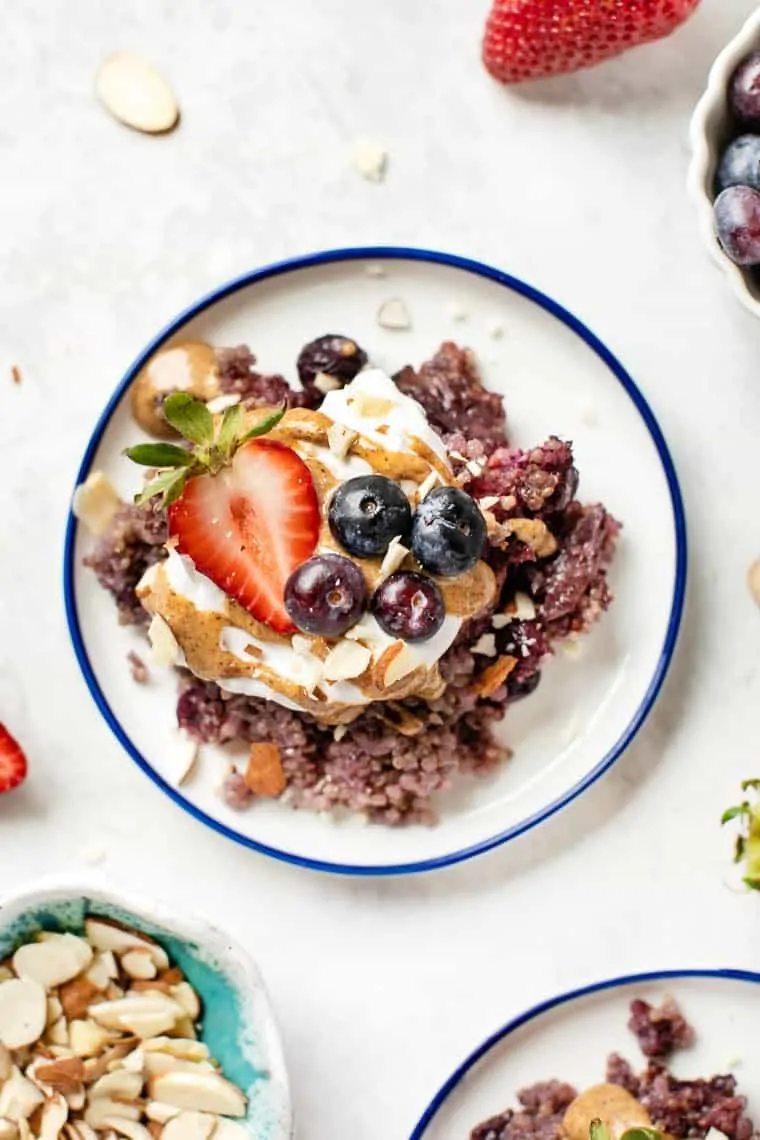 I'm all about simplicity in the morning. I don't want to spend more than 10 minutes on my morning meal because honestly who has the time. I'd so much rather whip up a smoothie or reheat something that I made over the weekend than worry about cooking something.
I'm sure you're in the same boat, especially on the weekdays, which is where this fabulous quinoa breakfast bake comes into the picture. It's not only easy to make, but it's also meal prep-friendly. Meaning…you bake it up and can have a healthy breakfast ready to go all week long.
This recipe uses just 9 ingredients, one dish and makes a total of 6 meals. It's going to become your summer go-to!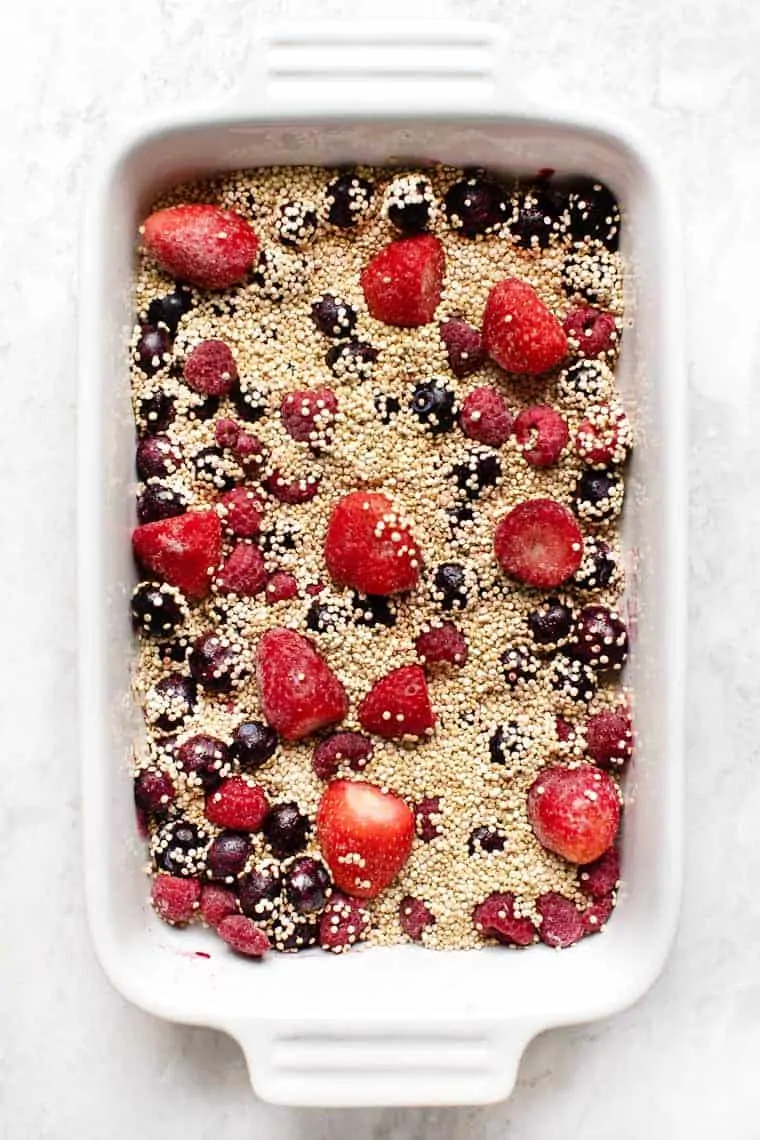 Is Quinoa Better Than Oatmeal for Breakfast?
Oatmeal is like the classic of the classics when it comes to breakfast foods. But for me, even though oats and quinoa have a lot of similarities, quinoa is actually the better breakfast option.
But it's the protein content of quinoa that makes it stand out. We know that we need protein and I love starting my day with a protein-rich meal because it helps me stay full for longer, but also more energized throughout the day. And because quinoa has more protein than oatmeal, to me, it's a better option.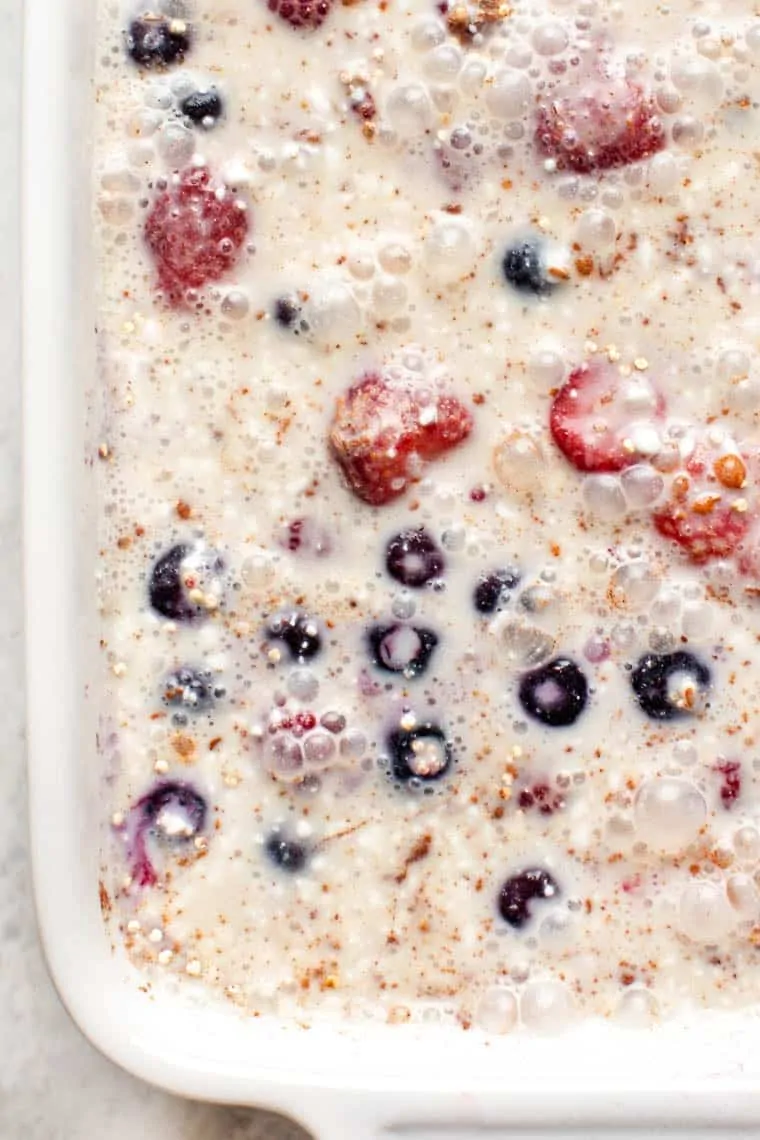 Why I Eat Quinoa for Breakfast
In addition to the protein content of quinoa, quinoa has so many other benefits that make it a great morning food. Here are some benefits of eating quinoa for breakfast:
full of fiber & micronutrients
can be made ahead and will keep well
can be reheated
take on whatever flavors you want
And best of all, quinoa can be used a million different ways. It's versatile, it's easy, and it's healthy. Everything from cookies, to muffins, pancakes, waffles, and now this amazing quinoa breakfast bake, this is an ingredient that can be added to pretty much every type of food you'd like to eat for breakfast.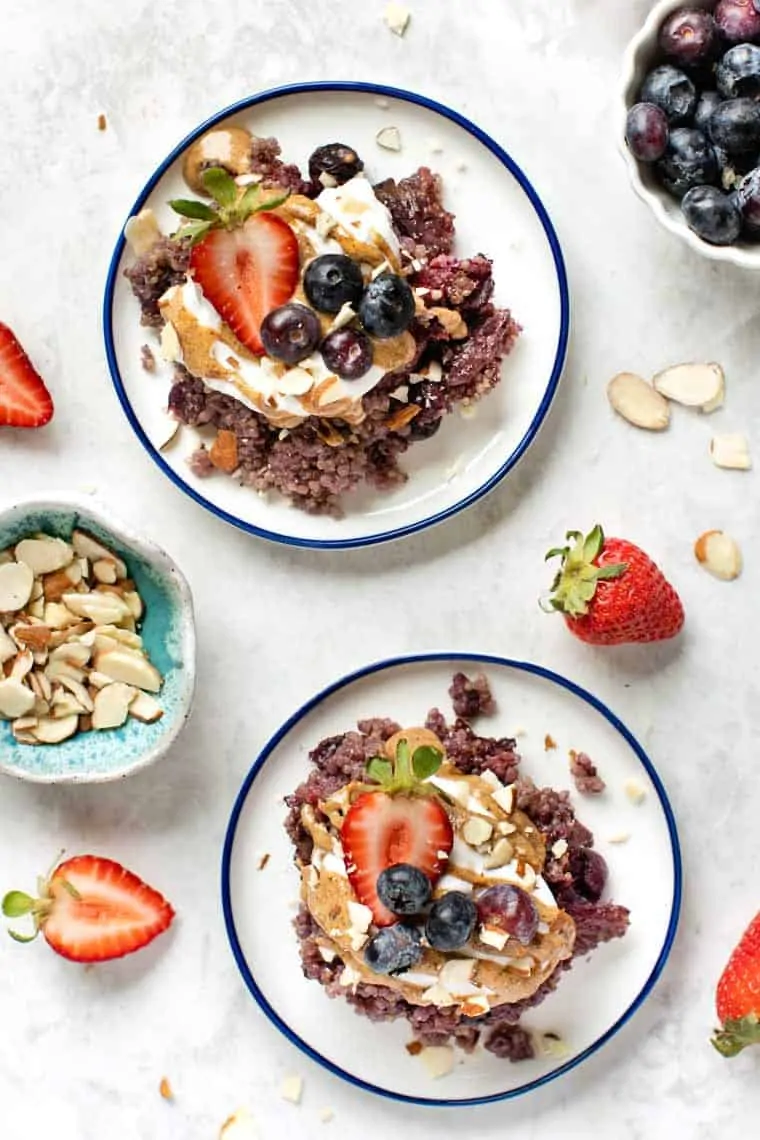 How to make a Quinoa Breakfast Bake
Aside from a smoothie, this quinoa breakfast bake might just be one of the easiest recipes ever. Truly all you need are your ingredients and a baking dish.
You just add everything into the dish – the quinoa, the berries, flavors, milk, and vegan eggs – give it a quick stir and pop it in the oven. About 50 minutes later you'll have a dish full of hot quinoa, infused with berries and ready for eating!
This breakfast bake is perfect for the summer, but can also be made year round using frozen fruit. You can also change up the berries if you wanted for something more seasonal!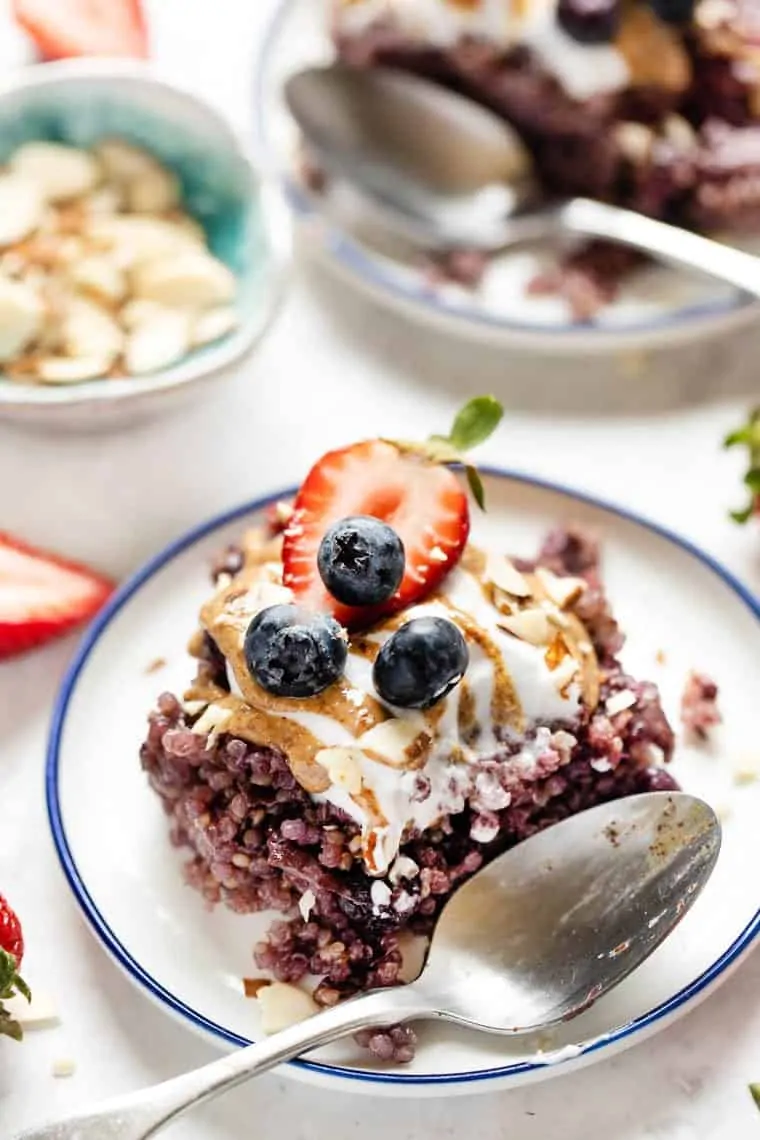 How to Store Your Quinoa Breakfast Bake
You might be wondering how you actually keep this breakfast bake fresh, right?
Luckily it keeps super well in the fridge. But if you aren't sure if you'll finish in the next 4 – 5 days, you can divide it into separate servings and freeze it. When you're ready to reheat the breakfast quinoa, either pop it in the microwave or let it thaw and enjoy it cold. (I personally like it warm!)
For serving, I love doing a dollop of coconut yogurt, a drizzle of almond butter and some fresh berries on top. It reminds me of a blueberry crumble, only a little more breakfast-friendly!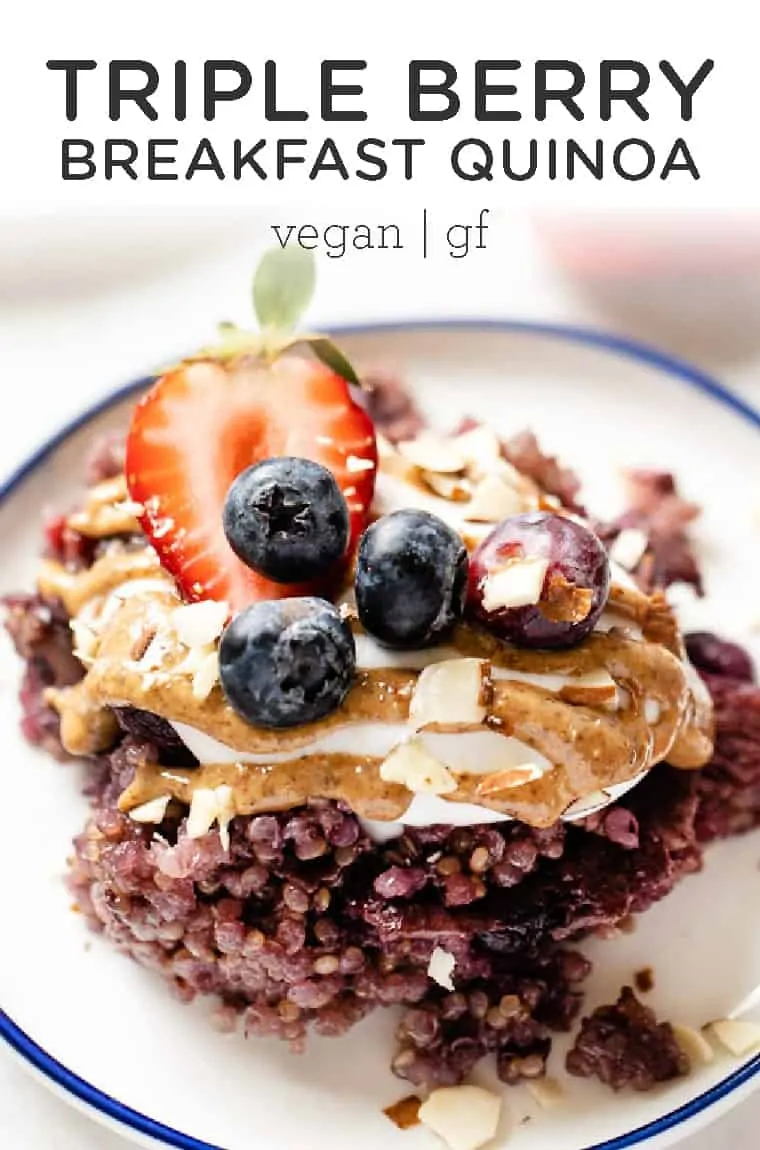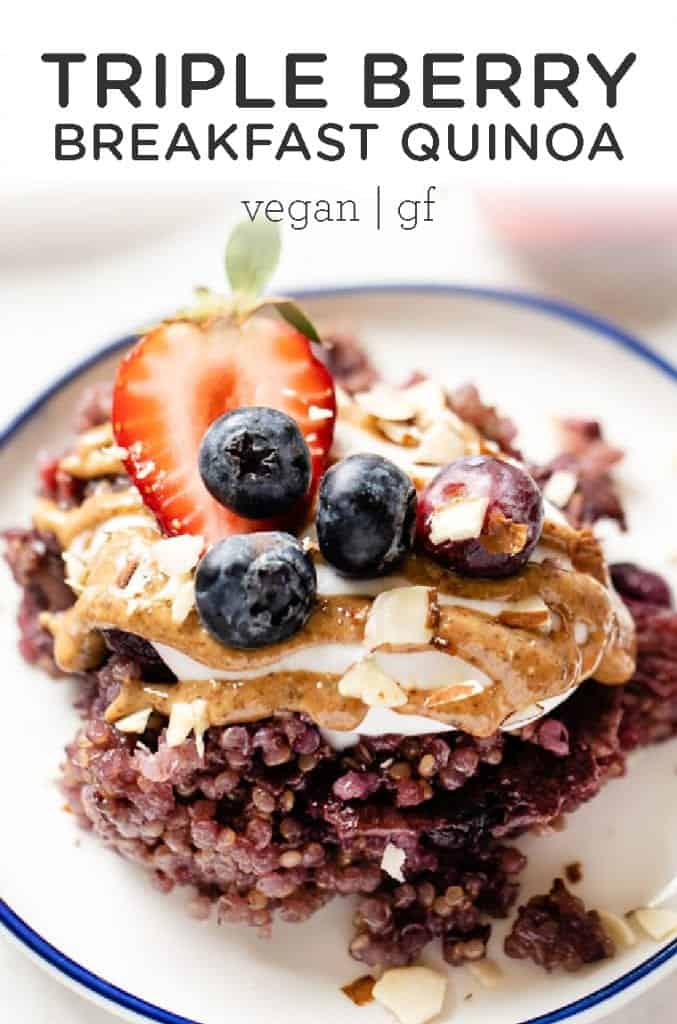 More Make-Ahead Quinoa Breakfast Recipes:
Triple Berry Quinoa Breakfast Bake
This healthy Triple Berry Quinoa Breakfast Bake is full of berries and flavor. It's also gluten-free and vegan so it doesn't use any eggs, milk or dairy!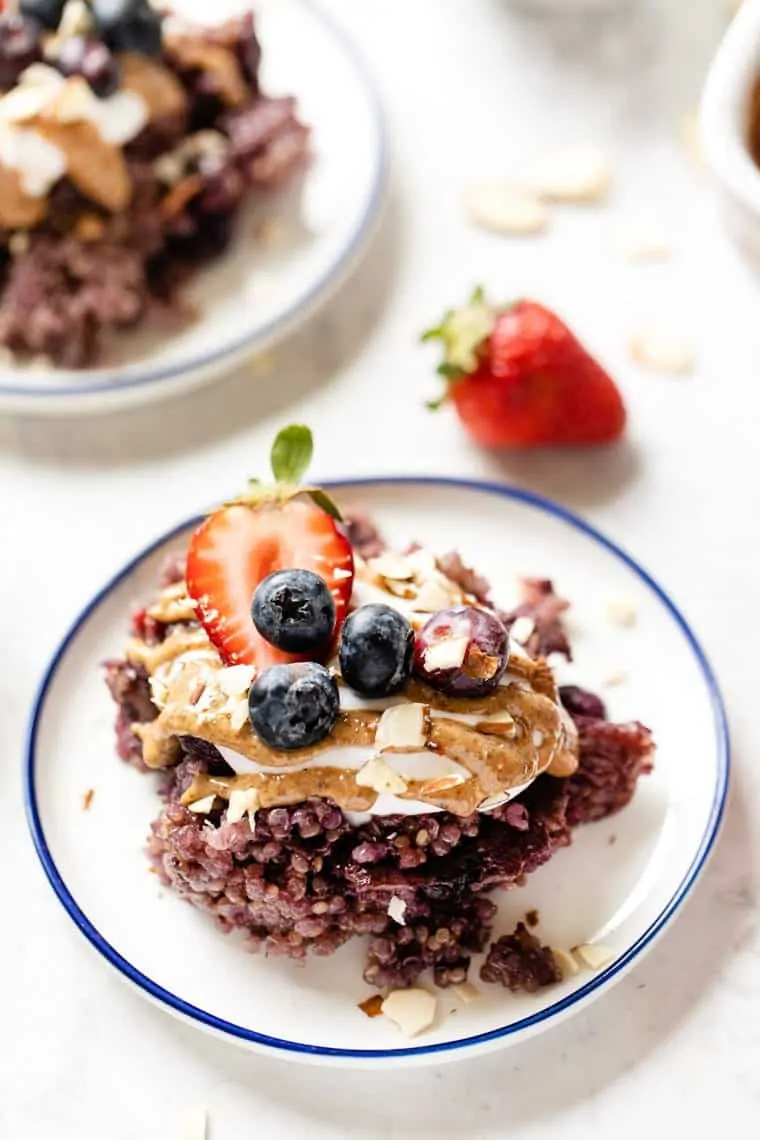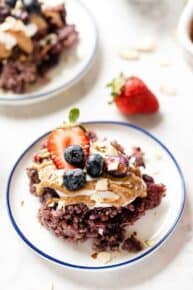 Instructions
Preheat the oven to 375ºF.

Add all the ingredients into a baking dish and stir to combine. Pop the pan in the oven and bake for about 60 - 75 minutes until the quinoa is cooked and the center is no longer liquidy.

Allow the cool for at least 15 minutes, then scoop and serve with your desired toppings!

For my toppings, I like a dollop of non-dairy yogurt, a drizzle of nut butter and some chopped nuts if desired.
Nutrition
Serving:
0.5
cup
|
Calories:
168
kcal
|
Carbohydrates:
25
g
|
Protein:
4
g
|
Fat:
6
g
|
Saturated Fat:
4
g
|
Sodium:
44
mg
|
Potassium:
191
mg
|
Fiber:
4
g
|
Sugar:
6
g
|
Vitamin A:
10
IU
|
Vitamin C:
9
mg
|
Calcium:
35
mg
|
Iron:
1
mg
Filed Under: