A healthy quinoa breakfast bowl made with homemade strawberry milk and served with fresh berries and almonds. Nutritious, high protein and delicious too!
For many of us, breakfast is the hardest meal of the day. I mean in reality it's probably one of the easiest meals to physically make, but being creative, different, interesting and flavorful isn't something that usually happens. At least for the majority.
Let me guess. You're just like me and your breakfast looks similar almost every morning.
Maybe it's a smoothie, a bowl of oatmeal, a juice or even some eggs and toast. And if you don't eat the same thing almost every day, I bet you're rotating through a set three or four. And I totally get it; it's hard to push yourself to come up with something new and different when all you're trying to do is get out the door.
Why? Because mornings are stressful and breakfast needs to be fast. You're trying to get your day started as quickly as possible, while still getting something healthy and nutritious to eat, and it yet seems totally unrealistic to get up half an hour early just to make sure you have enough time for a fabulous breakfast. Which is exactly where this quinoa breakfast bowl comes into the picture!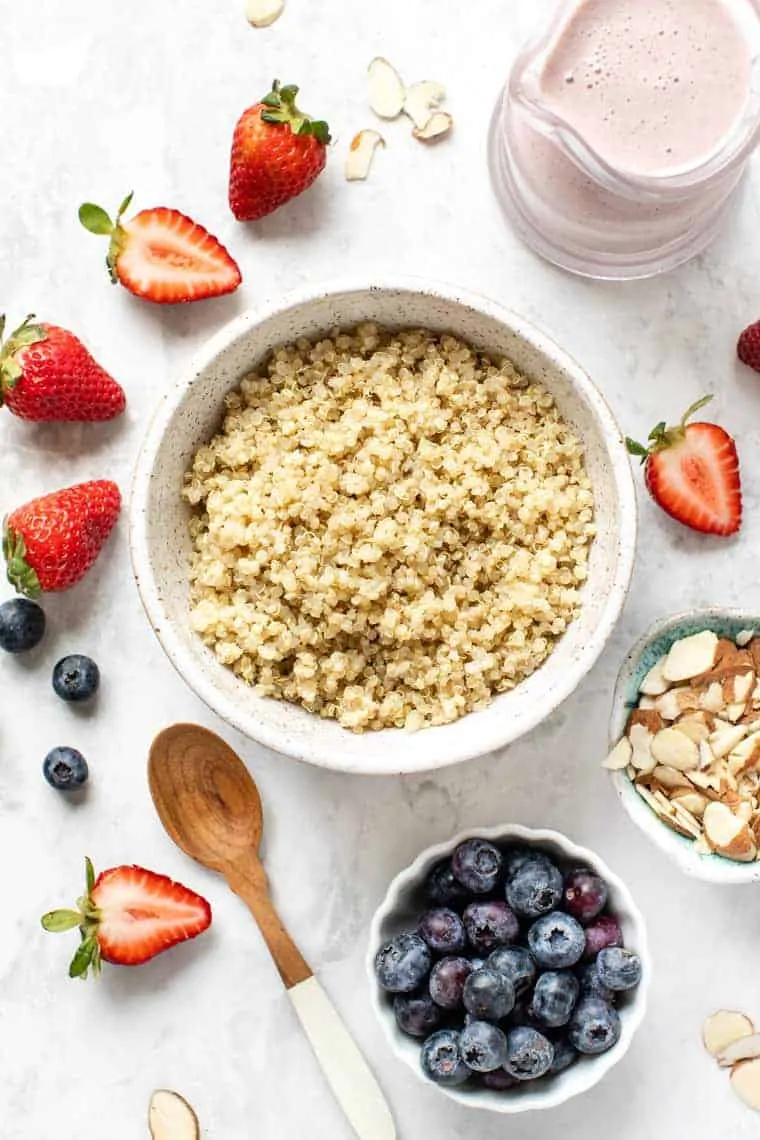 How to Make Quinoa for Breakfast
In my opinion, quinoa is the ultimate breakfast food. It's packed with protein, it's a complex carbohydrate meaning it digests slowly in your system to help keep you feeling fuller for longer, and it also has many hard-to-find nutrients.
And what makes quinoa so perfect for breakfast is that you can jazz it up for whatever you're in the mood for.
There are three main ways to add quinoa to your breakfast:
cooked quinoa
quinoa flakes
quinoa flour
Today we're using cooked quinoa to act as our "cereal" and then topping it with fresh fruit, almonds, and some homemade healthy strawberry milk. If you're using one of the other two, try my 90-Second Blueberry Breakfast Quinoa or my Quinoa Flour Pancakes.
What I love about quinoa is its versatility. There's really no end to the ways you can use it!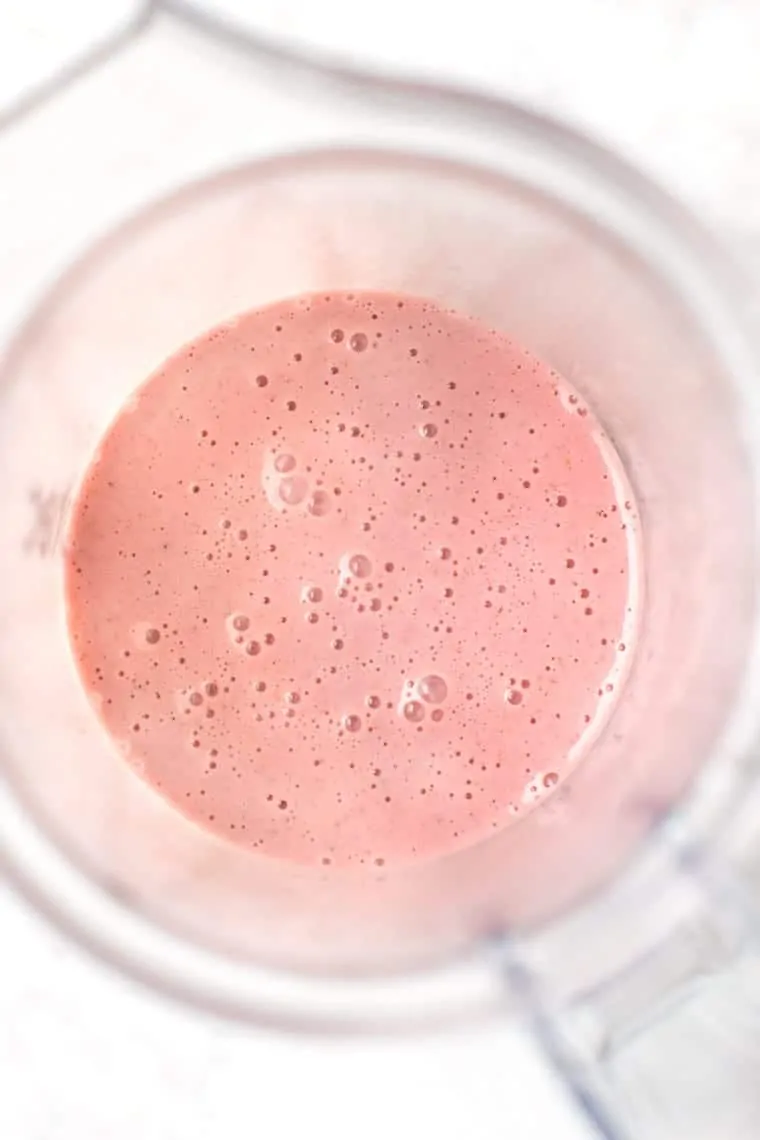 How to make Healthy Strawberry Milk
The real secret behind this recipe? The milk.
I've always been a cereal fan. It's what I grew up on and still to this day is one of my all-time favorite comfort foods. And while breakfast cereal is totally delicious, I've found a way to take it up a notch without doing anything crazy. Instead of using plain almond milk, I've started making fruit infused milk instead. And I gotta tell you, it's totally rocking my world!
This recipe is for strawberry infused milk, which is just four ingredients and tastes incredible. All you're going to need to make it is:
hemp seeds
water
strawberries (fresh or frozen)
maple syrup
Add all those ingredients to the blender, blend it up until smooth and in a matter of seconds you've got healthy strawberry milk! It's the perfect addition to our quinoa breakfast bowl.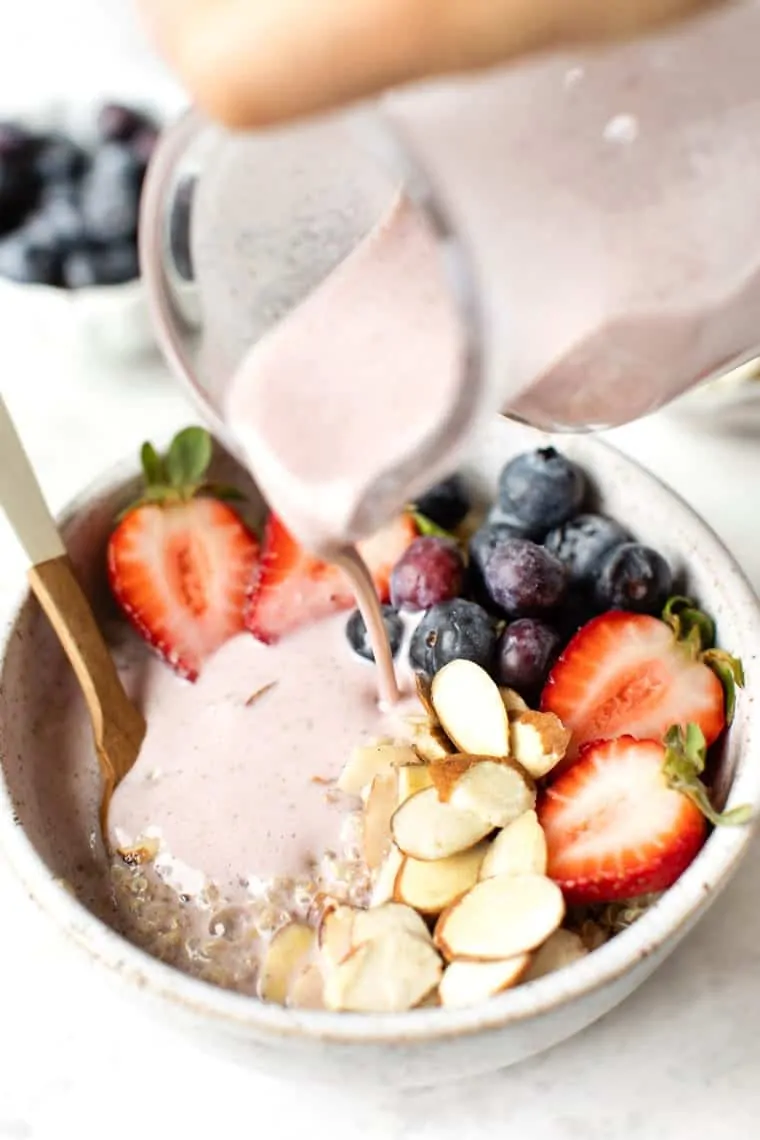 The Easiest Quinoa Breakfast Bowl Ever
I've gotten comments before that this recipe is too simple, but I'm a firm believer that recipes don't have to be complicated to be good. Especially when it comes to breakfast. The easier your breakfast is to make, the less stress you have in your day and the more likely you are to properly nourish your body.
So here's what we're doing with these breakfast bowls…
We're starting with our cooked and cooled quinoa
Then we're topping it with fresh berries
And some sliced almonds for a little crunch and protein
Finishing it off with our strawberry milk
Sure it's easy, but I promise it's fabulous!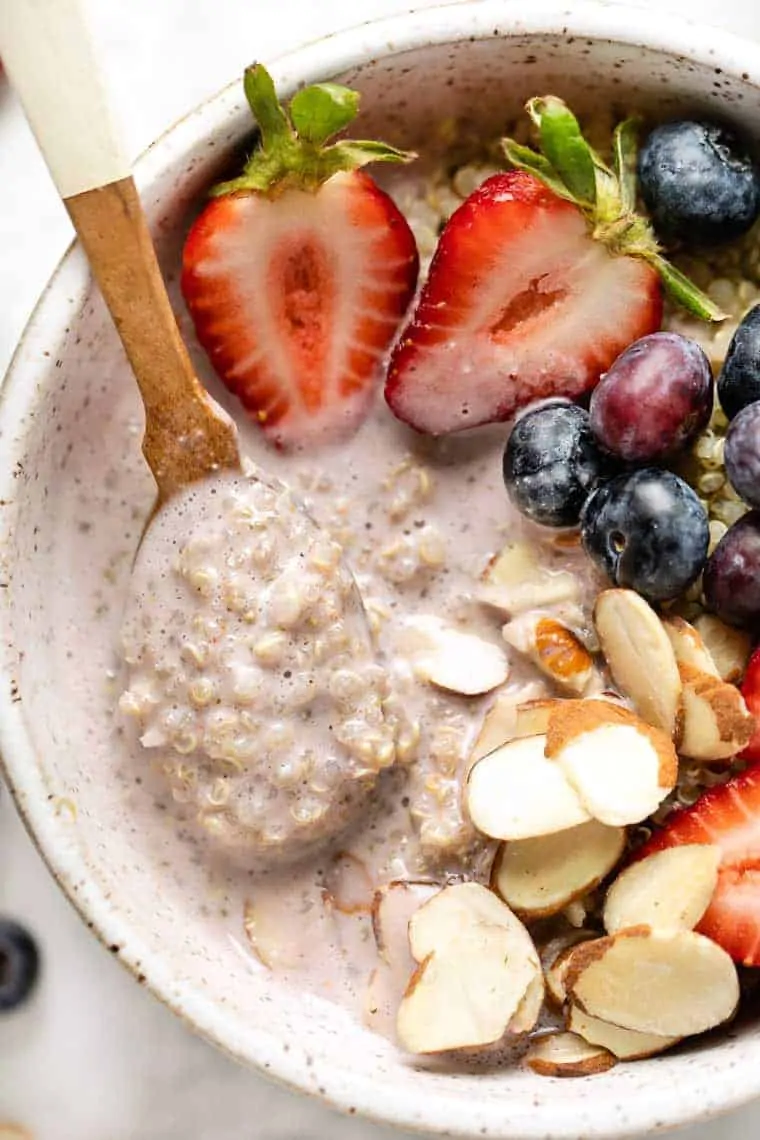 An Easy Meal Prep Breakfast Idea
Aside from the fact that these breakfast bowls are packed with good-for-you ingredients, they're also meal-prep friendly. That means you can make a batch of the quinoa and milk on a Sunday and enjoy this type of meal all week long.
Want to change things up? Awesome! Feel free to change up your toppings, stir in some spices (cinnamon or cacao would be awesome), or even make a different flavor of milk.
You'll find that after having a quinoa breakfast bowl in the morning, you're going to be energized, full and ready to tackle your day with confidence! Make sure to come back and share your fun quinoa breakfast creations with the rest of us…I'm dying to know what you're waking up with!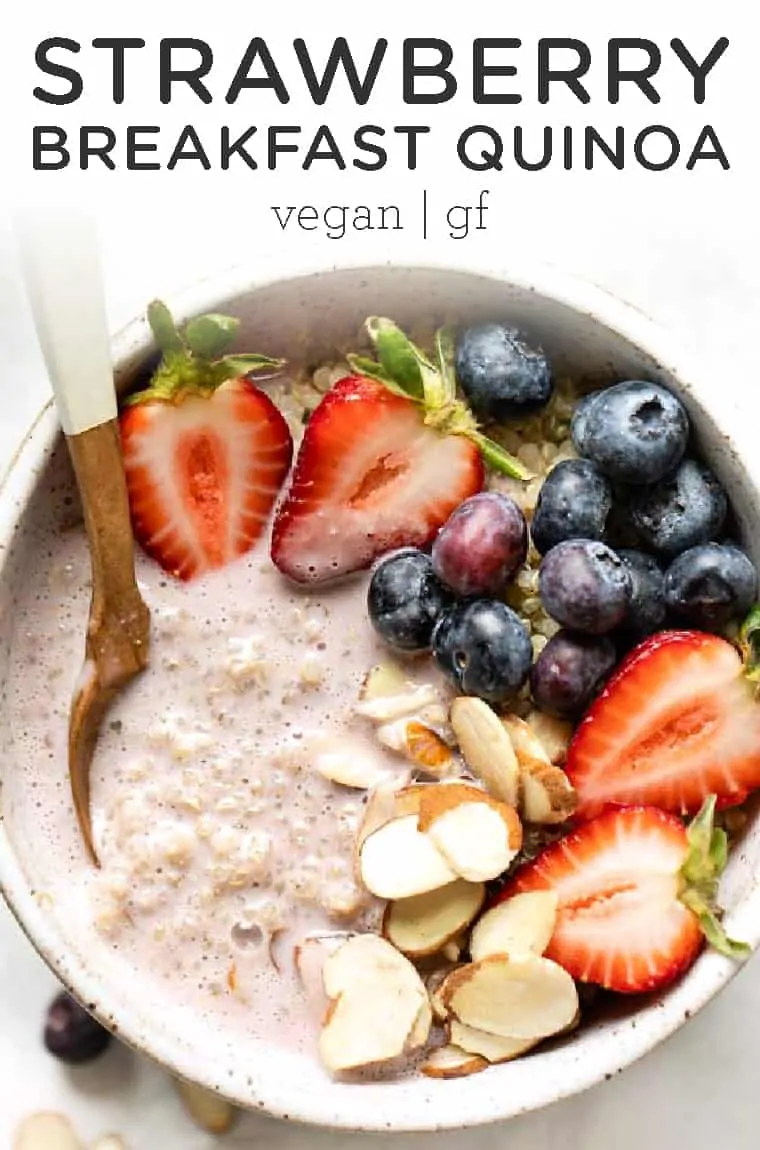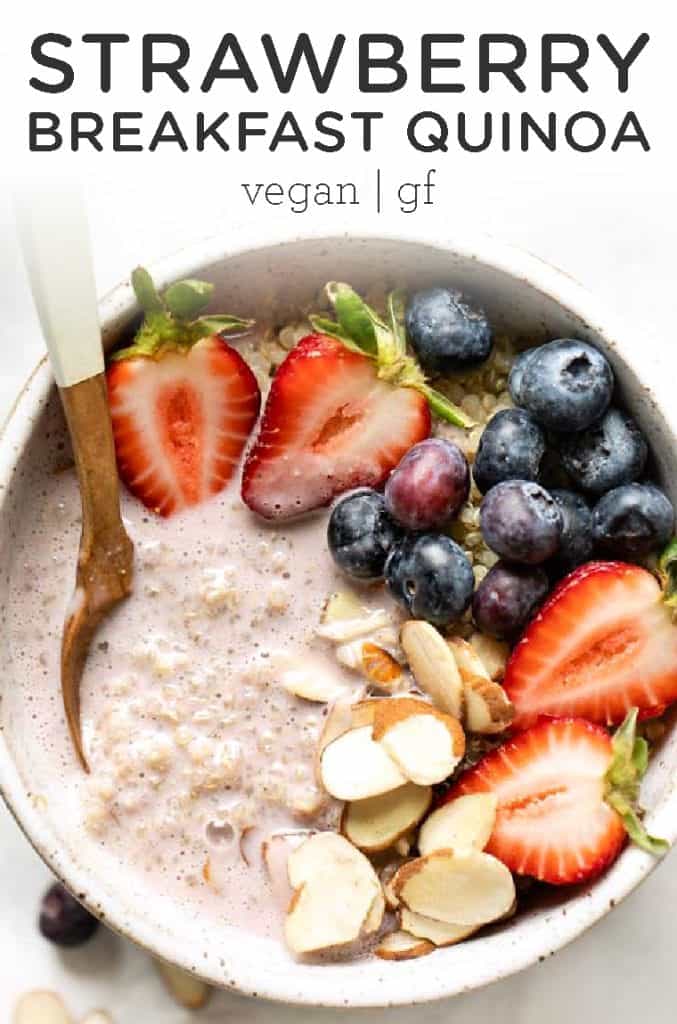 Other Breakfast Recipes Using Quinoa
Strawberry Infused Quinoa Breakfast Cereal
This Strawberry Quinoa Breakfast Bowl is the best easy and healthy recipe to start your day with. It's so simple to make - ready in just 5 minutes! Vegan, gluten-free, and great for kids in the summertime too.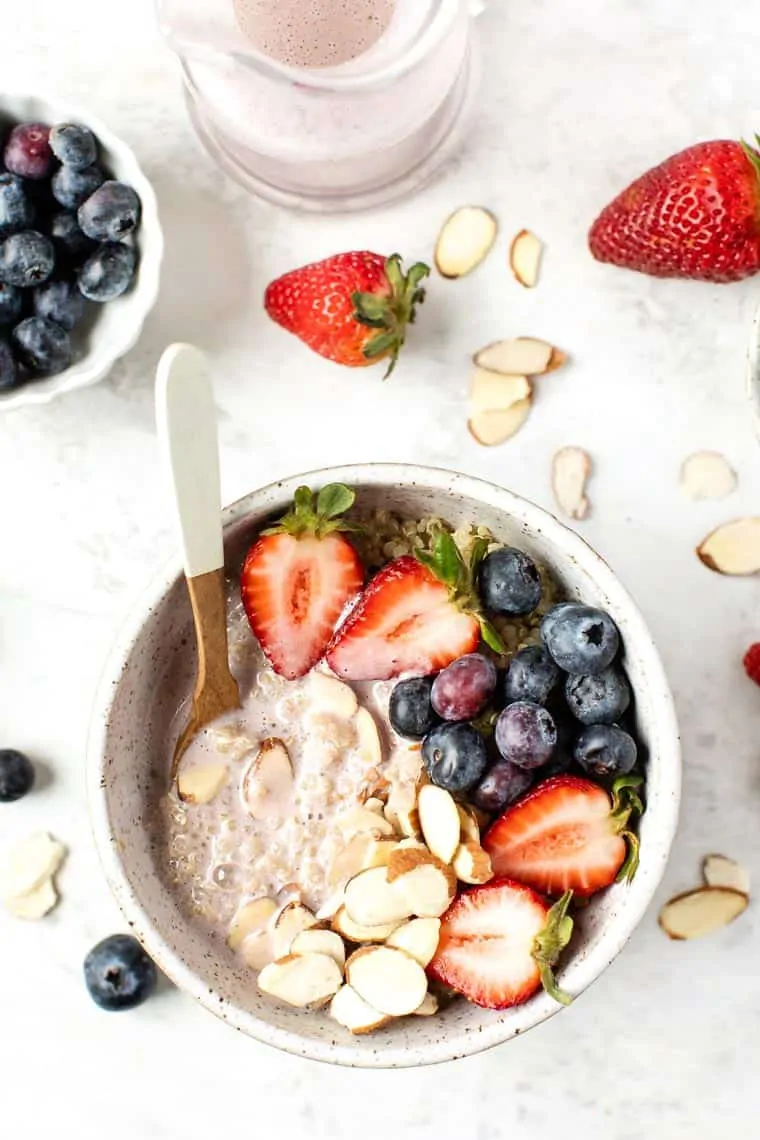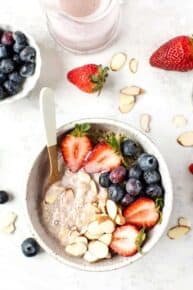 Instructions
Add the 4 milk ingredients into a high-powered blender. Blend on high until smooth and creamy (will be the consistency of milk). Set aside.

Place quinoa in a bowl, pour milk over and sprinkle on toppings.

Enjoy immediately with a warm cup of tea or coffee!
Nutrition
Serving:
0.5
of each ingredient
|
Calories:
493
kcal
|
Carbohydrates:
60
g
|
Protein:
20
g
|
Fat:
20
g
|
Saturated Fat:
2
g
|
Sodium:
20
mg
|
Potassium:
558
mg
|
Fiber:
10
g
|
Sugar:
15
g
|
Vitamin A:
130
IU
|
Vitamin C:
58.2
mg
|
Calcium:
115
mg
|
Iron:
7
mg
Filed Under: